Most people shop online to find lower prices, right?
I mean, let's look at the research.
A study from eMarketer.com suggests that 38% of people shop online because of lower prices. Forrester also found that 27% of consumers will sacrifice their shopping cart in the name of a better deal.
If competitor's prices have been dropping & your cart abandonment rates have been getting higher, don't panic. It's not time reconsider your pricing strategies, or ask questions like, "Should I lower my prices to stay competitive?" yet.
Before you run a fire sale and torch your profits for the sake of staying competitive, you need to read this.
Most Shoppers Do Not Cite "Lower Prices" As Their Primary Motivation For Shopping Online
(Trust me, I was surprised too. )
Back in October 2013 Simon-Kucher & Partners, a global marketing & sales consultancy, published a survey that found 33% of shoppers did not name prices as the primary driver for online shopping.

In another study, Granify, a CRO software company, conducted a real time behavior analysis of 20+ million visitors over 5 different verticals and also found that "lower prices" was not as pervasive as we may have believed.
Using software to analyze the visitors "micro actions" such as mouse movements and scroll patterns, the test would automatically emphasize or de-emphasize common persuasion elements on the sites such as:
Price
Social Proof
Return Policy
Urgency
Financing Options
Customer Education
Support
Shipping Costs
They found that the most important things – on average – for online shoppers were: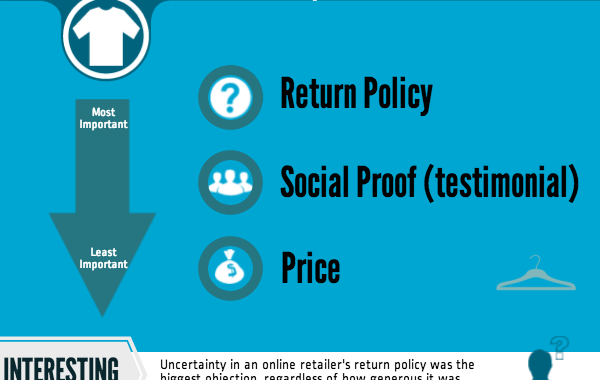 Now, as I said, these are just averages.
Some verticals, such as "Digital Goods" still have a high value on price – so please, don't just take my word for it. Do your research and see how this applies to you.
But overall, isn't it interesting to see how our mentality about online shopping has evolved?
Return Policies Have Always Been Important – Weren't You Paying Attention?
Actually, this isn't much of an evolution at all.
Back in 2008, UPS and Forrester conducted a joint study on return policies, and found the following:
81% of participants agreed with the statement "If an online retailer makes it easier for me to return a product, I am more likely to buy from that retailer."
81% agreed with the statement "I am more loyal to retailers that have generous return policies (e.g free return shipping, ability to return any time for any reason)
73% agreed with the statement "I am less likely to buy in the future from an online retailer when the returns process is a hassle."
What's more interesting to me though, is that the study found companies will base their shipping policies only on what their competitors are doing. ::Sigh:: What a missed opportunity.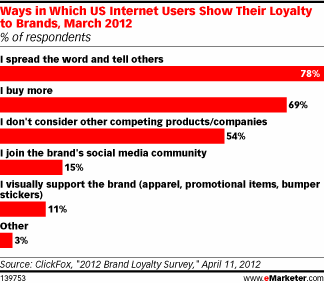 This is the perfect time to come back to our original question: "Do I need to lower my prices to compete?"
If behavioral research suggests that "Good Return Policies" are valued higher and shoppers say they're more likely to buy AND be loyal because the return policy is excellent – it seems to me like investing in a killer return policy could make an excellent value proposition and increase your perceived value within the market; especially if that market is overcrowded.
Sure, good reverse logistics program are expensive – the average manufacturer spends between 9% and 15% of total revenues on returns -but returns are unavoidable, so why not take the opportunity to turn an unsatisfied customer into a satisfied one?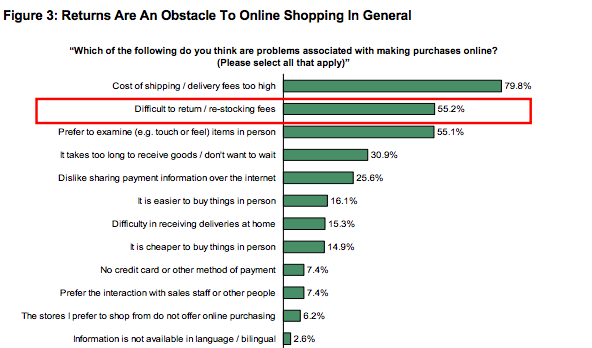 Investing in services like doorstep pickup, free shipping, and fast delivery could be exactly the competitive advantage you need.
A study by Aberdeen Research found that companies rated best-in-class on reverse logistics had, on average, a 12% advantage in customer satisfaction over the competition.
If you're dedicated to delivering a superior customer experience, check out "Recovering Lost Profits by Improving Reverse Logistics." it's a really great guide published by UPS that explains all of the benefits in far more detail.
This guide by practical e-commerce also talks about how you can offer free shipping without crushing your business.
How Testimonials & Social Proof Impact Sales
In my own consultancy, I see one problem come up time and time again.
Businesses either:
A.) Don't have any customer testimonials visible on their site or
B.) Do have testimonials, but have hidden them on a page so deep, they're nearly impossible to find.
The most common reasons for not showing them? "We didn't want to brag." & "We don't know how to collect them."
In face to face communication, humility goes a long way when it comes to influencing people, but online, you're shooting yourself in the foot by not featuring testimonials.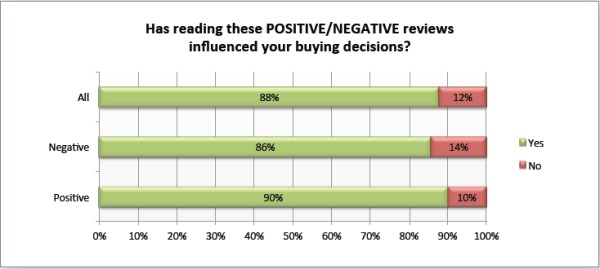 According to a survey from Dimensional Research and ZenDesk, 90% of consumers claimed that reviews influenced their decision to buy.
So why aren't more businesses showing testimonials or social proof? A study by Harvard Business Review may give us some insight here.
After interviewing 2,100 businesses on how they use social media, they found that only 20% businesses reported having a "Better understanding of customer perceptions of our brand."and 23% saying they "Use Social media to monitor what's being said about the brand."
Unsurprisingly, 50% all businesses reported putting effort into "Increasing awareness of our organization, products, etc."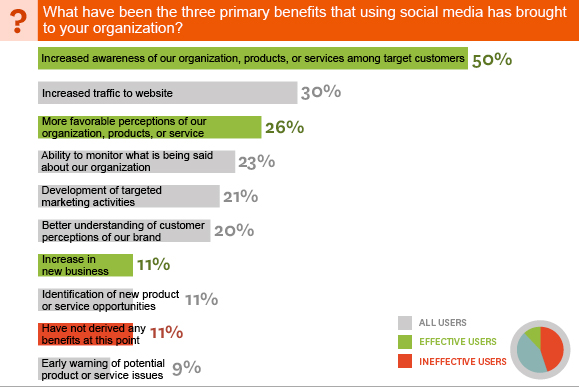 In another part of the study, they found that 47% of effective users of social media (in green) report collecting and tracking customer reviews, whereas when combined with everyone else, that number drops to be 1/3 of all businesses.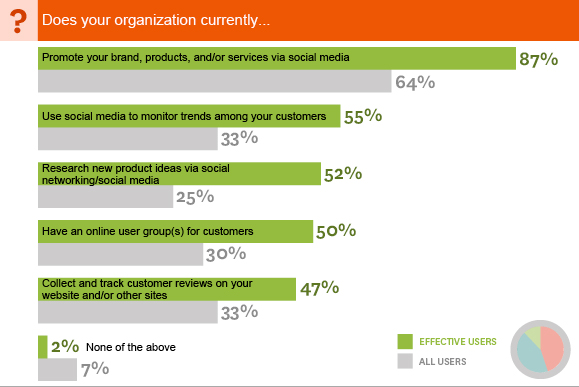 Do you know what tell the businesses I work with that don't have testimonials to do?
Something that starts out looking like:

Should you lower your prices to stay competitive? Maybe.
But if you notice competitors are lacking testimonials, you may be better off just sending a few emails.
And just so I don't leave you hanging to show you it actually works, here's a great case study by Michael Aagaard showing just how effective testimonials and placement can be.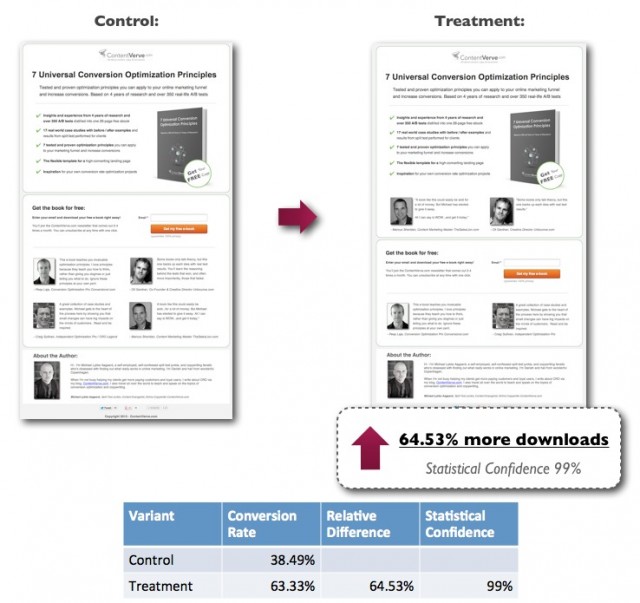 Price is Important – But It's Not Always Everything
No way around it. We have to talk about price.
If you're in the Digital Goods or Health industries, according to the Granify research from earlier, price is the most important factor for your customers.
For example, if I can listen to Spotify for free, or pay $0.99 for the same song on iTunes, I'm going with the free version. Oh, wait, let's dig into this.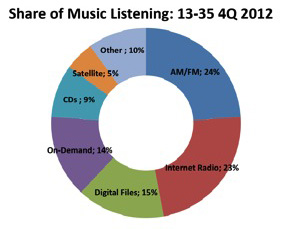 Surprising as it may be, even though free streaming music is starting to cannibalize digital sales , and the entire digital music download industry experiencing a downturn in 2013, iTunes still accounted for 40.6% of all US album sales in 2013.
According to NPD, It turns out that 41% of consumers who use free streaming services report believing that owning music was still to them. Many of which also attributed to buying more downloads because they discovered it on the free service.
"The thing that people often forget is that Spotify customers are actually the best iTunes customers out there," – Ross Crupnick, senior vice president of industry analysis at NPD Research Group
In fact, according to claims by Spotify executive Sriram Krishnan, Spotify users spend twice as much as the average music consumer.
In a lot of ways this reflects behavior consistent in the "show rooming" phenomenon where shoppers will browse online then buy in the store.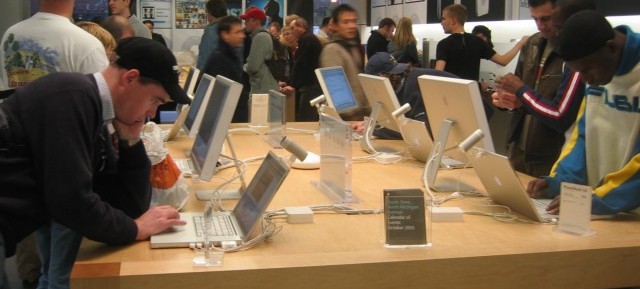 Speaking of which, what are the most common reasons cited for in-store shopping preference?
According to a focus group of over 1,000 Gen Y'ers in Columbia University's Graduate School of Business common reasons are:
"I'm too particular about the fit, I don't want to spend the time to send it back" – Liz Derubertis

"Going to a stores that promise to beat competitor's prices" – Melissa Johnson

"Pick it up, touch it, have something to compare it to" – Danielle Andrefsky
Wait a second?!
Aren't these objections nearly identical to the differentiation strategies we talked about in the "Creating A Value Proposition In A Crowded Market" article?
And couldn't many of these objections be overcome with online competitors by offering things like:
I don't know your business, but the data sure seems to suggest it's worth looking into.
Final Thoughts – Should you Lower Your Prices To Compete?
Lowering prices is too commonly a knee-jerk reaction to surface actions happening from the competition.
Instead of starting with the question of "should I lower my prices", start by looking at ways to increase the long term value of you're offering.
There are so many ways to stay competitive that lowering your prices seems like the easy way out, and ultimately does no real service to you or your customers in the long run.
Bonus: 3 Free Things You Can Do To Stay Competitive
1. Build a better content strategy – Social sharing tool Buffer pivoted it's content strategy, twice to become the great"Lifehacks, writing & customer happiness blog" we know today.
From the period of June to November 2012 they gained an additional 6,000 new customers. By maintaining that strategy, and adding the buffer open blog where they talk about growing the business, they're now adding roughly 1,500 new subscribers to the "Awesome" plan every month, and maintain a recurring user base at around 9,700/month.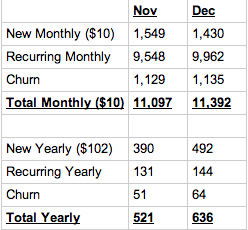 2. Work on your email strategy – Children's furniture retailer KooKoo Bear Kids was able to grow their email list by 15% and increase open rates by 142% by sending custom messages to a highly segmented list.
By developing an algorithm to match subscriber's browsing behavior, purchase history, and entrance source, Kookoo Bear could email recommendations based on the subscriber's activity.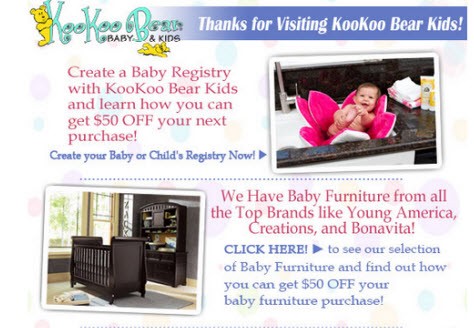 While you may or may not be able to develop your own algorithm, it's always worth trying to find segments in your email list to make your email more timely and relevant to them.
3. Use Live Video to Demonstrate Your Products – This was an idea I actually used myself with a Christmas decorating client back in 2011.
We used LiveStream.com to show members of their Facebook page in real time how to do professional decorating techniques, while showcasing top-selling products from their inventory.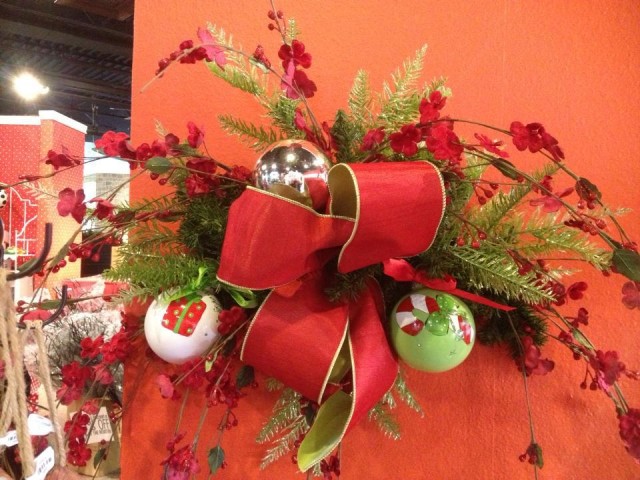 image source
The result was a whopping 150% increase in average sales for the products that were demonstrated, and around 10% of our entire Facebook community in attendance.
Don't think of your marketing channels as a way to un-creatively pitch – nobody cares about that.
Have fun.
Make it your business to deliver 9x the value to your customer than every competitor out there.
Set the standard for customer expectations.
Because that my friend is impossible to compete with.
featured image credit