Pricing itself is super important, and so are the pages that communicate the prices. We'll look at 8 different pricing pages and see how we could improve them.
Effective pricing pages have several things in common. The most important of these are:
Simplicity: how easy it is to understand your pricing and everything about it?
Ease of comparison: if you have multiple price plans, can I understand the differences?
Does it help people choose the right option, aid in the decision making process?
Are main fears, doubts and uncertainties (FUDs) addressed?
Is there a clear call to action?
Does it set expectations to the sign-up flow?
In this ~25 min video I'm doing a pricing page review for 8 different websites.
Websites mentioned in this review
Disclaimer: I only spent a couple of minutes on each site, have not seen any data for them and 50% of what I said is going to make no difference whatsoever. 
Want me to include your site for next weeks' review? Follow me on Twitter and check my Facebook page.
If you're more of a text learner, the highlights of each review can be found below. Enjoy!
Pricing Page Review #1 – Now Novel

How You Can Improve Your Pricing Page:
1.) Make your prices and calls to action more apparent.
Even on an HD monitor it's difficult to see what your pricing and options are.
The text at the top of the page is likely distracting from your calls to action. Also most website visitors won't hunt for your pricing options – that's just not how people view websites.
Remember, the visitors on your pricing page are showing intent to purchase. Help them make that decision easier – make your pricing options visible & above the fold. 
2.) The calls to action aren't simple. 
The middle option, "The Mentor" uses a black button on a black background. Furthermore, the call to action is worded differently than everything else on the page – why?
The page itself is also very long, and the prices change from the top to the bottom. $39/month at the top and $199 at the bottom?
After looking more closely, I noticed the prices change based on the monthly subscription option. But the average visitor isn't going to take the time to look at that. I'm guessing this price difference is surprising to a majority of your visitors & therefore hurting your overall conversion rate.
Pricing Page Review #2 Saturday Road Test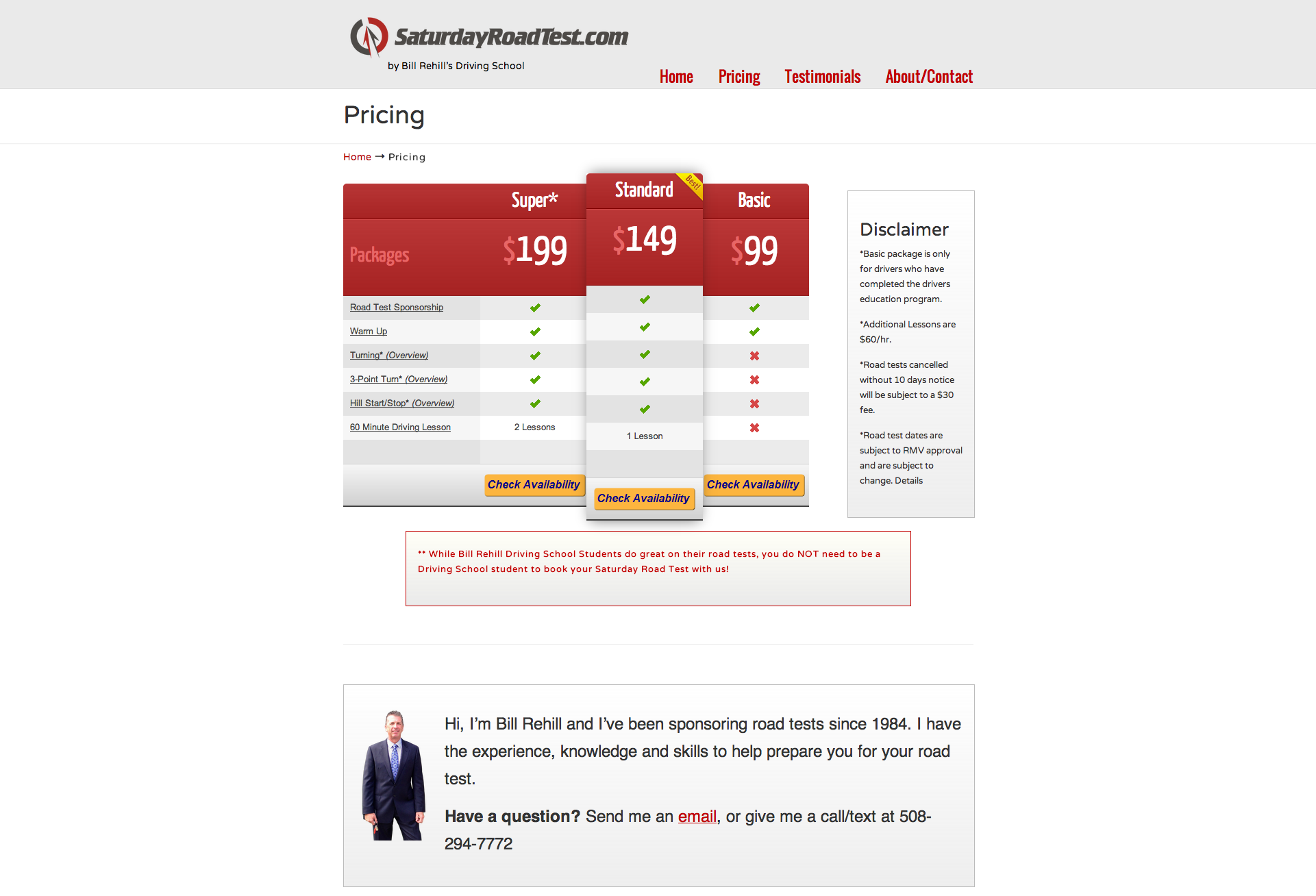 How You Can Improve Your Pricing Page:
First impression – Looks good. It's fairly standard, but than again, that's what people expect.
1.)  Your call to action buttons are below the fold.
Something you can do to improve this is look at the browser size report in Google Analytics to see your page the way the majority of your visitors see it.
2.) Disclaimer on the side makes me hesitant.
Unless it's a regulation for your industry, disclaimers should be at the bottom of the page. At the very least, it could be underneath your pricing options.  
3.) Be careful of the bouncing animation when you hover over the pricing option.
If I'm considering my options, the bouncing animation is likely to be aggravating as I mouse over the different options.
4.) Simplify Your FAQ Section
Two columns is distracting here and you can reduce a lot of scroll time by putting FAQ answers behind a collapsable div.
5.) Make Fears, Uncertainty and Doubt (risk reversal) section more apparent. 
Pricing Page Review #3 – Inlajn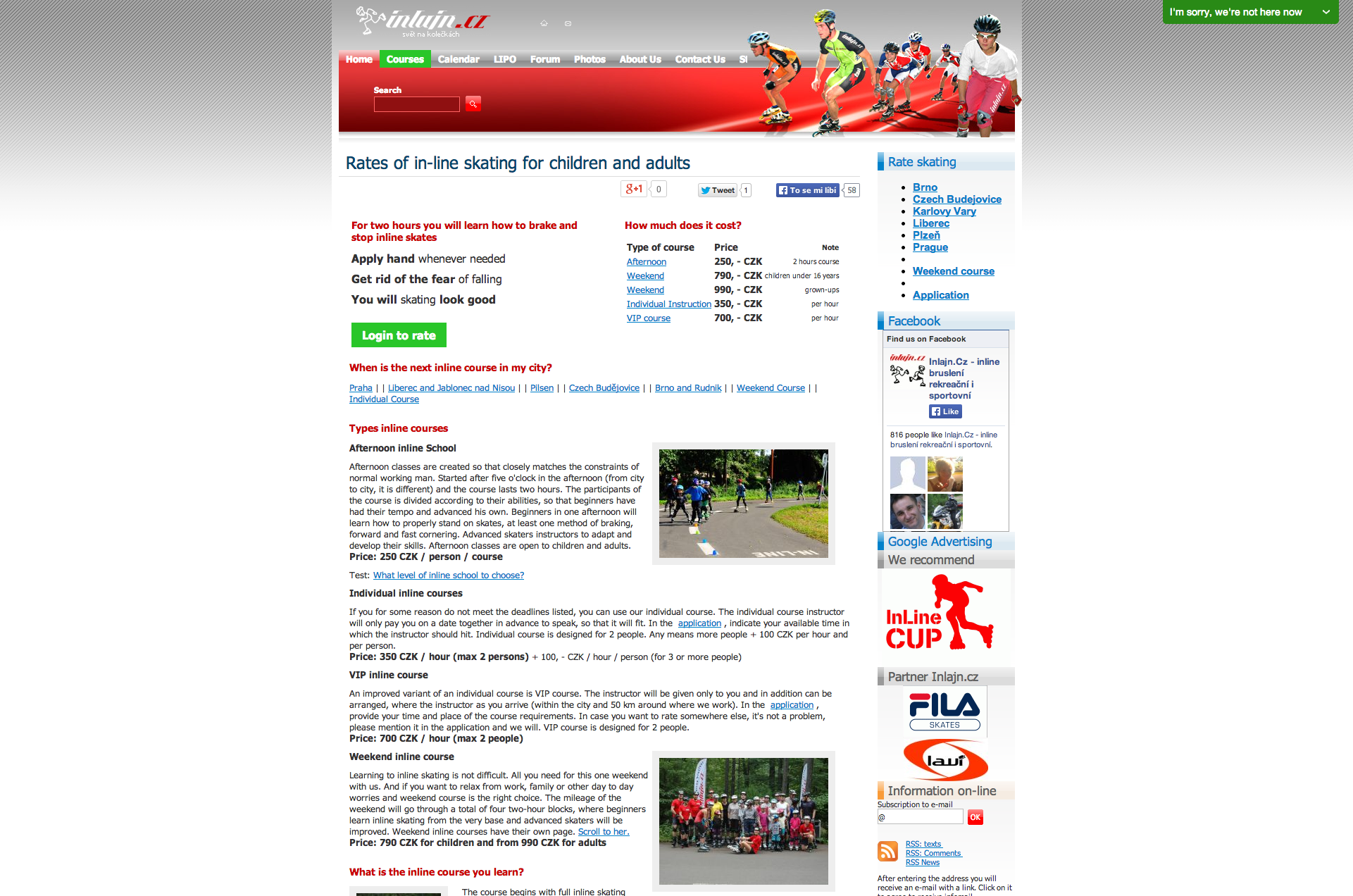 How You Can Improve Your Pricing Page:
1.) The layout is very confusing 
I would recommend a complete redesign as it is very difficult to read.  Also, the text in the body of the top left does not appear to be related to the text at the top right.
The way the information is organized has no apparent cohesiveness, which can break up a visitor's flow when reading the page. If you're saying "Get rid of your fear of falling" on the left, the right should say something like "Ice Skating For Beginners – 3pm Monday" on the right.
Pricing Page Review #4 – Printful

How You Can Improve Your Pricing Page:
1.) The text under "Startup Friendly Pricing" is very confusing. 
I get that you're trying to put people in the mindset of being able to profit from their purchase, however I feel like these options are very confusing.
I feel like presenting your entire product catalog on the pricing page is distracting and confusing from the overall message, which is "we print your stuff on pretty much anything".
2.) Don't make me hover over everything to find the product I want to put my logo on. 
You could benefit from restructuring your site make getting to your different product categories a lot easier.
3.) This information & the way it's presented, could be very important for a startup…
But it may also be better as a free pricing & profit guide that you offer in exchange for an email address. Doing that could set you up create smart autoresponders and lead nurturing campaigns.
Pricing Page Review #5 – Desk Time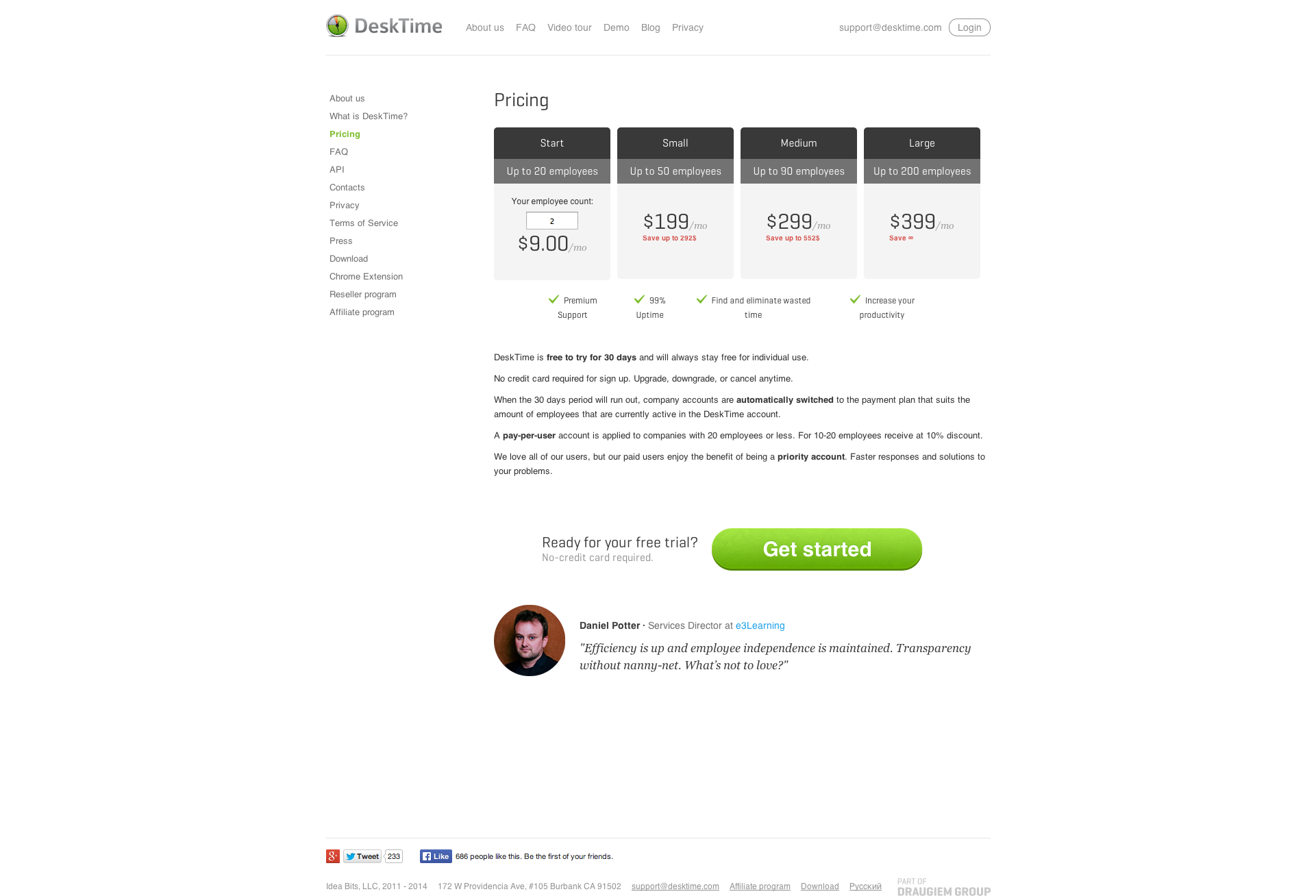 How You Can Improve Your Pricing Page:
1.) By making me type, you're making me work to hard. 
It may be worth experimenting with a slider that automatically adjusts the prices based on the amount of employees.
2.) Is 4 options better than 2 or 3?
There is no right answer here, but typically the more options you give, the more confusing a product offering gets.
Try experimenting with presenting the Small, Medium & Large options on this page, then have a small link underneath that says "Have fewer than 20 employees?" which brings them to the slider option we were just talking about.
If you look very closely at the bottom of the HighRise.com pricing page you'll see an example of what I'm talking about.

3.) Move your call to action further up the page 
4.) Someone with 45 employees may not feel "Small"
Also, try naming your pricing plans by the amount of employees it serves, not by "Small" Medium" or "Large"
Pricing Page Review #6 – TeamWeek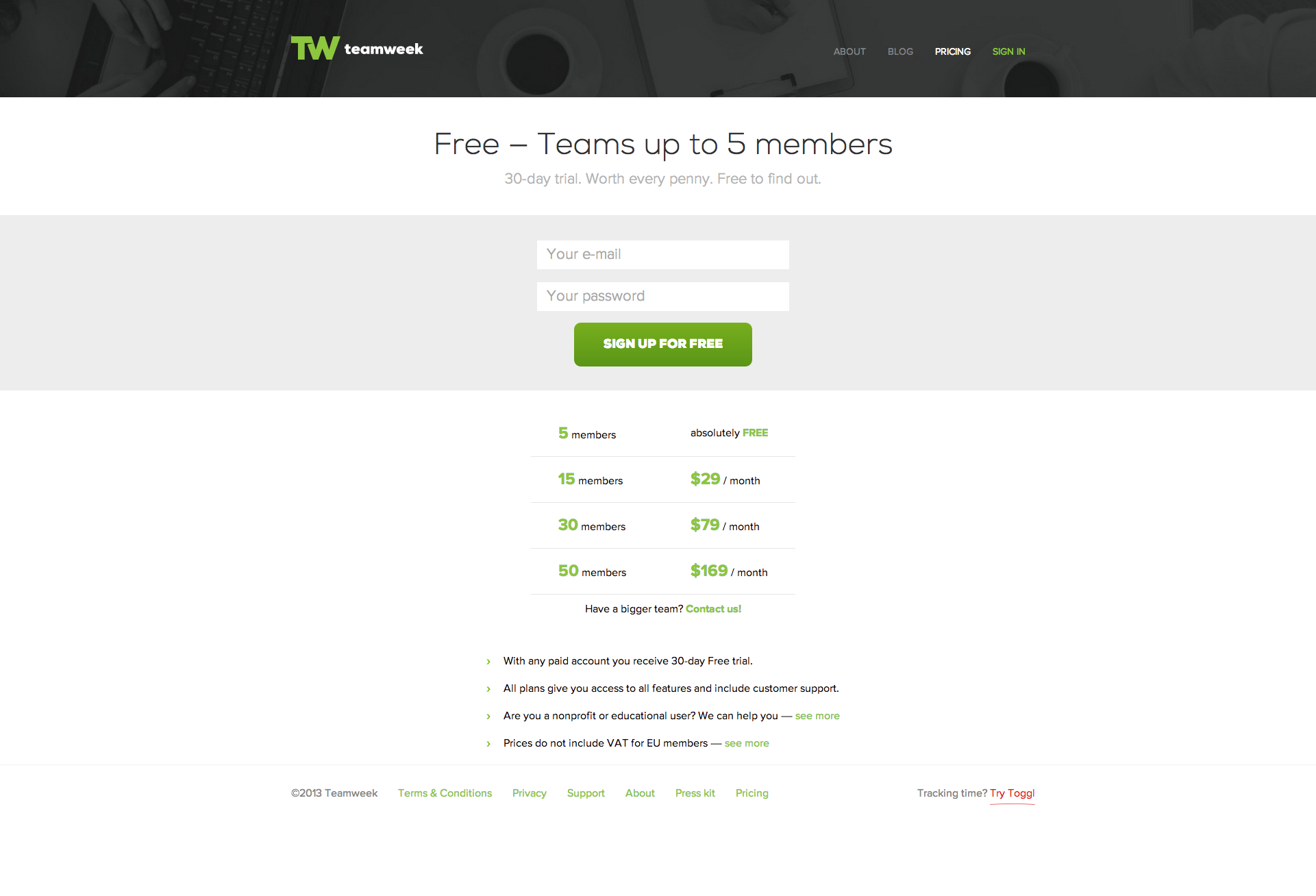 How You Can Improve Your Pricing Page:
1.) Everything that's below the fold is not going to be seen
Unless you've figured out your target market has teams less than 5 people, I would recommend moving your pricing information to be above the fold.
2.) I can't click the price that corresponds to my team size. 
If I do have more than 5 people on my team, what am I supposed to select? Do I still sign up by using the email/password at the top of the page? The layout, while graphically pretty, is confusing if I wanted to use your service for a bigger team.
3.) What happens on the next screen? 
Try testing a line of text under your main call to action that tells me what I can expect after clicking (e.g "You're instantly in!") because if it is really easy to use your service, I want to know about what happens next.
Pricing page review #7 – English FunCast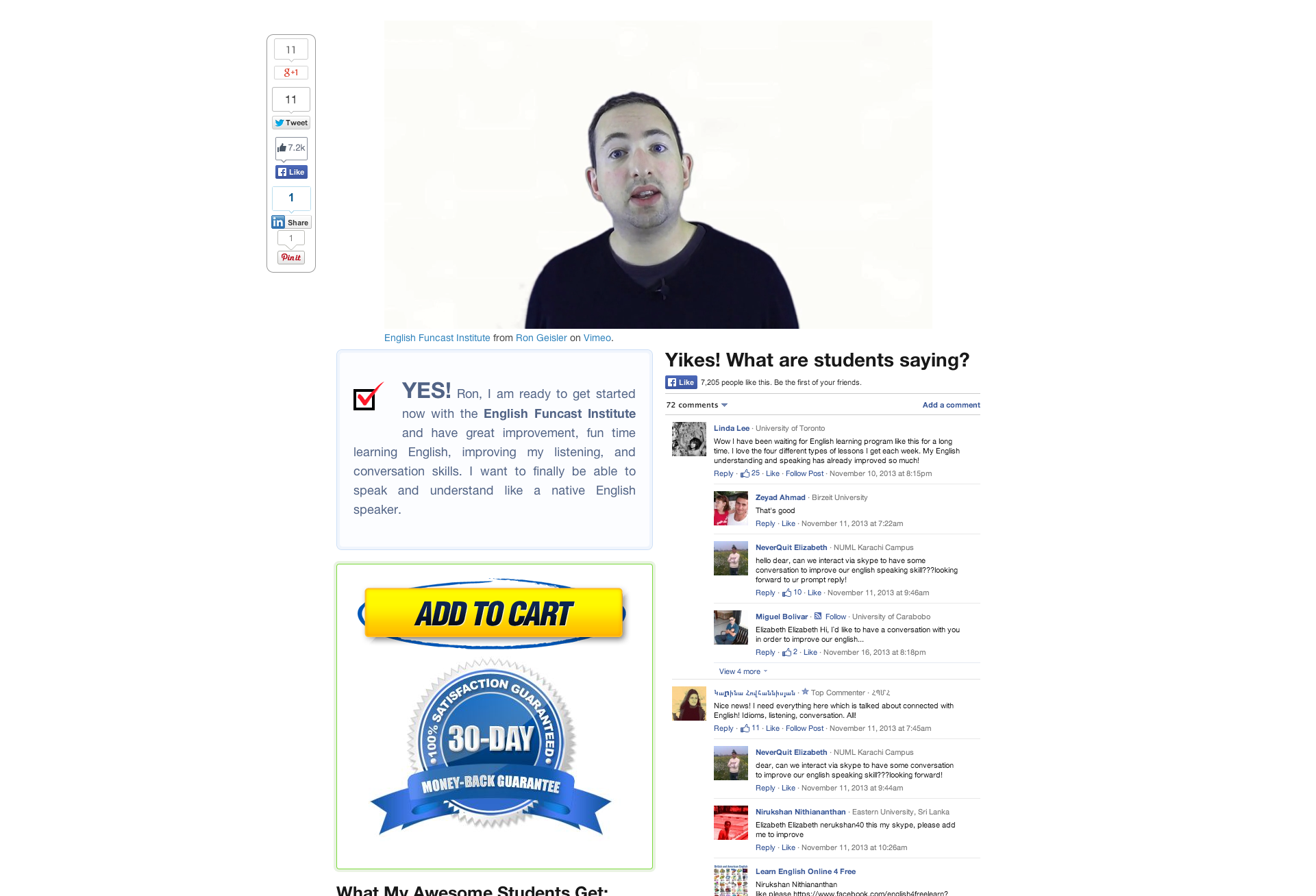 How You Can Improve Your Pricing Page:
1.) Do not have your video autoplay!
Of course, test it. But by default autoplay is generally bad for user experience.
2.) Where's your price on this pricing page? 
An important element to any pricing page is having the price. Add to cart without having a price does not make this look like a trust-worthy product.
3.) Yikes = something bad is happening. 
If you have glowing testimonials, don't scare people off with your headline.
4.) Remove Social Shares
Pricing pages aren't typically something that's worth sharing, and the low social proof on the left is a stark contrast to what you have on the right.
Pricing Page Review #8 Lean Garcinia Cambogia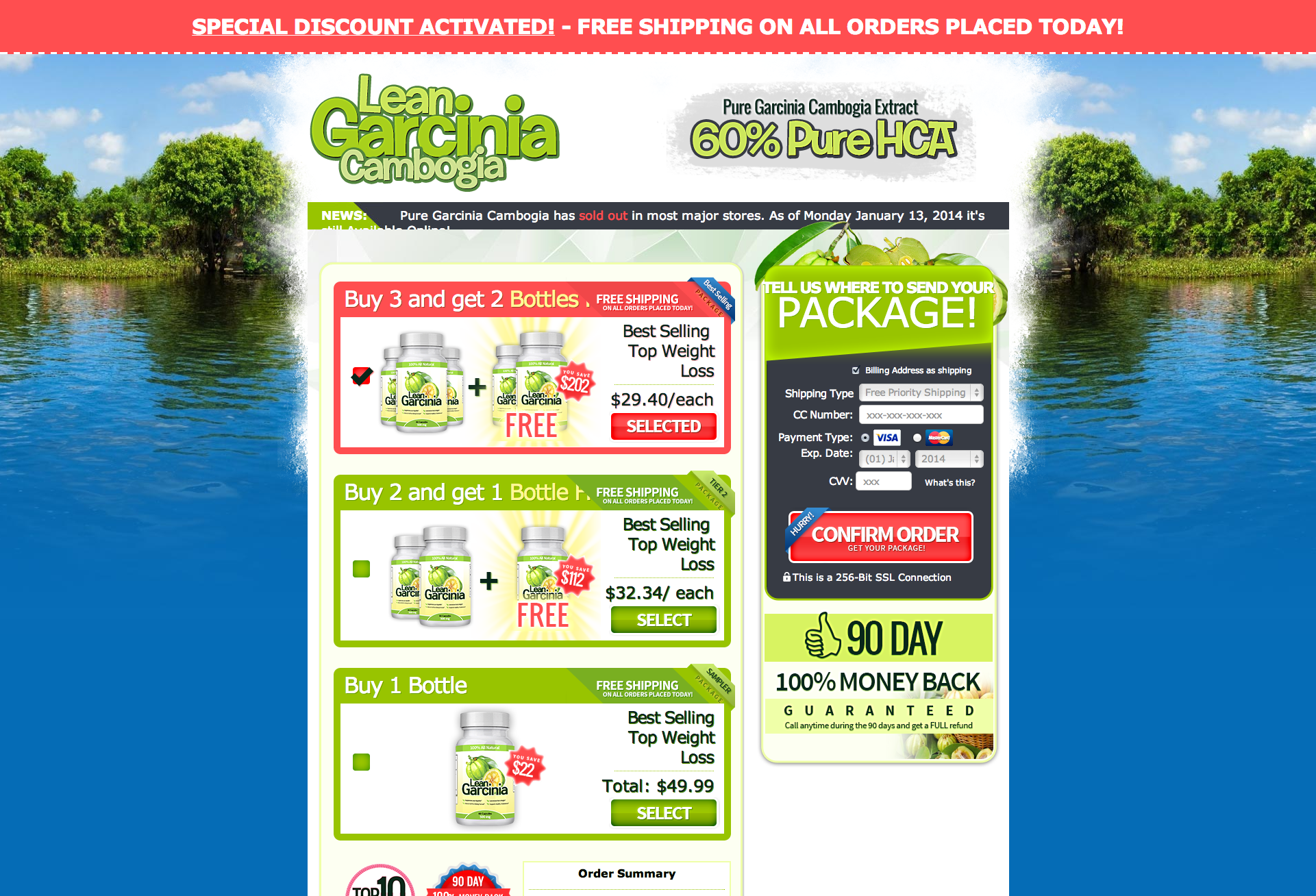 How You Can Improve Your Pricing Page:
1.) This is like an explosion!
And not in a good way. There are too many elements competing for my attention here, and it's overstimulating and pretty distracting.
2.) You're taking up a lot of space to communicate a simple difference in pricing. 
The offer for additional products is good, but it takes entirely too long for the value of buying multiple bottles to be communicated.
3.) Link your social proof
You have a "Top 10 Supplements" on Amazon badge, please link it so I can verify what you're saying is true.
Overall thoughts: This page needs to be rethought with visual hierarchy in mind. Get rid of the "noise" in the background, and reduce the amount of colors competing for my attention.
Conclusion – Think About User Intent
If people are on your pricing page, you've hopefully already sold them through the other pages on your site.
Making the pricing of your products clear, reduce the risk of buying, and if there are any options, make them easy to compare.
If you want me to include your site for next weeks' review, follow me on Twitter or leave a comment on the Facebook page site review request.
featured image credit