Become great at customer acquisition
Get advanced level skills to drive effective customer acquisition.
This is a program for people serious about building tactical acquisition skills. Get really good at the key paid and organic acquisition channels to drive growth.
Martijn Scheijbeler
VP Marketing @ RVShare
See plans and pricing or Request demo (for teams 5+)
Some of the companies that train their teams at CXL:










Start acquiring customers profitably and at scale
Learn how to get great return on ad spend for key paid acquisition channels like Google Ads, Facebook Ads, YouTube Ads and LinkedIn Ads.
Learn key content and SEO skills like content marketing strategy, technical SEO, managing editorial calendars for SEO, and much more.
Apply industry-agnostic acquisition processes and frameworks for digital marketing.
In this extensive certification program by CXL, you will learn the methodologies and processes that top growth executives have used to execute campaigns for exponential and continuous growth.
At the end of the program, you'll be able to implement processes, tools, and techniques to grow your business, no matter the industry you're in.
What is a Minidegree program?
A Minidegree is a curation of self-paced video courses organized by topics (tracks), so you can learn at a speed that suits your schedule. With optional assignments to apply what you learned.
Practical curriculum teaching you what the market needs right now from acquisition specialists, created by leading practitioners.
We work with industry experts to determine the most relevant topics. What is useful and in-demand has informed our curriculum more than anything else.
Courses are taught by hand-selected top practitioners, names that people in the industry know well.
Perfect for marketers looking to become a customer acquisition pro
This is a comprehensive training program that will give you the skills to do effective customer acqusition.
It covers all key customer acquisition channels – both paid and organic. You get the full gamut of skills you need to become a customer acquisiton pro.
Pass the final test and become a CXL Certified Customer Acquisition Specialist.

Anyone would benefit from CXL, and that goes from interns up to CEOs. That's really been the case in our company. After their training sessions you're fully equipped… you can go off and implement your learnings straight away.
42h 19min of videos & study material.
This Customer Acquisition training program is designed to give you advanced level skills in customer acquisition. You get 42h 19min of video courses.
All of our instructors are hand-picked, and carefully vetted. Our approach is straightforward – every instructor needs to be the absolute best in the world at what they do.
Complete all courses in the Acquisition track to unlock the exam
Show off your hard-earned skills and strengthen your profile
LinkedIn found that people who add credentials to their profile receive 6x more profile views than those who don't.
Add your certificates to your profile, share your accomplishments with the world, and join our alumni network.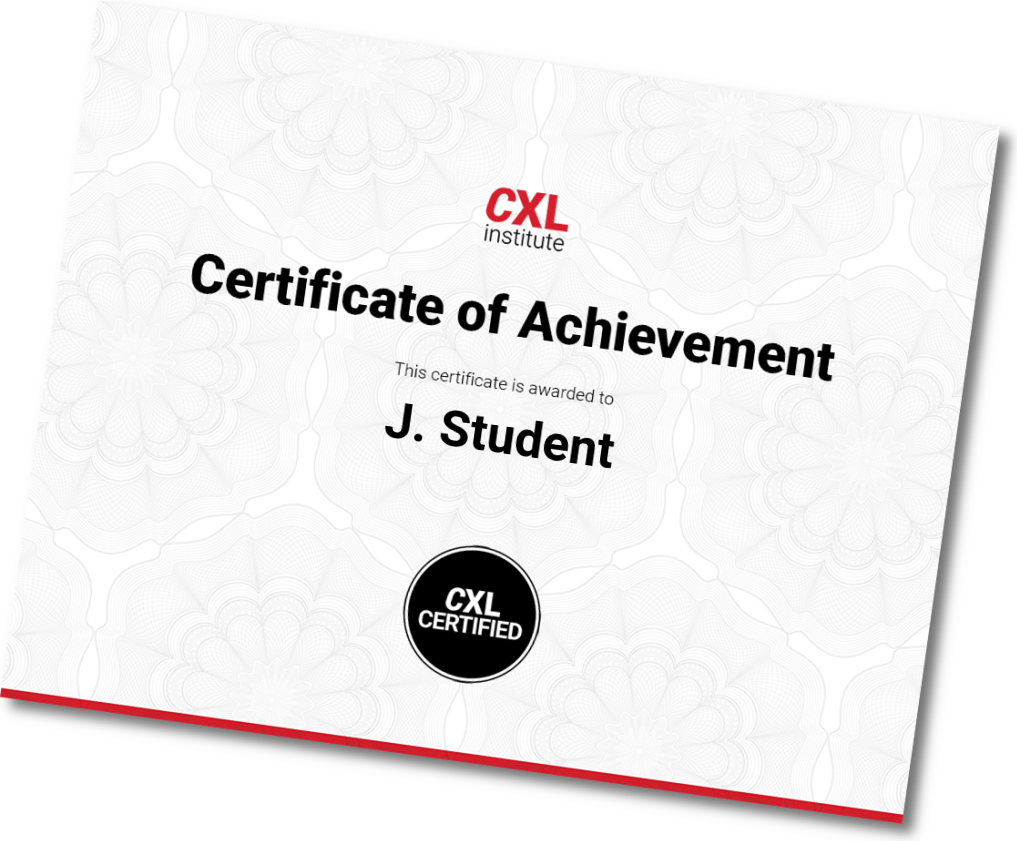 Sign up for CXL and get access
60+ courses (full list here) on all aspects of data-driven marketing (new courses added every month)
9 Minidegrees that give you advanced level skills
The CXL guarantee
Guaranteed return on time spent or your money back.
You can immediately apply learnings and improve your results.
Need help convincing your boss?
See plans and pricing or Request demo (for teams 5+)