Account-based marketing (ABM) accounted for 79% of all sales opportunities in 2020. And yet, no one can agree on what account-based marketing is.
Fullfunnel co-founder Andrei Zinkevich says, "ABM is not that complicated, and it's also oversimplified."
If leads-based B2B marketing is fishing with a net, ABM is using a harpoon.
In this article, we'll break down nine account-based marketing case studies from brands that hit and exceeded their business goals with ABM strategies and tactics. Learn why they worked and how to apply them to your business.
1. How iRidium used audience targeting, networking, and activation to land 34 new sales opportunities
You'd be surprised what you can do with a $3,000 ABM budget.
In 2020, smart home and building automation platform iRidium mobile wanted to land bigger clients and announce new products. To do this, they worked with Fullfunnel.io, to host a virtual summit.
The cash-strapped platform had limited budget and no brand awareness outside their local market. But by targeting their ideal customer profile (ICP), delivering on their needs, and following up, they still exceeded their goals.
Results of iRidium's ABM efforts
2,320 sign-ups;
39% of attendees were net new accounts;
34 sales-qualified opportunities;
5 new customers immediately converted with LTV of over $100k each (normally a 9 to 12 month sales cycle).
Serving the customer's customer as a tactical ABM move
iRidium pulled off a successful five-day virtual marketing summit as an unknown platform by narrowing down their target customer.
iRidium shaped the ICP for their virtual summit around system integrators, excluding another customer segment: end-users.
Why?
Integrators were interested in quality and margins, a more lucrative problem than end-users searching for a solution with the lowest price. This allowed them to focus on one audience's specific needs.
iRidium narrowed their audience into five segments:
Best customers;
Members of the target account buying community;
Partners;
Media and industry publications.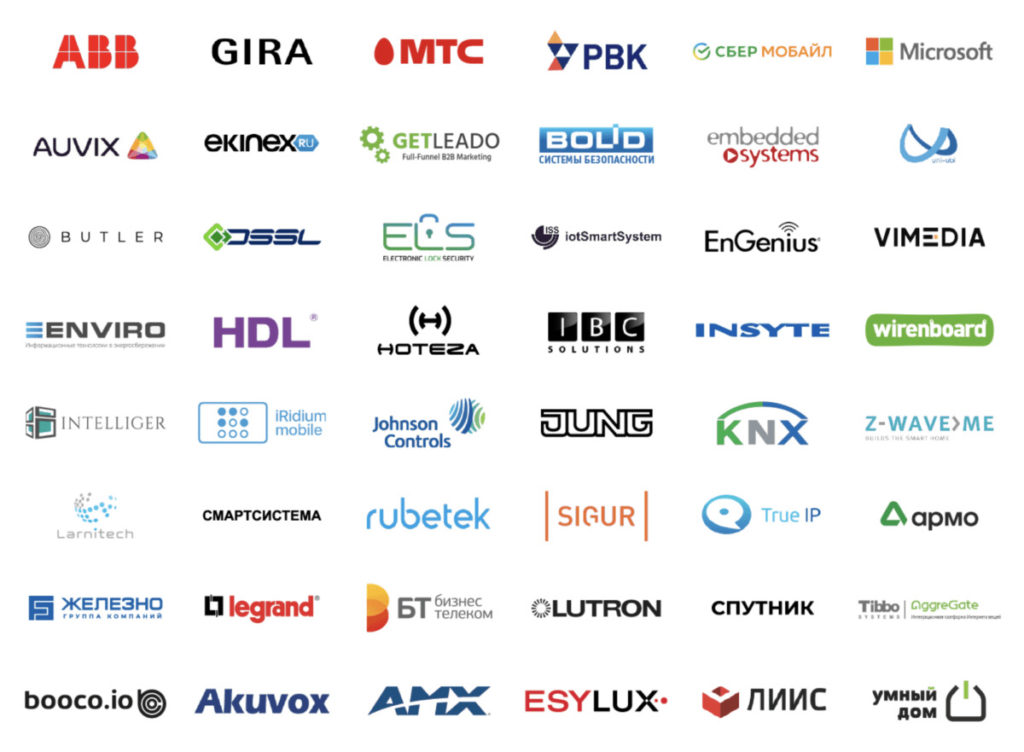 To attract speakers from companies like Microsoft and MTS Intercom, iRidium was generous in their approach. Speakers could choose to speak on any subject, as long as it served that day's topic.
iRidium had a well-defined promotion process for their own product, but it took a back seat to sharing expertise. This was a more attractive model for speakers, and encouraged them to invite their customers.
Warming up prospects is critical for ABM success, even for virtual events. iRidium interviewed speakers on their podcast before the summit, spreading the word and increasing signups.
Post-summit, iRidium kept in touch with their top prospects and scheduled webinars. Fullfunnel's Andrei Zinkevich says on follow-ups:
"Running an ABM campaign without an activation play is like folding on a royal flush: You're leaving a lot of money on the table."
iRidium invited top tier accounts to product demos.
To avoid pipeline burnout, they sent content hubs to all attendees and tailored followup based on how much they engaged with the content (e.g., how long they spent on the site).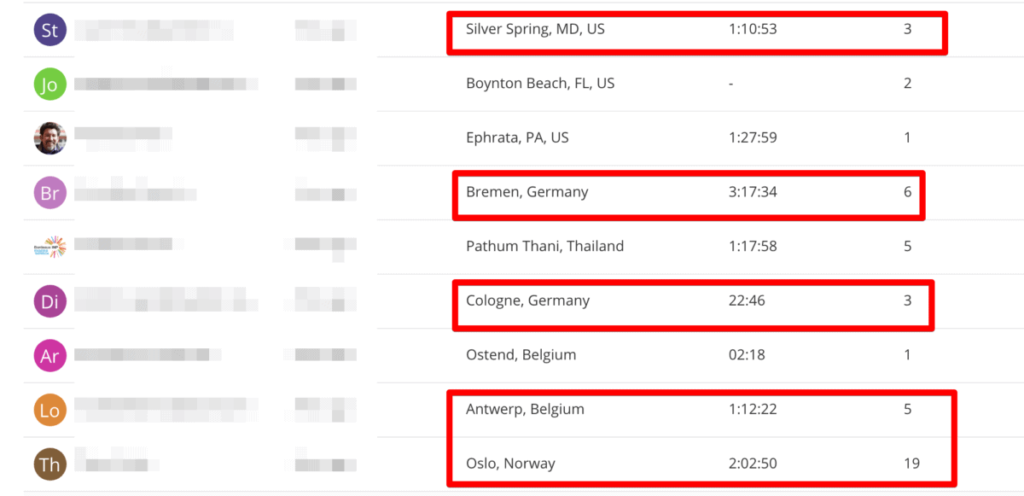 The event was completely free, and recordings were only available for 24 hours post event. This gave attendees a real, but reasonable, sense of urgency.
Apply iRidium's ABM strategy to your business with these takeaways:
Focus on how you can attract your customer by looking at how they want to attract their customer;
Make it easy for them to participate (iRidium made their event free and they could talk about whatever they want);
Don't always go for the promo;
Warm up prospects ahead of your event or marketing campaign;
Activate your top-tier prospects;
Follow up with everyone (even better, share valuable related content, track the engagement, then reach out to the most-engaged prospects).
2. How Snowflake increased booked meetings by 75% through scaled hyper-personalization
How do you sustain growth that precedes the highest IPO in history for a software company? Keep doing what works.
For cloud-based data warehouse Snowflake, that was ABM. In 2018, the platform transitioned to an ABM strategy, and when it went public in 2020, investors scrambled for shares to the tune of $3 billion.
Results from Snowflake's ABM efforts post-IPO
Scaled the one-to-one experience to over 2,000 top accounts;
75% increase in SDR-booked meetings;
3X increase in meeting rate for hyper-aligned one-to-one accounts.
Qualitative-first: Aligning sales and marketing for a comprehensive audience profile
While most companies immediately turn to a data dashboard, Snowflake's account selection starts with qualitative data from their sales department.
Snowflake decides which channels to use according to industry verticals and where their buyers are likely to be.
The company understands the value of an engaging, optimized landing page following a click-through. So Snowflake uses Uberflip to create custom pages with consistent branding, CTAs, and a personalized note from their SDR.

Resource-intensive? Yes, but the insights are extremely high-value.
The one-to-one service means the engagement data on the page comes solely from the targeted account, providing invaluable learning to optimize retargeting and followup.
This approach works for both new account acquisition and account expansion. Snowflake's Director of ABM states:
"We're looking at what parts of the product they're not already using and how we can get them to use them, when renewals are coming, and how to spread that sphere of influence. We're achieving a 50% new opportunity rate with existing customers we target with ABM."
ABM campaigns are only as strong as a company's support for the departments involved. Snowflake's hive-mind enablement is the foundation of their success.
Alignment with sales ops, field marketing, customer marketing, and the sales dev team is a non-negotiable for Snowflake.
"We needed to make sure that when you see an ABM campaign, it's reflective of not only sales input, but also product marketing, partner marketing, field marketing, and our SDRs. We needed a way to co-create one cohesive message for our key accounts." — Hillary Carpio, Director of ABM, Snowflake
Beyond syncing at the planning and execution phase, Snowflake eliminates silos in their reporting as well. This keeps everyone on the same page and allows teams to discover insights the ABM team might have missed.
Apply Snowflake's ABM strategy to your business with these takeaways:
Empower your people and mine their collective knowledge for rich insights on who to target;
Use creative solutions to keep your audience engaged when they get to your landing page;
Get aligned, stay aligned.
3. How Invoca combined data and direct mail to get a 33X ROI
Inbound-call intelligence platform Invoca saw 2015's Dreamforce event as a great opportunity to meet with key accounts face-to-face.
However, attending a 150,000-person conference is a financial risk without a strategy in place.
Invoca defined realistic goals for its ABM campaign: create 20 opportunities in the sales pipeline, complete 30 meetings with top priority accounts, and deliver a 10X ROI on campaign spend.
By initiating the campaign ahead of the event, they smashed through those goals and delivered "the most successful campaign [they've] ever done."
Results of Invoca's ABM efforts
35 new pipeline opportunities;
Over 50 meetings with top priority accounts;
33X ROI on campaign spend.
Maximizing freebie potential
Using predictive analytics, modeling tools, and SDR feedback, Invoca drafted a 600-person contact list for their pre-show outreach.
They developed an omnichannel approach using direct mail, email, display ads, and outbound calls, ensuring each channel used the same CTA.
Finally, Invoca harnessed incentives, giving away Apple Watches to prospects who attended meetings.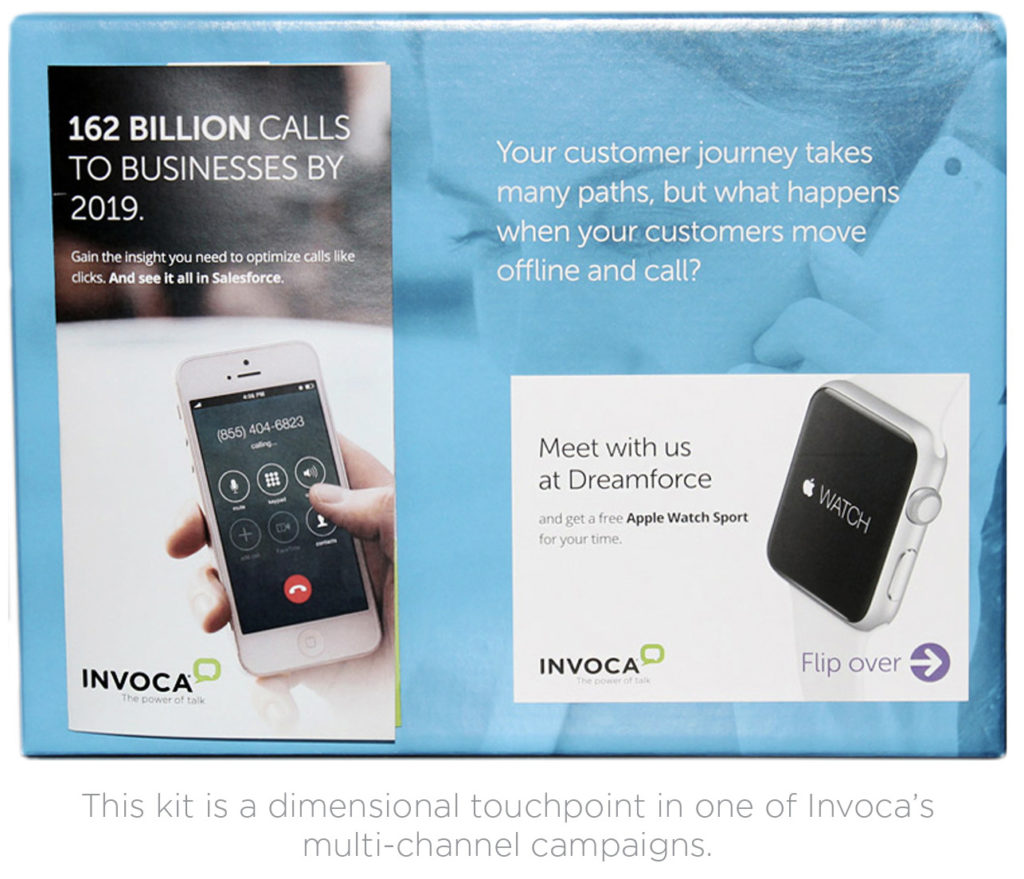 This was a critical step to get meetings booked, but it was also going to take coordination to execute.
"Dreamforce is such a crowded, high-energy conference that we knew we had to tailor our offer to stand out." – Julia Stead, Director of Demand Generation at Invoca
Invoca ended up using PFL's Tactile Marketing Automation (now called Hybrid Experience Solutions) to manage fulfillment, shipping, and tracking from a single interface that integrates with Marketo. Granular tracking of the right metrics helped sales reps prioritize prospects soon after receiving their watch.
Apply Invoca's strategy to your business with these takeaways:
Don't let your face-to-face be the first time prospects hear about you;
Incentives can be a powerful tool to get your foot in the door;
Automate processes to save resources.
4. How uniting reporting increased revenue from target accounts by 21% for Schneider Electric
Schneider Electric (SE) had several ABM campaigns spread across multiple siloed channels. They knew they needed unified, accurate, real-time reporting to increase their ABM ROI.
"We needed an ABM solution that scaled globally and one that I could count on when it comes to the quality or insights for any given region." – Fabio Luz, NAM Digital Media Strategist at Schneider Electric
Results from SE's ABM efforts
Increase in revenue from 21% of target accounts;
Faster sales cycle;
Accelerated pipeline velocity.
Consolidating data to get the clearest audience picture
SE collected intent, audience, firmographic and technographic data to get a complete picture of buyers and their purchase journey.
From this, they built target account lists representing different stages of the buyer's journey. This allowed SE to engage with every decision-maker at top accounts.
They also developed personalized triggers that dynamically shifted messaging in their campaigns depending on where the buyer was in the funnel.
The result? SE's accounts accelerated through the buyer journey, shortening sales cycles and increasing pipeline growth.
With the Madison Logic LinkedIn integration, SE could easily share multi-channel campaign performance across teams. Increased alignment and in turn, more efficient iterating.
Apply SE's ABM strategy to your business with these takeaways:
Get a clear picture of your customer and the buyer journey and keep all stakeholders informed by centralizing data;
Personalize campaigns to meet the buyer where they are in the journey.
5. How BillingTree closed $350K worth of opportunities by targeting just 100 accounts
Payment processing platform BillingTree learned the hard way that ABM requires more than sending gift cards to target accounts. The meetings booked from these initial attempts weren't with decision-makers; there was little-to-no ROI.
UviaUs helped them out of their direct mail rut with a creative campaign designed to grab the attention of the people they needed to grow their business.
Results of BillingTree's ABM efforts
60% response rate, 15% conversion rate;
$350K in opportunities closed to date;
700% ROI;
Significant decrease in resources spent on campaigns.
Standing out by getting creative
UviaUs designed, constructed, and sent BillingTree branded lockboxes to target accounts. The outside contained some eye-catching copy:
"The contents of this case are worth thousands of dollars. That's why it's locked.
Call us for the code to unlock this case and access the enclosed Amazon gift card worth at least 20 bucks (no strings attached)."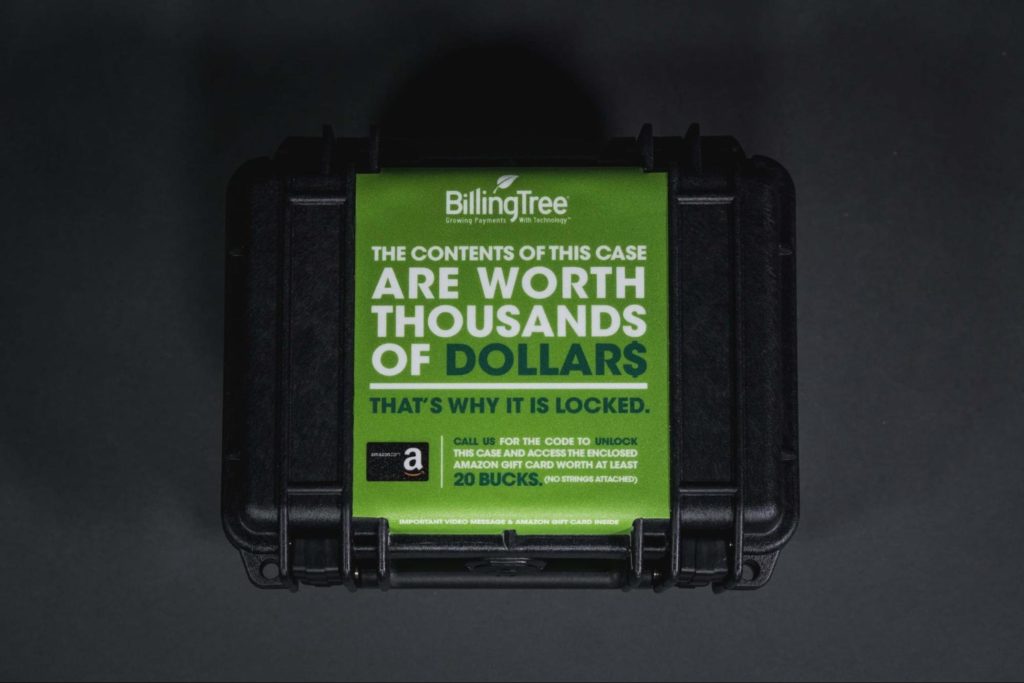 Upon opening the lockbox, prospects discovered the "thousands of dollars in value" were in potential savings with BillingTree's solution.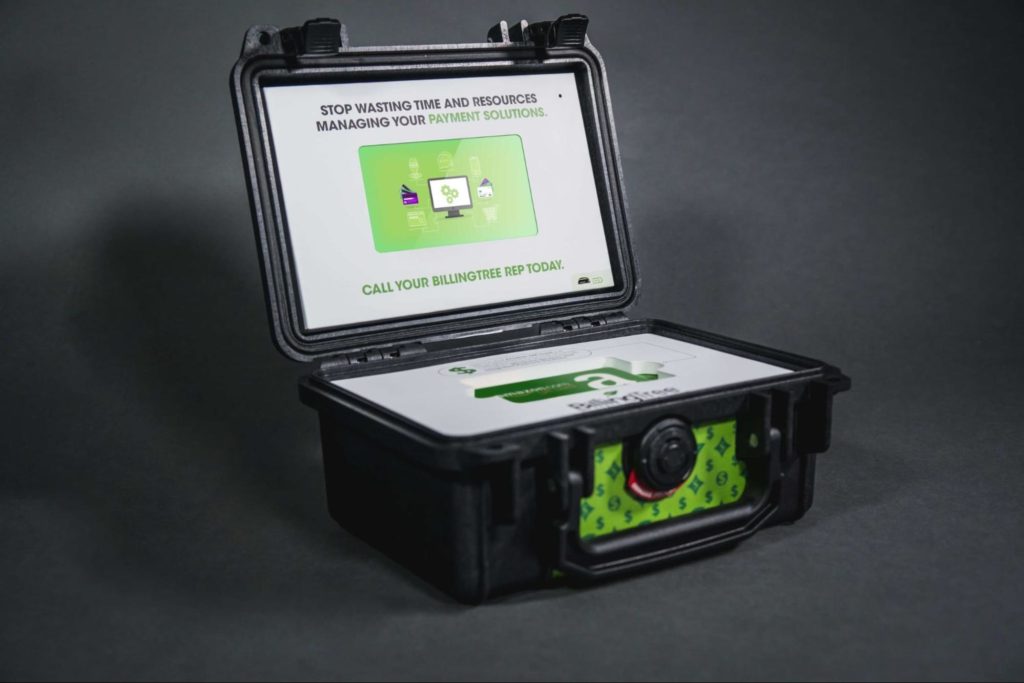 Much like effective email copywriting, successful and engaging ABM campaigns are founded on more than shock value.
BillingTree's campaign was a mix of brand marketing efforts and aggressive outbound activity, both of which require heavy account research to get right.
It also played on people's willingness to work harder when promised a reward (a cognitive bias we all share).
But the key to BillingTree's success was their targeting—it only sent boxes to their top 100 accounts.
By playing ball only where they knew they had a high chance of succeeding, they increased their conversions and lowered their cost on marketing collateral.
Apply BillingTree's ABM strategy to your business with these takeaways:
Pinpoint your targeting at key decision-makers;
Get creative to grab attention;
Give people something to work for with rewards and incentives.
6. How Payscale decreased time to close by almost half through better targeting and generated 60% net new leads with email
Payscale was already running ABM before tapping RollWorks and DemandWorks to help accelerate their results and get more specific with their market segmentation.
Results from Payscale's ABM efforts
Increased traffic from target accounts by 500%;
Decreased time to close by 45%;
6X ROI;
10–15% more MQLs;
60% of all leads generated net new.
Getting in front of the right person with alignment and machine learning
The first step was alignment between sales and marketing on which accounts to target, a critical step for ABM.
RollWorks then helped Payscale switch from IP address targeting to machine learning targeting by connecting with Salesforce. This changed Payscale's ads from landing in the right account to reaching the right person.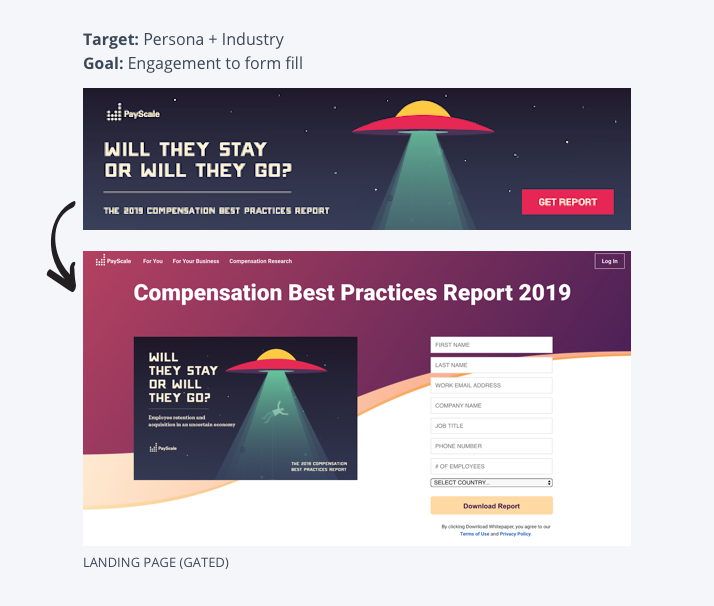 RollWorks' technology allowed Payscale to see impressions and ad spend at the contact and account level, pursuing those that were receptive, and reallocating budget away from ones that weren't.
"Immediately, we started seeing results. Impressions were served to the right accounts, right people, right personas. That was huge." – Brian Steel, Senior Marketing Manager at Payscale
PayScale also leveraged DemandWorks' advanced targeting for their B2B newsletter, allowing them to serve their audience with the most relevant, problem-solving content on any device.
Apply Payscale's ABM strategy to your business with these takeaways:
Align sales and marketing on the right accounts to target;
Leverage multiple channels for maximum effect;
Track spend to divert resources and maximize ROI.
7. How Qlik used AI-enhanced lead scoring to average 2–3X conversions
Not every lead is high value. Before implementing ABM, Qlik, an end-to-end data integration and analytics cloud platform, was treating all of their leads the same. This meant a pipeline too overwhelming to handle.
Results from Qlik's ABM efforts
A new and improved lead scoring system;
Leads scored A or B saw 2–3X the average conversion;
30–40% decrease in time spent sorting and following up with leads.
Prioritizing existing leads to inform future marketing decisions
Using a combination of AI, big data, and machine learning, 6sense helped Qlik organize and prioritize their existing leads. The patterns they uncovered allowed them to head straight for A and B accounts when going after new business.
"When we went through Predictive Lead Modeling, we saw that 35% of our lead volume really converted less than 1% of the time. Those leads that Predictive Lead Scoring deemed A's and B's converted 2–3X the average." – Tara Corey, VP of Marketing Operations at Qlik
Using a combination of their new lead scoring system and "best fit profile" technology, Qlik found a renewed enthusiasm from the sales team, resulting in a fine-tuned, well-oiled ABM machine.
"Using Predictive Lead Scoring has evolved our process to 'this is the way our business is run now.'" – Corey
Apply Qlik's ABM strategy to your business with these takeaways:
Score your leads to prioritize your sales and ABM efforts;
Streamline your marketing workflows with tech like AI and machine learning.
8. How Auth0 "failed" their way to an 8X ROI with ABM
With 300% YoY growth and 95% of new business coming from inbound marketing, Auth0 might have opted to coast. Or, they might have upsold their existing customers to meet their goal of doubling their ARR.
Not so for this authentication-as-a-service startup.
Inbound marketing means you can't always control what lands in your inbox (most were developers) and they realized they wanted a less-crowded channel.
So, Auth0 hypothesized that an outbound ABM program would help them stand out to targeted enterprise-level prospects.
Results from their ABM efforts
22% response rate;
7% conversion rate;
8X ROI.
Failing forward with "explosive" direct mail pilots
From Transformer toys, to fake newspapers, it took several iterations before Auth0 found their rhythm with the right amount of uniqueness and intrigue.
They even sent out a beeping, locked gift box that a few people mistook for a bomb.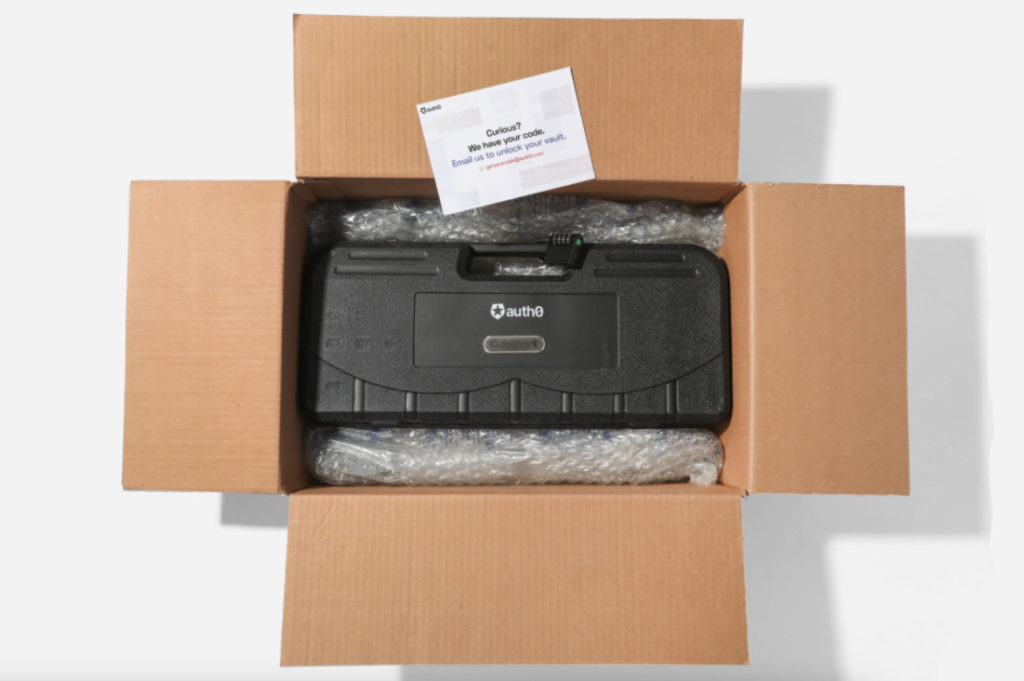 Similar to BillingTree, Auth0 sent a locked gift box (this time clear and silent) to 5,000 targeted accounts.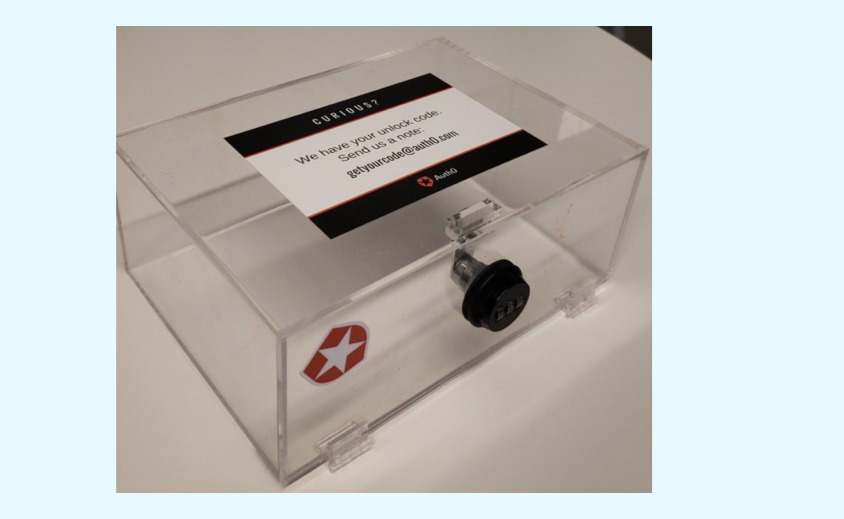 "We looked in Crunchbase to find attributes that gave us insights into whether a company was at the right stage to talk to us.

We were looking, for example, at websites and whether they were using different programming languages in different parts of the product. And whether that was changing, to see if they were adding to their technology stack. We looked at their hiring, to see if they were hiring privacy experts. Things like that." – Martin Gontovnikas (aka "Gonto"), SVP Marketing & Growth
Auth0 was successful because with every failed experiment, they learned a little more.
Pilot programs, their learnings, and their validation are crucial to successfully scaling ABM campaigns and getting buy-in from stakeholders. The new outbound tactics rallied the marketing team to develop new ideas for future ABM projects.
"The CFO, CEO and CRO were very happy to see that we could have more predictable revenue coming from outbound, and that we could leverage this to inject more money and drive more ARR, so we can continue our streak of doubling revenue every year." – Gonto
Apply Auth0's ABM strategy to your business with these takeaways:
Use high-touch tactics to stand out in a crowded market;
Get the conversation started with creative solutions;
Don't be afraid to fail (failure is learning);
Keep going, zeroing in on the winning strategy with each iteration.
9. How going back to basics got Mindtickle $1M in pipeline revenue in under 2 months
Sales enablement suite Mindtickle had a successful lead generation strategy until 2020.
In need of a quick pivot, the platform realized the power of an ABM strategy to engage prospects.
The company looked to 6sense to implement their first ABM campaign, including creating personalized content, informing GTM strategy, and equipping their sales team for success.
Results from their ABM efforts
$1M in additional pipeline revenue within seven weeks of launching
6X conversion rates
15X engagement rates from accounts in their one-to-one ABM campaign
Getting set up to learn and iterate to success
To leverage ABM to its maximum potential, Mindtickle first needed to define their ICP and set up dashboards to track and measure activities.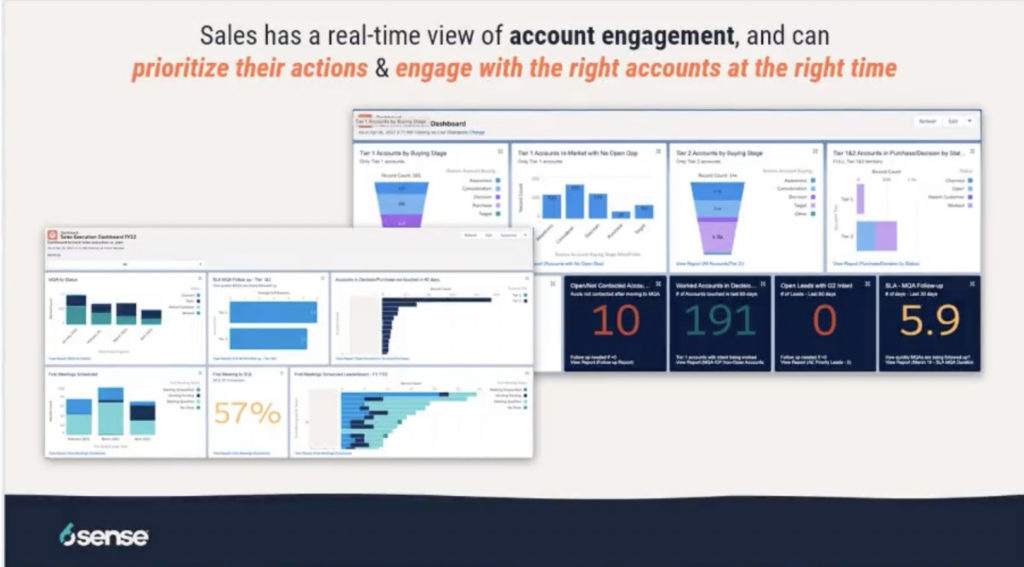 Mindtickle initiated their ABM campaign by launching a successful pilot program that tested one of their top keywords to better understand their market's interests.
They then leveraged intent data and predictive analytics to introduce prospects to the right messaging at the right time in their buying journey.
The marketing team created dynamic one-to-one display ads and landing pages for each of their target accounts.
These pages housed a personalized video from the account executive, followed by a 16-step follow-up sequence.
According to Lisa Sharapata, Mindtickle's VP of Marketing, the company's ABM success came down to realigned expectations, data-driven strategy and tactics, and cohesion among sales, marketing, and growth operations.
"Sales, marketing, and growth operations are all now speaking one truth, and our entire process is data-driven. Our sales team is prioritizing their day-to-day according to accounts in-market, marketing is personalizing at scale. […] Our sales and marketing leaders are all on board, and even helping lead the account-based movement." – Lisa Sharapata
Apply Mindtickle's ABM strategy to your business with these takeaways:
Get back to basics and define your target customer;
Find a way to track and measure your results so you can learn and iterate;
Use personalization to enhance one-to-one campaigns.
Conclusion
ABM can transform a company's trajectory, but it won't won't solve all your B2B challenges. The most successful ABM programs feed into and are supported by a larger marketing and sales ecosystem.
And while there are countless account-based marketing definitions and tactics, the principles of a successful account-based marketing strategy will never change: knowing your customer, mapping your product to their pain points, and aligning your internal team.Master the skills you need to become great at account-based marketing in CXL's Account-based Marketing course.