From long sales cycles to trying to stand out from the sea of sameness, B2B companies face an uphill battle from the start. While thousands of B2B organizations struggle, plenty are able to develop long-term success. So what does it take?
I recently surveyed and interviewed over 200+ B2B executives, marketing & sales leaders to find out exactly what challenges they currently face and what they are doing to overcome them.
In this article, I'll share what I've learned and detail the exact steps you should take to put yourself in a position to succeed.

Let's dive in.
Common B2B marketing challenges
Last September (2020), six months after the 1st lockdown, my co-founder Vladimir Blagojevic and I decided to run market research to figure out what challenges B2B companies face and how they solve them.
Not only were we curious as to how COVID impacted business as usual, we also wanted to know if there were any patterns that would likely remain even after life eventually returned to normal.
At the time we were planning a workshop for B2B tech startups from the IMEC accelerator (Ghent, Belgium) and had a chance to interview many of the companies that had signed up.
No surprise, during this time, many B2B businesses were struggling to adjust to a world without physical events.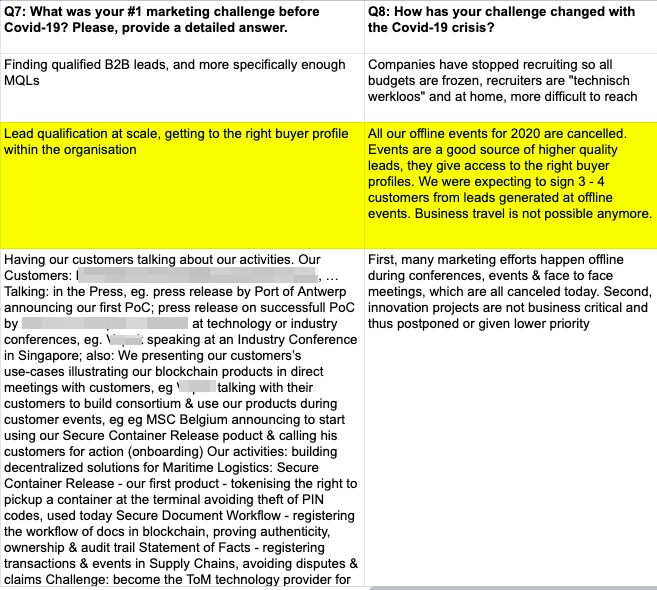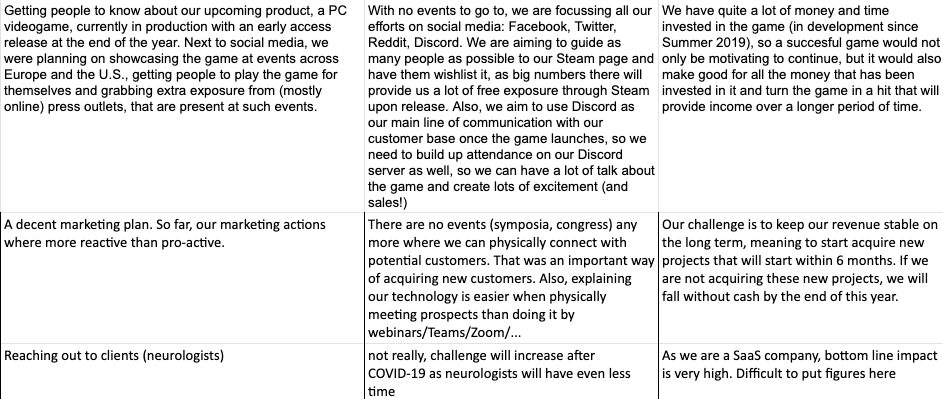 And while this was a good start, a significant position of these companies were early-stage startups. To have a comprehensive view, we also wanted to discover the challenges faced by more mature B2B companies as well. To do this we partnered with the RevGenius community to get a better understanding the challenges mature companies faced.
Through surveying 136 B2B tech companies and interviewing our owncustomers, we identified the main marketing challenges B2B companies face, as follows: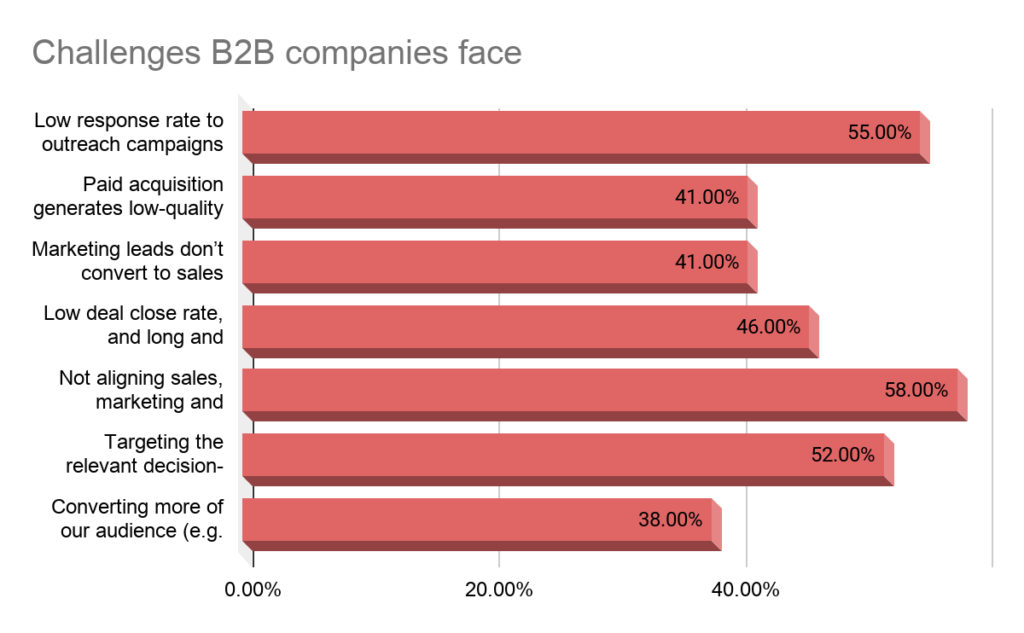 Here were the 5 key takeaways from our research.
Canceled events and tradeshows increased the focus on outbound activities. Many respondents stated that it's hard to get people to respond amidst "the flood of COVID-driven desperate marketing attempts by everybody". Since COVID started the number of spam emails and LinkedIn messages increased (doubled at least). One of the respondents said they called it a "Desperate marketing attempt—everybody just tries to book a meeting, try to generate sales qualified opportunities and they don't have results."
Sales cycle length increased. Buyers became more critical due to a reduction in reosurces and as a result the entire process started to involve more people ultimately taking longer to close.
Content blindness. In addition, a large amount of respondents stated that it's extremely hard to generate targeted traffic or motivate accounts to show up to their events because of the oversupply of webinars & online content. Their target accounts simply ignored all of this low-quality content's attempts to grab their attention, because surprise, surprise, everyone was doing it.
MQL cost significantly increased. Our findings also suggested, marketing-qualified leads didn't always convert to sales opportunities as expected.
Companies experience a high churn rate because of bad product adoption. Many customers think about the solution or service as a fancy add-on, but not as a part of operational processes.
While some of these challenges certainly were likely the direct result of COVID, many of the issues faced occurred before COVID, and will likely continue after.
The next step in our research was talking to customers of our company Fullfunnel.io and identifying the most common mistakes that lead to these challenges and the "ROI taxes" B2B companies pay because of them.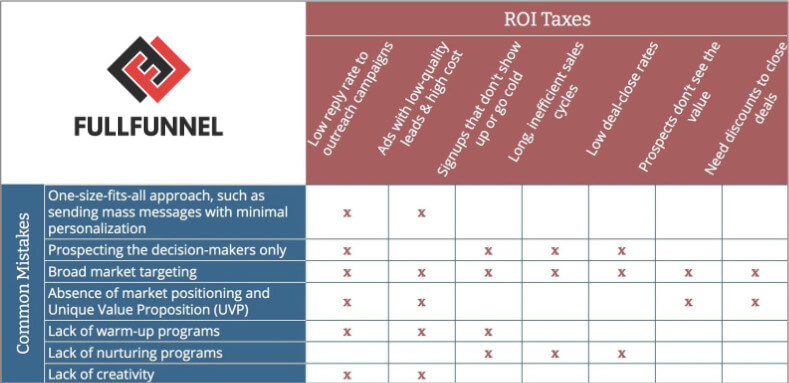 Here is a list of the seven most common B2B marketing mistakes based on our research.
One-size-fits all approach, such as sending mass messages with minimal personalization;
Prospecting the decision-makers only;
Broad market targeting;
Absence of market positioning and a unique value proposition;
Lack of warm-up programs (reaching outcall to their prospects);
Lack of nurturing programs (this is critical because, in every B2B market, most target accounts are not sales-ready);
Lack of creativity and effort.
You can read the detailed overview of every mistake in the research we published at RevGenius magazine.
Once we had a clear picture of the challenges B2B companies faced, we went to work figuring out how the most successful of thse companies were working to solve them.
The 80/20 principle is still alive and well
Recently we decided to narrow down our focus at Fullfunnel.io.
Instead of providing B2B marketing consulting to a broad B2B market we decided to focus just on 2 segments: B2B tech and service-based companies with long and complex sales cycles.
Because of COVID, some of our clients' projects were stopped or paused, so we needed to optimize our resources and continue to grow the pipeline. In any business, focusing on the few core things that will move the needle is critical, but it's often challenging to discover what those are.
After analysing our case studies and CRM, we saw that 73% of total revenue came from these two segments. Our research showed that LTV was much higher compared to other verticals we have worked in the past which made the decision to change our approach a no-brainer.
This shift required us to change our marketing positioning and unique value proposition, as well as adjust our copy and marketing message, but the initial work ended up being worth it.
In the first quarter of 2020 we grew our revenue by 50% and were able to double revenue compared to 2019, significantly decreasing the sales cycle length and growing the ACV—all the while the world faced the consuqneces of a pandemic.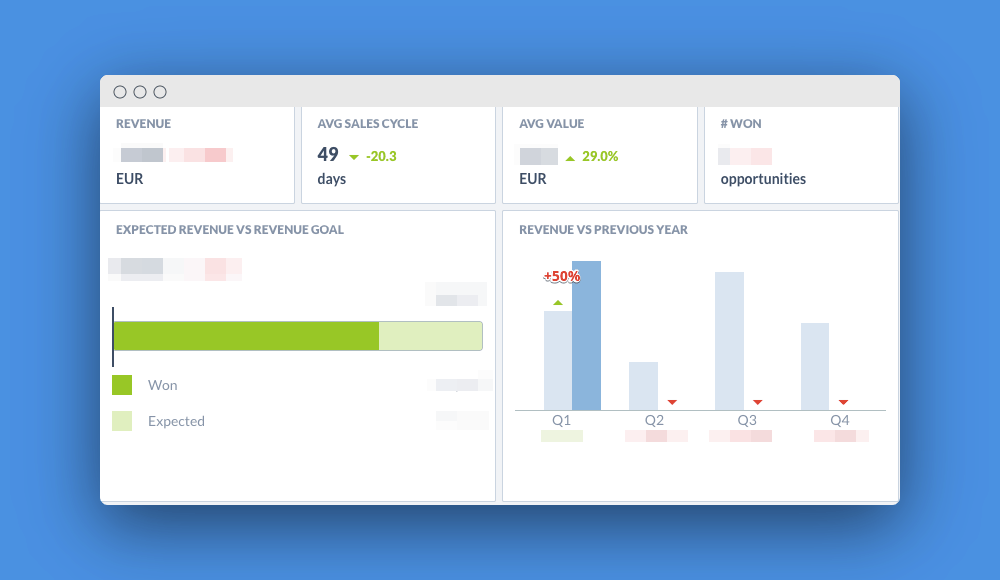 Our next step was defining an ideal customer profile and setting up clear qualification and disqualification criteria.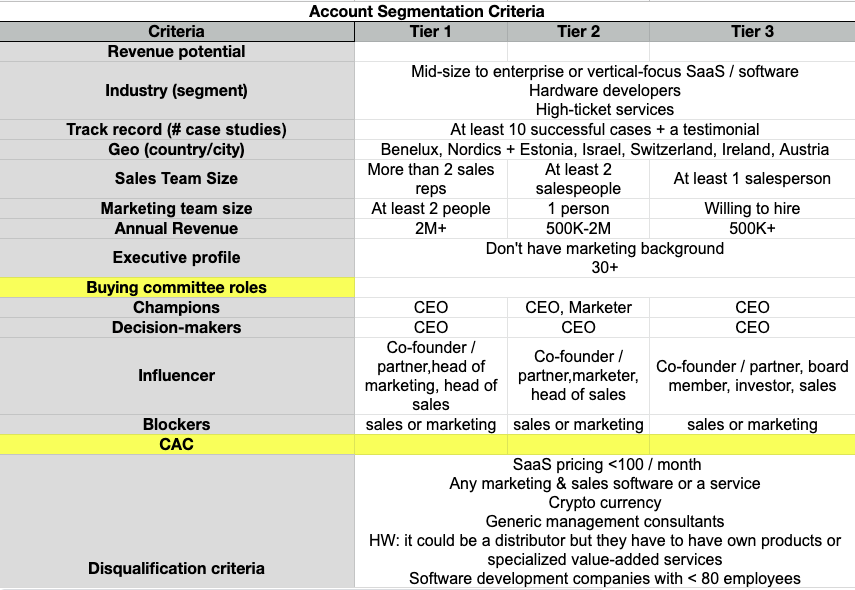 This process helped us define accounts with the highest revenue potential which we then ran highly perosnalized campaigns to. Customers with the lowest revenue received automated nuturusing sequences that required significantly less effort up front.
Our example of narrowing down focus and tailoring positioning wasn't unique.
In 2020 we applied the same approach to two of our customers: idronect (software to manage drone businesses) and Opsfleet (software development company).
Idronect had the challenge of converting free trial users to paid customers, and the sales cycle was long.
As a part of narrowing down the focus, we redefined their targeting, identified the most profitable market segment, and updated product positioning based on the interviews with clients from that segment.
Two months later they secured five new deals each worth five times more than customers they were struggling to close before, and won a new investment round.
With Opsfleet, the situation was critical as they provide a commodity service (software development) and have signifcant competition.
Here is what their founder Leo Mirsky told us in the early beginning of the collaboration:
Marketing was a mystery to us. We were getting referrals, and our company was slowly growing, but we didn't feel confident that our pipeline won't dry up at any moment. We were also positioned as experts in a specific technology, and as time passed, this space became more and more commoditized.
We continued to narrow down the focus and repositioned the company by adjusting their marketing strategy and value proposition.
Their new narrow positioning was: "Outsourced DevOps teams as a service for growing SaaS startups who use Kubernetes and Terraform platforms".
Even without launching new lead generation campaigns, we were able to activate "frozen deals" from their pipeline.
As a result, they were able to grow MRR by 50% in 6 months.
Of course, the 80/20 principle is not limited to strategic choices. It also involves knowing which acitivies you should focus on.
For Fullfunnel.io, there were three key activities that brought the highest ROI for us: LinkedIn demand generation, publishing new detailed case studies, and webinars.
I decided to make LinkedIn demand generation my key weekly pillar activity (check Brian Margolis's book if you are not familiar with the concept) that included:
5 posts per week;
5 non-sales touches with ICP;
Expand my network with 5 buying committee members of target prospects;
Leave 10 meaningful comments under the posts of the B2B marketing thought leaders that serve my target audience;
Devote 5 hours to write a new case study.
And as a monthly pillar we setup hosting a 60-90 minute webinar.
Doubling down our efforts on these activities in the second half of 2020 helped us to compensate for the losses in Q3 and exceed our revenue quota in Q4 to hit our target.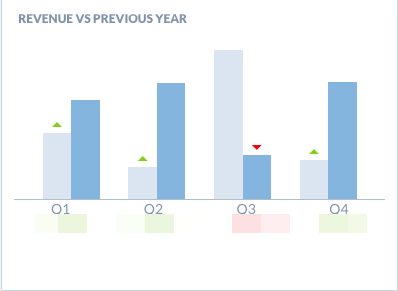 For idronect, we decided to double down on podcasting as we found it to be incredibly effective to set up meetings with target accounts, learn more about their needs, build the relationship and present the product.
For Opsfleet, we doubled down on the newsletter and the content for their Facebook community that generated inbound leads regularly.
Speed matters, the power of marketing sprints
While narrowing down your focus is crucial, your marketing pace is incredibly critical as well.

Why did Zoom become the go-to videoconferencing tool during the pandemic? Of course they have a great product and are well funded. But a large part of their success was the speed in which they executed on what their customers needed.
Zoom was quickly releasing new features (like end-to-end encryption) and simplifying the product for their users.
They built a marketplace to connect multiple apps with Zoom (calendar integrations, webinars hosting like lu.ma) and started to quickly test the response from different market segments (like educational institutions.)
As a result, Zoom became a house name for video calling while their stocks grew by 545% in 1 year.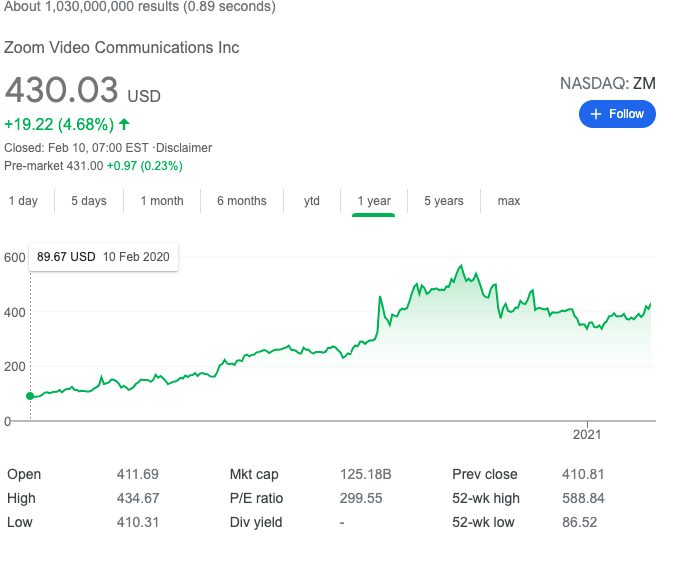 Nobody has time to wait 3-4 months to see the results from the marketing campaigns.
While Zoom is a great example of the power of moving quickly with B2B, long and c complex sales cycles can be tricky to navigate. In our research we wanted to know how B2B companies used marketing sprints to test ideas and ship features quickly.
A marketing sprint or a "minimal viable campaign" is a simple and quick campaign with a clearly defined goal, scope, and timeline with a clear path to a sale (opportunity). It can be used across both product and marketing.
With respect to marketing, marketing sprints help you quickly see what works (or what doesn't) so you can reallocate your resources and double down on the highest ROI activities.
Here is an example of the three-week marketing sprint we've created for one of the customers.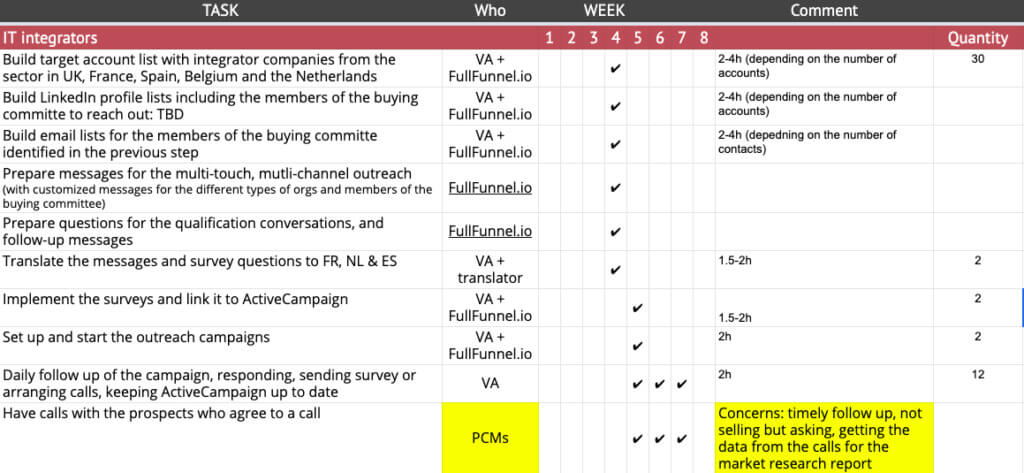 The goal of the sprint was validating the demand in the "IT integrators" vertical in 5 European countries: Belgium, Netherlands, France, Spain and England.
Now let's apply the marketing sprint planning principles I've shared earlier.
We start with answering the question: how can we validate if there is demand?
We start mapping out a simple campaign.
Campaign: market research.
Target accounts for each market: 30
# of calls/survey submissions: 10
Clear need: 5 accounts
Our goal is to arrange 10 calls with the those who have buying power for the target accounts. This helps us learn more about their challenges and how they solve them, and see if there might be a potential interest or need in our product.
If we see that at least 5 accounts shared problems we hellp solve, we prioritize this market and segment, and reallocate our marketing and sales focus on it.
Engagement scoring is critical
At Sirius Decisions Summit, Tony Jaros, President and Chief Product Offiver at Dirus Decisions at the time, shared that when organizations are aligned across the revenue engine, they see an average of 19% faster revenue growth and 15% higher profitability.
The engagement score is critical to leads hand-off between marketing and sales. One of the most common challenges we've seen is transferring the contacts of people who downloaded the ebook or any gated content to sales.
Sales waste time on follow-ups but it most cases hear the negative reply. The reason is simple: downloading gated content doesn't mean the buying intent. That's why it's critical to set up engagement scoring for leads hands-off and get the agreement of both teams.
When engagement score is defined, it is much easier to reach out at the right moment to your target accounts, instead of sending cold irrelevant messages to people who are not interested in your product or service.
Here is a practical example of the engagement score.

The data can be collected from IP-identification tools like Leadfeeder (we'll cover it later), LinkedIn and marketing automation like Hubspot or ActiveCampaign.
Use IP-identification to better serve your customers
IP-identification software can be very effective in helping you know what web pages your target accounts viewed and how much time they spent on your website.
This intent data helps identify what stage of the buying journey your prospect is so that you can personalize your outreach message with the right call to action. Using your own data you can:
Share educational resources such as case studies or articles for those researching and are at the awareness stage, and ask if that is helpful. Try to establish a relationship, warm up, and learn more about their needs and goals (e.g., why were you searching for this article or product?)
Share comparison reports, webinars, market research, or case studies for those who are considering alternatives.
Suggest which prospects you can reach out to to book an introductory call. Usually, these are the people who visited your product/service page several times and spent some decent time on it.
Here's an example of an outreach trigger you can set up:
If a company visited your product page several times and spent 30 minutes on your website, it is a good signal they are doing research and might be interested in chatting with you.
Below you can see a practical example how marketing can support sales with the intent data.
In this example, the target account meets your engagement criteria: spent more than 30 minutes and visited your product page multiple times.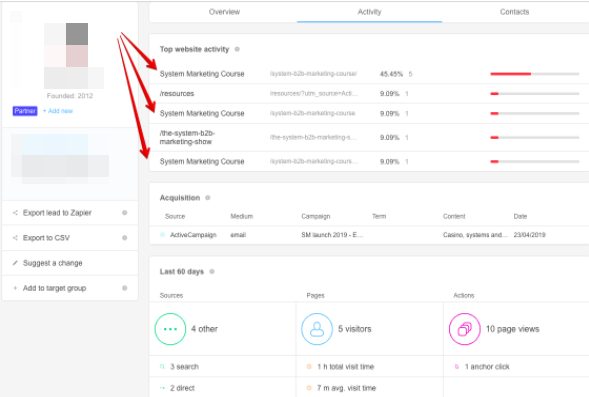 It goes without saying, the more you know about each segment of your target audience, the better equipped you are to serve them.
Conclusion
While there are many challenges B2B companies face, the reality is, the best of the best do whatever it takes to figure out how to both communicate and deliver value to their customers.
Here are some ways to solve your biggest B2B problems.
Invest the time needed to discover your "80/20."
Speed matters. Do whatever you can to test your assumptions quickly so you can double down on what works.
Take the time to score your engagement. Not all interactions are created equal.
Use IP identification to help you better understand the actions and behaviors of potential customers.