Some 85% of leaders and executives identify in-person events as critical for their company's success. In most places for most of this year, that's been impossible.
Not unlike their in-person counterparts, virtual summits have similar goals:
Bring people in your target market together.
Spread industry knowledge.
Raise awareness and grow your brand.
Increase your company's bottom line.
But, of course, they come with an added set of challenges. Hosting a virtual summit that leaves attendees feeling connected and more informed is easier said than done.
All too often, virtual summits turn into "podcasts on steroids,"—companies release content without giving attendees a platform on which to interact and engage.
In this article, I share how I've executed marketing and technical support for a virtual summit with 3–5k registered attendees.
Know why you're hosting a virtual summit, what you'll cover, and who it's for
My friend Joe Howard from WP Buffs is putting together a virtual summit at the time of writing this article. As always, there's a temptation to translate any marketing effort into immediate revenue.
But, as he notes, you need a long-term vision, too:
Of course, I'm hopeful that we're able to attract a few leads to WP Buffs, but in reality our long-term goals are much more important.
We want to host an online event that will, 1) help WordPress professionals make monthly recurring revenue work for their WP businesses and 2) allow folks to enjoy a stress-free, social, and fun virtual event without the virtual burnout that so many are coping with.
If we can pull off those 2 things, the WPMRR Virtual Summit can be one of the best online events out there. And being associated with that has much more positive, long-lasting impact on our business than anything else could!
A virtual summit that can achieve those lofty goals requires more than just putting a few industry speakers on a Zoom call and hoping for the best.
Pick a specific topic for your virtual summit
Focus. You can't communicate the benefits of an event without a clear vision.
Virtual summit expert Navid Moazzez taught me to nail down a niche—and profitable—theme before taking any further steps. He created an effective checklist you can adapt to evaluate ideas:
Do you love or have a big interest in the topic?
Are you successfully selling in this niche already, or are other companies proving the viability of the niche?
Are there popular publications around this topic you can tap into?
Does the topic meet your company, ethical, and moral standards?
Can you think of at least three things to sell?
Can you think of sub-niches for the larger niche?
Are the customers in this niche loyal, repeat buyers?
To quote Navid:
Go specific. One of the biggest mistakes I see people make is going too broad.

A summit for everyone is really for no one, so my advice is to make it as specific as possible.

This is perfect because you can target very specific needs, wants, and pain points, and really resonate with your market to increase conversions.

There is also less competition in very niche markets, so it's much easier to become the go-to authority.
Talk to your customers. Get feedback from those in your industry. After you've locked down a topic, you can define your target market.
Identify your target audience
Ideally, you can tap into a market your business already serves—your summit is another outlet to create value for your customers and strengthen your market position.
If you don't have an established target audience, dig deep here. Take the time to identify your online target audience and get intimately familiar with their desires and pain points.
On the screenshot below, you can see how I highlight the benefits my target audience gets by attending the WP Agency Summit.

Knowing exactly who will attend your virtual summit will also help you with two other important aspects:
Identifying products to sell to your audience during the virtual event;
Selecting speakers that get your audience excited.
Not every product you sell will be a good fit for your event. Maybe, you're hosting a virtual summit to not sell anything but just to build your email list or grow brand awareness authority.
Most successful traditional conferences focus on networking and learning with a small amount of sales pitches throughout. Virtual summits are no different. Don't turn your virtual summit into a pitch fest—by your company or by speakers.
From my experience, it works best to offer at least part of the virtual summit for free. One method is to offer all sessions for free while the virtual summit is live and put them behind a paywall after the summit is over.
You can also just keep the summit sessions free forever and use the summit as a lead magnet to grow your audience. It all depends on your goals and objectives.
Not everyone thinks that's the right approach, as Alistair Croll made clear on Twitter:
He has a point—free content is often not valued as highly as paid content. But if your summit clearly communicates the limitations of the free access (no bonuses, time restrictions, etc.), and offers an upsell to the full experience, it can be incredibly profitable.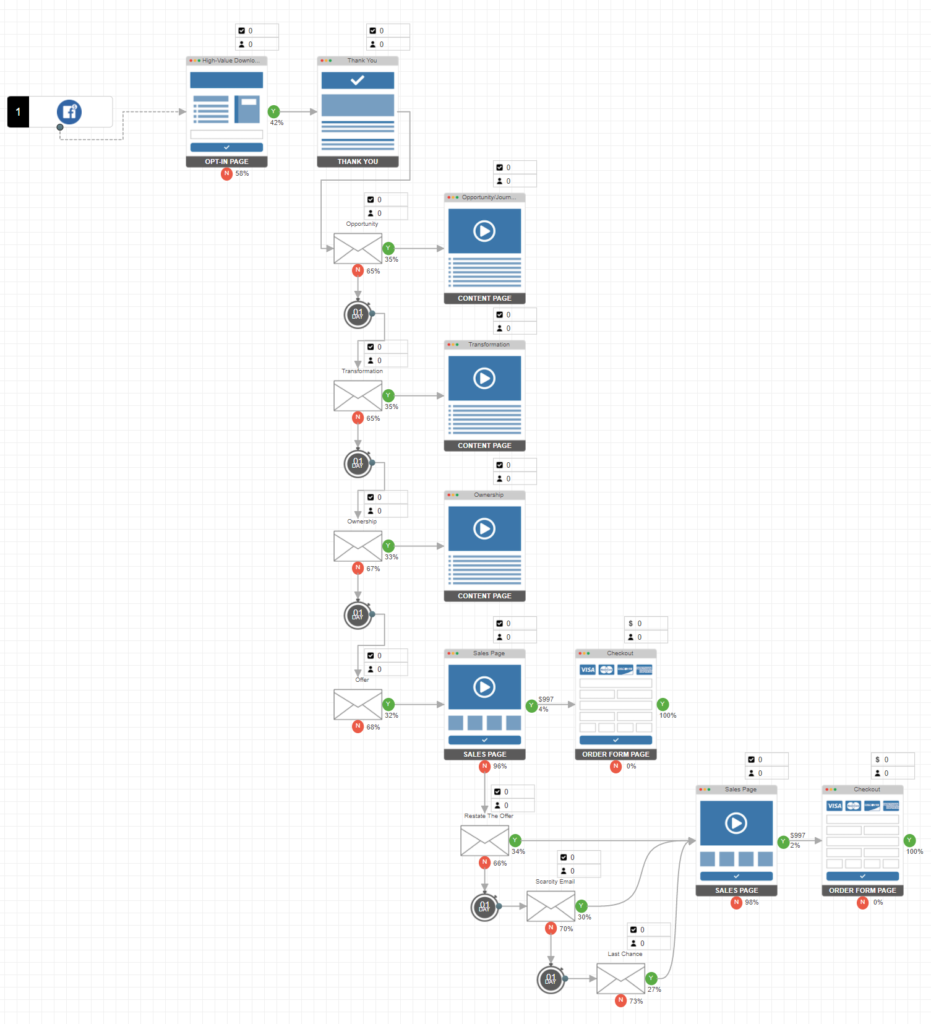 The nuts and bolts of running a profitable virtual summit
Regardless of the strategy you choose, know the type of user experience you want to create. In short, how do you want your attendees to remember the event?
Do you want them to feel happy about how much they learned? How well they connected with like-minded people? Would you rather have cash upfront or a pile of leads to follow-up with?
As with all things in marketing, there are tradeoffs.
Of course, none of your strategy will matter much if you don't have the tech to support the event.
Choosing the right tech for your virtual summit
While there are countless ways to run a virtual summit, the following is what I've found to work from hosting four virtual summits with a combined 10k registered attendees and 125k pageviews.
Let's go through each of the tech considerations one-by-one.
Self-hosted vs. platforms
The elephant in the room is whether you want to self-host (e.g., WordPress) or go with a SaaS tool.
Self-hosting with WordPress
WordPress powers over 30% of the web, so it comes as no surprise that you can host a virtual conference with a WordPress website.
The benefits:
You're using a free tool and just need to pay for hosting.
You likely already have in-house expertise for WordPress.
You're using a platform that you can adapt to your ideas and needs.
The challenges:
You have to design and build all the summit pages (landing page, registration confirmation page, content pages, sales pages, sponsorship area, etc.) yourself.
Depending on your expected audience size, you need to make sure your website can handle traffic spikes.
You want to protect your website from being hacked or having any downtime.
You need to integrate third-party tools like video hosting platforms, chats, video calls, payment gateways, etc.
You have no guidance on how to structure your summit and have to map out the entire user experience yourself.
If you have the technical resources and WordPress knowledge, you can certainly do so, but consider some of the out-of-the-box options, too.
Platforms to host your virtual summit
HeySummit
HeySummit has talk management and speaker dashboards that help you stay on track with all the talks that are going on. Your speakers get real-time data on how their session is performing against other speakers.
One major downsides, however, is that you can't build a sponsorship area with virtual booths and virtual giveaways. If you don't need those and can cope with the costs of HeySummit, it's worth trying out.
Hopin
Hopin gives you a virtual venue where you can build multiple interactive areas to connect and engage with attendees. You can have virtual roundtables for your attendees to connect with each other and even build virtual sponsorship booths.
If you're looking for a solution that has been battle-tested and proven itself over and over again, Hopin could be it. Organizations like the United Nations, The Next Web, Adobe, Dell, and the Wall Street Journal have used it to host virtual events.
The biggest disadvantage of Hopin is that it's nearly impossible to customize beyond the standard features they provide.
vFAIRS
Visually, vFAIRS most closely resembles a traditional conference. You can welcome your attendees at a guidance desk, have feature-packed booths that look like the booths you would see at a physical event, and build custom landing pages that follow brand guidelines.
That said, vFAIRS is less-tailored to hosting a virtual summit with speakers giving talks. It's best suited for events at which companies can showcase their products, offerings, and brand.
Facebook Virtual Summits
Another great alternative is using Facebook. My friend Tina Dahmen saw outstanding engagement during the sessions. She summarized the event as follows:
I hosted the summit live on FB as I wanted to include my entire FB group, which worked out amazingly engagement-wise. I also think live events have much better energy to them, and it's really great to just engage with attendees directly.

I did everything very differently than the normal summit organizer usually does. The reason for that also was that I didn't really study anything about summits beforehand and just had the idea to host live events anyway. I basically learned while I was doing it.

I emailed out a notification to everyone a few minutes before I went live, and I also pinged everyone on Facebook Messenger, which increased attendance rate drastically.

However, the conversion rate was low, but this had to do with my offer and not with hosting the summit on FB.
Ultimately it comes down to choosing the platform you're most comfortable with. Reliability, customization, and ease-of-use are all important factors.
Tech to run the show, contact attendees, and manage access
Using my upcoming WP Agency Summit as the example, let's assume that:
You want to use sponsorships to pay for the expenses to host the event.
All your speaker sessions are prerecorded and go "live" at a certain time during the event.
You will offer networking possibilities through video calls and live chats.
You want to sell lifetime access to all the sessions for a profit.
You want to leverage affiliate marketing in order to promote the event.
You'll have paid traffic campaigns driving attendees to your event.
You'll use emails to communicate with your attendees before, during, and after the summit.
That requires integrating a lot of tools. For the real-time event, you'll need to move from one speaker to the next, get multiple speakers online at the same time, and integrate virtual coffee breaks.
To make this less abstract, here's an example of how my friend, Lee Matthew Jackson, structured the first day of his Agency Transformation Live event: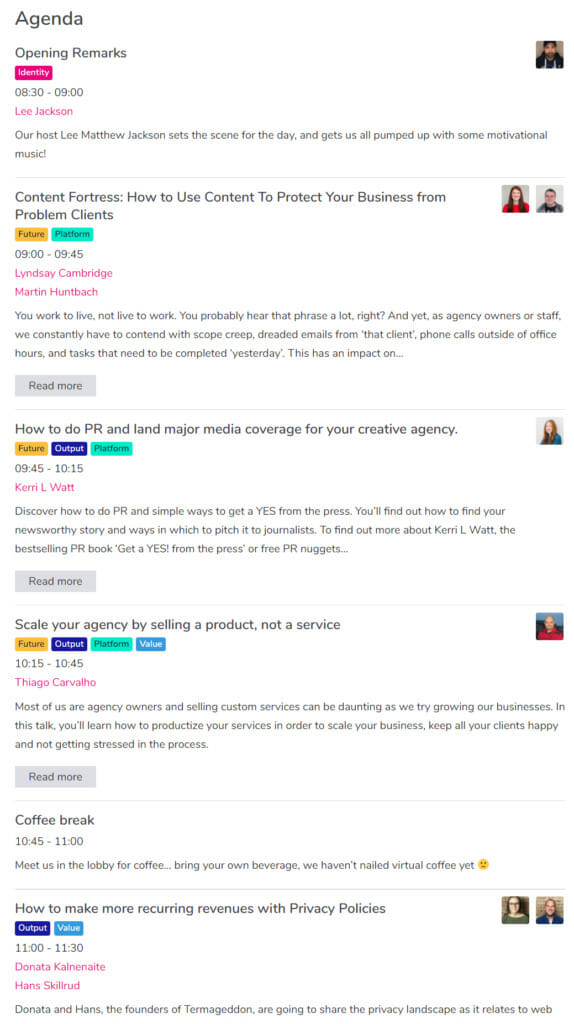 Behind the scenes, you'll need email support to keep attendees engaged.
Email automation before, during, and after
I heavily rely on email marketing for my events because it allows for a high degree of automation without losing a personal touch.
Throughout your virtual summit, communicate with your attendees as much as you can. Share details about the schedule of the sessions, how to navigate the virtual summit website, how to connect with other attendees, and how to ask for help.
I use Active Campaign and have multiple automation workflows that trigger based on defined dates or milestones. You can use any other email marketing tool that lets you set up automated email sequences.
Think about the following email campaigns:
Prelaunch. Get your subscribers excited about what is coming.
Onboarding. Explain exactly how the event is going to work once it started.
During the event. Make sure your attendees have all information they need to have in order to make the most out of your event.
After the event. Keep communicating with the attendees once the event is over.
Obviously, this email strategy can be expanded to fit your own communication standards and plans for the summit.
Selling lifetime access after the summit ends
Sharing valuable, free content creates goodwill for your business and also helps you grow your email list. It's much easier to promote a free virtual summit than directly asking people to buy a ticket to the event, especially if you've yet to host your first event.
Once the event is over, however, it's common practice to lock the sessions behind a paywall or even create a membership area with bonuses around the lessons. That's worked for me with the WP Agency Summit and my other events since 2015.
My payment processor of choice is ThriveCart because it also serves as an affiliate management platform. You can use any payment processor you like, even just PayPal or Stripe, as long as it lets you connect with a membership tool to create user accounts for your customers.
I integrate ThriveCart with Active Campaign so that all the customer information gets stored in Active Campaign. I then connect Active Campaign to a WordPress plugin called Memberium for Active Campaign, which handles all the account creation and locks down the content to be accessible for paid customers only. I break down this process in the video embedded below.
Monetize your virtual summit
Now that we've covered strategy and tech, let's take a look at how to monetize your efforts.
Using scarcity to increase conversions
Using scarcity or urgency to increase conversions is a tried-and-true marketing practice that often gets a bad rap. I'm not a fan of faking it, but I do have a use-case for a virtual summit.
After somebody signs up for the free access, offer a discounted lifetime access for a limited amount of time. I use a tool called Deadline Funnel and then set up countdown timers on the respective sales pages.
The screenshot below shows the edit screen inside Deadline Funnel for the countdown timer on the upsell page: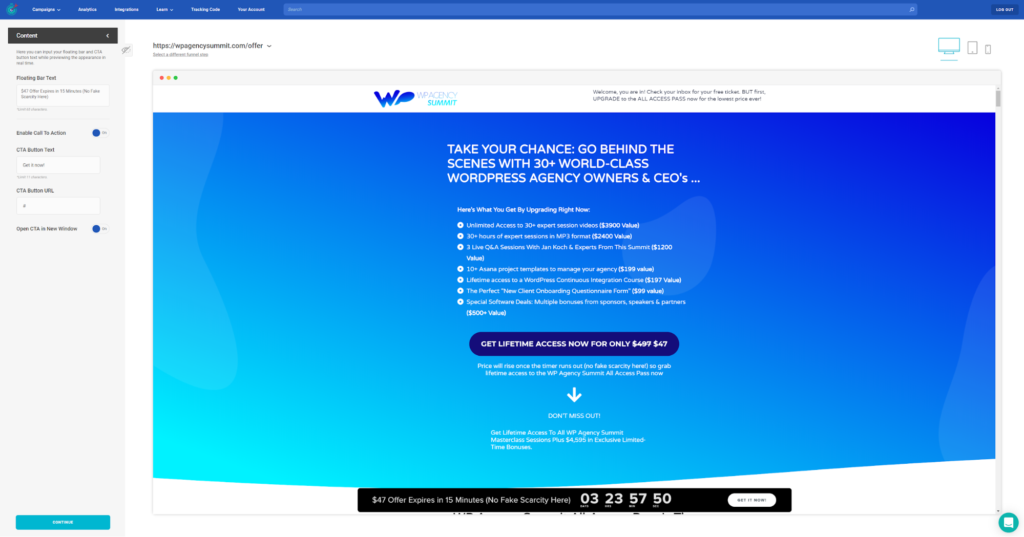 I want to make one thing very clear here: This truly is a one-time offer. If you employ this strategy, keep it ethical and never sell lifetime access to the summit contents at this price.
Upsells and downsells
Another great way to monetize your summit is to implement upsells and downsells. Ideally, those can be existing products or services you already offer in your business.
Below is a screenshot of how I implement upsells and downsells using ThriveCart. In this example, I sell a video course that fits the interest of WordPress developers and freelancers. It's connected to the lifetime access purchase for the WP Agency Summit.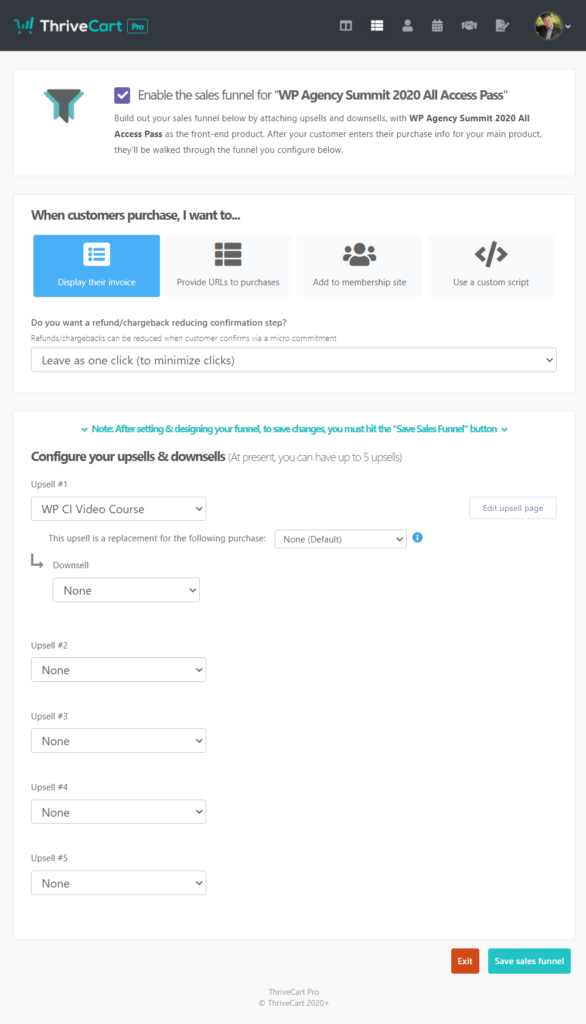 Most providers allow you to have upsells and downsells, which I highly recommend for your event.
A walkthrough through of The WP Agency Summit website
To make the tech more relatable and easier to grasp, I've recorded a walkthrough of my WP Agency Summit website that explains the user experience I'm striving for as well as how I've set up my site and why:
Here's what I cover in the video:
Video walkthrough in the WP Admin Area
What pages do I have and how do users flow through it?
What plugins do I use and why?
How are the plugins configured?
How does the selling work?
How is the membership built?
Must-have WordPress plugins for your summit
If you're using WordPress, you won't need any particular "virtual summit plugin" to make your event happen. All you need is a nice-looking website to capture email addresses and present the session contents.
Below, I outline three plugins that I consider important, but even those aren't mandatory and could be replaced with other plugins or services.
1. Memberium for Active Campaign
This plugin connects subscriber and customer data inside my Active Campaign account with my website and lets me sell access to the lifetime membership area.
After the summit ends, I use Memberium to lock down the sessions and bonus contents for public access. By then, only customers who paid for lifetime membership can see the sessions and take advantage of the bonuses that I've prepared for them.
Below, you can see an example of how to configure the login function when using Memberium for Active Campaign: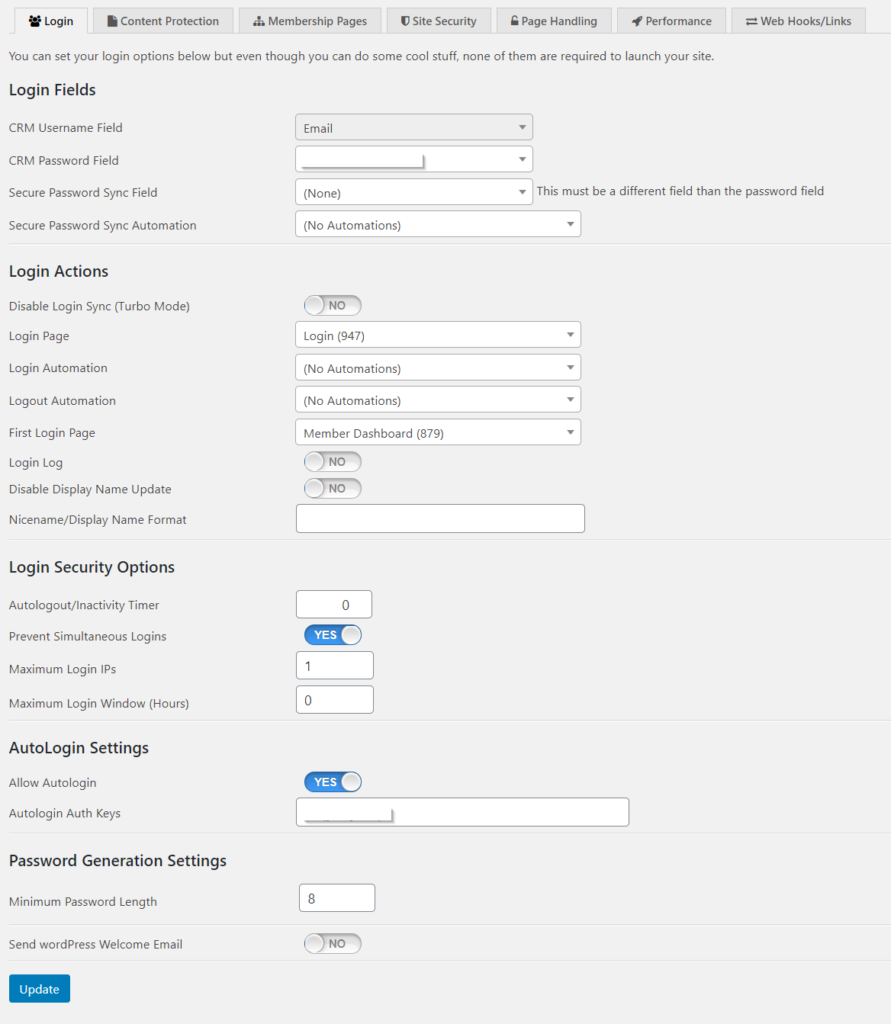 2. Elementor Pro & Ultimate Addons for Elementor

Since WordPress doesn't have layouts for virtual summits out of the box, I'm building them myself using the Elementor page builder. Investing in the Pro version and installing an add-on that comes with my theme license (Astra Pro) makes sense.
Elementor is also what I use to integrate Active Campaign and capture the email addresses of my attendees. It allows you to build opt-in forms and then send the submitted data to a particular list in Active Campaign. You can even tag subscribers using these opt-in forms.
3. Advanced Custom Fields Pro
Together with my mentor, Leon Benedens, we build quite a few custom functions around our virtual summits, specifically for how data for the speakers and sponsors is handled. We use Advanced Custom Fields Pro for this purpose.
Optimize your summit website for performance (and conversions)
Here are three ways to improve the conversion rate at your virtual summit (or any landing page, for that matter):
1. Page speed
Virtual summit landing pages often have a lot of content—and load slowly. You usually highlight all the speakers and their sessions, which can be up to 88 images just for the speakers. (Yes, I've seen summits with 88 speakers.)
Take care of the low-hanging fruit for increasing your website speed:
Implement a Content Delivery Network (CDN) if you expect global traffic.
Leverage server-side caching.
Add browser-caching, compression, and minification to your website.
Ensure your website is running on the latest version of PHP and MySQL/MariaDB.
Consider setting up a static landing page (requires coding skills to make registrations work).
Optimize your images for fast loading (use .webp format, add lazy-loading, upload in the correct size, etc).
2. Split-testing
Split-testing allows you to have multiple landing pages and drive a part of your traffic to each, measuring how they perform in terms of registrations.
You can choose from countless split-testing tools out there; I won't add more bloat to the article by going through them. CXL has some really good articles about split-testing already:
3. Heatmaps
Heatmaps can give you actionable insights on how visitors interact with your website.
One of the most common takeaways from studying heatmaps is to increase contextual relevance. This strategy helps you better guide your visitors through the landing page by respecting their stage of awareness (refer to Breakthrough Advertising by Eugene Schwartz).
Needless to say, heatmap analysis is complex enough to write multiple posts about it. Luckily, CXL also has quite a few outstanding articles you can use for further learning.
Ways to increase the exposure for your event
A stellar speaker line-up and top-notch organization are obvious keys to a great event.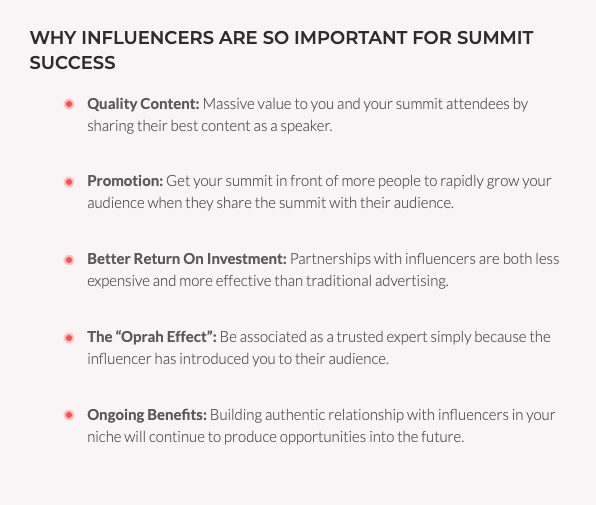 That's why entire companies specialize in this field, like Dutch Standard Events, run by Sytze Wiersma:
Book A-list speakers with relevant background in the industry. Before signing the contract, ensure they allocate a minimum of 1 work day of preparation. As an organizational committee, we check their presentation decks and discuss the flow of the show together with our Creative and Show director.

Finally we take their slide deck and have our creatives re-make it in the style of our Event Brand. So, huuuuuge effort and work in co-creation of content with all sides of professionals working on them.

Not "we book you and see you then and we HOPE it's valuable enough.
Virtual summits are often easy to promote because you're giving away access. That makes it easier to approach influencers, respected platforms in your niche, or other media like news outlets, podcasts, etc., to talk about your event.
Consider running Facebook or Google Ads to drive more traffic to your virtual summit landing page.
Another great way to drive more eyes onto your summit is by encouraging social sharing.
You could run contests that reward people who drive new registrations to your event with a free lifetime access pass or a different bonus. Any incentive that is relevant to your audience will work, just don't give away the generic—and often expensive—gifts, like iPads or Amazon gift cards.
You can also tap into third-party platforms through guest posting, writing on outlets like Medium or Dev.to, being on podcasts, or doing webinars with authorities in your field.
Lastly, I use affiliate marketing heavily when promoting my summits, usually giving away 50% of the profits to affiliates. Converting your speakers into affiliates helps you leverage their authority, offers them compensation for the time they spend doing their session, and expands your reach.
Ideas to replicate physical networking areas online
Physical events have hallways. In these hallways, you bump into like-minded people and have exciting, random conversations. Those interactions often provide the greatest value to attendees—which you need to replicate in your virtual event.
As Leon Benedens from Fairment notes:
Thanks to the subconscious concept of reciprocity, attendees who enjoyed our free events value the effort we put into them and want to give back to us and respond positively to when we pitch relevant paid products.
Fortunately, there are ways to create these virtual hallways:
Set up standing video calls your attendees can join at their own convenience (e.g., using tools like Jitsi).
Embed live chats for each session or just on a dedicated page for your attendees to network.
Place attendees on virtual roundtables (requires custom coding) with access to a private video call and live chat. The limited number of people helps make everybody feel more comfortable.
Keep in mind that not everyone is an extrovert and comfortable with approaching strangers on video chats. Offer other ways to interact—audio, written, etc.—so that each attendee can pick the channel they like most.
Key differences between virtual and physical events
In my experience, there are four major separating factors you need to be aware of when hosting a virtual summit.
Delivering your virtual summit across multiple timezones
Most likely, your virtual summit will attract an audience that spans multiple time zones or even the entire globe. I've personally gotten pageviews from 110+ countries on my online events.
When planning your event times, make note of the most popular timezones and use a timezone tool to keep track of various times around the world.
You can manage this in two ways:
Set up a daily schedule with a couple of sessions for each day and keep those sessions online for a limited time (e.g., 48–72 hours). That gives every attendee enough leeway to consume the content at their convenience.
Publish all sessions at once and keep them online for the duration of the event. That creates less confusion about which session is online on which day, and gives people more than enough time to listen to their favorite speakers.
"Meet and greet" with speakers and sponsors
Considering having live chats and video calls embedded on the summit website. Encourage your speakers to spend some time in the chat and on calls.
With virtual sponsorship booths, you can have standing video calls and live chats. Just make sure your sponsors staff the booth while the live chat and video call are online—or that you have a back-up option if no one's there.
In the screenshot below, you can see a virtual booth I built for the translation tool Weglot. When the booth isn't staffed, it shows multiple asynchronous ways for attendees to reach out to the company.
Once the booth is staffed, you can replace the main CTA section with a standing video call to encourage direct conversations.
At all times, there's a spinning wheel to simulate giveaways. Visitors can spin it and win coupons, swag, and other items that the sponsor chooses. Details like these make visiting the virtual booth more fun (and help the sponsor generate leads).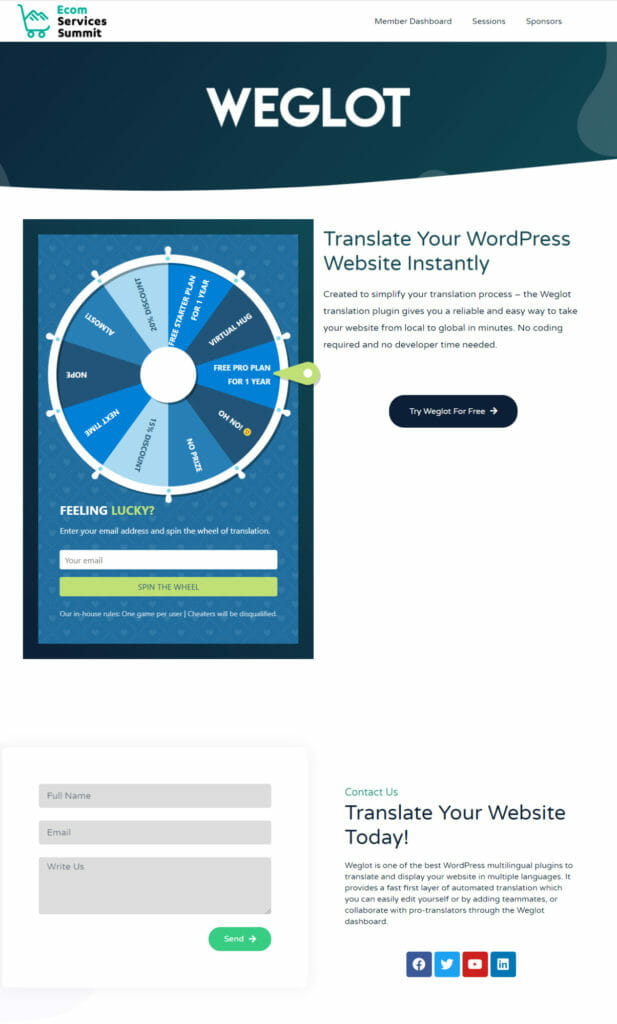 Social events post conference
A virtual conference misses out on meetups in pubs or restaurants, panel discussions in other places, attendees spending time somewhere else in the city, etc.
While not a perfect alternative, you can put together virtual dinner parties or lunch breaks with no set agenda. Don't be afraid to get creative—you want attendees to feel comfortable while learning and making relationships.
Conclusion
There's no way around it; hosting a virtual conference is a lot of hard work. Choosing the right topics, inviting the right speakers, and perfecting your tech stack can be challenging.
But once you've done your first virtual summit and got some traction, your business will be reaping the benefits for years to come.
Just building the connections to all the speakers and sponsors is often worth the effort and can result in plenty of business and growth for your brand.