Almost all business owners hate Yelp, but they understand its power.
In general, user-generated reviews are tremendously influential when it comes to persuading people to buy.
One study found that 88% of consumers trust online reviews as much as personal recommendations, and 72% of consumers say positive reviews make them trust businesses more. Millennials, in particular, trust user-generated content 50% more than other media.
The problem is that customers are more likely to share bad experiences than good ones. Business owners are well acquainted with the "vocal minority," those loud and influential voices that represent the extremes of your brand experience. (A study found that over 75% of customers almost never write reviews).
It's important, then, to get the right kind of reviews and to understand how they can affect your sales and reputation.
How do people consume product reviews?
Reviews are a form of social proof.
Both the quantity and quality matter. When you're looking at buying a book on Amazon, you want to know how many people bought the book and also how many thought it was excellent (as well as why those who rated it poorly did so).
This information removes a little bit of the uncertainty of online shopping.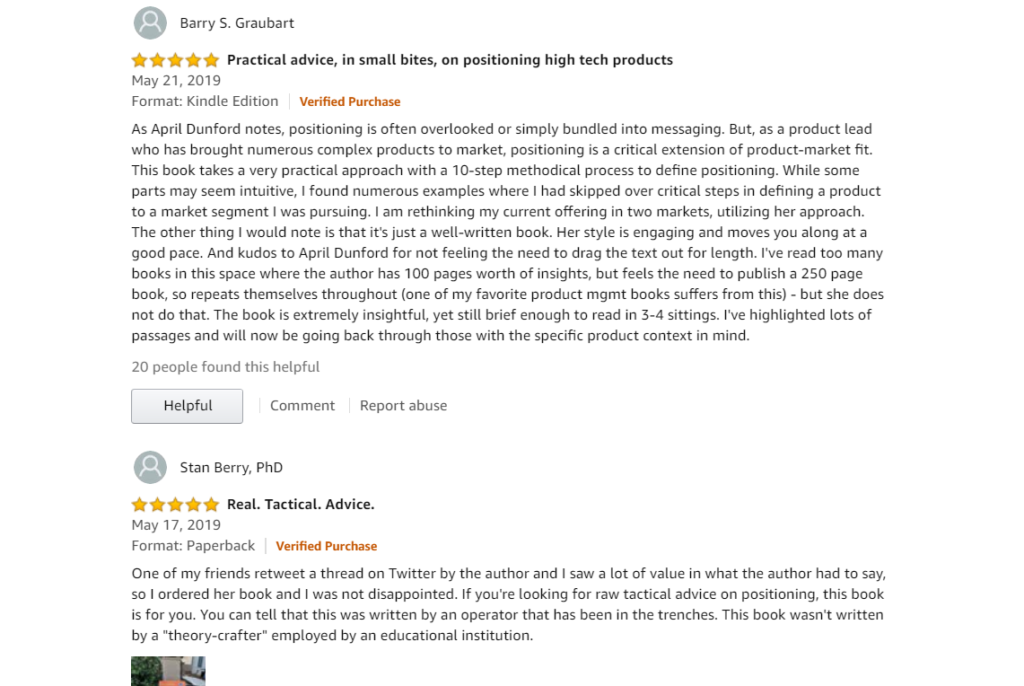 Reviews, as a Harvard Business School article put it, "fill in the gaps by providing a tremendous amount of information on which to base decisions."
There are two ways that customer reviews are executed online:
Internal word-of-mouth (WOM): Reviews located on the retailer's website.
External WOM: Reviews located on third-party sites (e.g., Yelp).
Amazon is an example of the first category. The reviews are right there on the same page you can purchase the product. Yelp is an example of the second. If I'm looking for tacos in Austin, I can be pretty sure that Taco Joint will serve me a good one: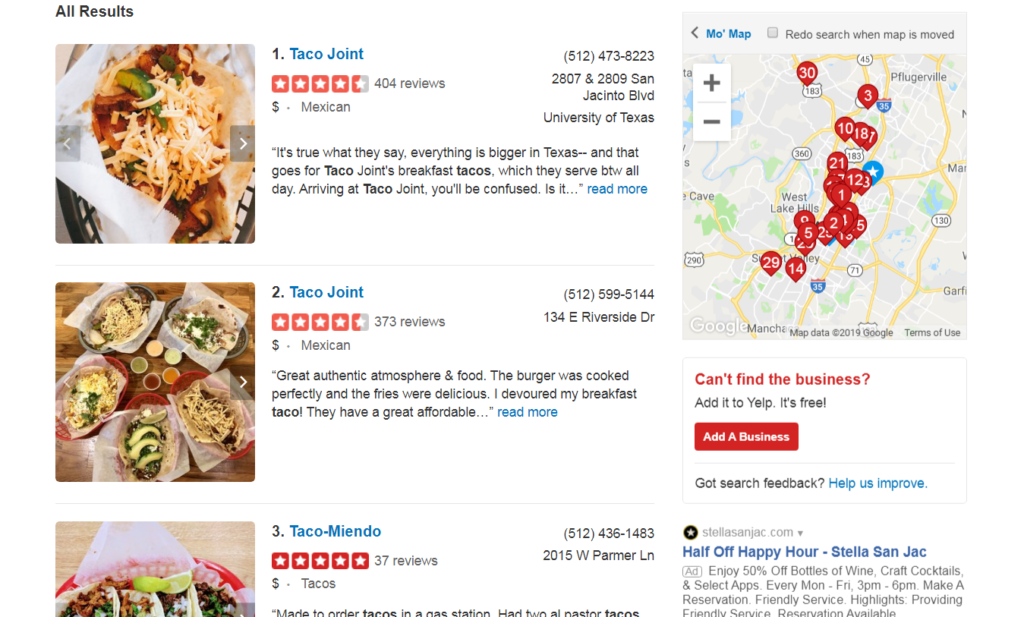 Both types of user-generated reviews are important. While on-page reviews don't require a click to another tab to purchase, one study from Nielsen found that 82% of Yelp users visit the site when preparing to spend money on a product or service.
The quality, of course, matters too. A Harvard Business School study found that each added rating star on a Yelp review (for restaurants) translated to anywhere from a 5% to 9% effect on revenues—a substantial amount.
It's easy to lambast sites like Yelp for their ability to (seemingly) attract only the most extreme voices, but you have to admit that it's reassuring to see a large number of (quality) reviews when picking a place to stay on Airbnb.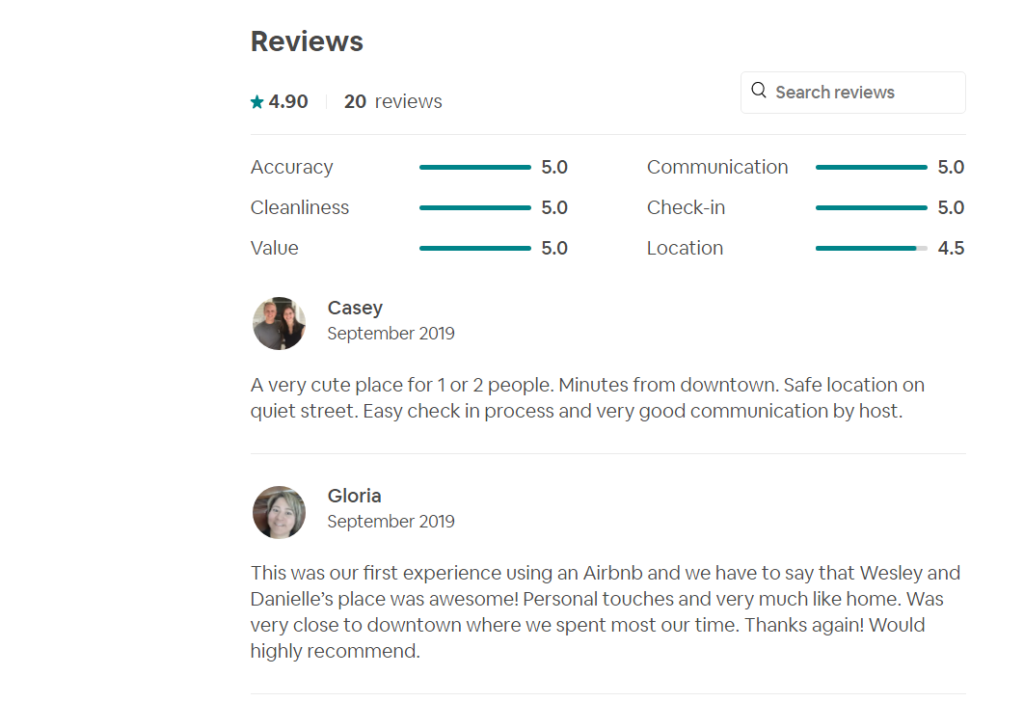 There's a certain credibility that comes with a large quantity of reviews. It takes away some of the doubt and hesitation you'd normally experience—especially for a purchase in which it's difficult to assess quality or value, like apartments or food.
Both on-site and off-site reviews matter
Te prevalence of user-review sites, may make you think that it's unnecessary to get reviews for your own site. However, a lot of research supports the power of on-site reviews, too:
Reevoo found that 50 or more reviews per product can mean a 4.6% increase in conversion rates.
According to a study from iPerceptions, 63% of customers are more likely to make a purchase from a site that has user reviews.
Bazaarvoice found that site visitors who interact with reviews and customer Q&As are 105% more likely to purchase while visiting (and spend 11% more than visitors who don't interact with user-generated content).
eMarketer found that consumer reviews are more trusted (nearly 12 times more) than manufacturer descriptions.
According to Reevoo, reviews produce an average 18% uplift in sales.
On-site and off-site user generated reviews both matter, and they both influence each other when it comes to conversions.
Third-party reviews are, by and large, a good thing for consumers as well as for your business. At least in theory, it promotes meritocracy. If your service is good, you get good reviews. If it's bad, you get bad reviews. Customers are granted greater transparency, and good businesses get more trust (and therefore more business).
On-site reviews are awesome, too—for the company and the shopper. Who doesn't love seeing that their Uber driver is rated a 4.9/5? Similarly, I'm sure Uber drivers that pick me up are happy to note I've got a shining 4.93 passenger rating: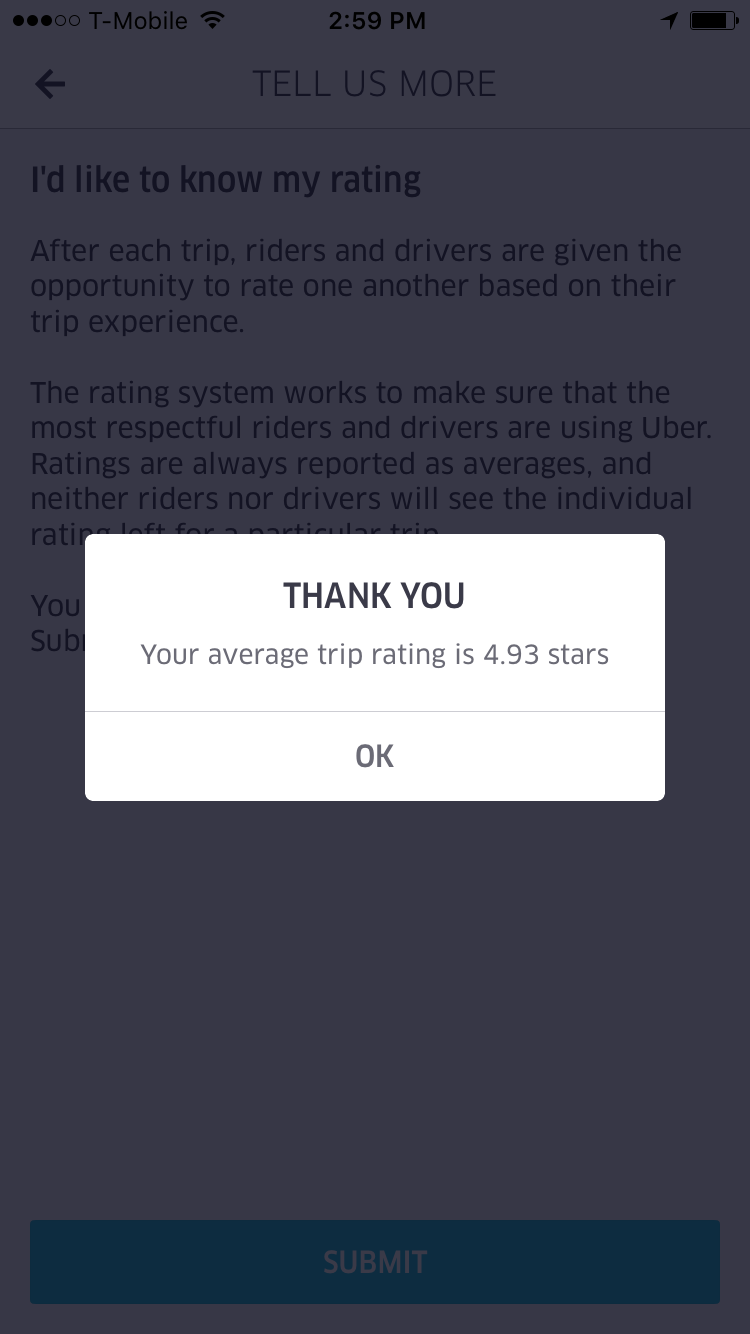 Reviews foster a sort of crowd-sourced meritocracy, especially when the reviews reach higher quantities. The ebbs and flows even out, and you get a pretty good average on which to base your opinion.
Oh, and one more thing, fellow growth marketers: user generated reviews help SEO.
What makes a good user-generated review?
A good review clarifies your offer, brings authenticity to your brand, and increases trust in your product. What's that look like in practice, though?
Here's what a good review profile usually looks like:
A balance of positive and negative comments;
Actual descriptions of product usage;
Comparisons of a product to competing brands.
Conflicting reviews deter shoppers from their ultimate goal of making a purchase decision. If some love it, and some hate it, consumers are likely to move on to a different product. Don't expect them to put in too much effort to uncover the truth in the conflicting reviews.
That doesn't justify negative reviews, which can help breed authenticity and trust (more on that in a bit).
Quantity counts, too
In fact, Reevo found that the quantity of reviews alone correlates strongly with conversion rates:
So, how do you maximize the effectiveness of your reviews? It's more art than science (usually). The quality and quantity of reviews matters, of course, but so, too, does how you display the reviews.
How to display reviews
The most common way to display reviews is chronologically. This has some benefits (mainly SEO), but also drawbacks: It's up to chance which customer review a user sees first.
Many ecommerce sites still order reviews by "most recent":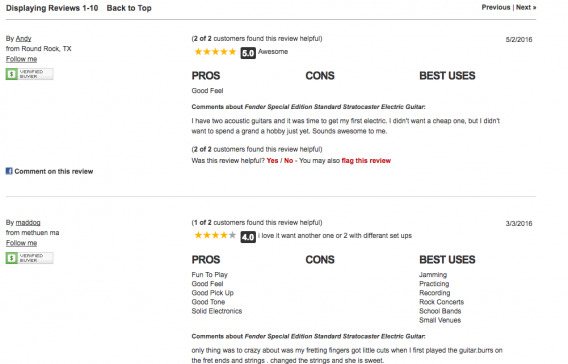 The above screenshot, from Guitar Center, shows how they organized reviews in 2016. They provided a "review snapshot" with the most helpful (ranked by user ratings) positive and negative review, but date was still the default manner of sorting reviews.
That's since changed. In 2019, they've switched to sorting reviews by "Most helpful," and also include the "Most liked Positive Review" and "Most Liked Negative Review" above those: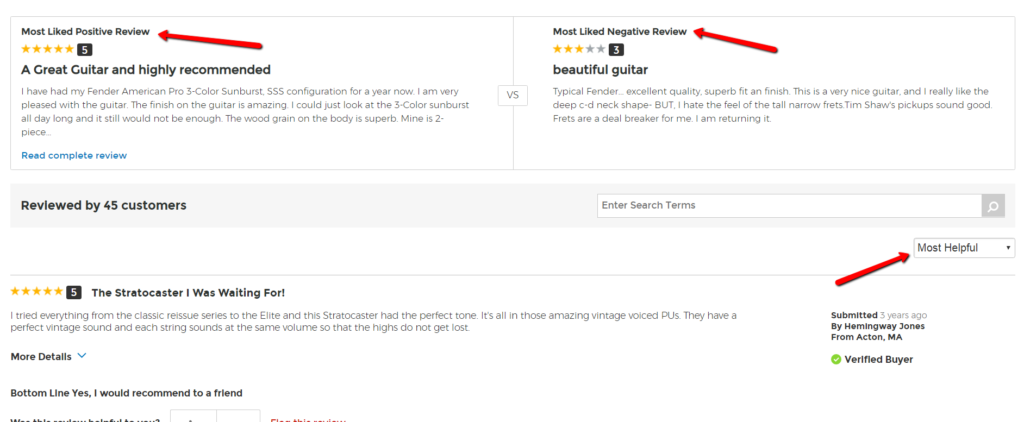 That tracks with what Pratik Dholakiya wrote on the Unbounce blog about why the design of review sections matters.
Here's how he put it: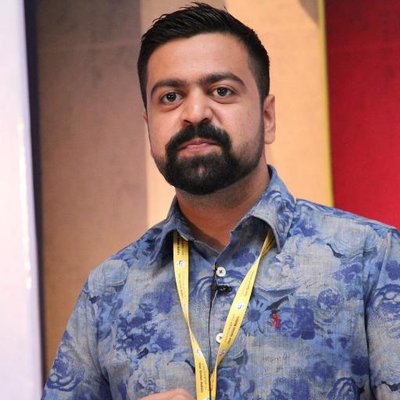 Pratik Dholakiya:
"Don't sort by most positive rating. First off, remember that the star rating itself doesn't actually influence sales; only the content of the review matters. Second, remember that a wider range of star values actually increases conversions, despite the fact that this means more negative reviews are visible.
Instead, you should consider testing these and other alternatives:
Allow users to rate each review, and then sort them by most helpful. The study found that the most helpful reviews on Amazon were also the most likely to use the appropriate linguistic style.
Show users a representative sample of the variability in star ratings. In other words, if 50 percent of the reviews have 5 stars, show them a list of 10 reviews, 5 of them with 5 star ratings.
Experiment with showing the most positive reviews from each star rating. In other words, show the 1, 2, and 3 star rating.
Conclusion
Yes, it can be annoying to badger customers to leave reviews—on Amazon, Yelp, your site, Facebook, Google, or anywhere else. But they matter.
A balance of positive and negative reviews builds trust in the authenticity of those reviews, and a layout that makes it easy to find helpful reviews (not just recent or positive ones) can have a strong effect on sales.