When launching a digital brand, PPC can be a great way to immediately break into a new market and start generating website traffic. But with rising CPCs and unmitigated click fraud, PPC can also get really expensive quickly. Even the most skilled digital marketers can struggle to run profitable Google Ads campaigns.
For this reason, getting more out of your PPC spend is not just about properly optimizing; it's about using all of that PPC data to shape a smarter SEO strategy. In this article, I'll break down how to use your Google Ads campaigns as prospecting tools for SEO.
Why PPC is an effective short term strategy, but SEO is the long game.
With PPC, it's critical to remember that you're in essence "renting" visits to your website in the short-term.
Brands that rely heavily on revenue from paid than organic search are only one crisis away from having their business turn upside down. The moment you stop paying for search ads is the moment your traffic dries up.

You can certainly jumpstart traffic with paid search, but if you're on a budget this strategy can be difficult to maintain.
Unlike PPC, organic SEO allows brands to earn that same traffic without paying, and if done correctly, continue to benefit over time. That doesn't mean Google Ads can't be a valuable part of your marketing strategy, but putting all your eggs in one basket can come back to haunt you.
Depending on the competition and the rate at which you build your site authority, seeing the rewards of SEO can take months. That's why PPC is one of my favorite ways to quickly start testing out digital strategy and sales processes.
To prospect well, you need to properly optimize your Google Ads campaign
Before we look at how PPC campaigns can help with SEO, it's critical to ensure you're already optimizing your PPC campaigns first.
There is a lot that goes into optimizing Google Ads campaigns, here are some
1) Take an iterative approach
Most likely, your first campaign will not be profitable. But an unprofitable campaign can still give you loads of information about your set of keyword targets, bid amounts, ad formats, and the details you need to improve the effectiveness of your campaigns .
For example, if your ad is being triggered for irrelevant search terms or generating the wrong types of clicks, add those terms to your negative keyword list. If your ads are earning impressions but not clicks, revise your ad copy and work towards making them more relevant.
In terms of the ideal length of a PPC campaign, I recommend you have enough monthly budget to acquire at least a few hundred clicks (you need enough conversions to calculate a statistically significant conversion rate.) In my experience three months of PPC budget is enough time to iterate your optimizations and prospect for SEO.
Make small adjustments, monitor your results, then implement new changes accordingly.
2) Use single keyword ad groups
Many PPC managers agree that one of the best optimization practices is single keyword ad groups. Yes, it takes more work for your marketing teams, but pages with the most relevant ad copy will generally improve click-through-rate and conversions.

I find the SKAG campaign structure to be incredibly helpful, and it uses only one keyword per ad group (rather than one ad group targeting multiple keywords). SKAGs make it easier to determine which keywords will perform well or not for SEO because:
The SKAGs with the highest CTRs and conversions will likely be winning SEO keywords
SKAGs help uncover relevant search terms that are worth targeting organically
SKAGs make split testing easier (the next optimization step) and can help you identify the most effective headlines and descriptions that you can utilize on SEO-driven pages.
3) Write highly-targeted ad copy and utilize A/B testing
If you're structuring your campaigns properly and using SKAGs, you can create unique text ads for each target keyword in an ad group. With the Google Ads built-in A/B testing feature, you can also test out different headlines or descriptions to see which performs better.
With the "Optimize," ad rotation setting, ad served get weighted toward the ad that statistically appears to perform better. To run a proper A/B test, you need to have a clearly defined variant that you are testing, as well as two sets of ad copy that are unique enough to produce different results. In the below example, the description is the variant being tested, and the data shows that the B variant performed better (despite far fewer impressions).

One of the most common pitfalls of A/B testing is that advertisers test out too many variants making it difficult to determine why one ad performed better over another. For this reason, it's important to only test one variant at a time.
4) Use a Google Ads bid simulator to determine the price you're willing to pay
A bid strategy will ultimately play a big part of paying less for better clicks in PPC campaigns. There are benefits and drawbacks to manual and automatic bidding, but both require advertisers to determine appropriate keyword bids for their highest-value keywords—marketing effectively is hard work!
The Google Ads bid simulator is a great tool for finding this magic number. Many digital marketers often set their max bids too high and end up overpaying for clicks.
The degree of the curve can help you determine an appropriate price to set your max bid amount. Where the curve flattens off shows where increasing your bid will only result in minimal traffic increases.
In the above example, if you increase CPC from $1.41 to $3.00, the marginal cost-per-click for the incremental traffic is over two times more expensive for only 7% more impressions. I would bid $1.07 – $1.41 here.
5) Optimize your landing pages for conversion
The work of PPC doesn't end after the click. Although some brands run PPC campaigns just for brand awareness, performance-based campaigns are easier to measure, and in my opinion, conversions should be the ultimate goal of paying for your clicks. This means your PPC landing pages need to be designed to be efficient mouse traps. Check out CXL's guide on how to build high converting landing pages to help ensure your landing pages are optmized.
How to use PPC Campaigns to Prospect your SEO strategy
Once you've optimized your Google Ads campaigns and start buying clicks, you will begin collecting loads of data not only about whether your PPC campaign structure is effective, but whether or not you can redeploy it in SEO.
PPC campaigns can help digital marketers simultaneously test out three things: 1) keyword targeting, 2) traffic quality, and 3) their website's conversion funnel.
1) Use PPC to identify the high-value keywords for which your website can realistically rank
One of the most advantageous elements of a PPC campaign is it helps digital marketers test out certain keywords before designing an SEO strategy around ranking organically for them.
The Search Terms Report is the best place to go to get information about your keyword targeting.
It's important to remember that your Google Ads are not only triggered for the search phrases or words that you add to your campaign, even if you use "Exact Match."
So be sure to review your search terms report to see the various phrases your ads are being triggered for and utilize that data.
There will likely be many search terms that are generating clicks that weren't originally on your radar. This report will also give you a broader sense of the long-tail keyword variants that present SEO opportunities, because those keywords are often less competitive to rank for (but still have high search intent). You can then create new landing pages or blog posts that are optimized for those long-tail phrases.
The search terms that generate quality clicks help establish that those keywords are likely worth targeting in SEO. If you find search terms in this report that are not relevant to your products or services but your ads are showing up, there is likely something off with your keyword targeting.
There are of course many possibilities for this, but the most common errors are that your keywords are either too broad or they are multi-intent keywords that bring traffic that is not necessarily in the sales funnel. To correct this, add those keywords with less relevance to a negative keyword list.
The cost-per-conversion of your Google Ads can also help you understand the potential long-term economic value of ranking organically for certain keywords.

If it would cost hundreds to thousands of dollars to generate clicks in a PPC campaign, but you can find a way to get that same traffic to perpetuity from organic rankings, you can make significant headway in improving the overall ROI of your marketing spend.
SEO has a wonderful way of drastically lowering cost-per-acquisition over time. Once you understand which search phrases have the potential to bring clicks and customers, you can optimize your website to rank for those same keywords and get the same traffic (but this time, for free.)
2) Understand traffic quality and the economic value of clicks
The second major benefit of PPC is that you can use their campaigns to prospect the economic quality of the traffic that comes with specific keywords.
What makes traffic have economic value? If it enters your conversion funnel.
Naturally, Google charges advertisers more money when the data shows that the keyword is more likely to result in conversions for your business. But any well-seasoned digital marketer will tell you that high CPCs don't always directly translate into quality traffic.
If a user clicks on your search ad and doesn't enter the conversion funnel on your website, you've essentially paid for nothing. The consequences can be deadly: Low-quality traffic (whether from click fraud or improper keyword targeting), higher cost-per-conversions, lower Quality Scores, and higher CPCs in the long run. So the best place to understand the traffic quality of those keywords targets is by using Google Analytics.
Another essential step in optimized PPC campaigns is setting up proper tracking (this is especially important for B2Bs where marketing attribution is already pretty tricky.) If you're not doing so already, it's critical to link your Google Ads account with Google Analytics so you see exactly what your site's visitors are doing once they arrive on your website via a paid click.
Here are some of the Google Analytics metrics that provide insight into the quality of your PPC clicks. Remember, bad keyword targeting and irrelevant ad messaging is bound to return low-quality clicks (but that's on you).
Geographic Location: Traffic from certain geographic areas can mean site visitors with smaller budgets or less buying power. To understand buying power even more, you can use geo-targeting to segment audiences in their PPC campaigns by region and compare conversion rates and economic value. When it comes to applying this to your SEO strategy, although some keywords may have high global search volume, it doesn't guarantee the traffic will have strong buying intent.

Desktop vs. Mobile: In general, mobile has a lower conversion rate for most products and brings wildly different traffic than desktop. A poorly designed mobile version of your site may prevent qualified users from entering your conversion funnel, but if a lot of your PPC clicks are coming from desktop but are not converting, it could be a sign of low-quality traffic with less buying intent.

Exit Rate: This metric represents the rate at which people leave your website on specific pages. If your exit rate is high on those pages that have lead capture forms, pricing information, or checkout pages, it's likely that traffic is not ready to convert or make a purchase and should be categorized as low-quality.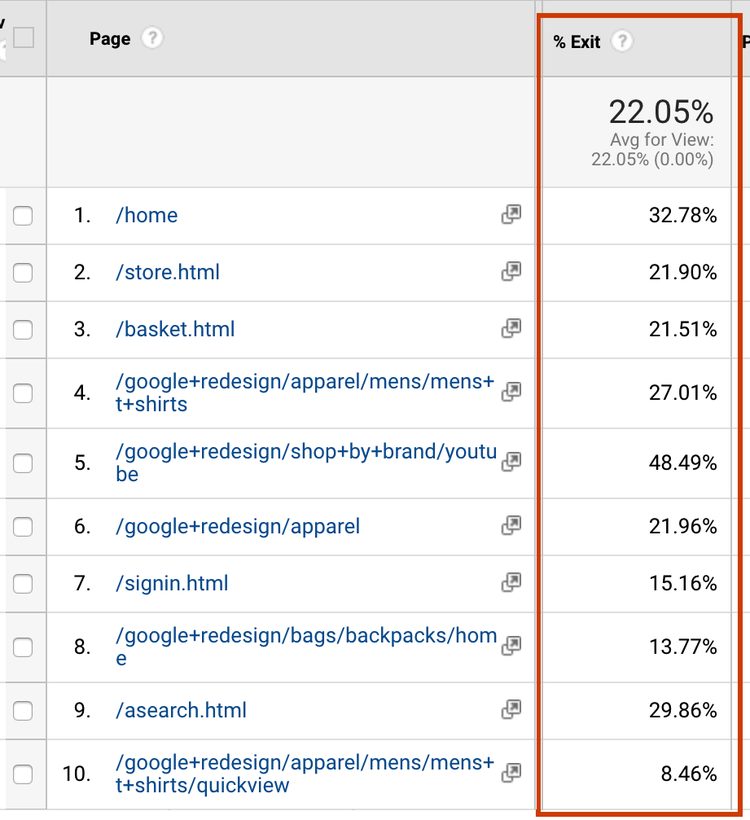 Low-quality traffic can destroy your PPC campaigns, with organic SEO there's more room for error. Even if it is easy to rank for a specific keyword organically, Google doesn't consider site traffic in its ranking algorithm. Although that low-quality traffic might have brand awareness value, the SEO value is little to none.
3) Test whether your landing pages are well-designed to convert
PPC campaigns also provide the opportunity to test your website's conversion funnel. With Google Ads conversion tracking, you can get a great sense of whether your landing pages are pulling their weight and guiding users toward the desired conversion action.
To set up conversion tracking, you need to select which conversion actions you want to track. For ecommerce companies you'll likely want to track when a user adds items to their shopping cart. For B2B or B2C brand (where the next step in the sales funnel isn't necessarily a purchase) you may want to track actions like lead form submissions, downloads, or demo bookings.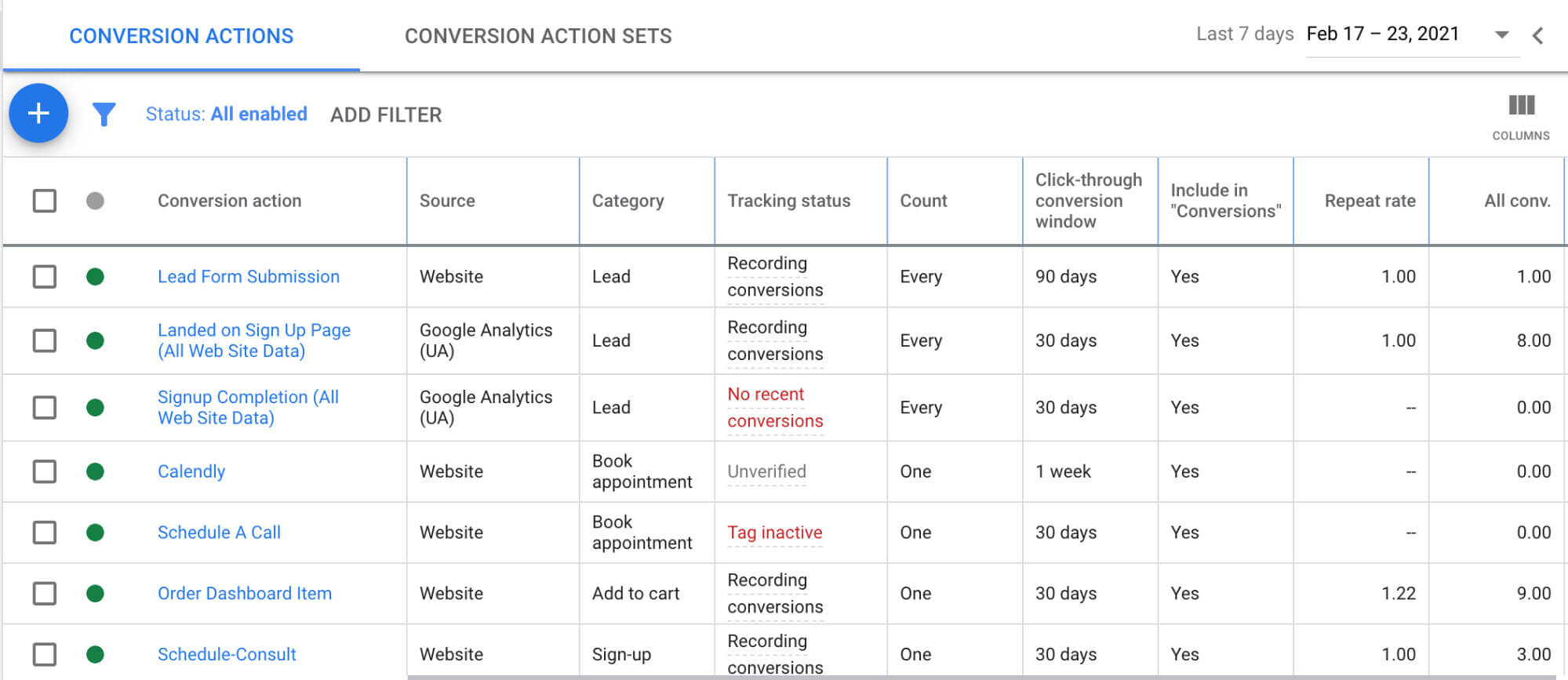 If certain conversion actions are significantly higher with your PPC campaigns, your landing pages that rank well will likely benefit from harnessing similar CTAs, lead capture forms, or design elements.
Traditionally, specialized PPC landing pages look much different than SEO-driven landing pages. With PPC, landing pages usually present users with a more obnoxious call to action, limit the content depth on the page, or sometimes even remove the nav bar to prevent users from browsing through the website.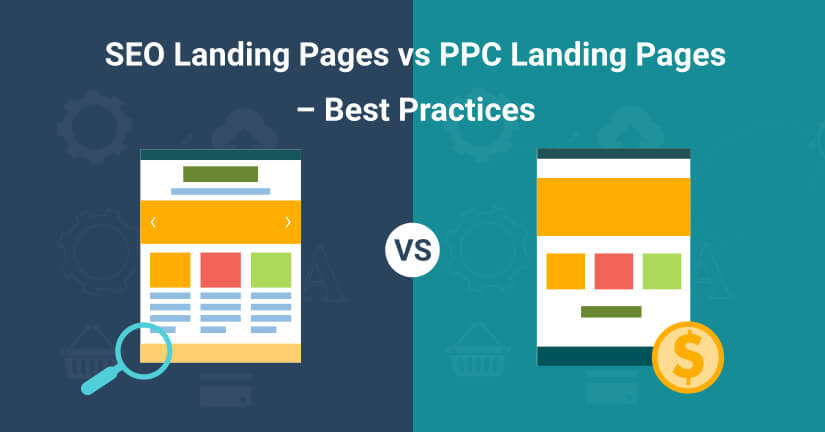 These design elements can often conflict with what it takes to get a landing page to rank organically (e.g. In-depth content, breadcrumbs, external links, information architecture, rich media, etc.)
Use your PPC campaigns to test out different landing page design elements or conversion-optimized practices and identify what works best. Some ideas include:

Number and placement of of CTAs;
Design elements like fonts, colors, size of buttons, etc;
Conversion-optimized features like sticky bars;
Removal of navigation menu.
You can also send PPC clicks to landing pages that already have strong keyword rankings, or you know have ranking potential, to test whether your conversion journey will translate for users who arrive to your website organically.
Conclusion
PPC campaigns can be a great way to generate clicks in the short term, but are also incredibly helpful in improving your overall SEO strategy as well.

Though coming at a cost, PPC campaigns provide incredible amounts of valuable data about keyword targets, traffic, and whether your website is or isn't conversion optimized.
Here are the key takeaways to execute a SEO prospecting process with your PPC campaigns.
Use your PPC campaigns to identify the highest value keywords for your SEO strategy— keywords that get impressions, clicks, and bring quality traffic to your website.
Prospect traffic quality by linking your Google Ads campaigns with your Google Analytics account. Look at the data to help you determine buying intent, such as geographic location, traffic by device type, and exit rate.
Use Google Ads conversion traffic to test and iterate on your website's conversion funnel. Incorporate the conversion-optimized design elements that worked in your PPC campaigns to your SEO-driven pages. Or, send PPC traffic to your SEO-driven pages to test the conversion journey.