When deployed effectively, Facebook ads are among the most effective targeted marketing efforts in history.
However, despite the massive potential, many businesses and marketers continue to leave money on the table with their Facebook ads.
So what's the key to getting the most out of the incredibly valuable advertising platform?
Facebook's increasing competition (and opportunity)
Facebook continues to be the most promising social advertising platform for ecommerce purposes—as of this writing— there are over 2.70 billion monthly active users (MAUs). And the average ROI on targeted ads of 152%, and is responsible for 85% of all social media e-commerce.
A customer survey conducted by BigCommerce revealed that 51% of SMBs expect social advertising channels (specifically Facebook Ads) will play a major role in accelerating revenue throughout for businesses this year and beyond.
Recently Facebook shared that they have over seven million active advertisers on their ad platform, which is two million more advertisers than they had in April of 2017. There's no sign of Facebook slowing down.
Facebook ads are based on an ad auction system, so increased competition drives the cost of using the platform up. According to the Nanigans Facebook Advertising Benchmarks Report, there's been a 92% year over year CPM increase for the ECommerce vertical.

This article will outline some of the lowest hanging fruit in terms of audience targeting.
Why Facebook Custom Audiences is the first step
Facebook campaigns have three main components:
Audiences: How you target your potential buyers effectively.
Ads: Offer a message that speaks directly to each audience.
Landing Pages: The target destination for your leads.
While Facebook has many targeting options, I recommend starting with Custom Audiences.
Why?
Facebook Custom Audiences allows you to reach your customer segments and deliver a highly personalized message in a way that makes them feel like the advertising is both relevant and helpful—an ad that doesn't feel like an ad.
I call this concept Customer Centric Campaigns. Here is a video explaining the big picture:
Facebook's Custom Audiences feature has many options to choose from and Facebook continues to add more over time. Some options include:
Customer file;
Website traffic;
App activity;
Offline activity;
Lead form;
Video;
Events;
Instant experience;
Facebook Page;
App activity;
Engagement on Facebook.
In today's post we'll primarily focusing on the first option, "customer file."
According to Facebook, the customer file is the "type of audience you can create made up of your existing customers." This really means "first-party contacts," which include your customers, leads, and newsletter subscribers. Basically, folks who are already in the sales funnel.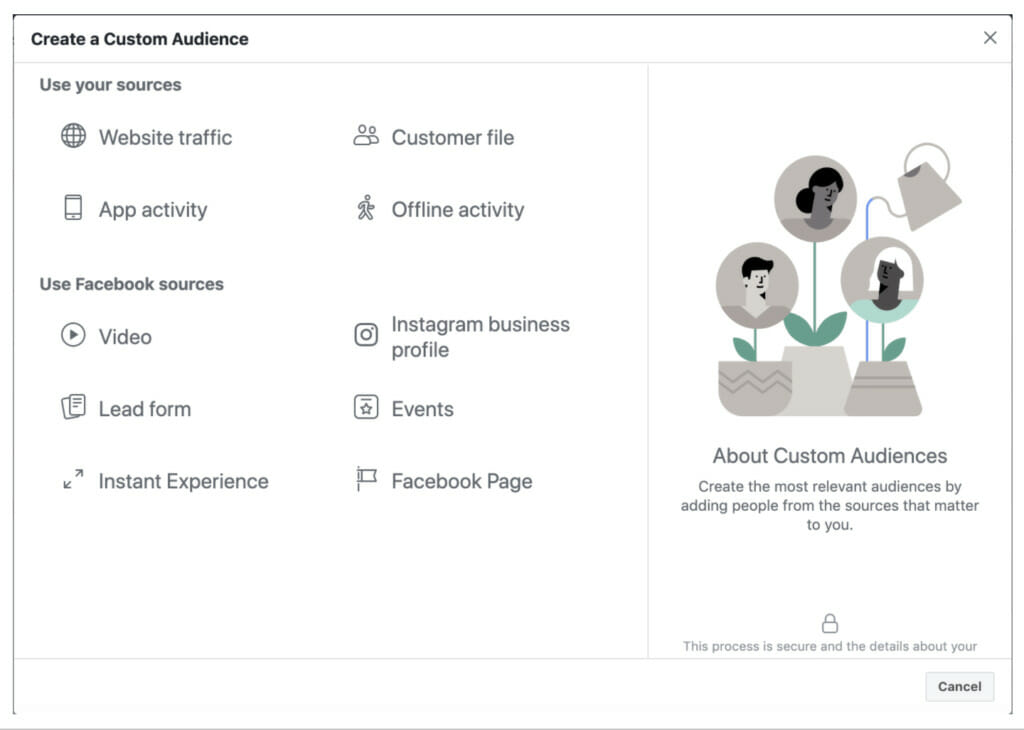 Segmenting Your Customer Database
Often, it feels like we have too many options for using "first-party contacts" in our targeting. The best way to organize these options strategically is to create customer segments.
Customer segmentation is an old trick in the marketing book and it's widely used for a reason. According to Direct Marketing Association, 77% of ROI is attributed to segmented, targeted, and triggered campaigns.
Why would you waste your ad spend targeting individuals who have no interest in purchasing your product or service? Segmenting is so basic, yet you would be surprised at how few "marketers" really make the most of it.
When I think about customer segments, I like to imagine the customer's journey in relation to a business. Find two types of segments and their progressions below:
Core: These segments focus on the customer's journey.
Advanced: Segments that give additional insight to the core segments.

So, how do you create these segments? Easy—your customer database. Even if it's not complex, your customer database is a goldmine of useful, actionable data. I'm willing to bet you have access to the following data points:
Purchase date;
Purchase frequency;
Purchase value;
Product type;
Newsletter subscribers.
Use these data points to construct customer segments, and then use them as Custom Audiences.
Let's take a closer look at each of the segments you see above.
Segment #1. Potential customers
This segment represents newsletter subscribers or leads who haven't made a purchase from your store yet. Obviously, the goal is to turn these potential customers into actual paying customers.
If you're scratching your head and asking yourself "Why promote on Facebook when I can send them (potential customers) an email?"
Your email database is limited in how many people open your emails. The average email open rate in e-commerce is an incredibly low, 17.80

ecommerce industry is 16.75%.
This means, on average, about 83.25% of your emails remain unopened. Facebook Custom Audience campaigns will help you cover the gap, and get some real mileage out of your acquisitions.
Let's take a look at Jimmy Beans Wool. They promoted their new yarn subscription service to potential customers using custom audiences. Their campaign netted them seven times the ROI and 11 times as many new subscribers as their newsletter did. Not bad.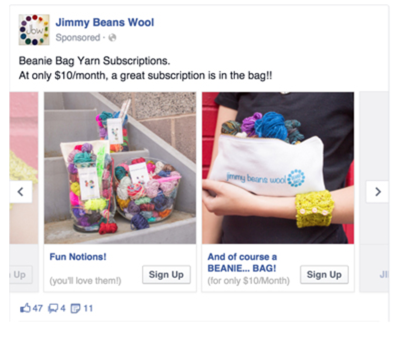 How do you create this segment?
That depends on the size of your list.
You can break it down into separate newsletter segments. I recommend starting with 3 segments, a strategy popularized by the GetResponse team. Those segments are:
New Subscribers: Brand spankin' new to your list. Newbies. The newest entrants to your sales funnel. You won't know much about them until they have engaged with your content and emails overtime.
Engaged Subscribers: Basically, these people responded to your targeting in some way. They may have opened an email, followed one of your CTA prompts, visited your website, and so on.
Non-Engaged Subscribers: These are people who were sniffing around at some point, but the lead's gone cold. It's still useful to hang on to these people's emails, because you can try to reactivate their interest in your brand. They may alternatively just be idle, or may check for your email at some point in the future.
Segment #2. One-Time buyers
This segment represents customers who have made a single purchase. Since you've earned their trust already, your goal here is to increase Customer Lifetime Value.
According to Amy Gallo, contributing editor at Harvard Business Review, "acquiring a new customer is anywhere from five to 25 times more expensive than retaining an existing one."
How do you create the segment?
Pull customer lists with a transaction count of one. Also, filter transactions made in the past 180 days (or other relevant period depending on your business). You want both your one-time and active customers.
This is a great list to share new and improved offers, one's they might already to be inclined to purchase based on their original purchasing behavior.
Segment #3. Repeat customers
This segment represents customers who have placed at least two orders from your store.
These customers have put enough trust in your brand to purchase two or more times. Two purchases is a strong indicator you've done enough to win their trust and loyalty. It's important to reflect in your ads. Don't offer them a deal like "20% off for first-time customers only."
Your goal is to serve them with relevant offers where you cross-sell and upsell related products.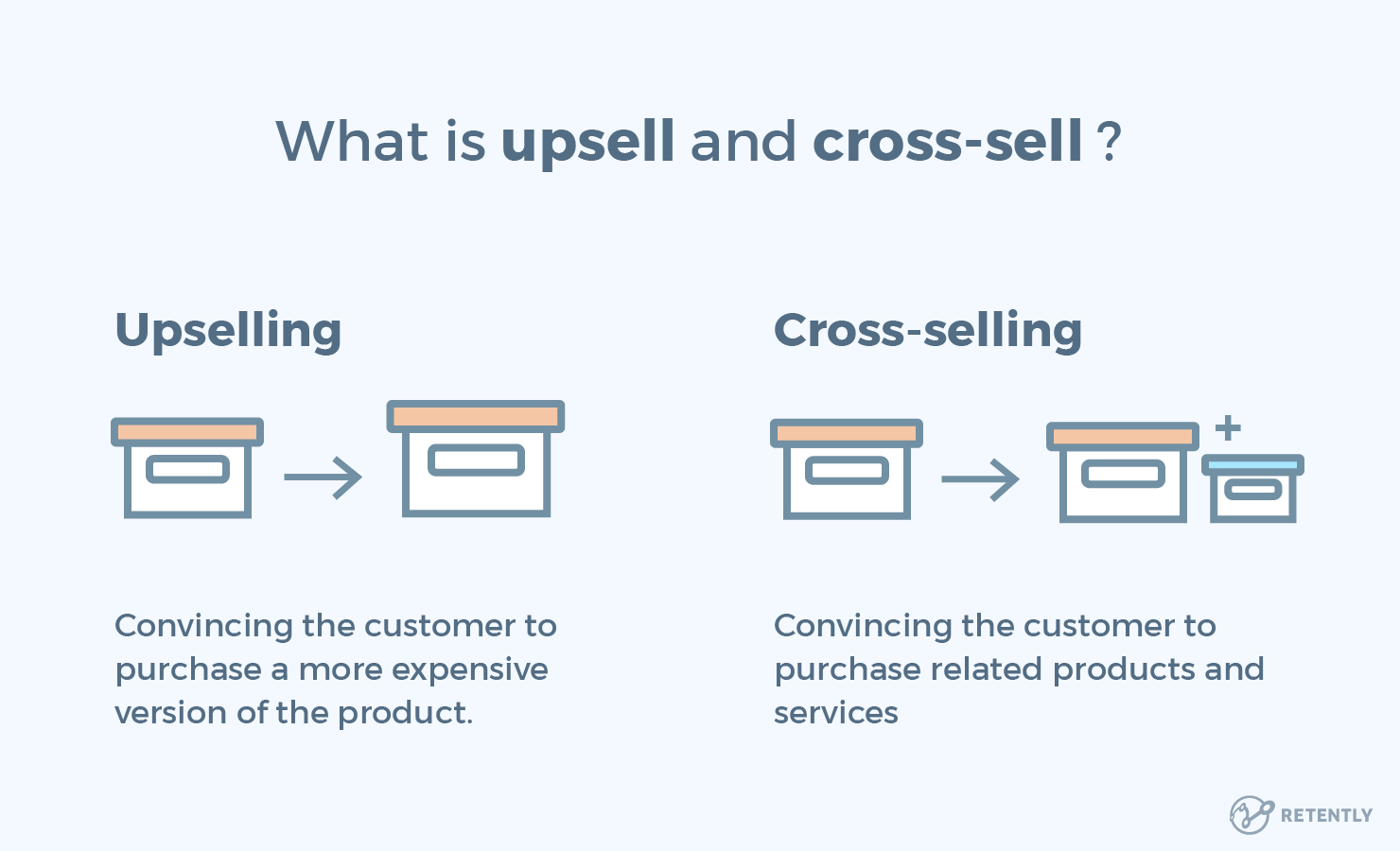 Here's how the Orlando Magic basketball team used purchase data to create a campaign that resulted in an impressive 52x ROI. They created Custom Audiences for fans who purchased tickets to previous games, and encouraged them to purchase new game tickets.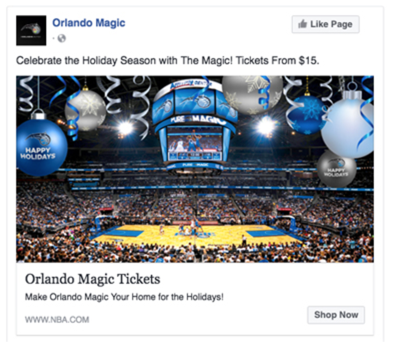 How do you create the segment?
Pull customer list with transaction counts of two or more. Filter transactions made in the past 180 days. You want to look at both repeat and active customers.
Segment #4. Lapsed customers
This segment represents customers who haven't purchased from you in the past six months (or other relevant time period). For some reason, they stopped buying, and you must consider them a lapsed customer.
Your goal is to reactivate these lapsed customers. You can (and should) launch dedicated reactivation campaigns.
The Museum of Science in Boston ran Facebook campaigns to promote their museum memberships. They segmented their newsletter list into a few categories, such as subscribers to their monthly email, previous gift membership buyers, and current and lapsed members. Their campaign resulted in 3x ROI, which is decent for this segment.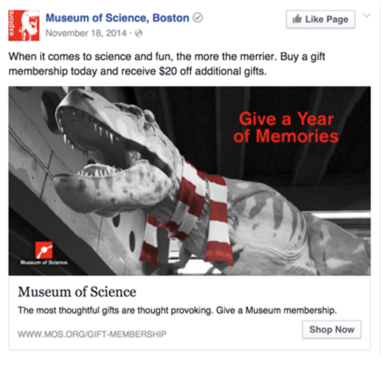 How do you create the segment?
Pull a customer list with a transaction count of one or more. Then, filter transactions made 180 or more days prior. You want all and lapsed customers.
Segment #5. First-Time buyers
This segment represents people who recently made their first purchase.
Because they're new to your brand, your goal is retention. You can increase a company's profitability from 25% to 95% by increasing your customer retention rate.
Ezra Firestone suggests running selfie contests to his new customers. Here's the logic behind his thinking:
He uses the opportunity to get customers engaged, and generates some social proof for the product;
He invites customers to take a selfie holding their new product, and to promote it online or send it in for a chance to win the contest;
He picks a winner each month;
Social proof can be a great way to improve your conversion rate.
How do you create the segment?
Pull customer lists with a transaction count of one or more. Filter transactions made in the past 30 days. You want one-time and new customers.
Segment #6. Recent buyers
This segment represents repeat customers who purchased something from you in the past 30 days.
Your goal here is two-fold:
Improve your Customer Lifetime Value by cross-selling, and upselling relevant products.
Generating social proof, and user-generated content.
How do you create the segment?
Pull customer lists with transaction counts of two or more. Filter transactions made in the past 30 days. You want to look at both repeat and new customers.
Segment #7. High-value customers
This segment represents customers who have spent disproportionately more money than other customers with your company. They either bought a lot of product, purchased big ticket items, or better yet, both.
Your goal is to cross-sell and upsell relevant products. These are your "whales."
The San Jose Sharks used this high-value segment to successfully to drive 33x ROI on their Facebook Ads campaign. They created a "previous season ticket customer" segment, which was used to upsell SharkPak ticket packages (11 and 21 games).
Here's a masterful execution of reselling: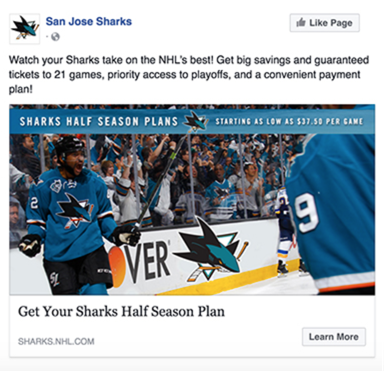 How do you create the segment?
This one's simple. Break down your customers into 3 groups.
Total spent
Number of transactions
Order value
You'll get a great cross section of your database, and will better understand the price consciousness of each segment. To start building efficiency into the segment's targeting, take the top 20% of customers from each of the groups.
You'll end up with a list of your top 20% customers in three distinct, important categories.
Pro Tip: You can do the opposite by creating a segment for the bottom 20% customers and excluding them from Facebook campaigns. They're not likely to buy, so slim the margins a little bit.
Putting It All Together
Remember, each customer segment represents different goals, behaviors and expectations.
This is the point where you upload your segments to Facebook. There are two levels of data you can upload:
Basic identifiers (emails, phone numbers or Facebook UID) from each segment. Facebook will look for users who match your uploaded identifiers, and will create an audience of matched users. 50% match rate is reasonable — not everyone has an updated Facebook account, and some aren't a match for that particular identifier.
Advanced identifiers (there are up to 15 to choose from). These are for winning higher match rates. Additional identifiers help you identify members of your list who use more than just emails, phone numbers, and Facebook UIDs.
Final step! Create ads and landing pages that speak directly to each customer segment. Those are topics for other articles, but if you're interested here are some resources:
Conclusion
Hopefully, by this time, you've realized you have enough data at your disposal already. The tricky part is using that data strategically to create segments around your Customer's Journey.
Launching highly segmented campaigns alongside respective offers and messaging is the fastest way to start off on the right foot in this channel with positive ROI.