Will PPC look like this in 2020?
Probably not. Nonetheless, there are some amazing automation opportunities that make the life of Marketing Managers, CMOs, and PPC experts quicker and more efficient—especially for fast-growing companies that need to scale their campaigns.
PPC automation is a massive topic. In this post, I focus on automation within Google Ads. Google dominates the search market, with about two-thirds market share (roughly 90% if you include image and YouTube searches). So, if you're looking for new business and easy scalability, the search network is one of your quickest routes.
In this post, I'll show which PPC tasks can and can't be automated—and share insider tips on how we automate PPC management at KlientBoost.
I'll break this down into four major strategies within a search account:
Bidding
Ad Testing
Finding New Keywords
Negative Keyword Refinement
Automating different functions and processes in these four strategies will save time, resources, and even ad spend.
1. Automating Bidding Strategies
So what can you do with the automated bidding strategies rolling down the Google Ads pipeline? Don't get too excited just yet. The algorithm that Google uses has not beat, in bulk, human-optimized campaigns that are running on manual CPC.
So the simple answer? Start with manual bidding. Start low and conservative, then work your way up as you collect data—it's the easiest way to make sure you aren't getting caught with the highest CPC in your industry.
Google has made rapid improvements to their automated bidding strategies, like Max Conversions and Target CPA. (I've seen some wins with this that I'll talk about later.) However, when I tested the automated bidding betas for over 150 of my clients, manual CPC still won out.
One of the most frequent questions I'm asked about automated bidding is which strategy to pick when. I've put together a quick "Use Case" table to help you. These use cases are not only backed by Google, but they've also been confirmed by tests in our accounts:


Manual CPC may be the starting point, but let's not forget the goal: automating PPC performance.
Running bidding experiments in Google Ads
I'm in love with A/B testing (like, in love). But with A/B testing, you need to minimize variables.
Typically, when people decide to test a new bidding strategy, they switch an entire campaign or even account over to their new bid model. That throws another major variable into the mix—time. How Manual Bidding performed in November versus how Maximize Conversions performed in December is not a fair test.
That's why Google Ads has the best tool: experiments! Use the experiments tool to duplicate your original campaign and change whatever you'd like without touching your legacy campaign.
So, if you're trying to find out whether an automated bidding strategy would improve your campaign, just experiment with one before adjusting your ad spend budget. Here's how to set up an experiment in under 2 minutes: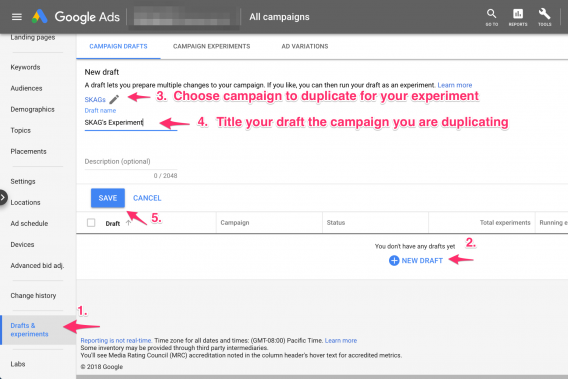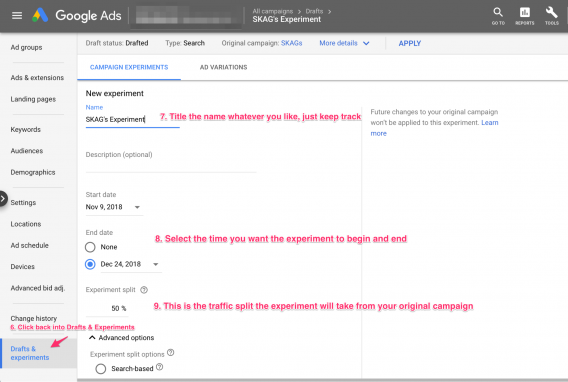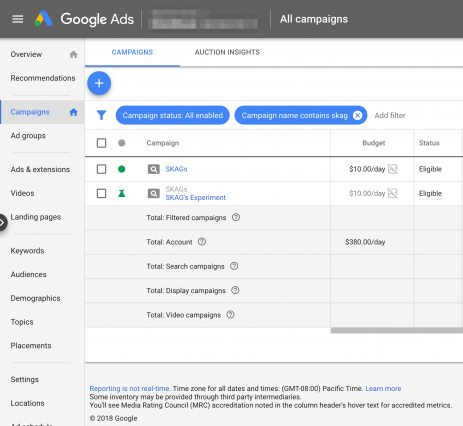 As you can see above, using Maximize Conversions beat out Manual CPC by 426% percent. And the best part? If your experiment wins, you can convert it to the main campaign without losing algorithmic learnings.
Third-party software to automate bidding
For most marketers, products like Kenshoo are too expensive. Kenshoo's system integration and automation usually run around $10,000, with packages ranging between $2,500 (up to two ad platforms) and $25,000 (more than five systems) per month.
Eventually, Google will figure out how to beat manual bidding from the start. But it's not there yet, and I'm not the only one who thinks so. As Adam Hallas from Mindstream Media confirms, "Going to manual bidding on your typical in-house business account is usually the best long-term solution."
Still, within the four elements of PPC automation, bidding is the only piece that could be fully automated. Ad testing, finding new keywords, and negative keyword refinement take manual work.
Here's how to speed those up with automation—while increasing the quality of the work, too.
2. Automating Ad Testing
A couple of tools within Google Ads can speed up your ad testing. If your account is small and has under 30–50 ads, you can pause the losing ad manually and begin a new test. But for accounts with hundreds of simultaneous ads, this process won't work.
Thankfully, with Google Ads editor, Microsoft Excel, and the use of labels, you can A/B test any element across an entire campaign in under 90 seconds:
Open up a campaign within the Ads Editor and navigate to the "ads" tab.
Scroll up to the "Accounts" bar at the top and select Export > Export current view, and then open up the Excel document.
Sort by the A/B test you would like to make. In my case, the "Try for Free Today" H2 lost. I'm going to replace the H2 with a new CTA.
Change your test cells and label accordingly.
Copy the new cells, reopen Ads Editor, and click "Make multiple changes." (Make sure that the "My data includes columns for campaigns and/or ad groups" is checked.)
Paste copied excel cells into Ads Editor. Review to make sure everything copied over correctly.
Post changes to Excel and voila…you're done!
You can view a silent walkthrough of the above seven steps in the video below:
Note: To declare a winner, track Cost per Acquisition (CPA), not click-through-rate. Anyone can place "FREE" in their ad copy and get tons of clicks, but we want to find ads that lead to quality clicks (i.e. from people who actually become customers).
But wait: What about Responsive Search Ads (RSAs)? If you aren't aware of this new feature within Google Ads, here's what it looks like: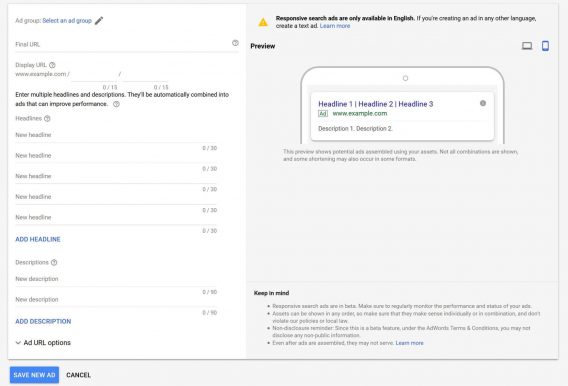 The main benefit to these ads is the ability to test quickly—including multivariate testing. In the earlier example, you change only one element of the ad, which gives clarity as to what improved performance but slows overall testing.
Responsive ads allow simultaneous testing of up to 15 headlines and 4 descriptions. Google uses machine learning to test various combinations, find the best one, and show it more often.
My suggestion is to run manual and responsive testing side by side until your RSAs start to beat your manual format. Then, you can make the full switch and test RSA vs. RSA.
As with any test, make sure you
Have enough traffic.
Let the test run long enough.
You can use an A/B test calculator to help determine thresholds for statistical significance.
Since RSAs just rolled out to all accounts weeks ago, we don't have enough data to promise that they'll work better than manual testing. But they are another step in the right direction by Google to speed up the testing process.
3. Automating New Keyword Opportunities
Ads are important, but if you're not maximizing the quality of traffic coming through, ads become somewhat irrelevant. So let's focus on how to speed up the process of finding new keywords and putting them into what we call SKAGs (single-keyword ad groups).
Once campaigns are up and running, you'll be able to identify which ones are converting. When you find search terms that are converting and have a substantial amount of impression/click volume, it's probably worth breaking them out into their own SKAGs.
The main reason that we like breaking high-volume, high-converting keywords into their own ad groups is for bidding purposes. If the search term that's consistently converting is coming through a broader keyword with a lower bid, you may not be reaching the full potential of that exact search.
By extracting the high-converting search term into its own SKAG, you're able to bid more aggressively and maximize Impression Share. (For a more in-depth explanation on why we break high-converting search terms into their own SKAGs, check out this post.)
You can also download our free automated SKAG creation tool here. All the steps are within the Google Sheets template. Here's a quick demo:
Step 1: Navigate to the "Master Exact" tab and enter new SKAG search terms into the "keyword" column.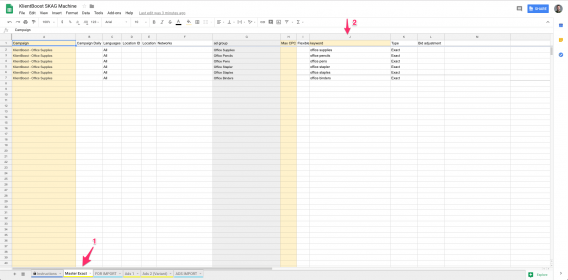 Step 2: Navigate to the "FOR IMPORT" tab. Copy and paste all columns into Google Ads Editor under the "Keyword" section.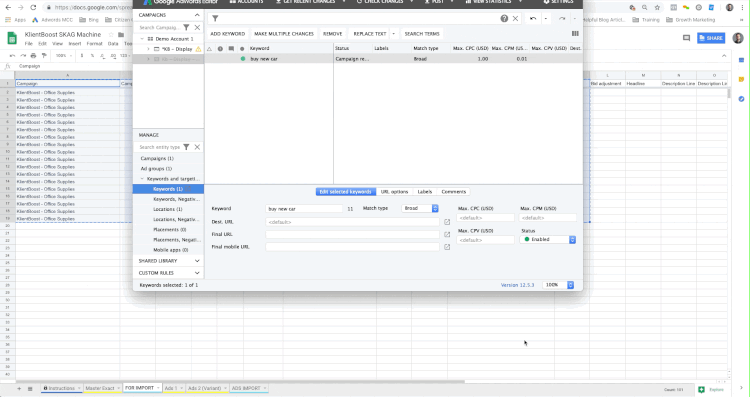 Note: The next steps make changes in two "Ads" tabs because we test two ads per ad group. If you only want to do one ad, change only one "Ads" tab.
Step 3: Fix H1s in both "Ads 1" and "Ads 2" tabs. (They're currently programmed to spit out the SKAG.) Cells will highlight red if they're over the character count limit.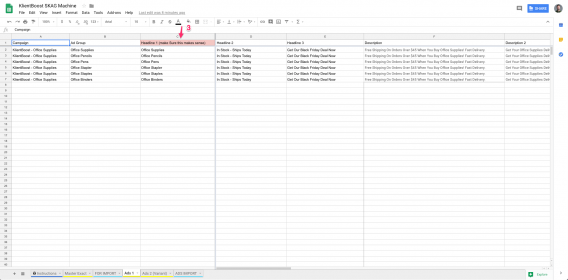 Step 4: Add your H2, H3, Description, Path 1, Path 2, and Final URL in both "Ads" tabs.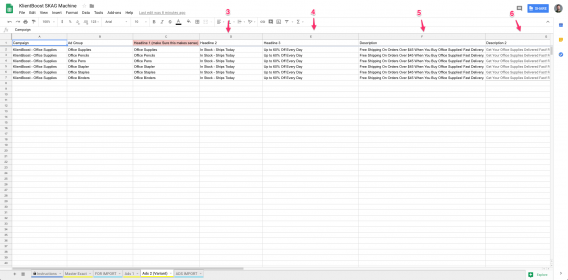 Step 5: Navigate to the "ADS IMPORT" tab. Copy and Paste all columns into Google Ads Editor under the "Ads" section.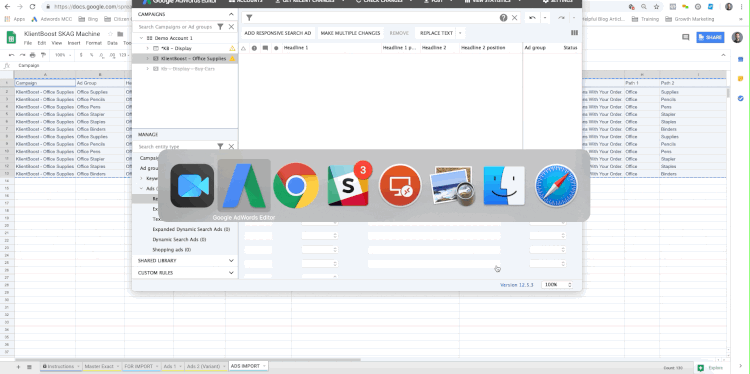 If you've ever had to do this work manually, it can take hours to add 30 SKAGS. Now you can do 400 in 5 minutes.
4. Automating Negative Keyword Curation
Finally, the last—and most useful—automation tool for Google Ads is the N-Gram script. This script helps find junk keywords in your campaigns that drive up unnecessary costs.
An N-gram is a phrase made of "n" number of words: a 1-gram is a single word, a 2-gram is a phrase of two words, and so on. For example, "this four word phrase" contains three 2-grams ("this four," "four word," "word phrase") and two 3-grams ("this four word" and "four word phrase").
With the N-gram script, you can parse your entire account's search-term list into chains of 1–5 N-grams by account, campaign, and ad group. You'll come away with stats on how each N-gram has performed.
After you've added the script to your account, you need to change a couple of things within the script itself:
The startDate and endDate. Set the time frame for which you want to pull search-term data.
currencySymbol. Make sure that you are in the correct currency.
spreadsheetUrl. For each account, add a new spreadsheet for this script to dump its data into. Be sure to add a new Google Sheets link to each N-gram script you use.
Once you've set up and run the script, go to your Google Sheet. It should look like this: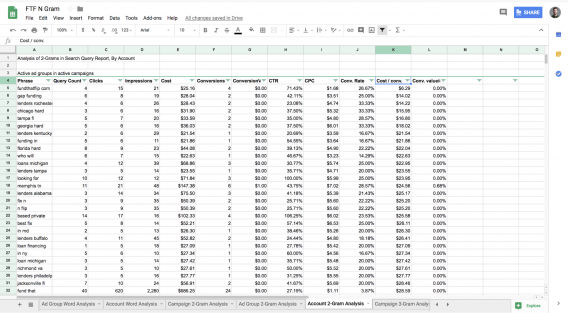 Based on your target CPA, you can identify all the N-grams that don't meet the goal for the time frame you established. The N-gram script will populate all keywords in your campaigns (within your start and end date) into a single sheet.
In this sheet, you can filter by conversions to check which grams are generating zero conversions. Then, you can filter those failing to generate conversions by their CPA to see which are costing you the most. These are the terms you'll add to your negative keyword list.
Without this script, you could be going through hundreds or thousands of keywords one at a time—manually checking each for conversion volume and CPA, then cross-comparing them. The N-gram script groups every common "gram" under one roof and identifies its performance across multiple keywords.
Be careful: Some search terms that exceed your CPA target may do so because your landing page experience is terrible, or because they're in a bad ad group with high a bid. Make sure you manually review poorly performing N-grams before dumping them into a negative keyword list.
Conclusion
What's the outcome of implementing these PPC automation techniques? Better performance and less time spent doing the work.
And the more time you save on your PPC wins now, the more time you have to spend on bigger wins—PPC or otherwise—in the future.