By creating a popup to outline the savings resulting from upgrading from a monthly to an annual plan, Groove was able to increase their upgrades by 10x in one month.
Here's exactly how they did it.
Get tactics like these straight to your inbox: sign up for the Fast Marketing Newsletter by CXL.
The goal: Increase upgrades from monthly to annual plans
Even with the discount offered on annual plans, Groove benefits more when users are on an annual plan versus a monthly plan. This is due to the upfront payment, as well as the increase in customer retention rate since annual-plan users tend to stay for longer.

They were therefore looking for ways to shift more of their monthly plan users onto annual plans.
The fast marketing tactic: Outline the savings in a popup
To encourage more users to upgrade, Groove explicitly promoted the annual plan to monthly users.

They added a popup in the billing section of the Groove app, which outlined the savings from the annual plan, and invited users to upgrade. The savings displayed were specific to the plan the customer was currently on.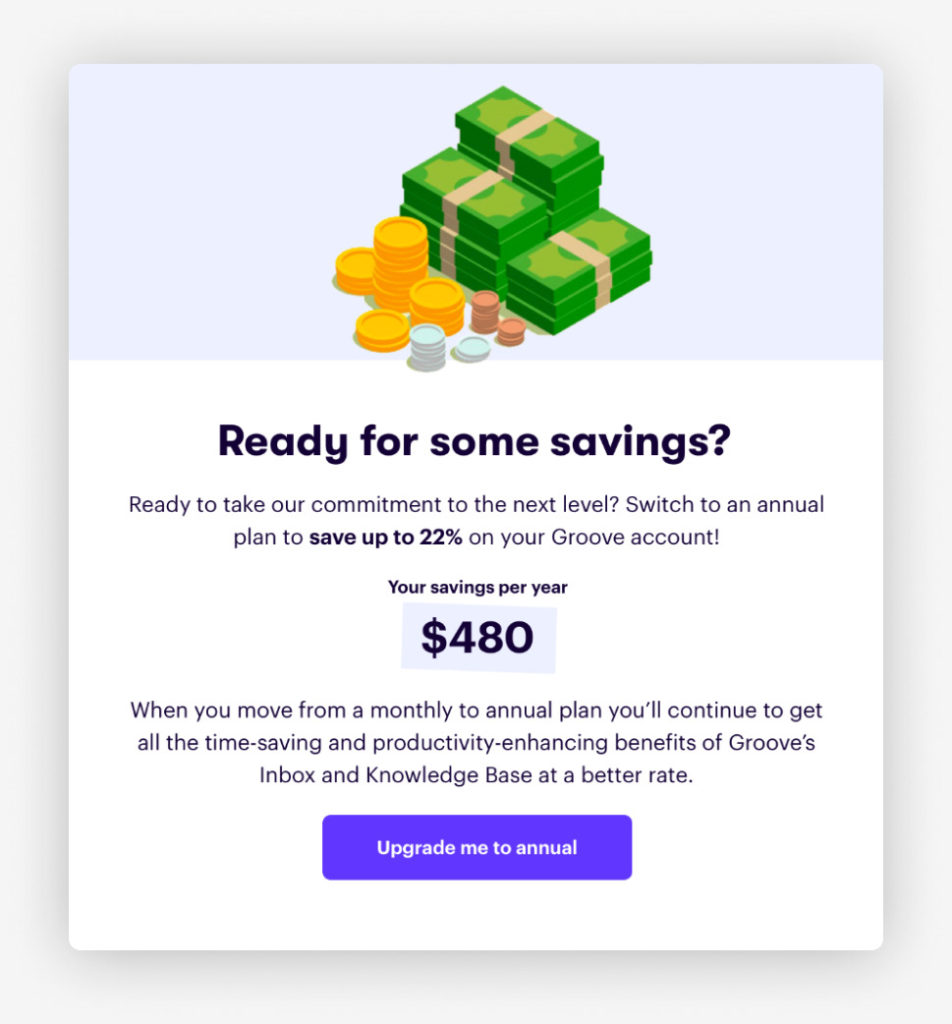 The result: 10x increase in annual upgrades in 1 month
Groove implemented the popup throughout June 2023.
While only 3 upgrades were generated directly from the popup button, a total of 53 users upgraded in the month of June. That's more than a 10x increase in annual upgrades, compared to the average of 5.25 upgrades per month.
Following the experiment, the company now has 25% of its customer base on annual plans (up from 18%).
Why does it work?
By simply reminding customers about an offer or savings at the right moment (for example, when users are looking at their payment and billing information), you will convert more users.
However, you need to ensure users actually read your popup. If you overdo it, they will start ignoring it, or even get annoyed. For that reason, Groove decided to only run the popup every three months.
Meet the specialist behind this tactic
Alex Turnbull is the founder and CEO of Groove. He also runs The Imperfect Startup blog, in which he shares all the details of Groove's startup journey, from growth experiments to funnel metrics, with radical transparency. Read the original article.