How can you ensure your marketing lives and breathes digital excellence?
The Reference, a seasoned B2B digital agency, works closely with top brands around the globe as a trusted advisor. When you are known for an innovative approach staying up to date with marketing trends is a must.
In this edition of customer stories, we'll look at how The Reference was able to cater to diverse learning needs in its marketing team with the help of CXL.
Digital impact: Improving Carglass online booking flow
Among the clients with whom The Reference works, Carglass is one of the companies that improved their customer flow by optimizing data entry.
As Carglass' partner, The Reference improved the signup processes to improve UX and reduce friction for customers.
With over 60% of Carglass customers using mobile devices and the booking flow being the most important aspect for them, Carglass was looking for a way to simplify this process and reduce the burden on the customer.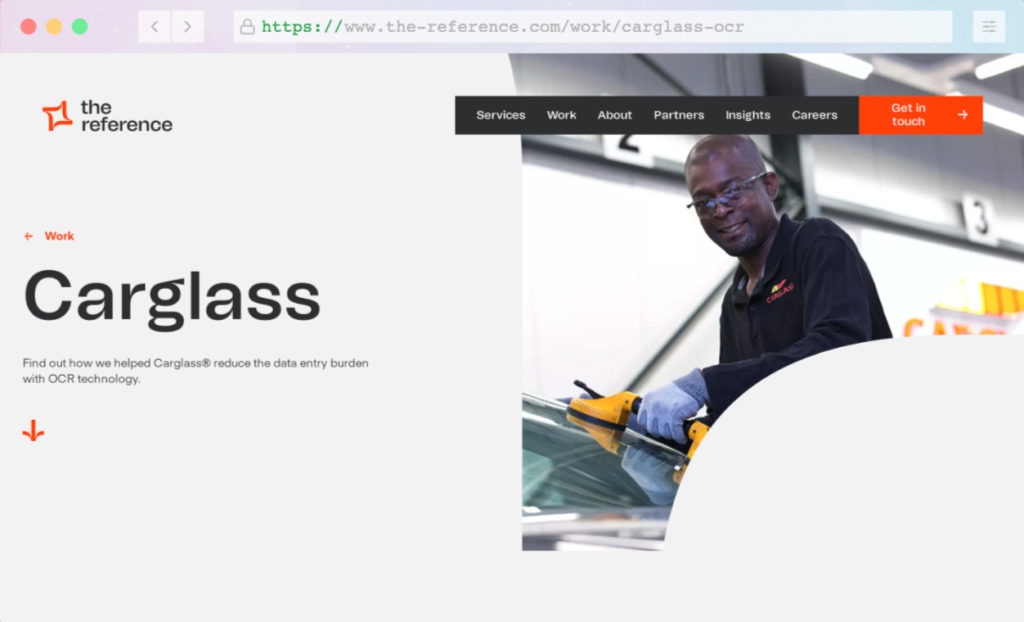 After integrating optical character recognition (OCR) technology into their website the results were impressive: 98% success ratio for recognizing the license plate, 100% for recognizing the Vehicle Identification Number on the registration document, and 12% of mobile users utilizing the OCR functionality when booking an appointment.
The status quo: building your marketing team's skillset
Upskilling your marketing team on not-specific internal resources is not an easy task.
The Reference, known for its innovative approach, combined creativity, business acumen, and technology to deliver unique solutions for their clients.
They are committed to their craft, working closely with top brands and market leaders around the globe, who view them as trusted advisors.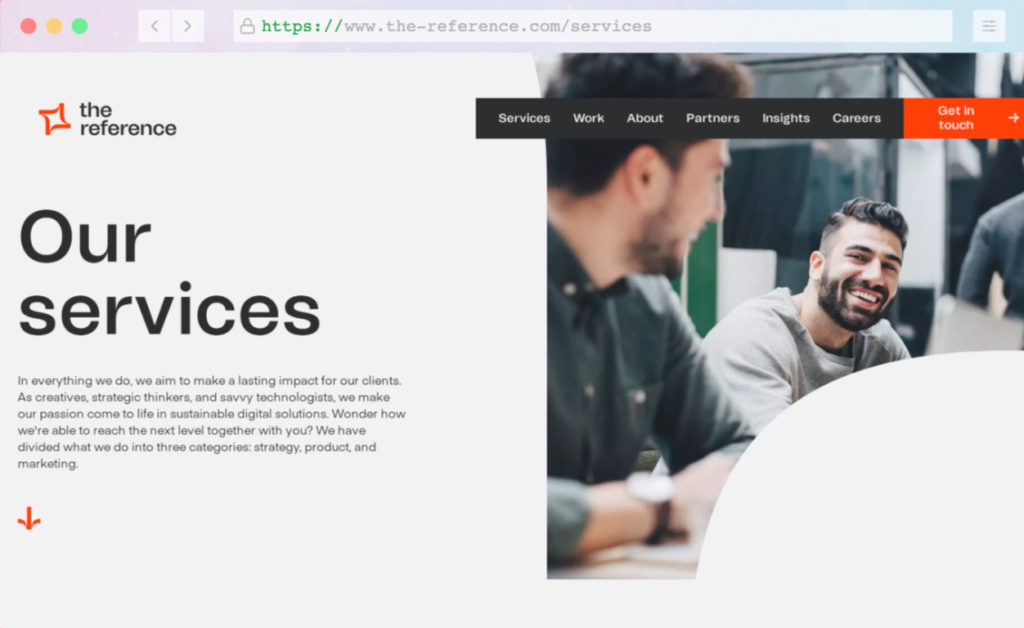 Thomas Danniau, noted they extensively utilize internal training material for topics such as development skills, project management skills, and engineering.
However, these internal courses did not cover the specific needs of their marketing team. This caused a growing need for external resources, such as vendor training, Skillshare, or CXL, which focus more on niche marketing skills compared to others.
The challenge
Keeping up with the fast-paced digital world was one of the significant challenges faced by The Reference.
As a digital agency offering diverse services, it was crucial to stay up-to-date with the ever-evolving trends in digital marketing.
I think the main challenge is to be up to date on so many levels within Digital marketing. There are so many services that you can provide as an agency but you need to be up to date constantly.

Thomas Danniau
Additionally, they faced the challenge of ensuring that their large team, which consisted of various seniority levels and profiles, was adequately skilled and updated.
They needed a solution that could cater to the diverse learning needs of their team members – be it fresh recruits, intermediates looking for a job shift, or seniors who needed to stay updated.
Upskilling a digital team with CXL courses
They partnered with CXL, which offered a variety of courses to keep their team updated on the latest in digital marketing.
Tomas discovered CXL through a LinkedIn certification shared by a contact. After some research, they were convinced of its value and integrated it into their training program.
To overcome these challenges, they adopted a three-pronged strategy:
Self-learning: They empowered their team to learn at their own pace. This was particularly useful when they had extra time between projects, allowing them to dive deeper into topics of interest.
One-to-one coaching: This approach enabled knowledge sharing and upskilling from one colleague to another, enhancing the team's overall skill set.
Hands-on experience: Team members were onboarded onto existing projects, gaining practical experience and knowledge on the job.
These strategies were supplemented by soft skill development, focusing on presentation skills, writing skills, and time management.
This comprehensive approach allowed them to nurture 'T-Shaped profiles' within the team – individuals with a broad understanding of various strategies and skills, but also the ability to deep-dive into specific areas.
In terms of implementation, the team at The Reference designated "R&D time" where they can choose how to spend their time for development, which could include taking CXL courses.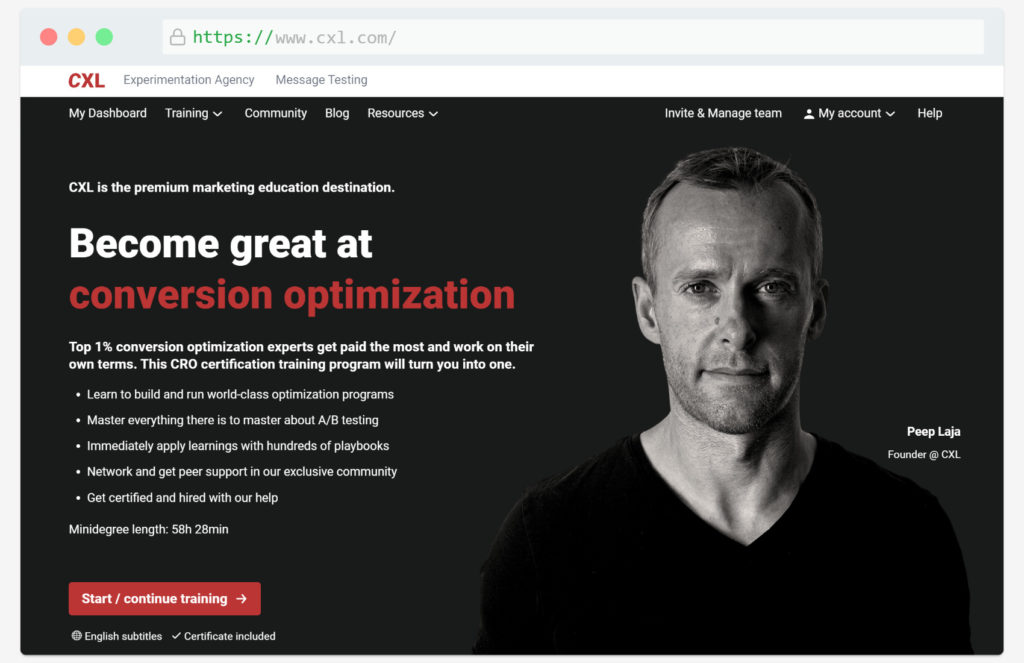 Goals are set during team meetings, and can often involve achieving a CXL minidegree in a particular area of interest.
Team members are motivated to take these courses, especially when they need guidance in self-learning new topics, and often choose courses based on immediate need or to get inspired about something new.
When you're new to a topic you need some guidance, you can definitely find interesting stuff in CXL. I think I'm a good example myself: if I want to get a bit inspired about something new, I check CXL.

Same happens when a client requests something in a proposal. If we don't have enough experience on a given technique or area, we check the available courses at CXL, and then understand it a bit better to give a proper answer.

Thomas Danniau
The results
CXL has contributed to various successes, such as job role transformations, skill expansion, and effective onboarding for new members.
A few people at The Reference changed jobs within their company thanks to CXL.

For example, someone switched from a project management role to a digital marketing consultant role, and CXL helped them upskill. Whoever already had some skills in a specific area also extended their skillset to other domains.

Thomas Danniau
While Tomas found it hard to attribute direct results to CXL due to being one part of a broader training program, they acknowledged that it has helped in standardizing how they approach projects.
CXL also assists in maintaining a level of consistency and uniformity in language across the team.
However, they often add an extra layer to CXL learnings to adapt them to their specific needs and make them unique.
We used CXL's Google Analytics 4 training for our consultancy work. This means we unified our guidelines and checklists and made them consistent with the resources provided by CXL.

Thomas Danniau
Furthermore, their ability to quickly upskill their team, including new hires and senior profiles, enabled them to stay ahead in the ever-evolving digital marketing landscape and deliver exceptional services to their diverse client base.
This continuous learning and growth approach not only enhanced their service offering but also increased team expertise and client satisfaction.