Become great at growth marketing
Get advanced level skills to drive continuous growth.
This program is for people serious about building skills, and are ready to put in the effort it takes to complete a Minidegree.
Taught by industry practitioners, not just conference speakers and theory peddlers.
Gain a holistic understanding of growth across all channels and on an organizational level.
Get results by implementing processes that have actually worked.
We'll help you get a job once you graduate.
Momoko PriceExpert conversion copywriter
See plans and pricing or Request demo (for teams 5+)
Some of the companies that train their teams at CXL:










Become a T-shaped marketer with a focus on growth
Combine quantitative and qualitative research to get bigger wins.
Apply industry-agnostic processes and frameworks for growth.
Learn qualitative skills like behavioral psychology, copywriting, and user research.
Get technical skills like Excel, digital analytics, and testing frameworks.
In this extensive certification program by CXL, you will learn the methodologies and processes that top growth executives have used to grow companies such as Lyft and InVision. You'll be able to execute campaigns for exponential and continuous growth.
Go from a dabbler to a growth pro
At the end of the program, you'll be able to set OKRs and smart goals, run a high velocity testing program that gets results, and manage a growth team and process.
You'll be able to implement processes, tools, and techniques that work to grow your business, no matter the industry you're in.
What you'll learn and how
Practical, hands-on curriculum teaching you the right skills for the marketplace – created by leading practitioners.
We work with industry experts to determine the most relevant topics. What is useful and in-demand has informed our curriculum more than anything else.
Courses are taught by hand-selected top practitioners, names that people in the industry know well.
Minidgree content is a curation of videos and is entirely self-paced, so that you can complete the minidegree at a speed that works for your schedule.
Perfect for marketers looking to drive faster growth
This is a comprehensive training program that will give you the theoretical knowledge and empirical know-how to run growth in an organization. It will cover quantitative and analytical skills, technical skills, qualitative research, copywriting, storytelling, channel acquisition, and program management – the full gamut of skills you need to become a growth master.
Watch video lessons, use resources like spreadsheets and checklists, and do practice exercises to unlock the certification test. Pass the final test and become a CXL Certified Growth Marketing Specialist.

Josh R.
CXL didn't just help me grow, it changed my life. When I decided to pursue digital marketing, I knew I would have to find an education from a reputable source, not a fly by night marketing guru.
CXL has lead to more professional growth than any other year of my life. The best educational investment I have ever made.

Tomek D.
Our Growth Marketing agency has completed 1298 lessons and 138 courses at the Institute so far. CXL helps us in a number of ways:
1. Provides an incredible source of content to train our staff.
2. Is a good tool in keeping our staff (they're growing and we aid in that).
3. Is an awesome source of new opinions/methods to try out on our clients.
7 cumulative tracks. 111h 41min of videos & study material.
Minidegrees are collections of individual courses, grouped together around a theme. Here you get 111h 41min of video courses. It's designed to give you advanced level skills in growth marketing.
All of our instructors are hand-picked, and carefully vetted. Our approach is straightforward – every instructor needs to be the absolute best in the world at what they do.
In this introductory track, you will explore what defines "growth marketing", how it stands apart from conventional marketing, what the discipline aims to accomplish, and how to get started.
Event videos: 3
This track will get you up to speed on testing strategies and skills you'll need to hardwire experimentation into your growth process.
Event videos: 2
This track will serve as a crash-course in the data analytics skills you'll need to map out and optimize for your KPI's.
Event videos: 1
Whether you're trying to improve your SEO, Content, or SEM strategies, this track will show you how to identify the channel that clicks best with your business and optimize around that. You'll also build the skills to communicate better in each channel.
Event videos: 2
This track will cover how to structure and manage a growth team in a scaling organization, communicate data and results to the organization, and how to archive learnings from experiments as you progress.
Event videos: 1
Complete all required courses in the 7 tracks, then take this exam with a 90% or higher score to earn your CXL Certified Growth Marketer certificate.
How long will it take me to complete this Minidegree?
This is entirely up to you – it's how many hours per week you can put in. If you have 2-4 hrs / week available for learning, it might take you around 10 months. If you can do 10-15 hrs / week, you can knock it out in 3 months.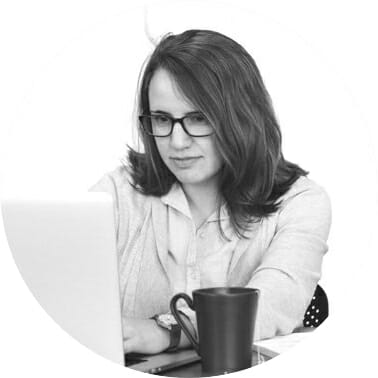 Is this program right for me?
It's ideal for
Full-stack marketers / marketing generalists who want to specialize
People who want to join growth teams
UX folks working with data and want to get better at it
The skills you gain are industry-agnostic: you can apply them equally well in ecommerce, SaaS or B2B enterprises.
This program is designed to take participants from novice to advanced level growth marketers. Being a naturally creative person helps as do technical skills. Interest in analytics and curiosity in general is a must.
You don't need to be able to write javascript code, but tech skills will help you be a better analyst – so we do recommend you learn javascript down the line. Codeacademy has great free courses on it.
Show off your hard-earned skills and strengthen your profile
LinkedIn found that people who add credentials to their profile receive 6x more profile views than those who don't.
Add your certificates to your profile, share your accomplishments with the world, and join our alumni network.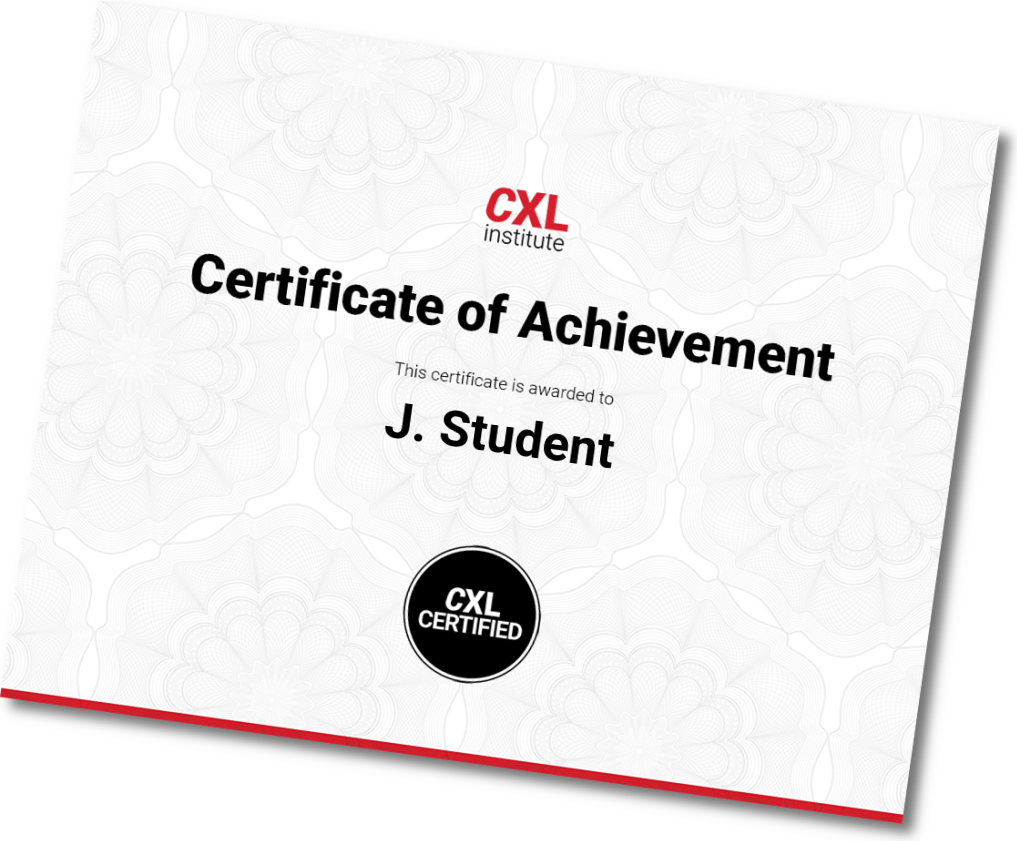 Sign up for CXL and get access
50+ courses (full list here) on all aspects of data-driven marketing (new courses added every month)
5 Minidegrees that give you advanced level skills
Talk recordings by world class practitioners at CXL Live and Elite Camp
The CXL Institute guarantee
Guaranteed return on time spent or your money back.
You can immediately apply learnings and improve your results.
Need help convincing your boss?
See plans and pricing or Request demo (for teams 5+)