Become great at heuristic analysis for conversion optimization
Learn frameworks to guide your CRO strategy
How you approach conversion optimization determines how successful your efforts will be.
Online course:
Heuristic analysis frameworks for conversion optimization audits
By André Morys, CEO & Founder @ konversionsKRAFT
Course length: 2h 30min
Start 7-day trial for $1
Some of the companies that train their teams at CXL Institute:










Find massive conversion opportunities faster than ever.
If you've got a list of tactics, you'll likely fail and your conversion optimization program will fizzle out. If you've got strategic frameworks and processes, you'll win.
This action-packed course will teach you how the top experts approach CRO.
After this course, you'll…
Have proven frameworks to guide your conversion optimization strategy.

Be able to apply cognitive psychology and persuasion principles to understand user motivations.

Provide a structured way to add more value to your CRO program right out of the gate.

Tap into opportunities for conversion lifts with better ideas and tactics.

This course helped me realize how much important it is to prioritize hypothesis. It also taught me to be more analytical and to predict users' behavior in order to facilitate their journey and lead them to conversion.
Draw out better insights, test ideas and get ROI.
Heuristic analysis is an expert-based analysis that uses experience-based techniques for problem-solving, learning, and discovery.
Done right, it allows you to save time and money as well as helps you find opportunities you may not see simply from analytics or user research.
There are many conversion heuristic frameworks, but they all start with the same goal: to enable a structured framework by which we can judge a digital experience.
No top conversion optimization agency, consultant, or specialist operates without a heuristic framework of some sort, and neither should you.
Uncover untapped conversion opportunities with heuristic analysis.
Digital analytics can hide crucial insights. Similarly, user testing and session replays don't show you everything.
By using a heuristic framework, you can uncover opportunities you may not have with other forms of conversion research. It's another important tool in an optimizers toolbelt.
Prioritize to get more out of your CRO program
It's one thing to look for elements on a website that signal "distraction" or "lack of trust," and to make a note of them. It's another to know how to prioritize your opportunity areas to maximize efficiency and ROI.
Let's put it this way: every business website has limited traffic (even Amazon). So, prioritization is important to every company – big or small, well-funded or scrappy. This course will incorporate prioritization and program management, so you're not simply left with a massive list of "would be nice" items.

Without a doubt some of the best courses with relevant and practical topics that you can start implementing today.
This course is right for you if…
You work in conversion optimization or UX and want to improve revenue and conversions.

If you work with analytics and want to learn to improve your numbers.

If you're a product owner or product manager working on building products that customers love.
About
André Morys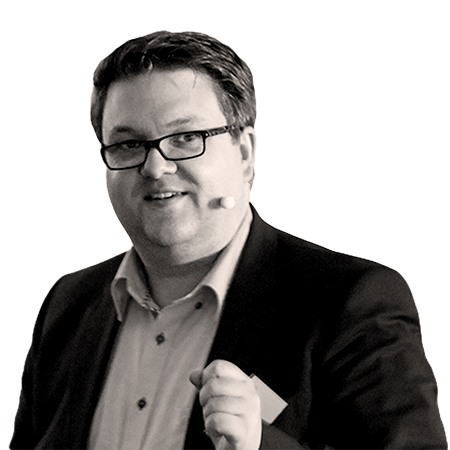 André has been an optimizer for more than 20 years and has been sharing his passion for optimization with others for nearly 10 years as an international keynote speaker, blogger and author.
André is co-founder of the Global Optimization Group, a network of leading optimization agencies across the world. He is also a university lecturer and recently received an award as Germany's Best Employer out of hundreds of participants.