Ecommerce marketing often focuses on the bottom of the funnel—remarketing ads for abandoned carts, time-limited email discounts, etc.
Yet the average ecommerce conversion rate is between 1 and 3%. The overwhelming majority of ecommerce site visitors are non-purchasers.
One key to transition visitors into purchasers is building trust. Social proof and trust seals can do that at the point of purchase. Content marketing can do it long before potential buyers click "Add to Cart."
This post highlights ways that ecommerce companies are using content marketing to attract, engage, close, and delight their target audience. While the examples come from the ecommerce industry, most strategies apply to any business.
Content marketing and the "know, like, trust" model
Best-selling author Bob Burg developed the "know, like, trust" model. He argues that, if factors like price and product quality are perceived as equal, the seller who's created a relationship with a buyer will win the sale.
You can build that relationship with content. "Product pages will never rank organically for content-related searches," explains Aaron Orendorff, a B2B content strategist:
When someone goes looking for guidance on terms associated with your product—"how to [blank]," "best [blanks]," "who uses [blank]," etc.—it's one of the few times you won't have to slog it out with behemoths like Amazon.
Without that educational, organic reach, you may get stuck pumping cash into (increasingly expensive) advertising platforms. Further, you'll never develop a brand that differentiates your products—your site will be just one more faceless ecommerce seller.
That makes it even harder to compete with industry behemoths. As reports note, a strong brand is the best way for ecommerce companies to compete with giants like Amazon. You'll struggle to build that brand with "Buy now!" calls to action and sales-focused product pages alone.
Brand-building is at the center of content marketing, no matter where in the funnel you're targeting potential buyers.
Ecommerce content marketing for every stage of the funnel
Linear funnels are relics of the past. But they're still a helpful way to identify where specific content fits in your marketing plan (or where you may have content gaps).
I spoke to Ryan Robinson, an entrepreneur and marketing consultant who has grown his audience to 400,000 monthly readers. He uses content marketing to guide his audience toward purchasing premium content:
Building trust with my readers has always played such an indispensable role in giving them confidence that my course, book, or other product offering will help solve the challenge they're facing.

That's why I've spent years building and fine-tuning my content marketing funnels to start with giving away a very valuable free resource, template, or course related to the exact problem they're facing—something that plenty of other people charge for.
Ultimately, content marketing can influence potential buyers at every point in the funnel:
Attract;
Engage;
Close;
Delight.
Below are ecommerce examples of content marketing strategies at each stage.
1. Attract: Create a steady, recurring flow of potential buyers
"Attract" content has a long time to value. It needs lots of promotion to get it in front of a new audience—especially if it's not keyword targeted. But you can't skip this stage simply because it's furthest from a sale.
Content developed for audiences at the top of the funnel can help ween your marketing campaigns from paid ads and create a steady, recurring flow of potential buyers to monetize down the road. Here's the type of content you should be creating for this audience.
Blog posts
Some 55% of marketers claim that blogging is their top inbound marketing priority. Why? Because blog content typically takes advantage of organic search—it's a free distribution channel that can help get awareness efforts off the ground.
Still, too often, blogs are purely derivative. They regurgitate the same advice from the first few pages of search results about a topic. There are two ways around that trap:
Conduct interviews.
Do original research.
Neither requires a massive budget.
Interviews
Interviews deliver original content and can kick off distribution. Interview subjects are often willing to share content in which they're featured. Taken to the extreme, the strategy leads to massive round-up posts (e.g. "What 99 Experts Think about Topic X").

A more nuanced alternative is to blend interviews into a cohesive narrative. The non-profit StoryCorps provides an interview framework (designed for students but nonetheless an excellent introduction), and there are plenty of articles on journalistic interview tips.

Robert Caro, author of an expansive, multi-volume history on Lyndon B. Johnson, wrote recently in The New Yorker about his interview process. Despite decades of experience, he still reminds himself of the most important lesson—to keep quiet:

When I'm waiting for the person I'm interviewing to break a silence by giving me a piece of information I want, I write "SU" (for Shut Up!) in my notebook. If anyone were ever to look through my notebooks, he would find a lot of "SU"s.

You can also gather data without scheduling and running interviews.
Original Data
The world is swimming in unused data. Fractl, a content marketing agency, details three ready sources for original research:
Internal data, which "may include information on sales, customer habits, marketing intelligence, and internal research."
First-hand external data, which comes "from a source that is not connected to the organization [such as] surveys or research to find new data."
Second-hand external data, obtained by "exploring existing secondhand research and data [like] publicly available data."
If you don't have an internal cache of data or a big budget, the third option is your best bet. U.S. Census data, data from the Centers for Disease Control and Prevention, IMDB, Baseball Reference, and dozens of other publicly available sources provide millions of free data points.
In many cases, data from these sources is available to anyone but not easy to consume—it hasn't been segmented, is buried in tables, or lacks interesting visuals. You may be able to publish a post with a compelling narrative and stunning graphics simply by turning a CSV file into a handful of charts.
Breaking down the blog–product barrier
Links to blog posts make all pages more competitive in search. The stream of blog visitors generate awareness; the links to those posts support bottom-of-funnel acquisition on product pages.
Further, as HubSpot notes, blog content doesn't need to live on an island. REI integrates articles into product category navigation:
Those informational articles, in turn, lead users right back to product pages:
The REI example makes another important point: Blog posts don't need to be an endless stream of quick hits on unrelated topics. A hub-and-spoke strategy focuses content on a few core topics (e.g. prepping for a climb), then publishes articles that cover tangents on that central theme.
Jimmy Daly of Animalz advocates for just such an approach, arguing that your blog is a library, not a publication. A great blog goes in-depth on a handful of hyper-relevant topics:
The approach makes sense for many reasons, not least of which is the concentration of topical authority. If you're REI and you own content on mountaineering prep, you position yourself as an authority for related products—in consumer minds and search-engine algorithms.
Podcasts
An estimated 23% of Americans listen to podcasts in the car, and a further 49% listen at home. Podcasts can reach your audience without demanding their full attention. You can establish an initial connection while potential customers cook, clean, or drive to work.
Pretty Little Thing (PLT) is an ecommerce fashion brand with thousands of competitors. They launched their podcast, "PLT: Behind Closed Doors," to try to stand out. On the podcast, PLT interview smart women or influencers—people their audience aspires to become.
Previous guests include Malika Haqq, Larsa Pippen, and Meggan Grubb. These passive endorsements win the attention (and trust) of the company's target audience.
A podcast can also drive people to your website. For example, you can offer added value in a blog post, such as a corresponding checklist to help podcast listeners put your advice into action.
You're raising brand awareness while owning the attention it generates. The secondary effort—bringing users back to your website—can help build a community rather than relying on a third-party platform to sustain visibility.
An over-reliance on other platforms, Zaius' Cara Hogan explains, is risky:
A few years ago, many ecommerce brands built entire businesses on organic Facebook reach only to see the algorithm change and brand pages lose almost all power. This is a clear example of the risk inherent in building a community on a platform that is not your own.
The challenge with any popular format, podcasts included, is saturation: It's a crowded market. There have been plenty of start-and-stop efforts. To considerable fanfare, Blue Apron launched a podcast with Gimlet Media, "Why We Eat What We Eat," in 2017. It lasted just seven episodes.
As with all forms of content marketing, a distribution strategy is equally—if not more—important than content production.
Infographics
Infographics aren't dead. But they're not as popular as they once were. At their height of popularity, around 2014, they were seen as easy ways to earn links—engaging visuals that sites could embed to make a point and add interest.
Since then, they've declined in popularity. Still, according to 2018 research from Moz, they can generate more links than other formats:
Reddit's /r/dataisbeautiful subreddit continues to showcase infographics that grab the attention of a large audience, like this one from 2018 on the amount of air in every brand of chips:
Reddit can also catalyze distribution—the above infographic earned 57,000 upvotes. Popular sites often feature content that, a few days prior, made its way to the top of Reddit.
That's exactly what happened. Created by Kitchen Cabinet Kings, the potato chip infographic earned write-ups and links from nearly 100 websites, including Today. It's not hard to guess when it went live:
You can produce infographics with limited graphic-design expertise. Tools like Canva, Lucidpress, and Venngage have pre-made templates to help you create branded visual content quickly and easily.
Influencer collabs
You can build on the "know, like, trust" model beyond your website. The average engagement rate of influencers' Instagram content is 5.7%. Compare that to just 2—3% for branded posts, and you'll recognize the potential of influencer collaborations.
Consumers trust recommendations from influencers—even when those recommendations generate mixed reviews. Flat Tummy Co. are a controversial brand that sell detox teas designed to aid weight loss. They work with influencers like Kylie Jenner and Kim Kardashian—the latter landed tons of news coverage.
The company reached Kim's millions of loyal followers with a tag in one of Kim's Instagram posts:
The ensuing debate landed Flat Tummy coverage in Allure, Refinery29, and Elle. Each linked to the Flat Tummy website, spiking the number of referring domains and making the company far more competitive in organic search:
Readers of those magazines are likely Flat Tummy's ideal customers, too. They killed two birds with one stone:
Reached an audience that fit their buyer persona through the Instagram post and secondary coverage.
Increased their chances of ranking for relevant, bottom-of-funnel search terms, such as "weight loss teas."
That one-two punch shows how top-of-funnel content can drive more customers to a site. Once there, other content types can keep them engaged as they move through the funnel.
2. Engage: Create content that drives active participation
Some 52% of consumers are willing to share personal data in exchange for product recommendations. Quizzes, calculators, and interactive content deliver recommendations while meeting your middle-of-funnel content goal: to drive engagement.
"Engage" content often turns visitors into leads by collecting email addresses. It can also engage users through video tutorials. So what works at this stage?
Interactive content
People are intrigued to learn about themselves. Quizzes take advantage of that curiosity. You're giving people the opportunity to learn about themselves—something other types of content, like downloadable guides available to the masses, don't offer.
Beardbrand has a quiz titled, "What's the best beard style for you?" on their homepage:
Beardbrand isn't using their homepage to sell directly—a unique approach for an ecommerce company. Instead, they're following the "education first" mindset through a quiz rather than a hard pitch.
The interactive piece works by:
Asking their audience a series of questions that relate to their product;
Collecting their email address (to nurture through email marketing, if necessary);
Displaying a selection of featured products based on answers to the quiz. (They can also remarket to the same audience with the recommended products.)
Research by Kapost concluded that interactive content generates twice the conversions of static content. Some 49% of shoppers purchased a product they didn't intend to buy after receiving a personalized recommendation from a brand.
With quizzes, users help ecommerce companies make a better pitch—literally stepping through a process that proves the value of the product suggestions at the end.
Compared to Beardbrand, Sephora has a similar but more comprehensive approach. The Sephora Visual Artist, which has a web and app version, allows users to test different products virtually. You can use a model photo, upload an image, or try products "live" by giving the tool access to your webcam.
Videos
Throughout the funnel, education is the main aim of content marketing. That doesn't mean that you can't talk about your products.
A report by Wyzowl found that 68% of people would prefer to learn about a new product or service by watching a short video—making it more popular than text-based articles (15%), infographics (4%), presentations and pitches (4%), and ebooks and manuals (3%).
ChefSteps does this through their YouTube channel, which has nearly 900,000 subscribers and has earned 114 million views. They've won that visibility with just over 500 videos, most of which are only a few minutes long.
They give their audience recipes that solve pain points (e.g. cooking perfect chicken), while showcasing how their product (Joule) is the perfect tool to assist:
Their videos offer value even if you own a different brand of immersion circulator (or, in some cases, none at all). Indeed, ChefSteps built their brand before introducing their product. They began posting videos on YouTube in 2012—three years before Joule came to market.
After the product launch, the branded search volume for Joule (blue) quickly caught up to the same level of the ChefSteps brand. By 2019, it had surpassed it, with 16,000 monthly queries.
The ChefSteps YouTube channel humanizes their company, speeding potential buyers through the "know, like, trust" model. After all, if you could purchase an immersion circulator from a faceless company or a bunch of talented (and funny) hipster chefs, which would choose?
Downloadables
Downloadable content can take many forms, including:
Whitepapers;
Ebooks;
Checklists.
Designed to collect email addresses, downloadable content is more common in B2B, which has longer sales cycles and a more complex buying process. (You don't need a 20-page guide to figure out which socks to buy.)
Downloadable content still has a place in an ecommerce content marketing strategy, especially if you're selling a high-ticket item that may lengthen the sales cycle.
Take Evelo, for example. They've put together a "Complete Electric Bike Buyer's Guide" to educate buyers while also capturing lead details.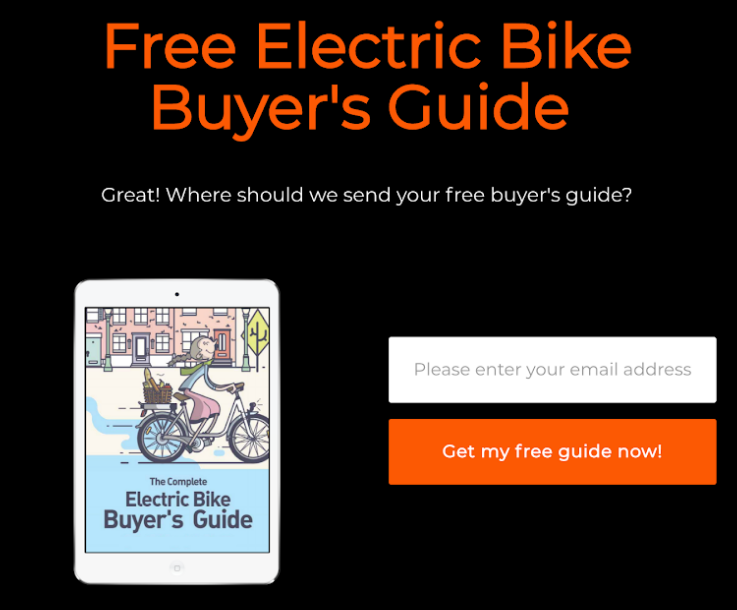 The guide is packed with educational content. It teaches readers:
What an electric bike is;
Why electric bikes are better than others;
How to find the best electric bike;
The costs of owning an electric bike;
The pros and cons of electric bikes;
How to purchase an electric bike.
Evelo's products aren't mentioned The focus is education. Non-promotional content positions their brand as an authority—one that can be trusted when it's time to close the sale.
3. Close: Nudge hot leads toward the sale
Consumers who are almost ready to buy are in the "close" stage. Content created for this group doesn't need much organic promotion—it reaches people who are already on your email list or website.
But it's also the stage when content might need an advertising boost through a remarketing campaign that targets leads on social media or a display network.
Nurture emails
It's notoriously difficult for ecommerce businesses to build their email lists. Nobody wants to be spammed with product advertisements. That's why you need to deliver value via this channel—especially when customers are nearing the bottom of the funnel.
Minted drives email sign-ups with an exclusive offer on their homepage. Offering 15% off the first purchase is a surefire way to please the 97% of consumers who look for deals when they shop, and the 92% who are always looking.
Ecommerce buying cycles can be exceptionally short—a homepage visit, email signup, coupon delivery, and purchase can happen in a matter of minutes. For ready-to-buy customers, there's no opportunity for content marketing prior to the sale.
Not every email subscriber, however, is so eager to purchase. That's where content marketing comes in. While the discount offer may earn an email address, content marketing can nurture potential buyers who don't convert right away.
Minted follows up on their initial offer with brand-building content, such as the stories of their independent artists:
They're ditching the hard sell and focusing on brand values: creative expression, personal development, risk-taking, and supporting local designers.
It's an inversion of the traditional funnel: Minted goes for the quick sale first via a discount, then reverts to content marketing if the sale doesn't come.
Case studies
Case studies help B2B companies convert and accelerate the most leads. Why?
Demonstrating your product's impact in the wild helps prove its value.
Showing how a similar customer solved a shared problem helps your target audience relate to your brand.
Unlike some software or service businesses, ecommerce products are usually more visually interesting. Case studies don't need to be stiff, text-filled reports. (B2B case studies shouldn't be dull, either.)
MADE put this into practice when they collaborated with Megan Ellaby, a blogger and influencer, to tour Megan's home. The effort blended a case study with influencer marketing.
A selection of products featured in the video were MADE products. This gave their audience the chance to see what the products looked like in a real home—one that many were curious to see inside.
As with MADE's video, the trick to a high-converting case study is specificity—helping one customer solve one problem. As Daly explains:
Don't write fluffy stories and package them in a PDF. A case study should explain how you helped a company with a similar situation overcome a single, specific problem.
The more specific your case study, the stronger the chance that someone in that exact position can relate to it. If you're a MADE customer, you likely have an eclectic taste. Megan's personal style mirrors your own.
Find your best existing customers. Ask them questions related to your product, such as:
What problem were you trying to solve?
Why did you choose our company?
What measurable changes have you seen since using the product?
Package their responses into a case study (video, blog post, infographic—it doesn't matter). So long as the content is specific, you're providing future customers with a reason to purchase.
Webinars
Deluxe sells a range of products and services for small businesses. One product category centers on marketing materials for local businesses, offering high-quality business cards, brochures, and postcards.
Their audience lacks the design skills to create the materials they need to promote their business. Deluxe ran a webinar that touched on the importance of print marketing, the products Deluxe offers to help, and referenced a relevant case study.
Use tools like CrowdCast, GoToWebinar, and WebinarJam to get started. All have either free trials or money-back guarantees, so you can test which platform best suits your needs. Be sure to allow attendees to watch a replay; otherwise, you could miss out on 28% more attendees.
4. Delight: Encourage lifelong evangelists
Creating content for new customers alone neglects your existing audience. And yet 65% of a company's business comes from existing customers. Ross Simmonds, of FoundationInc.co, defines the goal of "delight" content as:
To deliver something that helps them get the most of their purchase. It's typically not expected that a brand will follow up with you with value.
The "surprise and delight" model is a long-standing ecommerce strategy. Exceeding customer expectations after a purchase can increase repeat customers, brand loyalty, and word-of-mouth referrals. You can persuade past customers to purchase again and again with this type of content.
Post-purchase emails
People have bought your product. How can you help them get more value from it? Framebridge, which sells photo frames, does this with their post-purchase emails.
Their frames can be attached to the wall, stood upright on a desk, or used to create a gallery wall feature. They continue to educate their customers after purchasing, sharing instructions via email for hanging art in their new frame:
Framebridge isn't selling new products in their post-purchase email. They're teasing the educational value within the email and offering a click-through for those who want to learn more.
Help docs and FAQs
What do customers email you about? If you sell flat-pack furniture, do you get support tickets about how to build a bookcase because manufacturer instructions are unclear?
For starters, you can publish help docs on your website. Point new customers enquiring about the same thing to your help doc. Even better, include links to commonly visited help docs in your transactional emails. You can solve a problem before it becomes one.
I recently switched from Windows to Mac. I had hundreds of questions about the new interface. Apple offers a collection help docs to assist with the exact issues I had, including:
Even simple products benefit from FAQ sections that answer common questions. Aeropress has an extensive list, from questions about shipping to how to brew a perfect cup: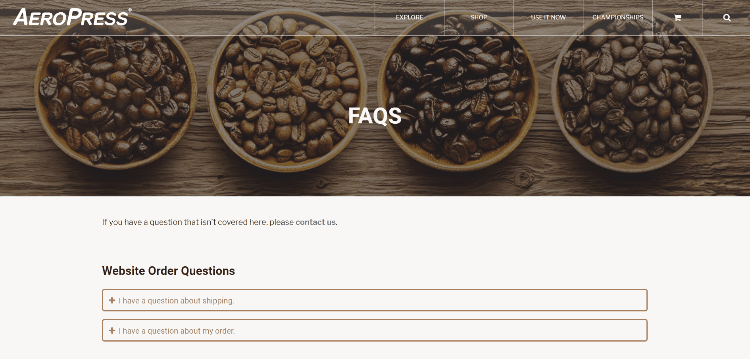 Even their single-page FAQ ranks for dozens of keywords. (They could almost certainly rank first for far more with a dedicated page for each FAQ.)
Still, the single-page FAQ sheet generates several featured snippets:
Making it easy for customers to get answers saves your customer service team time and improves customer satisfaction, which may lead to fewer returns.
Direct mail
According to Dr. Gregory Berns, a psychiatry professor at Emory University, "people are designed to crave the unexpected." This idea ties in to the "delight" stage with direct mail. Delivering messages via post can be a differentiator between you and your ecommerce competitors.
Chewy delivers handwritten holiday cards to their customers. They've taken direct mail surprises a step further, too. When a customer posted a photo of their cat to Chewy's Facebook Page, the brand took the photo and commissioned a unique piece of artwork to send to the customer.
The creative brand-building helped differentiate Chewy, ultimately earning the company a $3.35 billion payday when Petsmart acquired it in 2017—the largest-ever ecommerce acquisition.
NatureBox, a subscription service that delivers snacks on a recurring basis, took a similar but more limited strategy. The company wanted to increase their customer lifetime value (CLV). So, they segmented their audience and focused on previous customers who hadn't purchased a box within the past 30–90 days.
Each person falling within that segment received this postcard:
The effort wasn't a pure content play—they also added a $25 credit to the customer's online account and sent the postcard as a notification. Still, the segment that received the postcard had 35% more orders per customer compared to those who didn't, and almost 60% more net revenue per customer.
It's hard to imagine that sending an email to announce the credit would've had the same impact. Postcards are usually warm notes from friends and family. Sending one was a subtle way to rekindle a relationship with a long-lost set of buyers.
Conclusion
Ecommerce content marketing can reach visitors at any stage in the funnel. It's also an essential way for companies to stand out against dominant sellers like Amazon.
Many content types listed above can be effective in other stages or re-purposed for a different audience.
But, as a starting point for a strategy, map the typical sales funnel for your ecommerce store. Then, plot the points where you do or don't have content and begin to fill the gaps:
Attract. Bring more users into the top of your funnel with blog posts, podcasts, infographics, and influencer collabs. Remember that a hard pitch of your products won't work well here. Focus on getting your brand name out there.
Engage. Encourage visitors to engage with your content with interactive content, videos, and downloadable content. Collect email addresses for follow-up targeting.
Convert. Push hot leads over the purchase line with nurture emails, case studies, and webinars. Segment your audience to send tailored content.
Delight. Convince customers to purchase time and again with post-purchase emails, help docs, and direct-mail surprises. Treat education as the foundation of your customer retention strategy.