Here's an interesting statistic: Eight out of 10 TikTok users say they enjoy TikTok Ads.
At a time when more people are using ad blockers and paying for ad-free experiences, TikTokers are embracing advertising.
TikTok's audience uses the app with an exploratory mindset and a willingness to engage with branded content. Ads are a natural part of the experience. You can use this to your advantage to sell more products.
In this article, you'll learn how TikTok Ads work and how you can create campaigns that grab attention and turn interest into conversions.
What are TikTok Ads?
TikTok Ads are TikTok's pay-to-play offering for businesses. TikTok Ads give you the chance to put your products in front of the platform's highly engaged user base to raise brand awareness, build relationships and increase sales.
With over one billion active users in more than 150 markets, TikTok Ads present a great opportunity to reach people who are interested in your product, even if your product is not marketed to Gen Z.
While the majority of TikTok's global audience are younger users, it's a platform that's aging up. A quarter of all users fall into the millennial and Gen X demographics.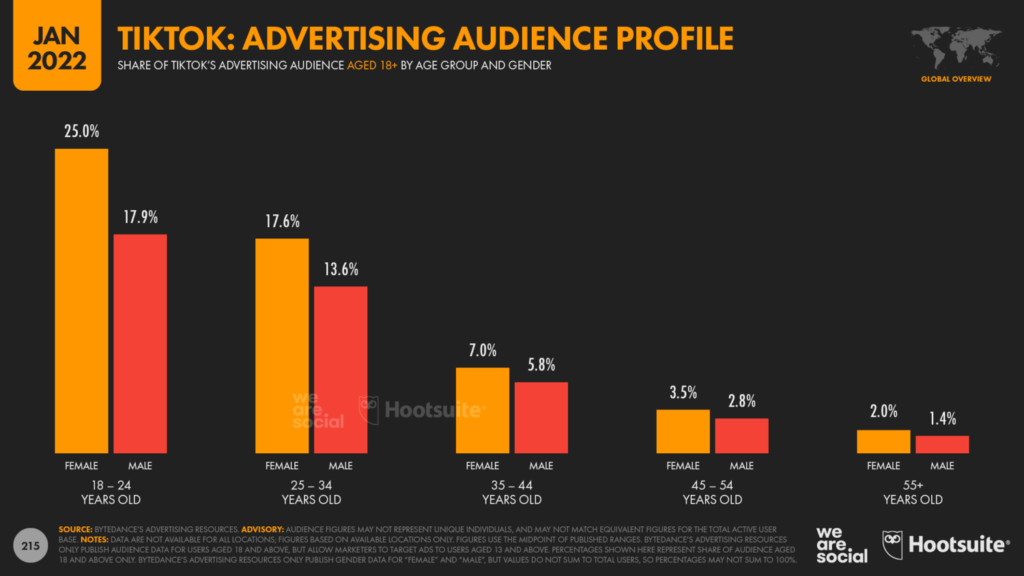 TikTok is also increasingly popular among Baby Boomers, with influencers aged 60+ amassing over 3.5 billion views.
And the type of products this audience is into is equally as diverse. Take a look at Ecwid's list of top trending products:
Cosmetics;
LED Strip Lights;
Kitchen Appliances;
Stationery;
Cleaning products;
Star projectors;
Water bottles;
Books;
Skincare products;
Jewelry.
TikTok even has its own viral hashtag: #TikTokMadeMeBuyIt, which is a one-stop shop for the weird and wonderful products brands sell on the platform.
TikTok users embrace ecommerce. Some 67% of users say they're inspired to shop when scrolling on the app, even when they weren't planning to. Over a third say they immediately want to buy a new product they've discovered.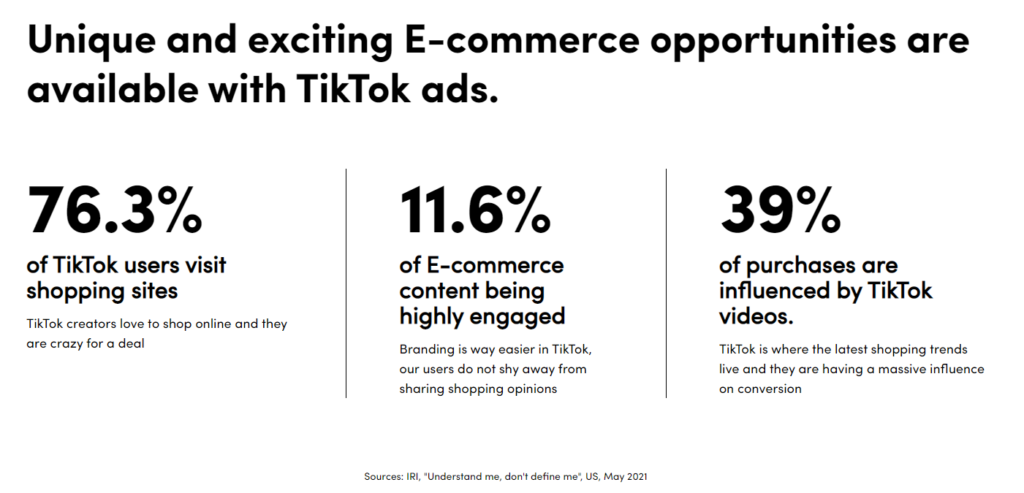 TikTokers are also some of the most engaged of any social media platform, spending an average of over 19 hours a month on the app.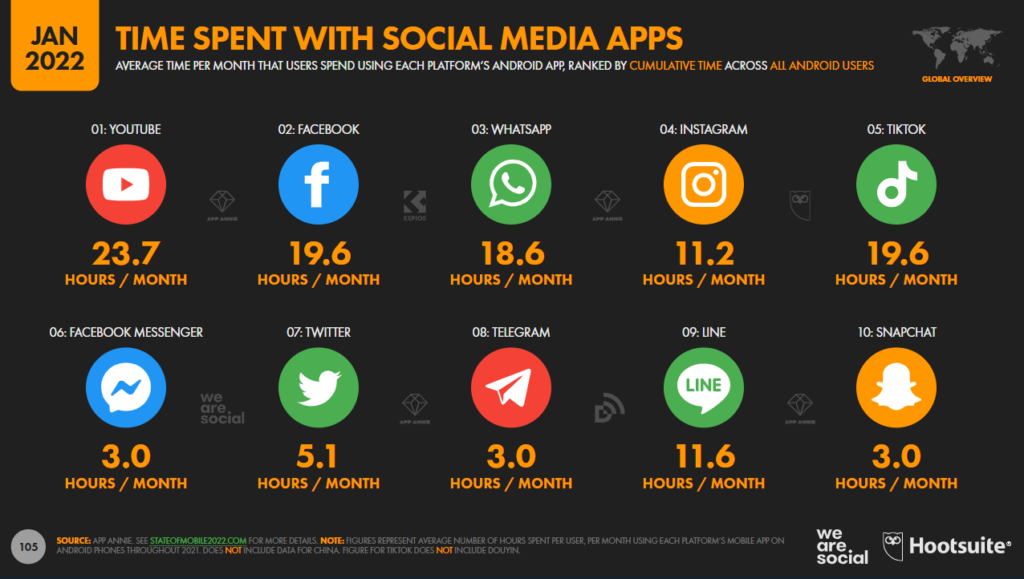 TikTok advertising is the best way of capitalizing on this behavior.
What makes TikTok Ads different from other social media advertising platforms?
TikTok's biggest unique selling proposition (USP) is its uniqueness. Unlike Facebook, Instagram, and Twitter, where users often see content and ad formats shared across platforms, TikTok differentiates itself as a place to discover something new.
In a Neilsen study of 8,000 TikTok users, 79% said they find content on TikTok to be unique or different. Users describe the content they see on the platform to be authentic, genuine, unfiltered, and trendsetting.
These sentiments extend to advertising, with 68% of users deeming advertising content to be different from competitor platforms. Ads are viewed as real, unique, and fun. Plus, 72% of users find them more inspiring and 45% see them as creative vs. 29% on other platforms.
This positivity comes from TikTok's mantra for brands: "Don't Make Ads. Make TikToks."
Blake Chandlee, President of Global Business Solutions at TikTok, says:
When we invite brands to make TikToks, we're challenging them to transform the way that they connect with their audiences, because we know that it has the power to transform their business.
TikTok is an entertainment platform. People use it as a place to be their true selves and share content they wouldn't post anywhere else.
Successful ads fit into this ecosystem. Rather than disrupting the user experience, they fit seamlessly with it. Ads show up on users' "For You" feeds in a way that's as funny, educational, or weird as the organic content they see.
For example, to drive awareness and increase engagement around its sustainability efforts, HP partnered with creators to run a branded hashtag challenge where users were invited to create and share content.
Here's one of those ads with @dreaknowsbest: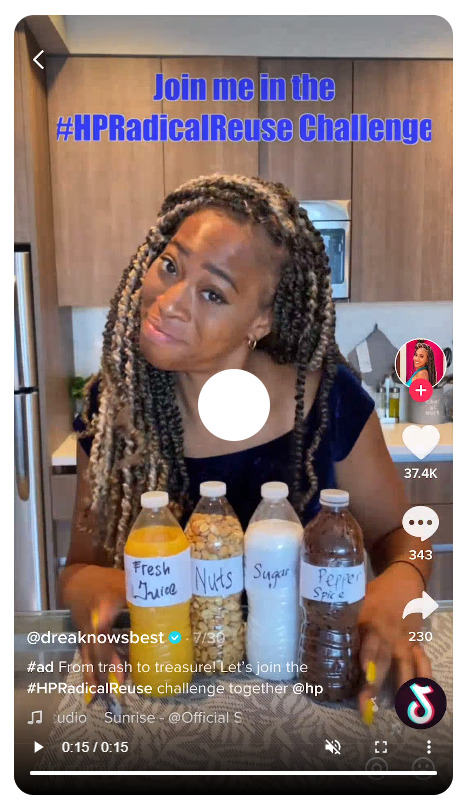 Compare that to one of Drea's organic TikToks: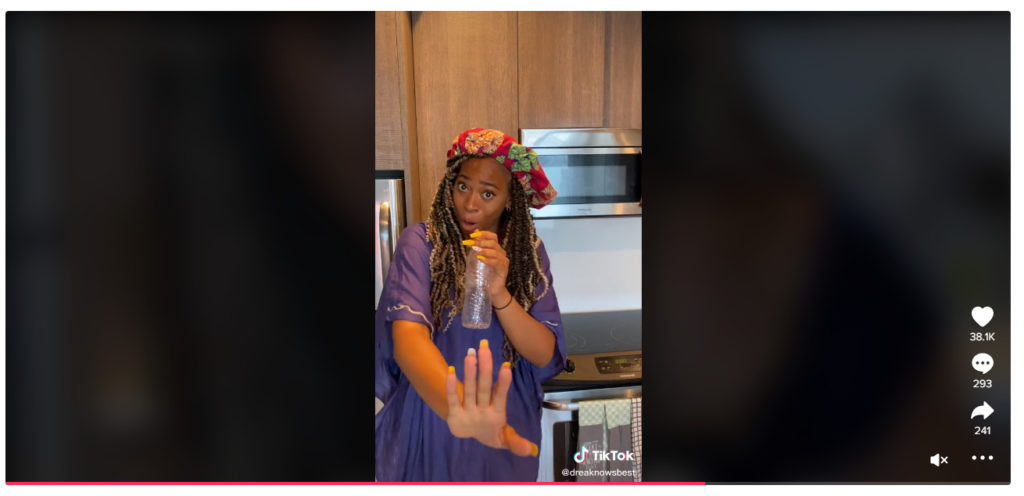 Both share the same aesthetic and are entertainment-focused. Both are filmed on a phone without any kind of big-budget production.
The ad is as authentic as the organic content, making users more receptive to it. This helped HP earn 4.7 million impressions and 4.4 million views.
Users' willingness to embrace ads is reflected in performance. According to JungleTopp, TikTok ads generate 155% more clicks and have a cost-per-impression (CPM) of around five times lower than Facebook and Instagram.
JungleTopp estimates that with 65% of your original Facebook Ads budget, you can get similar results on TikTok.
This is not to say you should ditch Facebook in favor of TikTok. Rather, you should take advantage of TikTok's outlier status among social platforms to reach new audiences.
Five TikTok ad formats and how they can help your business
TikTok offers several creative ad formats for brands to experiment with. Each comes with its own benefits and drawbacks.
1. In-Feed Ads
In-Feed Ads are embedded in a user's For You feed. Like native content, video ads autoplay, and users can like, comment, share, follow, or re-use sounds.
The organic style of In-Feed Ads makes them naturally familiar to users, who can interact with videos as they do with organic content. Where ads stand out from user videos is in what you can ask people to do.
You can include multiple call-to-actions (CTAs) in an In-Feed Ad to inspire action and drive traffic to your product pages.
For example, lifestyle brand Nolan Bros ran In-Feed Ads to grab attention for its range of sunglasses and attract-high clicks with a "Shop Now" button.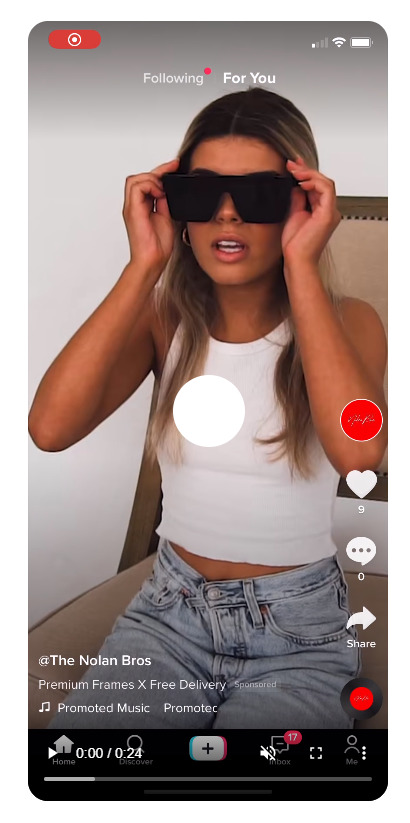 By installing the TikTok Pixel on its website, Nolan Bros was also able to create a custom audience to retarget users who had browsed a product page in the past 180 days but not converted.
This resulted in a low average cost-per-click of $0.21, with a 1.2% click-through rate, of which 3.4% directly resulted in conversions.
The downside to In-Feed Ads, however, is competition. In-Feed Ads put you up against an endless feed of user-generated content (UGC), meaning videos can be scrolled past quickly.
To grab attention, entice users with a hook.
Use action and audio to create intrigue. For example, Nolan Bros' ad starts with a customer trying on sunglasses and talking to the camera. Her actions are enough to make you switch on the sound to find out what she's saying.
Lead with an enticing headline. Explain what readers will learn by watching the ad (e.g., "3 reasons why…" or "This product helps you [solve problem]").
Use a provocative visual to pique interest. For example, Nolan Bros uses a well-framed shot of its product.
2. Brand Takeover Ads
Brand Takeovers are full-screen ads appearing as soon as a user opens TikTok. Ads display for three to five seconds giving your product guaranteed attention. However, users will only see one Brand Takeover ad per day.
By placing your message front and center, Brand Takeovers can deliver high impressions, making them an effective way to increase brand awareness and conversions.
Beauty brand Too Faced, for example, used a Brand Takeover to promote its lip gloss.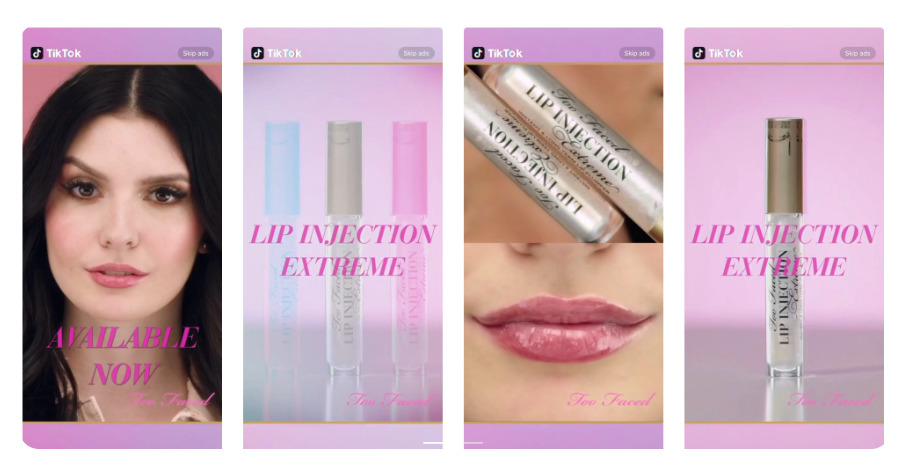 By taking advantage of TikTok's vertical split-screen, the ad cleverly demonstrates the before and after effects of the product to show its USP. A strong CTA follows this to drive customers to the product page.
The combination of prime ad placement and strong value-led creative helped Too Faced achieve 7.6 million impressions and 1.3 million clicks in a single day.
The downside to Brand Takeovers is engagement. Users are unable to add likes or comments. Ads are also more clearly identifiable as ads, which can alienate some users.
The key to successful Brand Takeovers is not to abuse your position with blatant selling. The right targeting will help you reach people with an interest in your product, but keep in mind why people are opening TikTok in the first place: to be entertained.
Show the value of your product and make visuals engaging.
3. TopView ads
Like Brand Takeover Ads, TopView ads give you the top spot when a user opens TikTok.
While this makes them more identifiable as ads, users can share, comment, and engage with TopView videos in the same way as native content.
TopView ads also give you up to 60-seconds to convey your message, allowing you to hammer home the value of your product and generate a high number of impressions.
Fashion brand CELINE is a great example of how to use TopView ads to inspire action.
To promote the virtual live streaming of its seasonal runway show from Monaco, CELINE created four TopView ads featuring models wearing items from the latest collection.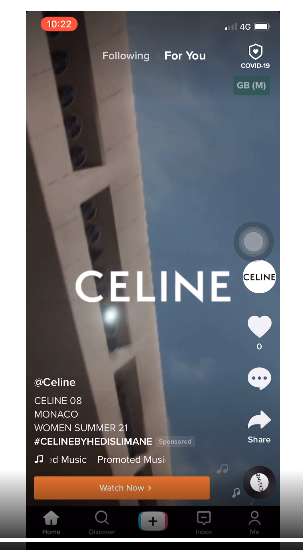 The ads work on three levels:
They're aesthetically pleasing. The use of color and architecture grabs attention from the start encouraging viewers to watch on to learn more.
Ads are soundtracked by a trending song. Like trending hashtags, using a popular song increases impressions and engagement. Users can find your content by searching through trending sounds. They can then re-use the sound in their content.
They use a clear and actionable CTA. "Watch Now" promotes urgency. Users are encouraged to act in the moment to avoid missing out.
In two days, the ads earned CELINE 52 million impressions, 22.9 million two-second views, and a click-through rate of 17.74%.
According to TikTok, 71% of users say TopView grabs their attention. The Nielsen study also showed that ads are also 67% more effective at driving sales for the Consumer Packaged Goods (CPG) industry compared to total paid TikTok.
Use TopView Ads when you want to increase engagement and traffic for a new product.
4. Branded Hashtag Challenge
Branded Hashtag Challenges invite the TikTok community to engage with your brand.
By encouraging user-generated content (UGC), this type of ad more than any other has the potential to make your brand or product viral.
Take mattress brand Simmons. To win in an increasingly crowded market dominated by online brands such as Casper, Simba, and Emma, Simmons used a Branded Hashtag Challenge as a way to introduce the brand to modern consumers.
Working with TikTok Creators, including comedians, dancers, and athletes, Simmons created the #Snoozzzapalooza challenge, encouraging people to stage dive into their beds at a time when music festivals had been canceled.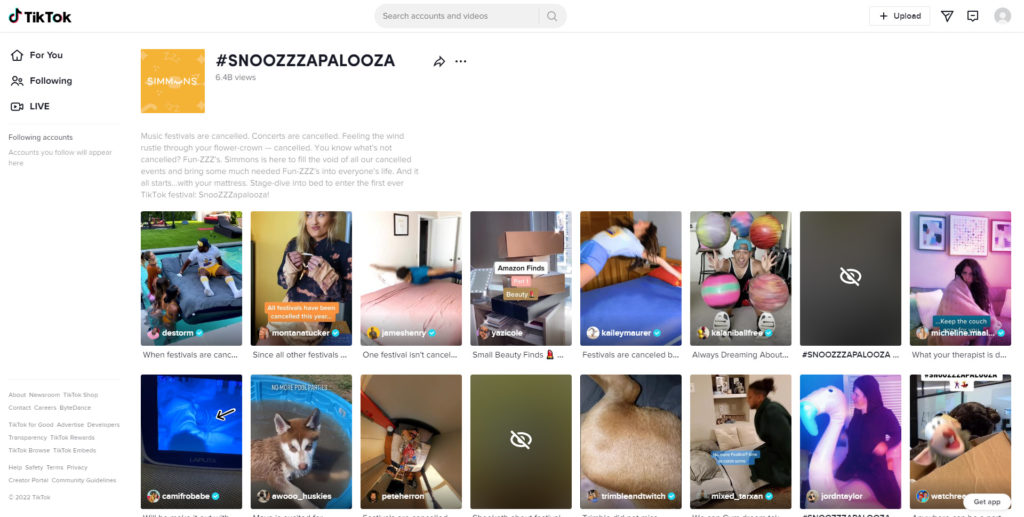 The challenge inspired people to have fun without leaving their bedrooms. More than 1.1 million TikTok users got involved, creating over 2.3 million videos that amassed more than six billion views.
The challenge helped Simmons raise brand awareness with the Gen-Z audience, increasing website traffic by 107%.
Branded Hashtag Challenges rely heavily on UGC, which means success requires interest. Simmons achieved virality for three reasons:
The task was fun and simple. If you want people to participate in a challenge, make it easy for them to go. Everyone has a bed. Simmons encouraged people to get creative with it. Doing so enabled the audience to increase their engagement while spreading the campaign.
Creators equal eyeballs. Creators are TikTok's influencers. TikTok Creator Marketplace lets you collaborate with much-loved users based on your industry, budget, and goals. This helps a hashtag spread faster.
The challenge was timely. By running the challenge during lockdowns, Simmons had a captivated audience. Think about seasonality and trends for your challenges. Shared likes and experiences are a good way to drive mass participation.
5. Spark Ads
Spark Ads let you boost organic content from your account or other users as long as you have permission (e.g., Creators promoting your Hashtag Challenge) as an In-Feed Ad or TopView.
Unlike In-Feed Ads, engagement on Spark Ads is linked back to the original post. This helps extend the reach of your content, boosting channel engagement in the process.
For example, sports streaming service Kayo Sports used Spark Ads to promote its best videos from onsite content created at a race event.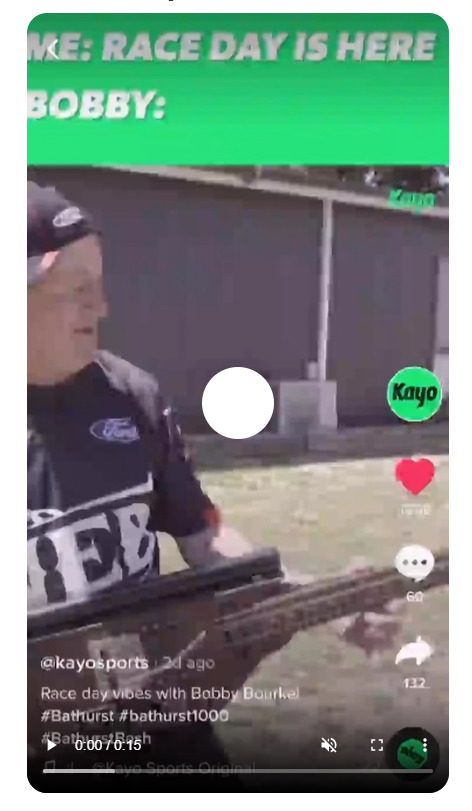 The boosted content reached over half a million fans in a single day, with a 6-second view-through rate of 21.6%, and a cost-per-completed view of 77% below target. This performance directly influenced the channel's organic content, helping Kayo increase its follower base by 16% in 24 hours.
If you're promoting a post by another user, Spark Ads are a great way to leverage social proof from influencers or customers without having to invest in creative.
According to TikTok, Spark Ads have a 134% higher completion rate than standard In-Feed Ads.
6. Branded Effects ads
Branded Effects are a visual language of branded stickers, filters, and special effects for users to add to their content. They can be used as a standalone ad or as part of a Hashtag Challenge and teamed with other ad types.
Branded Effects are an effective way to encourage users to interact directly with your brand.
For example, to promote the launch of its new milk product, Indomilk teamed with animated series Tobot to create a Branded Effect that allowed users to virtually dress up as different characters.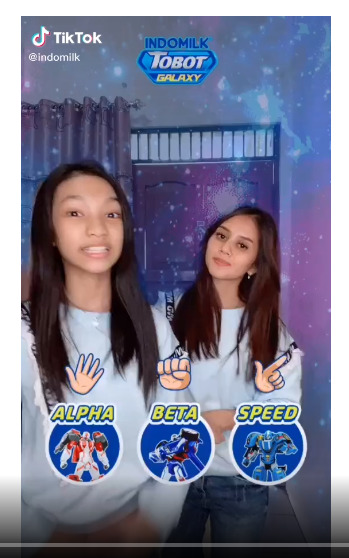 By using one of three hand gestures, users were instantly suited up in a character's armor. To drive initial awareness, Indomilk partnered with Creators and ran In-Feed ads to help the Branded Effect go viral.
The campaign resulted in over 63 million impressions, 22.5 million views, and 68,000 videos created earning 414,000 engagements. It's another example of how the combination of simplicity and trends can engage audiences to raise brand awareness.
How to maximize your TikTok Ads Return on Investment (ROI)
TikTok Ad case studies show the impressive numbers the platform can generate for brand awareness, engagement, and website traffic. These results help to deliver higher ROI and Return on Ad Spend (ROAS).
Research from TikTok and Nielsen shows that U.S. paid media ROAS for TikTok was 14% higher compared to all digital media models, while ROAS for paid media was 64% in Europe.
Moreover, sales efficiency was two times higher than the digital media average in the U.S.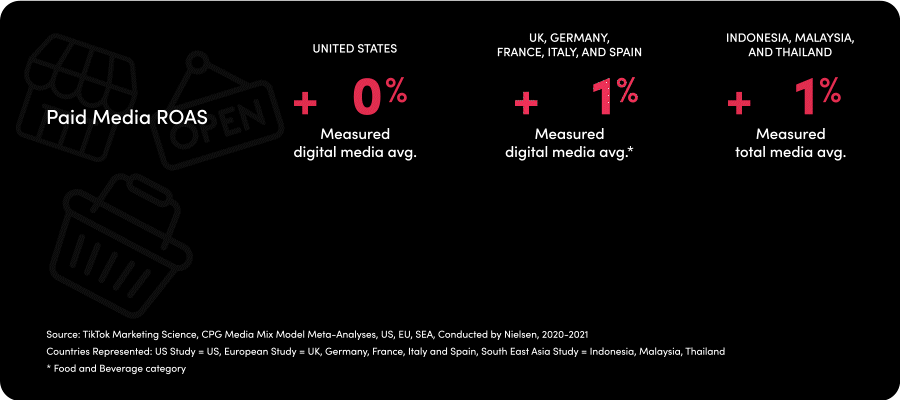 To achieve similar profitability with your ads, you need to target the right audience with the right message and measure performance to evolve. Let's look at some best practices.
Get to know TikTok Ad Manager to learn how to gauge success and spot improvement opportunities
To be successful, you need to know what success looks like. Everything you need to know about ad performance is located in TikTok Ads Manager.
This is the hub from where you'll create ads, visualize what's working and identify emerging trends to inform your strategy moving forward.
How to set up TikTok Ads Manager and create your first ad
TikTok offers a step-by-step guide for getting started with Ads Manager, but here's a quick breakdown.
Step 1
Go to TikTok For Business to create a TikTok Ads account.
Step 2
Enter basic information about your business, including name, country/region, time zone, and currency.
Step 3
Go to Dashboard > Account Settings > Account Info and complete your user profile by entering additional business information: website URL, industry, address, postal code, business verification, and payment method.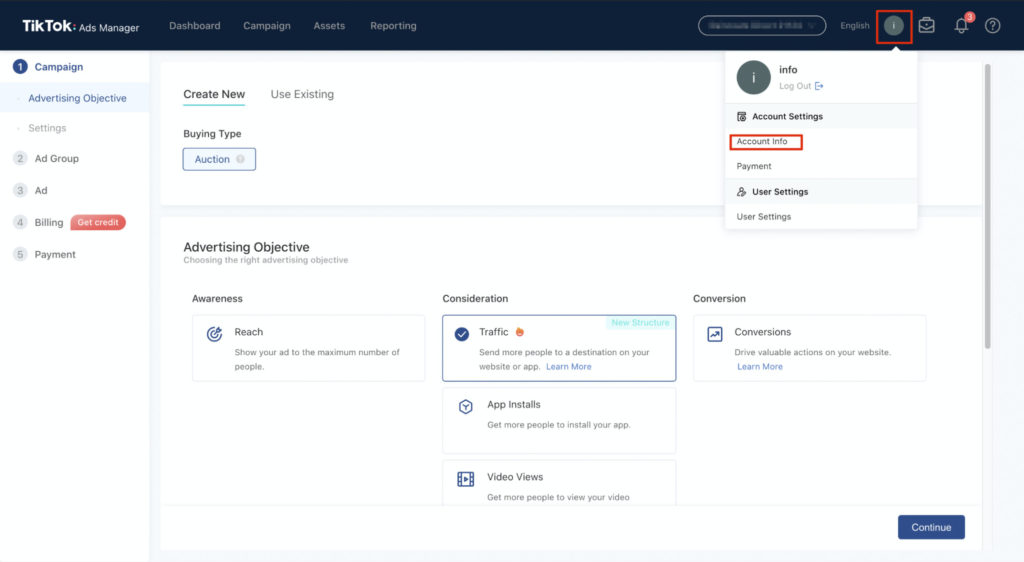 Step 4
Submit your account information.
Step 5
Create and install a TikTok Pixel.
This is a snippet of code on your website that gathers information on site events, such as how users arrived at your site and their location.
Use the Pixel to track what people do after they click on your ad to optimize your ads and conversion funnel.
When you're set up, you can begin creating a TikTok ad campaign by clicking the "Campaign" button at the top of the page. Ads Manager will then walk you through the steps to create an Ad.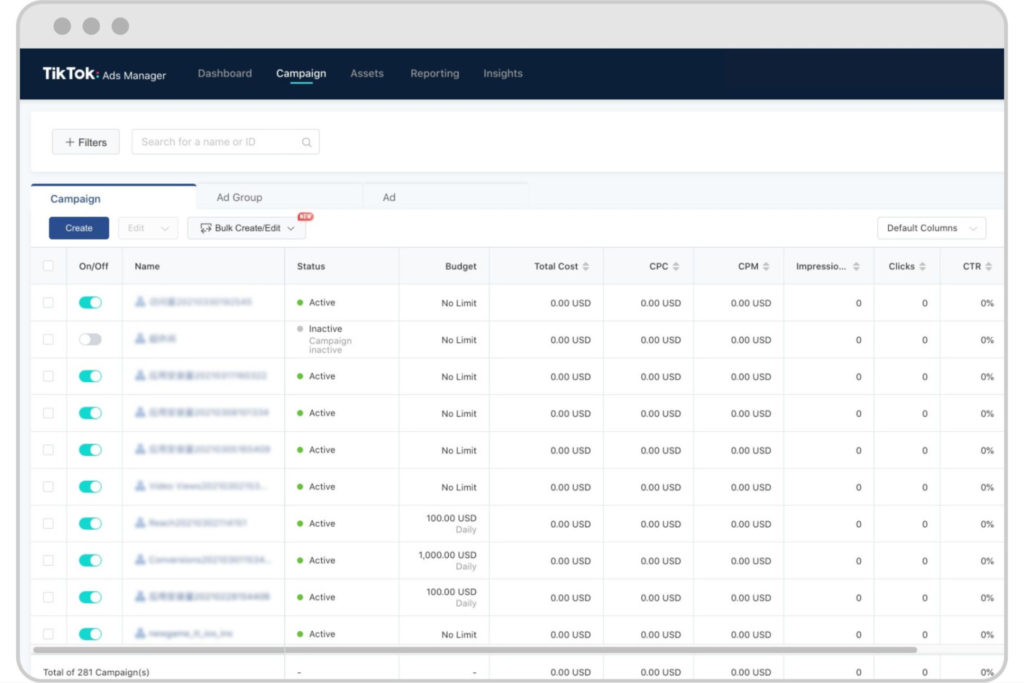 Step 6
Choose a campaign that matches your objective.
For example, if you're targeting users in the consideration phase, you might choose "Traffic" or "App install." If you want to drive sales, "Conversions" is the best objective.
Step 7
Set a campaign name and budget.
It's a good idea early on to set a "Daily Budget" or "Lifetime Budget," so you know exactly how much you're spending. Make sure you're comfortable with the budget you set because it can't be changed when your ad is live.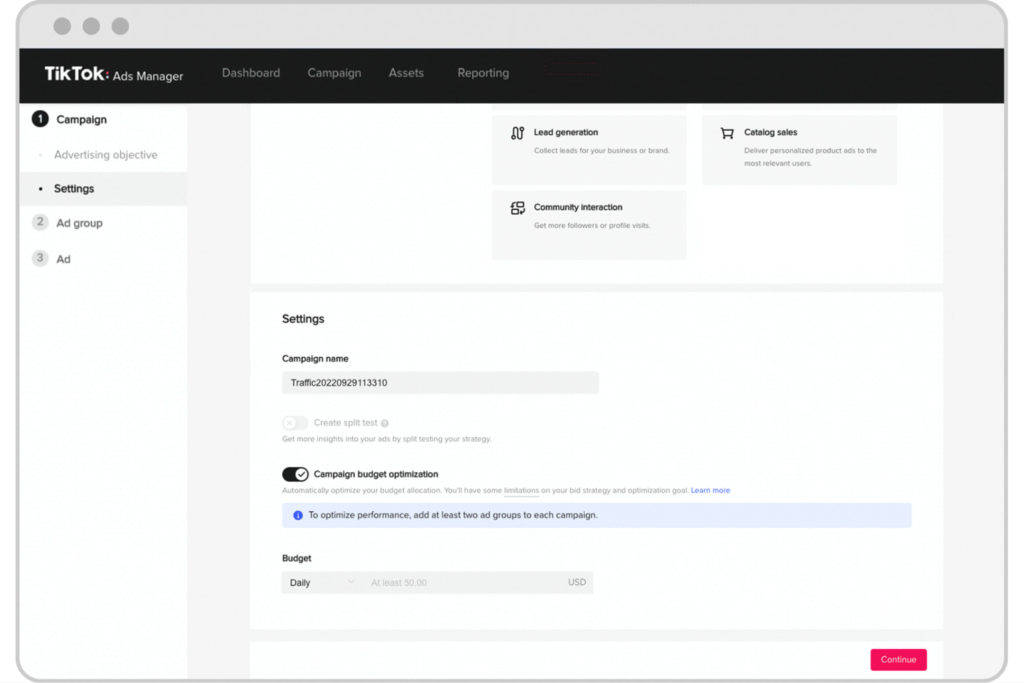 Step 8
Create an ad group to define your audience, campaign budget, and ad placement.
If you want TikTok to optimize your ads for maximum reach and value, choose "Automatic Placement." Manual placement is an option to experiment with as you learn more about how users are engaging with your ads.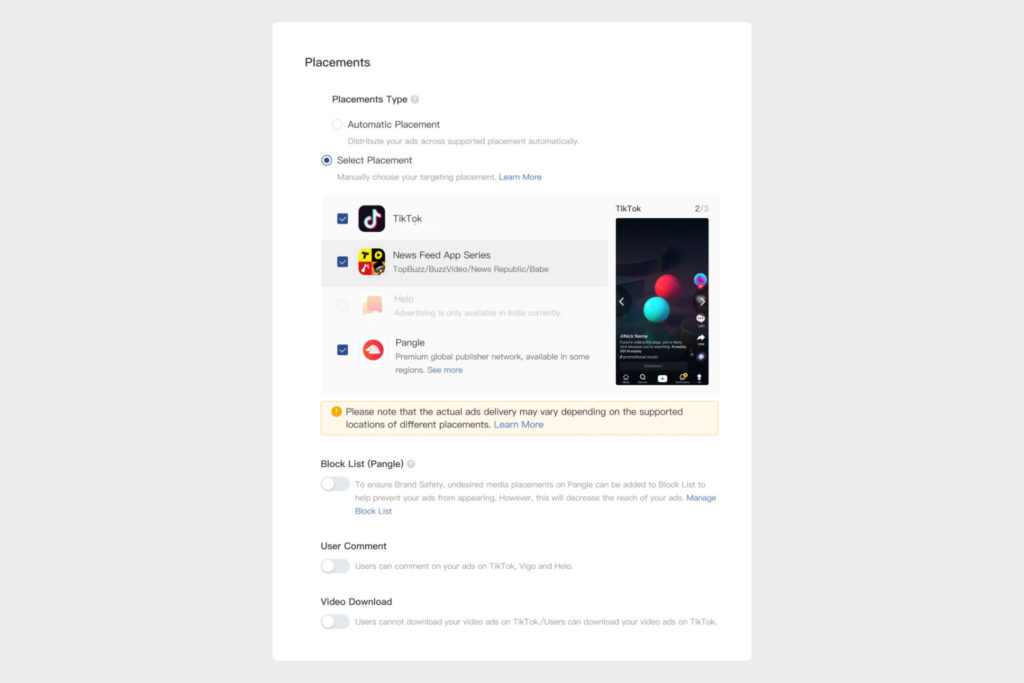 Turn on "Automated Creative Optimization" to let TikTok create content variations and test engagement. Again, this automation feature will ensure you're getting bang for your buck early on. You can turn this feature off at any time.
Enter your target audience demographics and choose how you want your ad to be served. There are two options here:
Choose "Standard Delivery" for your ad to appear at high-traffic times.
Choose "Accelerated Delivery" to get the most eyes on your ad as quickly as possible. This is the best option if you're running a limited-time promotion.
Step 9
Create a new ad.
Upload the video or image you'll be using in your ad creative. Follow TikTok's recommended ad specs and best practices here.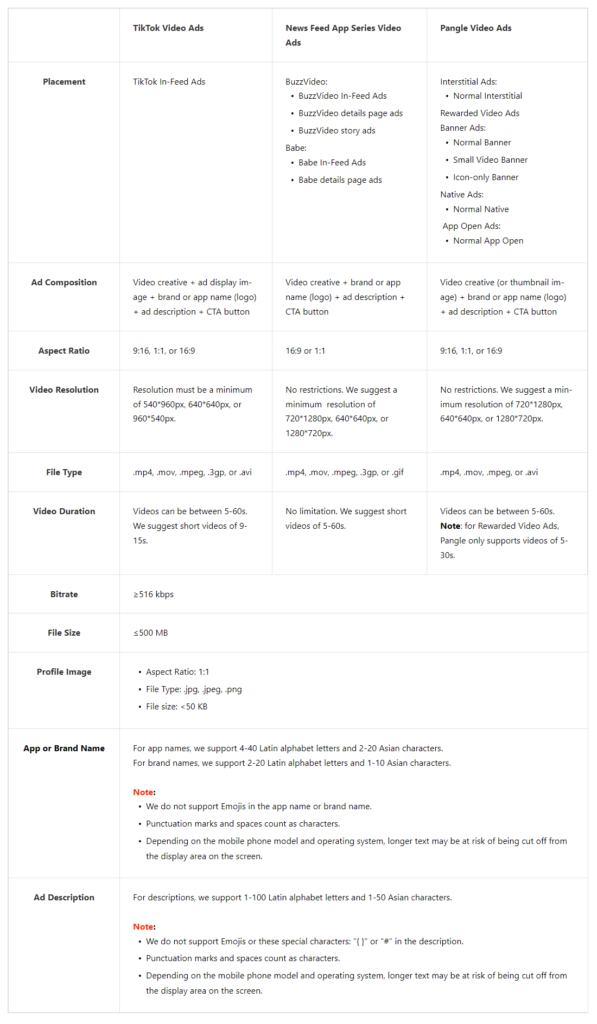 Preview your ad to see how it will appear to users. TikTok will also alert you to any tweaks that need making before submitting it for review.
Finally, add a call to action that suits your campaign objective. For example, if you're introducing a new product, you might choose "Learn More" to drive traffic to a landing page. If you're driving conversions, "Shop Now" will encourage people with buying intent to act.
Track the right metrics for performance
When your ad is up and running, you can monitor performance from the Ads Manager dashboard. TikTok tracks over 200 data points. Not all of these will be relevant to your campaign.
For ecommerce ads, the main metrics to focus on are:
Click-through rate (CTR). The number of clicks your ad receives divided by the number of impressions. Track CTR to gauge overall effectiveness. A sudden drop can indicate something is wrong.
Cost-per-click (CPC). The amount you spend on your ad divided by the number of clicks. Track CPC to monitor how much you're spending on advertising to better manage your budget. High CPC indicates a problem with your targeting or messaging.
To track buying intent further down the funnel, track:
Cost per add-to-cart. This tells you how much you pay when someone adds an item to their cart.
Cost per checkout initiated. This tells you how much you're paying when someone starts a checkout.
These metrics will help you understand how successful your ads are at converting customers. High costs indicate friction in the buying process.
You may need to tweak ads to match the messaging on product pages or streamline the checkout process to maintain customer engagement through to purchase.
Beyond these metrics, look at analytical measures to understand how users are interacting with your ad:
Reach. Video views, reach of a specific hashtag (e.g., a branded hashtag used in a Hashtag Challenge), and number of branded song plays.
Engagement. Number of likes, comments, and shares.
Virality. Number of videos in which a campaign hashtag or branded song is used
Conversions. Increase in sales and traffic to your product pages.
Positive reach, engagement, virality, and conversions are the surest sign that your ads are striking the right chord.
Balance attention-grabbing creative with authenticity to engage your TikTok audience
TikTok is built on entertainment and authenticity. Think less about polished production and slick scripts and more about how you can promote your product in a fun, engaging, and natural way.
Remember: Don't Make Ads. Make TikToks.
Look at how the competition is engaging its audiences. How are they showcasing their products? How long are their videos?
Check out what's trending. As mentioned above, #TikTokMadeMeBuyIt is a goldmine for what's currently hot on the platform.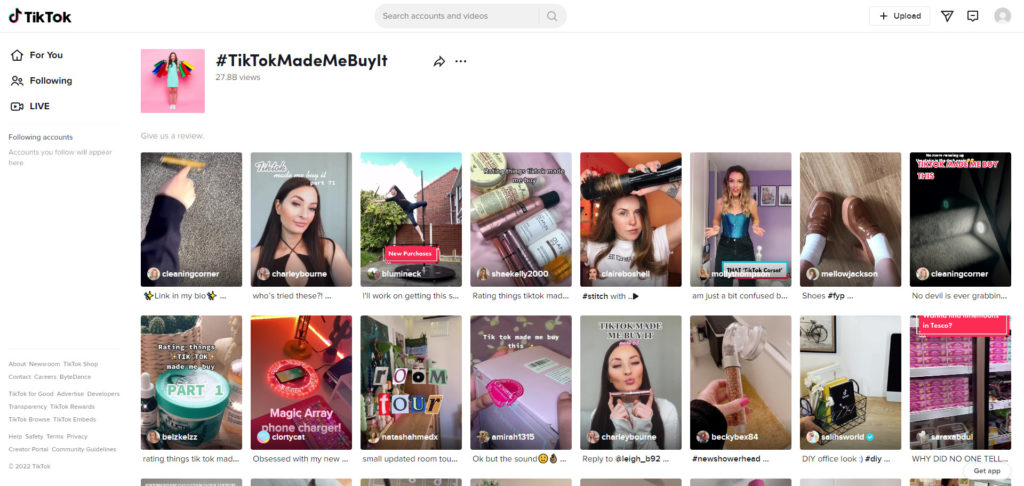 Look for elements popular videos have in common.
Do they have people talking to camera or are videos focused solely on the product?
How do they use headlines and ad text?
How is the value of the product being sold (i.e., how are they demonstrating the item)?
How are they using a sound?
What CTAs do they use?
Consuming popular content will help inspire your creativity.
To help creators make impactful videos, TikTok uses machine learning to glean insights from top-performing content. Its Creative Center provides data on which songs, hashtags, creators, and videos are trending. Use this to help you reach your audience with meaningful content.
Here are some best practices to follow based on TikTok's insights:
Shoot video in 720p or higher. Over 80% of videos are filmed in high-res and get a 5% boost in impressions.
Use sound in every video. Over 90% of popular videos use audio (e.g., music, voiceover, or talking to camera).
Keep videos short. One in four top-performing videos has a duration of between 21 and 34 seconds.
Shoot videos vertically in 9:16 aspect ratio. 98% of top-performing content uses full-screen video.
Used varied scenes. Videos that feature different angles and settings get 40.6% more impressions than videos without transition footage.
Use closed captions or text to display your CTA. This will help it visibly stand out from the rest of your content.
Emphasize your offer. Videos that include footage promoting a discount code or deal get 67.4% more impressions.
Target and retarget to reach ready-to-buy audiences
With a wide and large user demographic, setting up ads to match the buyer personas in your marketing strategy will likely yield success.
TikTok Ads Manager lets you upload custom and lookalike audiences to target the same demographics you engage on other ad platforms. If you use Facebook Ads or Google Ads, choose narrow targeting and use your customer data to determine precisely who you want to see your ads.
However, bear in mind that what works on another platform doesn't automatically guarantee success on TikTok. User habits are different. Audiences on Facebook, for example, mainly use it to message friends and family, post photos, and keep up-to-date with current events.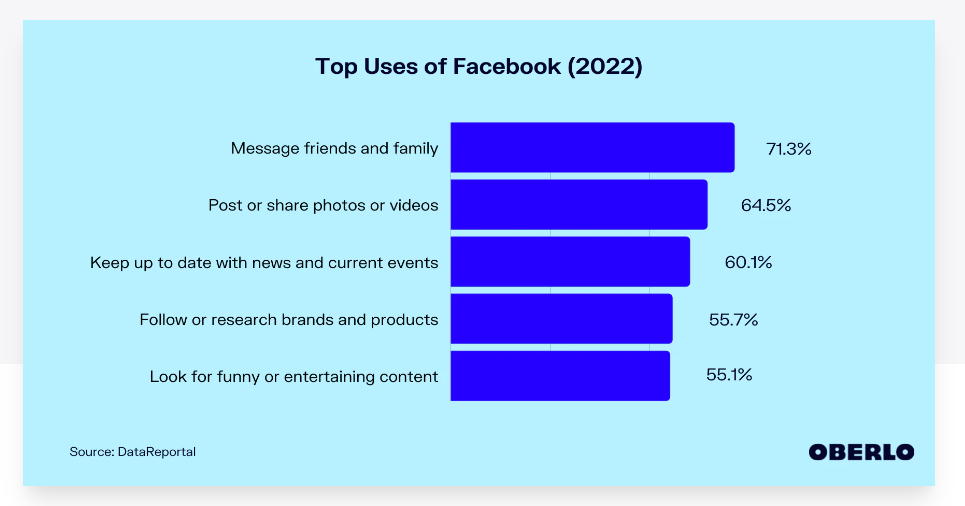 On TikTok, people mostly open the app to be entertained. This may influence psychographic traits like interests and lifestyles.
TikTok Ads present an opportunity to experiment and discover new audiences. Use broad targeting for early ads to let TikTok's machine-learning algorithm find the best possible segments for your objective.
TikTok research shows that targeting a broader audience with In-Feed Ads has higher effectiveness across a range of demographics.
By analyzing the results of these campaigns, you'll recognize which audience groups engage with your ads. Compare demographics with your customer personas and custom audiences to craft a TikTok-specific audience.
As the data begins to roll in, look for opportunities to re-engage people who have interacted with your brand. Create custom audiences to retarget people based on:
Ad engagement. Show ads to people who have clicked on your ad, left a like or comment, or viewed your video within a particular date range. This can be anywhere from seven to 180 days, but to stay front of mind it's best to stick to recent actions.
Website traffic. Show ads to people who have visited your site or taken a specific action, such as adding a product to their cart.
These interactions show interest and buying intent. A retargeting ad can be the nudge they need to follow through with a purchase. However, it's important to recognize that people in these custom audiences have experienced friction.
Target them with fresh content, such as:
Use discount codes or special offers. Incentivize purchases with people who have visited a product page or abandoned their cart.
Repurpose top-performing ads with updated copy and offers to grab attention. The same message presented differently can help sell the value of your product.
Analyze the conversion funnel to ensure messaging, offers, design, and imagery are consistent. A cohesive experience helps to reduce friction. If a user is intrigued by an ad, mirror those elements on product pages.
Harness the power of influencers to reach new audiences
We've seen in earlier examples how TikTok Creators can help ads go viral. Influencer partnerships result in higher view rates and greater engagement. Having a Creator promote your product also positively impacts brand awareness and sales.
This is because TikTok users trust them. Over a third enjoy it when Creators post about products and 71% say Creator authenticity has convinced them to buy a product.
Use the TikTok Creator Marketplace to find influencers to work with on ads. TikTok lets you find Creators based on niche, demographic and performance metrics.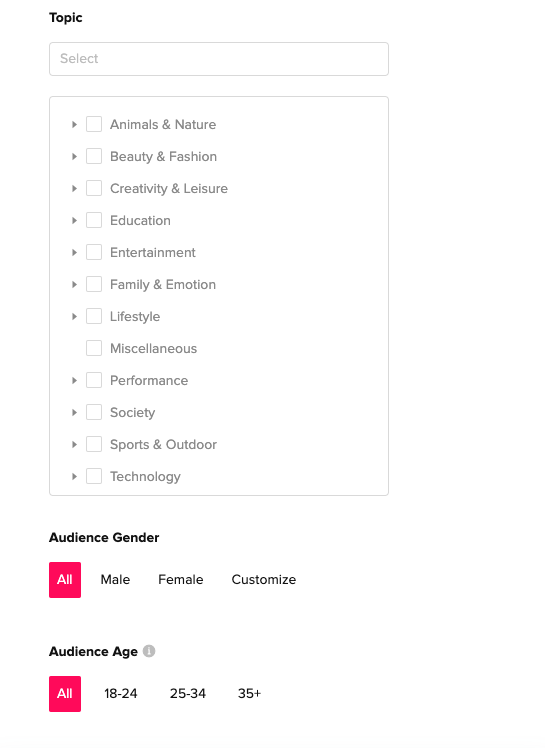 Draw up a list of suitable candidates that match your budget (each Creator sets their own pricing for collaborations) and look at their content performance to find the right person:
Average views;
Engagement rate;
Completion rate;
Follower growth rate;
Average shares;
Average likes;
Average comments.
While you are in charge of the creative process, make the most of a Creator's knowledge of what works on TikTok. Embrace their ideas and be open to experimentation. It's as important to them that your ad hits the mark as it is to you.
Check out TikTok's guide to running Creator ad campaigns that deliver results.
A/B test your adverts to learn what works
The chaotic nature of TikTok means there's no guaranteed formula for success. But by experimenting, you can learn what strikes a chord with your audience.
For each new campaign, use TikTok's Split Test to test two different versions of your ads to determine which performs best.
Split Test lets you test ads across three variables and predicts which ad will perform best with 90% confidence.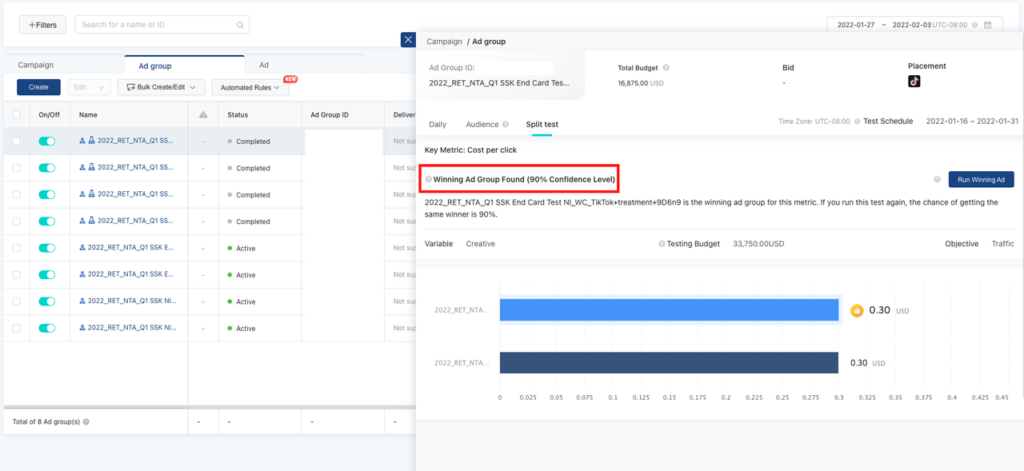 Targeting. For example, broad vs. narrow targeting, custom audience vs. ad targeting, demographics, interests, behaviors, and device location.
Bidding & Optimization. For example, bidding strategies, optimization goals, and bidding amounts.
Creative. For example, ad formats, videos, CTA copy, and description copy.
To achieve accurate results, follow TikTok's best practices:
Use a hypothesis to create a clean test. For example, if you think one creative will perform better than the other, keep other variables the same and split the audience into two equal groups to measure performance.
Ensure ad groups have obvious differences. This will help Split Test determine a winner.
Set your budget and duration for adequate testing. Each ad group should have an equal budget. Split Test's 'Estimated Testing Power' feature will tell you if your budget is sufficient. Run tests for at least seven days to achieve reliable results.
Expand your audience to get better feedback. A small sample size can lead to inconclusive results.
Don't make mid-test changes. Tweaks to an ad group will skewer results or cause an ad group to go into review.
Set your budget for high Power Value. Split Test uses Power Value as a way to detect differences in your ad group to improve your chances of finding a winning ad. TikTok recommends a budget that gives you a Power Value of 80%.
Conclusion
More than any other social platform, TikTok Ads require a fresh approach to engagement.
Before creating your first campaign, immerse yourself in the platform. Get a feel for what's popular, and experiment with different types of videos to learn what resonates with your audience.
Treat TikTok ads as an extension of your organic content. Prioritize entertainment when demonstrating the value of your product. Giving customers more of what they enjoy makes it easier to grow awareness and secure conversions.
Learn how to create and optimize TikTok Ads that convert in our TikTok Ads course.