TikTok has evolved from a platform known for viral dance moves to a place of rapid product discovery.
Brands big (like Ray-Ban) and small (like Scrub Daddy) have grown to millions of followers and seen exponential ROI.
For ecommerce business owners and marketers, jumping on this bandwagon is different to jumping on Facebook and Instagram.
In this article, you'll learn how to gain traction on TikTok to grow awareness, traffic, and acquisition.
Why should your brand be on TikTok?
TikTok users spent $2.5 billion on the platform in 2021, according to SensorTower—more than on any other app. App Annie predicts spending will soon surpass $3 billion.
These figures highlight the fact that TikTok users are naturally engaged with social shopping, although it's not an e-commerce platform. Some 67% of users say they're inspired to shop on TikTok even when they weren't planning to do so.
TikTok research into user behavior shows that 37% of users discover a product and immediately want to buy it. Nearly a third have tried to buy something only to find it was sold out.
The New York Times named this urge to buy something the "TikTok Feta Effect," after a viral recipe for baked feta pasta resulted in the cheese selling out nationwide in the U.S.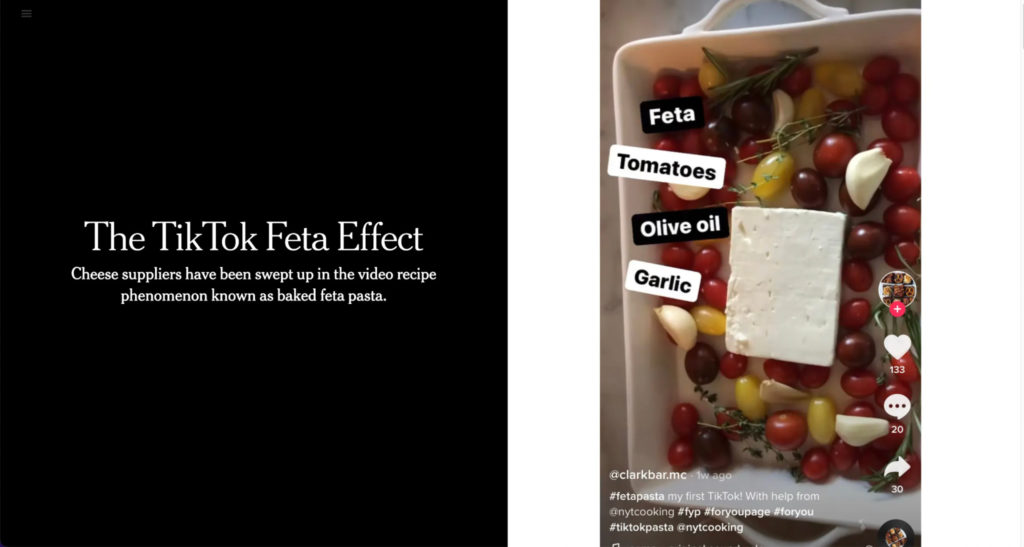 The TikTok buying craze even has its own viral hashtag: #TikTokMadeMeBuyIt. This hashtag has become a one-stop TikTok shop for the weird and wonderful products ecommerce businesses sell on the platform, with over 20 billion views and counting.
The benefits of TikTok for ecommerce brands don't start and end with a sale. Parent company ByteDance sees the path to purchase as an infinite loop: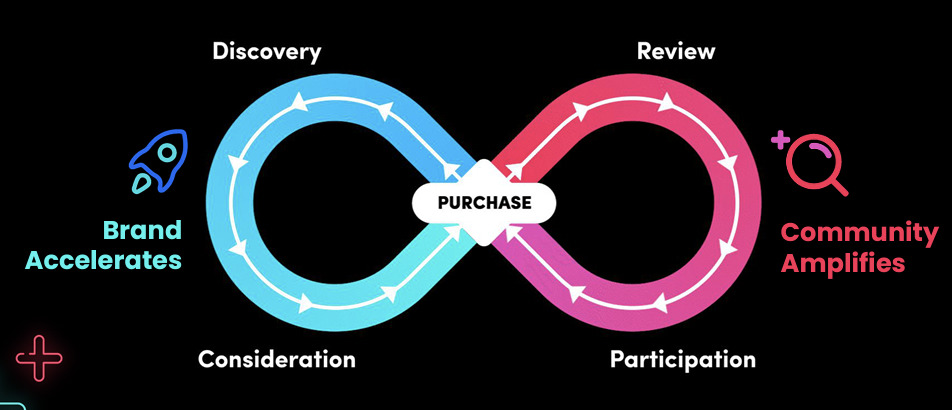 People discover, consider, and buy products, then post about their purchases and spread awareness.
Instead of trying to force consumers onto the linear purchase path of the past, TikTok's path to success has relied on putting the power into our users' hands, building around their behaviors, and following their lead.

By listening to the TikTok community, we meet users where they want to be met, and it's not in the funnel. Rather, it is an infinite loop with no start or end point, and it empowers brands to establish more meaningful relationships with consumers that result in communities of brand loyalists, repeat purchases, and greater spending. [via TikTok]
TikTok's engagement powers are second to none. Users spend on average 10.85 minutes per session on the app—more than double Pinterest and triple the time spent on Instagram.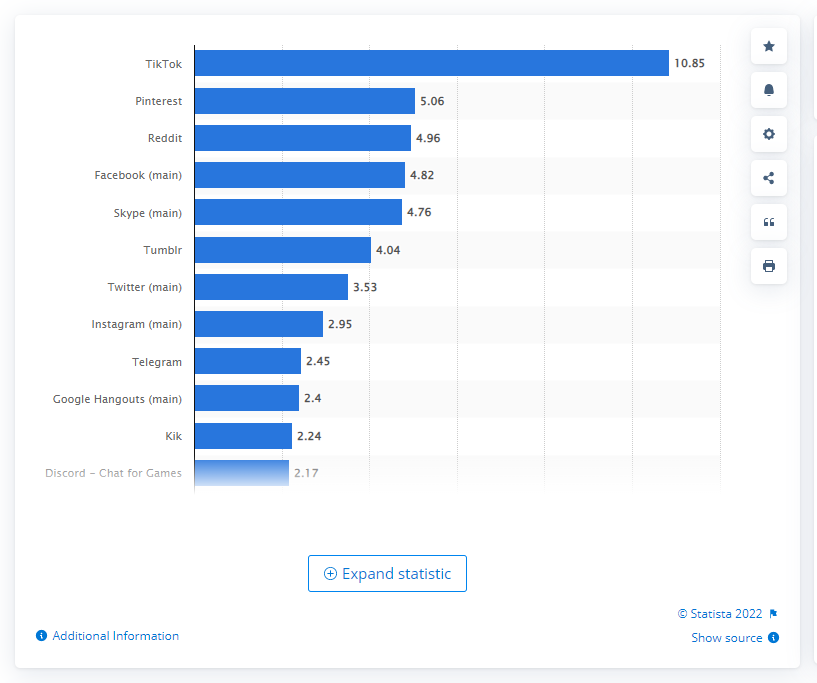 The extended time spent makes TikTok fertile ground for establishing meaningful relationships with users.
But is it just kids and Gen Z scrolling and buying on the app?
TikTok's user demographic is broader than commonly thought. A quarter of its users fall in the 10–19 category, but over 60% is fairly evenly split between users in their 20s, 30s, and 40s. The remaining 11% of the user base is over 50.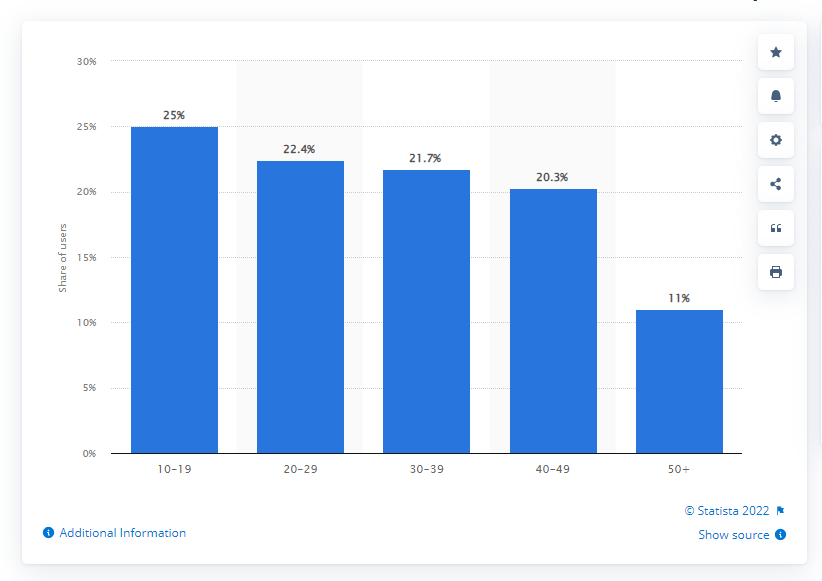 With over 1.5 billion monthly active users, there's a sizable audience to grow your business, whatever your target demographic.
How to use TikTok to grow your brand
TikTok is built on discovering fresh content. Its For You Page ("FYP"), TikTok's version of the home feed on Twitter or Facebook, is an infinite video stream. These videos are personalized based on past interactions and predictions about what users engage with most.
In this way, TikTok's feed is similar to the suggested content that other social media platforms serve up. It stands out on its potential for getting content seen; your number of followers doesn't limit your visibility.
In other words, if your content is engaging, you stand as much chance of going viral as any major brand with millions of followers.
For example, after initially promoting her range of scrunchies on Instagram, Enchanted Scrunch founder Dasha Derkach started posting on TikTok.
Her first video about starting a business got 15K views, which resulted in 10 orders. From there, views increased for each video powering the channel to get over three million likes.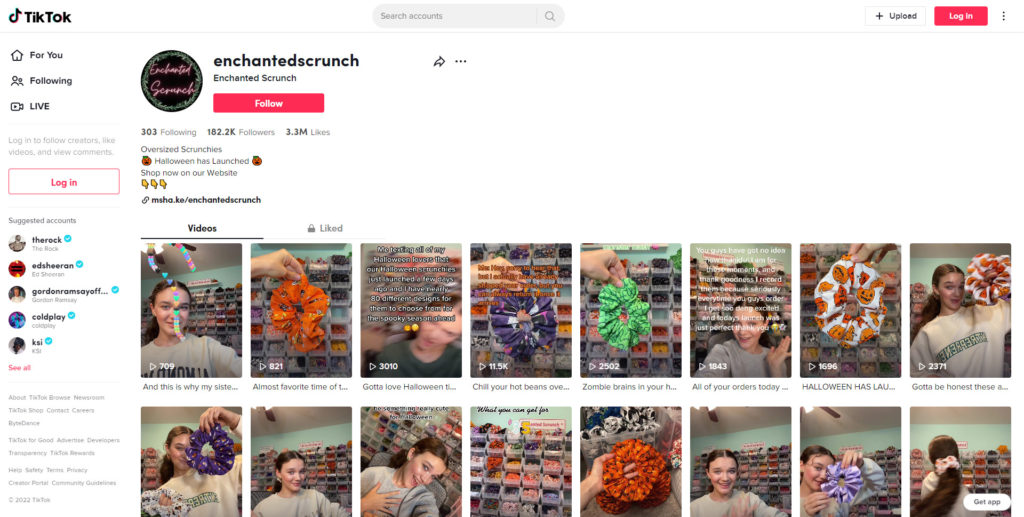 TikTok now accounts for 90% of the brand's sales, helping it grow from small business to six-figure company with over 182k followers.
It has significantly boosted our sales. Before TikTok, we got around two orders a week, then once we started around 100 a week, now we also do TikTok Lives nearly every day and get almost 500 orders a week! [via Shopify]
To tap into this viral potential and acquire customers, your videos need to land on your audience's FYP. Here are some tactics to help you gain traction.
Above all else, make entertaining videos
GWI research into how people use social media revealed that the majority of people mainly use TikTok to find entertaining content (i.e. content receivers). This sets the app apart from Instagram and Snapchat, which people mainly use to post their own content.
The question to ask yourself is: What does my audience find entertaining?
Look at your customer data. Which type of content gets the most engagement on other social networks? What problems does your audience look to you to solve?
Next, look at how your competition engages their audiences on TikTok.
For example, how long are their videos? Research from Invideo shows that short videos of 15 seconds or less have an average watch time of over 90%. This decreases as the video gets longer, with 30 seconds clips receiving a 50–60% average watch time.
This isn't to say longer videos are worthless. TikTok reports that videos over one minute receive over five billion views. Examine what's working in your industry and split test different types of content and video lengths to see what resonates.
Research will help you establish a niche and style that you can use to create familiarity. It will also help you hone in on a specific audience. Noble Leather Co. has become known for its entertaining ASMR content by creating content around the #OddlySatisfying trend.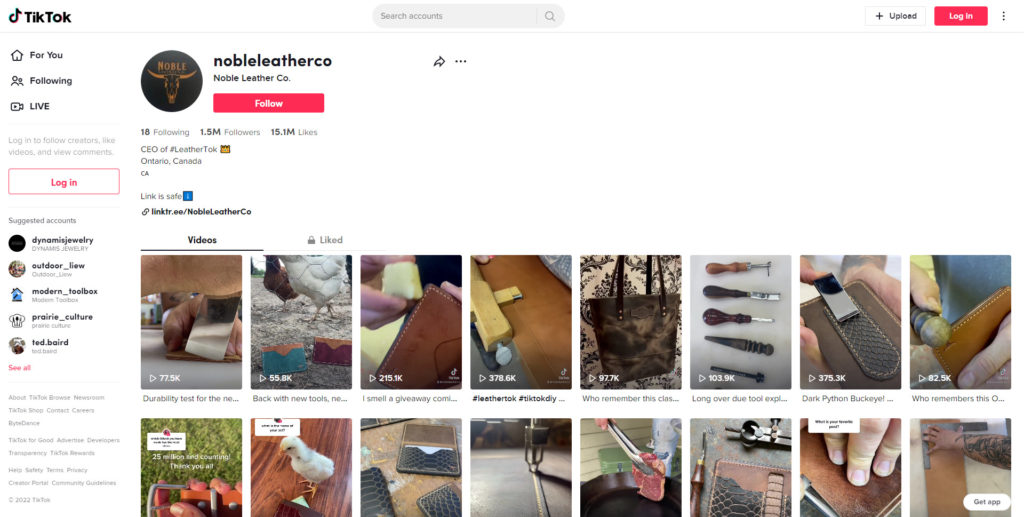 Milk Bar focuses primarily on dessert recipes. Many of which feature its products.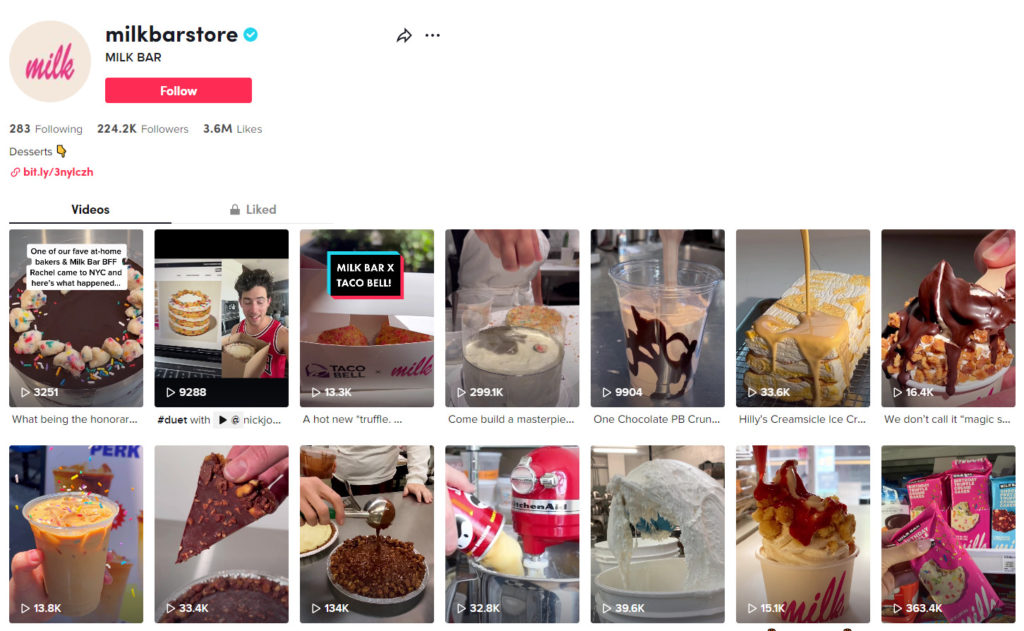 In both examples, video length varies. Users are drawn in by the story of what's being made and the entertaining way it's being told.
Maximizing the reach of your content is driven by two things: hashtags and sounds.
Find trending hashtags
When users engage with videos that have certain hashtags, TikTok populates their FYP with similar content.
TikTok's Discover page gives an overview of what's trending on the platform. Cross-reference trending hashtags with topics that interest your audience.
Note: In a feature test for some users, TikTok has replaced the Discover tab with a Friends tab (encouraging users to interact with contacts). The Discover tab is still available on desktop. You can also learn what's trending on news sites such as Mashable and Fanbytes' weekly TikTok trends newsletter.
To reach as much of your audience as possible, experiment with a combination of seasonal and evergreen trends.
Seasonal trends appeal to what's hot at the time (e.g., #Thanksgiving, #Christmas, and #SuperBowl).
Evergreen trends aren't time-sensitive, meaning older videos stay relevant for longer (e.g., #beauty, #fashion, and #baking).
For example, Heinz ran a fake ad to spread the joy of Christmas and capitalize on the temporary #ChristmasAd hashtag.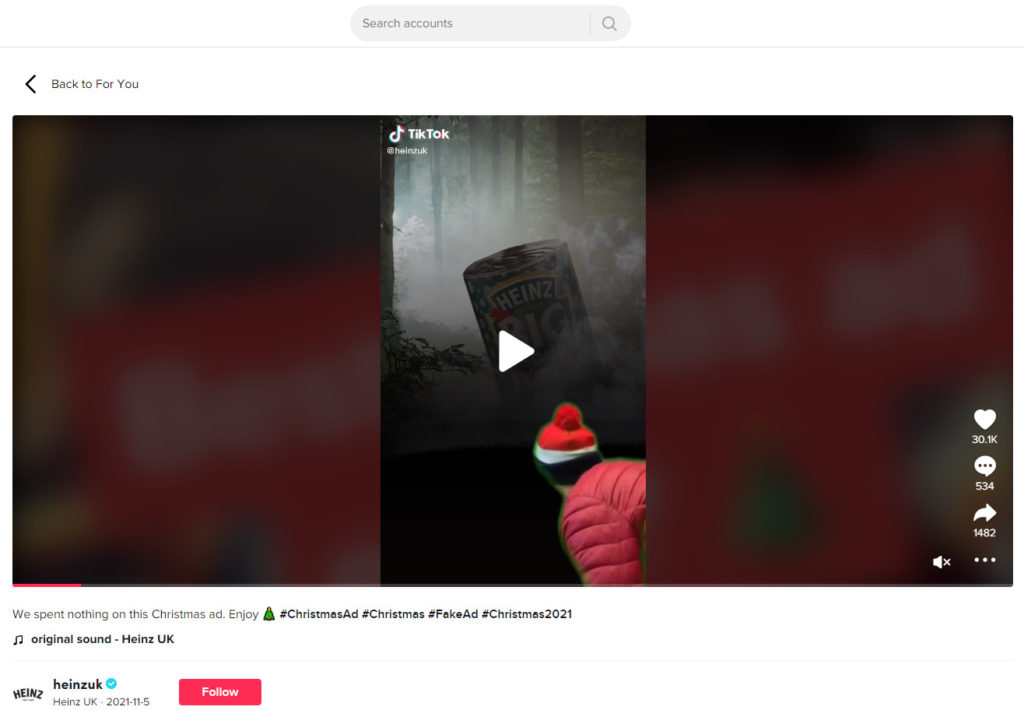 Its account mostly focuses on enduring hashtags such as #easyrecipe, which has over 22 billion views.
By mixing up evergreen and trending content, you can ensure your channel never becomes stale. It also allows you to consistently appeal to new users who come to TikTok in search of entertainment.
Growing your audience with sounds
TikTok videos play with audio on by default, making the soundtrack as important as the visuals for grabbing attention.
"Sounds" are audio clips from songs, movies, or other TikTok videos that you can add to your content.
TikTok treats audio the same as hashtags. If a user engages with a video that has a certain type of sound, TikTok will show them videos with similar sounds.
For example, if you watch a video that's dubbed over a clip from an episode of "Friends," TikTok will populate your FYP with more sound clips from Friends.
You can find which sounds are trending by tapping the + icon in the TikTok app, heading to Sounds, then TikTok Viral.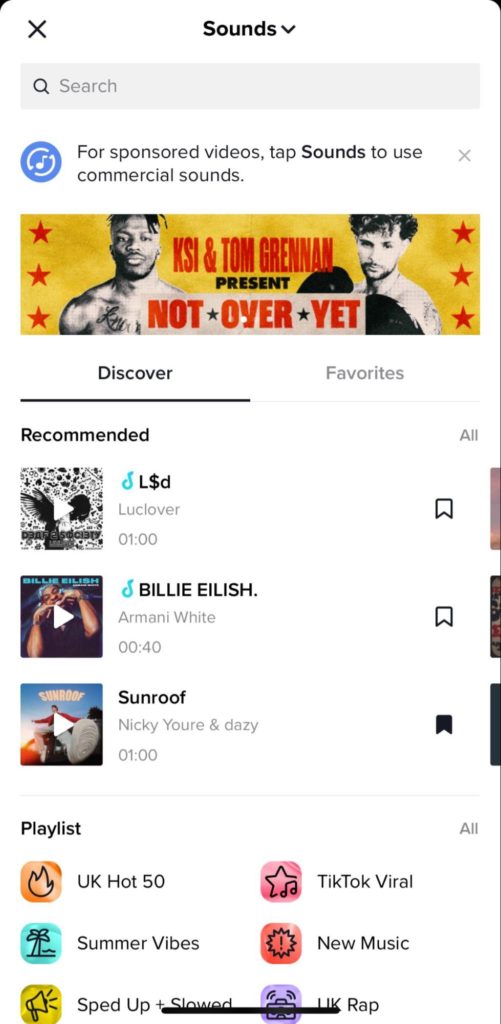 TikTok's Creative Center also publishes a rundown of the top trending sounds that you can download and place in your videos.
TikTok, more than any other social platform, is driven by spontaneity. There's no telling what will go viral. Where else would something like eating frozen honey attract 1.7 billion views?
Embrace experimentation in your content. Use sounds that are as offbeat as your brand voice will allow. But don't force it.
The beauty of TikTok is that it's fun and genuine without pushing sales.
Make yourself memorable with a branded theme
The fight to get on the FYP of your audience puts you in competition with an endless number of other videos TikTok deems relevant for their topic or sound.
To stand out, create a theme to make your content distinctive and consistent.
Mattress company Purple, for example, features the color purple in each of its videos to create a memorable aesthetic.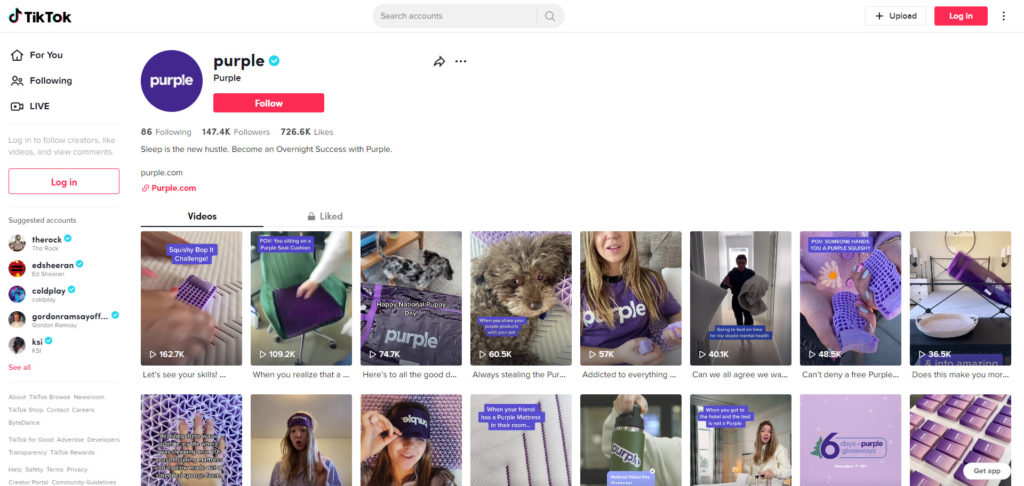 Even videos that aren't product-related feature clever use of purple in clothing, accessories, or captions.
The marketing "Rule of Seven" states that a person needs to see a message at least seven times before it sinks in. This supports the notion that people learn and remember through repetition.
Purple's consistent use of color means that people seeing its videos (or other videos with a certain shade of purple) associate the color with the brand. This creates top-of-mind awareness, allowing them to stand out from competitors that mix up their marketing messaging.
Scrub Daddy uses themes differently, with a video series that follows a yellow scrubber on adventures.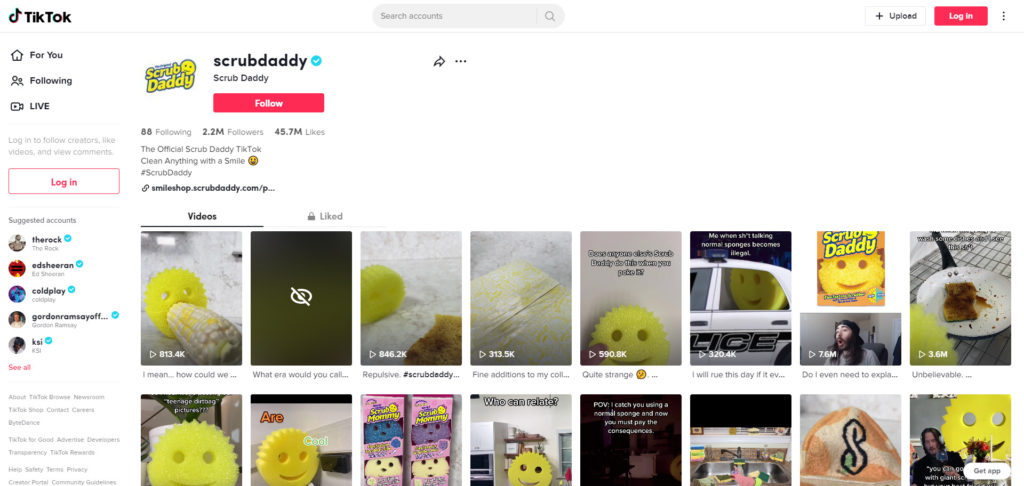 It's weird and chaotic, but it works. The yellow scrubber being a fixture creates consistency, while Scrub Daddy's use of trending audio clips lets them take advantage of TikTok's algorithm.
This strategy helped the company grow to over 2 million followers with a TikTok ROI that entrepreneur and CEO Aaron Krause says is "thousands of percent."
Use your brand or product as a central theme for your TikTok content. Repetition and consistency create familiarity, which builds trust, making people more likely to buy.
Set your audience a challenge to create user-generated content
To understand perceptions of the platform, TikTok commissioned a Neilsen study. It revealed that users find TikTok content to be authentic and genuine.
This study's findings mirror what consumers want to see from brands. According to a report from Stackla, now Nosto, there's a disparity between what marketers think they're doing (creating authentic content) and what consumers actually see: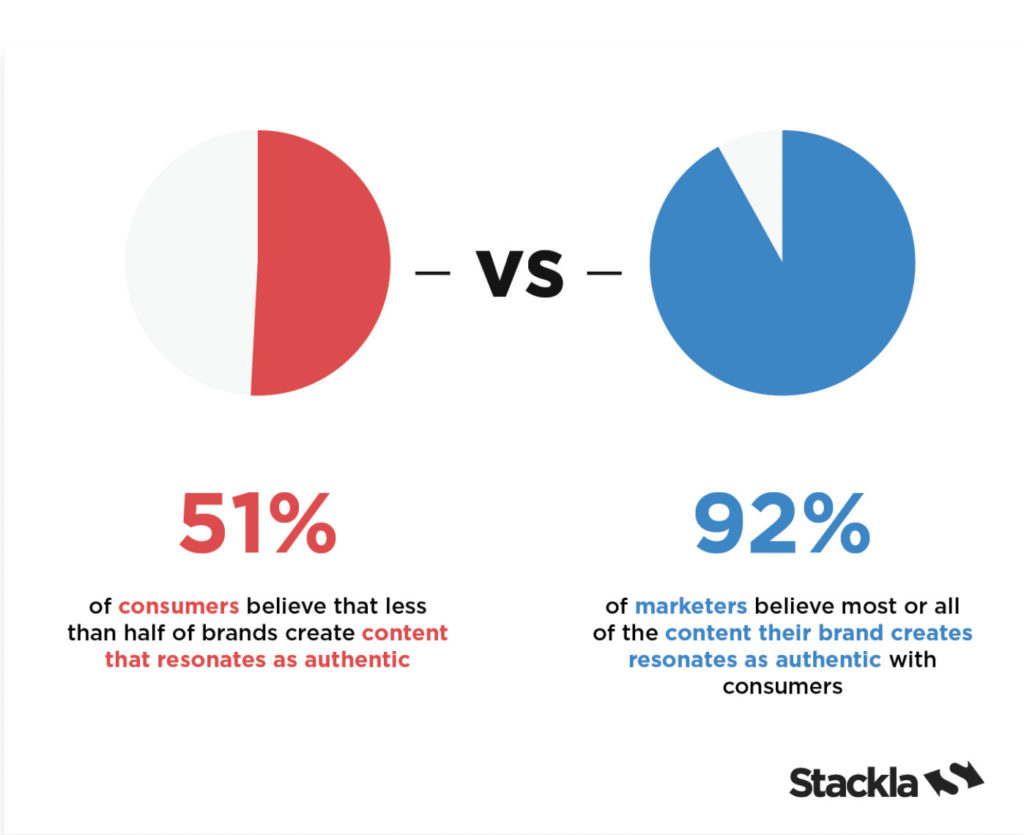 The report also found that 83% of people believe retailers should provide more authentic online shopping experiences driven by consumer-created content.
That resonates with TikTok's base. User-generated content (UGC) videos are 22% more effective on TikTok than branded videos.
People tend to trust it more because it offers the content people seek.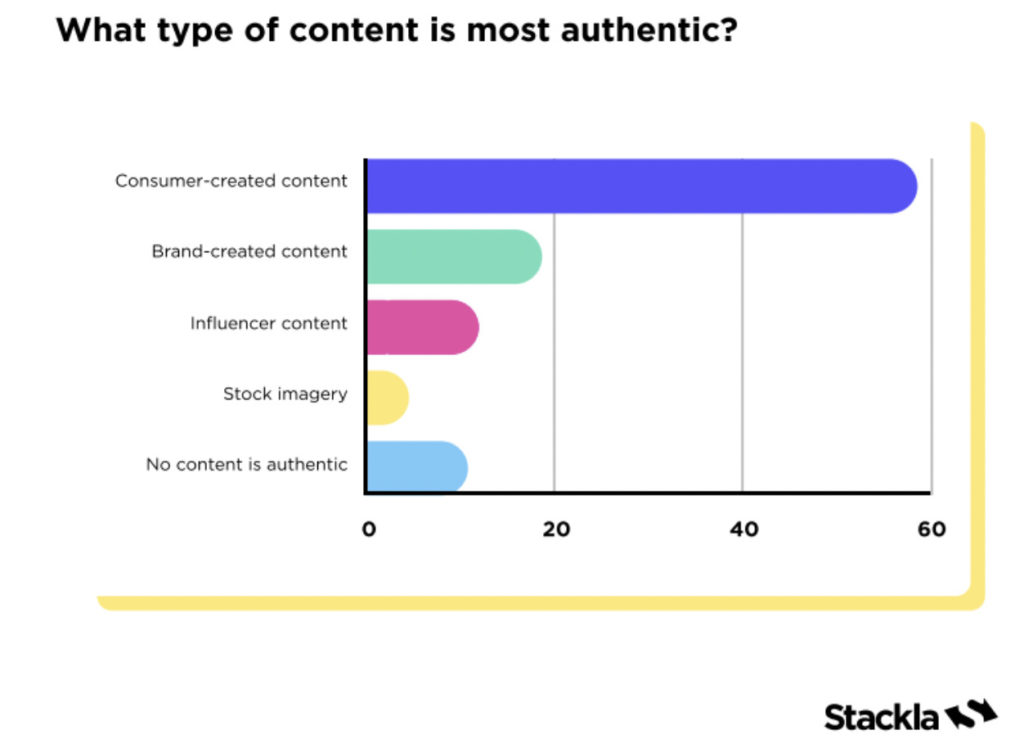 Stackla research demonstrates that 79% of consumers are influenced to purchase by UGC, compared to just 12% who are influenced by brand-created content.
UCG also acts as a form of social proof, making it a cost-effective marketing tactic.
If you're delivering great customer experiences, UGC can happen organically. #TikTokMadeMeBuyIt is filled with people sharing their thoughts on products they've purchased in the app.
However, these reviews are out of your control. To amass UGC strategically, give your audience a reason to create.
Come up with a hashtag challenge that prompts users to complete a task and upload it to their account.
For example, to spread awareness for its free delivery on digital orders, Chipotle created the #ChipotleLidFlip challenge that encouraged users to replicate an employee's impressive way of assembling burrito bowls. This resulted in 111,000 submissions and record-breaking sales.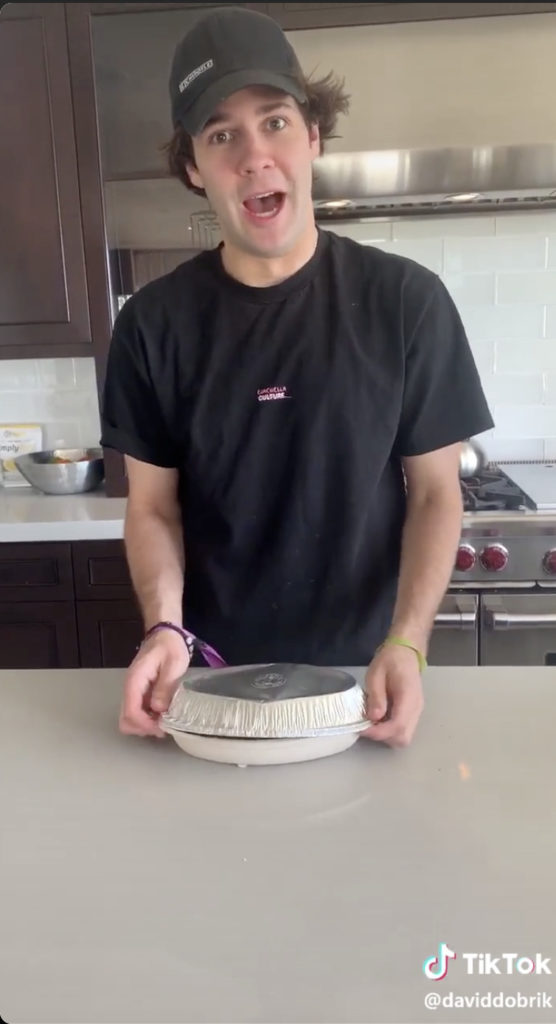 By partnering with YouTube influencer and Chipotle fan David Dobrik, Chipotle tapped into a large audience and built initial momentum.
Its wider success can be attributed to its simplicity: the lid flip challenge was fun and easy to try. All participants needed was a phone and a burrito bowl.
Create a low barrier to entry. Keep hashtags simple so that they are memorable and easy to spell. Let people join in the fun without any specialist equipment.
To gain more traction, consider partnering with influencers in your niche (more on this soon) or offering a tangible incentive.
GymShark, for example, got people to take part in its 66 Days: Change your Life fitness challenge (#gymshark66) by giving them the chance to win a GymShark membership.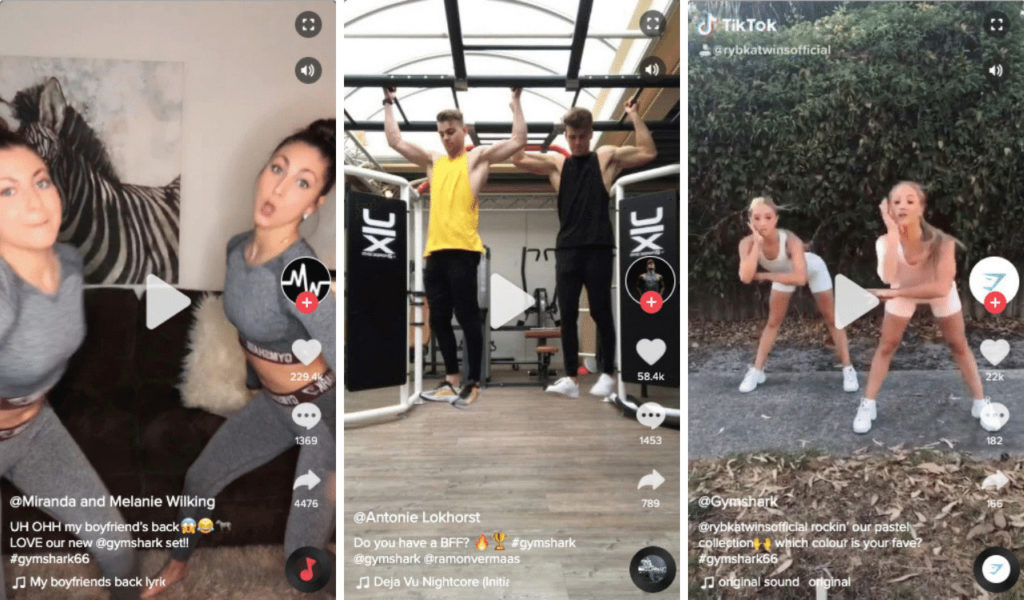 This incentive is valuable to the brand's audience of fitness enthusiasts and relatable to the challenge.
It helped drive the campaign to 193 million views, growing the company's brand awareness and helping GymShark build a community on the platform in the process.
Partner with creators to capture more attention
To generate interest in your product, partner with TikTok influencers who share your values. Creator collaborations result in higher view rates and greater engagement.
They also positively impact brand awareness and sales:
35% of TikTok users say they discover products and brands through creators;
65% of users enjoy it when creators post about products;
71% of users say creator authenticity has motivated them to buy a product or brand.
Take skincare brand Bulldog. To boost brand awareness and promote its product to a new audience, the company worked with creators to make videos around the hashtag #IchRasiereDich (I shave you).
The videos featured shaving makeovers, mishaps, and mistakes delivered by creators in their own style: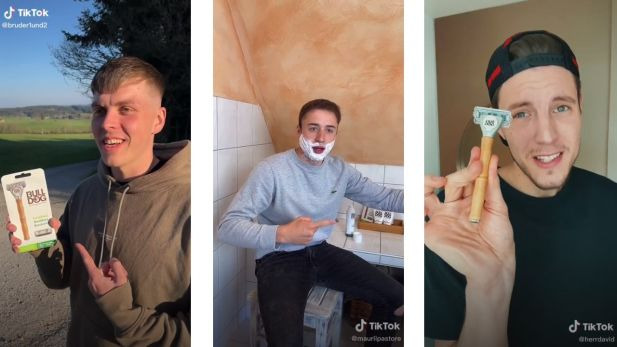 This helped Bulldog reach new audiences without content coming across as forced. Over three weeks, the campaign generated over 29 million impressions and a 5–10% boost in sales.
Use the TikTok Creator Marketplace (TTCM) and the advanced search function to discover creators to collaborate with. To narrow your search, TikTok lets you search by performance metrics, niche, and demographics.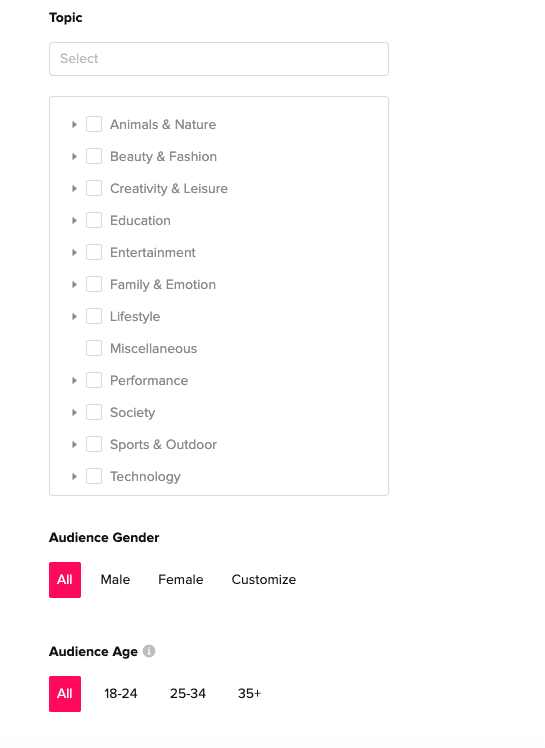 Create a shortlist of potential collaborators and analyze their Creator Profiles. Here you can access average video views, engagement rate, follower numbers, average likes and shares, and audience demographics.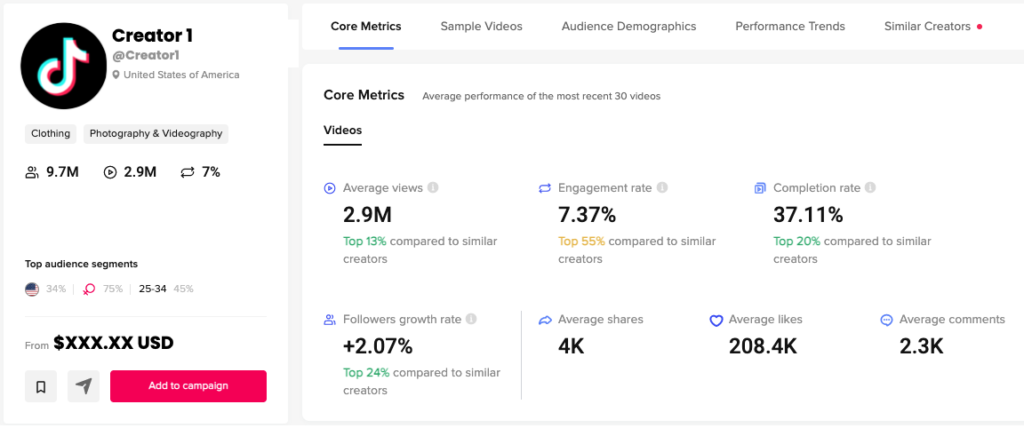 Use this analytics tool to make data-driven decisions and connect with creators who resonate with your audience.
Once a creator accepts your invitation, you can oversee the creative process before posting and manage campaigns within the TTCM.
Creators know how to create content that works, but the platform's chaotic nature means campaigns are always trial and error.
Use TikTok's reporting tools to analyze what's working and what could be improved to fine-tune your content.
To run successful creator campaigns, check out TikTok's free marketer's collaboration playbook.
Go LIVE to engage your audience in real time
Get closer to your audience by spending time with them in the moment. An Ipsos study found that TikTok users are 50% more interested in branded live content than non-TikTok users.
They're also more likely to watch live content to discover brands and buy products.
NBC has called TikTok Live Gen Z's home shopping network.
"Dozens of accounts on TikTok go live nearly every day to hawk stuffed animals, colored contact lenses, keychains, shoes, phone cases, faux leather purses, makeup tools, as well as a plethora of other goods.

Some influencers have amassed more than 100,000 followers and regularly have hundreds or thousands of people watching their live streams concurrently." [via NBC]
Unlike standard videos, TikTok LIVE has no time limit, allowing you to spend quality time with your followers.
It also appears on the FYP, giving you the chance to grab the attention of scrolling users. However, there are two barriers to going LIVE: you must be at least 16 years old and have at least 1,000 followers.
Align live stream content with your business objectives. For example, if you want to build brand awareness, focus on educational content. If your goal is to drive sales, run a live stream shopping event where followers can purchase the products you're showcasing in real time.
Ipsos's study revealed the type of content users are most interested in:
How-to/tutorials (80%);
Product releases (78%);
In-depth product reviews (77%);
Q&As (74%);
Product sales (72%);
Live events (72%).
Use this insight to inform your strategy.
While you can enjoy success hosting your own events, if you want more eyeballs, try experimenting with influencers as co-hosts and special guest hosts on your account.
Setting up a TikTok LIVE
You can start a LIVE at any time by hitting the "+" icon in the TikTok app and selecting "Go Live."
Build anticipation and schedule your event ahead of time. Promote it, emphasizing the benefits for LIVE watchers, and increase your potential audience.
Schedule the stream when your audience is most active on the platform by looking at your TikTok analytics.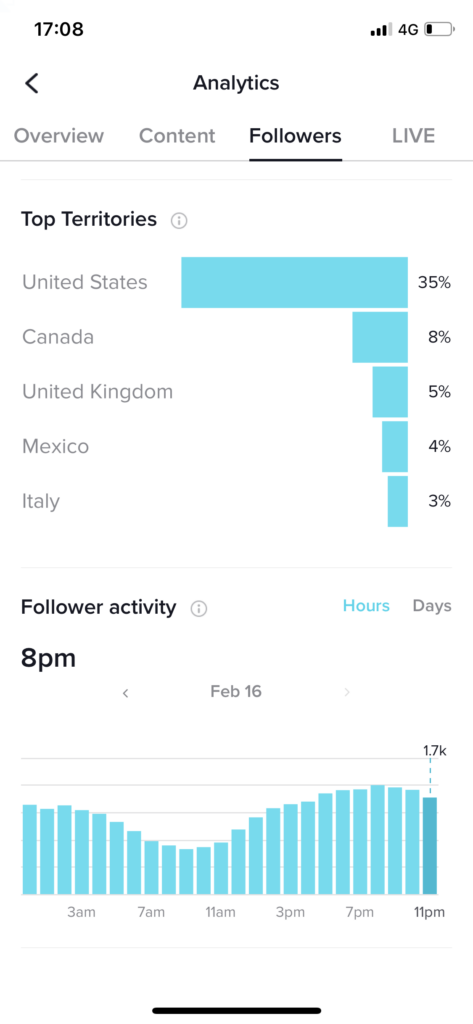 Add a related video to your scheduled event with a link that users can click to sign up and share event links via direct message and other marketing channels to spread the word. These serve as both a reminder and a convenient way to join.
Finally, don't wing it. Plan your events to keep people engaged throughout. You don't want it to come across as scripted, but you should have a central theme and a schedule to stick to. To keep viewers invested, follow TikTok's best practices.
– Be consistent: Go LIVE regularly to establish a habit with your followers.
– Location, location, location: Bring your audience into an unusual place (like a workplace, newsroom, factory, showroom).
– Engage directly: Use Q&A to interact with commenters, respond, and adapt to what the audience is interested in.
– Momentum: Build a natural sense of anticipation – build, draw, cook, or do a countdown to make it engaging. Drive the story forward.
– Be active: Always have something visually interesting going on, ideally an activity. Talking head-style content doesn't drive as much engagement. [via TikTok]
Experiment with TikTok Ads to drive more sales
TikTok has greater potential to go viral organically than perhaps any other social media platform. But like other platforms, if you want to capture a large audience fast, it pays to pay.
TikTok offers several different ad options to experiment with:
In-Feed Ads. Still images or video content that appears on a user's FYP. Like native content, users can like, comment, share, follow and re-use sounds on In-Feed Ads.
Spark Ads. Boosted organic posts from your account or creator accounts (with permission).
TopView. Places In-Feed Ads at the top of a user's FYP, making it the first content they see when they open the app.
Branded Hashtag Challenge. A sponsored hashtag that shows up on the FYP and Discover page.
Brand Takeover. A dynamic video that takes up the entire screen and makes it clickable. These ads show up as soon as a user opens TikTok, placing your message front and center for mass awareness.
Branded Effects. Customized stickers, games, filters, and special effects that users can add to their own videos, encouraging them to interact with your brand.
Video Shopping Ads. Promoted social commerce ads that use TikTok's shopping features to let you tag products with descriptions that link to products in your online store.
Dynamic Showcase Ads (DSA). Ads served to users based on activity and interests. If a user has interacted with your content, a DSA will show up in their FYP.
TikTok ads work because they're indistinguishable from native content. They don't interrupt the experience, making users more receptive to them.
According to TikTok, 61% of users feel that ads on the platform are unique compared to other social platforms, and 45% see them as creative vs. 29% on other platforms. This is reflected in a cost-per-impression (CPM) rate around five times lower than Meta's Facebook and Instagram.
The Essence Vault's ad campaign is a great example of TikTok users' openness to ads. To quickly raise awareness and grow sales on the platform, the company used Spark Ads to boost organic content created in the style of Creator content.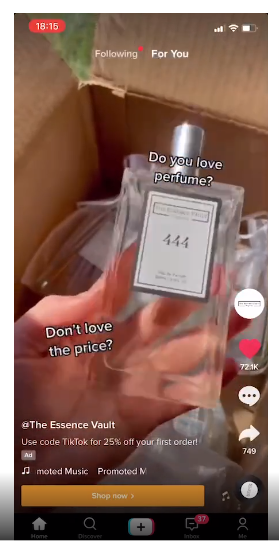 As people began to interact with the ads, The Essence Vault launched creative workshops and boosted those to increase visibility further.
The overall campaign resulted in over one million views, 8,000 new followers, and a 23% increase in ad sales. The brand also increased TikTok sales by 10% and improved its conversion rate from 4.47% to 5.35%.
You don't have to differ from your organic strategy to win at TikTok ads. Take the content your audience is most engaged with, produce more, and put money behind it to reach users that match your customer personas through ad targeting or custom audiences.
Learn more about driving brand awareness and sales in our guide to TikTok Ads.
How to measure success on TikTok
Not everything you create on TikTok will hit the mark, but by continually experimenting and analyzing results, you'll begin to see which type of content to build a strategy around.
To measure success, it helps to think about what TikTok wants viral videos to do: bring more daily users to the platform and increase the time they spend on the app.
To achieve this, TikTok needs creators to produce content that people watch and share. The key metrics you need to look at to gauge success are:
Average watch time;
Watched full video;
Reached audience.
The more people that watch your video, the more likely TikTok is to prioritize it, meaning the video shows up in more FYPs and reaches a larger audience, getting closer to viral status.
Another clear indication that your videos are hitting the mark is engagement: likes, comments, and shares.
Calculate engagement on TikTok by dividing total engagement by the number of video views you have.
Engagement Rate = [(total number of likes + comments + shares) / total number of views)] x 100
So if your video has 5,000 likes, 30 comments, 300 shares, and 250,000 views, your engagement rate would look like this:
[(5000 + 30 + 300) / 250,000] x 100 = 2.13%
According to Socialinsider research, TikTok is the most engaged platform with an average engagement rate of 5.96%. FMCG Food has the highest average engagement rate at 15.82%, while media-house has the lowest at 3.43%.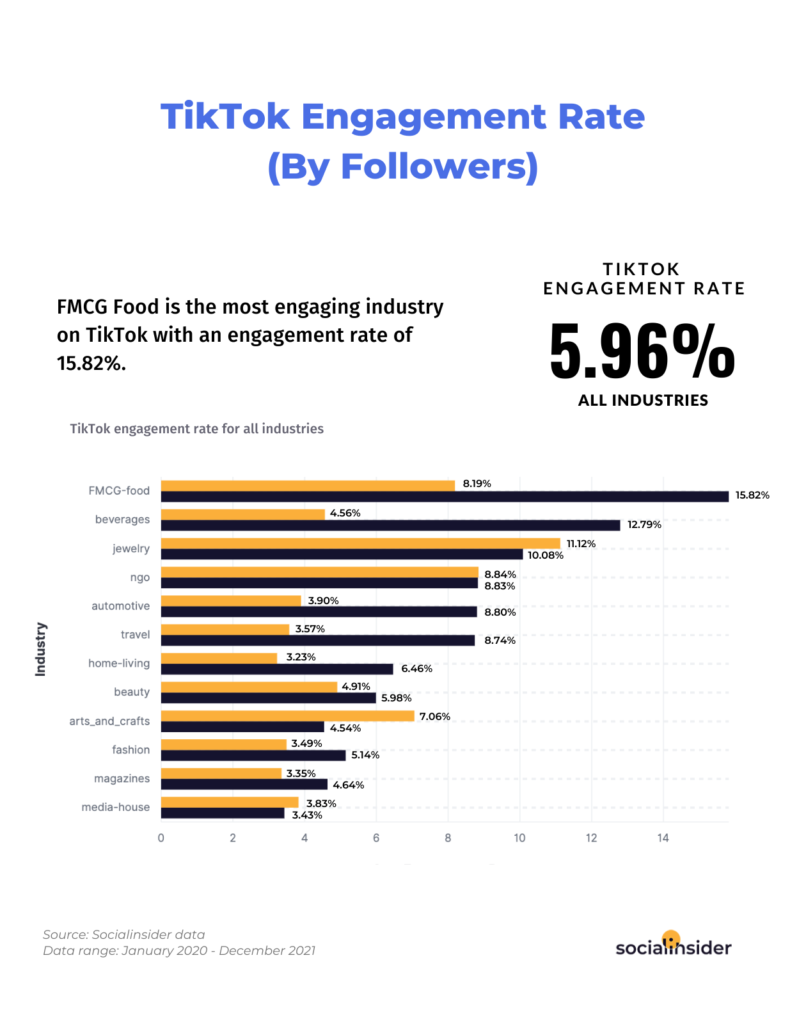 Use these benchmarks to guide performance, but keep in mind that rates are higher for brands and creators with large followings. Justin Bieber has an engagement rate of 49%, for example.
Don't compare creator partnership engagement with organic content. Instead, look at how your videos are contributing to your overall TikTok marketing strategy.
Conclusion
TikTok's active audience and their willingness to embrace brands makes this platform attractive for ecommerce marketing.
Success on TikTok is driven by two main factors: authenticity and creativity. Stay true to your brand and what your customers want, but don't be afraid to experiment with your content and creator collaborations.
There are few norms about what works and what doesn't on TikTok. If you think something might be funny or entertaining to your audience, try it. Engagement metrics will help you establish which content strikes a chord.
Learn more about how to get ads off to a flying start in our TikTok Ads course.