Around 30,000 new products launch every year. Most of them fail. 
The biggest reasons? Poor product-market fit, positioning, and messaging. Effectively, they don't understand their customer, nor where to play or how to win.
Many companies are so focused on building the perfect product that they put off their growth efforts until it's too late.
In this article, you'll learn how to create a product marketing strategy that reaches your ideal audience and converts them into customers. We'll cover positioning, messaging, pricing, and team alignment to help you get ready for launch. 
We'll also show you how to plan for launch and gather data to keep your product relevant in the long term.
What is a product marketing strategy?
Your product marketing strategy is a roadmap for how you position, price, and promote your new product in the market.
It's what tells you where your biggest fans are and how to reach them.
Your strategy should integrate with the product life cycle, informing how you market your product from development to growth. Its creation and implementation require input from product managers, product marketing managers, marketers, and sales teams. It should be based on strong buyer intelligence.
A good product marketing strategy helps customers perceive you as a better product for their needs, and through the constant feedback loop, you become the best solution.
ConvertKit launched in 2013 to face early-on-the-scene competitors like Mailchimp and Constant Contact. Instead of quitting following a slow first two years, founder and CEO, Nathan Barry, doubled down on a niche: email marketing for bloggers.
Barry used product marketing to pinpoint ConvertKit's positioning and messaging and evolve into the specialized email marketing suite it is today.
The platform can't compete with the big players on features, so instead it focuses on specifically and purposefully addressing the needs of their users through content.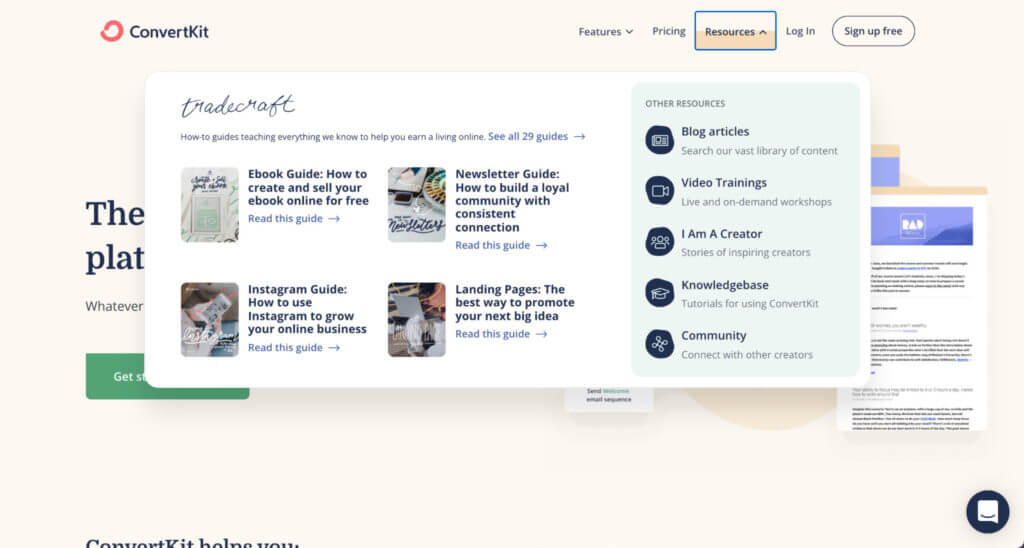 Master product marketing: training and courses
In order to create a successful product marketing strategy, you need to understand every key aspect of product marketing first. That's why we recommend you take a look at our product marketing guide.
If you want to become a top 1% product marketer, you can learn from the biggest experts in the industry. Our Product Marketing Minidegree has been created with world-class instructors, from companies like ClickUp, Drift and HubSpot.
How to create a product marketing strategy that captures and creates demand
Developing a product marketing strategy requires the skills of both product marketing and product management.
Product marketing is responsible for the voice of the customer, positioning, messaging, and product adoption.
Product management sets out the vision, identifies pain points, and develops a product that solves them.
The two then come together on product pricing, gathering research, and influencing product development.
As we go through the process of creating your strategy, you'll see where the strengths of both teams are needed.
1. Analyze the market and define your target audience
Early-stage research will determine success. Market research will validate the demand for your product and provide insight into customer needs. It's broken down into two main types:
Qualitative research. Conducting customer interviews, surveys, focus groups, etc.;
Quantitative research. Analyzing swathes of customer and audience data from internal sources (CRM), online sources (audience intelligence tools), journals, and industry studies.
Discover if your product is viable with data-driven research
Begin by analyzing the customer data you have access to. What does your sales data reveal about territories, customer types, average sales, and pricing? Financial data can provide insights into which type of products bring bigger profits.
Gather external data from governmental and local organizations. Data.gov and Eurostat offer volumes on demographics, economics, trade, and production data in the U.S and Europe, respectively.
Supplement this with reports and studies from trade associations, industry journals and media, and commercial marketing data.
Conduct competitive and social media research to see who you're up against and how they market their products.
This information will help you answer questions around the size of the potential market, how it will grow or shrink, and what market share competitors own.
Get specific with primary research
Where quantitative research gives you a top-level view, qualitative research gets you into the consumer's mind.
Interview your existing customers. Ask them to complete surveys and questionnaires (including open-ended questions to gain qualitative feedback).
If you're launching a new product, speak to the audience you're looking to attract. Reach out to them on Twitter, Instagram, or LinkedIn and invite them for a short conversation.
Base your questions around:
Pain points. (e.g., What are your biggest challenges with X? What would help you solve that challenge?)
Goals. (e.g., What do you look for in a product? What do you hope to gain?)
Pricing. (e.g., What is a reasonable price range? How would you rate industry prices?)
Psychographic traits. (e.g., What interests you? How do you prefer to buy?)
Depending on your product, you can also run Minimum Viable Product (MVP) testing. By releasing a version of your product with a few priority features for new customers, you can gather feedback to determine its viability and improve future versions.
The data you get from customers will help shape the product that management develops and the customers that marketing targets. So it's important not to rush it.
2. Define your target audience
According to Salesforce's State of the Connected Customer report, 66% of customers expect companies to understand their needs and expectations. If their needs aren't met, 58% will switch companies.
Defining your target audience gives you that initial understanding of your ideal customer, their expectations, and what they like and don't like. It also gives you insight into how to market your product so it's the best choice.
Use your qualitative research data to build robust customer personas that focus on:
Behavioral drivers. Customers' goals, ambitions, and their journey to finding your business;
Obstacles. Hesitations and concerns potential customers have. How do they view your product, and how will this impact the information they need to buy?;
Mindset. Customers' preconceived notions around the buying experience. Do they want a tailored experience, or are they looking for a bargain?
Segment data based on common threads. Start with intent, then look at hesitations and mindset. This will help you find a small number of clearly defined personas.
Where possible, round out these personas with quantitative data from on-site behavior from Google Analytics. Gather data such as:
Average revenue per user;
Transactions per user;
New versus repeat customers;
Frequent customers.
Base your personas on real people. As buyer persona expert Tony Zambito points out:
"Buyer personas are archetypal representations of real people. If they sound and look like stereotypes—they probably are. They must sound believable and represent believability as well."
It's much easier to market a product if you can visualize the buyer. Paul, 35, who values family time and cares about online privacy, for example, is a lot more relatable than Persona #4.
3. Solidify your product positioning and messaging
Positioning and messaging are crucial elements of marketing a product people want to get behind.
As Aha! CEO and co-founder Brian de Haff notes:
"Positioning and messaging are how you describe the value you deliver. Positioning is the background to organize the team—the real-life reason you are telling your story in the first place—and messaging is the actual content served to customers. Both are used by marketers to be their best."
Both elements help you tell an original story that attracts customers away from the carbon-copied competition.
Establish your product's market position
Positioning should always come first. It creates the customers' perception of your product, who it helps, the problems it solves, and how it compares to the competition.
In her Product Messaging course, Maya Shah-Ceccotti explains the importance of good positioning:
"From your positioning work, you should be coming to the table about developing messaging with a really solid understanding of a few critical things. Those things are:

What your product is and what space it plays in. What category is it in? How do customers understand and reference it?

What is the narrative around your product and your company? What is that story that inspires the customer and communicates and drives home the why?

Who is your best-fit customer? Who are your target audiences (also sometimes referred to as your ICP)?

How do you want to be perceived within the competitive landscape? And, also, what are your product's unique attributes and values?"
Your positioning is the foundation that your messaging is built on. Nail your positioning, and it's easier for your team to communicate product benefits to your target audience.
To hone in on your product position, start by thinking about the four Ps:
Product. How does your product compare to others? What's unique about it?
Price. How does your price relate to your audience and value? (More on this soon.)
Promotion. How do/will your customers discover you?
Place. Where do your products live? Purely online, or do you have other distribution channels?
The Four P's may be a primitive marketing model, but combining this with your data-driven research will illustrate what customers value most about your product and how it's different from the competition.
Use this to shape your product narrative and give you the building blocks for developing a positioning statement for internal consistency.
Know that while it's crucial for positioning to be standardized for all teams, it may eventually shift.
Loom's positioning as an "async video messaging for work" wouldn't have made sense when they launched in 2015.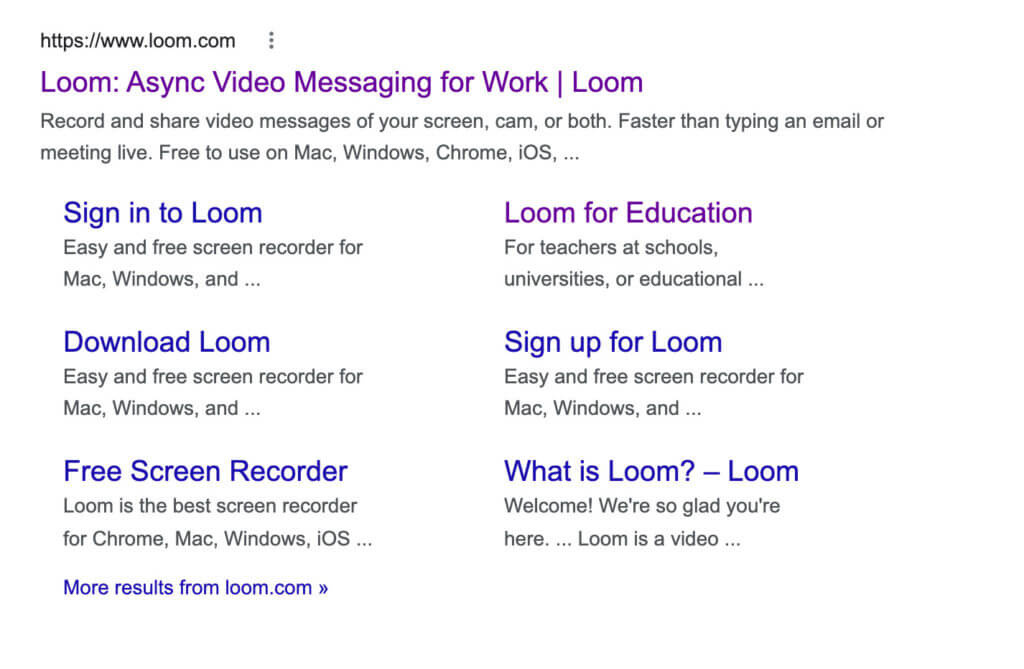 Since then, the world has changed dramatically. Loom pivoted from a video recording platform centered around user feedback to a platform that helps professionals (remote ones in particular) avoid excess meetings and emails.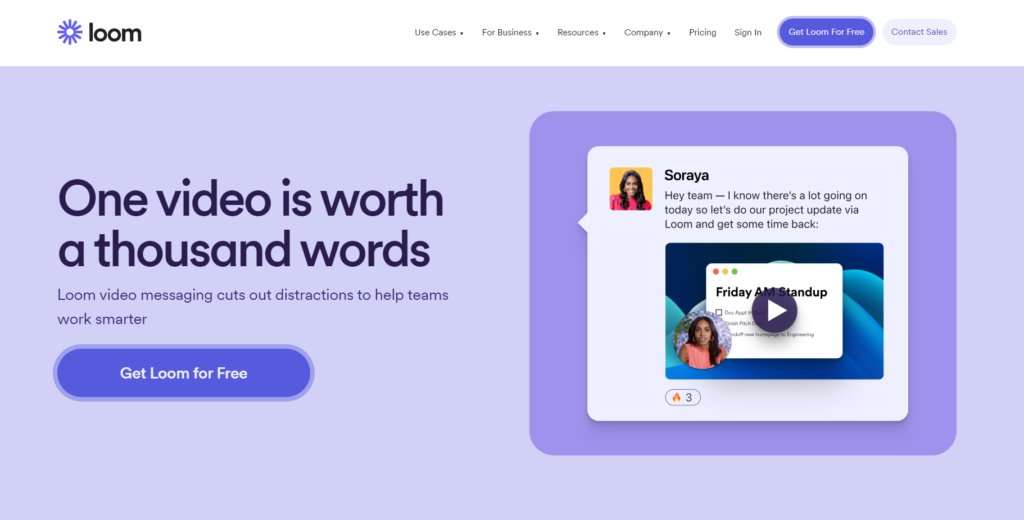 Their messaging is crystal clear across their website, saying what they do and who they do it for: "Record quick videos of your screen and cam. An essential tool for hybrid workplaces."
Their "async" lean is also echoed across social media. Such as on LinkedIn: "We're bringing video messaging to work and empowering everyone to communicate more effectively, wherever they are."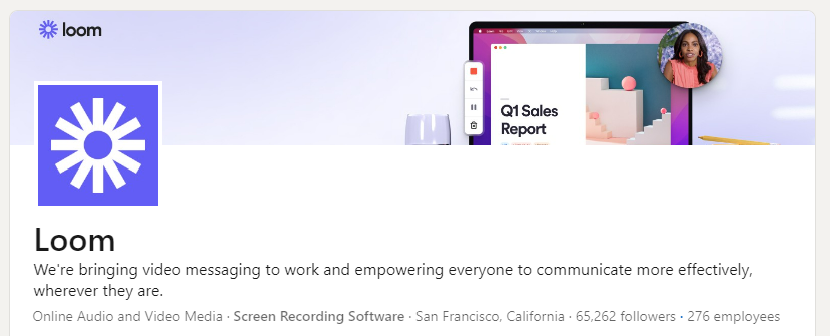 And Twitter: "Record and instantly share video messages of your screen, cam, or both. Faster than typing a long email or meeting."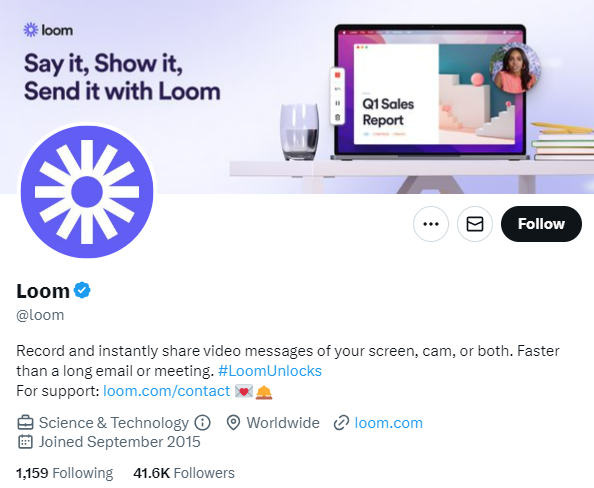 Define your positioning statement, then ensure everyone in your organization sticks to it.
Use positioning to craft a compelling narrative
If positioning determines your target customers and how you want them to perceive your product, then messaging is how you communicate that concept.
To stay consistent across all departments and touchpoints, create a messaging strategy.
Your messaging strategy should include the following four elements.
1. Unique selling proposition (USP): Why you're different from the competition;
2. Target audience: Your buyer personas;
3. Brand story: A narrative of how your product came to be, why you make it, and your mission;
4. Messaging strategy guidelines: A playbook that includes a mission statement, tagline, value proposition, brand pillars, positioning statement, brand promise, and design and tone of voice guidelines.
To plan and deploy this strategy, focus on:
What sets you apart. Pinpoint at least one thing that makes you different.
Not trying to appeal to everyone. Don't just be another option. Be the product your audience has been looking for by appealing to their individual needs.
Speaking to your customers. Find out their motivations and current level of satisfaction with available options.
Continually testing. Test your messaging on a small audience, then analyze and adjust. Be ready to change your messaging to suit the product, audience, and opportunity.
4. Set measurable goals unique to your objectives
Research shows that there's a strong connection between goal-setting and success. Make this step practical by writing down what you want to achieve with your product.
For most brands, success comes in the form of sales. Strong brand awareness and customer satisfaction makes this goal easier to achieve.
Divide your goals into three categories: sales (or user acquisition), customer satisfaction (or retention), and brand awareness. Set a specific goal for each pillar.
Here are some goal examples you might try to increase or decrease:
Sales. Revenue, assisted conversions, qualified leads, cost per acquisition, close rate, customer lifetime value;
Customer satisfaction. Net Promoter Score (NPS), customer sentiment, product usage;
Brand awareness. Market share, share of voice, website traffic.
Keep your goals realistic by using the SMART framework. Goals should be specific, measurable, achievable, relevant, and time-based.
This will ensure team members focus on the most important objectives, helping you achieve them more efficiently.
5. Align your teams
Aligned companies grow faster and experience lower churn. Ensure everyone involved in the development and implementation of your strategy is on the same page.
Research from Sprout Social shows that people feel more connected to brands when the CEO and employees share information online. If the information coming out from these sources isn't aligned, it can confuse customers.
Worse still, it can lead to distrust.
Each member of your team should be clear on:
Product features and benefits;
Customer pain points;
Positioning and messaging;
Buyer personas;
Product goals;
Pricing strategy.
Make this information accessible by creating an internal knowledge base. Many tools offer templates to help you do this:
Promote collaboration by utilizing tools like Slack, Asana, or Trello. The easier it is for teams to access a unified source of information, the more cohesive your marketing will be across different departments and practices.
6. Price your product based on value
In a study on what influences customers' buying behavior, researchers found that over 70% of respondents rated price to be a "very important" factor influencing their decision.
The actual price of your product is important. Customers need to be able to afford it. But equally as important is how customers perceive that price.
Price low, and your product could either be seen as a bargain (good) or as cheap and inferior (bad). Price high, and your product can either be seen as luxury or premium (good) or overpriced (bad).
A good way to think of pricing is covered by ProfitWell's Patrick Campbell in his Pricing and Packaging course:
"Your pricing is the exchange rate on the value you're creating in the world."
When you view pricing in this way, one method becomes the outstanding option: value-based pricing.
Where cost-based and competitive pricing can help you quickly reach a ball-park figure, both neglect the unique value your product offers.
On the ProfitWell blog, Patrick explains why focusing on value-based pricing over the alternatives is something his company recommends:
"Value-based pricing gives customers trust in your product and brand. Your pricing matches what they're willing to pay for the value you provide. You can offer packages and price points that precisely meet their needs because you understand what they truly want. You can price higher than competitors because you conducted the research that proves how much customers are truly willing to pay. You can also re-evaluate prices as you add value to your product and learn more about your customers and their evolving needs."
Value-based pricing is based heavily on data. But by this stage in your strategy, a lot of the hard work is already done.
To find the right price points for your product:
Analyze buyer personas;
Survey customers on how much they would pay for a product and which features and benefits they most value.
Use this data to create tiers and pricing packages. Test and measure your strategy before rolling it out fully.
Zenefits, for example, offers plans that increase in price based on the features they include: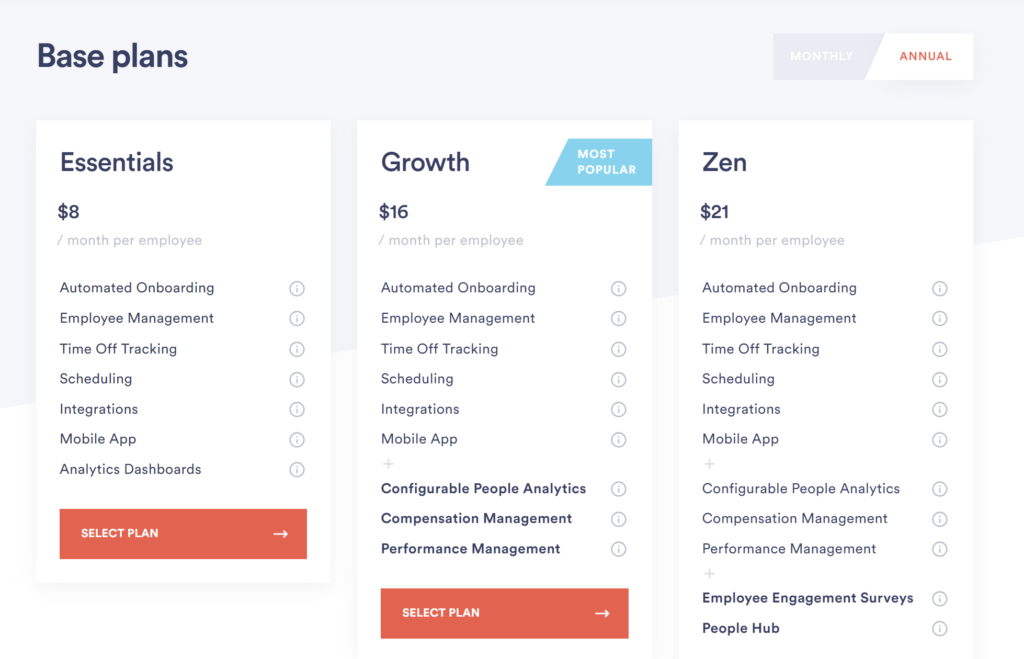 This personalized price plan is reasonable and suits multiple personas. It also offers clarity. Buyers can see the value they will receive and can choose the most suitable plan for their needs.
This can only be achieved through experimentation and understanding what customers want and value.
Hit the ground running with an effective product launch plan
To successfully implement your product marketing strategy, you need an action plan. How you launch will depend on whether your product is rolling out to the market or existing customers.
Momentive's Morgan Molnar covers this in her Product Launches course, where she says that each type of launch comes with its own set of goals.
A launch that prioritizes new customer acquisition might consider awareness, user acquisition, and impressing investors as primary goals. If retention is your goal, then improving the existing experience and engaging existing customers is likely to be the priority.
The type of launch will also influence your strategy:
Soft launch. Rolling out to a small portion of your customer base at a time;
General availability (GA) launch. Open to your entire customer base.
A soft launch aims to work out bugs, gain feedback, and validate product-market fit. With a GA launch, your goals should tie to common marketing tactics, such as building awareness and acquiring new users.
To focus your resources, choose a product launch tier that best represents your product:
Tier 1. A strategically important product that you want everyone talking about. Example content for this tier might include client events, press releases, or webinars.
Tier 2. A product that will impact many customers. Example content for this tier might be blog posts, social media posts, and sales collateral.
Tier 3. A product upgrade. Example content for this tier might be blog posts, chatbots, and help center guides.
Develop product marketing roadmap and define team roles
Ensure everything goes to plan with a product marketing roadmap that visualizes your growth plans.
Your roadmap can be goals-based, deadline-based, or task-based. It must keep all stakeholders and individual contributors aware of what's happening, what needs to happen, and what they need to do to move the project forward.
Here's an example from Roadmunk that shows how a product marketing roadmap might look: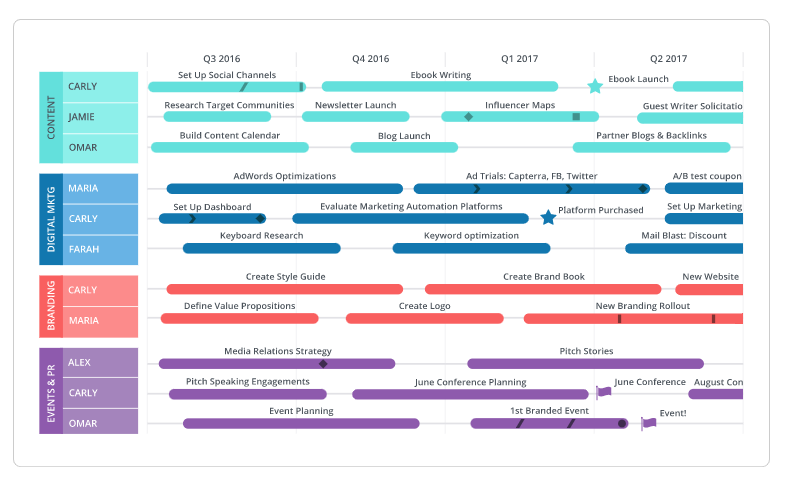 As well as Roadmunk, there are many tools you can use to build and manage your roadmap:
Weigh up the pros and cons of each to see which best suits your needs.
To populate your product roadmap and define roles and responsibilities for team members, use the DACI model (Driver, Approver, Contributor, and Informed).
This framework is designed to bring clarity to a project and promote easy communication by giving each person a clear role:
Driver. The person responsible and accountable for driving the project (usually the marketing manager);
Approver. A key decision-maker to give the go-ahead, provide feedback and approval;
Contributors. The people that do the work (e.g., marketers and sales reps);
Informed. Those who are kept up-to-date with milestones and completed phases.
By using the DACI model, you can speed up decision-making and work productively and efficiently from the get-go.
Measure product performance to inform your next steps
When building your product marketing strategy, you base every decision on what you can assume from the research. Post-launch, you have the advantage of concrete data.
Gather feedback as your product gains traction to improve and add features. The same goes for content marketing. What assets generated results, which didn't, and why?
Track product metrics and KPIs to evaluate performance. Measure:
Market penetration rate. Calculate the success of your marketing strategy by dividing existing customers by the size of your target market and multiplying by 100 (number of customers / target market size x 100 = market penetration rate).
Return on Investment (ROI). Calculate success by looking at the efficiency of your investment (net income / cost of investment = ROI).
Net Promoter Score (NPS). Gauge how likely customers are to return and recommend your product by running NPS surveys. NPS scores grade your product from 0–10. Customers who rate you between zero and six are detractors. Customers who rate you between seven and eight are passives. Customers who rate you between nine and ten are promoters. Your NPS is then calculated by dividing the percentage of promoters by the percentage of detractors (promoters – detractors = NPS).
Continue to monitor web and social analytics to ensure you're meeting your targets. Employ social listening to keep track of your mentions and the conversations around your product.
What are customers saying about your product in their online communities? The insights from these sources can be a goldmine that guides future decisions.
Finally, continue gathering customer feedback at every opportunity through surveys, customer support, and social media. Communicate this feedback across your teams to keep your product relevant.
Conclusion
Successful product marketing is about meeting customer needs at every stage of the product life cycle. Strategy will help you achieve this.

Dedicate time in the early stages of your strategy to learning as much as possible about your market and audience. Conduct in-depth research so that you can develop a product that meets expectations, backed by a product marketing campaign that sells it as the best choice.

Keep teams aligned and updated on every aspect of the product and marketing goals so that implementation is consistent and efficient. Once your product hits the market, continually gather and assess feedback, and tweak your strategy to maintain momentum.

Learn how to create an effective product marketing strategy that attracts your best-fit customers with our Product Marketing Minidegree.
Working on something related to this? Post a comment in the CXL community!