More than 60% of marketers use 20+ marketing tools on a regular basis according to Airtable. For email marketing alone, more than half of small businesses use two or more tools according to Litmus.
On top of this, the number of sales and marketing tools each company uses is forecasted to continue to increase rapidly as the number of available tools and the amount of customer data grows.
At the same time, according to Mulesoft, only 28% of tools a company uses are integrated with other tools. More tools, more data, but limited integration—can you spot the issue here?
Before we get to possible solutions, let's take a step back and look at the biggest martech dilemma that sales and marketing leaders have been grappling with over the last several years.
Should you use best-of-breed tools or an all-in-one marketing suite?
The major shift: a preference for integrated suites
Up until recently the best-of-breed approach was steadily gaining popularity. Each year, an increasing share of companies picked the proverbial set of kitchen knives over a Swiss army knife.
The trend has since changed. Not slightly, but dramatically.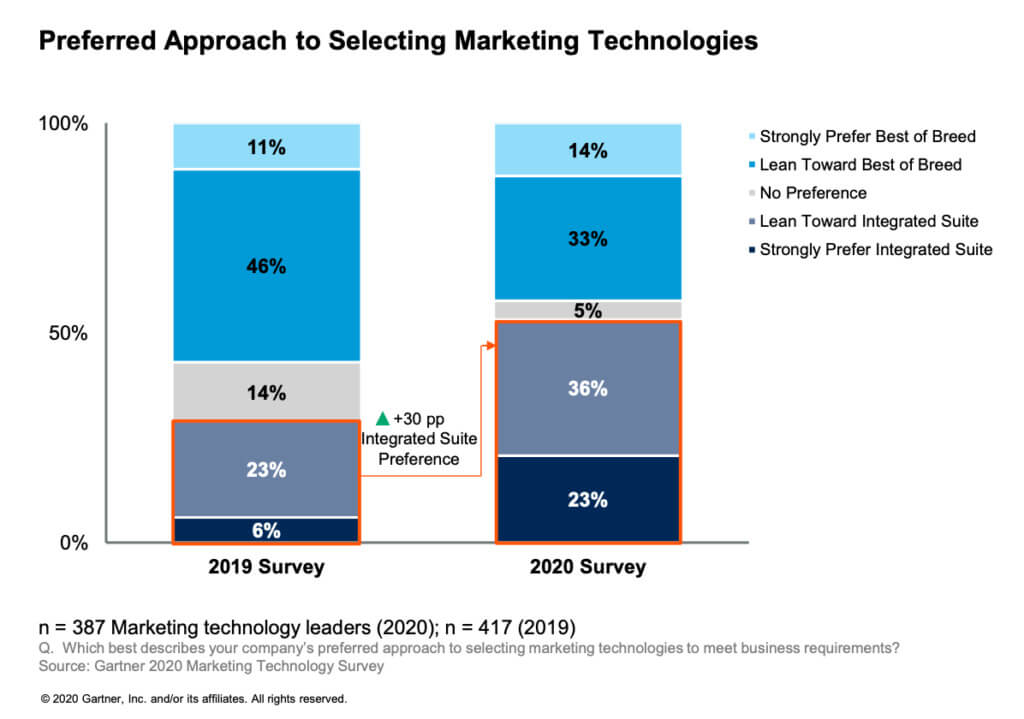 The preference for integrated suites doubled from 29% in 2019 to 59% in 2020. Why?
According to Gartner and Scott Brinker the primary driver is the increased need to join data and tools not just between sales and marketing but across the whole company.
Today's "suite" is not about marketing. Or, more accurately, it isn't just about marketing. It's about providing the backbone for marketing, sales, and customer service. – Scott Brinker
Another key reason is that integrated suites are much easier to keep up with than they were in the past. As more companies build products with an integration first approach, it's easier for companies to connect all their favorite tools with relative ease.
Last but not least, large software suites have acknowledged that they'll never be able to build everything their customers want. So they've invested heavily into opening up and building their marketplaces, and app developers have had time to build properly useful integrations.
Today, there are roughly more than 500 apps on the Hubspot Marketplace, 850 on ActiveCampaign Apps Marketplace and more than 4000 on Salesforce Appexchange.
It's no longer about choosing between all-in-one suites and best-of-breed tools. They've merged into the same thing.
The 2015 all-in-one martech suite was a landmass of code that tried to do everything.
The all-in-one martech suite of today is a backbone for the business with an open ecosystem. Use the database as the single source of truth, and pick and choose the tools that work for you whether from the same vendor or somewhere else.
Let's take the example of HubSpot itself. HubSpot offers a CMS and email marketing as part of its offering. And yet, two of the top three marketing apps on the platform are WordPress and Mailchimp, popular CMS and email marketing solution, respectively.
Having recently launched an integration with HubSpot that directly slightly competes with some of the platform's own functionality I was positively surprised by their "let a thousand blossoms bloom" attitude when we first brought up the idea.
No single vendor offers a 100% complete marketing solution. –Forrester
For software vendors, the goal used to be that customers buy and use all of your products. In the current marketing landscape, loyal customers who use any part of a software's functionality, and connect their favorite apps, are almost as valuable.
The main implication for sales and marketing leaders: integrations are more important than ever.
And even if the argument of suite vs best-of-breed persists philosophically, one thing is certain: integrations are critical for building a product with widespread appeal.
Nearly half of sales and marketing leaders claim that the tools would be more useful if they could be easily integrated, according to our research. Ease of integration is often the one key thing holding users back from getting the most from their tech stack.
Research by CDP institute confirms the same findings.
Ease of integration is more important than price.
It is more important than the sophistication of features.
It is even more important than ease of use or available training.
At the end of the day, your tool can be the best on the market, but if it doesn't play nicely with other essential tools, you'll likely have to settle for second best.
Three options for connecting their sales & marketing data and workflows
According to a recent study the majority of marketers use out-of-the-box integrations from a vendor when they need to connect tools and platforms. About one-third use their own developer resources and about a fifth use third-party tools like Zapier.
In our experience the 35% figure for using own development resources may be notably lower in real life as 20% of the surveyed sample were agencies. While almost all digital agencies have access to their own developers in some shape or form, this is definitely not the case for typical sales and marketing organizations.
But most companies only have two choices: first-party integrations or specialized third-party integration tools. Let's take a look.

The inconvenient truth: most first-party integrations are suboptimal
I recently used the first-party integration between a well-known CRM and an almost equally well-known marketing automation tool to automate following up with leads.
The integration would let me create opportunities in my CRM if a prospect opened or clicked my emails. So far so good.
However, if they opened or clicked an email again, the integration would create a new (duplicate) contact. Furthermore, there was no way to create segments of all engaged leads or all leads who were sent emails but who hadn't yet engaged.
Having worked with various sales and marketing integrations for nearly 10 years on both sides, I've come to know that first-party integrations are limited by design. Not purposefully made to disappoint, of course, but limited by the way companies operate.
At best, integrations are approached with the Pareto rule: what's the 20% of functionality that covers 80% of the use cases. And what gets built is a tool that "ticks boxes" and covers:
80% of needs of light users
50% of needs of normal users
20% of needs of heavy users
Please note I'm not saying that all first-party integrations are useless. Many integrations between major platforms work really well. But the reality is, there's plenty of room for improvement.
What to consider when choosing marketing integration tools
I'm not entirely unbiased in my views, but the best way for most companies to get their sales and marketing data to sync up is using purpose-built third-party integrations.
When you take a closer look, you'll find big differences between the different solutions. They broadly fall into three categories.
1. Universal app connectors like Zapier and Automate.io are great for setting up light connections quickly
I like to call this group of apps "digital duct tape". Tools like Zapier are a great and quick-to-set-up way to send data from one place to another. Such tools often cover hundreds (if not thousands) of apps, so you can connect pretty much any app you may like.
However, more complex use cases (e.g. when you'd need to check whether a contact is already receiving other campaigns, or stopping a sequence when someone takes a particular action) can get very complex and pricey very quickly.
2. Contact data syncing platforms such as PieSync are great for keeping contact data synced bi-directionally
This category of tools keeps contact data up-to-date in all your systems. Such tools are purpose-built for keeping contacts in sync, and that they do better than the alternatives.
If contacts syncing is what you need, great! But alas you'll be missing out on connecting event data (e.g. someone visiting your website or clicking an email), and so many of the most actionable and useful lead nurturing and ABM use cases across sales and marketing tools won't be available.
Like with using "digital duct tape," you also miss some of the insights of pulling sales and marketing data together e.g. seeing which traffic sources or triggered emails lead to closed sales.
3. Purpose-built app connectors to deeply connect sales and marketing data and workflows
There's a new category of tools emerging that give you the benefits and insights of an integrated suite while using best-of-breed tools. Purpose-built app connectors like Outfunnel can connect sales and marketing data deeply and easily.
And the same is true for other categories as well. What Outfunnel is doing for sales and marketing tools, Highways.io is doing for connecting sales and customer support data.
Ultimately, as with most things in sales and marketing, you'll need to experiment and test a variety of options to see what works for you.
Conclusion
The number of sales and marketing apps will continue to grow, and so will the importance of connecting your sales and marketing data.
The question is not whether to use best-of-breed tools or a suite.
Today's marketing and business leaders in charge of building sales and marketing stacks are tasked with finding the easiest and yet deepest solution to connect your sales and marketing data independent of the tools they're using. It's not easy, but there's plenty of options to optimize your tech stack.
Having your tools play nice together, is critical for your teams to be aligned and drive consistent revenue and sales.