Customer acquisition cost (CAC) is an important metric for any ecommerce business. It tells you how much you need to earn per customer to run a profitable company.
Put simply, you need a healthy customer acquisition cost for your business to succeed.
It's up to every ecommerce business to find the middle ground between investing too little in customer acquisition and spending beyond your means.
In this article, you'll learn what ecommerce CAC is, how to calculate it, and how to keep costs down to maintain profit health.
What is ecommerce customer acquisition cost?
Customer acquisition cost (CAC) is how much your company must spend to get a new customer.
This calculation goes beyond marketing costs and advertising dollars to include product costs, labor costs, shipping costs, and any other expenses that contribute to attracting and securing customers.
Effectively, "spend" includes everything that goes towards getting your product into the customer's hands.
Understanding CAC by each channel helps you identify areas of opportunity and streamline operations for better ROI. For example, if your customer acquisition costs are high for PPC ads, you can move budget to a marketing strategy with a lower CAC.
What is the average customer acquisition cost by industry?
Average CAC varies greatly across industries. This is due to factors such as maturity, sales cycle, product value, purchase frequency, and customer lifespan.
According to Startup Talky, here are some average CACs by industry.
| | |
| --- | --- |
| Industry | Average CAC |
| Travel | $7 |
| Retail | $10 |
| Consumer goods | $22 |
| Manufacturing | $83 |
| Transportation | $98 |
| Marketing agency | $141 |
| Financial | $175 |
| Technology (Hardware) | $182 |
| Real estate | $213 |
| Banking/Insurance | $303 |
| Telecom | $315 |
| Technology (Software) | $395 |
These averages are useful for benchmarking figures for your industry, especially when starting out.
However, once you have historical data to work with, don't get hung up on what others are doing. Your business is unique. Your aim should be to achieve the most optimal CAC for your business to make a profit.
How to calculate customer acquisition costs
To calculate your total cost per acquisition, add expenses related to acquiring new customers over a period and divide them by the number of customers you've acquired over that same period.
Total marketing spend in Q1 + total sales spend in Q1 / Number of new customers in Q1 = CAC in Q1
Let's say you spent $2,000 on email marketing and $5,000 on webinar production and distribution. From your efforts, you brought in 500 new customers, so your CAC for this quarter would be $14.
($7,000) Total marketing spend + total sales spend / (500) new customers = $14 per customer
The result of this formula indicates whether your sales and marketing are working. If your CAC there are several ways to lower it. (We'll look at these tips in a moment.)
To measure and compare your CAC over time, create a simple cost sheet to track sales and marketing spending. Here's an example of a CAC analysis spreadsheet by Startup Tools: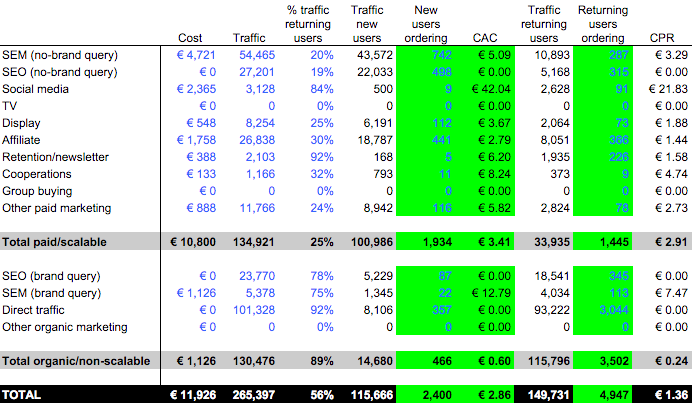 This will give you an overview of campaign effectiveness and help you identify any trends or patterns impacting profit margins over time.
How customer lifetime value impacts customer acquisition cost
If you're investing money, time, and effort to acquire customers, it makes sense to put the same effort into keeping them (i.e. customer retention). Strong customer relationships fuel loyalty, which results in more sales and recommendations.
Customer lifetime value (LTV or CLV) measures how much revenue you'll make from a customer for as long as they purchase from you.
If returning customers are a large part of your customer base, comparing LTV and CAC will provide good insight into the overall health of your business.
If you offer a subscription product or retain customers for a long time, your LTV can make your CAC more favorable.
For example, if your CAC is $100 per customer, that may seem high. If you acquire 2,000 customers a year, your total expenditure would be $200,000.
However, if each customer stays with you for two years and has an average order value (AOV) of $30 a month, you earn $620 per customer.
$30 per month x 24 months = $720
$720 – $100 CAC = $620
Multiply that figure by your 2,000 customers, and you get $1,240,000.
At $1,240,000, that dwarfs what you spend on acquiring customers. Factoring this in, CAC looks low.
Calculate LTV as:
Average revenue per customer / churn = Customer lifetime value
CAC should always be lower than LTV. The ideal LTV to CAC ratio is 3:1 or higher. Anything below that means your business isn't operating as well as it could be. If your LTV is lower than your CAC, you'll eventually run out of money.
To analyze your LTV to CAC ratio, divide LTV by CAC and write the ratio in its lowest terms:
LTV / CAC
Do some basic math to simplify the ratio or plug it into an online calculator, like this ratio simplifier at CalculatorSoup.
Keeping track of this will help you understand the value of each customer compared to how much it costs to acquire them. It will also give you an idea of where to focus your marketing budget.
How to reduce customer acquisition cost
To lower your CAC, you need an acquisition strategy that converts and keeps customers. The more customers spend money, the healthier everything looks on balance sheets.
There are ways to do this without drastically increasing your marketing spending. To fully optimize CAC, look closely at your sales and marketing costs.
Are you getting the most competitive price for resources and services (e.g., ad spend, agency fees, software, etc.)?
Can you lower costs by removing steps to market or sell your product (e.g., are trade fairs working, or are they a hefty portion of budget that could be eliminated)?
Can you automate some of the process to reduce labor costs?
Once your processes are cost-effective, you can focus on improving customer experience.
Revisit your targeting to reach the most profitable audience
If you're not converting customers at the volume you'd like or you're spending more to get people over the line, go back to the drawing board. Look again at your target audience.
For example, you might have expanded with new products that engage an audience different from the one in your go-to-market strategy.
Or perhaps your existing audience is too small to generate enough profits or too big for your messaging to resonate with your best customers.
You have access to a wealth of information through your existing customers. Use qualitative and quantitative research to gather the data needed to discover profitable buyers.
Survey your customers
Survey your most recent 100 customers to learn why and how they buy. (Why your most recent customers? Because these are the people who'll remember their purchase experience.)
As CXL founder Peep Laja says, "If you ask somebody who made the purchase six months or more ago, they have long forgotten and might feed you with false information."
Peep recommends asking the following questions:
Who are you?
What are you using the product for?
How is your life better thanks to it?
What do you like most about the product?
Did you consider any alternatives? If so, which ones?
What made you choose this product?
What doubts are hesitations did you have?
What questions do you have, but couldn't find answers to?
What else would you like to buy from us?
Keep surveys short and ensure each question contributes something necessary. Don't include a question simply because you're curious. The more concise the survey, the more likely people will answer all the questions.
Keep language neutral. You don't want to lead the audience in a certain direction, as this will skew the data.
Finally, make sure questions are open-ended. This will allow customers to express themselves in ways that multiple choice questions don't.
Gather insights from Google Analytics
Supplement what you learn from surveys with custom reports from Google Analytics. Look at what areas of your ecommerce store and marketing perform best:
Traffic sources. Where is converting traffic coming from?
Content. Which content works and what misses the mark?
Keywords. What words and phrases bring in the most traffic?
Landing pages. Where is incoming traffic landing?
Ecommerce. Which marketing channels are performing best?
When combined, your qualitative and quantitative data will give you psychographic information that you can use to tap into the interests and emotions of your audience.
When you know their beliefs and what they care about, you can closely align your messaging to pull them in.
Use conversion rate optimization to improve the shopping experience
The success of every marketing campaign hinges on the effectiveness of your website.
According to a study by PWC, nearly 80% of consumers say that speed, convenience, knowledgeable help, and friendly service are the most important elements of a positive customer experience.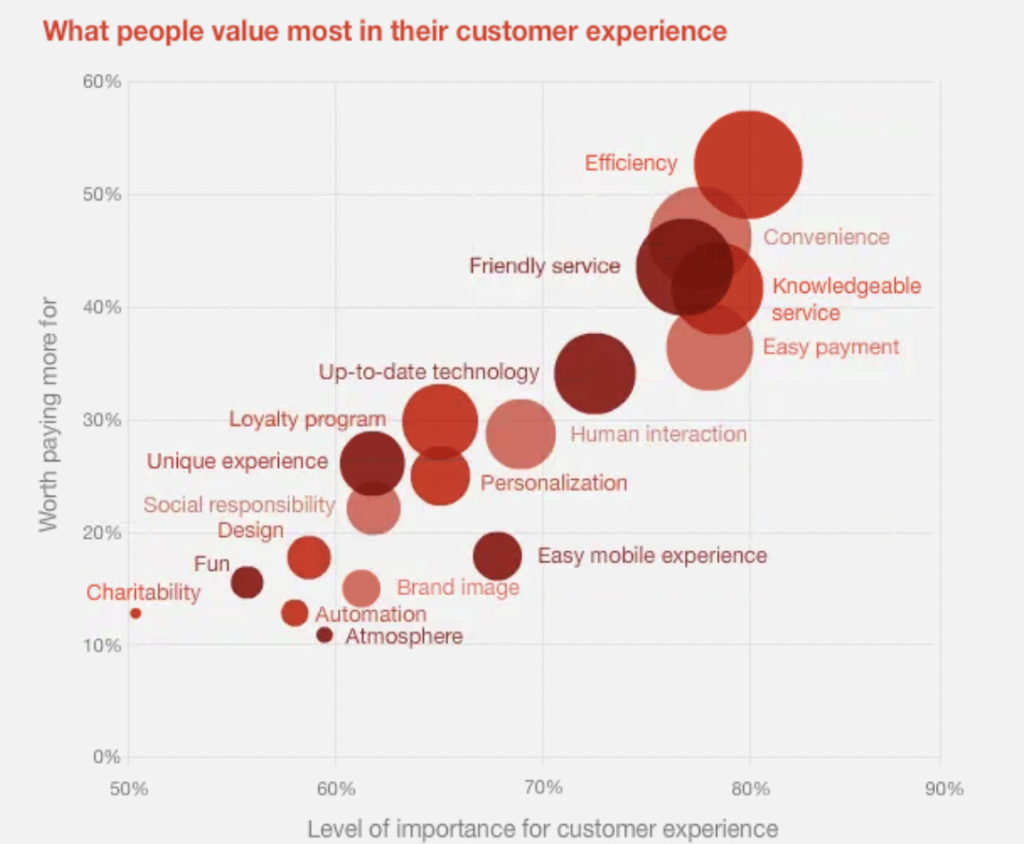 These are the qualities that convince customers to convert and come back. They're also the things that, when missing, drive customers away.
Your ecommerce site should load fast, make it easy for customers to check out, and ease their worries by giving them the information needed to shop confidently.
Take Ties.com, a brand that gets it right.
From the get-go, the menu options are clear. This helps me find exactly what I'm looking for.
Clicking through to Skinny Ties, I can quickly filter options by type, color, pattern, material, width, and brand. Hovering over a tie in the results allows me to quickly add to cart, speeding up the buying process.

But let's say I wanted to learn more about the tie first. The product shows me exactly what I'm getting. High-quality images show the tie from different angles, and each one is zoomable.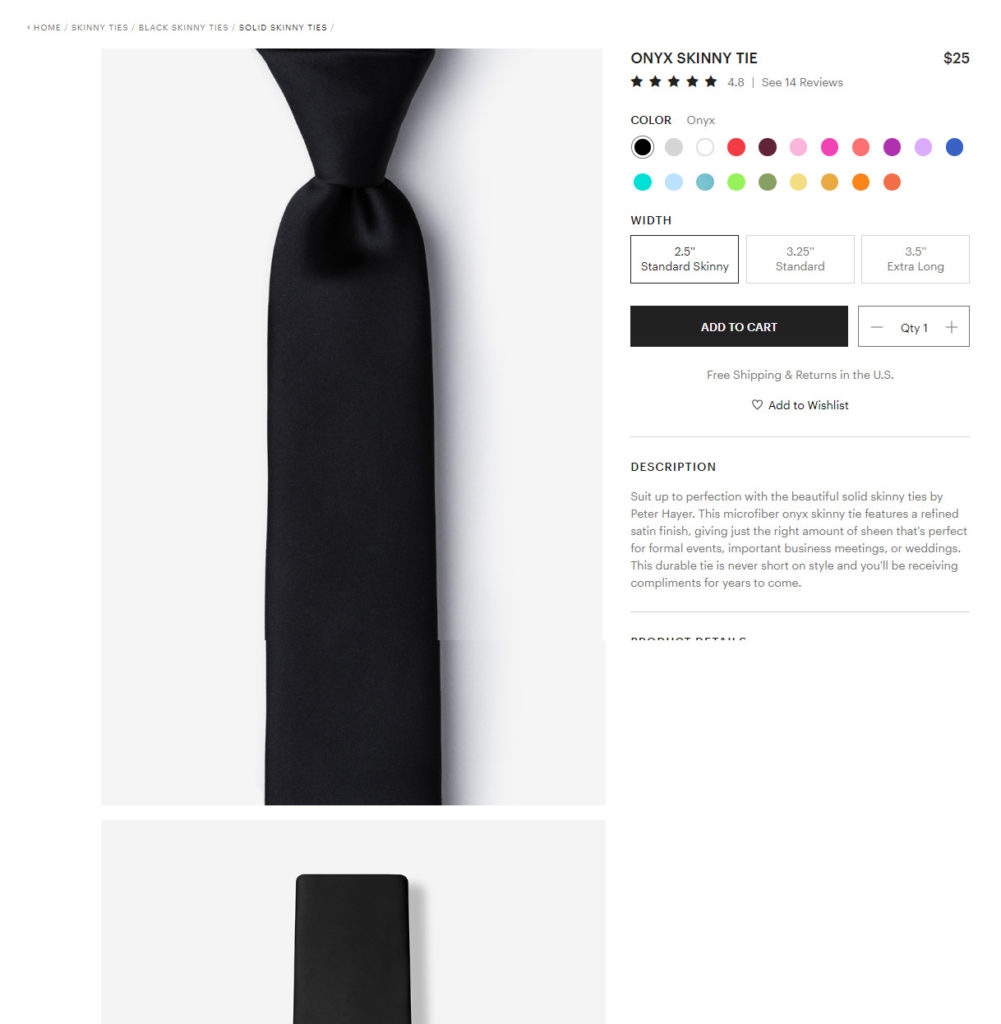 Photos are backed by a description and product details so I can confidently decide whether this is the right tie for me. And if I'm still unsure, Ties.com includes product reviews and live chat as trust builders to ease any worries I might have.
When the tie is in the cart, checkout can be completed in a few clicks using a card or Google Pay.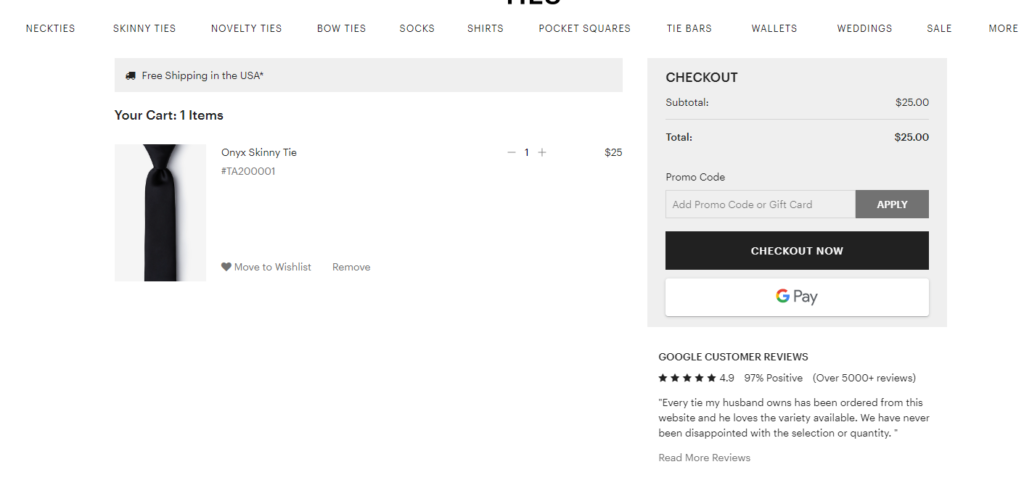 Notice how clean the design of this page is. The design removes distractions, allowing me to focus on checking out. The only thing to draw my attention away from the checkout box is Google customer reviews, cleverly positioned to further instill trust.
Ties.com makes shopping for a new tie quick, convenient, and enjoyable. Emulate this easy approach with your online shop.
Streamline the buying process with CXL's list of 23 ways to increase ecommerce conversion rates. The list covers many of the qualities evident on Ties.com, most of which are immediately actionable.
Deliver value through content marketing
According to a study by SEMRush, 97% of businesses agree that content is a tactic that forms an important part of their overall marketing strategy.
The study also revealed two underlying factors to success:
Documented strategy. Around 78% of respondents who believe their content is successful have a documented content marketing strategy.
A dedicated budget to support content marketing. Around 73% of companies that spend from 10% to 70% of their total marketing budget on content marketing are very successful.
The most successful marketers are the ones who have a formal process for their content. This means never posting on a whim but doing it consistently to contribute to an overall goal.
Take Beardbrand. Having started as an online community for "beardsmen," the brand has grown into a multi-million dollar DTC with over 400k visitors a month. It achieved this through strategic content marketing.
Beardbrand maps the customer journey, so buyers at every stage of the funnel are catered for. In the discovery phase, potential customers at the top of the funnel look for how-to queries.
For example, potential customers may search for "how to grow a beard" or "beard grooming tips." For both of these searches, you'll find Beardbrand on the first page of Google.


When users in the middle of the funnel start comparing options, they'll find Beardbrand there to help. Search for "beard oil vs balm," and it's a Beardbrand guide that ranks #1.

This post, like other Beardbrand guides, is filled with internal links to products and CTAs to encourage action.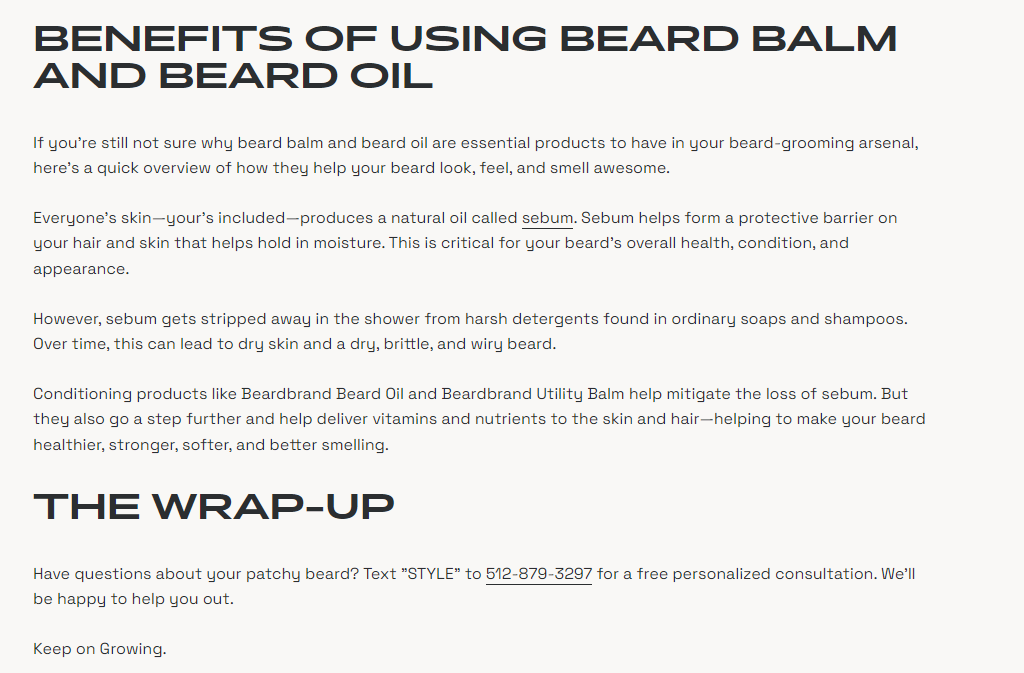 And when the time comes to buy, look who shows up for the search term "beard oil":

Similarly helpful content can also be found on the brand's social media channels, with tutorials, style guides, and lifestyle tips, published alongside entertaining content.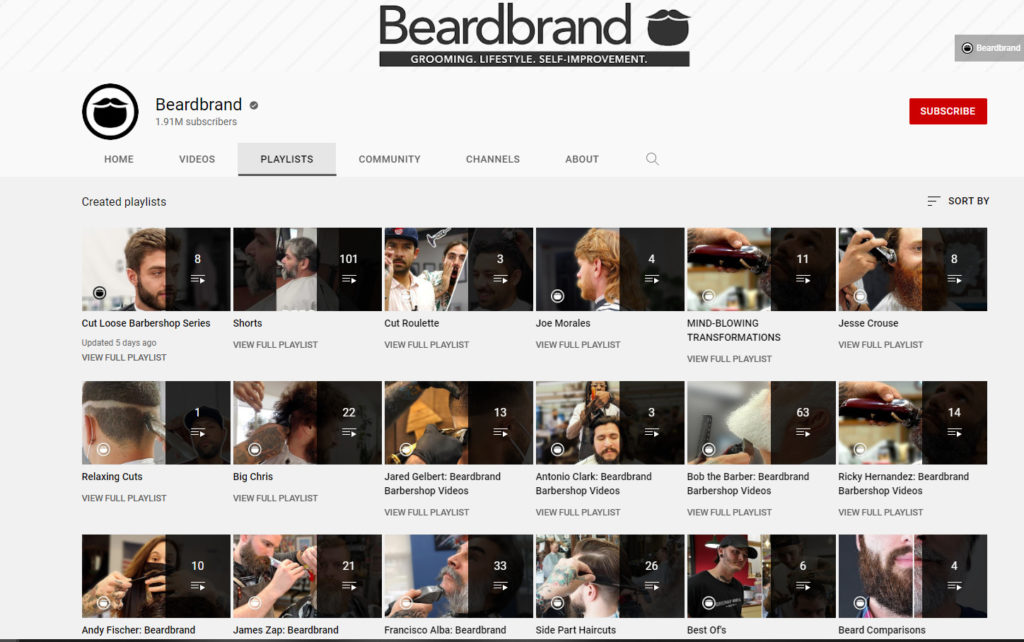 This content, driven by SEO and social media marketing, works to raise brand awareness, generate traffic, and drive conversions. Crucially, it's all underpinned by value.
While conversions are the ultimate goal, focus on delivering value to build trust. Show your expertise. Be relentlessly helpful. Use voice of customer research to find the problems your customers are looking to solve and answer them in your content.
Experiment with different channels and types of content and build a robust marketing strategy over time so that customers enjoy a consistent experience at every touch point.
Upsell and cross-sell products to increase average order value
The more a customer spends in your online store, the more attractive your CAC becomes. So it's in your best interest to tempt customers with additional products.
Upselling and cross-selling are different tactics with the same goal: encouraging customers to spend more than they intended. Upselling recommends higher-priced alternatives. Cross-selling suggests additional products that complement what the customer is buying.
Away Travel, for example, subtly upsells with the option to include a USB charger with its suitcases. It also gives customers the chance to personalize the style and color of their case.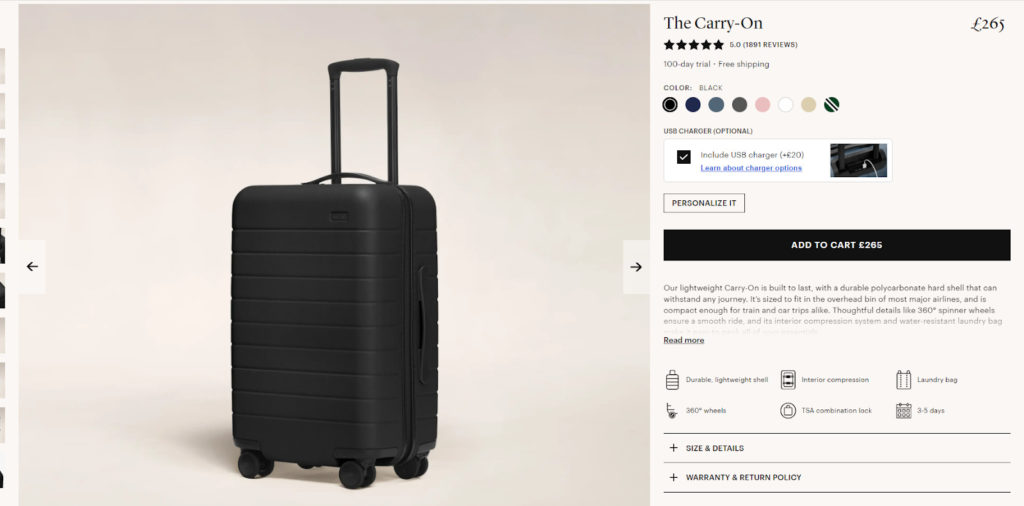 This lets them create a case that's perfectly suited to their needs while upping the average order value.
Proflowers does a similar thing with cross-selling, using its checkout page to recommend additional items to make a gift even more exciting.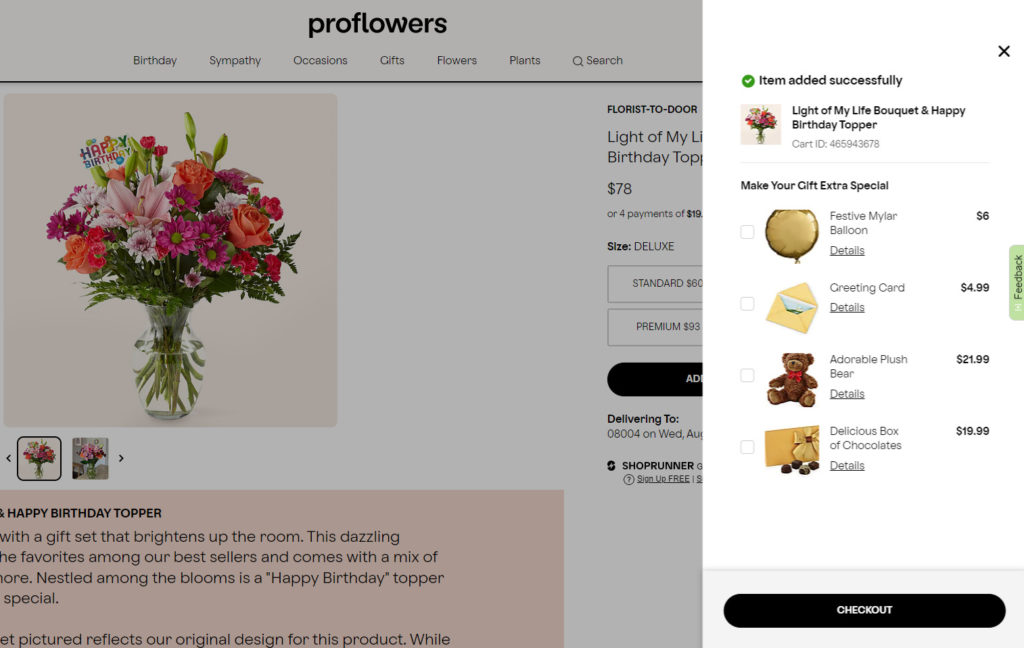 In both examples, the offers are relevant and offer value. They also play on emotion. Away Travel lets customers make a good suitcase even better. Proflowers makes a birth bouquet extra special.
They help customers increase their status, which is a powerful thing. We all want to show up with the best suitcase or birthday gift.
Increase average order value by pushing offers that benefit the customer at the moment. Use what you know about your customers from qualitative research to serve them what they tell you they want. Test offers and look for patterns. Do some items sell better than others?
Automate upselling and cross-selling to personalize recommendations for different customer segments.
Target, for example, serves suggested products based on previous customer purchases.

If you're buying a dining table, there's a chance you'll need chairs to go with it.
Crucially though, these don't take away from the shopping experience. This is important. Upselling and cross-selling should add, not disrupt. Making it easy for customers to get what they came for is the priority. Any extras added to a cart are a bonus.
Leverage existing customers to increase sales with referral marketing
Everything we've covered so far—targeting, CRO, content marketing, and upselling or cross-selling—are all designed to improve the customer experience to earn trust.
Trust is the key to success. Secure it, and you'll earn more followers, sales, and positive reviews.
You also create a customer base that will publicly champion your brand. Research by Adobe shows that 61% of customers who trust a brand will recommend them to friends, and 41% will join a loyalty program.
Use this positivity to your advantage by creating a referral program that generates a long-term stream of new customers while keeping core customers engaged and reducing churn.
Referral programs are built on incentives. Customers recommend your brand in exchange for a reward for themselves and often their friends. Everyone's a winner.
Incentives are anything that encourages action. ASOS, for example, offers customers and their friends 20% off when they share a referral link that the friend then uses: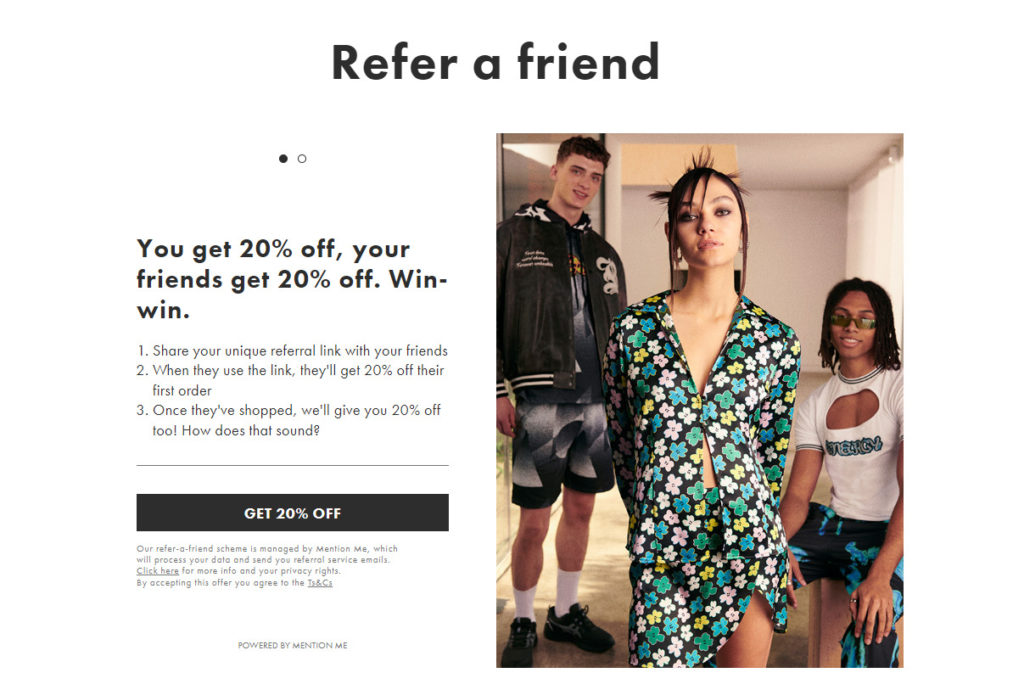 ThreadBeast lets customers stack packages:

For every friend who signs up to become an Essential or Premium Member, the customer gets free swag. And there's no limit on how many packages they can earn.
However, notice that this is a limited-time offer. By adding this element of urgency, ThreadBeast motivates customers: act fast or miss out.
Choosing a referral reward
Rewards are the main driver of your referral program, but there's no one-size-fits-all option.
Refer again to your customer research and analytics. What products are your big sellers? What motivates them to act?
If your customers make infrequent big-money purchases (e.g., jewelry or computers), luxury offers like cash back, gift cards, or swag can tempt them into action. The size of the purchase and infrequent nature will be enough to absorb the cost of the reward.
If your customers are frequent shoppers, discounts, store credit, or a free subscription period will encourage anyone who plans to make another purchase soon to keep referring you.
Creating a reward structure
Make it clear to customers what needs to happen to receive a reward.
Does a friend need to click a link, or do they have to follow through with a purchase? Will a reward be issued for every referral or is it a tiered structure?
If your referral program reward is small (e.g., a little discount), it's better to reward every referral to keep people invested. If you're offering multiple rewards and incentives, you can use a tiered structure to create dedicated members.
The Hustle, for example, lets users stack referrals towards increasingly more attractive rewards.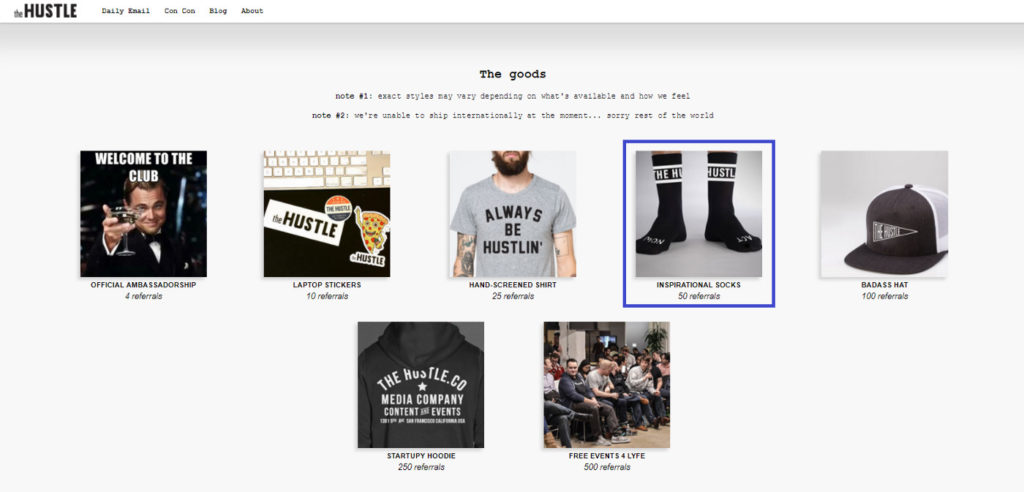 By gamifying the process, customers are motivated to keep referring. This approach earned the brand 300k fanatics.
Whichever option you choose, the customer's task should be effortless. Keep messaging clear, and don't make customers jump through hoops.
ASOS explains its referral process in simple terms and customers only need to click a button to get a code.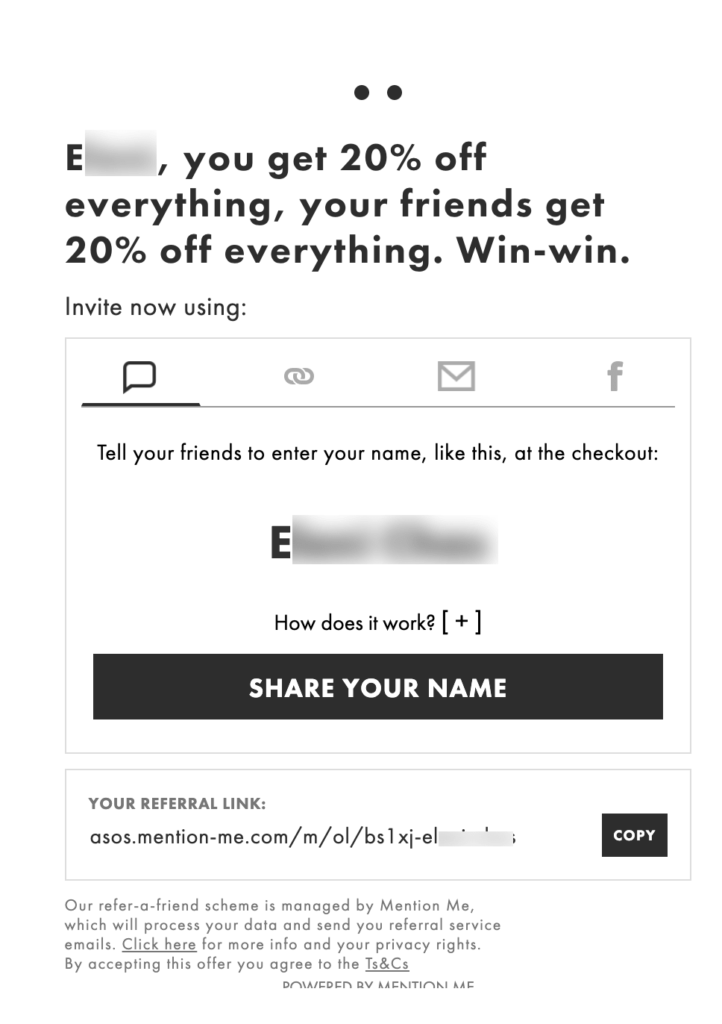 ASOS also gives customers options to share on their preferred channels. Getting rewards is easy.

The less work that's involved, the more appealing the task becomes, encouraging people to make the effort for the payoff.
Conclusion
Measuring CAC keeps your business honest. It curbs reckless spending and opens opportunities to cut back where necessary, tweak pricing, and better distribute budgets to improve your marketing efforts.
If your CAC is higher than you'd like in relation to long-term customer value, check in with your audience. Find out what they like about your brand and what they'd like to see improved. Use their insights to fine-tune the customer experience for new and existing customers.
But remember, CAC isn't solely a marketing metric. It's a business one, that should inform strategy at every level of the company. If each department understands how its role impacts CAC, you can work together to achieve optimal results.