What happens when a marketing generalist asks a team of CRO experts for ideas on "low-hanging fruit" or "quick wins"?
My humbling aside, the Speero Agency team did indulge my request—to a degree.
Many conversion optimization efforts fall toward one end of the time-to-value and time-to-implement axes. Some, invariably, end up in the top-right quadrant:
If you're looking for wins this quarter, ones that will endure in future quarters, too, here's what to do—and what to avoid.
1. Start at the bottom of the funnel.

"Start with down-funnel opportunities," says Ben Labay. "Lifts there mean more money. So product page downward for ecommerce and form optimization in lead gen. Up the funnel, it's harder to move the needle enough to make a difference."
Gertrud Vahtra agrees: "You're looking for opportunities on forms or checkout pages." In short, Gerda Vogt summarizes, "Look for an easy UX fix as close to the conversion as possible."
Resources to get it done:
Within that framework, Labay adds, there are more specific opportunities: "For ecommerce, it's upsell/cross-sell work on the product-page-to-cart transition, which can increase average order value."
Resources to get it done:
Social proof is one element that can influence users on those key pages.
Social proof elements can sway buyers—and get implemented quickly.
Optimizing the display of social proof can have a powerful effect on conversions—and setting up tests isn't necessarily a heavy lift.
The amount of development effort required, Vogt notes, is minimal if you're "using existing items on a page to test in different locations—like social proof."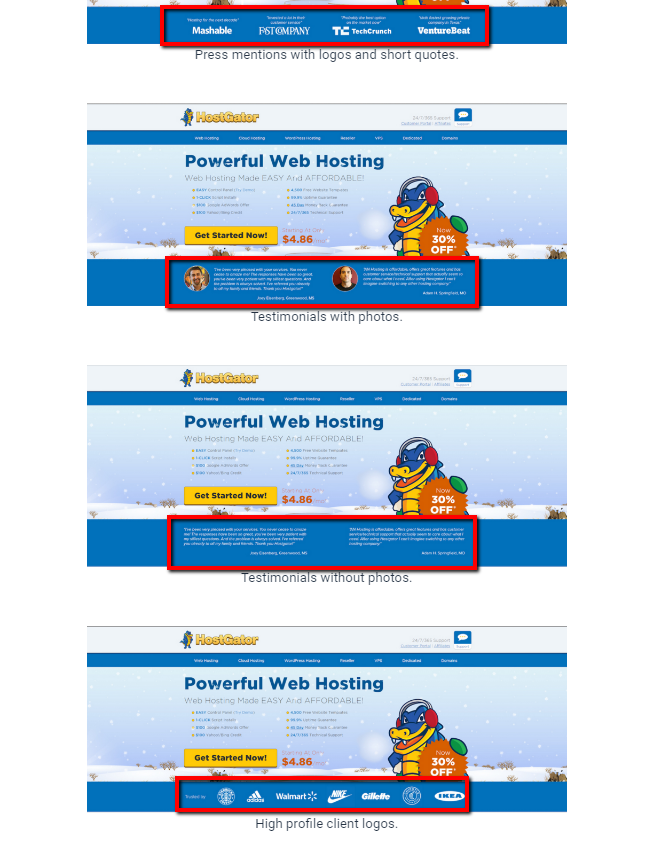 "If the design already exists and you're moving it to a new place, say in the hero instead of burying it," Labay says, "then it doesn't have to go through as much design review or dev."
That doesn't guarantee that finding the right location is simple. "Some social proof helps, for sure," continues Labay:
But when there are options for placement or type, it's rare to get it to work right—and likely what works right isn't available or is hard to get. It's usually worth the effort in the end, especially when you can customize the social proof to the channel or audience, but it's harder than it appears and takes time.
The lift you get depends on your starting point. If you're starting from zero or can dramatically change its visibility, social proof may be a quick win.
Resources to get it done:
It's a common theme. Big wins come from big deficiencies, whether you're adding social proof or rewriting copy.
2. Sharpen critical copy (and make it prominent).
What should you work on if you don't have dev resources—or the time to use them?
"Small design changes, like changing CTA button color," says Brendan Moore, "and copy changes." (Don't waste too much time on button colors—pick something that's high contrast and move on.)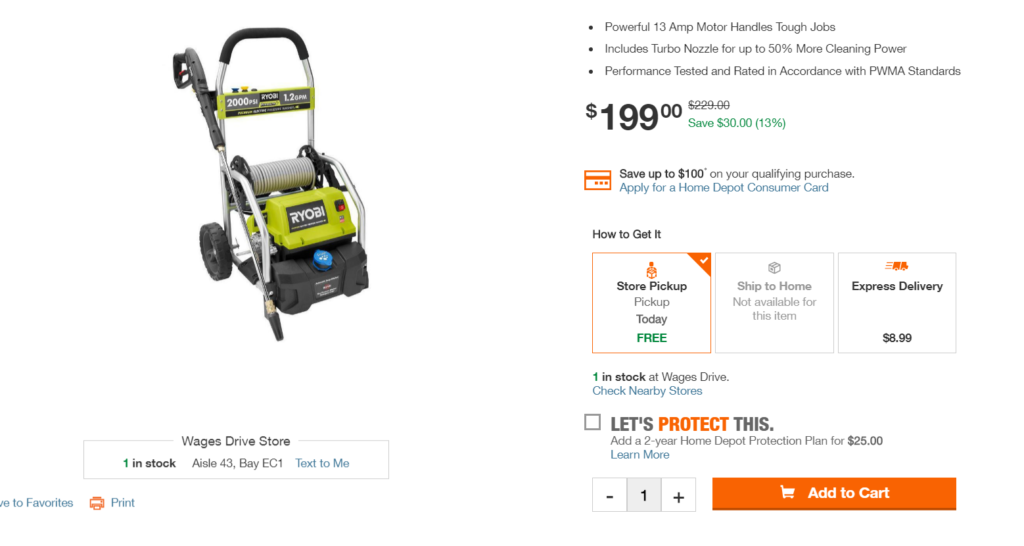 The low-hanging fruit of copy changes, Lorenzo Carreri says, is "testing different value propositions, headlines, and offers." Those choices may seem obvious, but too many companies are oblivious to their shortcomings.
Great copy is useless if no one sees it.
According to Carreri, it's not just about differentiating your brand or product but making sure users are aware of it:
Ecommerce companies are really bad at highlighting the value proposition and the benefits that a site has versus competitors. Often, these benefits are almost hidden, or only a small percentage of users actually see them. Making them more visible and to more people is generally a winning test."
Moore has seen the negative impact of burying vital copy:
We had a client whose most trafficked mobile page had a CTA under 10 paragraphs of text, where only 30% of users ever scrolled to. Moving that to a more prominent position resulted in a huge increase—sometimes it's easy to overlook the simple things.
Resources to get it done:
Even when front and center, attempts to deliver a clear value proposition can go awry.
Hone your value proposition.
Too often, says Moore, companies, "Tell the customer what the product does, instead of what it does for them." That misguided emphasis on features instead of benefits is all too common.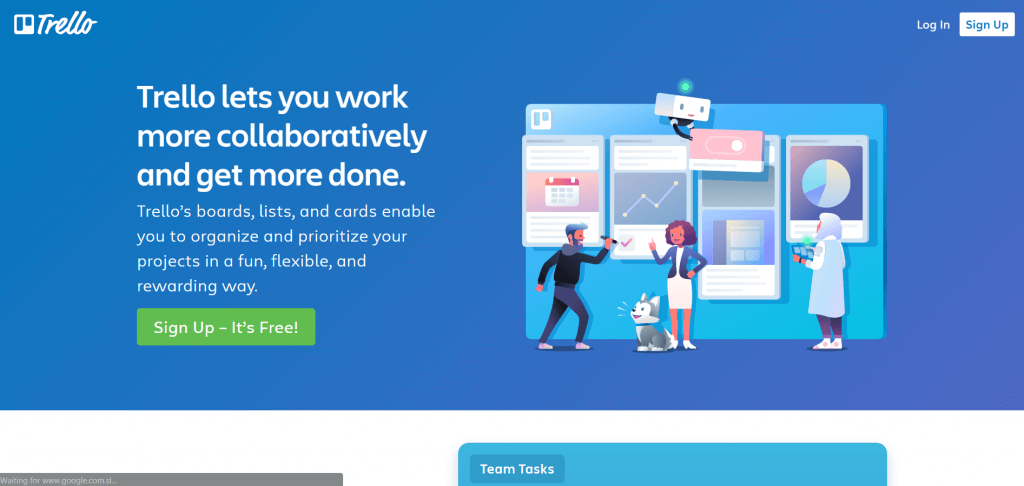 But since value propositions—good or bad—often end up on homepage hero sections, what should go there can be contentious. Vogt has watched companies struggle to get it right:
In-house teams almost always have trouble agreeing on how to use their homepage hero area. That's, of course, understandable—it's the prime real estate on the site, and every department has their own idea of what to put there.

But, unfortunately, it usually results in several competing offers, carousels, and other distracting things that in no way help the user understand what the site is actually about.

Replacing several offers with one clear offer is pretty much always a winner.
Resources to get it done:
For reasons hinted at by Vogt, the ease of making the change may run up against approval issues. "In some cases," says Vahtra, "changing the value proposition can take longer to push through because you need approval from the copywriting or marketing teams as well."
If you hit that roadblock, focus on form labels and microcopy.
Form labels and microcopy can make or break conversions.
Haley Carpenter has seen forms with a range of copy issues: "They don't have a headline or description to explain what the form is for; they use 'Submit' as the CTA button copy—the list goes on."
Form copy, notes Vogt, can also be misleading: "For example, a CTA says 'Reserve now' but redirects users to a listing page, or, if error messages aren't clear—giving only an 'error' message instead of indicating the issue or incorrect field—visitors get frustrated and leave."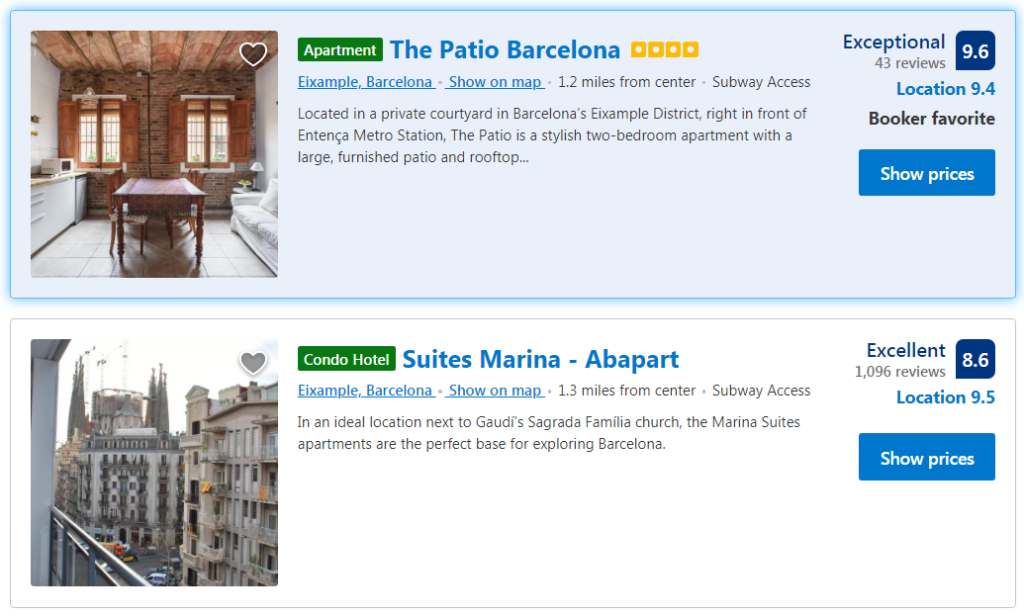 If your form copy is clear, you have two other opportunities:
"For ecommerce, definitely, form optimization means removing unnecessary fields as well as adding microcopy to improve the clarity of the fields format, like phone number and zip code." (Carreri)
"For lead gen sites, set forms into a sequence with small, simple questions to start, which you can use for later personalization. This helps leverage the psychological principles of consistency—yes ladders, breadcrumb technique, micro conversions, etc." (Labay)
Resources to get it done:
If you've run through bottom-of-funnel, quick-fix copy options, you're best off returning to user research.
3. Run some user tests—and cross reference the data.
When I asked analysts about the best "bang for the buck" in user research, the opinions were nearly unanimous: user testing.
"Ten user testing videos can be 30 minutes each," explains Vogt, "and ideally you want to repeat those after a while to see how behavior has changed."
Vogt continues:
Reading through lots of qualitative data points will help you understand the correlation between issues. Even if you stick with a smaller scope for qualitative research, one survey is still usually at least 8 questions and, ideally, at least 200 answers per question.
If user testing is the gold standard for qualitative research, there are other, less expensive ways to gather similar data, the aforementioned surveys one of them.
"Surveys and polls can give you insights about ways to improve UX," confirms Carreri, "as well as ways to increase motivation or lower friction.

If you're working on a lower budget but want to stick as closely as possible to user testing, Vahtra offers, you can:
Do another round of research but replace user tests with session recordings, which can help you identify some of the same technical or UX issues and assess where users pay attention.
Session recordings are a standard feature of tools like Hotjar, which also let you run heatmaps or on-site surveys.
Resources to get it done:
Multiple data sources are key to spotting patterns. If the same issue comes up in a user test and on a survey and in analytics, you can feel more confident about a test hypothesis.
You'll also have a stronger case to make for any approvers. You're trying to solve a problem that's shown up in many places, not advocating a change based on a single user's opinion or one metric's indication.
You can use analytics, Labay notes, for more than just correlating quantitative and qualitative data points: "Getting clarity on KPIs, especially on lead quality and LTV—by cohort if applicable—is hard to get right but worth it."
Further, analytics can help identify the magnitude of the opportunity. As Moore says, "The key signal in analytics is where the biggest dropoff is. That sets a target for what we should aim to fix first to get wins."
Resources to get it done:
At the end of the day, says Carreri, "you're trying to understand motivations, objections, and frictions for different types of users."
Ideally, you're able to do that by combining several research methods, but even the simplest methods, like an email survey, have value. Vogt again:
If you have a decent email list, then survey your customers, for sure. Reading through honest, lengthy answers about their pain and motivation is inspiration for working on every aspect of the site—from coming up with test ideas to creating testimonials or tweaking site copy.
One thing that's sure to show up in user tests and similar research? Broken elements.
4. Fix what's broken.
The easiest pitch to make—to your team, developers, or the C-Suite, is to fix what's broken. If a button doesn't work or a page doesn't load, it's hurting conversions. No hypothesis necessary.
The definition of "broken" extends beyond the obvious, too, as Vahtra has experienced:
A client had rating scores across all products that looked like clickable reviews, similar to Trustpilot ratings. Heatmaps showed that visitors kept clicking on those ratings—and survey insights showed the need for them—but there were actually no reviews or testimonials to read on the site.
Whether the site "works" is a mix of your intentions and user expectations. Intuitive site design eliminates the gap between the two.

There's another user expectation, too: speed. "If you try to load a page yourself and can count seconds going by," says Carpenter, "that's horrendous page speed."
Resources to get it done:
5. Avoid major redesigns, wild ideas, and often-optimized elements.
Whether looking for quick wins, big wins, slow wins, small wins, or anything else—major redesigns are expensive, time consuming, and flat-out risky. That opinion was also consistent across our team.
Within the framework of iterative redesigns, some changes are a heavier lift or have uncertain value:
Combining multiple hypotheses into one test (Vahtra);
Product-customization tools, user dashboards, and other things essential to the user journey that require a lot of backend work (Vogt);
Testing a completely new feature (Vogt).
The technical portability of test results can also be deceptive, cautions Carreri:
Often, people think that if a functionality has proved to be a winner on one page, it's quick and easy to "move it" and test on another page. Most of the time, that's not the case. It requires either lots of development workaround, or the functionality needs to be built on the backend of that page as well.
A final note to consider: The low-hanging fruit probably isn't in the first place you'd look. Why? Because designers, copywriters, and optimizers have probably already "been there, tested that."
That advice may seem counter the earlier recommendation to evaluate value propositions and headlines—the first place everyone looks. But just as neglect can lead to poor health, so, too, can a fretful, micromanaged process that churns out muddled, copy-by-committee value propositions or a barrage of offers.
Conclusion
There is low-hanging fruit. But those who can spot the "hacks" are also those who can see the bigger picture. Heuristic analysis is hard-won expertise masquerading as intuition.
The backbone of a program to drive long-term revenue growth—not just lift form fill completion rates or reduce cart abandonment—is a deep understanding of what your customers want and need from you, and how those desires translate onto your website.
Right now, the inefficiencies within your organization—the competing priorities, long-ignored issues—are advantages. Your expertise about your company can reveal how to survive this moment and win buy-in to do things right moving forward.