95% of B2B buyers are not ready to buy your product right now. They're having conversations with colleagues, researching on social media, and listening to podcasts about the product or industry and learning where your brand fits in.
Demand generation helps you influence buyers where they're having those conversations and in those unattributable spaces. It's an inbound model that develops your authority and brand affinity over time—it can be a long game to get results, but it helps you stay in play.
Those places where your buyers are being actively influenced by the marketing activities you cannot track are called: the dark funnel.
In this post, we'll uncover the dark funnel and show you how to win customers on the channels companies often overlook.
What is the dark funnel?
The dark funnel refers to the different places where buyers engage and make decisions that marketing teams can't attribute.
When B2B buyers are considering a purchase, they spend only 17% of their time meeting with potential suppliers. Most of their time is spent researching independently online and offline and meeting with the buying group.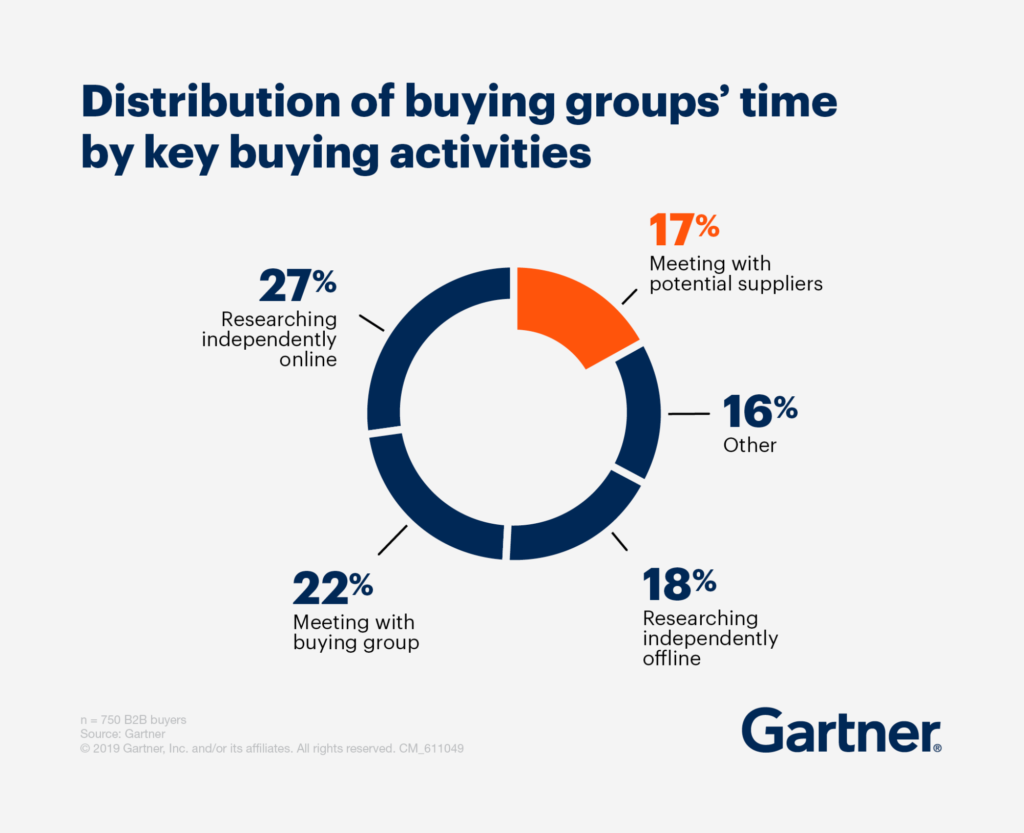 By the time you see intent data, much of the buying process is already complete.
According to Walker:
"B2B buyers are discovering, researching, and evaluating products in places companies can't track."
These places include:
Communities and groups (e.g., Slack, Facebook Groups, Discord, Reddit, etc.)
Social media platforms (e.g., LinkedIn, Twitter, Facebook, TikTok, etc.)
Content platforms (e.g., Spotify, Apple Podcasts, YouTube, Twitch, etc.)
Word-of-mouth interactions (e.g., text messages, DMs, video calls, etc.)
Events (e.g., industry conferences, marketing meetups, VC groups, etc.)
The parts of digital marketing we can track—email marketing, paid social, content syndication—are the tip of the iceberg. The dark funnel is everything happening below the surface.
It's an acknowledgment of the changing customer experience. Buyer journeys have become so convoluted that the linear sales funnel mapping the path from awareness to consideration to purchase is no longer sufficient to give you realistic insights into the buying process.
The dark funnel is the hidden steps in the buying journey. It more accurately mirrors a buyer's movements before they reach your demo page.
This is especially important given the recent shift in data privacy, with the phasing out of third-party cookies and Apple's update asking apps not to track users.
When you can't accurately track, you need to work harder to know where to interact.
Dark funnel marketing is a shift in mindset
B2B companies are married to traditional marketing attribution models because they give credit to what's working. It's easier to secure a budget from stakeholders if you can show the number of conversions from email marketing or display ad campaigns.
Dark funnel tactics don't offer that same luxury. Because of this, hidden channels are often overlooked.
"Most companies won't accept them [dark funnel channels] because Gartner and Salesforce haven't written an ebook on them. Or they're just mailing it in and not doing it well enough to see results. These are the channels where your buyers are, and every other company isn't doing well there, which creates a massive opportunity for you." – Chris Walker, CEO of Refine Labs [via Revenue Champions]
Taking advantage of the dark funnel requires a shift in thinking around attribution. The focus has to be less on how buyers clicked through and more on how they find you.
Google recognizes this with its move away from last-click attribution and over to machine learning.
Communicate with buyers where they are, rather than relying on channels you can track. Invest in conversations to learn more about your audience's motivations and understand how trends change over time. This will help you develop strategies that resonate.
Does this mean you should divorce yourself from attribution completely?
Far from it. While software plays less of a role in giving credit, you can establish where you're having success with qualitative research.
Use surveys to ask customers about the route they took to reach you.
Here's an example of a simple customer survey from HubSpot: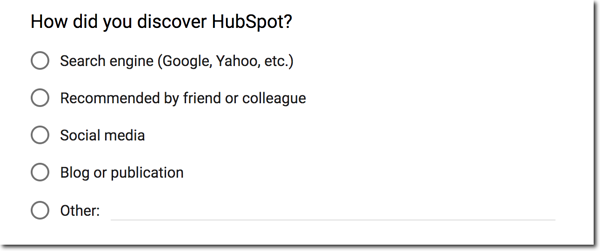 Adding this to a demo request form or landing page will give you insight into where conversations are happening.
Qualitative research can also be gathered during sales calls. These present the opportunity to dig into more specific data that can help shape future campaigns, such as:
How buyers self identify
What problem were they solving
How they approached the buying process (what kind of comparisons they made, which other sites they looked on, etc.)
Any friction they faced in the process
Start from the end and work backward
Going by Gartner's results, if over 80% of a customer journey is spent navigating dark channels, by the time they reach your website their research is almost done. They're arriving with intent to buy.
Your job now is to help them over the final hurdle by reaffirming their belief that your product is the right choice and making the conversion as easy as possible.
As Chris Walker points out:
"There's no sense in starting a podcast or trying to run LinkedIn ads at high spend if when someone gets to your website, they don't convert, and they can't get in touch with the person they want to talk to. They won't be moving, so they won't be buying." [via Revenue Champions]
Before investing in dark funnel marketing, optimize your website and landing pages.
Start by looking at quantitative data from your Google Analytics to find out how your web pages are performing, as well as how much traffic and how many conversions they get.
To get an idea of how people use your site, look at device mix, bounce rate, and top performing and top exit pages. Use heat maps to see how users interact with individual pages.
This will help identify any performance and compatibility issues, including where and what is good, and what needs improvement.
Use this data alongside qualitative research from your sales team. Unbounce's former CRO Michael Aagaard recommends asking customer-facing staff the following questions:
What are the top three questions you get from potential customers?
What do you answer when you get these questions?
Are there any particular aspects of the product/offer that people understand?
What aspects of the product/offer do people like the most/least?
Did I miss anything important? Got something to add?
Hone in on friction points and run A/B tests to improve usability and conversion rate.
If you don't have enough traffic or lack the resources to run A/B tests, focus on these nine key principles of conversion rate optimization:
Speed. Review page speed on Pingdom. Lower load time by reducing image file sizes, using caching, and using a Content Delivery Network (CDN).
Singularity. Stick to one goal and one offer per page.
Simplicity. If an element on a page doesn't get a visitor closer to action, get rid of it.
Clarity. Build pages around the reason a visitor arrived and the needs of the target audience. Keep language simple, lead with benefits, and make pricing and CTAs clear.
Identification. Optimize every page for a single target market.
Attention. Create interest by answering what your product will help the reader achieve in your headlines, supporting copy, and hero images.
Desire. Use social proof to make your product more desirable.
Fear. Use the PAS (problem, agitation, solution) copywriting formula to play to buyer fears and introduce your product as the savior. Add scarcity and urgency to your pages using availability and time-based countdowns.
Trust. Use client logos, awards, accreditations, press coverage, and testimonials to build trust and credibility.
These nine principles aren't the be-all and end-all of CRO, but they're low-hanging fruits that you can begin optimizing immediately. Following them will help you create pages that convert dark funnel traffic.
How to attract leads in the dark funnel
To win over buyers in the dark funnel, you have to bring your product and brand to your audience, not the other way around. This is how you'll build relationships and drive conversations that convert prospects into sales-qualified leads.
But being in the same circles as your target market means nothing if you're not engaging with people and giving them a reason to care. Here's how to make your presence count.
Build your personal brand to get closer to your audience
Conversations in the dark funnel are people driven. In most cases, it's not possible to join a community as a brand. Even if it were, you can't expect people to warm to an entity in the same way they would the person behind it.
The same goes for social media. While most people follow their favorite brands, the meaningful conversations—where products are reviewed and recommended—are all peer-to-peer on dark social, where they can't be accurately tracked.
To build awareness and demand, build your personal brand to build your corporate brand.
Use your industry knowledge and expertise to become a trusted expert. It's a tactic used to great effect by SaaS founders like Noah Kagan, who has used his YouTube channel and guest blogging to grow AppSumo. Likewise, Rand Fishkin's regular blogging and guest speaking helped make Moz the world's number one SEO suite.
Another great example of a strong personal brand is Backlinko and Exploding Topics founder Brian Dean.
Brian isn't a company owner working behind the mask of a brand; he's the face of Backlinko.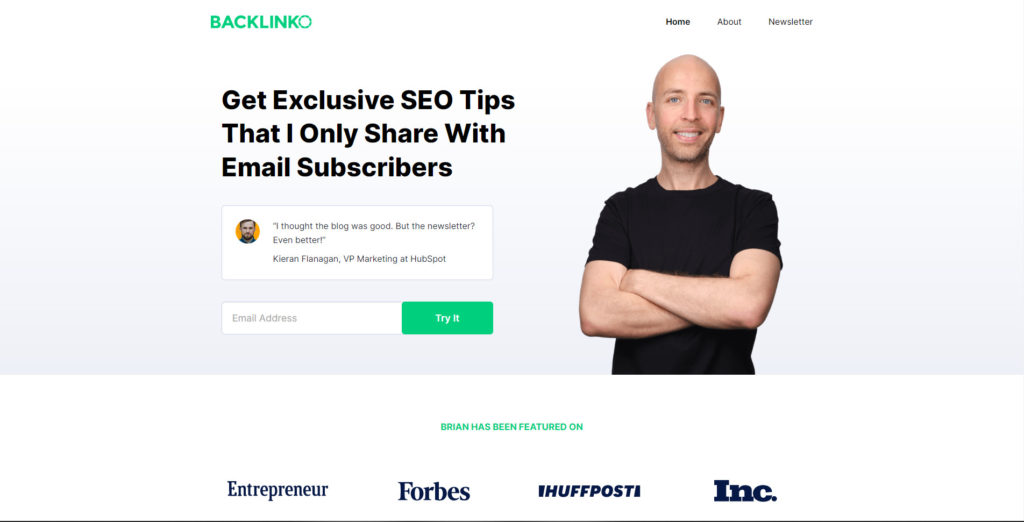 He regularly shares informative long-form blog posts on SEO and link-building via the Backlinko blog.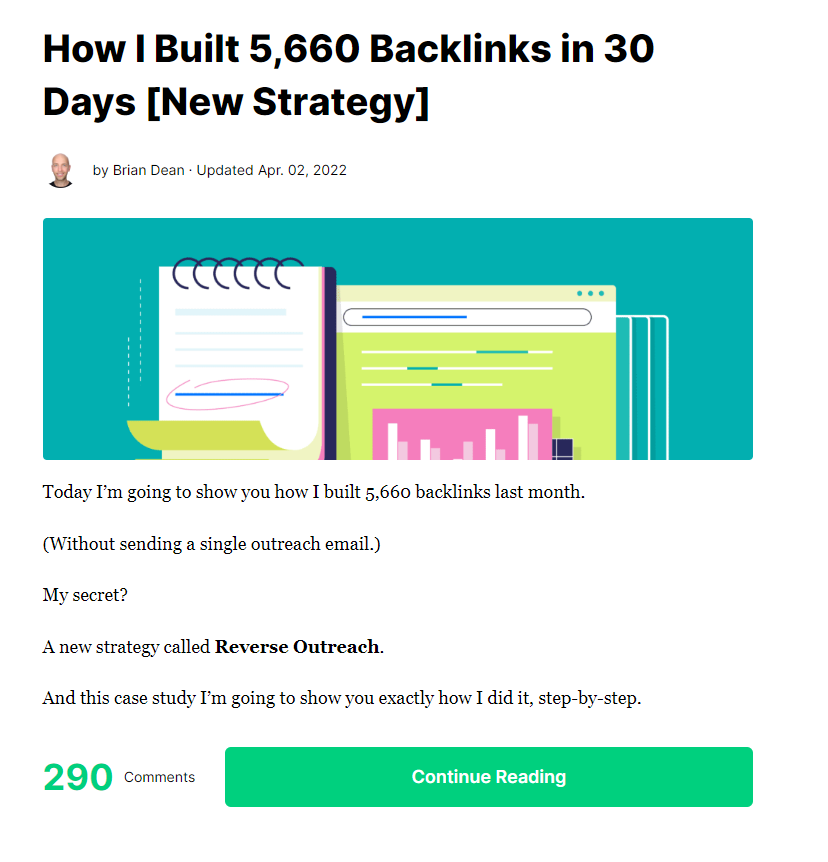 He also shares helpful tips via a newsletter and LinkedIn, where he takes time to engage in the comments.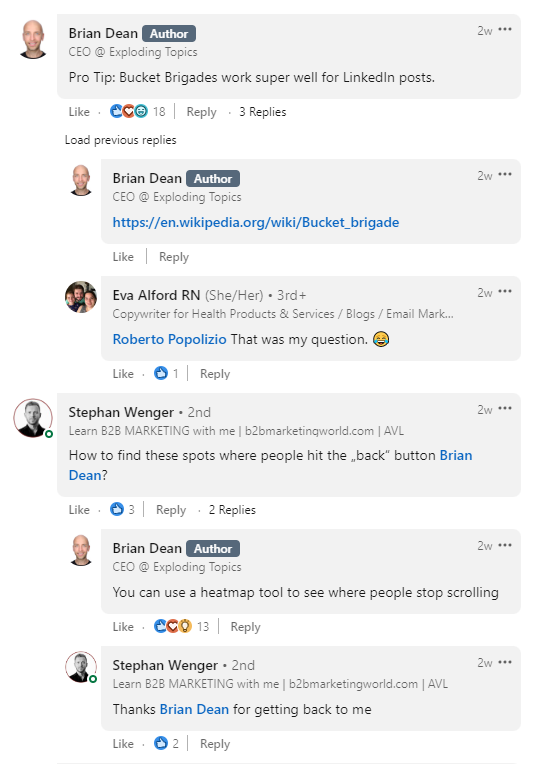 This is a crucial element of personal brand building and dark funnel marketing. It makes Brian an active member of the SEO community and positions him as an authority. More importantly, it gives him a reputation as someone who cares and is genuinely helpful.
His active presence helps keep him and Backlinko front of mind. When the time comes for someone to seek out help with SEO, Brian and Backlinko will be at the front of the line.
His approach has helped Backlinko grow to over one million visitors a month with a newsletter that boasts 173,000+ subscribers.
Sprout Social research shows that 70% of people feel more connected to a brand whose CEO is active on social media, and 39% believe their presence offers better insight into a brand.
Similarly, 72% of people feel more connected to a brand when its employees share information on social media, with almost two-thirds saying it helps them feel like there are real people behind the brand.
Cultivate an identity separate from your brand, and encourage your employees to do the same. Get in front of your audience, share valuable insights, and build relationships to boost engagement. Be helpful for the sake of being helpful, and mention your brand only when it's genuinely relevant.
You'll soon grow your personal brand and your brand audience will grow in kind.
Create and share content that helps people solve problems
Few of the channels that make up the dark funnel will be new. The problem is that, because of attribution software, brands often use them in the wrong way.
For example, a brand may use LinkedIn or Facebook to capture email addresses so that they can give credit to those channels. But they're missing out on the conversations in comment sections and groups.
This is where people share content and make buying decisions. And it's where you can shape the narrative around your brand.
However, while your end goal is to get people to visit your website and convert, your aim for content is to create demand and educate your audience.
As Chris Walker explains:
"I'll share to educate so that the more my buyers consume my content, the more they understand, the more they are going to consider our product and ultimately choose our brand." [via Revenue Champions]
Avoid gated content and focus on giving your knowledge away for free.
Refine Labs do this with podcasts dedicated to demand generation and growth.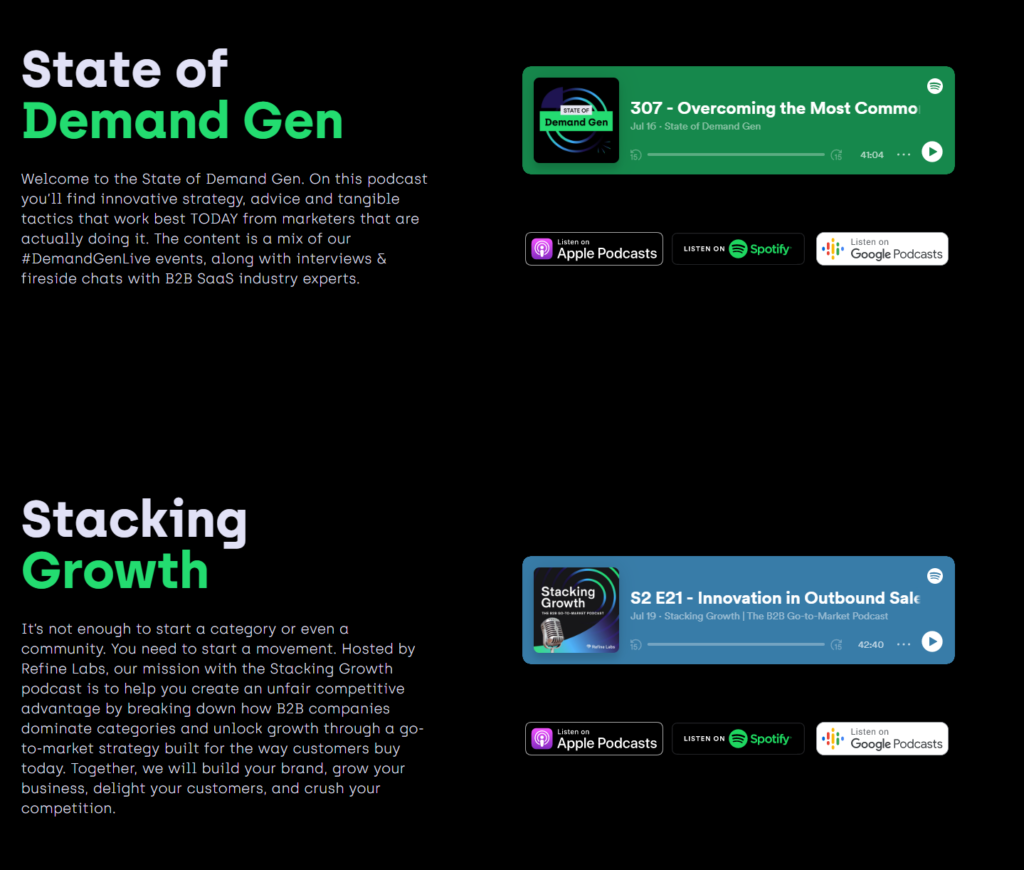 In each episode, Chris Walker, his team, and guests share their experiences to help marketers and company founders work smarter and build better.
Like Brian Dean, this positions them as subject matter experts, making people more likely to pay attention. It also creates authenticity in Refine Labs.
Episodes of the podcast are shared to all major podcast platforms. They're also filmed and uploaded to YouTube, with soundbites shared across LinkedIn, Instagram, and TikTok.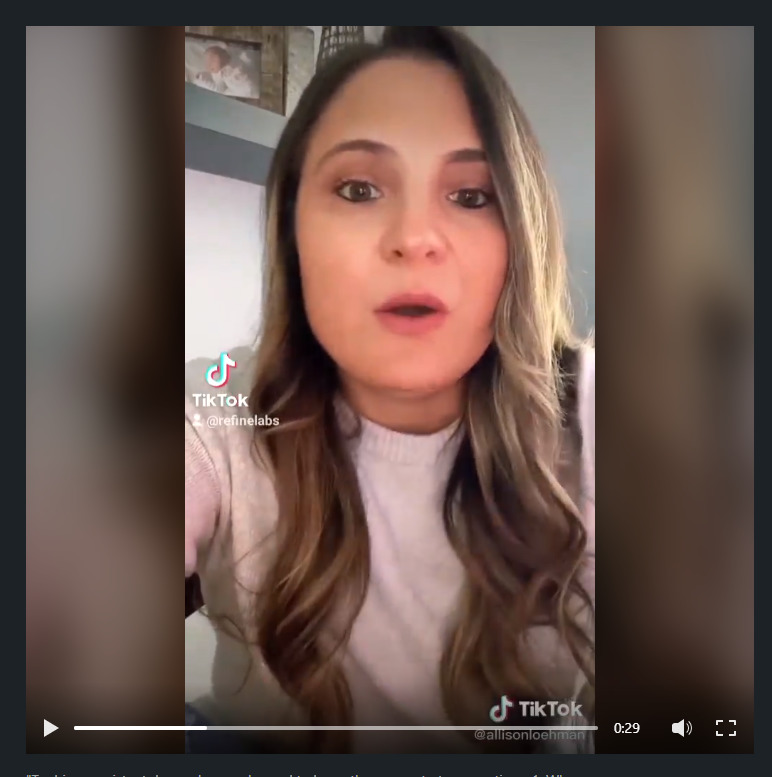 Repurposing means the content works harder and its value spreads further into channels and communities where Refine Labs' audience is engaging.
It provides value without asking for anything in return. This is what builds trust, attracts followers, and secures recommendations.
Groove takes a similar approach with its blog. Rather than using its platform to push its product, it intentionally focuses on topics that benefit its audience.
Its mix of company founder stories and helpful customer support posts are told in an authentic, personal, and sometimes vulnerable way that's fresh and different from other industry content.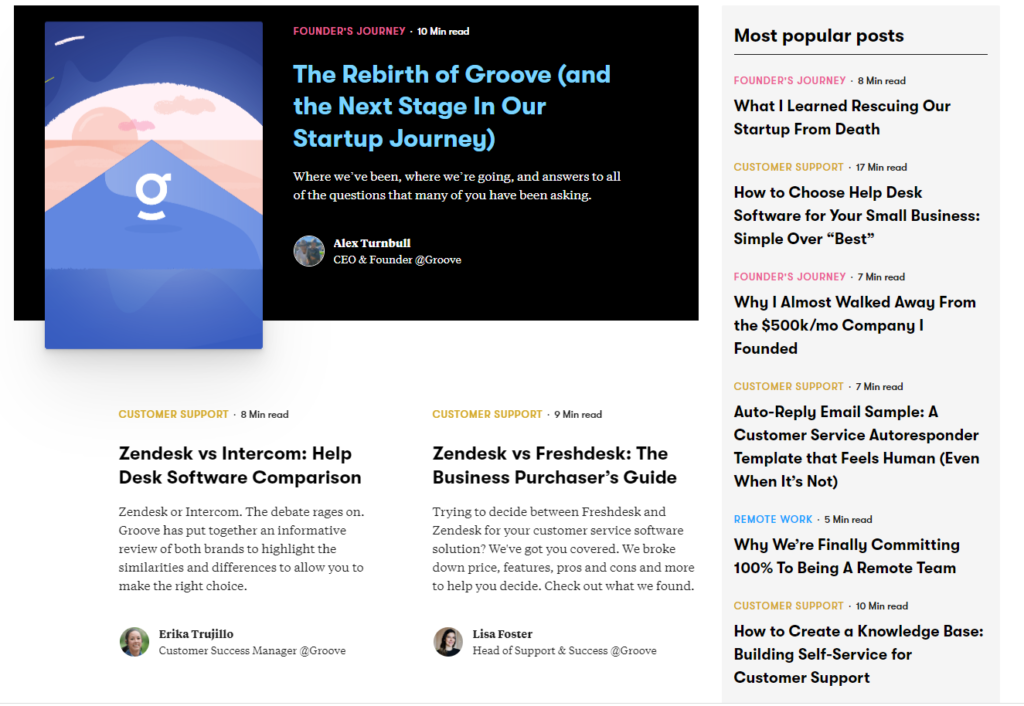 This mix helped Groove build a $5 million a year business in three years by being helpful and relatable. When we relate to something, it resonates and we're more likely to talk about it.
Start from the position of delivering value. This will help you create demand and growth through organic social and content marketing.
Once people recognize and trust your brand, lead magnets can be shifted to paid marketing and retargeting. This way, when people see your ads, they'll be more likely to take action.
So, where do you find ideas for value-driven content?
The answers lie with your customers.
Listen to your audience and let them shape your marketing
Competitive analysis is a crucial part of any B2B marketing strategy. It helps you position your brand and product, and it sets you up to outshine the opposition.
In the dark funnel, what other businesses are doing matters less. Focus squarely on the customer.
Ask: What is the customer looking to do?
Groove looked to answer this when growing its blog.
"…we decided to rebuild our content marketing strategy from the ground up with an eye towards what could actually help our market, rather than what we thought might look nice on a blog.

We tried to understand what people actually wanted that we could deliver in our content.

We asked them about their challenges and goals, and what they wished they had that they didn't already have." [via Groove]
Use voice of customer research to understand motivations and intent. Learning from existing customers will give you an understanding of what people want and expect from your brand and content, as well as what compelled them to choose you.
It will help you identify why people visit your website, listen to your podcast, or read your blog posts, so you create more of the same.
Supplement this by looking at what your audience is talking about online. What questions are they asking?
A simple search in a tool like Quora or Answer The Public will give you insight into problems your audience is trying to solve.
For example, a Quora search for "how to create demand for my product", with results filtered by "Past month" brings up a host of related questions.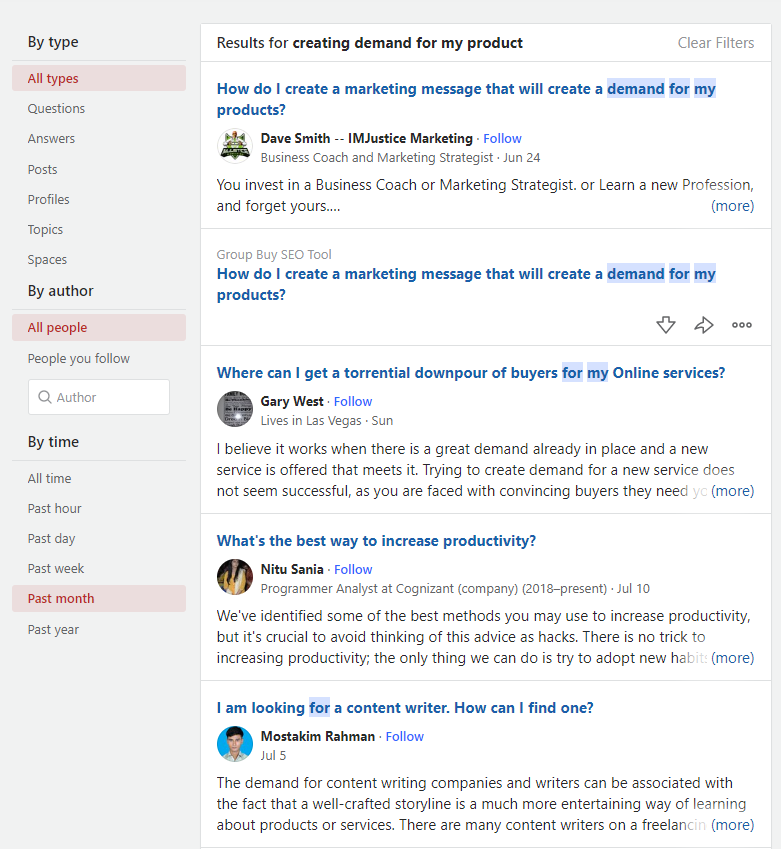 Use these queries and answers to fuel your content. There's no better way to endear yourself to an audience than giving them solutions to real problems they're having.
Social listening can be used in a similar way to monitor and analyze the conversations being had on social media. But don't do everything from the outside looking in. Remember, a lot of the discourse in the dark funnel can't be monitored.
66% of buyers want more meaningful experiences with brands. Invest time in one-to-one conversations; listen to feedback, answer questions, and address concerns.
For example, writer Julian Shapiro regularly posts and nurtures conversations on Twitter.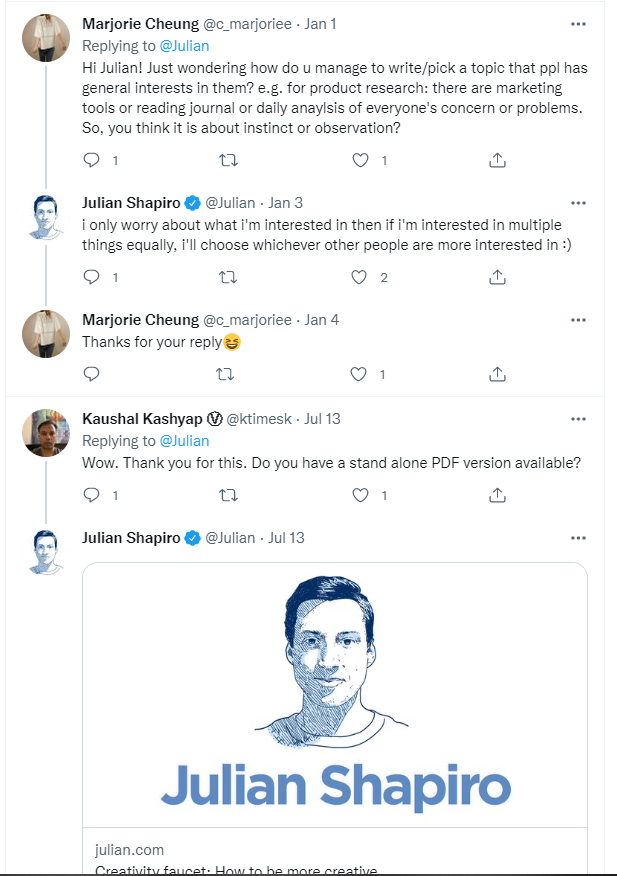 Not only does this help him build relationships and better understand his followers, it enhances his reach and reputation.
According to McKinsey, over three-quarters of consumers are more likely to buy more and refer others to companies that offer personal interactions.
Stay close to your audience to meet their needs and ensure engagement around your brand is positive.
Deliver consistency at every touchpoint
Demand gen takes time. Reaching the point where you're the company on people's lips is a long-term strategy that's as much about how often you show up as what you show up with.
According to Forrester research, the new number of B2B buying interactions post-pandemic is 27. Buyers are going everywhere there's information and gathering as much of it as they can before making a decision.
Publishing something new once a month gives you little chance of keeping pace with how buyers are discovering and researching options.
Stay front of mind by developing a messaging strategy and consistently sharing new content. For reference, Refine Labs puts out three podcasts every week.
Anyone encountering the brand for the first time can immediately see that it's active and content is fresh and relevant. Its audience is also never short of something to share.
CXL founder Peep Laja is similarly active in the CXL Conversion Optimization, Analytics & Growth Facebook Group.
While the group is a space for members to connect and chat under the umbrella of the brand, Peep understands that CXL is the reason people are there and often jumps in to kickstart discussion and answer questions.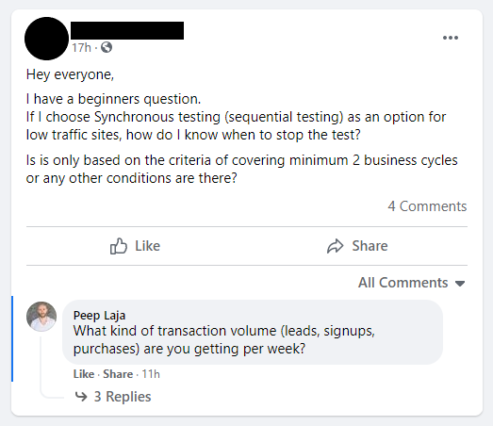 And if Peep isn't in there, other members of the CXL team keep engagement high.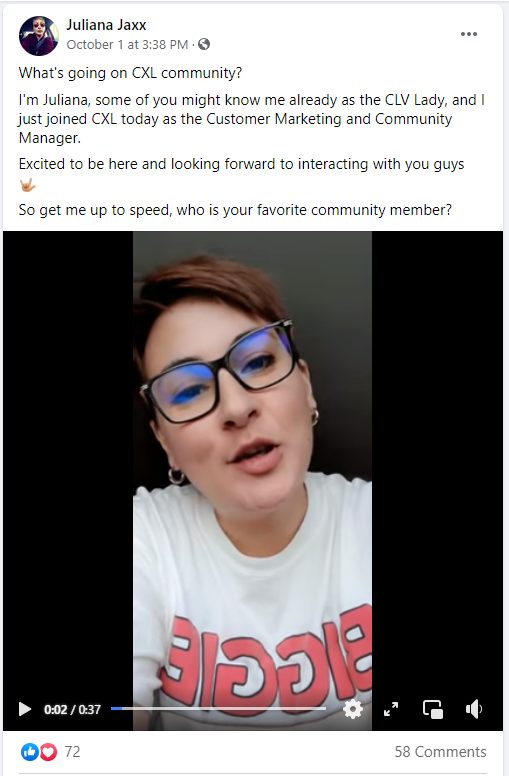 Dedicate some time each day or week to actively participate in groups, reply to comments and create fresh content. As you'll be relying less on marketing automation software, it's important to save time and resources where you can.
Rather than spend multiple hours a week creating original content, set aside a block of time to make pillar pieces that can be used to fuel other content and reach new audiences.
Refine Labs breaking its podcasts down into micro-content that is shared across social media is one example of this.
Close is another. A big contributor to the brand's growth is its ability to milk content for all it's worth.
Close creates a ton of raw material and remixes it for different channels. Take this video on developing a customer intimacy strategy: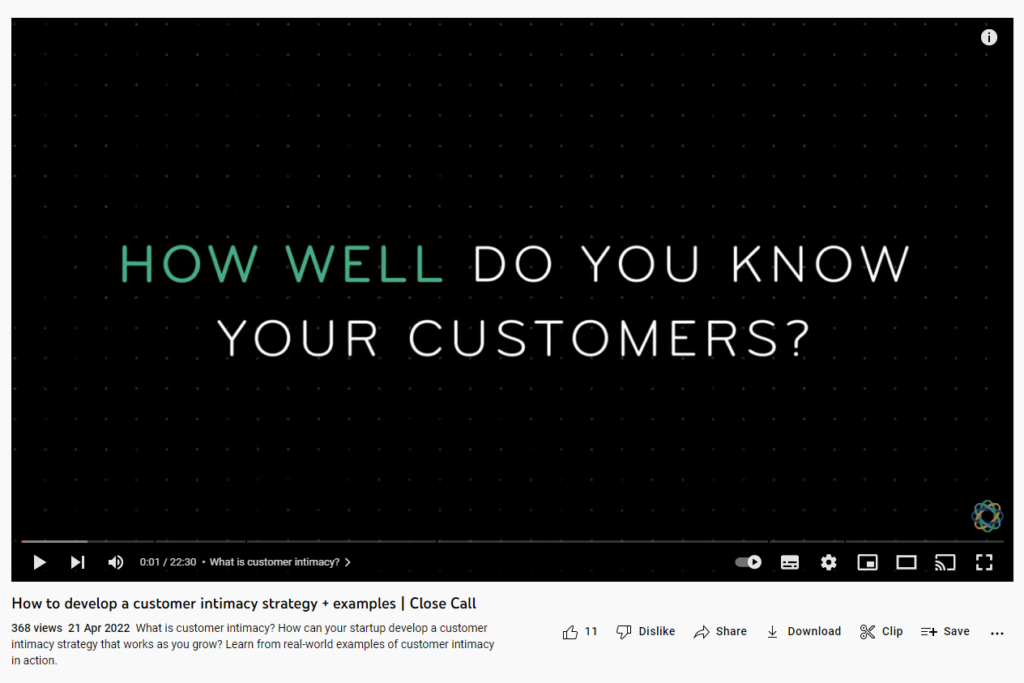 Close took that recording and turned it into a blog post: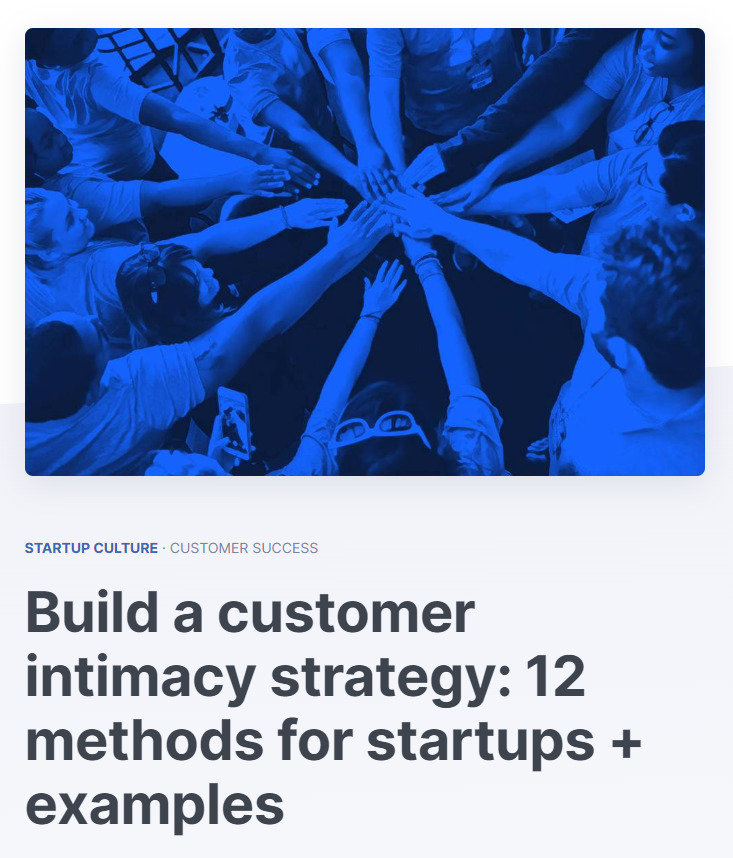 In another example, it took a long-form YouTube video on The Great Resignation, repackaged and distributed it as a shorter video for Facebook followers: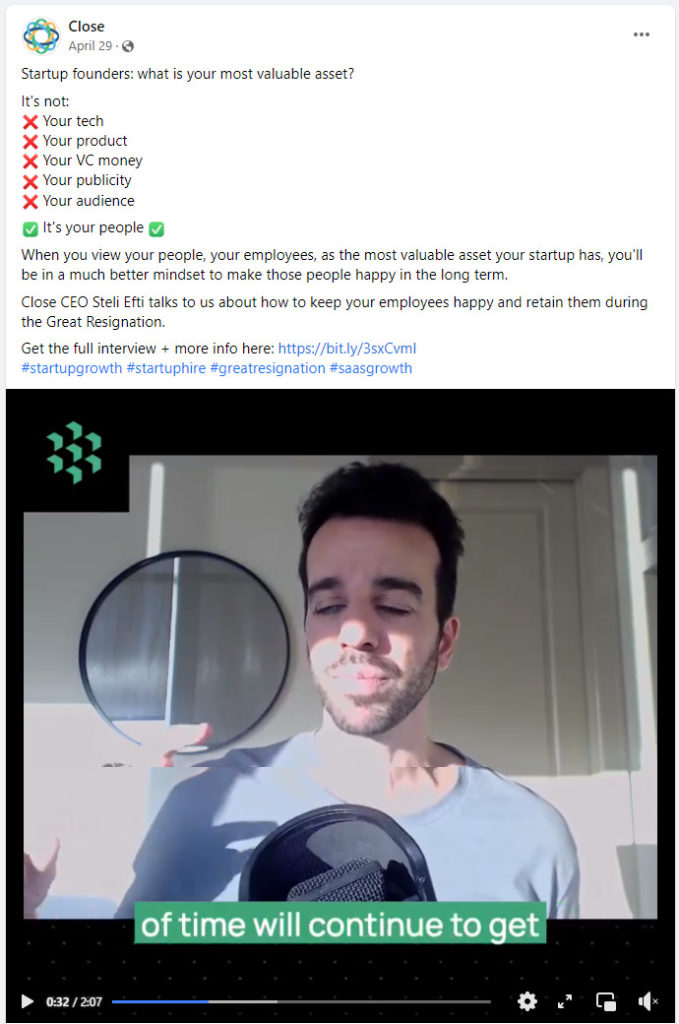 One pillar piece can provide weeks or months' worth of content without getting stale. But consistency isn't all about content frequency. It's also about how you present yourself and your brand.
Take Gong. The content you see on the company's website is mirrored in social media content.
This blog post, for example, features Gong's purple, pink, and green brand colors and chatty tone of voice.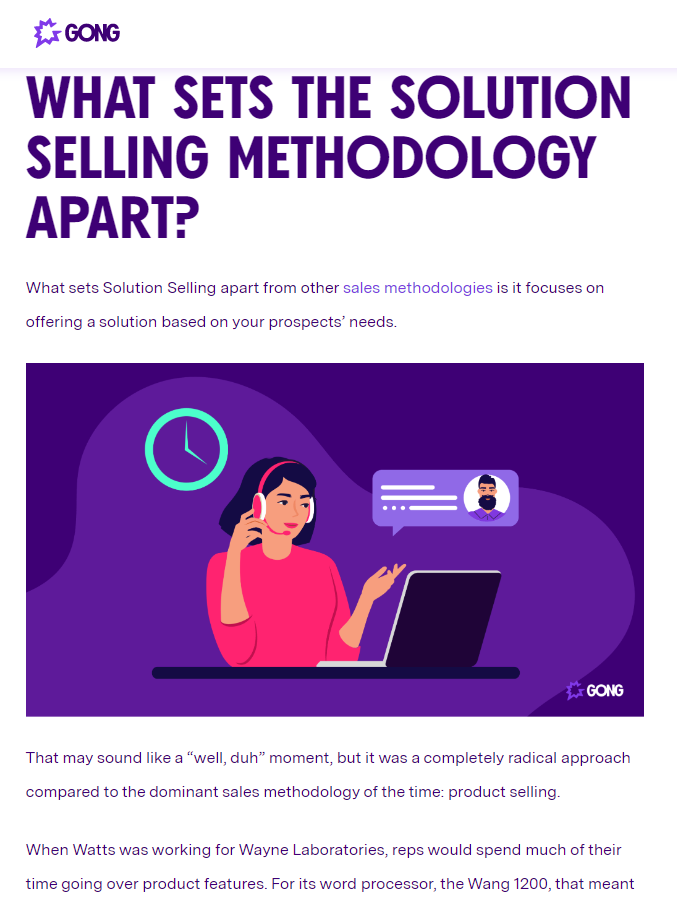 Those same colors and tone are ever-present in its LinkedIn content: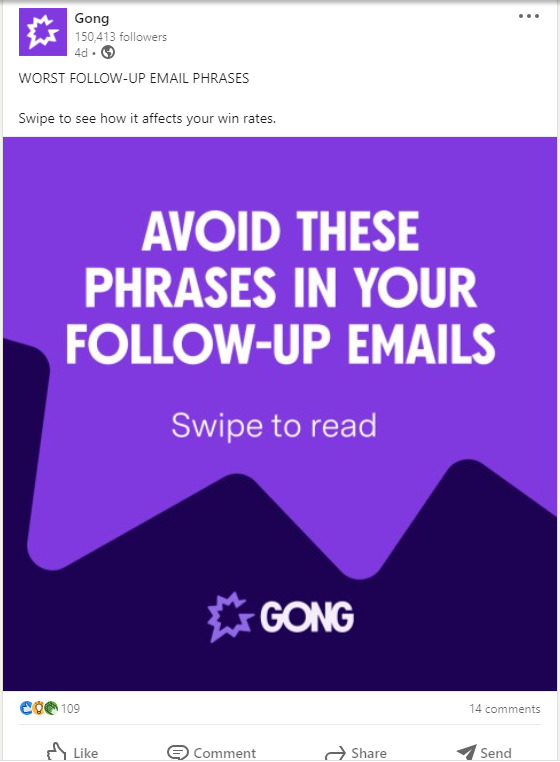 And on Instagram: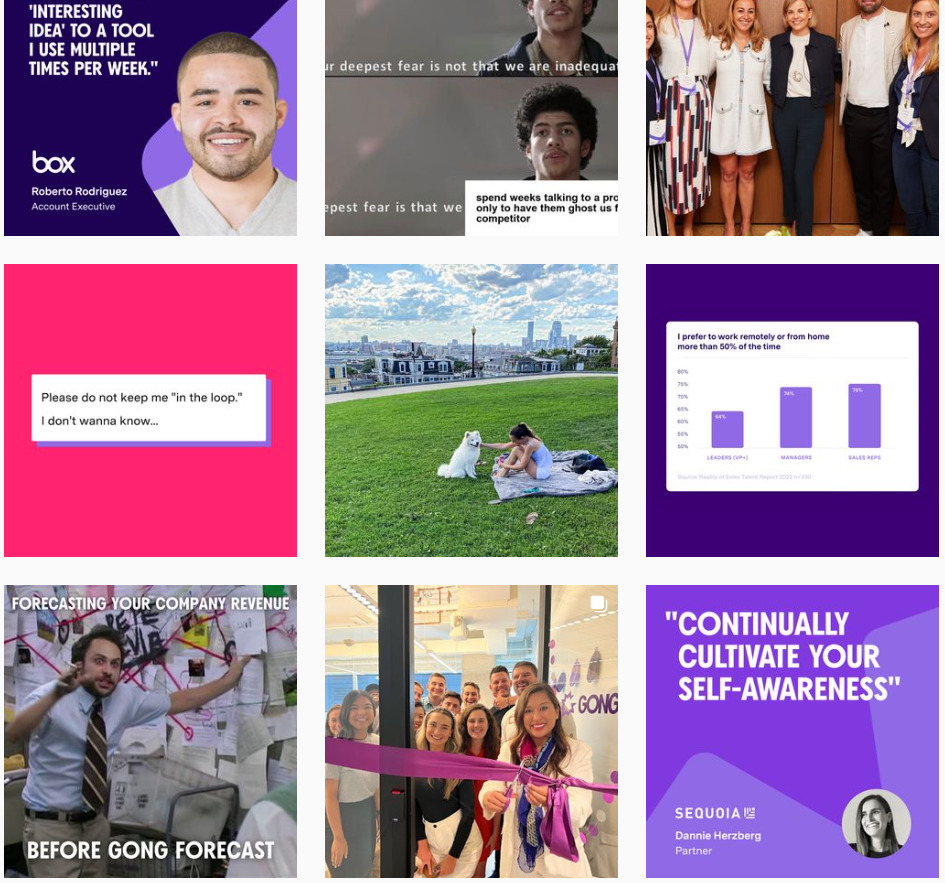 This makes Gong stand out. Its style is recognizable, which creates familiarity and fosters trust.
Create consistency in your tone, messaging, and branding by following brand guidelines. These provide the framework for marketing teams and sales teams to follow to maintain a united front. Brand guidelines should include:
Mission statement
Brand personality
Brand promise
Target audience and buyer personas
Logo and logo variations
Color palette
Iconography style
Photography style
Templates
The goal with consistency is to make yourself memorable in presence, look and sound at every touchpoint. Do this so that when buyers seek out new product or service recommendations, you're the company securing referrals.
Conclusion
Opinions about your brand are being shaped and shared every day in the dark funnel. Being part of the conversation gives you the chance to tip the scales in your favor and get ahead of brands ignoring this hidden traffic.
Focus on your customers. What makes them tick? Show your human side and build your content marketing funnel around solving problems.
Value will translate to direct traffic from B2B buyers who spend most of their time gathering information from their circles. When it does, look at the big picture rather than specific metrics. Are sales reps enjoying more meaningful interactions with people who are ready to buy? Is revenue growing? These are signs that dark funnel marketing is paying dividends.