According to a study, 71% of website visitors complete their purchases offline.
Online, we have plenty of ways to track visitor behavior—cookies, heat maps, click tracking, retargeting, etc., but as soon as that person picks up the phone, we're lost. We don't have to be.
Without call tracking, you have no idea which web pages a caller visited. That nullifies all the effort you put into designing user flows and nurturing that lead online.
In addition, not all customers enjoy filling out lead forms, and inbound phone calls are 10–15 times more likely to convert than an inbound web lead.
It's clear: If you're not tracking your phone calls, you're leaving money on the table.
What is call tracking?
Call tracking generates unique phone numbers to track the effectiveness of a campaign for which the primary call to action is to call the business.
For example, if your marketing campaign consists of PPC, trade shows, and radio ads, each marketing channel is assigned a different phone number so that you can measure the volume and quality of phone conversations.
Online, top call tracking services will assign each visitor a unique phone number (known as a legacy number) that will sync with the Google Analytics if dialed. When the visitor calls, you're able to track what keywords they used to find you, measure the length of the call (to determine quality) and what pages they've viewed before & after the phone call takes place.
The UK service Infinity Tracker has the perfect graphic to demonstrate:


Compare this to the traditional method of well…wondering. It's easy to understand how call tracking:
Gives you a more complete view of your marketing efforts;
Focuses your budgeting;
Tightens the screws on your campaigns.
How to measure and improve your phone calls
Generally speaking, installing call tracking is easy. Simply specify call parameters within the app (e.g., showing local numbers to local visitors) and insert a JavaScript snippet on your site.
Once the script is on your site, you can configure most services to integrate with Google Analytics, allowing you to track which pages a caller has visited and which pages generate the most calls. You can also set a phone call as a conversion Goal, just as you would for any other Goal.
Most services have their own detailed call dashboard, and some integrate with CRMs like Salesforce or HubSpot to apply the call information to the rest of your prospect's lead information, such as discovery keywords, customer journey, and call time.
Using this data, your sales person is better equipped to answer questions and anticipate objections—they know exactly what the lead has been exposed to.
Taken a step further, your marketing team could use the call data to better address concerns and objections throughout the marketing funnel. That way, inbound leads are even more qualified by the time they call.
What if you wanted to go even further?
On a bit of a tangent, research suggests that more than 30% of leads may never be contacted—and that it may take up to six calls before success.
A joint study by MIT and InsideSales.com found that your chances of making contact with a phone lead are 100x greater if that lead is contacted within 5 minutes compared to 30. In short, contacting your new lead should be measured in seconds and minutes, not hours or days.
By combining call tracking (to see browsing behavior) with a responsive auto dialer, you can contact your new lead almost immediately after they enter their information and know what they're interested in.
Statistically speaking, by using both technologies, you'll reach 92% of your phone leads, which are, if you recall, 10–15 times more likely to convert than your web leads.
Call tracking and Google Ads
What if I told you that 70% of mobile searches result in a phone call and there was an easy way to get your phone number in front of those searchers?
For experienced Ads advertisers, this won't be a revelation, but back in 2011, Google introduced an Ad Extension called "Click to Call." Click to call displays your phone number as the primary call to action on a sponsored result for the keywords you're targeting: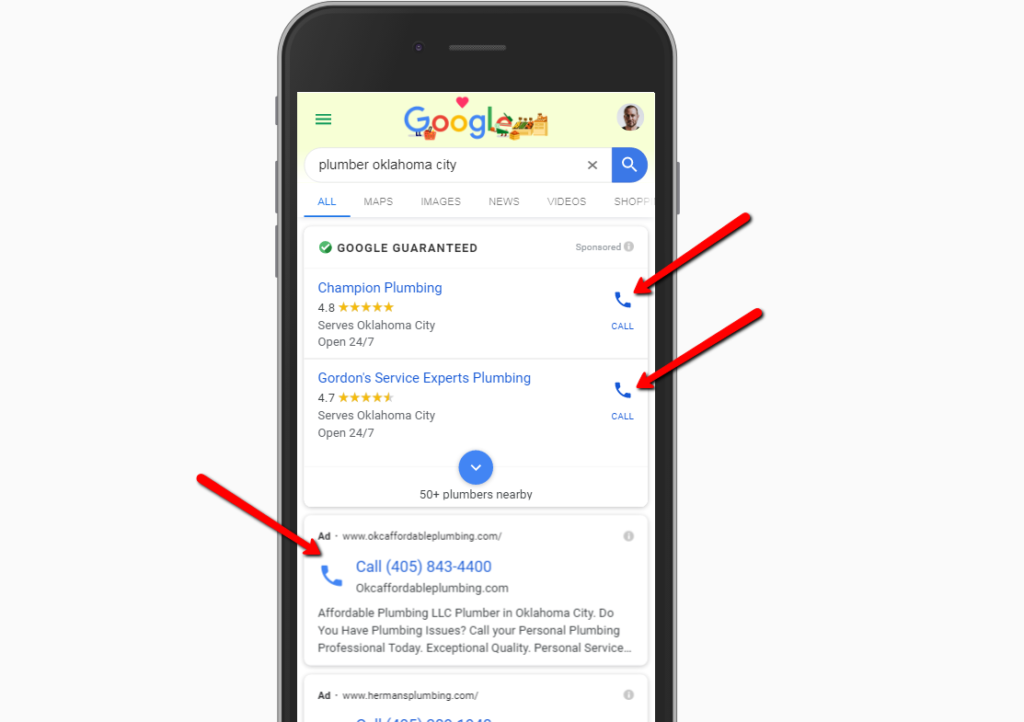 In some cases, adding a click-to-call option could increase phone conversions by as much as 400%.
You can use multiple phone numbers to test things like which regions produce the best leads, 800 numbers vs. local numbers, and, of course, which copy produces the higher click-through rates.
The best part about click-to-call is that it can be used at no additional cost. Considering that phone leads are typically more qualified than web leads, this makes for a much more effective use of ad dollars.
Case Studies for call tracking
1. Esurance improves mobile call volume by 200%.
By implementing Google's click-to-call feature in Ads, Esurance improved their mobile call volume by 200% year over year. They targeted mobile customers searching for "insurance quotes" or the like, connecting mobile searchers with a licensed insurance agent almost immediately after searching.
This tactic also decreased their Cost Per Acquisition by 30% and tripled their mobile acquisition within the first year. Watch the video to see the case study
2. eHealth improves multi-channel attribution with call tracking.
eHealth helps consumers compare health insurance policy options. Many clients—especially seniors comparing Medicare plans—prefer to buy their policies over the phone, even if they do comparative research online.
A wide range of marketing tactics, which included direct mail, television, and multiple online channels, left the company with hazy attribution. At best, they had session-level data from users who clicked paid ads.
By adding unique call tracking to all channels and integrating that data with Adobe Analytics, they got far more granular insights into the multi-faceted user journey.
That information helped eHealth reduce CPA by 20%, a savings worth more than $3 million. Read the case study.
3. Ifbyphone improves conversions by 600%.
This last case study is dated, but it's a great example of how to marry landing page design with call tracking.
Ifbyphone, a now-defunct call tracking service, needed to improve the quality and quantity of their inbound call leads. Initially, their primary call to action "call to speak with us" was lost in distracting information.
After agency Closed Loop Marketing did their first round of redesigns to the primary paid landing page, total call count increased by 62%, and the average call time for each call (a proxy for lead quality) doubled.
Revisions in Round 1 included:
Visual anchor point at the top of the page.
Inserted primary call to action (click to call) at the top of the page and repeated six additional times.
Simplified the offer and made it easier to understand.
Assigned unique phone numbers to different landing pages.
Integrated with Google Analytics to create a pageview once phone call reached a certain length.
Tracking the call length based on URL and phone number allowed Ifbyphone to determine which pages/keyword-targeting combinations had the highest ROI.
If your company runs PPC campaigns segmented by geographic region, you can easily determine which geographic regions have higher conversion rates using a similar methodology (more later).
After the initial redisign, Ifbyphone came back to Closed Loop and asked them to push it further. This was the result:
Key changes:
Stronger colors and imagery.
Human face as focal point.
Much clearer calls to action.
Compacted display of detailed information.
Inclusion of video.
As a result, lead conversion improved by nearly 6%; lead quality remained stable. The extended project saw a 600% improvement from Ifbyphone's initial campaign.
Target phone numbers by region on landing pages
One final trick to offer: Behavioral targeting techniques with VWO, such as acknowledging the visitor's geographic region or referral site, can dramatically increase phone call conversions.

While this idea is not about call tracking, per se, VWO increased click throughs to their careers page by 149% with a small chicklet on the side of the page that acknowledged the visitor's location (e.g., Delhi).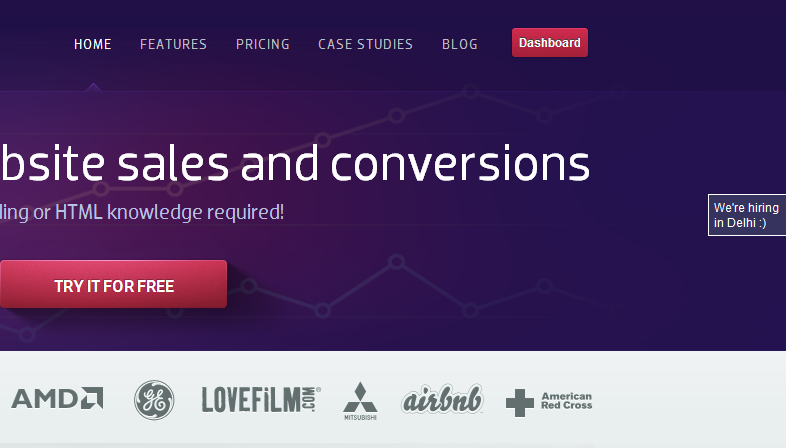 With those numbers, it's not hard to imagine that adding additional relevance to a page by saying something like, "Free [offer] for [city, state] visitors, call [local number] to speak with a representative" would lift conversion rates.
Just remember that being too invasive with your language could negatively affect your conversions. Research from eMarketer indicates that nearly 2/3 of people aren't fond of behavioral targeting once they learn about it.
Call tracking service providers
As expected, G2 offers a company-by-company breakdown for inbound call tracking providers: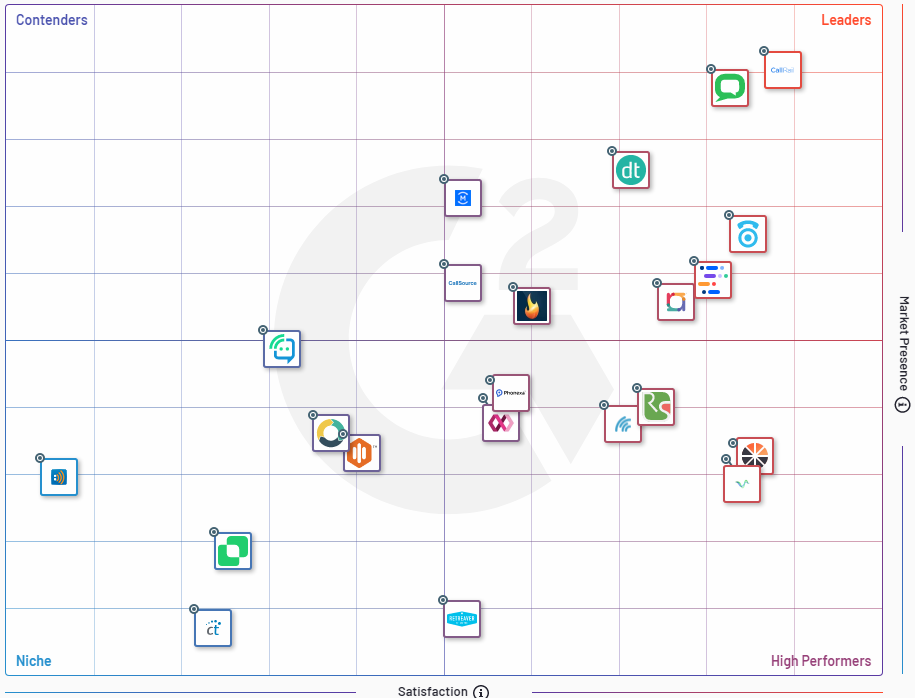 Marketing leaders include CallRail, Invoca, CallTrackingMetrics, DialogTech, and RingDNA.
Conclusion
If done well, closing the loop on phone-call data provides robust information about your prospects that can influence every aspect of your online marketing strategy—from discovery to lead nurturing, initial conversion, up-sells, and beyond.
Responding quickly to inquiries with detailed knowledge about the prospect also better equips your sales staff to answer questions.