Some of you out there may find this Google Analytics feature overview to be mostly a review. That's awesome! That means you're really taking ownership of your data. However, if you've never used any of these features, only experimented with them a little, or aren't sure you're using them correctly, you should read on.
From the time you set up your account and put your tracking code on your site, Google Analytics starts to capture and display a lot of data.
But the one thing Google Analytics doesn't know right out of the box is your business and your definition of a successful transaction or interaction on your website. By itself, the data doesn't tell a story; it gives no answers to specific questions about your visitors without help from you.
Some of the questions basic GA data doesn't answer by itself:
Which of the activities that visitors perform on your site equal success for your business?

Which visitor actions earn you money?
Which actions drive additional visitors or repeat visits?

Which visitor activity is signal? Which one is noise?

What are the specific circumstances that lead to success or failure?
What are the characteristics of a successful visitor?
Adding features like Demographics, Interests, and Ecommerce can help you see more about who your visitors are, the products you're successfully selling, and the revenue you're earning.
But there are three features of Google Analytics that really help you answer these questions (and many others) in a nuanced and detailed way:
When used properly, they can add meaning to your data, and transform it from flat tables of numbers to a story of how visitors are interacting with your website.
Armed with these details, you can making more educated decisions about how to serve your audience.
Segments: Extract more detailed answers by asking more detailed Questions
A while ago at An Event Apart conference, I had the privilege of seeing Jared Spool speak about user experience. One of the things that really stuck with me was the idea that in many cases, alphabetical order is the same as no order at all.
What? Really? No order at all?
Yes. It's a common default way of ordering information, but what makes alphabetical order weak is that it may not take into account important context cues that make the data meaningful to the person viewing the list.
In the case of looking at numerical data, a similar principle can be applied: sometimes looking at all the data is just as good as looking at no data at all.
Or, as it was captured in a quote from MeasureFest a few years ago: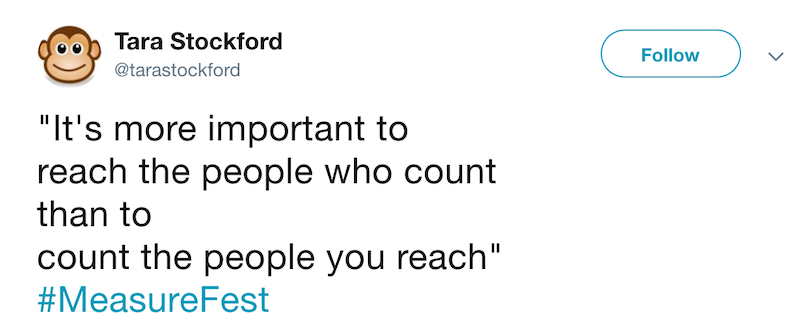 Segmenting your data is one huge step forward in discovering who, out of your counted visitors, are really the visitors who count.

You can look at your landing page report and see that your home page is the most popular landing page of your entire site. You can even see that it's the highest converting page in terms of volume of conversions.
Looking at all the data in the default view, you could infer that your home page is the absolute most important page for getting conversions on your entire site.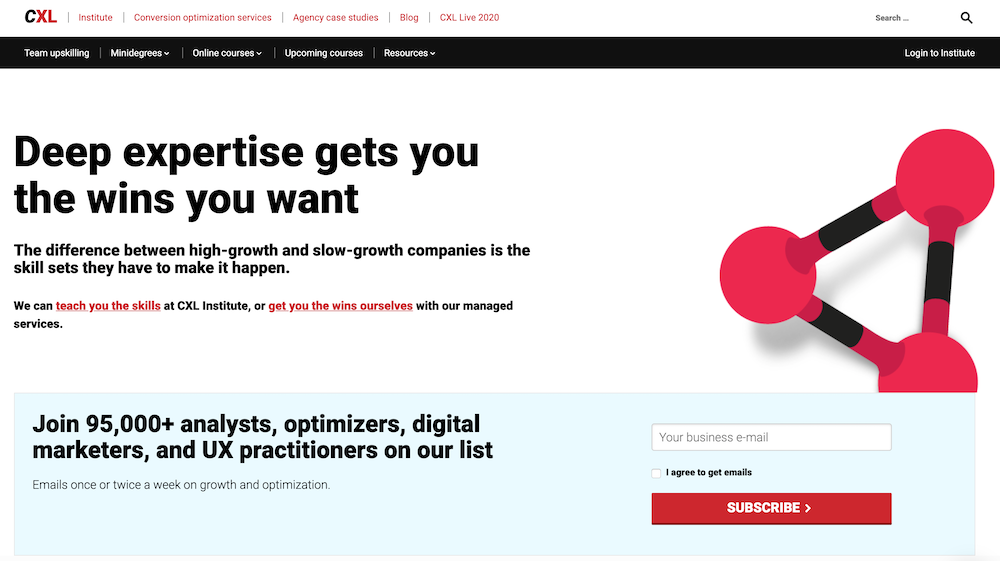 But you could guess that without ever looking at the numbers, because it's fairly common for home pages to be the first step involved in the user experience. So you're left with your #1 page for traffic and conversions as a basically meaningless statistic.
So how do we make that data more meaningful?
One of the fastest ways to add detail to your reports is by using segments (previously called advanced segments; according to Smart Insights, Google renamed this feature to encourage adoption among users who don't see themselves as advanced).
Quick facts about segments in Google Analytics
One of the biggest advantages of segments over other ways of filtering and organizing data is that segments can be applied over all your data at any time.
Many features, such as Goals and Filters, only affect the data from the time they're created going forward. Segments apply to all of your data, current and historical.
The only caveat to that "all time" strength is when you're creating a segment that uses a goal, an event, or other data point that didn't exist in the past. In this case, the segment will have no data prior to that point.

So how do we use segments?
By clicking the plus sign next to the "All Users" label above your data charts, you can start applying and creating segments. You can apply up to four segments at a time, and you do not have to keep "All Users" as one of your segments. Segments apply to your reports by splitting the data into buckets that you can quickly compare, like this: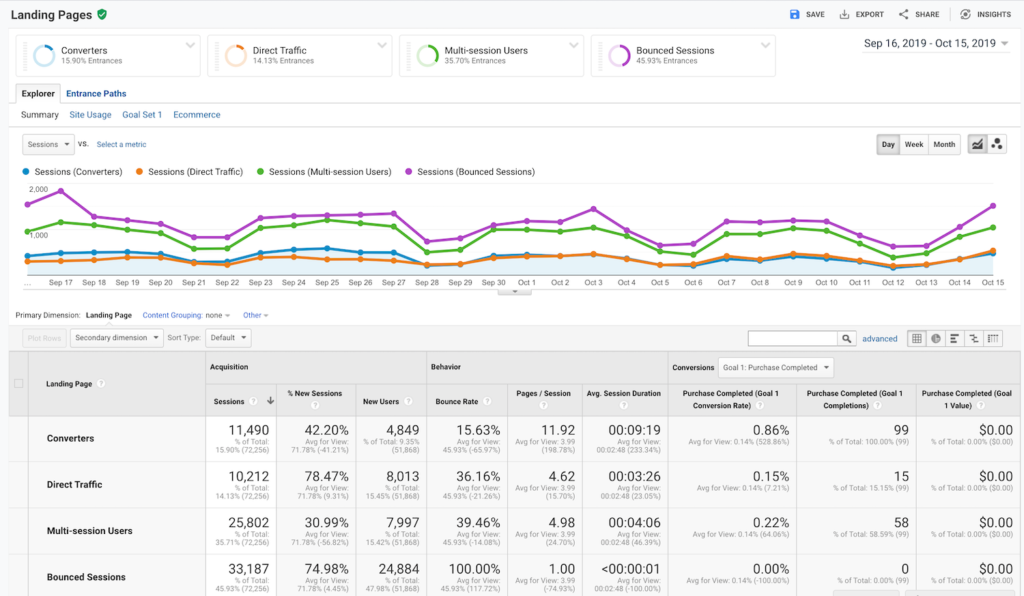 Not only are the summary area and visual charts now split to show us the difference between converters, direct traffic, multi-session users, and bounced sessions, but the individual line items will also be updated.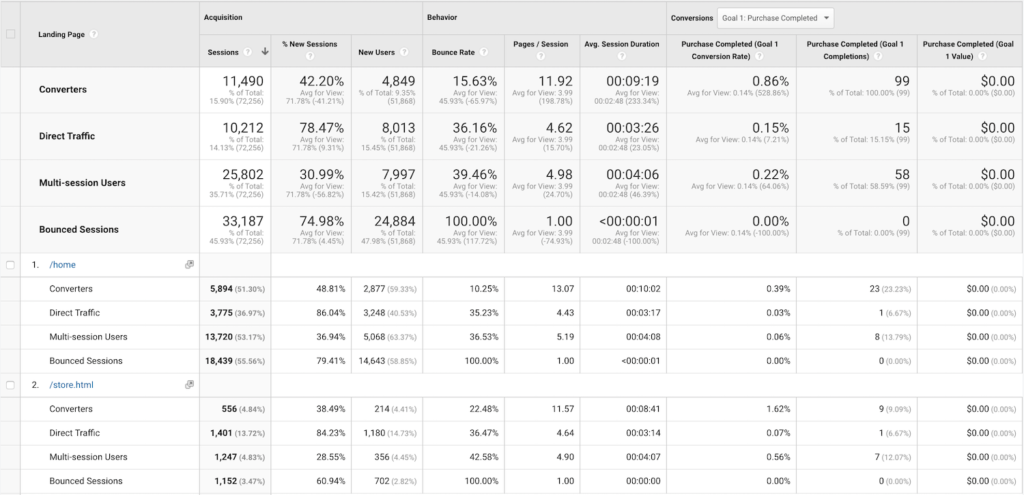 Segments built into Google Analytics have a number of useful traffic types to show you how factors such as traffic source or device affect your bottom line.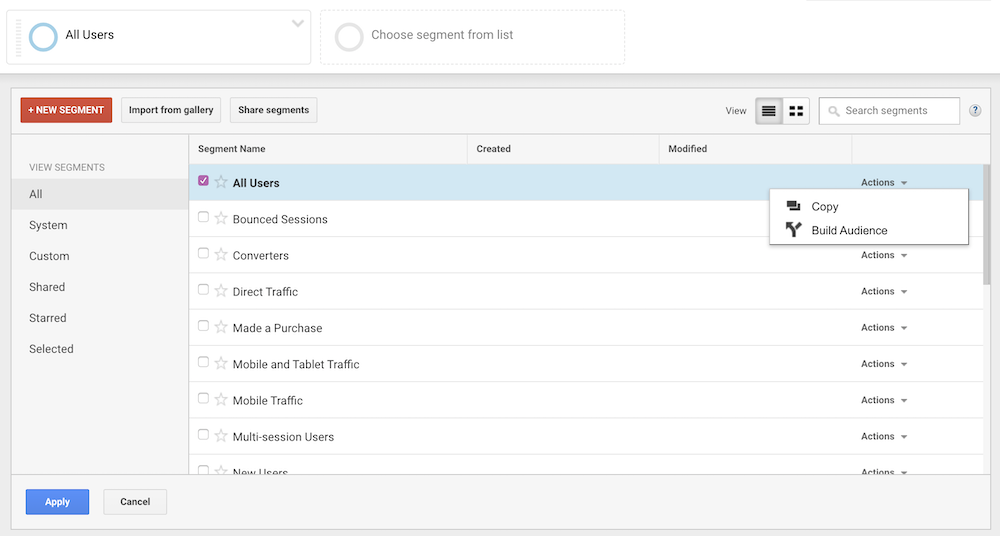 All the built-in segments are visible under the System tab available to the left when you click the default All Users. You can also create your own, or star specific segments for quick access later.
Clicking on the "Actions" button next to each of the built in segments gives you two options: Copy, and Build Audience. The first option does exactly what it says on the tin—it lets you create a copy of the segment, with your own additional changes.
The second option allows you to create an audience for the remarketing feature that connects your Google Analytics data to your Google Ads account. Anecdotally, I can tell you that the Google Analytics remarketing tie-in feature is extremely powerful for creating hyper-focused lists based on your site's visitors.
Custom segments are built by clicking on the red +New Segment button at the top of the Segments menu.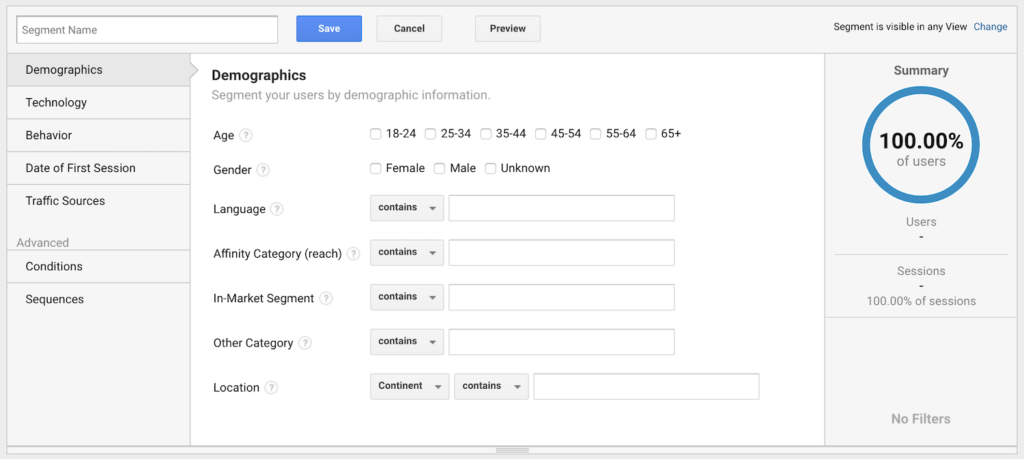 Google has created a few buckets for quickly creating groups of visitors—which they refer to as cohorts—based on some data buckets they've identified as critical to identifying which of your visitors matter.
The first, demographics, only works if you've enabled Demographics and Interests reporting, and may be limited due to efforts by Google to keep visitor data anonymous. The rest are based on data points that are part of standard Google Analytics collection processes.
If none of those accomplish what you need, you can create your own. These fully customized segments are built in one of two ways: as a conditional filter, or a conditional filter involving steps.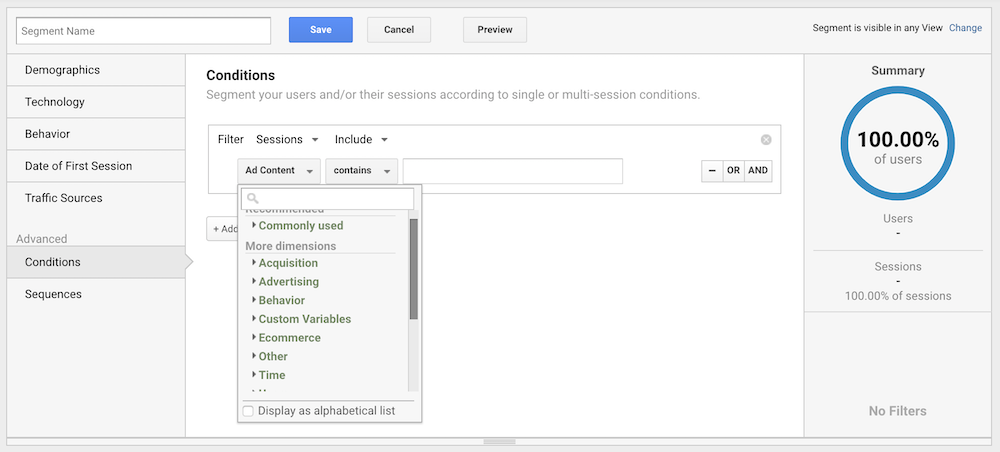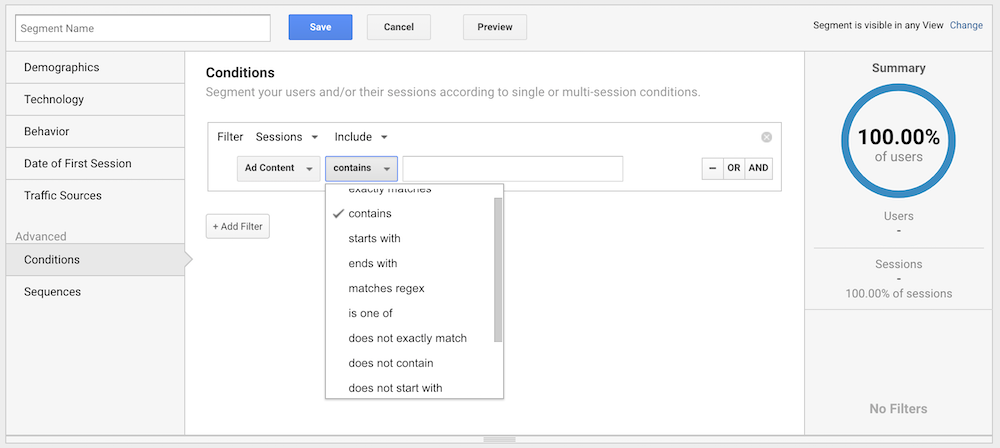 Both feature a full menu of dimensions and metrics you can filter on, and a set of rules you can select.
The sequences menu adds an additional layer of filtering, by allowing you to select visitors who have completed certain actions in a series of steps.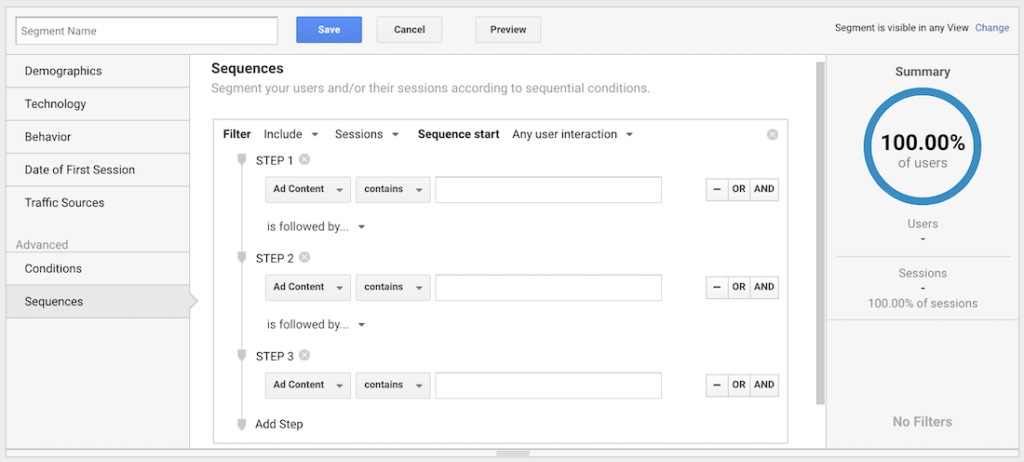 If you had an ad group called "Health Plans" driving traffic to your website so they could compare plans and pick one, your Goal 2 designation was "Request Quote," and your Goal 3 designation was "Sign Up," you could create a segment to see which of your visitors:
Arrived through Health Plans ad group;
Completed a quote request;
Did not finish signing up.
You can use this step-driven segment to see which landing pages are driving some interest, but not enough to complete the process. Not only does this provide you the ability to query your data for these specific conditions, but it also allows you to build an audience from this segment to remarket to people who didn't finish the process and encourage them to return and complete their signup.
Takeaways
Use the power of segments to expand the questions you're asking and paint a more complete picture of your visitors.
Not just "what pages did they visit?" or "where did my users come from?" Include questions like:
What age group of visitors are more likely to complete goals on my site?
Do mobile or tablet visitors bounce more often than desktop visitors?
Did first-time visitors convert more before or after the big website facelift?
Bonus tip: If you find that segments you've created or downloaded from other sources just aren't fitting, you can (and should) clean house at least once every six months to reduce clutter that can cost you time.
Double bonus: Check out this list of 16 segment ideas put together by Josh Braaten at Search Engine Watch. There are direct links to instantly add each one to your Google Analytics account immediately, and there's some created by GA heavyweights like Angie Schottmuller, Avinash Kaushik, Thom Craver, and Anna Lewis.
Goals: Define what success means
If your site is driven by ecommerce, you can still use goals to create fast views of other aspects of your site that drive conversions.
Like the name suggests, goals exist as a means for you to outline specific goals you want users to achieve on your site.
Quick facts about goals
You can only have 20 goals per view.
Goals cannot be deleted once created—only edited or paused.
Goals can be imported from the Solutions Gallery or shared via link.
Values can be assigned to goals based on a static value or the value of an event.
Once you've configured one or more goals, you will have data about visitors who complete them as "conversions" in the third column cluster of many of your reports.
In fact, goals are used as the primary method of showing conversions in many of the built-in reports:

Back when the Experiments feature existed, goals were the first metric of choice when creating a content experiment for A/B testing of pages: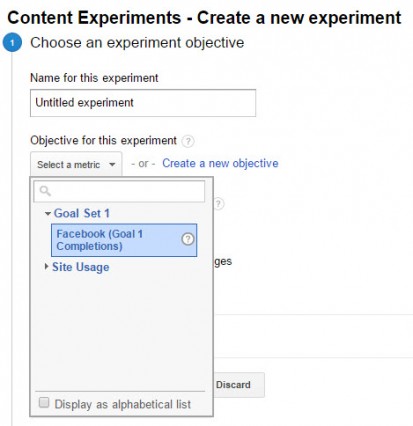 And as with most data collection features, setting up goals unlocks an entire set of reports. Goal reporting is the very first set of options underneath the Conversions banner in your left navigation.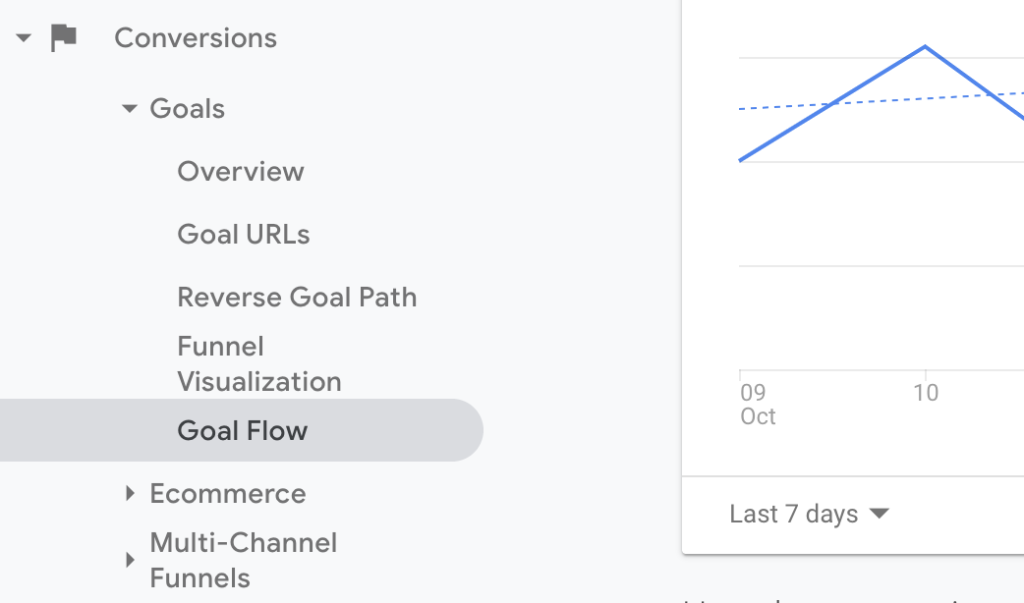 The wide use of goals as a conversion metric across Google Analytics reporting makes it easy for you to ask and answer the question: Are my visitors accomplishing the tasks I want them to when they visit my website?
Consider the following actions as good candidates for setting up as a goal:
A visitor filled out a lead form or an email signup form and went to a thank you or a confirmation page.
A visitor completed a purchase and ended up on a receipt page. (Yes, even when using ecommerce.)
Visitors performed an action on your site that triggered an event that could result in a lead or a sale, such as "Clicked a telephone link to call our sales department."
For people tracking apps: Someone who viewed at least three screens, because that's the minimum number of screens it takes to show someone their first ad.
So how do we set up goals?
To get started with goals, go to the admin area of your account and click on "Goals" under the "View" you wish to use for tracking conversions.

When you click the +New Goal button, you're given a choice of a set of templates, or a custom option.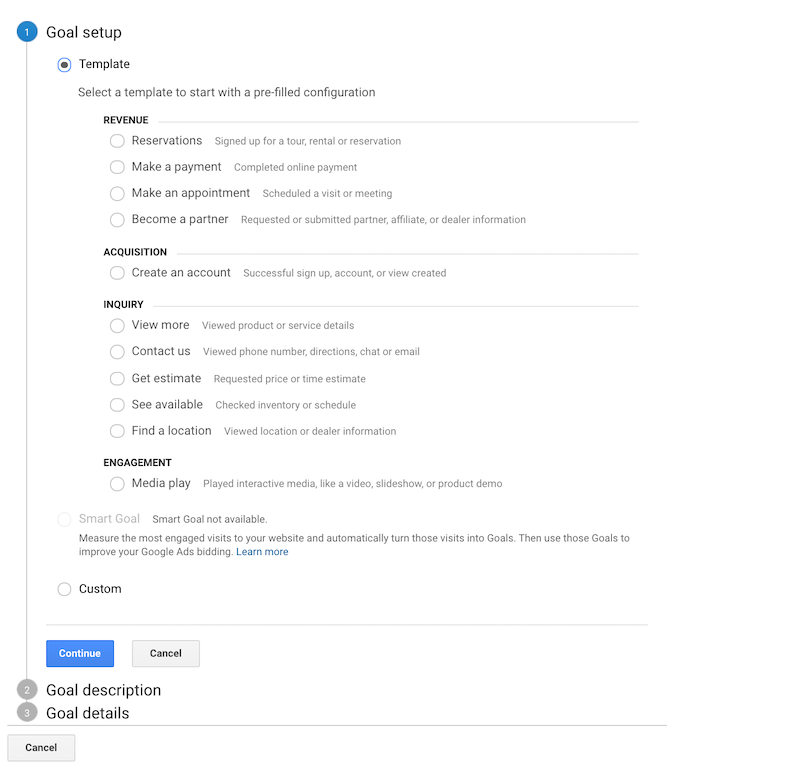 These templates are based on common use cases for goals, and the list you get may differ from the one seen above based on assumptions Google has made about your site content.
Once you choose a template or custom, you'll move to step two, goal description, where you name your goal and pick one of four possible types of goal measurement.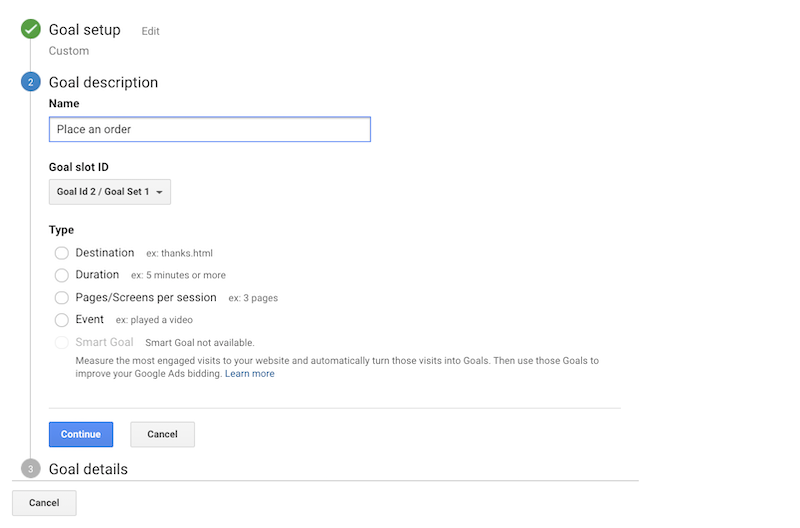 The four types of goal definitions seen above work as follows:
Destination: Choose a URL, such as a receipt page or a form signup page that indicates a visitor has completed an action on your site that has value to you.
Duration: Select a length of time in hours, minutes and seconds. Visitors who stay on site over this time threshold are counted as completing this goal.
Pages/Screens per session: Set a number. Visitors who visit more than this number of pages on a website or screens in a mobile app are counted as completing this goal.
Event: This detailed goal option allows you specify a category, action, label, and/or value of an event. Visitors who match the criteria outlined here will count as completing this goal.
The two biggest use cases for goals leverage the destination and event type options.
Destination is the obvious choice for lead generation tracking or any type of signup that takes a visitor to a "thank you" or a confirmation page. If you are asking people for any type of information and sending them to a new page afterwards, put that page URL in on step three of the goal creation page.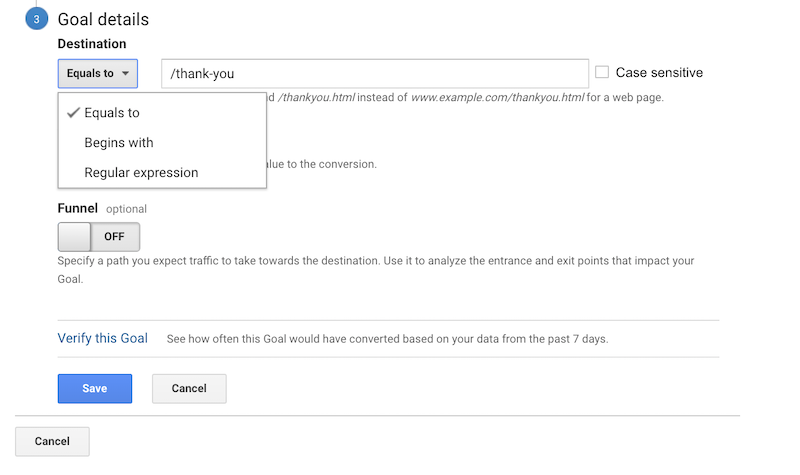 And again, even if you're using ecommerce to measure your transactions on your site, it's a good idea to set a goal for people who hit the purchase confirmation page.
For starters, it provides a way for you to debug ecommerce if your unique transaction and goal completion count are way out of sync with one another.
Goals are also the default conversion metric used in commonly used reports like Landing Pages and All Traffic, so using your purchase confirmation page as a goal will give you a faster view into conversion success when navigating your reports.
The other major use case for goals is tracking an event as a conversion.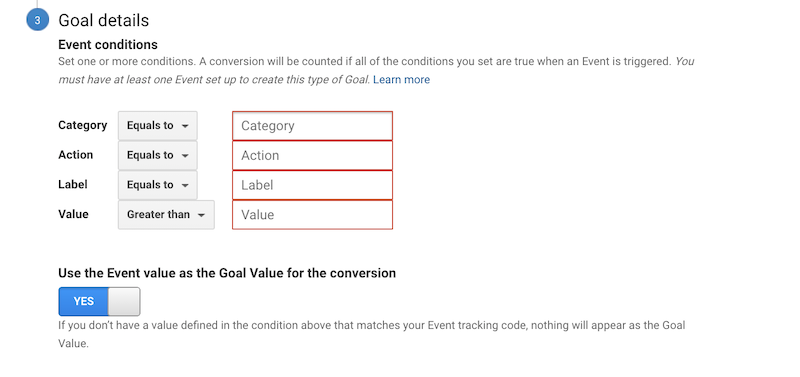 Every aspect of your event data is up for grabs when creating goals! Let's say you have a single email signup form with two checkboxes, one for a "deals" list, and one for an "events" list. No matter what the visitor picks, they are taken to the same confirmation page. That means Destination would be a poor choice to see if more people sign up for your deals or events list.
However, if you track those checkbox options as Events, you could set up one Goal for visitors who sign up and agree to be added to your "deals" mailing list…

And a separate Goal for tracking users that sign up for your "events" mailing list…

This allows you to quickly compare the performance of the two signup types in your reports that show goal activity.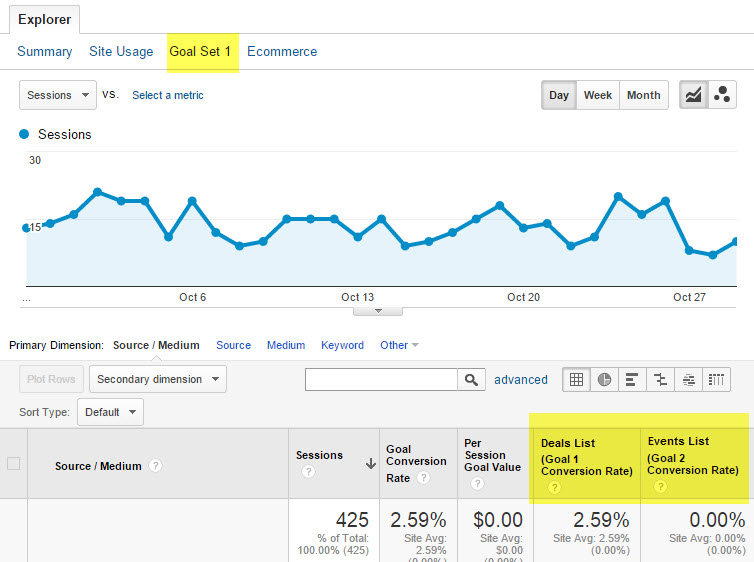 Once you've set up goals, you should test them (even if you use the Verify this Goal tool before creating it) by completing the conditions you set up in your goal and watching it appear in the Real Time reports.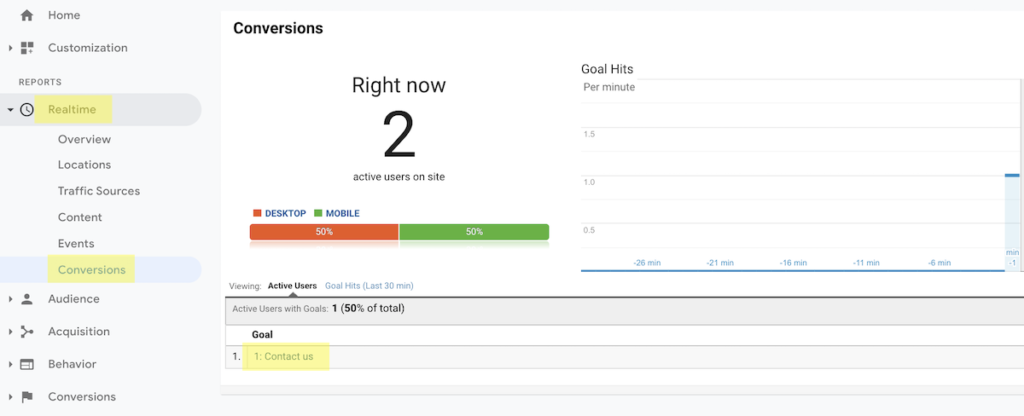 Remember: Goals are limited to 20 per view and cannot be deleted once created. However, there are two more ways you can avoid missteps with the limitations of Goals besides just launch testing them.
Verify your goals before you create them: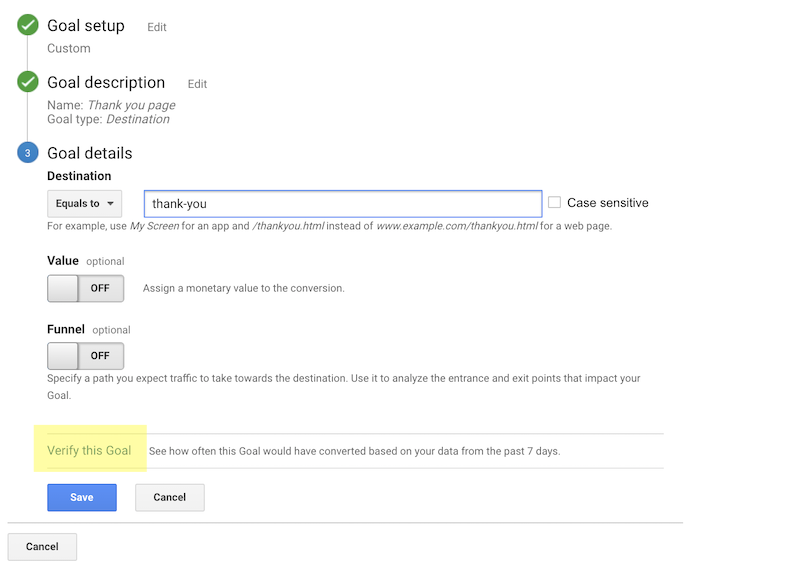 Create a new View to house experimental or atypical goals: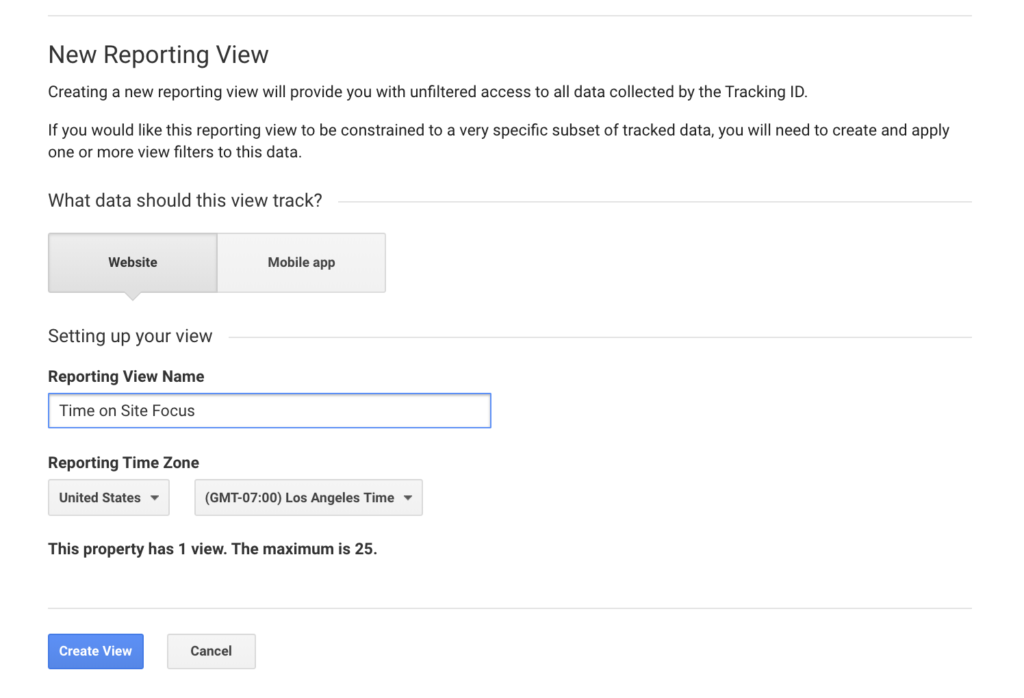 Takeaways
Goals are super simple to set up, bake into all of your standard reporting automatically, and allow you to start measuring conversions.
With the addition of events tracking, you can have detailed, nuanced goals based on activities visitors are completing on your site.
Always test your goals before you roll them out.
Events: Track the actions that drive your business
Events are something of a Swiss Army knife within the Google Analytics tool box.
If you can detect an action like a click, a form submission, or mouse movements like scrolling, then you can send it as an event to Google Analytics.
Implementing event tracking allows you to track many previously untrackable aspects of your website, like:
Video plays/pauses;
File downloads;
Checking filter boxes.
Add to that any other interaction that doesn't result in a new pageview.
It also opens up a set of reports within Google Analytics. Check out Google's Help Center resources all about Events for more details.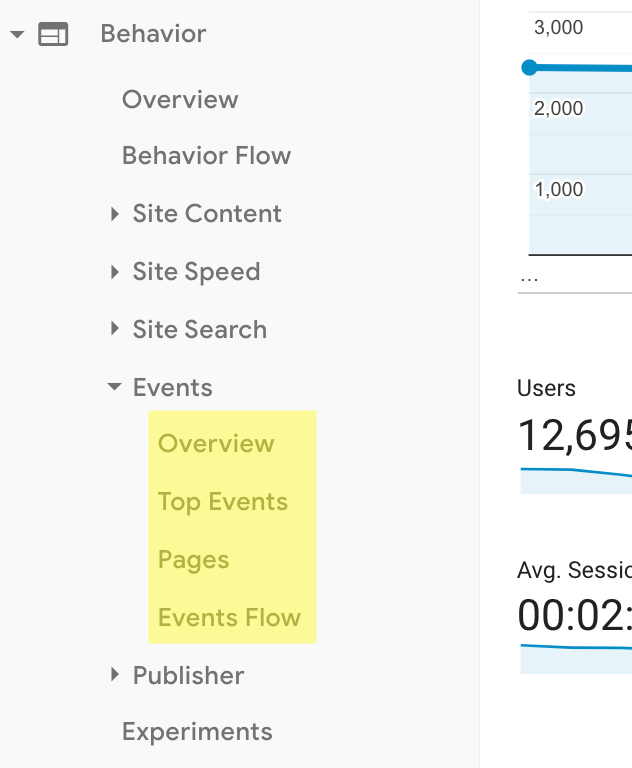 Check out the How to set up event tracking video on the Google Analytics YouTube channel.
Quick facts about events
Four parts are used for event tracking: Category, Action, Label, and Value. Label and Value are optional parts.
Goals and segments can be created using svent data.
Events can be implemented without coding through Google Tag Manager.
Bounce rate is reduced by default when using Events.
GA can only track 500 events per session.
By default, the only activity that Google logs on your site has to do directly with visits and pageviews. It can track where a visitor came from, where a visitor is located, the device they used, how many pages they visited, which pages, and how much time was spent.
This is fantastic information that can be turned into goals and segments that allow you to slice your data into meaningful pieces.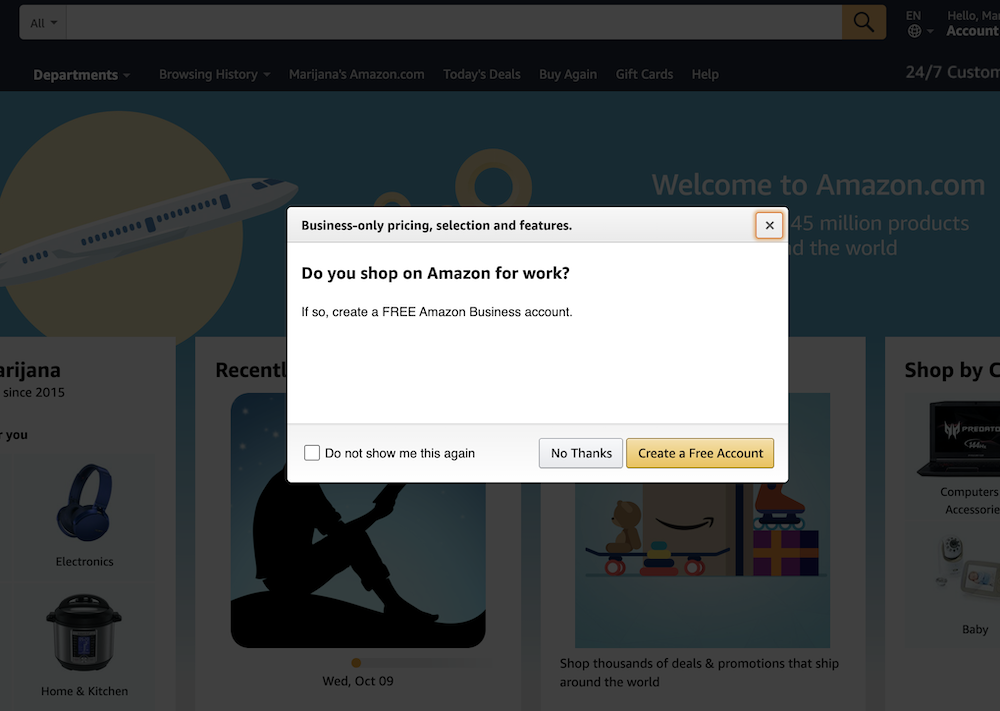 See that pop up window? You can track the checkbox that says "Do not show me this again," the "No thanks" button, and the "Create a free account" button (as well as the X and if a user clicks outside the modal window to close it) by using events tracking.
Events go beyond the standard visitor data to help you answer detailed questions about user behavior:
Did people watch my video?

Events can log flash and video events such as play, pause, and time watched.

At what point are people abandoning my form?

Event tracking can be used to show completed vs. abandoned forms, which fields were filled out, and which were skipped.

Are people using the share buttons?

You can use events to track these, capturing the share type, the social platform, and other details.

Is the popup/modal window effective at driving more interaction or sales?

Events can track non-pageload or AJAX clicks to show you who clicked the "yes" button and who clicked to close your pop up.

Do people who use search filters spend more money?

Log search filter use as an event and create segments from the filter data you capture to separate your ecommerce data. (Hint: Category as "Filter"; Action as the Filter group, e.g., "shoe size"; Label as the specific filter clicked, e.g., "9.5" or "8.")

Do people who download my free ebook also fill out the form?

Track file downloads as events; then create a goal for your form's thank you page. Use custom segments to show you which portion of your visitors downloaded and then converted, and which didn't.

How do we set up events?
Before you can start building reports on that information, you have to capture it.
There are many methods you can use to implement event tracking on your website. They're about as varied as your site itself, because it involves implementing new code.
Implementation can be handled in a number of ways:
Bottom line: there are a lot of different methods for tracking events, and it's up to you and your site development team to figure out which one will be the best fit for your site.
But before you roll out a single line of code, you should think about one of the most critical set up concerns of events:
What are we tracking?
Why are we tracking it?
How do we set up the labels so they will be meaningful in our reports?
See, the code isn't actually that hard to implement. But good organization of how you'll structure the information hierarchy so it's useful could be challenging.
By default, you get three labeling buckets: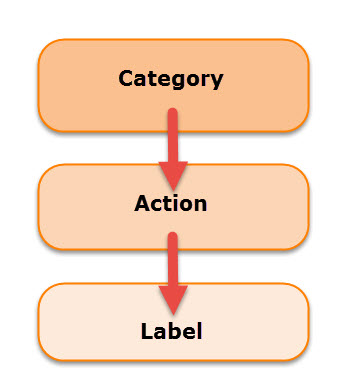 Treat these as you would Russian nesting dolls—keep the big ideas that hold the most small details on the outside, in Category. Think of this as the most generic noun that applies to your event.
Outbound links;
Files;
Videos;
Forms.
It doesn't necessarily have to be that broad. For example, if you know you're going to have a limited number of files for download, you might choose whitepaper, ebook, and custom report as your top level Category values.
Next comes the Action data point, which should encompass the action that was done on your site, such as:
Download;
Email;
Call;
Submit;
Play/Pause (for video);
Share.
And of course, like with Category, Action doesn't have to be fully generic, and it doesn't even have to be an action! If you have an action that has three distinct tiers of information, you could structure it more like this: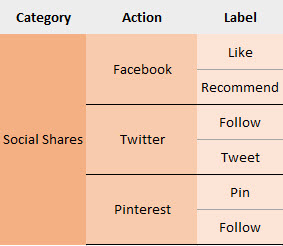 By structuring your labels that way, you could compare social channels at the Action level, and use the Label level for the specific social actions.
Or, you could flip that organization on its head, like this: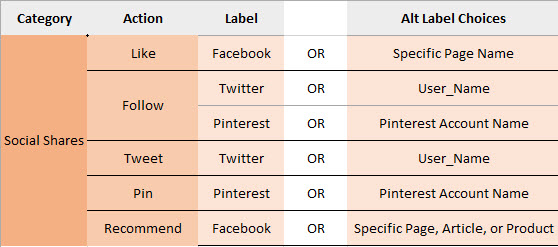 This way, the social actions are all treated as as the Action, and the Label becomes either the platform, such as Twitter or Pinterest, or you could get really specific with your Labels and call out which page was liked, or which account was tweeted at, etc.
So far so good. The important thing is to make sure you pick one Category/Action schema and stick to it.
Labels are the last tier of, well, labeling your events. This is where the granular, specific information goes. Say you had a form that allowed people to pick their favorite color as part of a poll to determine your new product line.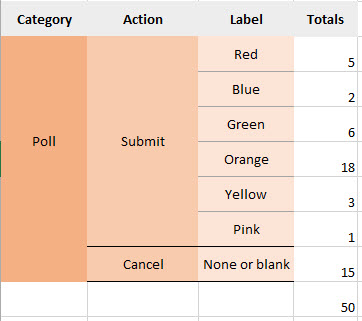 At the Category level, you could see that 50 people interacted with your poll, the total number of interactions with your event called Poll.
At the Action level, you could see that 15 people cancelled or abandoned your form, and 35 people submitted a form.
At the Label level, you would be able to see which specific poll options were the most popular. (We now know it's Orange by a landslide!)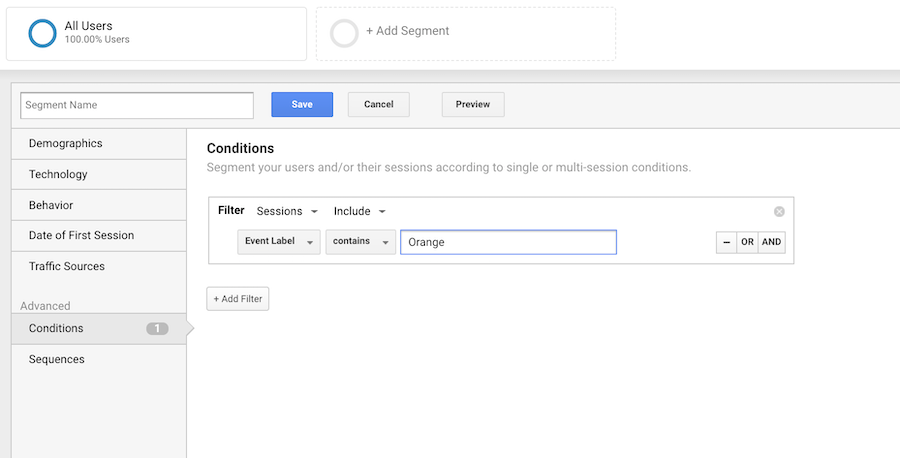 But you won't be able to have any kind of meaningful insights or reports if you aren't consistent with your labels. Take the time, sit down, and come up with the following details before you roll out events tracking:
What are we tracking?

What are the highest level things? In other words, what do we use as Categories?
What are the actions or second-tier things we need to track? In other words, what are our Actions?
What are the small details we want to capture? In other words, what are the Labels?
If you discover a hierarchy you set up isn't working out the way you'd like it to, then by all means change it. Just make sure you make these types of changes consistently, so you don't end up with a mix of conflicting data points.
It will be worth the work for all the ways you'll be able to leverage your data. And don't be afraid to discontinue event tags that are no longer useful, like temporary ones used to detect on-site errors after a feature change. Rogue, orphaned, or mistakenly collected data will only slow you down.
Takeaways
Events are a versatile and powerful way to add interaction data to your reports. You can build goals based on event data to treat on page interactions as conversions. You can build segments around them to answer questions like "Do users who experience errors still convert?" and "Which pages are my social sharing buttons being used on the most?"
But like all powerful tools that let you add data, you'll need consistency and a firm idea of what questions you intend to answer with the data, or you risk collecting junk data. Stay diligent with your naming conventions!
Bonus: Check out this in-depth guide by Anna Lewis on events, their uses, and how to implement them. (It's a little dated, as the code examples still reference Classic GA, but still valuable for the methods and use cases outlined.)
Double bonus: Jim Gianogilo created a slick jQuery based method of measuring form input that can help you track which fields users are avoiding, or at what point users are abandoning forms.
Pulling it all together
Create events that log meaningful activities on your site so you can discover the detailed impact those actions have on your ability to drive sales, referrals, and traffic.
Register activities like page visits or events as goals to monitor the actions your business considers conversions.
Use segments that leverage your goals, events, user demographic, and visitor behavioral data to do deep queries on your data.
All of these are easily accessible ways to add critical depth to your data, and allow you to ask detailed questions about who your visitors are, what they're doing on your site, how they interact, when they take the actions that improve your business, and start making more educated assumptions about why they behave in certain ways.
Bonus recommendation: Head over to Avinash Kaushik's blog, Occam's Razor, for tons of extremely insightful, detailed examples of ways to look at your Google Analytics data in a more meaningful way.
Not only does he provide a smarter way to approach your data, but he regularly posts links to reports, segments, and other goodies you can plug into your Analytics account to jumpstart your adventures in measurement.
(It doesn't get much cooler than that… if you're a data nerd, anyway.)