Become great at Adobe Analytics
Adobe Analytics is considered the Rolls Royce of the digital analytics tools. It is super fast, it allows you to build very powerful reports, conduct deep dives, and avoid data sampling.
Online course:
Adobe Analytics for beginners
By Fiona De Brabanter,
Social Media and Strategy Manager @ Candriam
Course length: 5h 22min
Start 7-day trial for $1
Adobe Analytics is a leading digital analytics tool for measuring the performance of your digital assets (websites, mobile apps, and marketing campaigns).
If you already know Google Analytics or digital analytics as such, it's actually quite easy to get going in Adobe Analytics. There are some critical differences, and you will learn what they are.
This course will help you gather actionable insights with Adobe Analytics to make informed decisions.
What this course will teach you
In just 5 hrs and 22 mins you will:
Get an understanding of key concepts of Adobe Analytics, and how to use different metrics.
Explore the Analysis Workspace with reports, dashboards, and other tools of Adobe Analytics.
Look at how to set up and track campaigns, and how best to leverage Report Builder.
Create and interpret mobile, video, path, visitor profile, retention, and other popular reports.
Use the powerful custom segments and calculated metrics features.
In just 6 sessions, you'll be able to…
Have a clear understanding of the terms and metrics used in Adobe Analytics
Understand conversion and traffic variables
Be able to create and manipulate reports, use metric- and item-level reports
Build and share dashboards
Create custom dashboards in the workspace
Know how to generate management reporting dashboards
Create and use calculated metrics
Set targets and alerts
Work with ecommerce reports
Track campaigns and leverage marketing attribution
Get data into Excel with Report Builder
Be able to create and apply segmentation effectively
Be able to set up and review conversion funnels for sales, leads, and other outcomes
Understand customer behavior for key conversion journeys
Be able to measure and monetize channel performance
After taking this course, you'll be able to navigate the reporting interface efficiently, create engaging dashboards to answer stakeholder questions, and configure reports for effective decision-making.
Using hands-on exercises, you'll learn how to segment your data, create calculated metrics, implement powerful visualizations for analysis, perform more sophisticated and intelligent analysis on marketing performance using attribution metrics, and share your reports.
This course is for you if you…
Are a marketer or an analyst looking to leverage the benefits of Adobe Analytics
Already know Google Analytics, and are looking to add on Adobe Analytics skills.
Are looking to optimize your website, mobile app, and marketing
Want to learn how to use Adobe Analytics successfully after implementation
Know there's more to Adobe Analytics than the reports you occasionally look at, but you don't quite know where to start.
This course is designed for marketers, product managers, IT, and communications professionals who need to understand their customers' online behavior, web content performance, and campaign ROI using Adobe Analytics.

This course is NOT for you if you…
Are totally new to the digital marketing landscape
Have no basic knowledge of what digital analytics is
Don't like data
Are looking for a guide on the technical implementation of Adobe Analytics

Marianne M.
I feel so much more confident in analysis and optimization after taking CXL's courses.
I learn practical techniques that are applicable to any business from the best in class.

Anthony T.
Using the techniques and strategies in CXL, I now have a method and foundation to support my work.
It gives me the confidence to believe I am moving in the right direction, that I am investing my time effectively and efficiently (AKA not guessing anymore).

Bjørn S.
I thought I was quite proficient at analytics, but taking this course was a huge, well-deserved slice of humble pie.
It took me from the top of mount stupid, down into the valley of despair, and across to the foothills of the slope of enlightenment. Worth the time.
Designed for marketers looking to get organized, optimize, and improve their marketing campaign efforts
This course is appropriate for any level of marketing expertise and anyone looking to improve how they build, execute, and launch marketing campaigns.
Students should have experience building or working on marketing campaigns and projects to benefit most from the framework and strategies presented in this course.
Fiona De Brabanter
Social Media and Strategy Manager @ Candriam
Specialized in Digital Analytics and Conversion Optimization, she has consulted with some of the biggest brands in Belgium and trained hundreds of people to do it themselves. She likes nothing better than getting to the good stuff and skipping the fluf …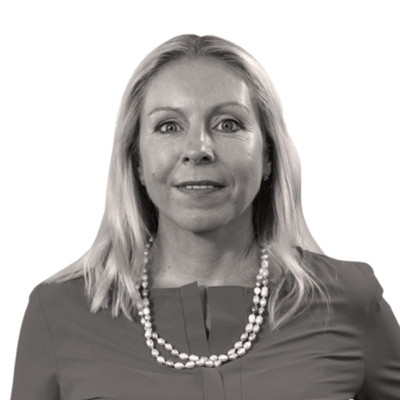 Specialized in Digital Analytics and Conversion Optimization, she has consulted with some of the biggest brands in Belgium and trained hundreds of people to do it themselves. She likes nothing better than getting to the good stuff and skipping the fluff.
Before focusing on all things data, she built and maintained the websites of some well-reputed private bankers. Her clients were interested in their site performance, which lead her to discover the greatness of Digital Analytics in 2006.
Your full course curriculum
Adobe Analytics for beginners
1
Starting out with Adobe Analytics
Lesson Objectives:
Know your key business objectives and how to measure them
Understand how Adobe Analytics collects data
Introduction to Analysis Workspace
2
Navigating Analysis Workspace
Lesson Objectives:
Explore the Analysis Workspace menu options
3
Building Workspace projects
Lesson objectives:
Now that you are familiar you with the Analysis Workspace interface elements, you will create a project and add components (dimensions, metrics, segments, date ranges) to the freeform panel.
Drilling down to the right data points.
4
Visualising data in Workspace projects
Lesson objectives:
Bring data to life with the visualizations options Analysis Workspace has to offer.
Learn skills and actions that will help you provide powerful insights to your organization in the most consumable format.
5
Expand your skills in Analysis Workspace
Lesson objectives:
Make it easy for others to use and understand your findings.
Curate and share components and projects.
Use (custom) templates to enable novice analytics users.
6
An introduction to Report Builder
Lesson objectives:
Install & login to Report Builder
How to use Report Builder
Helpful tips & tricks
Show off your new skills: Get a certificate of completion
Once the course is over, pass a test to earn a CXL certification.
Add it to your resume, your LinkedIn profile, or get that well-earned raise you've been waiting for.
Show off your hard-earned skills and strengthen your profile.
LinkedIn found that people who add credentials to their profile receive 6x more profile views than those who don't.
Add your certificates to your profile, share your accomplishments with the world, and join our alumni network.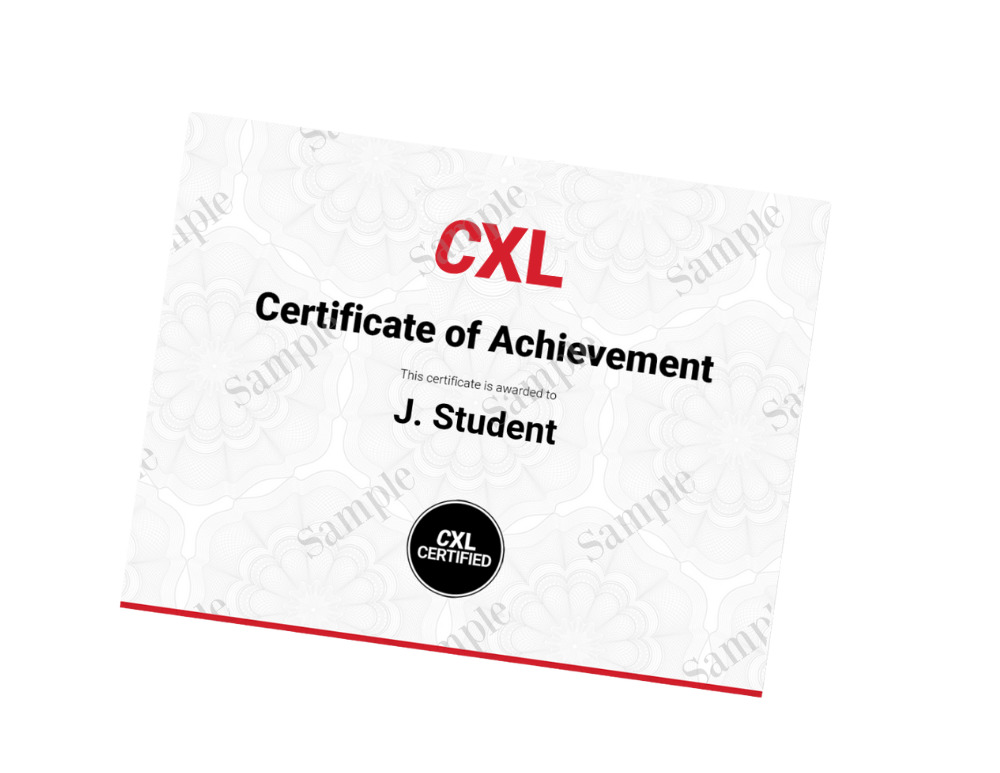 Learn marketing on the job.
Get better results with networking.
Our Marketing playbooks community gives you peer support for every marketing task you face.  90% of marketing tasks are not unique. Someone has already figured it out. Achieve more with less hassle.
Access our library of thousands of marketing playbooks, each showing you how to do a specific marketing task in 10 steps or less, with real-time peer support.
Join our community of marketing experts, ready to support you in getting that promotion or master new strategies, skills, and channels.
Network with some of the world's best marketers and companies and get noticed, hired, or endorsed.
Subscribe to CXL and get access
90+ courses (full list here) on all aspects of data-driven marketing (new courses added every month)
10 minidegrees that give you advanced level skills
Playbook community with 2500+ instructions and peer-support
Got a team, multiple users? Get our Teams All-Access plan instead.
The CXL guarantee
7-day no questions asked money back period
You can immediately apply learnings and improve your results.
Need help convincing your boss?
Click here for a pitch deck, swipe files and tips.
Subscribe to CXL
All plans come with a 7-day trial for $1.
Get access to this and 90+ other training programs.
See plans and pricing
or
Request demo (for teams 5+)
Some of the companies that train their teams at CXL: