The SEO game is changing. Long gone are the days when all it took to rank on Page 1 was a good keyword choice and a few backlinks.
Google's search results are becoming so much more than 10 blue links, in part because those links are now richer and more interactive—and sending fewer clicks to sites.
A new concept is replacing the traditional SEO approach. Instead of monitoring and improving organic rankings alone, you need to embrace a more integrated strategy: on-SERP SEO.
You'll be able to get more business value from each user query, regardless of whether that query generates a click to any website. Here's how to do it.
What is on-SERP SEO?
On-SERP SEO is the process of optimizing your site's visibility on the first page in a search engine, aiming to occupy as much space as possible within the results page.
It's also about taking each search query as a whole, instead of optimizing for and monitoring a single position.
Let me explain this via an example. If you search for "pizza" on a mobile device, here's what you get: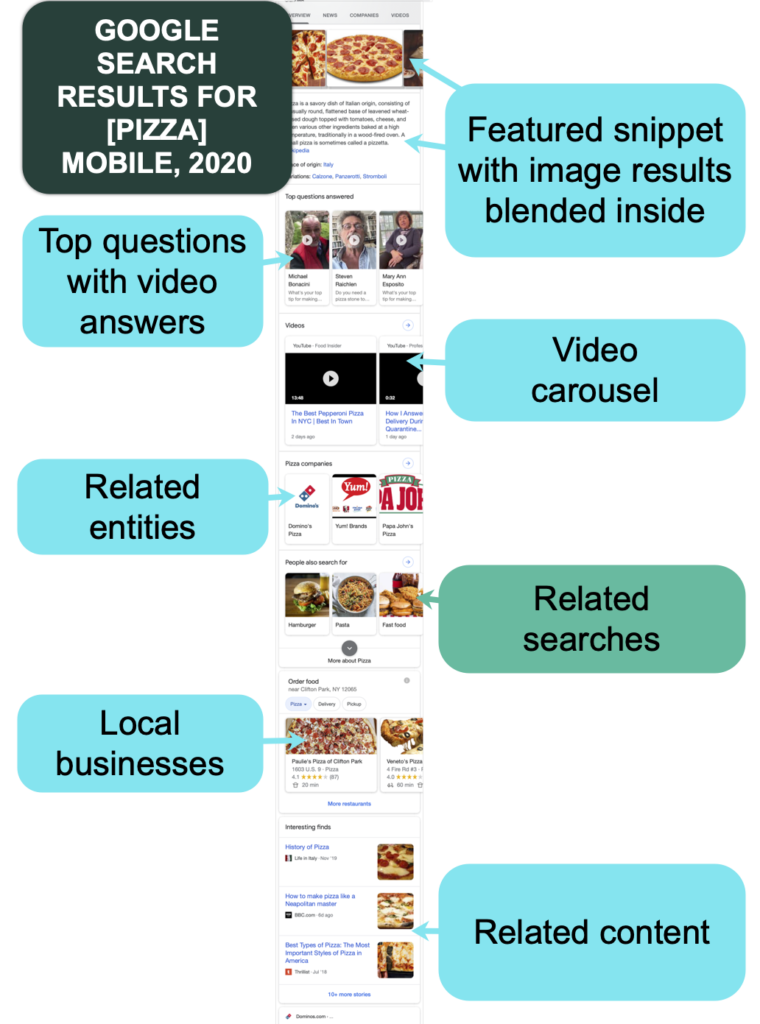 Can you see any traditional organic (i.e. blue, clickable) links here? Do you see the point I'm trying to drive home? Organic rankings are no longer enough for organic visibility.
Instead of working on getting listed within organic rankings, you must now consider:
Appearing in the featured snippet box (or not, more on that below);
Have video show up in the video carousel;
Get listed as a related entity (i.e. brand);
Ensure your site shows up if a user clicks any of the "related searches";
Have content for the "Interesting finds" section;
And, if you own a pizza restaurant, show up as a local business if a user searches nearby.
Each Google SERP is unique and requires an original approach to try and get as much exposure for your brand as possible.
Why is on-SERP SEO such a hot topic?
On-SERP SEO isn't a new concept, but as Google SERPs become richer and more interactive, focusing only on the standard 10 positions is—and will continue to become—less and less useful. You need your brand to be out there, everywhere, every time a user types in a relevant query.
Things can get even more complicated. For example, ever since Google's featured snippets got de-duplicated in 2019, there's no longer a simple answer to a seemingly simple question: Should I rank #1 for my target query?
Google's featured snippet deduplication means removing a page from organic results once it gets featured. So, if your page was previously ranking first organically and held the featured snippet, it now retains only the featured snippet.
Is that a big deal? You still appear atop Google, right? Well, not all organic listings are created equal. Every featured snippet looks different, and, consequently, there's no way to know which are more likely to trigger clicks.
In fact, some featured snippets have a much lower click-through rate than top organic positions: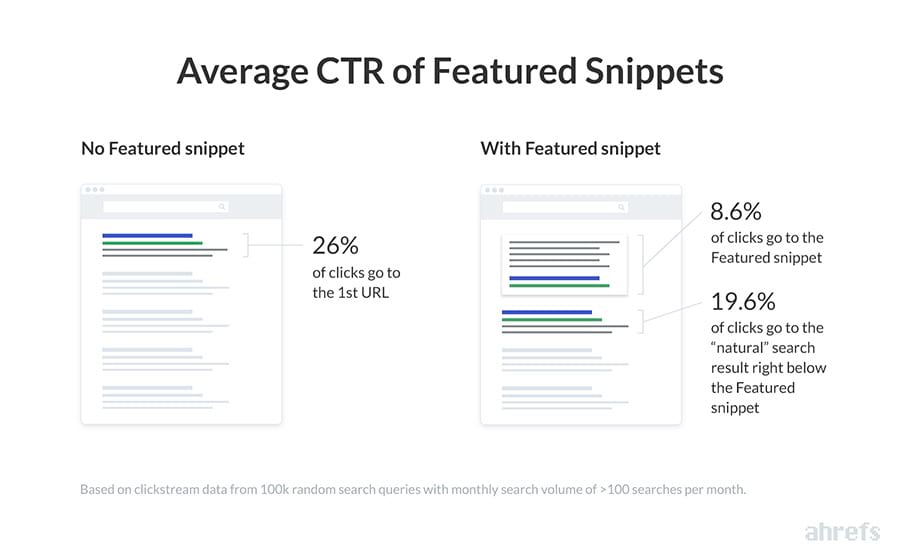 When your page gets featured, you may find yourself wishing you instead ranked among the standard organic results, even if that's now considered the second position.
And yet, it remains a tough choice: Do you want your pages to get featured and appear atop all organic results, or would you prefer an organic listing?
This is where the concept of on-SERP SEO comes into play. You should make these decisions on a SERP-by-SERP basis:
What is more clickable?
An information-based featured snippet filled with third-party information (e.g., someone else's image, links to related topics, etc.) that appears first;
A rich snippet signifying a commercial intent, with every bit clickable and leading to your site.
This may be up for testing, but in this case, I'd take the rich snippet, even though it shows up under the featured snippet: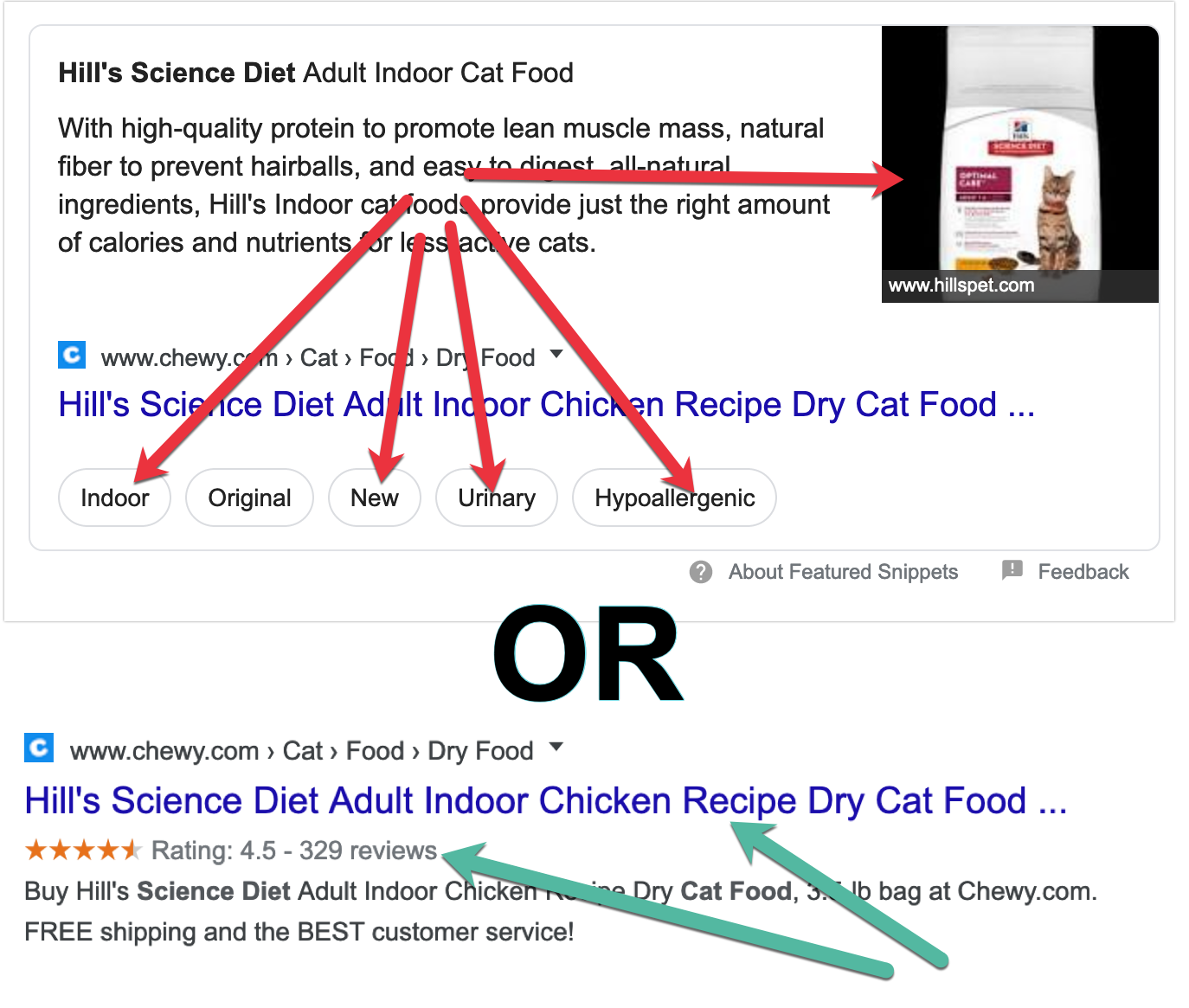 Next question. What other search elements should you optimize for within this particular search result?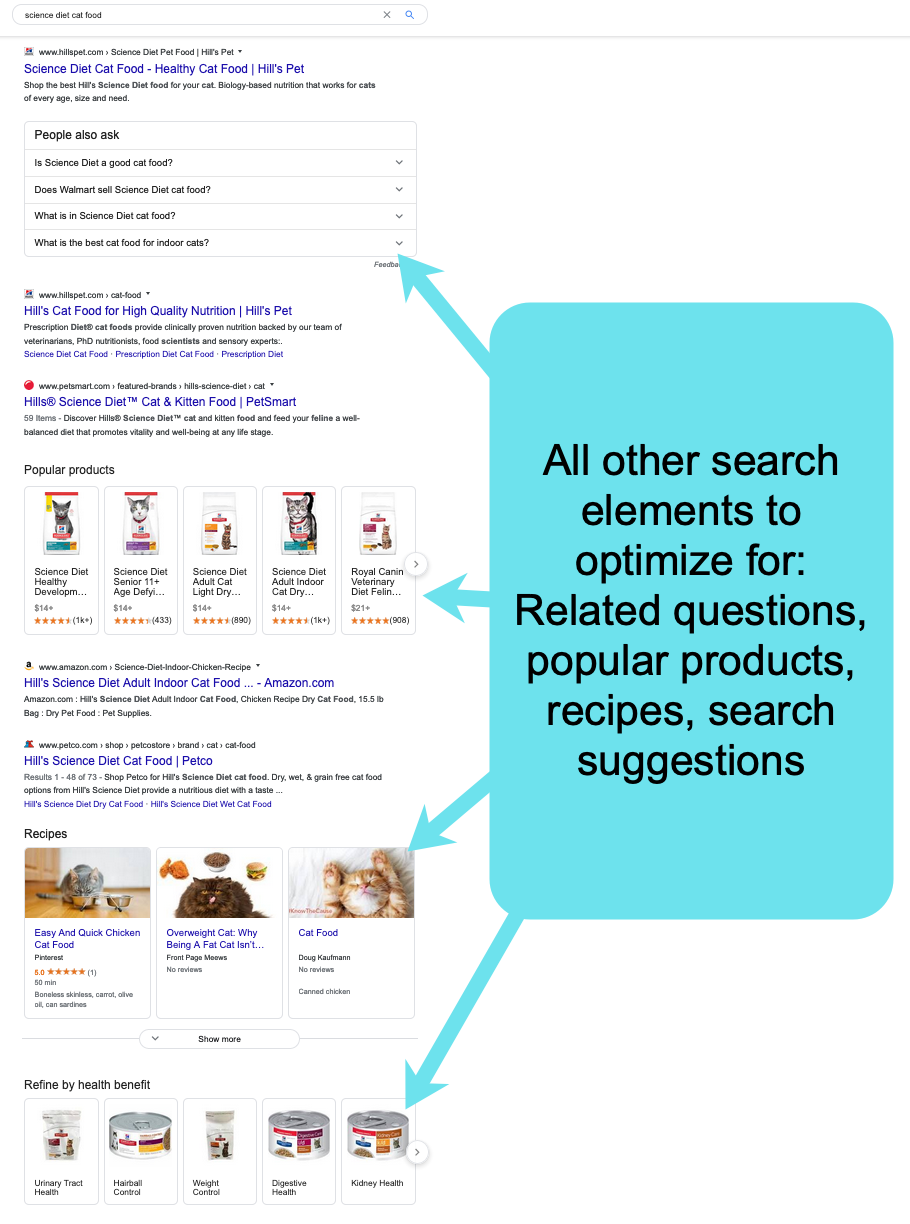 This kind of analysis is what we need to do for each of our core target queries.
How to optimize for on-SERP SEO
Your first step is to identify which content assets and tactics can help you optimize for each query. The exact type of content that's most useful varies based from one search results page to the next.
So, your first step is to search for your target query in Google—using both desktop and mobile browsers—to identify your best course of action. (If you're trying to scale this process, think of query syntax, not just queries, something Kevn Indig details here.)
Currently, Google SERPs consist of two groups of elements:
On-SERP elements we can optimize for;
On-SERP elements that change buyer journeys.
1. On-SERP elements we can optimize for
Google has added features to search results that, based on its data, are helpful for searchers. For some SERPs, these features may be images blended into SERPs; for others, they may be news sections, shopping results, etc.
Let's discuss the most frequent elements that we can optimize for to generate more brand visibility within one search journey.
1.1. Video carousels
Video carousels show up for an overwhelming number of search queries, both on mobile and desktop results. They also take up a good deal of SERP real estate, especially on mobile devices.
On mobile SERPs, Google often generates a clickable timeline of the video, which allows users to click through to a part of the video that covers a specific point: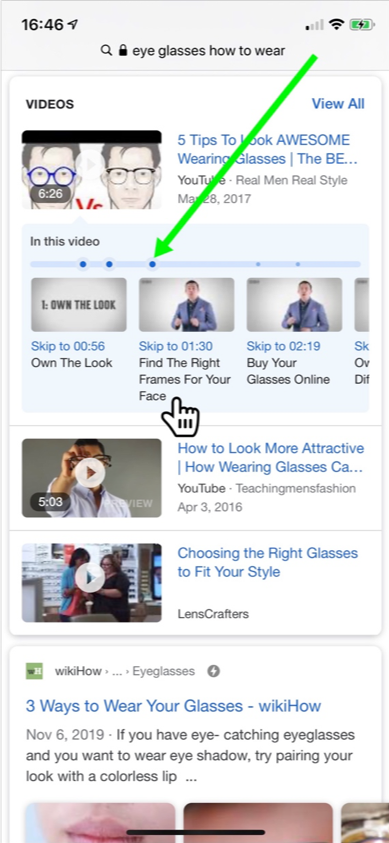 When it comes to on-SERP SEO, video carousels are an obvious and easy search element to target. YouTube videos are quite easy to optimize for in Google's carousels, so I always recommend creating a video version of each and every content asset you create.
With tools like InVideo, this process is a breeze. It takes literally minutes to turn your text content into a professional-looking video:
Select "Article-to-Video" option, and copy-paste your takeaways.
Select a template.
Once the tool generates your video, edit it to add your own images (e.g., screenshots) and make sure everything looks good.
By default, your video includes subtitles and transitions (good) but also stock photos and background music (not so good). You can change and adjust everything, depending on how much time you want to spend on it.
It's easy to see where this strategy can be abused, but it's also easy to imagine its value for a process-driven post with tons of screenshots or GIFs.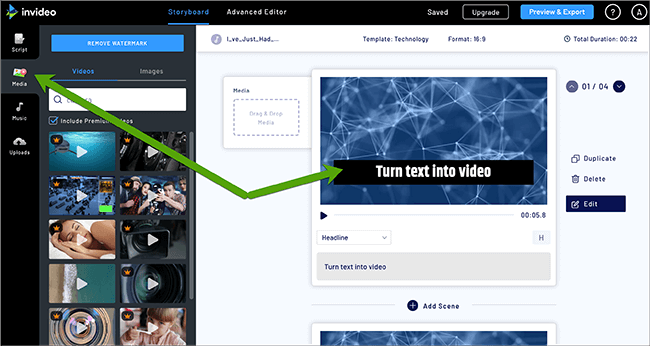 1.2. Image results
Images are also popular search elements that sometimes take up the whole above-the-fold part of the screen.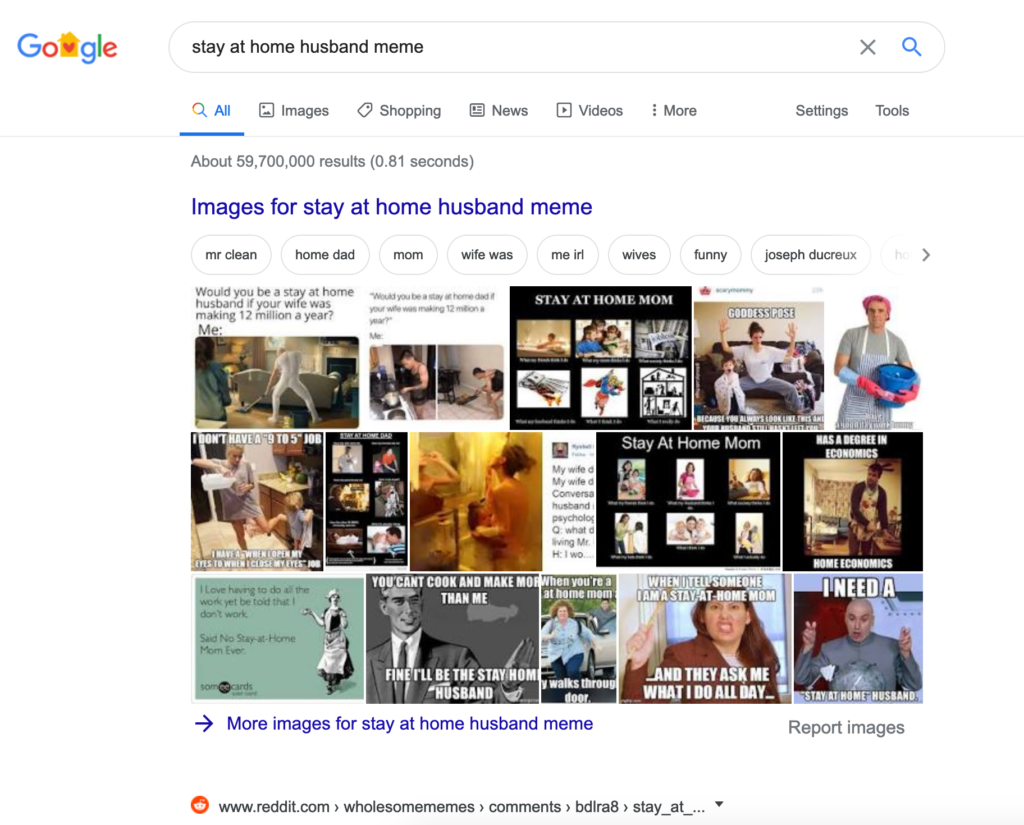 There's no specific trick to appearing in this section, apart from implementing basic image SEO and generally making sure you have images on each page of your site.
A cohesive branding strategy for your visuals is a good idea, though. Those images may not warrant a click, but they may help searchers recognize and remember your brand. Make sure all images on your site include your logo and follow a recognizable style.
1.3. Recipe carousels
Recipe carousels show up for just about any food-related query.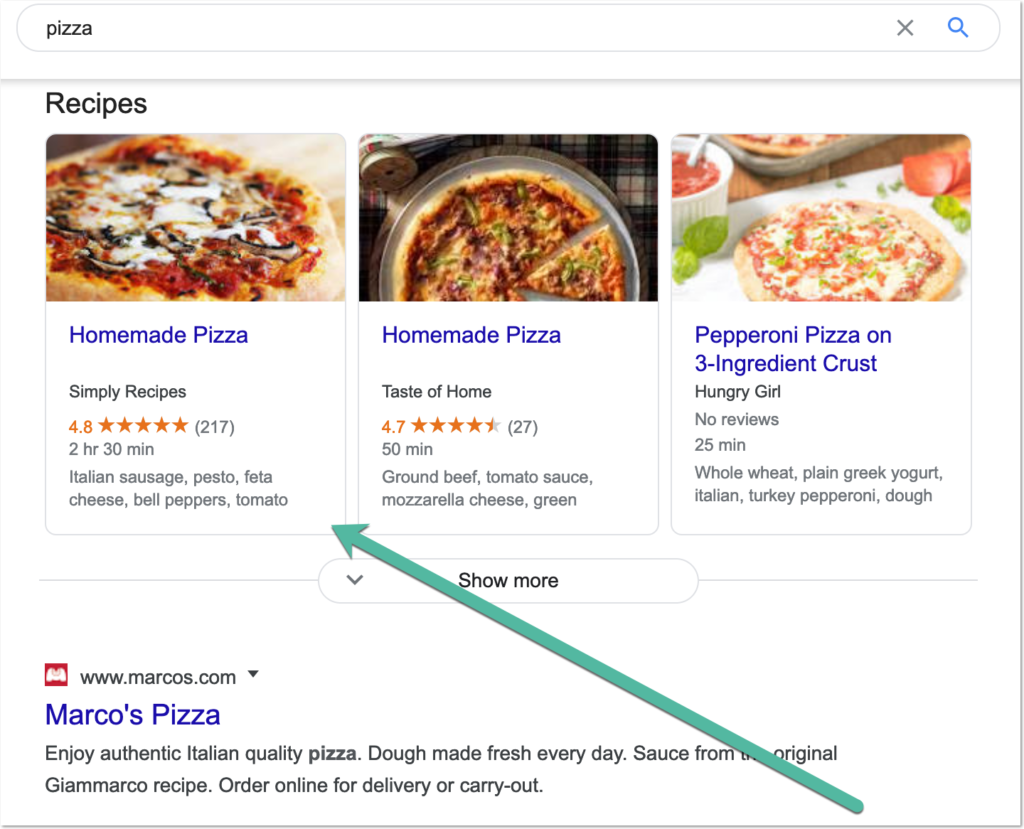 If you post recipes on your site, using Recipe schema will help your content get included into in-SERP recipe carousels. All of the recipe plugins listed here support schema, so optimizing for this search element is quite doable.
1.4. Local packs
Local packs dominate search results whenever Google expects users to go and do something locally.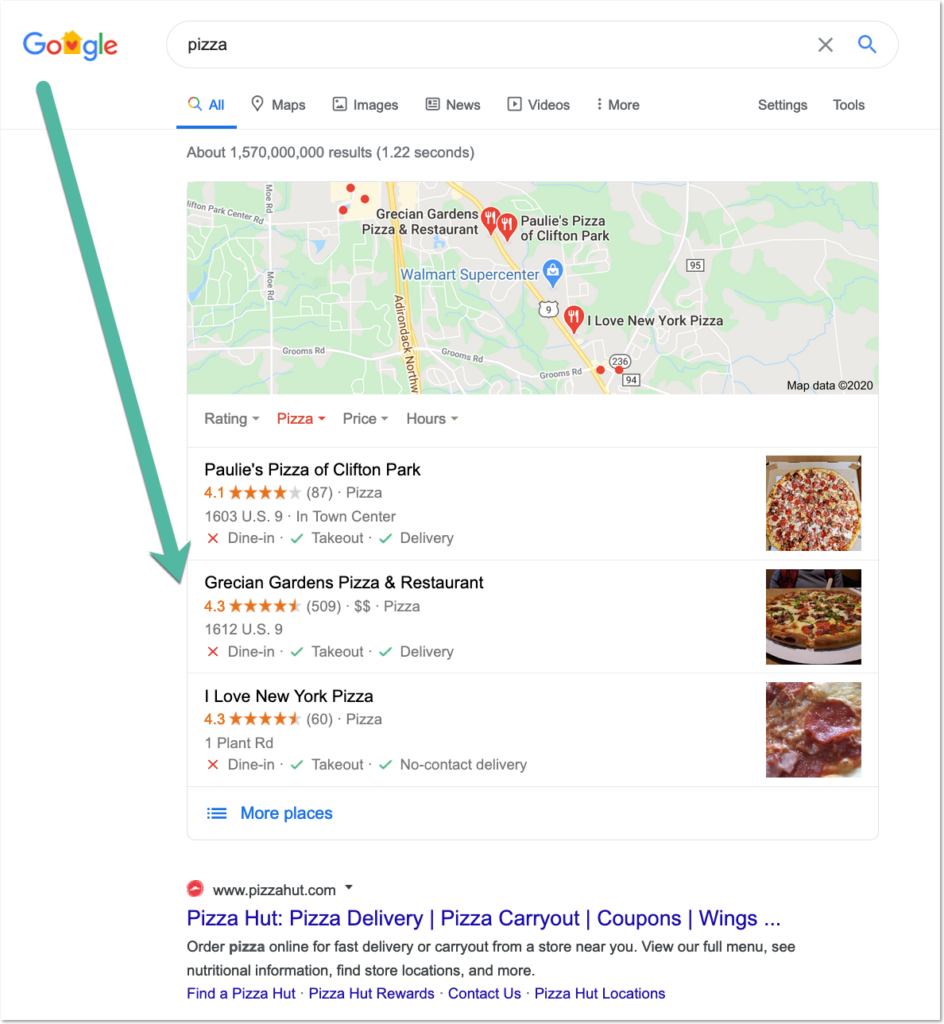 Your site can appear there only if you have a local business that you've verified through Google My Business.
1.5. Google Shopping results
Google Shopping results show up within general Google searches, when Google believes there's a commercial (buying) intent behind a search query. These results normally appear in a special box labeled "Sponsored":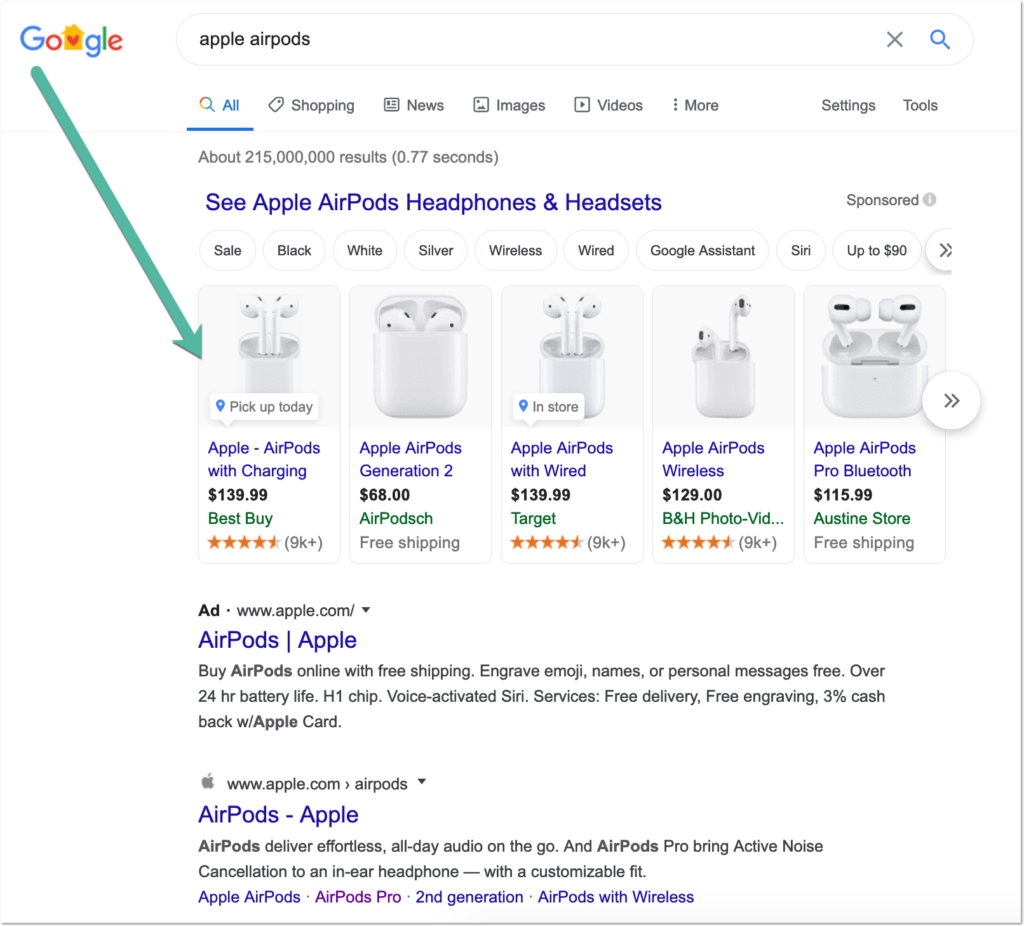 To get your products to appear in the box, you need to become part of Google Actions project.
1.6. Interesting finds
"Interesting finds" is a somewhat mysterious search element that appears only on mobile devices.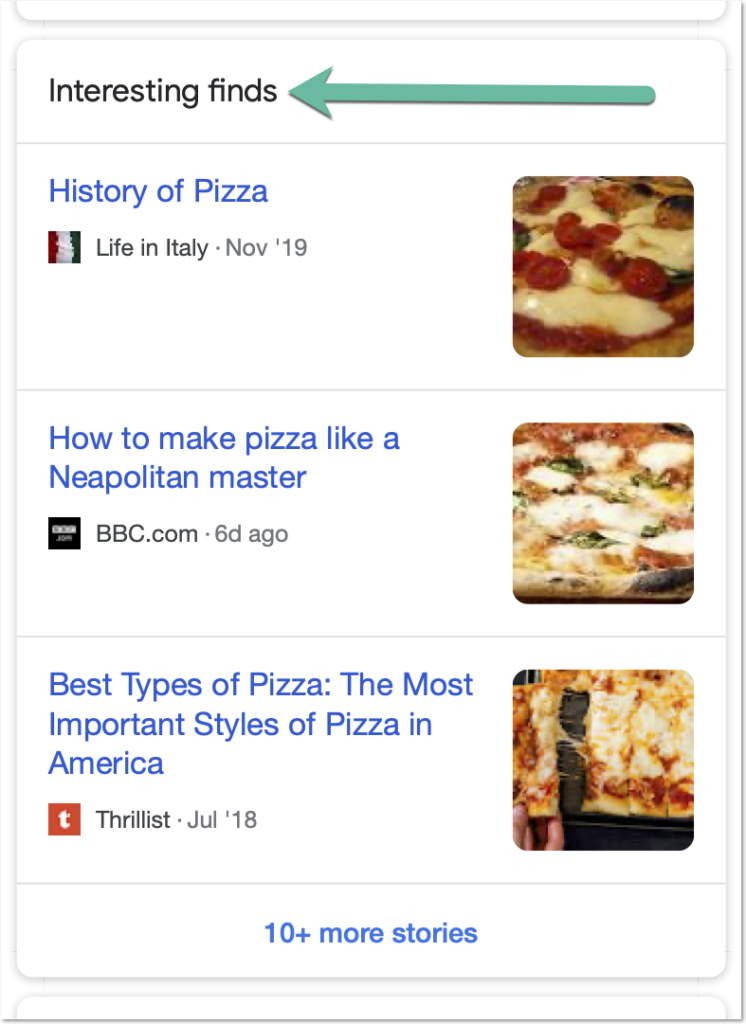 These seem to be random articles on a topic that got traction within an industry. It looks like Google's attempt to curate great content beyond the traditional ranking factors.
To improve your odds of appearing here, create all kinds of interesting content around your target topic, including history, how-to's, listicles, etc.
2. On-SERP elements that change buyer journeys
Apart from actual search results, Google has been busy adding search suggestions and interactive sections that, ostensibly, help users more fully research topics.
In reality, these are simply driving people away from clicking search results and prompting them to continue interacting with Google's search pages.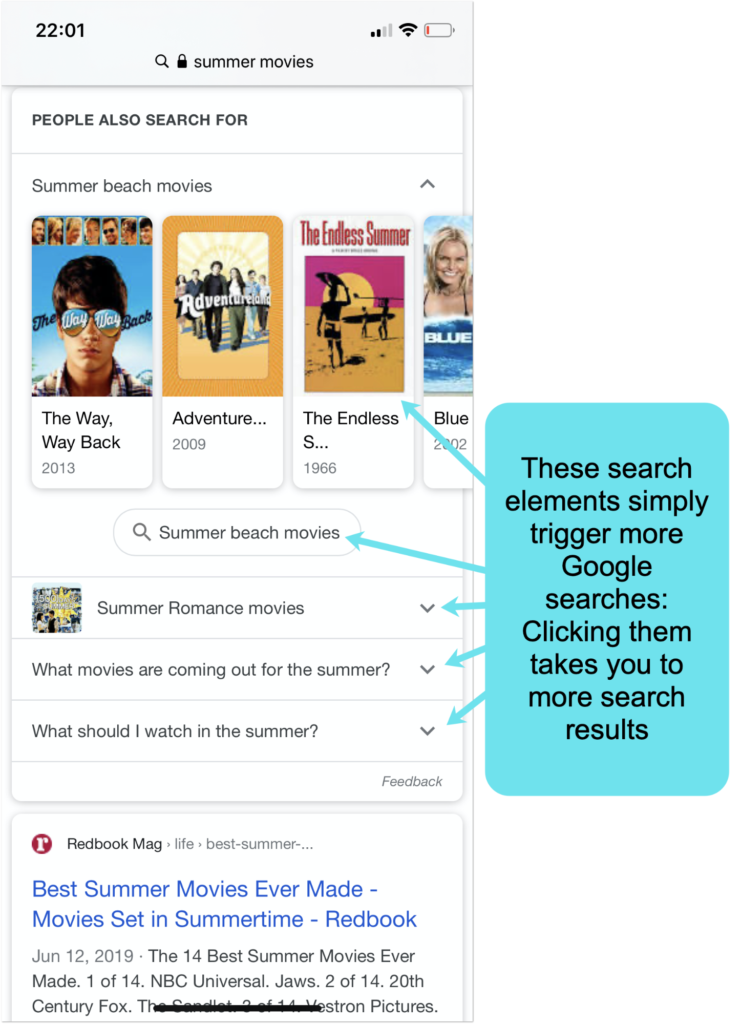 Your task as an optimizer is to try and track down the possible paths users may take after searching for your target query. All of those extra searches should be an additional source of keyword data.
Tools like our featured snippet tool collects Google's related search suggestions that show up for your important queries and allow you to create content around them: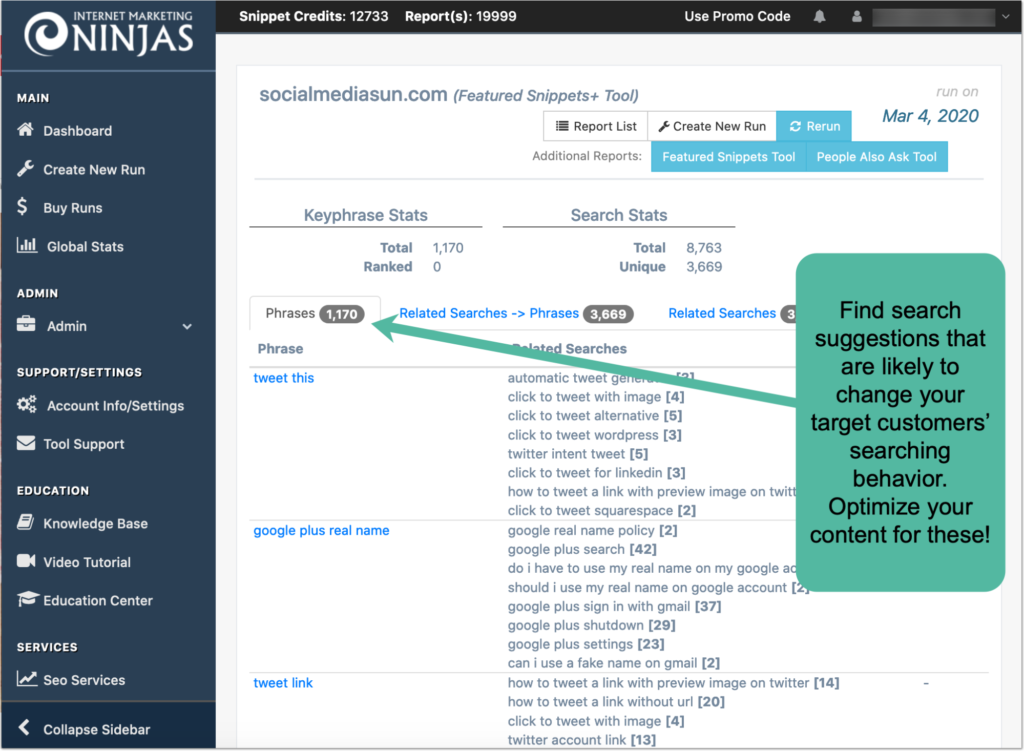 You can also get a good glimpse into all kinds of search suggestions using this free browser plugin that creates a nice summary of all search elements underneath each search results page: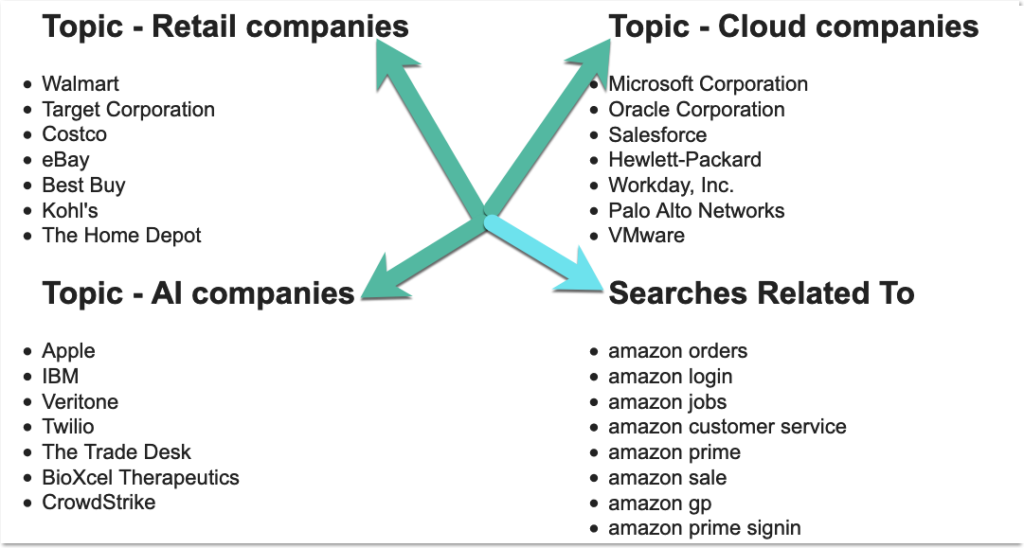 Some of the search sections can be both elements to optimize for and elements triggering more on-SERPs actions.
For example, "People Also Ask" boxes are incredibly interactive and distracting. (I always spend a lot of time uncovering more and more questions.) Yet they can still send some clicks to pages that answer each individual question, so you want to rank for as many as possible: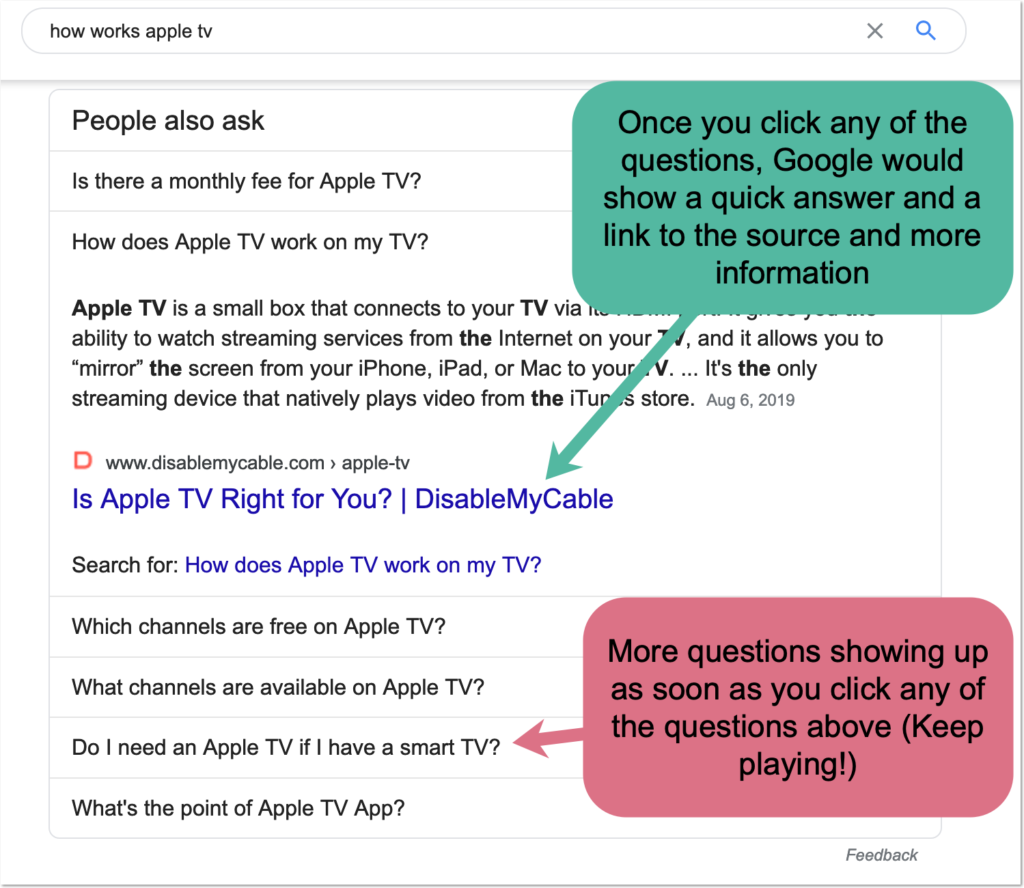 To increase your chances to rank in a People Also Ask box, embrace a question optimization strategy:
For question research and optimization, you can use a tool like Text Optimizer, which helps you identify popular questions around any search query and then build optimized content around them: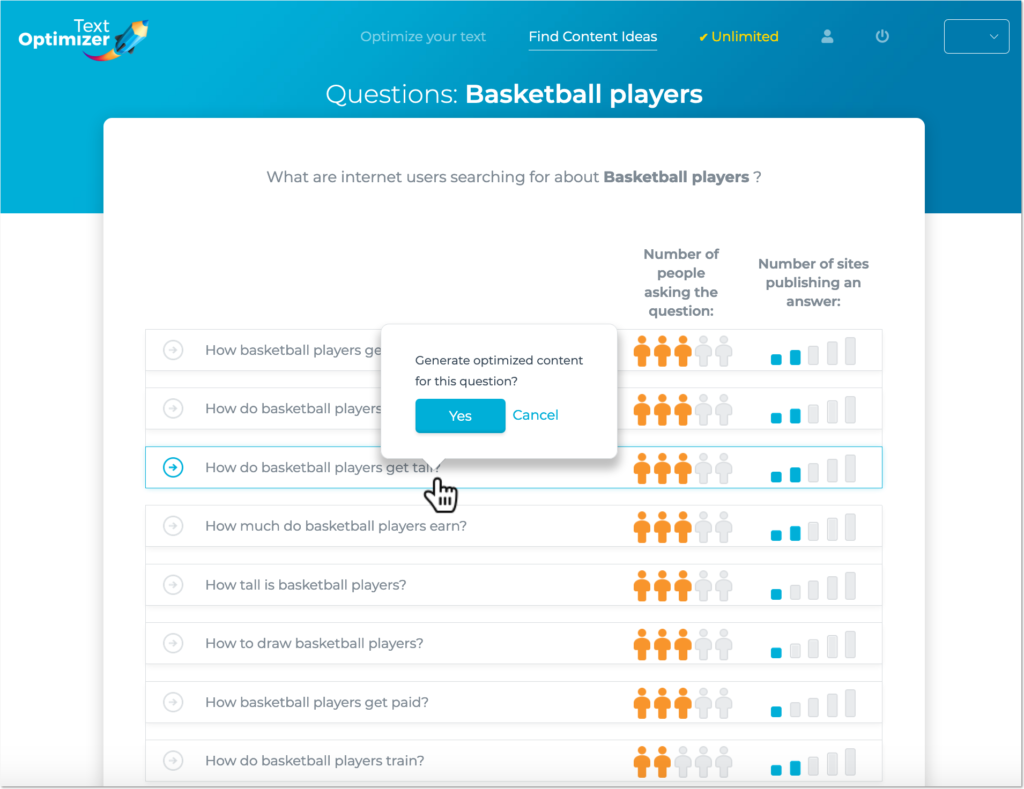 Streamlining and monitoring your on-SERP SEO efforts
At the end of the day, it all comes down to diversifying your content marketing strategy:
Where you'd usually write an article, now you need to accompany it with a video and graphics.
If previously you'd focus only on tightly related articles to bring leads down the sales funnel, now you need to broaden your topics to educate and inform your target audience.
Buyer journeys are getting more complicated and diverse, so your marketing strategy should, too. It's mostly good news for a content marketer, as brands need more content and content types than ever before. A content marketer's job is becoming more integrated and exciting.
It's harder, however, to measure and report on results. The path between landing on a site and converting has gotten more convoluted and, thus, harder to analyze.
If you've struggled to build funnels in Google Analytics, newer tools like Finteza can help. It focuses on monitoring conversion funnels across various channels and devices. You can point the tool to important conversion metrics, and it shows which steps leak traffic or where you could shorten the conversion path.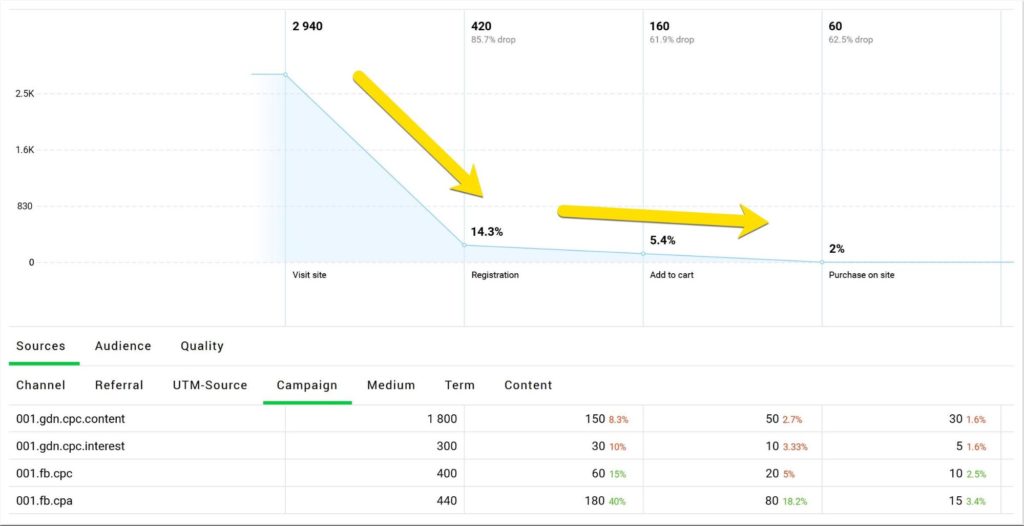 You can limit results by traffic source or landing page to better monitor how your on-SERP SEO is paying off.
Conclusion
Google's richer and more interactive search results require a content marketing and SEO strategy that follows suit. It's no longer enough to target and monitor organic rankings alone.
You need to evaluate each search result page as a whole. Try to appear in several search sections beyond (yet still including) organic listings. This strategy of optimizing for as many search elements as possible within one SERP is the new normal and the core of on-SERP SEO.
For each SERP, ask:
Do I want my page to be featured, or would I rather keep my standard organic listing?
Can my images be better branded—explicitly or via subtle but consistent design choices?
Which content types or structured markup elements do I need to rank in more search sections?
Which topics and search queries does Google associate with my target keyword through related searches, "People Also Ask", "Interesting finds", and other sections?
Finally, you're tasked with monitoring these changes, which is more than just reporting on keyword rankings and organic traffic.
Overall, on-SERP SEO represents both a challenge and added potential—including the potential to boost content quality, brand reputation, loyalty, engagement, and more.