There are only a few things I love as much as link building.
Owning a new pair of high-end shoes has to be one of those. Damn, I'll admit—I even have a tradition of treating myself with a beautiful new pair after a successful business trip or client acquisition.
As a result, my closet is full of shoes that I've bought and worn only once. Above, you can see one of my fav pairs of those red-soled shoes (you got the brand, right?) that I took for a walk only once—but they're so beautiful!
High-fashion, much like link building, is driven by trends. What was fashionable yesterday is old news today.
Take this email pitch I received recently. This person asked us to add a barely relevant link to our blog's category page:

Sometime, somewhere, they read that they were following "best practices." But they're wasting their time.
I've been in the B2B link-building game for almost five years, and the true value of link building isn't quick fixes. It's investing in long-term, scalable strategies that help you acquire high-quality links.
We've tested every tactic. Below are my tried-and-true strategies, including the pros and cons of each. If you've seen some of them before, it's because they worked then—and still work now.
1. Guest blogging
Let's start with an obvious one. Even if you never did it on your own, you probably know someone who wrote a piece or two for someone else's blog.
Guest blogging entails searching for industry blogs that accept guest contributions, pitching a list of topics, writing content, sending it back to the editor, and finally getting your post live.
This all might look like an easy, stress-free way of acquiring links, but let me use one of the phrases SEOs like the most: "It depends!"
Why? There are several factors:
Who's sending the pitch? Is it a well-known author with tons of previously published guest posts? If the answer is "yes," then the chances that it's going to be accepted are good. But most of us—myself included—aren't guest blogging superstars.
Are you capable of delivering (or paying for) really good copy? The second most common reason why your pitch might be rejected is the quality of your copy. If you plan to outsource your writing, be prepared to spend $300 to $1,000 per 2,000 words of copy. B2B copywriting almost always requires more skill and time compared to B2C.
Have you built a relationship with the editor? In most cases, an established relationship with an editor is a fast track to publication.
Every situation is unique, but the variables listed above are the most common. If you decide to use a guest blogging strategy, here are some other things to keep in mind.
Pros of guest blogging
Guest blogging is great! We've been using guest blogging to build quite a number of links back to our own site.
Plus, I often guest blog to showcase my knowledge and share interesting findings with fellow link builders. Being featured on sites like Search Engine Journal (SEJ), Moz, Entrepreneur, and HubSpot is solid social proof.
A more practical value of acquiring links through guest posts is that you control the anchors and pages on which you get links. There's also a chance for referral traffic and leads.
For instance, my post on Moz about the economics of link building, which included our link-building rates to help readers compare costs, brought me a number of inquiries. Still, those leads weren't really turning into clients, which leads us to some disadvantages.
Cons of guest blogging
Guest blogging can be an expensive strategy—especially if you're not a professional writer. You need well-written content, or you'll end up being associated with lame guest posts, which won't help you build a brand (or links).
Whether you plan to write the copy internally or hire an experienced B2B copywriter, the cost per 2,000-word post can surpass $500, even if you're doing the bulk of the work yourself.
Normally, I need a few days to complete an in-depth guest post. After that, I send it to a copywriter who also needs a few days to polish it. It's a process that can include a lot of back-and-forth.
Also, keep in mind that well-known blogs won't allow you to link back to blatantly commercial pages, as those links are "promotional" (i.e. don't provide value). In some situations, like with SEJ blog, I couldn't even link back to my own (informational) content.
2. Linkable assets
While commercial content is almost always frowned upon, certain types of content are naturally good at acquiring links—"linkable assets." A linkable asset is a piece of content created specifically to attract links from other relevant sites.
Quizzes, surveys, calculators, interactive videos, and games are all examples of linkable assets. For example, SPD Load has a separate landing page with interactive resources, such as different calculators and guides, that people in their target audience might find useful and naturally link to.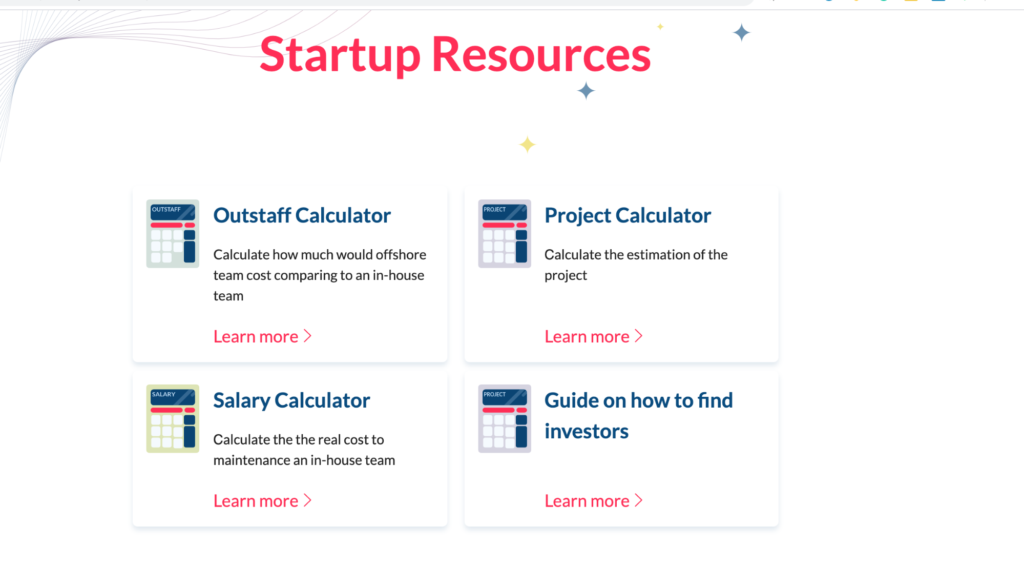 You don't need to hire a developer to design your own calculator or quiz; there are plenty of tools, like SurveyAnyplace and LeadQuizzes, that let you create quizzes or surveys from scratch or customize ready-made templates.
If you have the budget, you could go with something more complex. Unique, engaging content usually means more links. Growth Design does an amazing job at this. They've taken case studies to the next level with their interactive comic book format.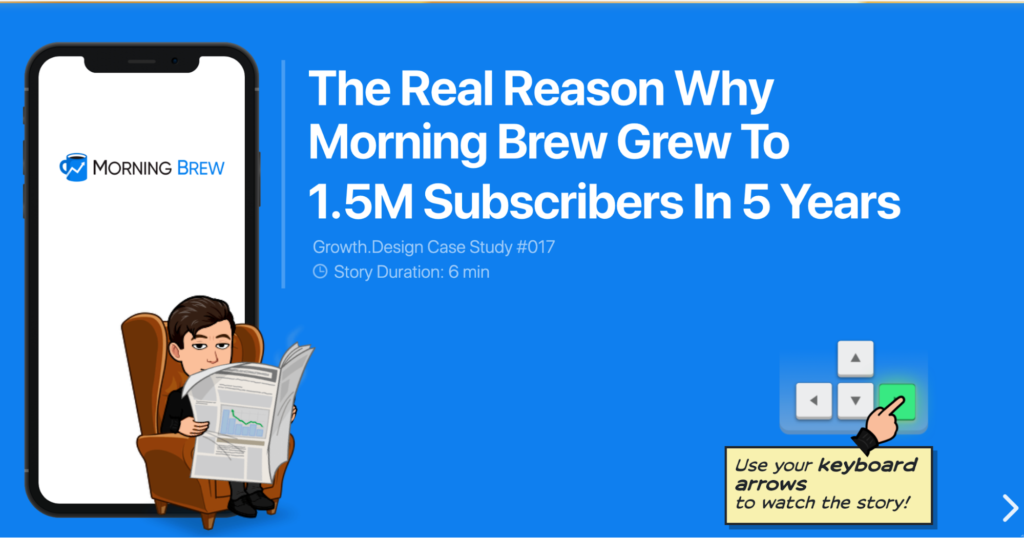 Another great example of linkable assets are pages that aggregate industry stats, like this one. They're easy to link to when you're looking for data to back up your claims. The downside is that they're simply a collection of stats that don't really bring as much value as the initial source.
Personally, I'm a big fan of in-depth content—definitive guides and insightful research. This content can help you build tons of links, if done right.
Brian Dean's blog, Backlinko, is a perfect example. He publishes only quality, in-depth content, which is why his graph of referring domains keeps growing: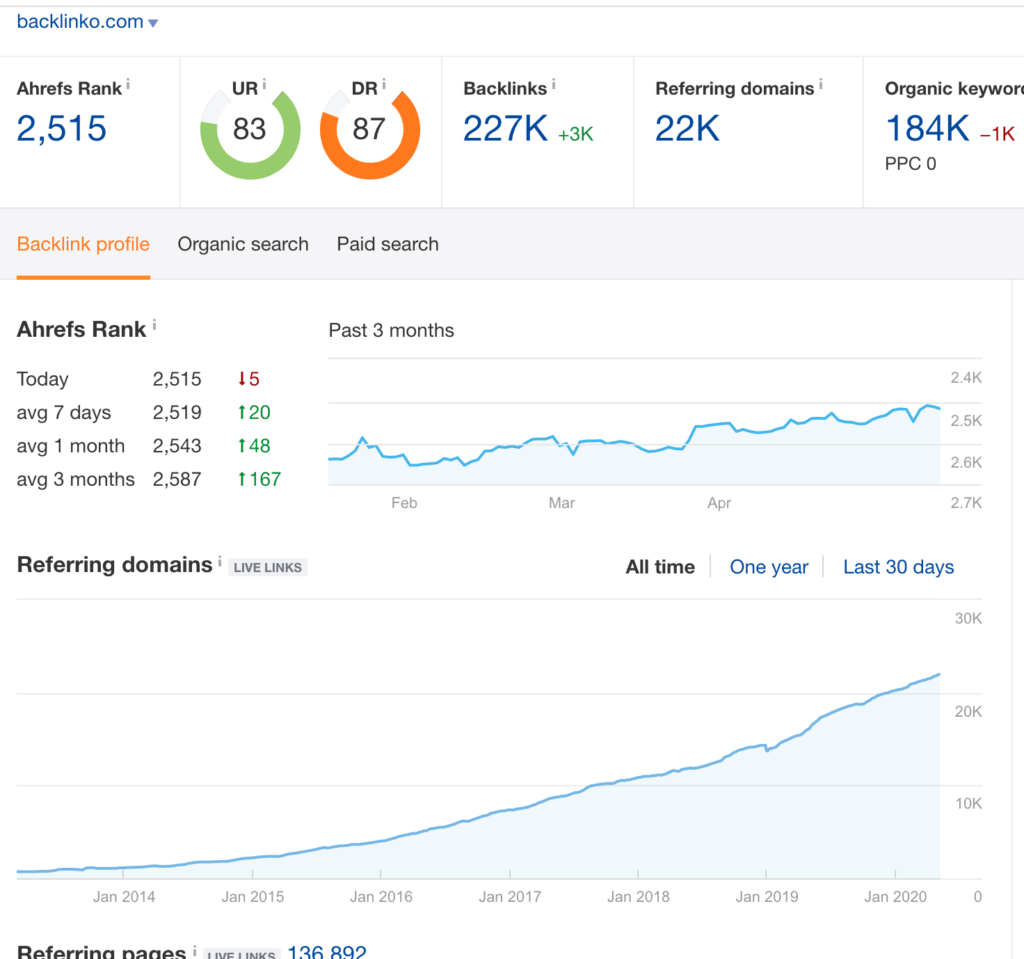 Even if you're not as famous as Brian Dean, investing in detailed guides and how-to's definitely pays off. Last December, my good friends created this guide, which has already earned more than 40 referring domains: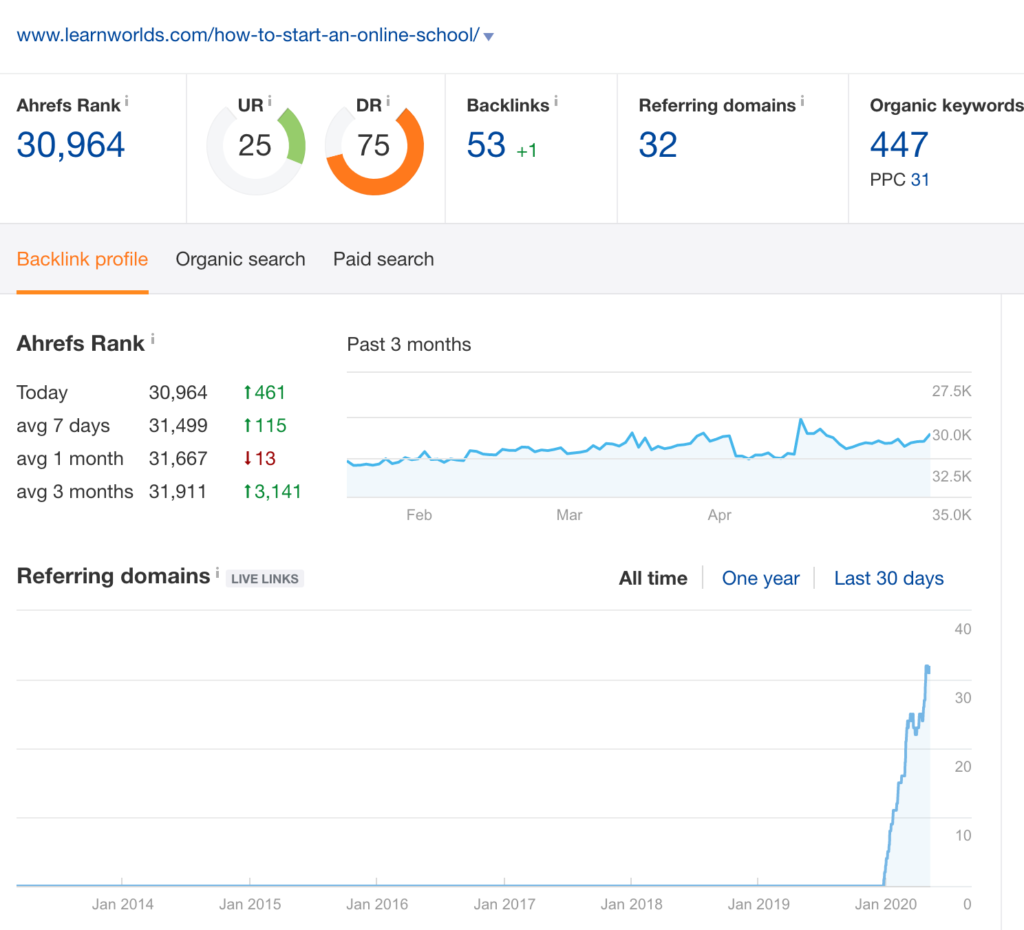 Another hack to cut costs for industry studies? Give a new spin to already-published ones. For example, Reputation Management took a study produced by Forrester Consulting and updated it with new numbers and findings.
Pros of linkable assets
Other than having a great piece of content that looks good on your website or blog, linkable assets carry other benefits:
High-quality content can help you establish authority in your niche. Original research positions you as a credible and linkworthy source. If it's something truly unique, you can even pitch it to journalists (more on that later).
Linkable assets keep users on your site longer, increasing engagement and your chance to earn links, shares, and leads.
Cons of linkable assets
Creating linkable assets can be quite expensive, especially if it requires professional design and development. Even if resources aren't a barrier and you've created a great piece of content, content—no matter how good—doesn't build links on its own.
To illustrate, let's take the Moz blog. It has hundreds of in-depth posts, but only about 25%—out of more than 1,400—have earned at least 100 referring domains: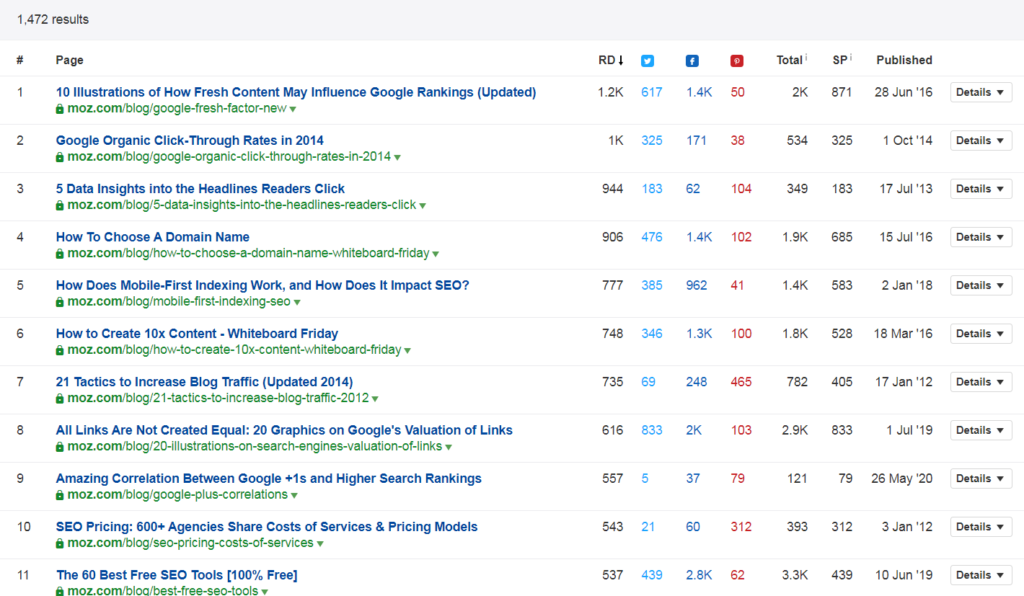 Indeed, only two posts have earned more than 1,000 links. One thousand links is a huge number, but 99.9% of posts—on one of the industry's best-known blogs—don't reach that level.
3. Content for round-ups and listicles
The above strategies are based on the following logic:
You create something link-worthy.
You pitch it to other sites.
This strategy requires a different approach. First, do pre-outreach. Pre-outreach helps you learn exactly what target blogs want to include in their content round-ups.
Create content only after you know what to create. Nothing's worse than winning zero links with a piece of content you created solely for that purpose.
If you have no idea how to find blogs that publish posts like "XX resources to learn Topic A" or "Weekly Digest of XYZ," take one of the following approaches:
Use advanced search operators to find sites publishing such content. Here's a good post on the Ahrefs blog that should help you.
Look at your competitors' backlink profiles by searching for specific terms in page titles. In the example below, I searched for "news roundup" in titles of referring pages: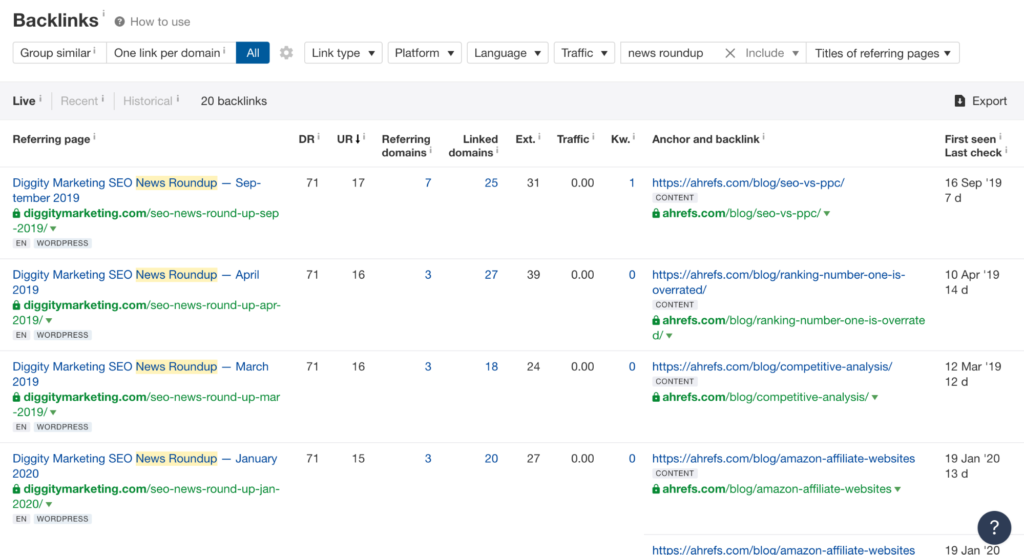 Once you have a list of sites that feature content round-ups, it's time to connect with their editors. The best way to do so is usually through LinkedIn. (I've found people are much more responsive there versus email.)
Before connecting with them, promote one of their recent posts on your social media accounts. (Don't forget to tag them!) For maximum visibility, tag other companies that were featured in their post.
Here's a good tweet by Mark Scully that sheds some light on why outreach must be genuine:
While getting these links may seem like low-hanging fruit, keep an eye on the cost per link. There's no point spending hours to build a few mediocre links.
Pros of round-ups and listicles
For one, there's always a chance that the sites you're reaching out to are also actively building links. You could end up building a relationship, not just a link, which could yield more opportunities.
Also, you may not have to create anything mind-blowing to get included in the round-up. Because "medium quality" content doesn't require a ton of time and resources, you could play the quantity card here and try to secure more links in less time.
The pre-outreach strategy increases the chances of securing links.
Cons of round-ups and listicles
Easily acquired links are easy to acquire for a reason. Sites that are publishing round-ups and listicles probably aren't the very best sites in your niche.
Additionally, as the pages you're building links to have mediocre content, most probably won't rank well on Google. This is especially true in highly competitive niches.
4. HARO
HARO (Help a Reporter Out) connects bloggers and journalists with expert sources. HARO is a great workaround for businesses that want to be featured in media outlets but aren't in a position to launch a proper digital PR campaign.
(Confession: I don't give digital PR too much credit when it comes to link building. The cost per link can go through the roof, and traditional PR campaigns are able to get links only to specific pages, often your homepage.)
Once you set up your HARO account (it's very straightforward), you can subscribe to journalist queries relevant to your business:

After this, you receive a daily list of topics with a brief summary of the info journalists and blog editors are looking for. To give you some context, here's a recent HARO email: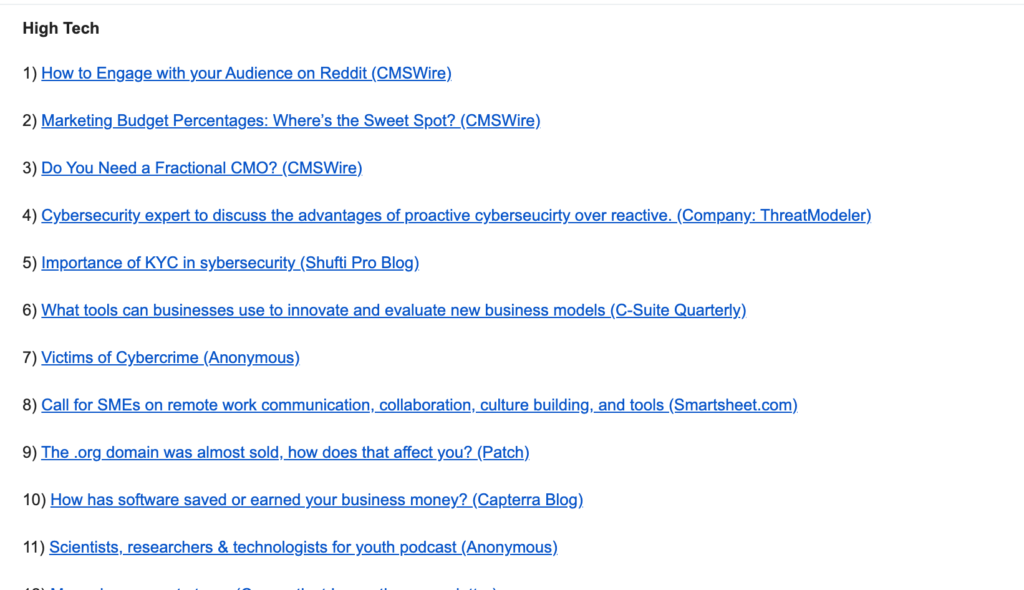 If you click on any topic, you'll see a more detailed overview that includes a short summary, contact name and email, niche, media outlet, deadline, and query description: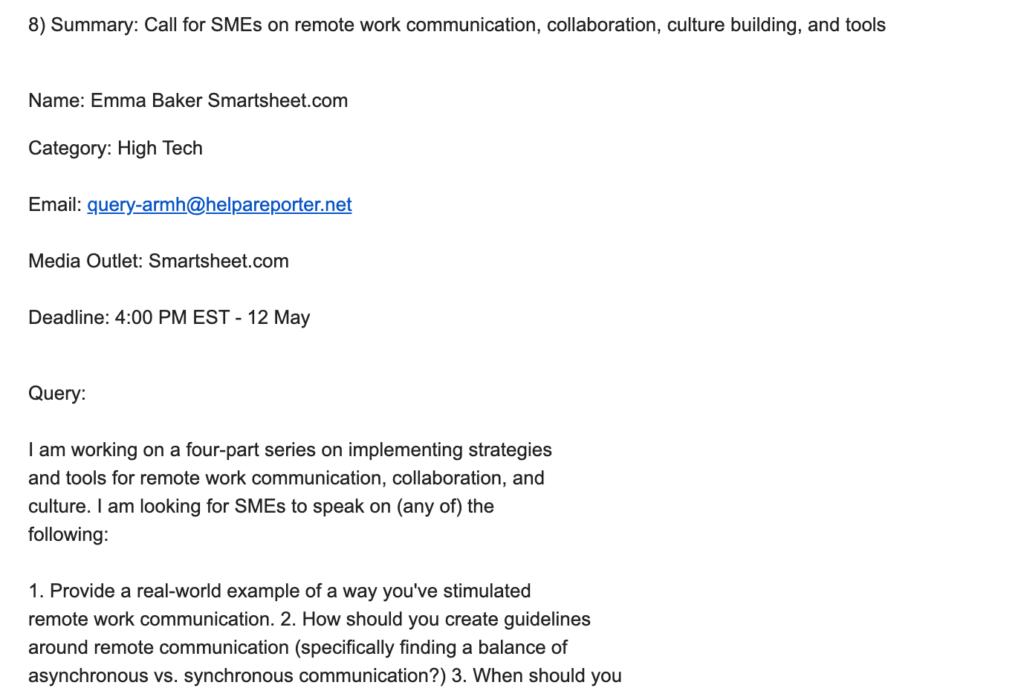 At first, you'll be excited to get these daily emails, and you'll work hard to get featured everywhere. After a week or so, you'll realize that you're spending days and nights sending insightful answers into the void.
It won't be long before you realize that you should use your limited resources wisely. To get the most from HARO, evaluate opportunities by:
Quality of the site where you get featured (e.g., domain rating, monthly traffic, etc.).
How long it takes to provide an answer.
My good friend Taru Bhargava from Genbook shared are a few tips to increase your chances of getting your HARO answer considered:
Submit before the deadline.
Make your answer succinct and actionable.
Show domain expertise by quoting personal experiences, backed with data.
Add a two-liner that lets the Editor/reviewer know who you are—a short bio or social media links to help them assess your authority quickly.
Connect with them on LinkedIn and follow up (but don't harass).
Select only those topics that are really relevant to your experience. For any given answer, you're likely competing with true experts; editors will pick only the best of the best.
Pros of HARO
For businesses just starting out, HARO might be one of the best sources of links. You get link-building opportunities delivered straight to your inbox. All you need to do is send in a few paragraphs (a lot less than an in-depth blog post).
You don't need to do link prospecting, pre-outreach, and other standard link-building tasks. HARO also connects you with sites that are regularly looking for and featuring experts (giving you credibility), as well as media outlets that you couldn't get into with traditional outreach tactics.
Cons of HARO
HARO can be time-consuming and comes with no success guarantees. Even when you get a link, most point to your homepage, which is okay if you're just starting out but less valuable if you already have thousands of links.
Those links may not justify the amount of time it takes to write up a good answer. Even then, your answer might get rejected or the site may not link back to you (or offer only no-follow links).
5. Images
Other than making your web pages look swell, images have a role in acquiring new links as well.
Simply following well-known practices, however, probably won't result in many links. The goal, then, is to put a new spin on the strategies below:
Find your images across the web and ask the website editors to add linked credits. This strategy is especially handy for niches that produce unique visual assets on a daily basis. It's no secret that some sites use others' images without adding a source.

A Google image search or tool such as TinEye can easily find a list of sites that include uncited images on their pages.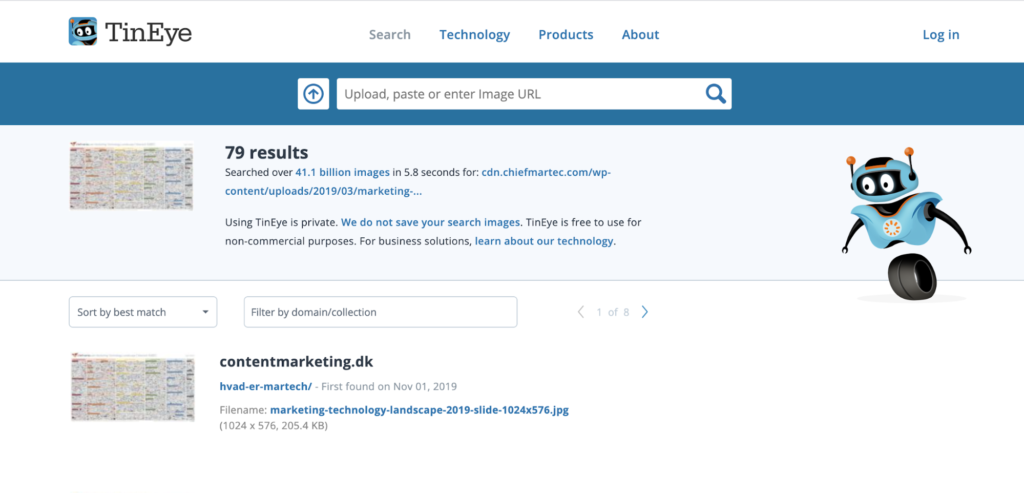 Once you identify such pages, reach out and ask webmasters to add a link back to your page.
Create infographics and images to improve the linkability of your content. While most link-building experts claim that infographics should be classified as a linkable asset, I see it as an image link-building strategy.

An infographic can also help you turn a pretty generic piece of content into a good source for links. For instance, here's a post comparing PPC vs. SEO for startup marketing. While the topic itself isn't super exciting, the infographics turn it into a great post: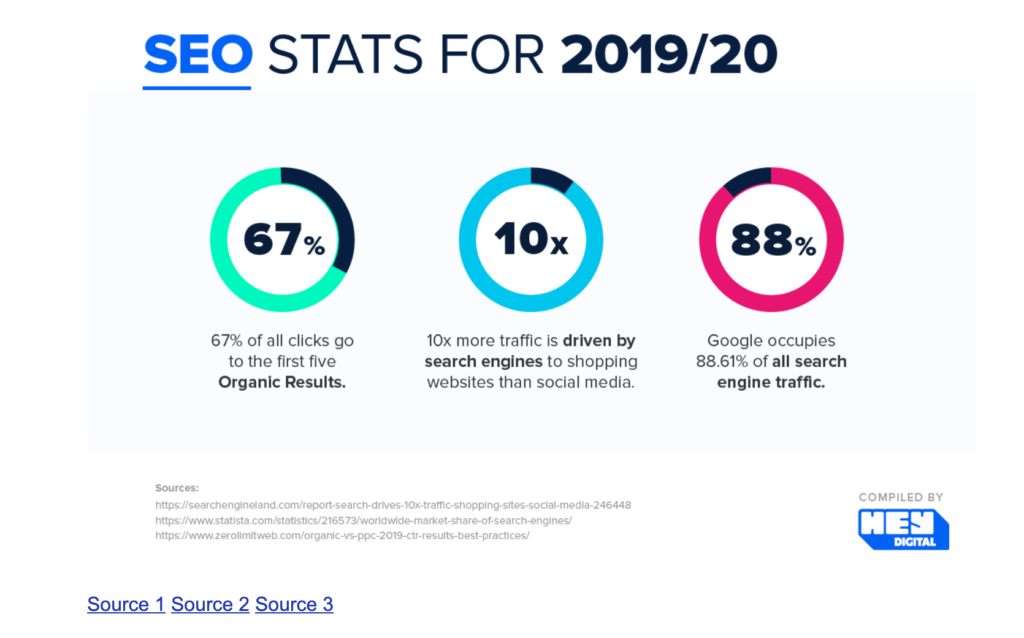 Create images/infographics to exchange for links. Images and infographics can also be used as a link-exchange currency. Some websites will give you a link in exchange for an image that you designed specifically for them.

Myriad sites use ugly stock photos. Offer blog editors improved, original images in exchange for a link back to your site. Even if you're on a shoe-string budget, you can use tools like Canva or Visme to create beautiful visuals without design skills.

An easy way to persuade blog owners that they should care about images: Check their social media preview snippets on major platforms like Facebook, Twitter, and LinkedIn.

This is probably something they care about, and it doesn't take tons of time for you to deliver a set of good-looking images to support their social media distribution. On Facebook, you can use the Batch Invalidator to check a list of pages:

NewMam Studios has had images they've created for clients picked up by prominent outlets like Forbes and Popular Mechanics.
Pros of images
Most people are visual learners, which encourages website owners to make their pages as visually appealing as possible. More visual content means better image link-building opportunities, too.
If people use your visual content without linking back to you, then it's a quick way of building links. People are sensitive about copyright infringement and, in most cases, will just agree to link back to you.
That's a stronger motivation compared to, say, convincing a blog editor to add a link to your content in an existing article.
Cons of images
Some niches just don't rely much on visual content, which reduces your opportunities for image link building.
If you're not a professional designer yourself, producing images also requires some additional resources. To do it at scale, you probably need to hire someone full-time to create those visuals.
Another harsh truth: Links from images are not as valuable as contextual links. You need to balance acquiring links from images with those embedded in text content.
6. Unlinked brand mentions
Some sites will mention your brand because they like it—they might not think about links. You need to find and convert those unlinked brand mentions.
Some editors leave brand mentions unlinked on purpose, so don't be surprised if such people ignore your emails. To make the most out of this strategy, follow this step-by-step plan:
Uncover your company's brand mentions with tools like Google Alerts, Mention, Brand24, and so on. The only downside of literally any brand mention tracker is that only a few of them show historical data. (The rest collect data once you set up your campaign.)

One solutions that does provide historical mentions is BrandMentions: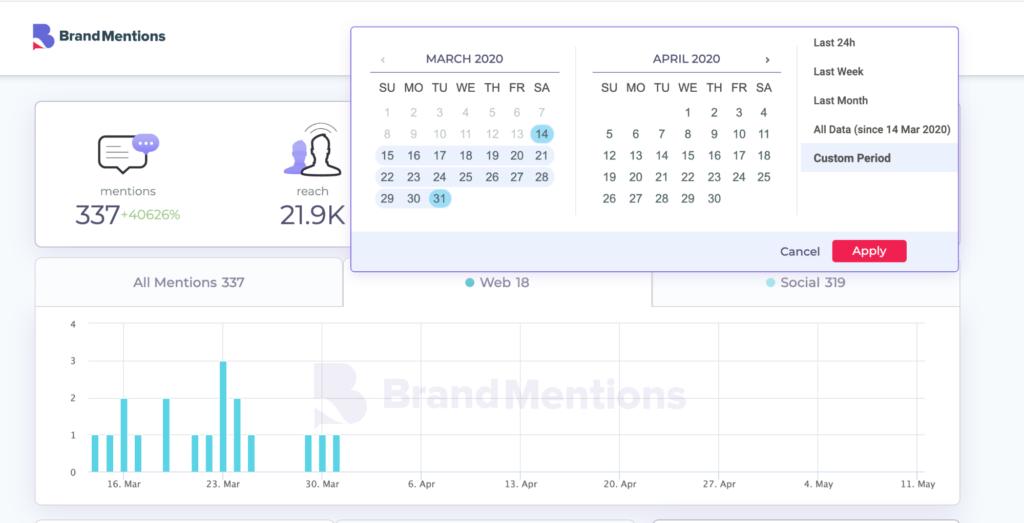 Once you have a list of pages mentioning your brand, send an email asking to update the brand mention with a link back to your site. Write to the author of the post rather than the website owner.

Exclude guest posts from this list—those authors won't have access to past posts. Also, start the conversation on LinkedIn, then switch to email. Another workaround is to share the post on your social media platform and tag the author.
If you have tons of unlinked brand mentions, it makes sense to use a tool like Pitchbox. Upload all the uncovered URLs with brand mentions to filter out spammy sites or those with a low Domain Rating: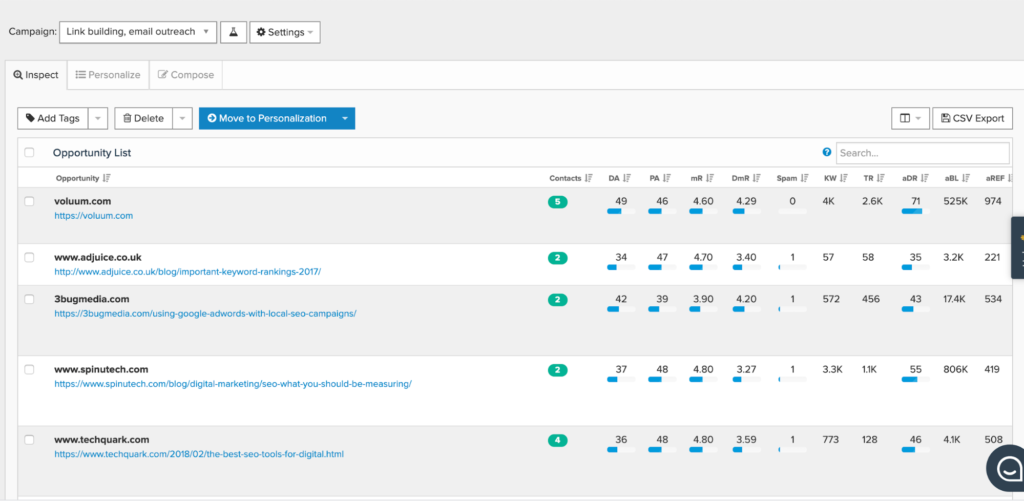 Pitchbox automatically searches for email addresses associated with a particular site: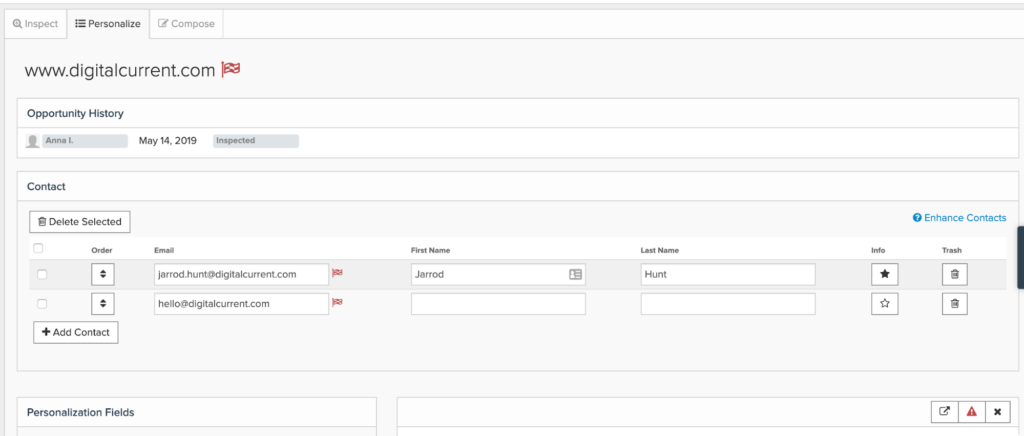 It also allows you to see how well your link-building campaign is moving through stages and helps you track your daily efficiency: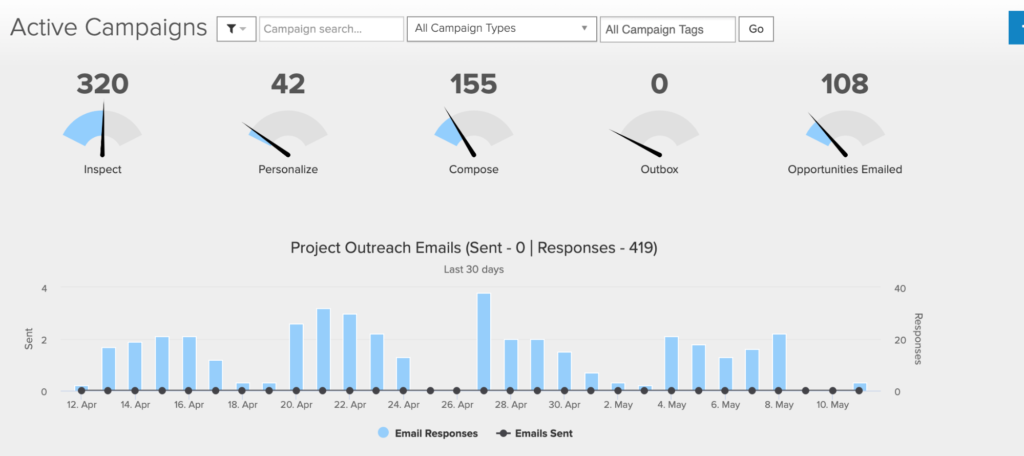 Pros of unlinked brand mentions
A brand mention means that someone already loves what you do. To drive additional benefits, you have to convince them to add a link to that text.
In most cases, your link-building request seems legit. I mean, if they've already mentioned you, the chances are high that you actually deserve a link. You don't need to prepare any special piece of content, either—only a good pitch.
Equally important, you're building relationships with industry peers who are already familiar with your brand and, as a result, might be interested in working with you on other projects.
Cons of unlinked brand mentions
You need a brand worth mentioning. Unknown brands won't have many mentions, linked or unlinked.
You'll also have to hope that you're able to contact B2B marketers who understand why links matter, and you may be asked to provide something in return. (As Sujan Patel, co-founder of Right Inbox notes, making any interaction mutually beneficial increases success rates.)
Once again, your link-building target is usually limited to the homepage.
7. Broken link building
This strategy identifies sites that link to inactive (i.e. broken) pages, reaching out to those sites, and suggesting that they link to your content on the same topic.
This strategy requires really well-written content—no one wants to link to mediocre stuff. Plus, it's not easy to scale identification of broken pages that still have a lot of links pointing to them.
There's no point creating solid content to get only a link or two. Remember, only a subset of the potential links will pan out, so a broken page with 100 links may net only 5 for you.
To speed up the process, check industry blogs for broken links in Ahrefs: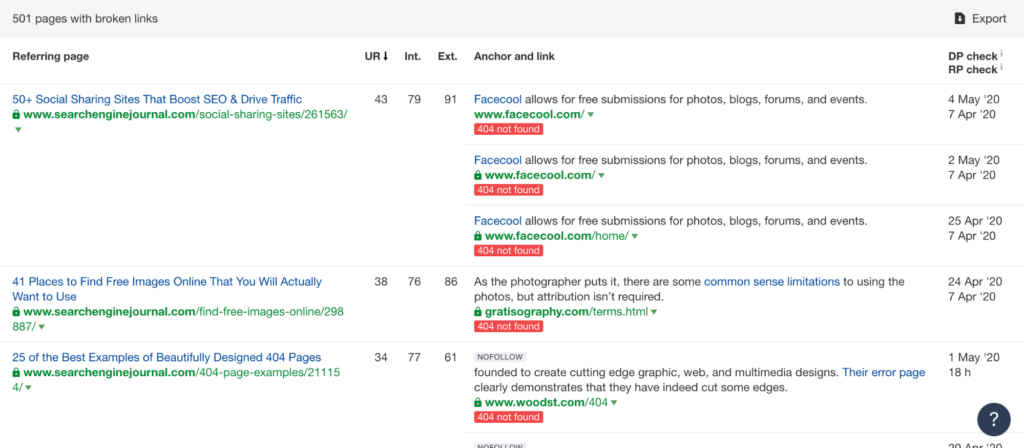 Among SEJ broken links, I found this URL with more than 100 quality referring domains:

Once you've found a target page, it's time to see what kind of content it used to contain. With the help of the Internet Archive's Wayback Machine, you can easily get an earlier snapshot of the page: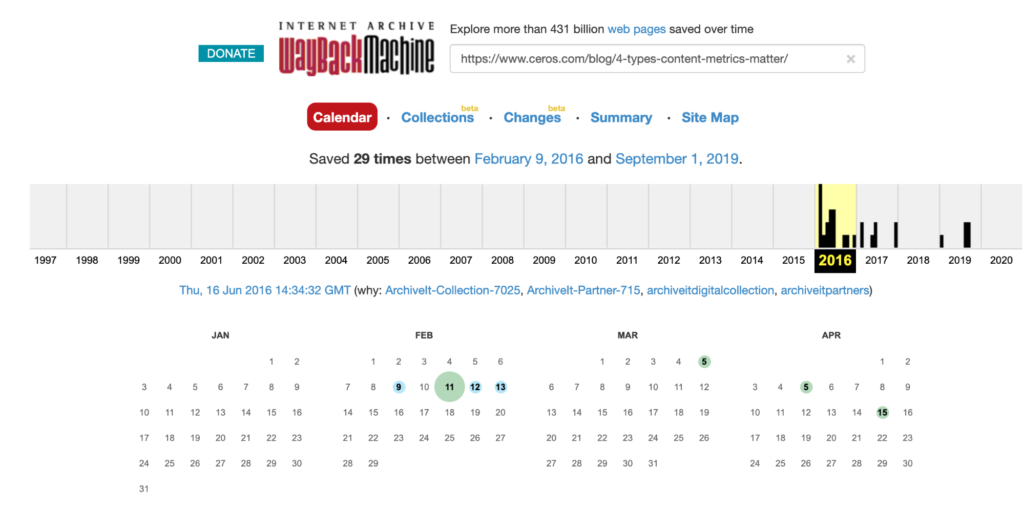 Now, go and write a quality, related piece of content to pitch to sites that link to this 404 page. The most time-consuming and difficult-to-predict step is pitching the process itself. Check out this post, which sheds some light on how to structure your email outreach campaign.
Pros of broken link building
When it comes to broken link building, it depends on the type of opportunity you discover. With a little luck, you could dig into a gold mine of link-building opportunities.
One advantage is that you're usually building links on established, well-written pages. Moreover, analyzing other sites' broken pages might help you uncover new ways to build links and scale your strategy.
Also, you kill two birds with one stone—creating in-depth content and building links back to it.
Cons of broken link building
Ideally, you'd be able to insert existing content in place of the broken link you found. But if that's not the case, and you need to create a new high-quality piece of content specifically for this purpose (and then scale the process). That requires a solid investment.
Also, sites that link to broken pages aren't always willing to link back to your site. This is especially true if a broken page is located on a well-known site and your brand doesn't ring a bell.
8. Relationship-based link building
Each of the seven tactics above are just that—tactics. When it comes to long-term strategy, you need to think about relationship-based link building. This is the always-on, ever-improving part of your link-building work. It may not start a program or meet near-term needs, but it should anchor your efforts.
So what is it? If you're really into link building, you've most probably noticed that it takes a gigantic number of hours to establish a relationship with a new site. And if the process of building one link is so time-consuming, you need to maximize the efficiency by:
Connecting with sites that are also actively building links.
Getting more than one link from a site (e.g., guest posting regularly, connecting with partner sites).
Start by joining industry groups where people are looking to promote their content. A popular one is the B2B bloggers boost group.
Unlike closed LinkedIn communities, Facebook allows you to see a list of group members. The next step is to connect with them on LinkedIn by sending a message like this: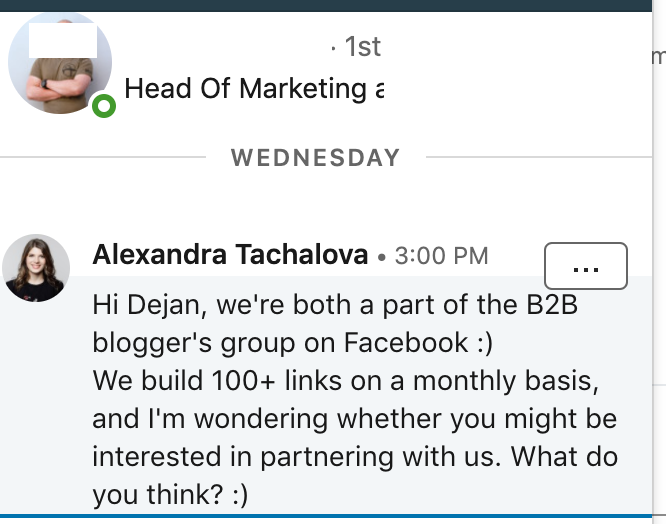 Review your current circles that include partners, clients, and even leads. (I detail this strategy in my email outreach guide.) Those people are much more responsive—they're familiar with your brand and might already be building links on their own.
You can also scrape SERPs for keywords that have decent competition and volume. Many of the sites that appear in those SERPs are actively building links. For example, if you look through pages that rank for "content strategy," notice that some pages have a lots of links but not a high domain rating:

That's definitely a signal that those sites are in the phase of acquiring links. However, to ensure that they're building links right now, check their growth of referring domains.
If you see a graph like this, then they're obviously working hard to acquire links: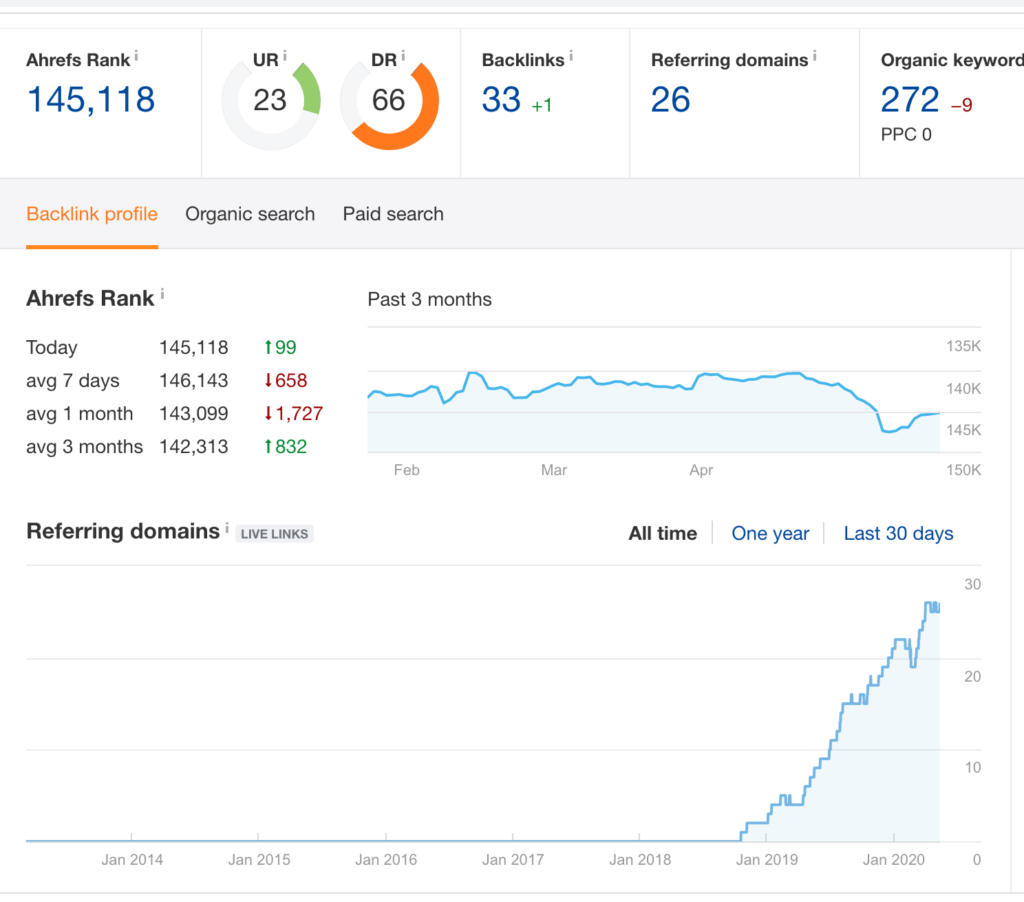 (At the same time, check that they're getting those links from quality sites—high "link velocity" from bad websites is a telltale sign of spammy link building.)
For this strategy to work, you need to find a way to link back to those sites—that's what they're looking for. I don't like any strategy that involves a direct link exchange, which goes against Google's recommendations.
A better way is to use guest blogging to return links to partners' pages on a number of sites.
Pros of relationship-based link building
Building relationships alone is well worth your time and effort. Building links while doing so is an added benefit.
You don't need to produce tons of content to build up to 100 links per month. You simply need 10–20 partners writing guest posts on industry sites.
Your partners can then connect you with their partners, potential clients, etc. This way, you're expanding your circles and building a solid community around your brand. This results in more links from relevant, quality sites on well-written posts.
Cons of relationship-based link building
Building relationships isn't easy. It requires skills. You can't fake it (though many try).
Another potential deal breaker is that you need to return links to your partners. This means that you need to contribute to other blogs or get them links through other partners.
Lastly, it's not scalable beyond your niche. We still struggle to build links in niches beyond our circle of relationships.
Conclusion
There's no one-size-fits-all solution. Sometimes, you won't know what really works for you without spending hours on getting through a how-to stage. You'll likely settle on a combination of strategies.
Following well-known link building strategies—without giving them a new spin—won't bring you thousands of high-quality links. Literally any marketing strategy that can be found on Google is unlikely to drive you past the competition.
A few final tips:
Track all acquired links. Sites have a tendency to turn them into no-follow links or even remove them completely. We use Pitchbox, but you could give less expensive solutions, like the SE Ranking Backlink monitor tool or Linkody, a try.
If a site looks suspicious, check the top traffic-generating keywords and newly acquired links. I use a combination of Ahrefs and SEMrush. In Ahrefs, I review the newly acquired links; in SEMrush, I look through pages and keywords that bring traffic to the website.
Don't build links for the sake of links. Build links for the sake of future growth. You don't need links from sites that aren't investing in their online visibility. At the end of the day, those links will turn into dead weight.
Don't follow strategies that could backfire. Don't write shitty guest posts that you would never show a potential client/partner. Write less but with a strategic focus to grow your backlink profile and brand.
Search for your own ways of getting things done. The more creative you are, the better results you'll get. Some companies are sitting on an enormous number of untapped link-building opportunities. Which unrealized opportunities does your site have?
Unlike my shoes, which go out of style after only a few months (that's just my excuse to buy new ones, but shhh!), I've been using these B2B link-building strategies for years.
I can vouch for one thing—they're not going out of style any time soon.