Back in 2016, I read a book called Sprint by Jake Knapp, founder of Google Ventures. Knapp talks about focusing on only the essential activities for shipping new products and testing new ideas.
As advocated in the book, I felt the idea of using restraint would help me quickly execute on new ideas. And so, the concept for a digital PR service was born. The goal was simple: validate demand or move on.
Using my existing skills and resources (including an old domain name), I tested a productized digital PR offer. I put together a one-page website, a list of 100 people to reach out to, and a cold email script that would make seasoned sales professionals cringe.
To my surprise, I closed my first client in under two weeks. Another three came on board 45 days later. My service startup quickly grew and became a platform to identify new problems we could solve for clients.
About 18 months later, we pivoted our messaging to evolve beyond digital PR. Today, Grizzle is a full-service content marketing and SEO agency that provides B2B and SaaS companies end-to-end services.
Here, I'll show you the journey we took to finding our place in the market by testing, pivoting, and re-pivoting our serving offerings and value propositions so you can grow your agency faster, without fewer wrong turns.
Why—or why not—pivot your agency service offering?
These days, many agencies start as a lean operation. For example, KlientBoost started out as a small Google AdWords (now Google Ads) agency, run entirely by founder Jonathan Dane, and a designer—his first full-time hire: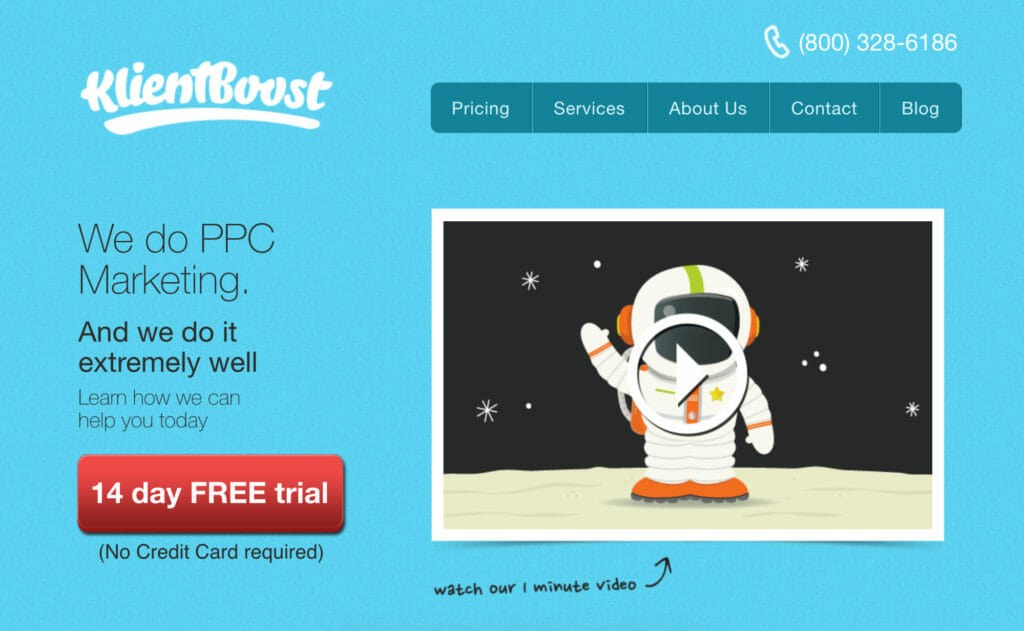 Now, KlientBoost is a $750,000+ MRR agency with over 70 employees, serving clients an array of paid media services with a widely recognized brand: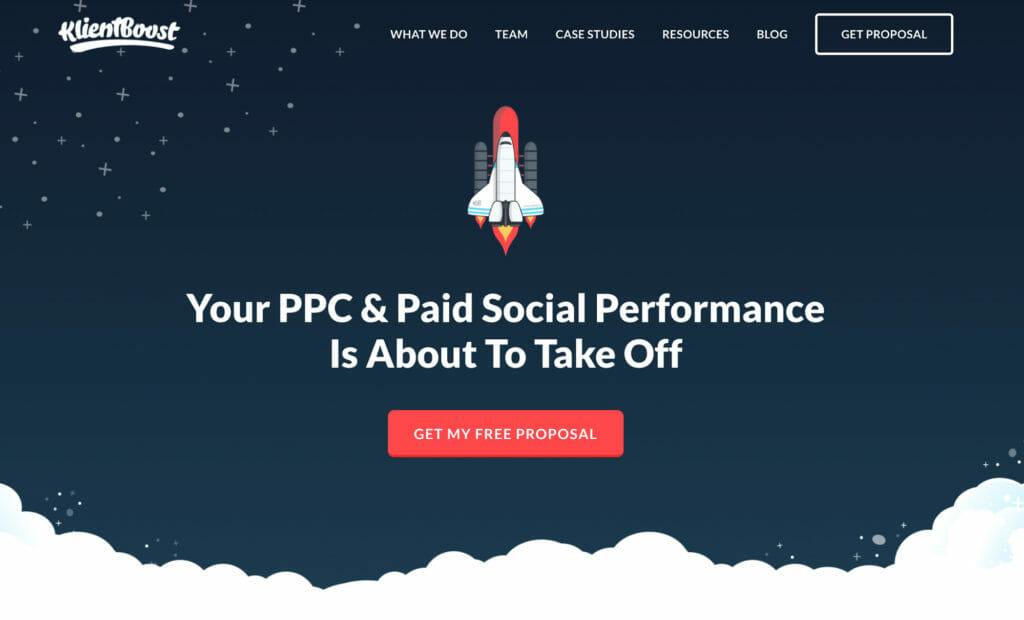 Starting as a lean operation allows you to build processes in a manageable way, serve clients without burning out, and generate cash flow early. To do this, you need to offer a specific service to a particular group of people (i.e. "niche down").
But eventually, you'll come to a crossroads where expanding is an attractive—and lucrative—option. You'll end up pivoting not only your service offering but the people you serve and your value proposition.
If your network has expressed an interest in additional services, pivoting is a no-brainer. When clients ask, "Do you do X?," it's a good sign they trust you enough to take care of fixing that problem, too.
Naturally, pivoting (or expanding) is an option if you're hungry for growth. For example, a productized service allows you to start quickly. But if you're looking to build a $10 million agency, you'll need to expand several times throughout your business journey.
Inversely, if you're using the agency model to fund another startup or product, you should probably keep things lean. Pivoting and expanding will distract you from your true goal.
If expanding services is the right move, what should you offer?
3 ways to find proposition pivot or expansion opportunities
1. Conduct client development interviews.
My agency wouldn't have expanded beyond digital PR if it weren't for early client conversations. Churn rate was high for a service that many organizations saw as a "nice to have." I knew we needed to change things up to survive. So, I got on the phone with existing clients and asked the question: What else are you struggling with at the moment?
Turns out, getting high-quality blog content delivered consistently was a big one. Luckily, we already did this as part of our digital PR offering and had already cemented trust. During our first discovery call, our client upsold themselves. In 30 minutes, Grizzle pivoted from a productized digital PR service to an SEO-focused content marketing agency.
Your existing clients trust you, but they won't assume you can help them beyond your current mandate. It's up to you to find the overlap between the services you provide, your capabilities (and those of your team), and your client's challenges. It starts by asking clients the right questions.
It starts with a simple email. Invite clients to join you on a call, letting them know you're looking to improve your services. If you feel it's necessary, let them know you won't be trying to sell them anything. It's simply a fact-finding mission.
Go into the call with a handful of broad questions. The real gold lies by digging deeper into their responses with relevant follow-up questions. Here are three we use whenever we chat with our clients:
"First of all, it's been a pleasure working with you for the last eight months. What do you feel is the biggest challenge we've helped you solve?" An additional objective for this call is to find out why clients invest in you. It's easy to assume they work with you because of your deliverables. However, you don't always see the impact you make behind the scenes.
"What other content marketing challenges are you facing?" (Replace "content marketing" with whatever your agency offers.) This question is where the gold lies. You'll hear a lot of objective responses (and "jobs to be done"), but your follow-up questions will uncover why these are important.
"If I found a service or solution to help you with [challenge], would it be something you'd evaluate?" I know this language sounds formal and stuffy, but high-ticket service sales cycles are long. Asking clients if they'd invest in a solution without understanding it doesn't make sense. Evaluation, however, implies a journey of discovery. Most B2B buyers know this.
When asking follow-up questions, pull on relevant threads that will help you get the insight you need. For example, if a client says a challenge of theirs is "converting more users who visit product pages," ask them what they currently do, what's worked, and what hasn't.
After three or four of these calls, you'll likely start to see patterns in how to solve challenges using your capabilities. In our initial calls, we uncovered our clients were struggling not only with getting high-quality blog content, but the time it takes to edit and polish it and, if necessary, find a new supplier.
To solve this problem, we built out an end-to-end editorial capability to ensure content is polished before delivery. Content creation is the capability, but the bigger problem we solve is making sure that clients save time dealing with writers and providing feedback.
Much like our digital PR offering, we started with a lean operation:
We used Google Sheets to manage content operations across all accounts, along with dashboards that each client had access to.
We then used Zapier to allow these two sheets to "talk" to each other, meaning we could avoid gaps and delays in content delivery.
We decided to create the content in-house for the first few projects. Why? Because we wanted to document every aspect of the process before partnering with new freelance writers. This allowed us to guide and train new writers, while maintaining the level of quality that our clients had already come to expect.
You can apply this philosophy to any service. For example, you may design beautiful looking websites, but your clients want something that looks great and performs as a lead generator. You may need to expand your capabilities, but it'll be worth the time or investment if you can consistently deliver on both needs.
2. Respond to shifting market priorities.
Interviewing your customers can reveal the priorities they're aware of. However, as an agency, clients expect you to be knowledgeable about shifts in the market, new technologies, approaches, tactics, and methodologies.
Relying on client development alone will give you only part of the picture. You must constantly educate yourself on the shifts and changes within your market. This applies to new offers and how you execute what you already offer.
The former is simple. For example, after looking at the broader market, we saw that a service that helps marketers scale their video content was in demand. In the context of content marketing alone, these challenges would not have come up in our client interviews unprompted.
How you execute on existing services should also evolve. For UX agencies, one example is offering technical or UX writing services. Beautiful UI is no longer enough. How you communicate as a function of that design is a critical problem that you should aim to solve.
Here are some practical approaches to identifying shifting priorities:
Embedding yourself in social media. Listening to conversations among your peers is one of the fastest ways to find changes in the way they work. Sure, you shouldn't take one person's word as gospel. But if several people are expressing similar opinions (in relation to how something is being done), it's worth paying attention.
Talk to other in-house practitioners. Outside of business development, outreach is an excellent opportunity to make friends with and learn from other in-house marketers, creatives, and senior decision-makers. For example, if you offer ad services to startups, make time to connect with in-house paid media specialists at larger companies. Bonus points if you can create a community that brings them together.
Learn from your competitors. Other agencies have likely done some of the hard work for you. The best agencies are continuously testing new approaches and methodologies. Don't be afraid to learn from them, take their lead, and adapt to new ways of doing things.
When I first started my agency, I often compared myself to the competition. Now, I embrace the excellent work they do. For example, I recently had a call with Ryan Law, Director of Marketing at Animalz, a fellow content marketing agency: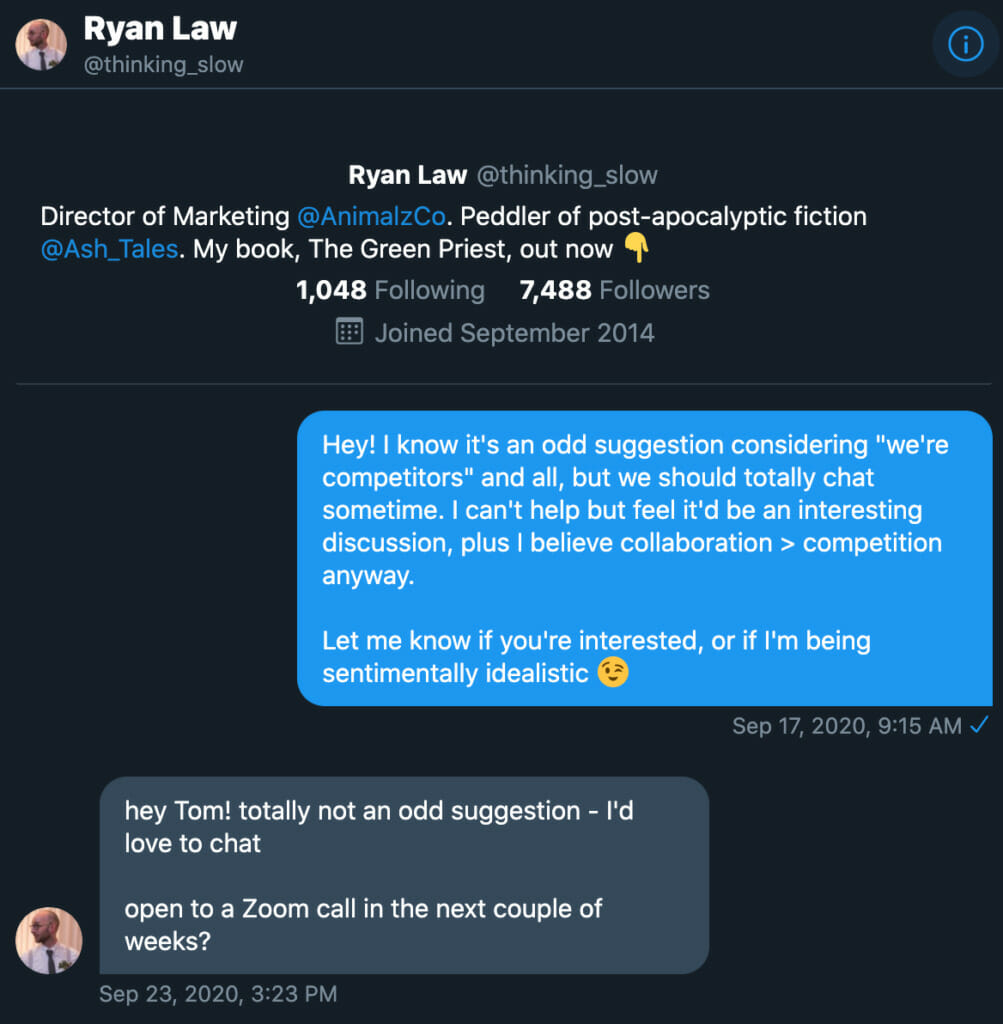 Many old-school agency marketers might consider this as fraternizing with the enemy. But we have a lot in common, and I learned a lot from our conversation.
There's a caveat to this advice: Competition is worth learning from only if they're thought leaders in your space. Sacrificing your own methodologies just because someone is opinionated about their own may backfire. However, if they're sharing new ways of improving upon your craft, it's well worth listening.
There's plenty of pie to go around. But, more importantly, your competitors are continually setting new standards for working. It's your job to embrace, adopt, and build upon them.
3. Choose to expand vertically or horizontally.
Traditional advice tells us to niche down when starting an agency. While this is solid advice, eventually it will feel limiting. Especially as you approach a natural decline in growth.
To alleviate this problem, it's common to take a broad leap by expanding in one of two ways:
Broadening out into different service offerings (e.g., "SEO" for a content marketing agency);
Serving new industries and markets.
While talking to existing clients and uncovering new problems yields additional services, expanding your capabilities means offering something entirely new.
A dramatic example of this is a software development agency offering UX and UI services. The two are interlinked but require wildly different capabilities and resources.
There's no right or wrong answer to this, and for established agencies it requires a slow and deliberate plan. A safe approach is to partner with contractors and freelancers to fulfill new business. This way, you can focus on business development, communications, and awareness to build a sales pipeline and "validate" early demand.
The hard work is building out a team that can deliver on those services, along with leadership that can ensure a smooth operation and a stellar service for clients.
This approach takes a lot of work, so it's worth taking a lean approach when starting. As I mentioned earlier, we started expanding our own services by doing things in-house, building out simple systems that allowed us to scale steadily without sacrificing quality.
For ambitious agencies, taking an MVP approach can unlock incredibly lucrative revenue streams. Start small, and then start hiring new talent to expand upon what you've started.
How to communicate new services to potential buyers
For agencies, getting new services to market can seem like a daunting task. I've found the simplest (and fastest) method is to craft highly specific offers.
By communicating the following, you can turn a list of vague services into crystal clear propositions:
Who the offer is for;
The problem the service solves;
What exactly the service is and how it works.
Let's look back at my agency's beginnings. Starting as a productized digital PR service, we solved a single problem for a specific audience: getting martech companies featured in marketing blogs.
Why this audience? Because that's where my track record was at the time. Here's what our very first landing page looked like in 2016: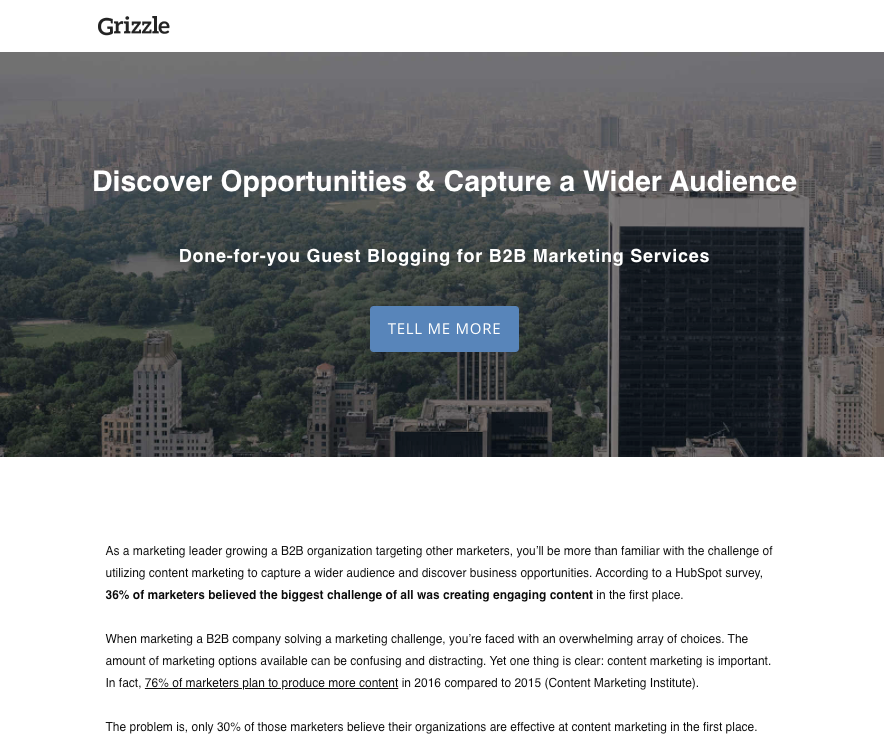 This landing page wasn't pretty and broke many copywriting rules in the book. However, it did communicate everything a potential client needed to know and was responsible for my first $9,000 in monthly recurring revenue. As a solo-founder at the time, that was huge.
When crafting offers like this, we rely on a messaging framework called SCQA, which stands for:
Situation. Set the stage by demonstrating you understand your prospects current reality. Lead with a statement that your audience ultimately agrees with. Define a problem that's either top of mind or one that they're constantly aiming to overcome.
Complication. What are the hurdles that prevent them from overcoming this problem? This is your chance to present them with cold hard facts, which are most powerful when accompanied by third-party statistics and data.
Question. Now it's time to release some of that tension, and bring existing thoughts to the forefront. Your question is simply another way of stating, "How do I overcome this?"
Answer. Your offer, value proposition, and call to action.
Let's dissect our guest blogging offer against the above model. Here, we outline the situation:
As a marketing leader growing a B2B organization targeting other marketers, you'll be more than familiar with the challenge of utilizing content marketing to capture a wider audience and discover business opportunities. According to a HubSpot survey, 36% of marketers believed the biggest challenge of all was creating engaging content in the first place.
Not the best paragraph in the world, but it gets the audience nodding. Why? Because I used the exact language spoken by marketing executives (despite the apparent buzzwords). From here, I touch upon a simple but powerful complication:
When marketing a B2B company solving a marketing challenge, you're faced with an overwhelming array of choices. The amount of marketing options available can be confusing and distracting. Yet one thing is clear: content marketing is important. In fact, 76% of marketers plan to produce more content in 2016 compared to 2015 (Content Marketing Institute).

The problem is, only 30% of those marketers believe their organizations are effective at content marketing in the first place.
Back in 2016, not everyone knew where to focus their content marketing activities, and fewer were pleased with the results. These statistics present facts, but painful ones. Now's our chance to set the stage for our solution:
So, how do you produce content that's proven to engage and expand your audience, generate opportunities, build high quality backlinks – all while positioning yourself as a thought leader at the same time?
The above question sets the stage in two ways. First, it aims to read our audience's mind. It could have simply said, "How do you produce content that gets results?" and had the same effect.
But it's in the specificity that draws curiosity. Generating backlinks and establishing thought leadership are two common content marketing objectives. By presenting an approach that achieves these, we build anticipation and draw the reader toward the answer: our solution.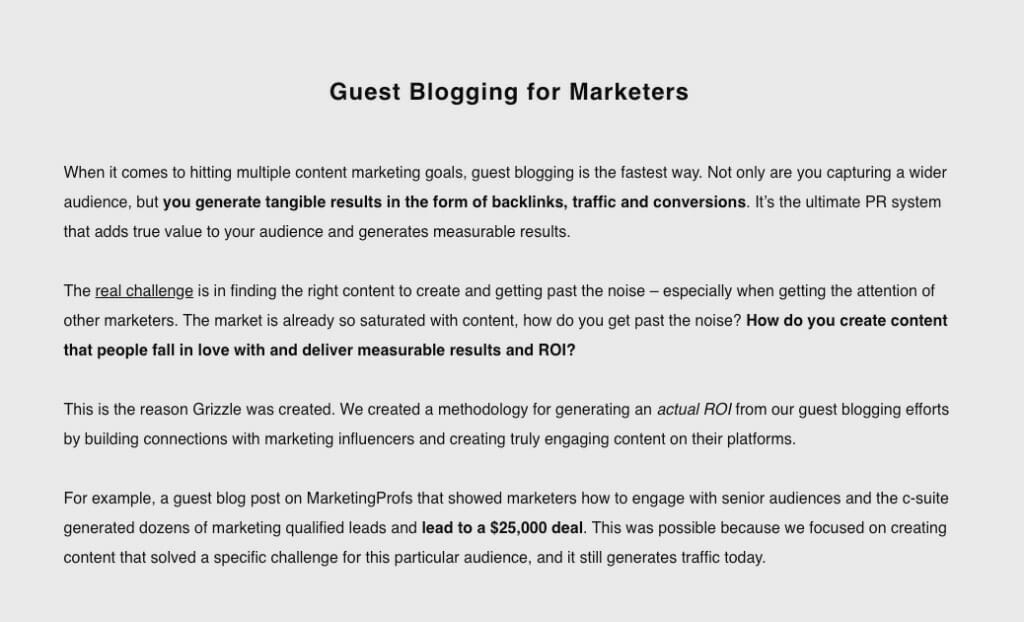 I know, the copy is terrible. But the problem, value proposition, and offer are clear. While this follows a simple long-form copy structure, there are plenty of other ways to lay out the information your audience needs to make a decision.
The purpose of your offer is to "land and expand." Attract new clients to start a commercial relationship. Time and time again, I've found that reaching out to prospects with a broad offer fails to get the conversation going. Create an offer to solve a specific problem, show clients you're a reliable partner, and nurture accounts over time.
What to do when your pivot doesn't work
At the end of 2019, I noticed an increasing shift toward organic marketing in the ecommerce and consumer technology space. People like Web Smith from 2PM, and others in the D2C space, were advocating and sharing examples of brands who used content to build organic audiences. After some initial digging, there was a clear opportunity to offer our methodology to this market.
Expanding into a new market was exciting. Not only because I'm fascinated by consumer brands, but the opportunity to make an impact was huge. Competition, at an initial glance, is far lower than the current B2B environment.
Long story short, penetrating this market was challenging. After a few months, we realized that not only did we have zero track record in this market, but we didn't truly understand their motivations. Many of our ideal target accounts (in terms of size, number of employees, and marketing team structure) still prioritized performance marketing over other activities.
When conducting a post-mortem, it was clear we expanded too early. There's still plenty of opportunity in a space where we have a strong track record, plenty of results, and great logos to organically carry us forward.
So, we "un-pivoted." It was a tough decision, as we spent a lot of work researching, developing offers, and producing our messaging. But to expand successfully, we'd need to dedicate ourselves to in-depth customer development, persona conversations, and perhaps take on some projects for free (but only if you have a limited track record in the new space you're looking to expand into).
The biggest mistake was ignoring our own advice. We should've started by sprinting a handful of specific offers to this audience. This would have given us the feedback we needed much earlier.
If you've made significant changes to your value proposition and overall positioning—and you don't see results—take the time to evaluate why this might be before deciding what to do next.
When we conducted our post-mortem, we aimed to answer the following questions:
Why do we feel this isn't working?
What go-to-market activity have we already tried?
What is the data from those activities telling us?
What go-to-market activity could we try?
To commit to this change, what do we need to do?
Is there any publicly available data that can help answer these questions?
If we need to un-pivot, how would we do it?
The answers to these questions will help you decide whether to press forward or rollback. There's no single clear-cut approach to this. You've got to figure out what's right for the business, and what your immediate priorities are.
For us, that priority was the sales pipeline. We couldn't grow to where we wanted to go without increased revenue. So we went back to a proven approach.
Other warning signs included a lack of responses to our high-performing outreach campaigns, along with the fact that new content wasn't performing well. All-in-all, the message we were putting out to the world didn't match the needs of the audience.
This philosophy applies to the service offers we talked about earlier. Only this time, the consequences aren't as harsh. You can test an offer, review the feedback, and then pivot or move on quickly. It took us a lot of trial-and-error, but until we're ready to expand into broader markets, this experimental methodology is the one we stick to.
Conclusion
For my agency, our journey has come full-circle. We started by offering something that clients want. But the further we moved away, the more we realized the need to go back. Funnily, we now use our very first offer as a method to acquire new clients.
Specific offers are an entry point for new business. They may not generate the largest deals, but they certainly get your foot in the door. Do a damn good job, and you'll develop those deals into bigger accounts over time.
All clients want from you are the results you promise and a supplier they can rely on for years. It starts by proving you're the exact partner they're looking for.