Freemium to paid conversion rates for SaaS businesses hover around the 2% mark on a good day. That means that 98% of your free users will stay that way forever—never diving into their wallet to provide you with the MRR that will lower your CAC.
Now, there are many methods you can use to try and increase your conversion rate. You can create a sense of urgency with a well-timed offer (e.g., "Get 50% off your annual plan, this weekend only"). Or you could work on your upselling, in order to close the penny gap. And these are both effectives strategies.
But the one thing that's going to truly make an impact—and that has a snowball effect through all your other initiatives—is prioritizing your user onboarding. In this article, we'll show you how to activate and onboard your freemium users and ultimately convert them from freemium to paid.
Don't ignore activation—or the rest doesn't matter
When I was younger, I used to be addicted to Roller Coaster Tycoon. And recently, to my delight (not so much to my partner's), I found a free version of the game for my phone. After 15 years or so, my theme park building skills have become a bit rusty—but the app's onboarding sorted that out in minutes. Within minutes of joining, I was already building my first ride.
The onboarding process took me through how to build my park from scratch, step-by-step—before introducing tips that encourage me to share the game with friends, like adding my name and social networks (events that will keep me around for longer and become more competitive).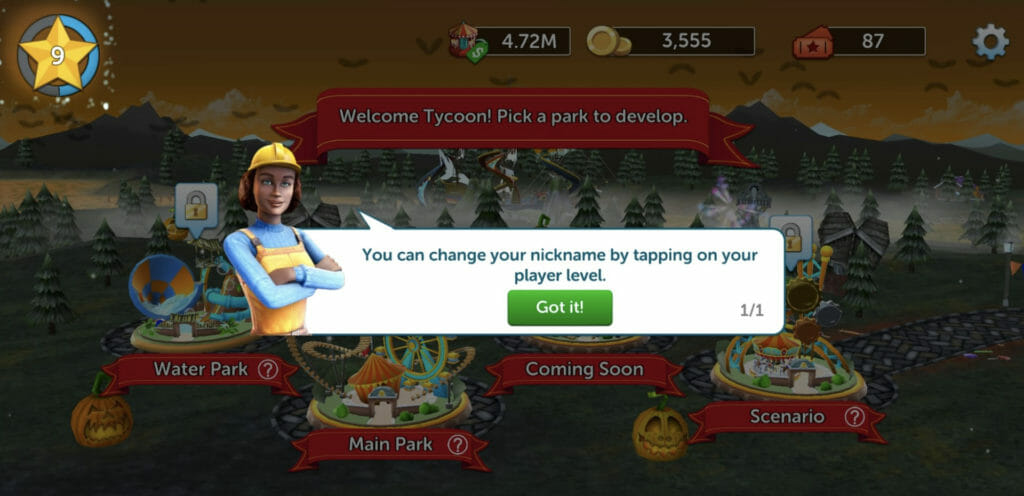 While I'm not in the business of theme park building in my day-to-day life, there's a lot to be learned from the gamification of user onboarding. It's a tactic that game designers had been using long before marketers to increase money spent by gamers. With each step you're shown—in a game or product—you find value, and get to the "Aha!" moment as soon as possible.
The "Aha!" moment (a.k.a the "Wow!" moment, Time to Wow, or Time to First Value), is the moment in which your customers "get" the value of your product, like in a cartoon when the lightbulb goes off above the character's head. Some notable "Aha!" moments you'll have encountered are:
Scheduling and holding your first Zoom meeting;
Connecting a Trello board to Slack for instant updates;
Uploading your first receipt to Expensify, then getting the money back;
Seeing your social media post live through Buffer's scheduling feature.
Great user onboarding is imperative for steering your users in the direction of conversion, and it all starts with activation.
Improvements in a user's first five minutes can drive a 50% increase in lifetime value. Users who truly understand why they need your product are likely to stay around for longer. And that's why you need to be giving your users a reason to keep coming back to your freemium product.
Onboarding is overlooked by many companies, and customers feel the same way. Over 90% of customers think that companies "could do better" when it comes to onboarding. Think of your onboarding process as a candy store pick and mix, you can try a bit of everything before deciding on your perfect combination. So, what's in your onboarding candy bag?
Let's walk through some of the most effective ways to activate and onboard your freemium users.
1. Use email to hook your users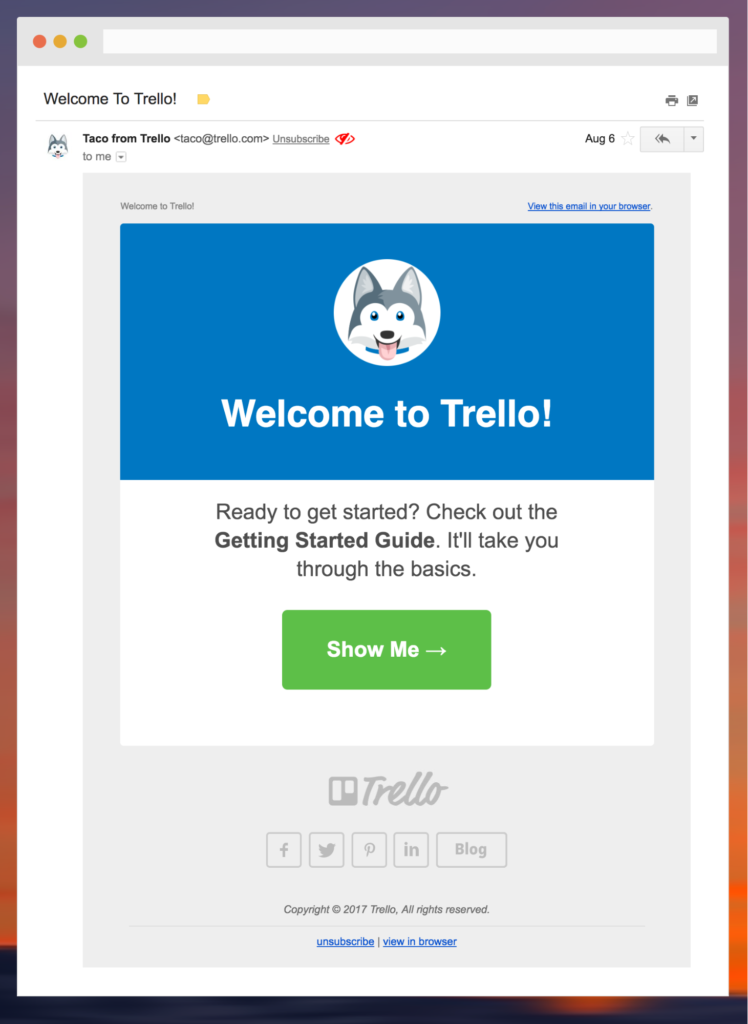 If your email onboarding flow ends with "confirm your email address," you're missing out on a massive opportunity to make a good first impression and get your users to make the most of using your product. Freemium users signed up for a reason, and email is an effective way to show why they made the right choice.
What works for one company, won't work for another—it's all about finding what works for you. Yes, this involves testing. As with SaaS trials, your emails should introduce your company and demonstrate the value your product provides. Introduce them to your dashboard; suggest helpful tips for getting started. Get them from thinking about your product to using your product as quickly as possible.
If you have certain features that both freemium users find value from, be sure to highlight those in an email. You can also use email to point them to helpful documentation or guides to get them started.
2. Grab their attention with in-app messaging
In addition to email, you can use in-app messaging to set up targeted tooltips, tours, and related articles at set points in the user journey.

Fresh user to your platform? Give them a tour of the basics—and be sure to direct users' eyes to key "Aha!" moments in your product to reduce their time to value. The average product tour has a completion rate of 61%—that's some mighty fine engagement. Remember, simplicity is key:
Imagine that you're using an application that's loaded with lots of options, tons of ways to configure our settings, and lots of buttons to press. We've all been in this situation. Frustrated with the UX flow and superfluous, irrelevant options in our way, we're likely to quickly abandon this application. And that's the key takeaway: More features do not mean more value. Instead, design a less-is-more experience for the average user, and you'll find that your users will thank you.

GoodData
With in-app messaging, you can get really clever with your communications. If users click on a paid feature—don't hide it from them, explain the benefits of this section so users understand how they can level-up their usage.
Look at what Mixpanel does for their Flows section in-app. Instead of blocking off this feature, they use a shroud over the premium feature and explain the potential that Flows has—users can even go on to watch a video and learn more.
3. Don't sleep on retargeting
When you know users have taken certain actions in your product, you can go on to retarget them. This strategy works best when you've gathered pre-qualifying information from your users—more on that next.
To extract real value from your freemium users, you must constantly analyze the data they give you. Based on unique metrics and behaviours, you can identify when and where the user is most likely to upgrade, and tailor your marketing accordingly.

Marketing Manager Erin Barber at Simplaex

If you know that a particular cohort of users work in ecommerce but haven't signed up for the paid plan yet—show them testimonials and case studies of your successful ecommerce customers.
Or if you know someone's been hovering around the Pricing page—strike while the iron is hot and show them an offer—like this ad I got from SuperHi the other day. I'd downloaded their ebook and had been looking at their pricing plans (which I thought were pretty reasonable). But now with an offer like this, they're at the top of my mind.
Retargeting can also be effective and staying top of mind and ultimately drive your users to becoming a paid customer.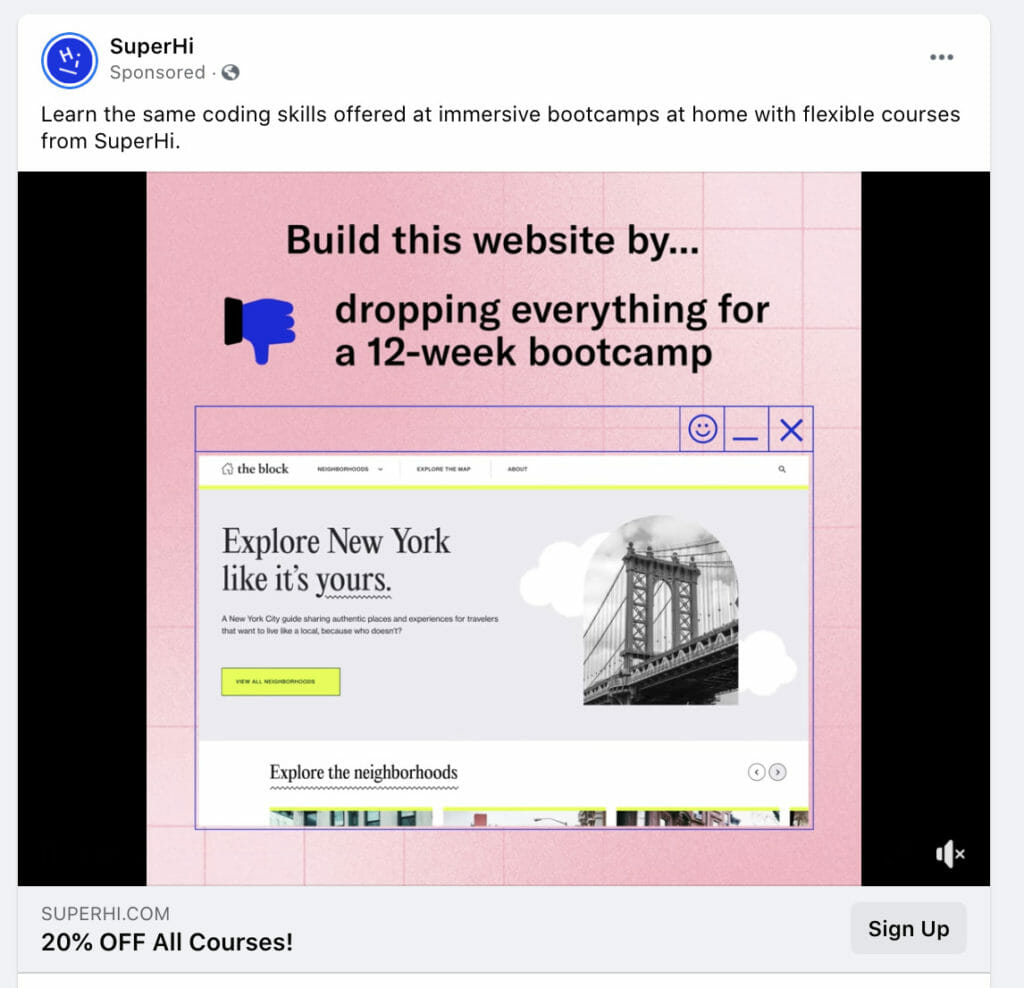 4. Go above and beyond with advanced personalization
Personalization bridges the gap from "Eh" to "Aha!" at lightning speed. In fact, by adding basic personalization to your website, you can boost your sales by 8%—just by showing users that you know who you're speaking to.

All those small personalization efforts (e.g., showcasing relevant user stories upon login or suggesting relevant integrations) make the user onboarding experience that bit smoother.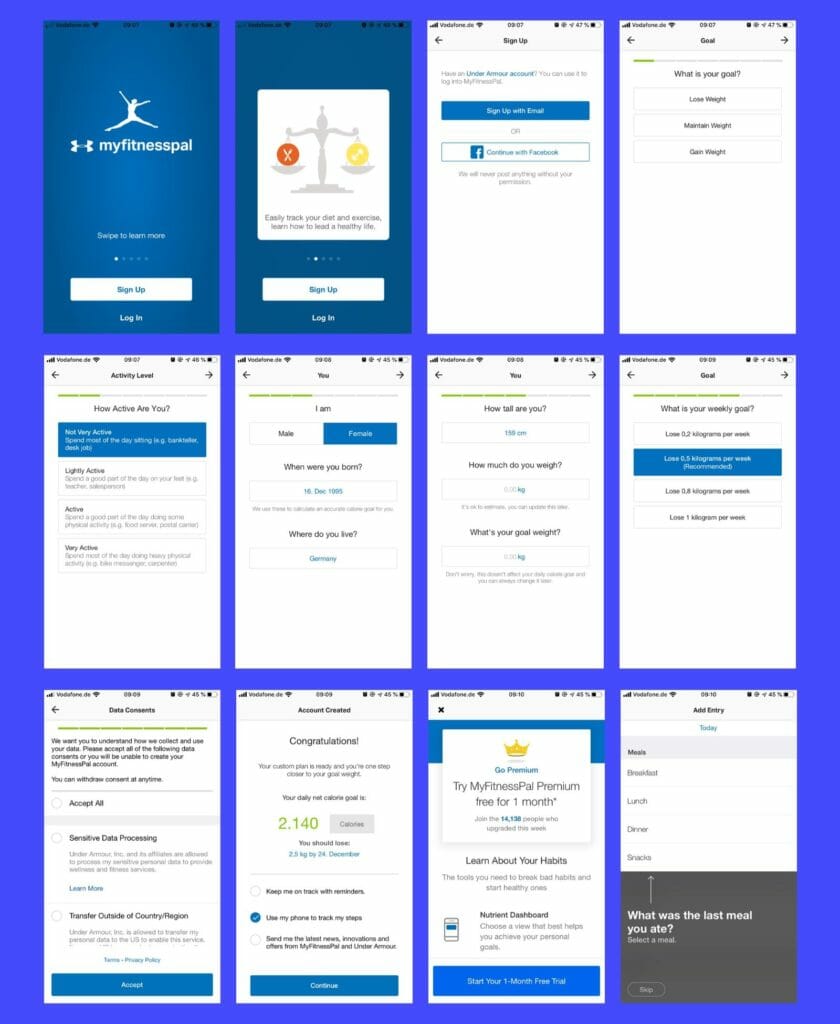 Make the most of the information you know about your users and build out targeted modal messages that appear in-app. These should be personalized and hammer home the point that your paid plans have so much more to offer.
With the qualifying questions that Dropbox collects, they begin to show targeted pop outs as your free space decreases, knowing that you're working with a professional team and that you need it. It creates a sense of urgency.
When logging back into HR software Gusto, for example, you're greeted with "Welcome back."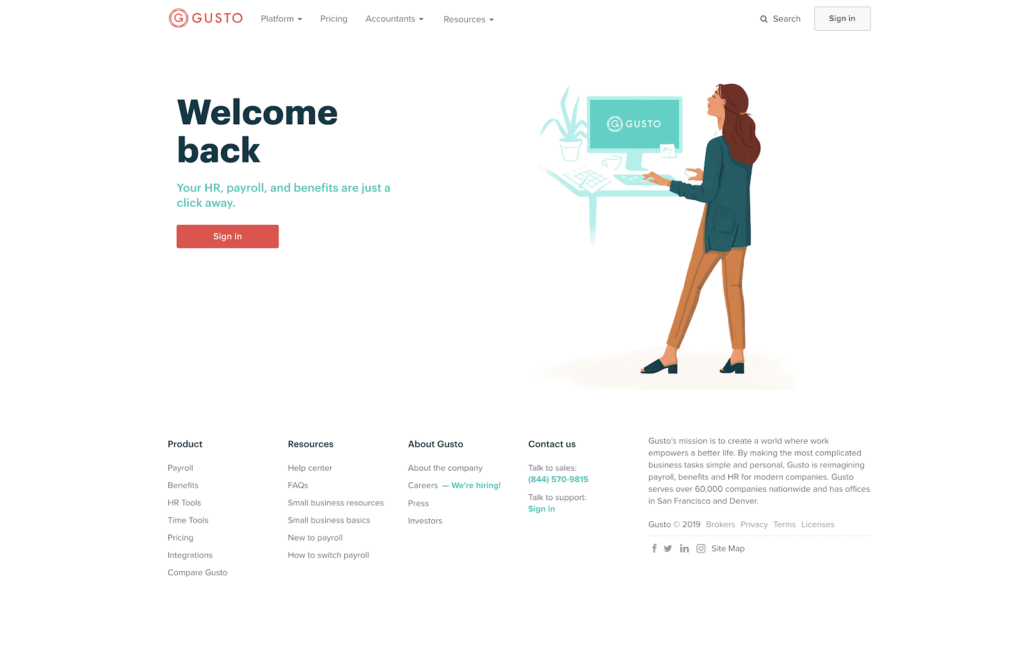 Here's another great example from Proof.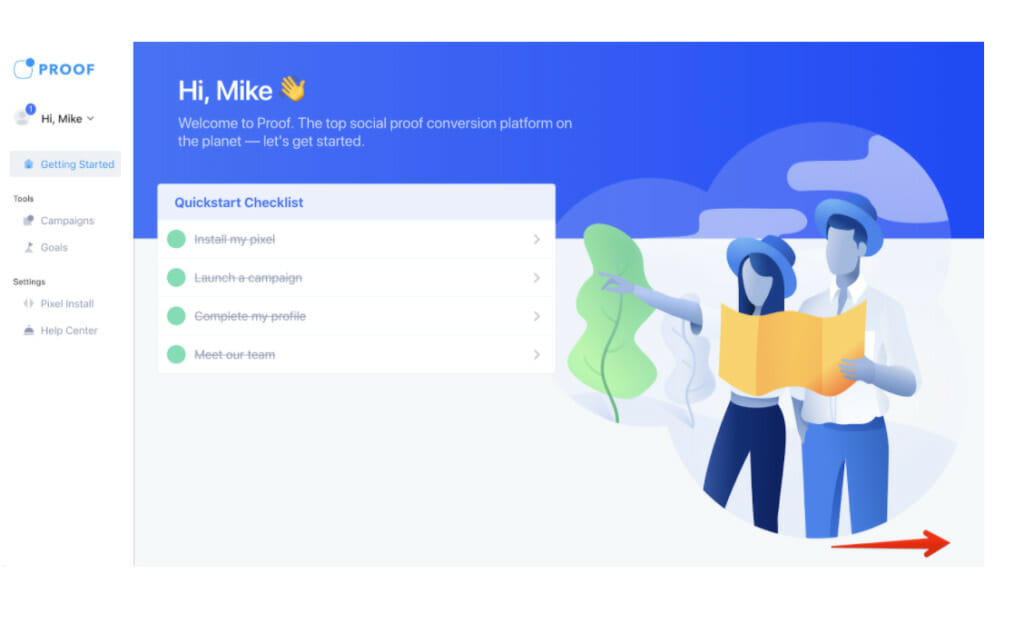 5. Lend a hand with customer calls
Word of warning about this one: Most users don't want a call during their sign-up process. During the "warm-up" process (e.g., when a user is onboarding), 80% of sales calls go to voicemail. But depending on your industry and your target audience, they can work. Again, it comes down to experimentation.
Where customer calls can be exceptionally helpful is when selling to larger accounts. The solution: Give people the option to get in touch on their own terms—like Atlassian does with their product discovery sessions: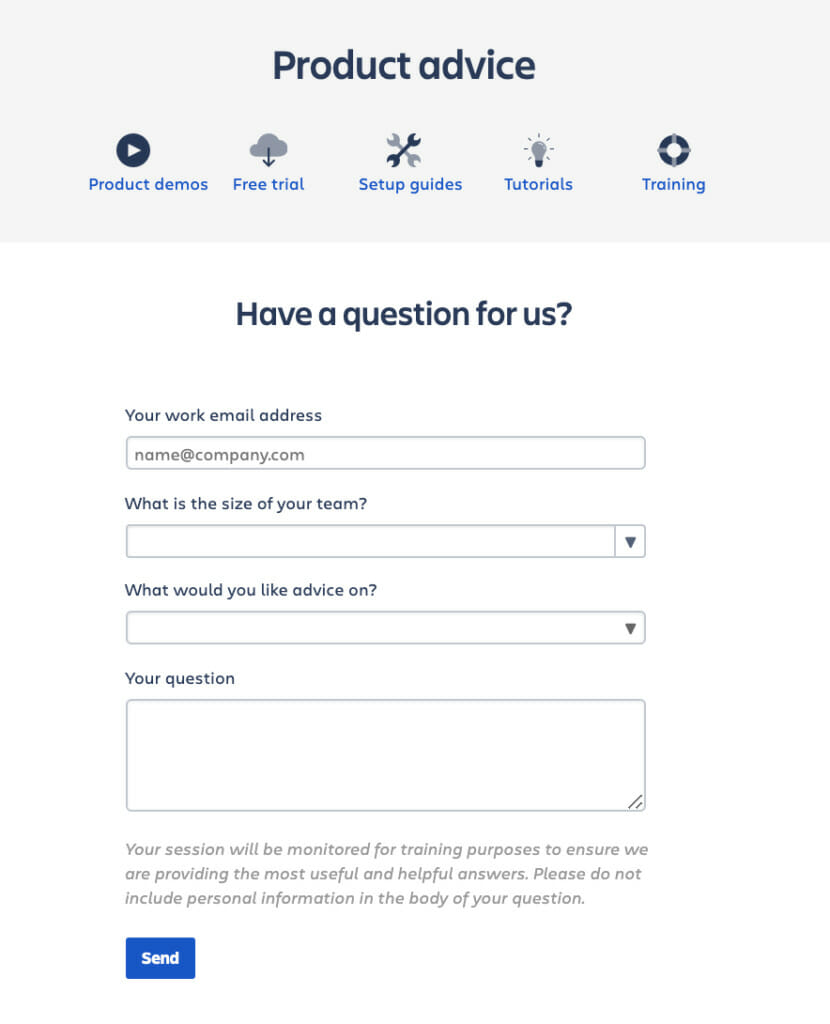 Getting to "Aha!" for freemium users
Effective onboarding and activation is great, but if it doesn't increase conversions, something is amiss.

Here's how to take your onboarding and activation the final mile and convert your freemium users.
Ask prequalifying questions
If you're speaking to everyone, you're speaking to no-one. Okay, your personas on paper are one thing, but not every marketer, product manager, or CEO fits into the same bucket. Asking key questions upon sign-up is a sure fire path to success.
At Typeform, they want their users to find a form template that suits their users' needs, so that they can find value as quickly as possible. Upon sign-up, you're taken through a short survey that allows Typeform to show you the best forms for your needs. The data gathered can also be used to improve retargeting efforts as well as marketing communications.
Here, I've replied to the survey questions, saying that I'm a SaaS Marketer at an SMB looking to manage events through their tool—and the results are pretty spot on.
Straight away, I can start using their tool to manage my events and get feedback—plus, they're already looking great (important to us marketers). Recreate what Typeform does by asking the following questions when users sign up:
How big is your team?
What industry do you work in?
What department do you work in?
What's your main goal with our tool?
With these four key questions, you can then personalize the first screen that users see—whether it's forms, dashboards, or email templates. From there, your user can dive straight in, friction-free to their pre-picked "Aha!" moments.
Prequalifying questions also allow you to better understand how certain users use your product, which can be incredibly useful for customer research and developing new features your users will love.
Show users how to use your tool
By using in-product tours, you can steer your users to discover the right features, at the right time. Users are 123% more likely to complete tours they start themselves versus a tour that appears automatically, and 38% more likely to complete a tour triggered by an event they just completed. Not every user is going to want a full tour right off the bat, be sure to give them an option via button to continue their tour or walkthrough at a later time.
Tech giant Slack uses an automated onboarding tours to get users to do one action that will get them to stick around for the long-haul: communicate.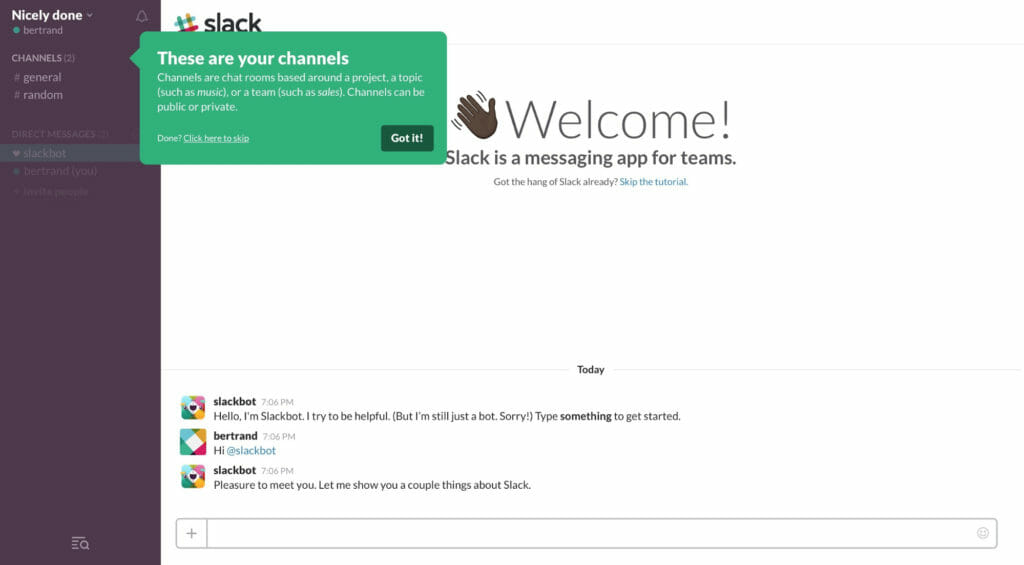 And once you've communicated with Slackbot, it's time to talk to real people. By inviting your team and creating channels, users can breeze through the platform to find their "Aha!" moment and get their work done quicker.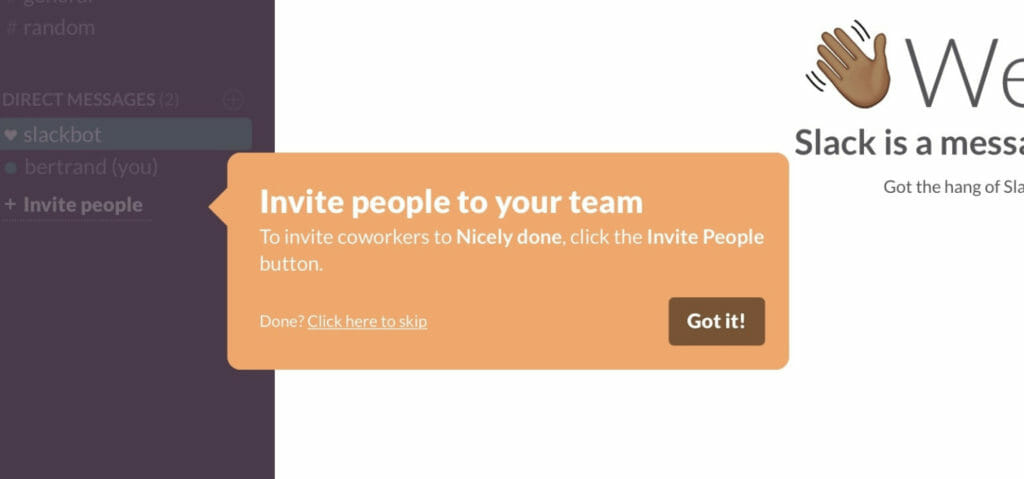 Within just a few minutes, you're already up and running and see first hand how Slack can potentially fit into your workflow.
Highlight sticky features

If users can't see what they stand to gain, it's impossible for these products to gain traction. And without traction, there's little hope for sustained long-term growth success. That's why it's essential to identify your product's core stickiness, build that value into your product and support it long-term so that your users keep coming back.

Cara Harshman of Amplitude
What parts of your product make people stay around for the ride? These are features that gently "lock" people into your tool. It could be an integration with a data-provider, or maybe you know that once a user invites three people to their plan, they will stay for much longer. The best product-led SaaS companies will have a handful of features that they know will boost their retention rate.
You can find these sticky parts by comparing feature usage through data-analytics platforms like Amplitude or Mixpanel. Consider offering a taste of what premium can provide but keeping the functionality limited.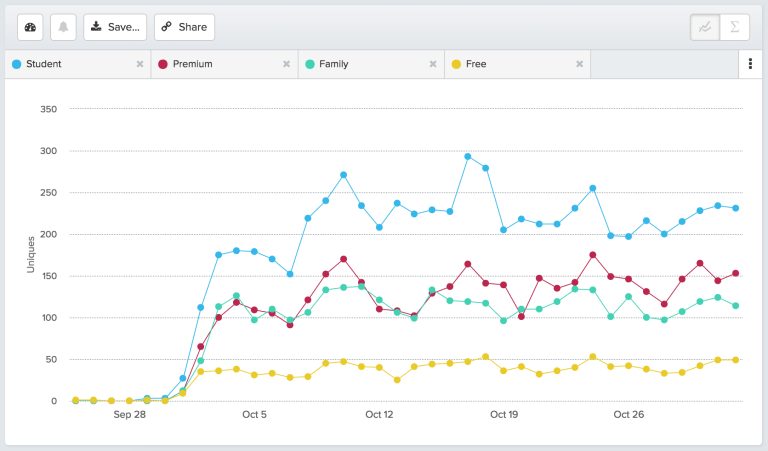 Then, when you know these sticky features—make sure that you highlight the benefit of those to your free users, to encourage them to make the jump to a premium plan. You can do this in-app by adding a tooltip that encourages users to engage with these features, like what HubSpot does below. Teamwork makes the premium work, afterall.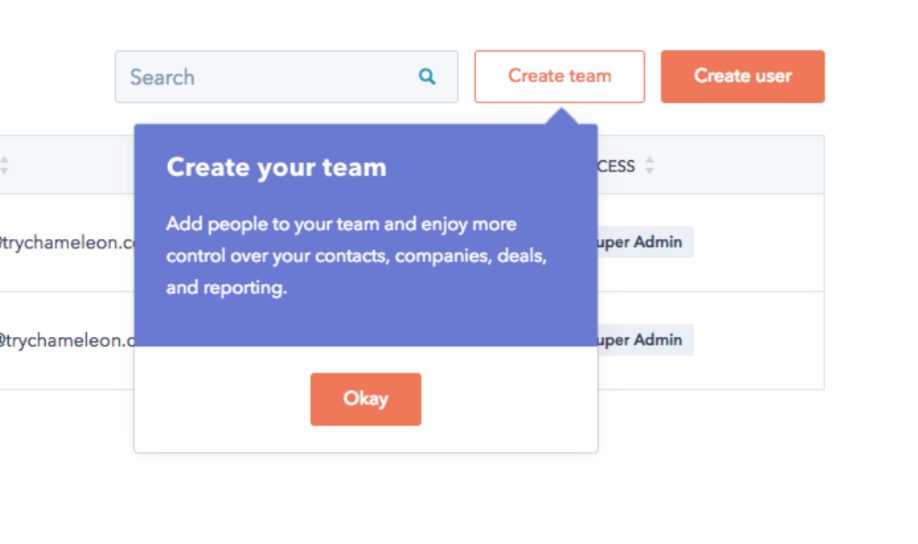 Build soft friction points
There's a fine line between too much friction and just enough of it. While friction will slow down your users' path to "Aha!", it can also have a positive impact.

As CXL notes:
Friction can be good for sign-up flows

…provided that it's "purpose-driven" friction—friction that's intentionally incorporated into your sign-up flow. Usually, this is either to:

Increase the quality of your sign-ups;
Improve user engagement.

Take Pinterest. They deliberately add friction to the sign-up process by asking the user to follow a minimum of five interested topics. Then, they nudge users to install the Pinterest browser button before taking them to their page: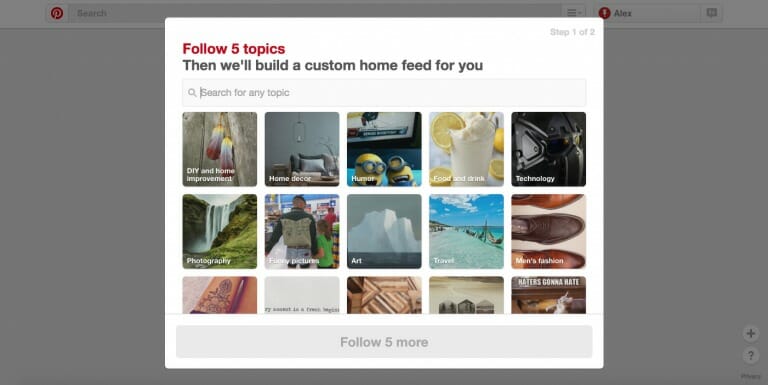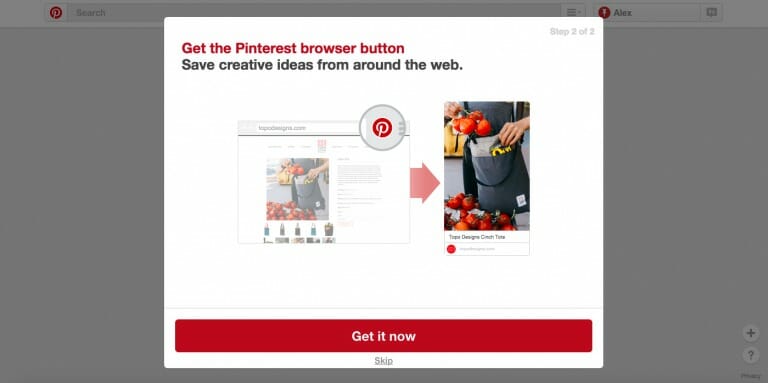 This is positive friction—and the more effort invested into building a product goes hand-in-hand with how likely users will be to stay.
Trello integrations add a reasonable friction to their freemium product. Users go through the process of learning how to integrate with their chosen tool, get the information flowing between the two, and then enjoy the benefits of their supercharged workflow.

And here comes the "but" —only one integration is permitted per free board. Now, this is reasonable friction as users have already experienced the benefits of one integration. Imagine what they could do with a handful of integrations.
Go for the ask at the right time
Timing is crucial when it comes to converting freemium users. If you come in too soon with your prompts, you're going to annoy users with your efforts. But if you wait too long, your users are at risk of staying free forever. The BJ Fogg Behavior Model dictates that user behavior comes from people taking the right actions, at the right time, with the right motivation.
Looking at the graphic above and applying it to freemium conversions, we need to be looking at three key points:
Ease of use. How are your users finding your product? Are they lost or have they successfully adopted your tool?
Value proposition. What will users gain from upgrading to a premium tier?
Prompts. What will nudge users into making the leap to payment?
If your users have a strong value proposition and have been successfully onboarded onto your tool, with tours, marketing communications, and personalization—then the prompts have a much higher chance of succeeding.
Examples of powerful prompts
As you move towards the revenue stage with your freemium users, it's vital that these prompts are impactful and perfectly timed. And there's a variety of different prompts you can use to encourage users to get their credit card out.
Limited time offers
To be used sparingly so not to affect your perceived value, this prompt can do wonders for a user who is waffling about payment. By offering a discount over a longer period of time, you can increase lifetime value and ensure that users stick around for longer.
For example, Headspace offers a 40% discount on an annual subscription. The habits built over that year would make it very difficult for users to cancel their subscription after that time period.
Trial periods of premium features
If you have an active cohort of freemium users who are using free features to the maximum, consider offering them a limited trial period of freemium features. Think of this as turning the free trial model on its head and working in reverse—instead of offering all premium features at the beginning, offer them only to your most engaged users.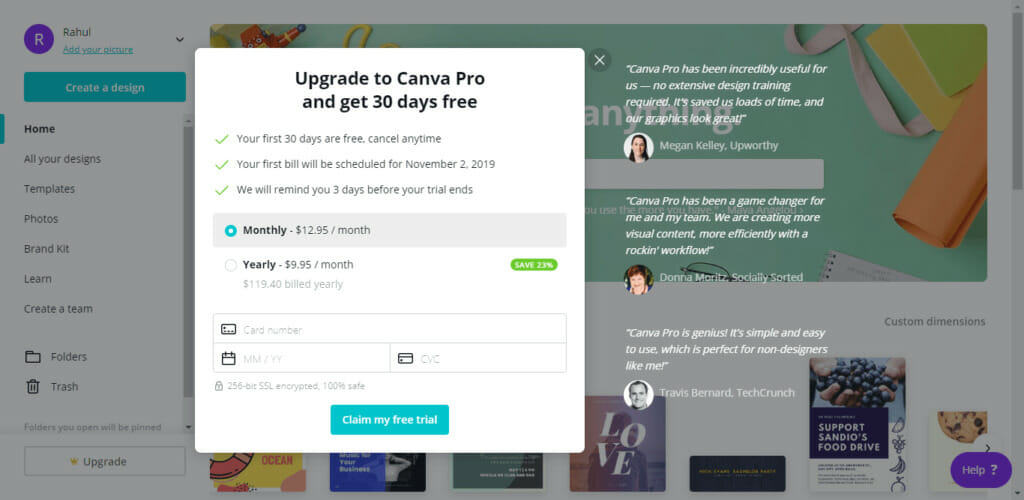 Canva are masters of this. They work on a freemium model where you can be free-forever and always gain value—great! But the Pro plan is always there and free to try—with raving social proof to tempt you even more.
Bonus: Don't forget to highlight and build your community
In many cases with freemium tools, the benefits of the tool extend beyond the actual product. Whether you're using Grammarly, Trello, or ConvertKit, the community built around those tools is an excellent way to tip the scales and get freemium users to convert.
As shared on Databox:
"FusionAuth's Brian Pontarelli says the best way to convert free users to paid is: Don't try. If you force this for a developer-oriented tool like FusionAuth, your users are going to get annoyed and start ignoring you or stop using your tool completely. Build a great community, and then conversions will just happen.
Danielle Juson of inSided agrees: "We find that online user communities have a big impact in converting B2B SaaS users from free trials or freemium tiers to paid users."

Highlight your users success through testimonials. Build and engage in your own community built Facebook or Slack group. Highlight the fact that the benefits extend far beyond the tool.
Conclusion
Onboarding your freemium users should be at the top of your to-do list. It's one thing to acquire a ton of users through traditional marketing channels, but if they're feeling lost, you're going to struggle to get them to convert to freemium.
Guide your users to their "Aha!" moments and prompt them at the right time. Now go forth and set up some great user onboarding—I'll be working on my virtual theme park.