There's a popular user experience quote: "A user interface is like a joke. If you have to explain it, it's not that good." While clever, that statement is far from true.
User interfaces shouldn't be complicated, but you can't expect a new user to understand a new interface without any direction. Similarly, you can't expect an existing user to understand an updated interface or a new feature without any help.
That's where user onboarding flows come into play. Proper user onboarding leads to more money in the bank. It's a familiar concept for most, yet user onboarding flows are often created during development—then ignored.
Onboarding flows deserve innovation, experimentation, and optimization, too. You might be surprised by the ROI.
What is user onboarding?
User onboarding is the process where a product, service, or app is introduced to a new user and they become familiar with it.
This phase often starts with the user's very first experience with the product, where they are expected to be assisted and taught what to do. It's a crucial moment where the product makes its first impact, and it may also begin before the user interacts with the product.
User onboarding flows: types and subtypes
There are two main types of user onboarding flows:
Mobile user onboarding flows introduce you to a game, a productivity app, a banking app, etc.
Desktop user onboarding flows introduce you to a task-management tool, a conversion research SaaS, etc.
5 subtypes for onboarding new users
There are also different subtypes depending on how you're onboarded:
Benefit-focused: Explains the 2–3 core benefits and how to achieve that benefit via the site/product/app.
Function-focused: Explains the 2–3 core functions of the site/product/ app and how to use them.
Doing-focused: Walks the user through the first or most common actions.
Account-focused: Walks the user through account/profile creation, including finding and adding friends or interests.
All: For complex sites/products/apps, it may be necessary to combine the four above.
The onboarding type depends on the medium, but the five subtypes are all viable options. It comes down to how much information your new users need to get to the core value, how easy it is to discover the core value organically, and how "new" the core value is.
Two popular user onboarding myths
Despite popular belief, user onboarding does not begin and end with the first experience. There are three stages of user onboarding:
Before: The sign-up/registration phase. How friendly is your form?
During: The initial user onboarding flow that most people consider "user onboarding."
After: All other stages of the customer lifecycle. How can you help existing users understand new features?
Another common misconception is that onboarding email flows and on-site/in-app onboarding flows are separate. The two complement one another, working together to bring the user to the core value as quickly as possible. On their own, they're rarely successful.
Questions to ask before designing a user onboarding flow
Before you design your user onboarding flow, answer a few questions:
What's the core value you're trying to deliver to your users?
What steps do new users need to take to receive that core value?
What friction might exist within those steps?
What actions do long-lasting users take? How can you encourage new users to take them?
How familiar are your new users with similar products?
How easy is it to understand your core benefits/functions?
Nate Munger explains why the answers to these questions are important: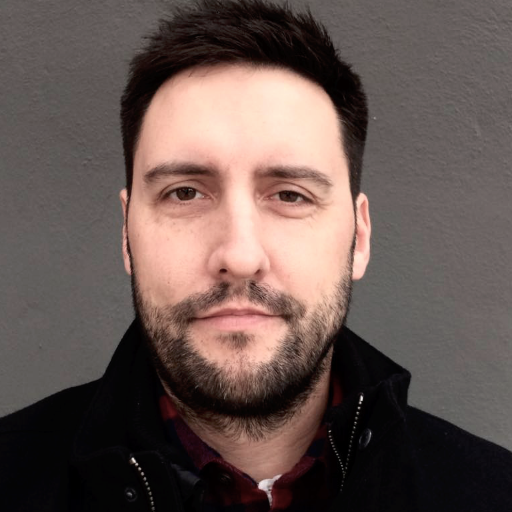 "Some new users expect you to welcome them and show them around the place, while others prefer you to get out of their way as soon as possible and let them figure things out for themselves.
The problem is that in order to be a top site with tens or even hundreds of millions of active users, you're going to have to successfully onboard customers from across this spectrum. On top of that, users don't necessarily want to do the things you need them to do in order to be successful.
You need to balance the user experience of onboarding with the friction of necessary steps such as account creation, user education, and data gathering. No small challenge." (via Intercom)
There is no "right" or "perfect" user onboarding flow. What works for one site/product/app might not work for another. In fact, what works for one user might not work for another. Designing a user onboarding flow that works is complicated. It involves a lot of research, testing, and optimization.
For example, you might need to onboard a developer vs. an average user. In that case, the flow will look very different. As Sascha Konietzke said:
Onboarding for API-centric products is very different. Developers don't want a forced click-through tutorial, they want to use your API right away. Support them with quick-start documentation, as well as example code, and get out of their way as soon as you can.
While there are no absolutes, Samuel Hulick of UserOnboard relies on some core principles: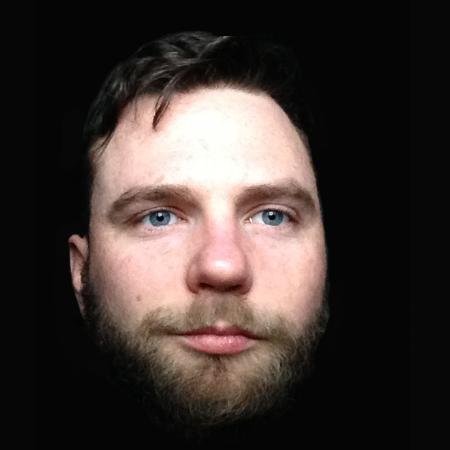 Samuel Hulick, UserOnboard.com:
"User-centric, not product-centric: Onboarding tends to fall down when it's just about the software pointing itself out.
Action-oriented, not instructive: Rather than throwing up a bunch of tooltips that I have to remember later, have me learn by doing.
Informed, not reactionary: Are the things you're having me do highly correlated with me getting value out of the product, or are you just offloading busywork because your design is broken?
Evolving, not fixed: Onboarding isn't a "feature" but it's often treated that way. Are you treating it like a quality of your overall experience that evolves along with your product and market, or is it something you ship every couple years?
Holistic, not one-off: Onboarding can take the form of knowledge center docs, blog posts, invitations from a friend, lifecycle emails, a well-timed phone call, etc. Are you focusing on the interface and leaving the rest on the table?" (via Inbound.org)
6 user onboarding flow examples
Let's look at 6 good examples of user onboarding:
1. ROBIN
ROBIN is an all-in-one ecommerce customer service tool. All-in-one tools are an easy target for user onboarding flow analysis. Since they are typically complex products with many different functionalities, poor onboarding can be detrimental.
You start at the registration page…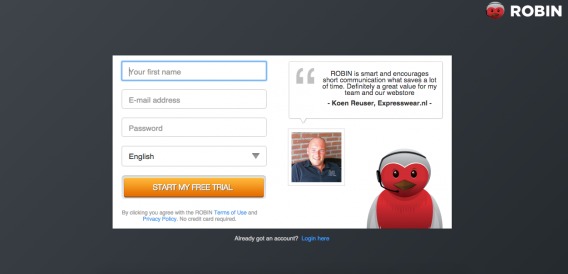 From there, you're taken to a mandatory wizard, which guides you through the process of setting up your live chat, integrating your email/social, creating customer service templates, etc.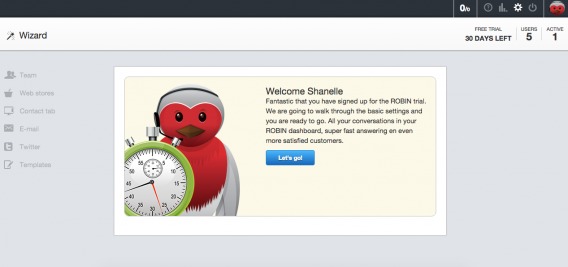 Note that, in the welcome copy, they remind you why you want to use ROBIN. This is key for the users who would rather just get started right away. The stopwatch also subtly indicates that it will be a short process.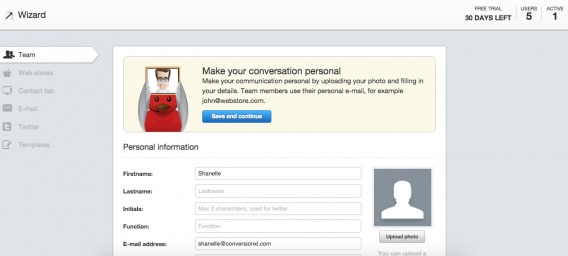 As you move through the process, the navigation to the left becomes active. At this point, you can see that you are in the "Team" section and have five more sections to complete.

In some cases, there are multiple steps within each section. For example, after completing the "Personal Information" step, you might assume that you finished the "Team" section.
Yet you're not. It's like a teacher assigning you questions 1–3, but each number also has an A–Z. Frustrating, right? Indicate progress as clearly as possible.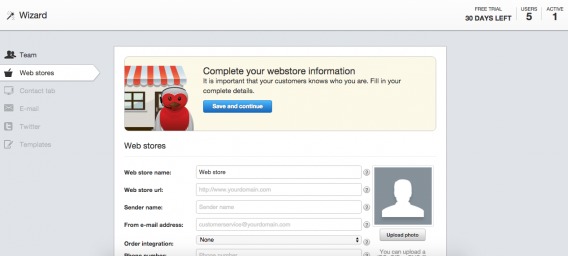 Until this point, every step has been mandatory. Below, you'll notice that an "I'll do this later" option appears:

I would assume that adding JavaScript is a high-value action. Without it, the customer service "Contact" tab won't appear on the user's site. Yet, this is not a required action.
The "I'll do this later" options continue…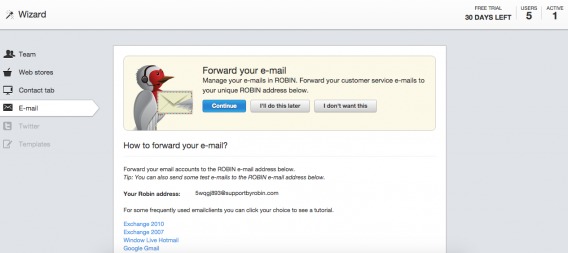 Here, you'll see that ROBIN illustrates the email forwarding cycle so that users who are new to customer-service tools get a complete understanding: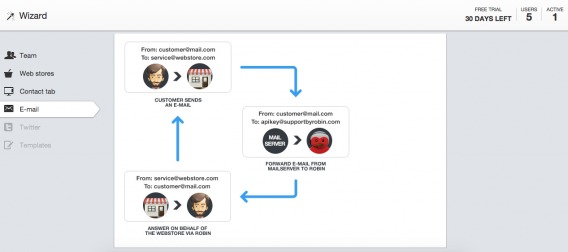 Again, more "I'll do this later" options: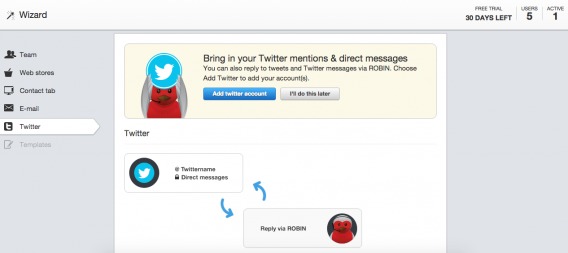 These optional steps appear at times of friction. For example, connecting your email and Twitter accounts to a tool you're unfamiliar with could feel like a security risk: "Will it tweet on my behalf?" "Will it send emails to my customers?"
In the final section, "Templates," we're back to mandatory steps: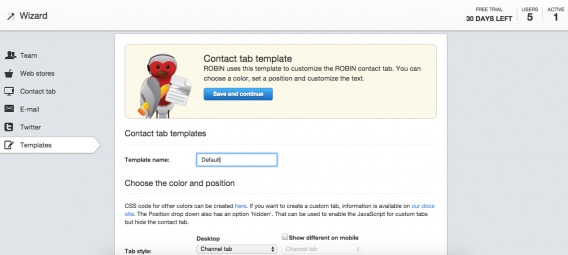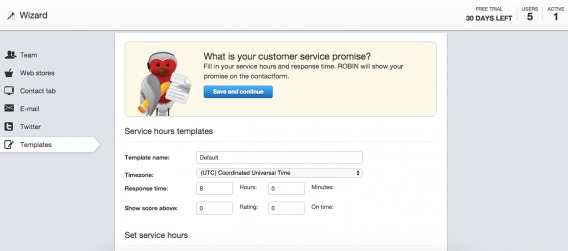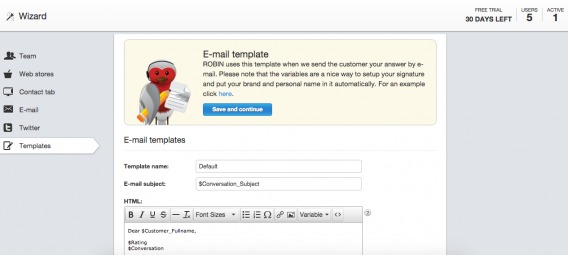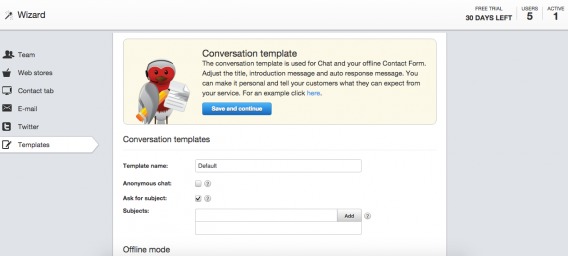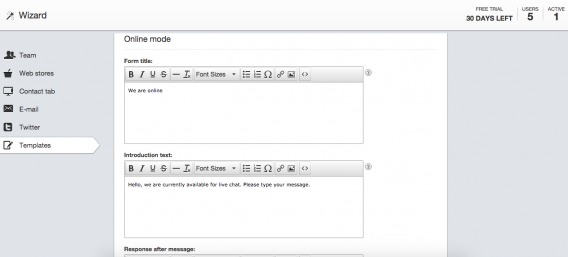 If something isn't mandatory, don't include it in a mandatory set up wizard. Instead, suggest it on-screen as the user progresses. There's nothing wrong with asking for a lot of information if it's necessary to move the user closer to your core value.

After the wizard is complete, you get a simple walk-through of ROBIN's core functions: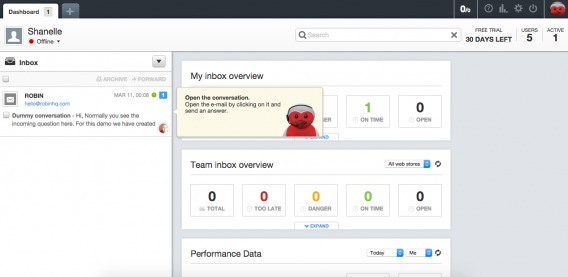 A demo message is in your inbox, and you must open it to send a response: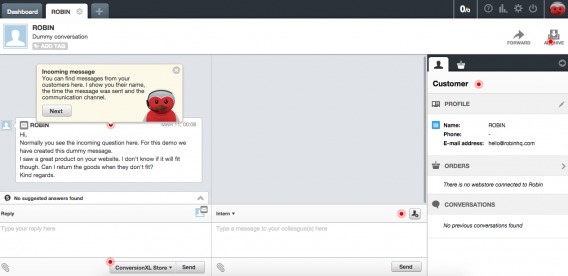 Note the red dots scattered across the screen. These indicate key functionalities that will be explained, which also serves as a subtle progress bar: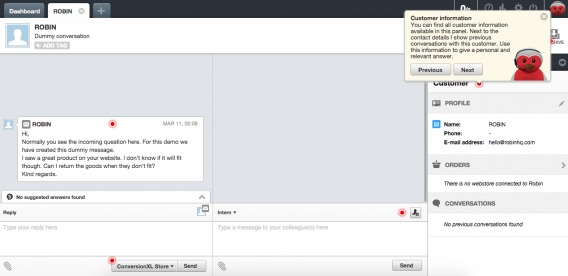 It would be helpful if the red dot within the message (the step we just walked through) turned green to indicate completion.
Here's what the rest of the process looks like…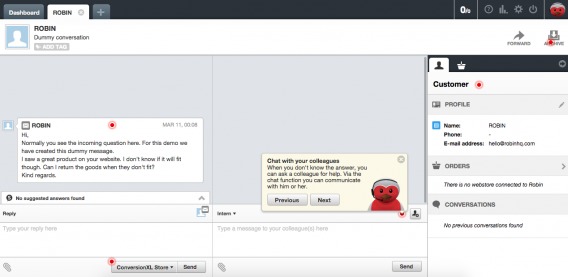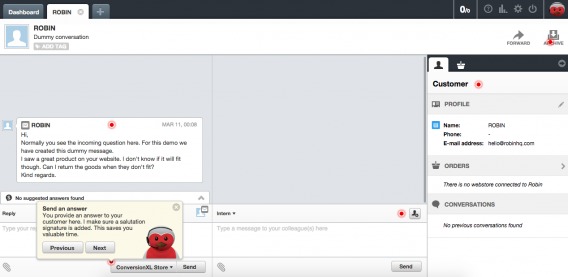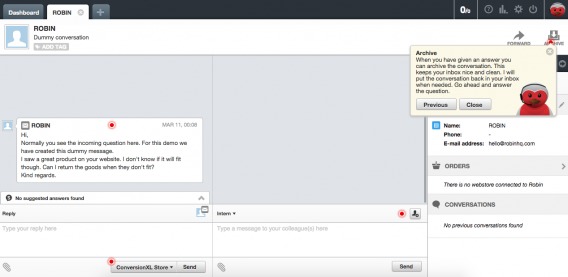 It appears that this is the core function of ROBIN. Ensuring new users understand how to work this interface is paramount. Interestingly enough, you're not asked to take any of the actions described here, which seems like a logical next step for their onboarding flow.
This user onboarding flow is extensive. A full, mandatory wizard with multiple steps within multiple sections and a mandatory walk-through. This raises an interesting question: How much is "too much" when it comes to onboarding?
Hulick has a good rule of thumb…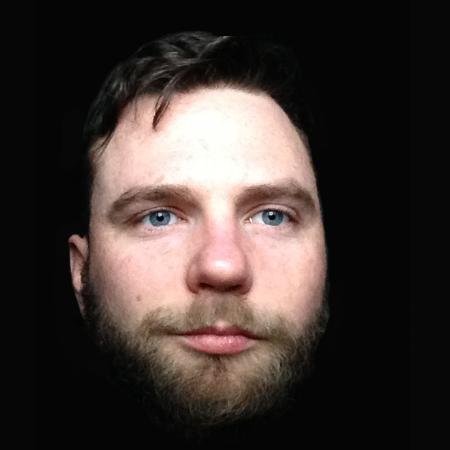 Samuel Hulick, UserOnboard.com:
"When in doubt, I recommend asking for only the information that's useful/relevant to the user at that particular time. If you can't come up with a good reason to look them in the eye and tell them why it's in their best interest to provide it, it's probably a very good candidate for leaving on the cutting room floor." (via Inbound.org)
2. Inbound.org
Note: Inbound.org was replaced by Growth Hub (growth.org) in 2018; the lessons below, however, are still relevant.
Inbound.org was self-described as "the internet's smartest marketing community." All things inbound marketing were discussed there. Needless to say, encouraging a new user to become an active, engaged member of a community wasn't an easy task.
Here's where you started: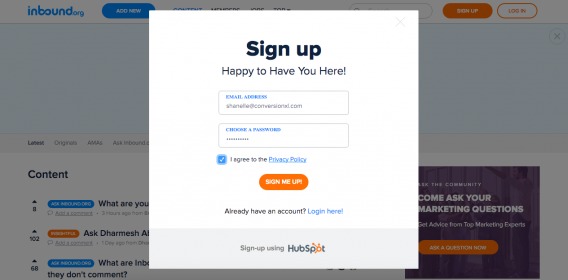 Email address, password, agreement with a Privacy Policy (that no one read)—seemed pretty straightforward. Immediately after completing the registration form, you were taken here: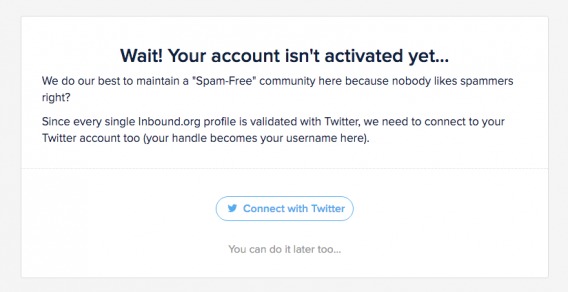 Requiring a Twitter account certainly prevented spam and made it easier to grow the community. Inbound.org knew that many marketers, their target audience, used Twitter to network with peers. So, the channel selection (vs. Facebook, for example) was strategic. Second, syncing with Twitter made it easier to recognize friends, follow friends, invite friends, etc.
Munger explains the power of social login in detail…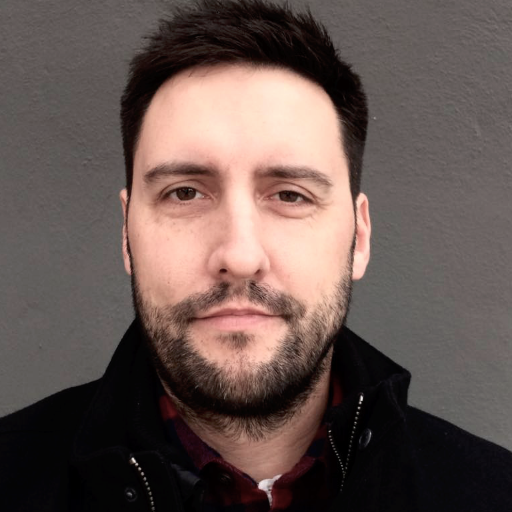 Nate Munger, Intercom:
"Their 2013 survey on The Value of Social Login says 92% of people have left a website instead of resetting or recovering login information, while 1/3 do so frequently. If your goal is any form of virality, social login is a must, as it increases your Monthly Unique Users (MUU) to Monthly Active Users (MAU), meaning a returning visitor is already in a position to take sharable actions.
Social Login also offers the ability to access and connect to the user's contacts. A majority of those surveyed (52%) believe that Social Login leads to a better, more personalized online experience. The network effect from creating user accounts with social profiles also has potential upsides for user and revenue growth. According to the same study, 78% of people say they have navigated to a website after seeing it mentioned on their social network, and 72% said they would consider buying a product based on positive recommendations from their friends online." (via Intercom)
Of course, you had to complete the basic (and familiar) social authorization…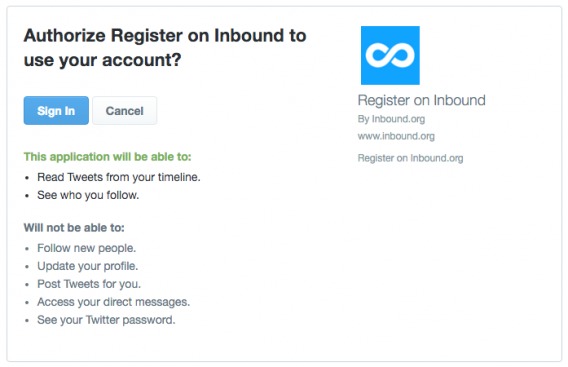 From there, you were taken to a simple profile creation page: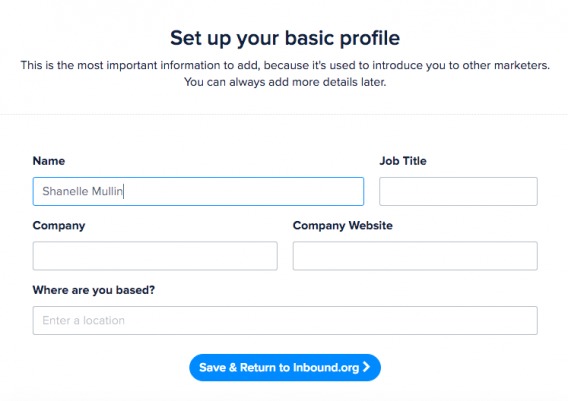 There were only a few fields. ("You can always add more details later.") This exemplified the "ask for only what you need" principle that Hulick describes. However, ideally, Inbound.org would've pulled some information (e.g., location) from Twitter.
After completing the profile page, you went to the homepage to begin browsing. That was it. Three steps and Inbound.org got out of your way…except for a clever "Getting Started" box: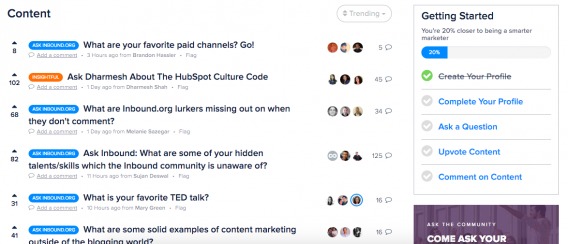 You're likely familiar with this type of onboarding tactic. If you use LinkedIn, you've experienced something similar. It's a gradual onboarding process, which is a much different approach than ROBIN took.
Each step within "Getting Started" was a link, which took you to the page that allowed you to complete the step. As you completed each, you received a green check and your progress bar filled up.
When asked about how he feels about these "Getting Started" tactics, Hulick had this to say:
Current article:
User Onboarding Examples: Analyzing 6 Real-Life Onboarding Flows