By the time Robinhood launched, it had already gained almost a million users.
The stock-trading company called out one of the biggest trading pain points (fees) in their tagline: "$0 commission stock trading. Stop paying up to $10 for every trade."
Then they used a waiting-list product launch model to create excitement and FOMO while giving them access to beta-model feedback ahead of launch.
Robinhood's messaging aimed at the right audience, at the right time and place, is what gained them a million subscribers before they even launched. It's also a prime example of successful product marketing.
In this article, you'll learn how to strengthen new product development with product marketing so you can deliver on customer needs.
Product marketing ensures new product development solves real customer problems
Without truly knowing your customers, you can't create something they need. Product marketing helps you develop a solution your customers are hungry for.
The product marketing team uses market research to guide product development's direction.
Conduct product marketing research before developing a new product. Ask questions like:
Is this something consumers want or need? How does it help them solve an existing problem?
Who are they? What attributes do they share? Which of these attributes matter most to us?
Where can we reach them? What publications do they read? Which movers-and-shakers can we befriend to access them?
What is the competition doing? What gaps are they leaving unfilled?
What is our USP? How can we ensure we stand out from our competitors?
Product marketing helps you understand who your brand is selling to, where to play, and how to win.
As a product marketer, you must keep each department aligned, continually optimizing the product and marketing and sales strategies to meet customer needs.
I'll lay down four steps you need to take when launching a new product and explain how to execute them.
1. Identify your ideal customer through buyer personas
Buyer personas fuel efficiency during new product development. They're a detailed archetype of someone who represents your ideal customer, identified through extensive user research.
It's critical that your buyer personas represent real customers that want to buy your product, not who you hope they are.
Build your personas from the bottom up. Find people who would buy your product, then fit your personas around them.
Identify realistic, testable elements to your personas. Then substantiate them with interviews and home in on the most relevant real-life pain points and challenges.
Be specific. Then combine personas with overlapping characteristics and segment personas that are clearly different.
There are several tools that allow you to do this. HubSpot has a Make My Persona Tool that takes you through a workflow to deliver a cartoon persona.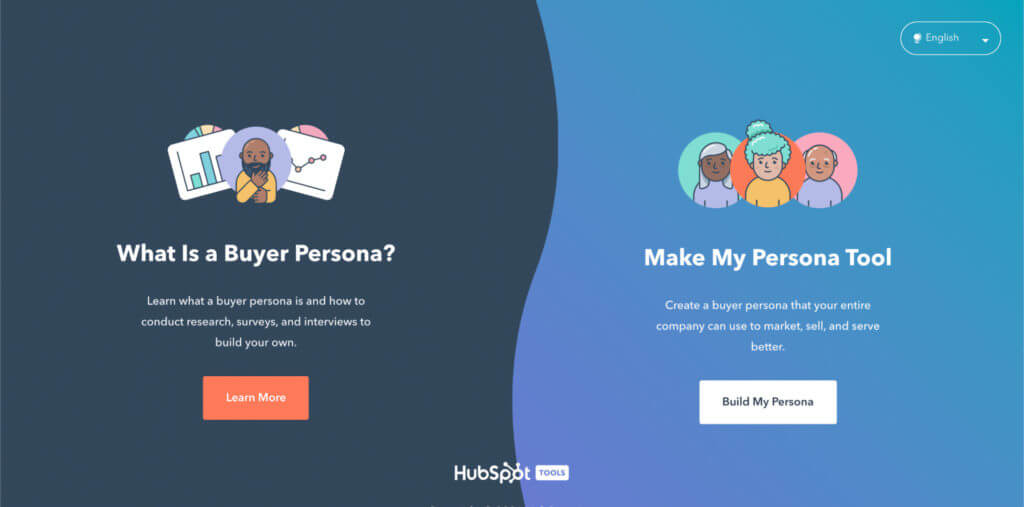 From there, you'll need to do some tweaking to ensure your buyer persona contains the most relevant information for your brand.
In order to populate tools like this with accurate, useable information, base your workflow answers on market research—not educated guesses.
A buyer persona aligns your whole company on what challenges a new product could solve. It informs how you'll deliver value, the messaging strategy, product development, sales strategy, etc., so it's worth investing time to make this a useful exercise.
2. Conduct market research to see how you stack up
Identify threats and opportunities by digging into what your competitors are doing. Review your competitors' products to identify the gaps in their offerings.
Get your new target customer and any existing customers involved by:
Interviewing them;
Sending surveys to list subscribers;
Using tools to survey users outside your list.
One of the biggest challenges when building a new product is finding representatives of this new audience to ask those important questions. That's where third-party sites can help.
Wynter has panels of B2B specialist, mid-level, and senior-level audiences.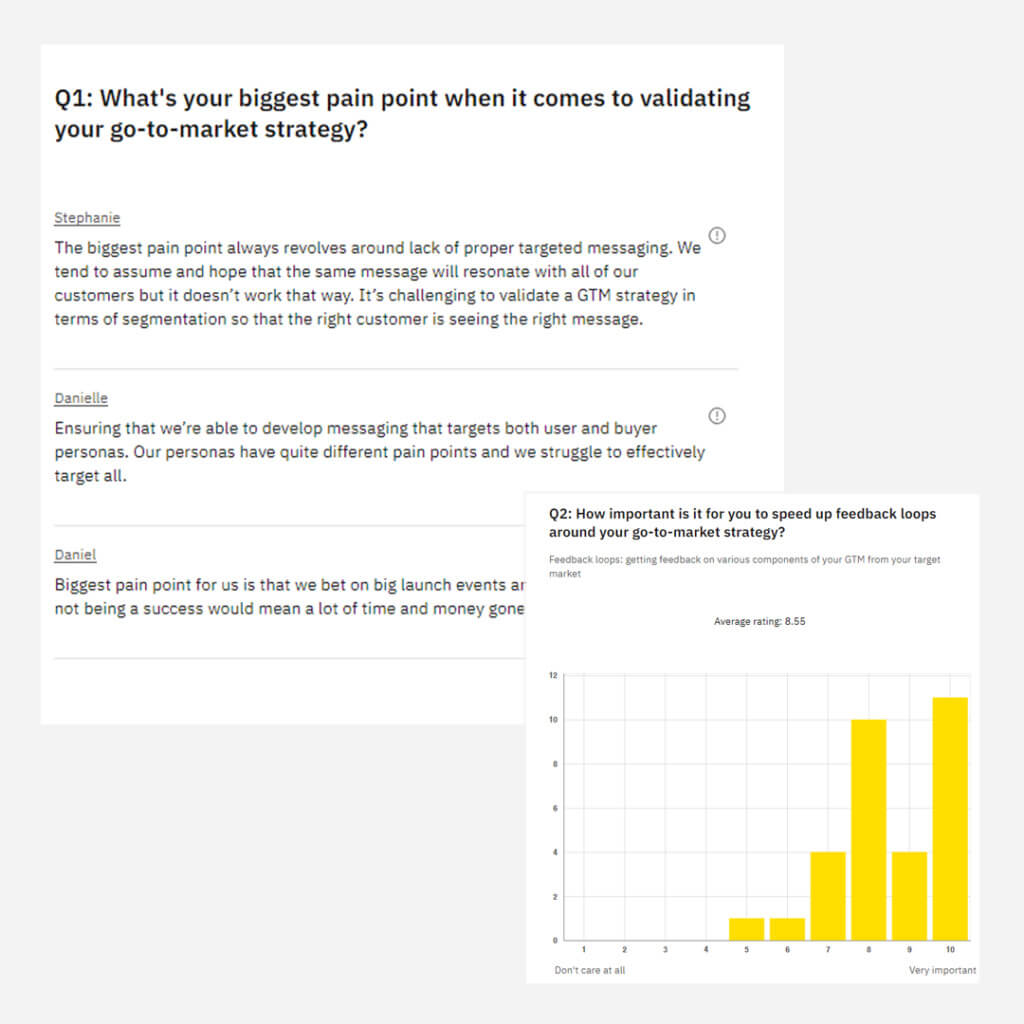 Momentive targets both B2B and B2C users.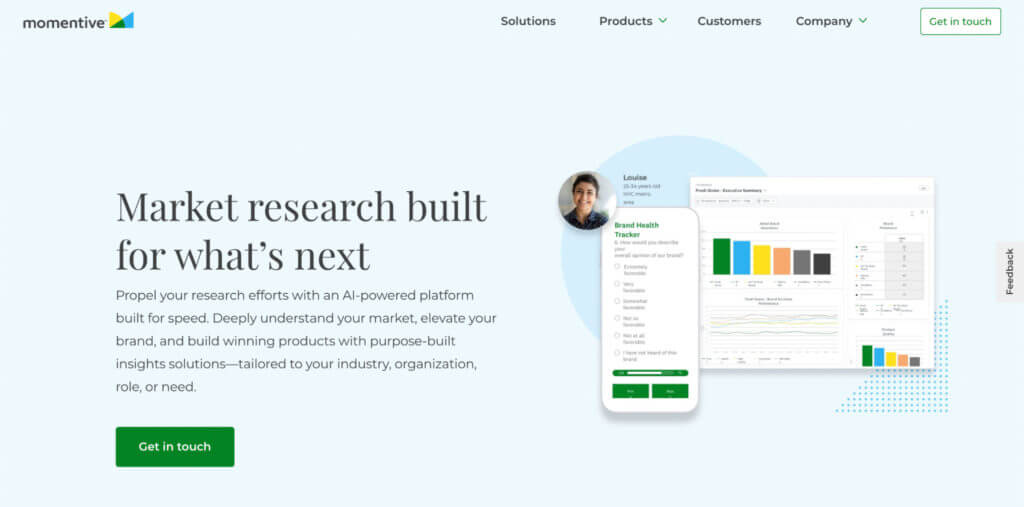 No matter how you conduct market research, design your questions to understand where current products fall short, what new features are most relevant or exciting, and what customers expect next.
3. Rally the entire company around the new product
Product marketing is responsible for positioning alignment across the company, including why you're upgrading your current product or adding a new featureset, and how you're selling it.
There are several ways to do this:
An FAQ guide;
A sales messaging playbook.
Because product marketers are masters of the product and its positioning, you'll brief all departments on assets like sales scripts and marketing collateral. You'll also help create the go-to-market strategy and define the new product's USP.
The positioning and messaging document you create will help teams get a head start, but you'll be there to ensure alignment.
4. Use data to guide product development post-launch
During the new product development process, product marketing supports the product team with their research. This data informs product ideation and iteration, helping the product team make strategic adjustments as needed.
Successful new product development cannot happen in a vacuum. As responses come in after launch, you'll adapt your product to become an even better fit.
Product marketing helps strategize, iterate, and ultimately produce a unique product worthy of demand.
Listen to your biggest fans: Leverage consumer sentiment and anecdotes
No one knows your brand better than your existing customers. Invite them to help shape your new product.
Conduct customer research with your advocates and loyal customers. Collecting voice of customer data helps you make sure users are experiencing your product in the best way possible.
​​In a Marketing Science paper, researchers defined four aspects of voice of customer research:
Customer needs described in the customer's own words;
Hierarchical grouping of needs;
Prioritization of needs;
Segmentation of needs and perceived benefits by audience.
The paper illustrates the critical need to talk to your customers. It shows them you care and that you're taking steps to solve their problems.
This research begins with your existing customer base.
CXL's voice of customer data course recommends using surveys and polls to ask open- and closed-ended questions. This gives you both quantitative and qualitative to understand your customers' motivations and goals.
Open-ended questions are helpful for gathering in-depth answers. Customers can respond to questions freely, in writing or via an interview.
The downsides to open-ended questions are that interviews take longer, and survey questions get lower response rates. Longer responses require more of your customers' time and effort.
It's also more challenging to compare results between customers or segments due to response variance.
Closed-ended questions encourage participation and allow for comparison. They can be helpful for benchmarking, perception measurement, and direct questions that don't require nuance to answer.
However, there's more room for bias.
Bias can creep in from the question creator (you) or from the respondents, meaning you might not get an honest answer. This is because the answers are provided via multiple-choice, yes or no, ranking, etc., and questions can inadvertently guide respondents' answers. It takes practice to design bias-free questionnaires.
Design a survey that helps you understand your customers' motivations and goals using a mix of the two question types.
Ask questions like:
What pushed you to purchase our product/service? This helps to understand your customer's mindset at the point of purchase.
What problem does our product solve for you? Your customers might use your product or service beyond your original value proposition. Asking about the problem it solves for your customers can help you identify new target audience segments.
Did you consider any similar products? What helped you make your final decision? This helps you understand your competition better and helps you understand your differentiating factors from your customers' POV.
Did you have any concerns before purchasing our product? What helped alleviate those concerns? Learn where you can remove friction and optimize the buyer's journey.
Are there times you wish our product could do more or perform differently? This helps identify the problems that still exist.
These questions help you shape your product strategy.
New product development cannot begin without product marketing
Waiting until after launch to deploy product marketing is a mistake. User research sets the direction for development, ensuring your new product solves real problems for your customers.
Design a survey or conduct focus groups with your target audience to better uncover their needs, wants, and motivations.
Ask questions like:
If they're already using a competitor's product, why did they choose that brand?
What do they love about the product?
What do they dislike about the product?
What features do they wish were included?
What made them pull the purchase trigger?
How does the product address pain points or goals they have?
Get to the root of your customers' behaviors and motivations to identify the top-priority features for your new product development.
Only once you've done this research can you create an accurate, useful buyer persona. Like this one from virtual whiteboard platform Miro: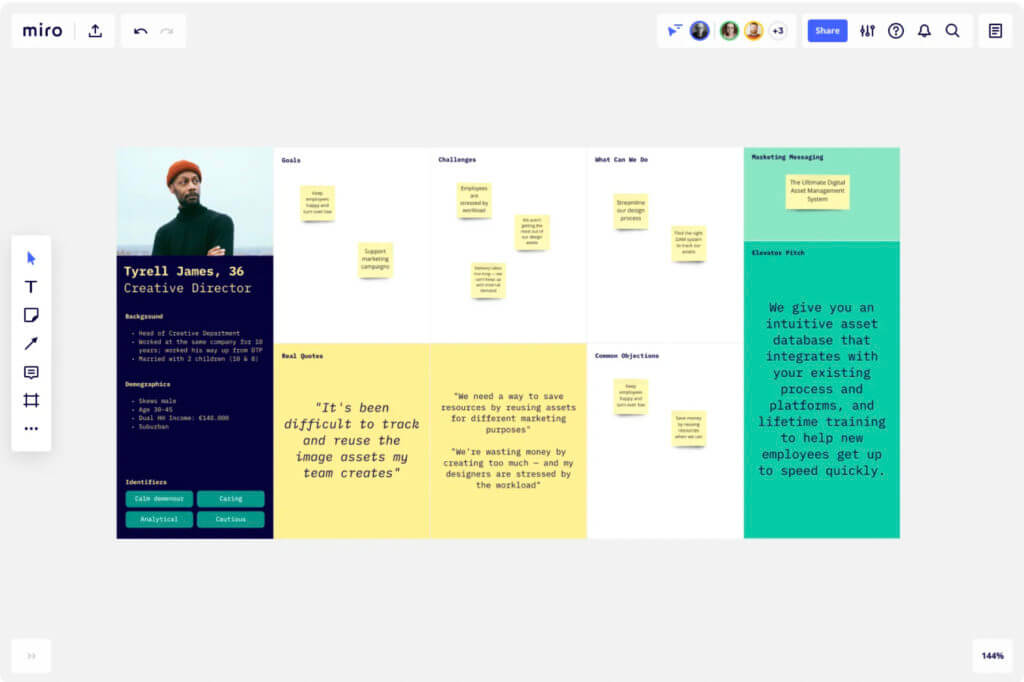 Creating a buyer persona based on market research is critical. SparkToro's Rand Fishkin explains personas often contain:
Information with no business application;
Demographics and psychographic traits that are hard-to-apply at best and stereotyping or biasing at worst;
Data that's aggregated based on informal interviews and guesswork alongside data from surveys or market research tools (with no indication of which ones came from which sources);
Idealized versions of singular, representative customer targets that narrows, rather than broadens, to whom a product or marketing campaign might appeal.
These personas are not useful. Rand goes on to say what they should contain:
The information your team (or client) needs to effectively do their job;
Details about that information's source and accuracy;
Enough breadth to represent the range of individuals covered by the persona;
Segmentation of those personas only when there's a relevant need to target, build-for, or market-to individuals in those groups differently.
Don't make your persona-building workshop a pointless exercise. Substantiate every claim with data and segment into purposeful groups you plan to market to.
SparkToro is a great resource for this. Using search behavior, the platform offers a unique take on audience insights: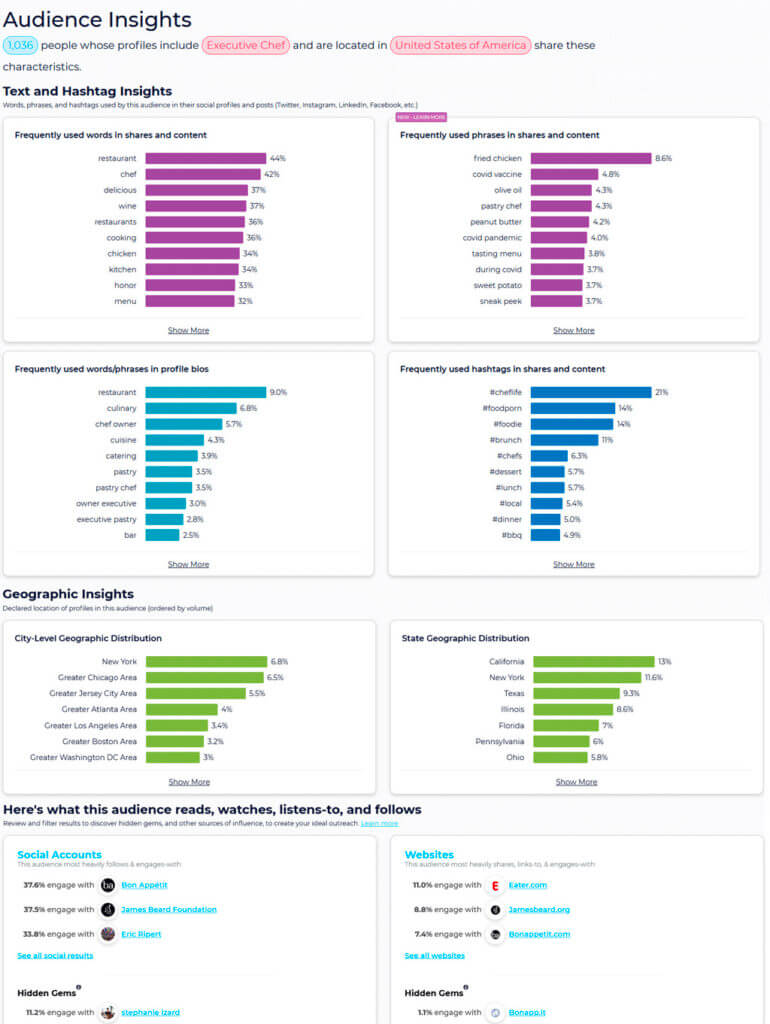 Make decisions with confidence knowing your new target customer's motivations (e.g., allocate marketing budget, tweak messaging, focus sales outreach, etc.).
Differentiate from the competition (and yourself)
The market is saturated with lookalike products. Zero in on differentiation to create a better product that's worthy of conversion.
Creating a differentiation strategy helps you in two ways:
It helps teams align on what sets you apart;
It determines how you communicate your new product's value.
Conduct competitor research in the development phase to better understand how your organization compares.
This framework from Buffer can help you determine your direct competitors: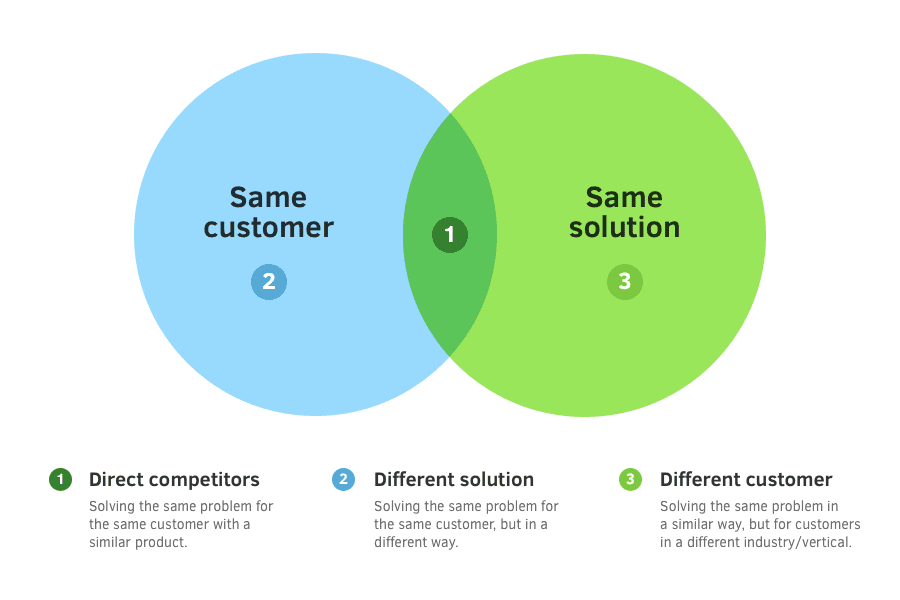 Competing brands may sell to the same customer or sell the same solution to a different customer. Your direct competitors solve the same problem for the same customer with a similar product.
Conduct a competitive analysis to analyze where similar products with the same audience fall short. Ask questions like:
Can you create features their products are missing?
Are there features where your competitors' product is weak but yours excels?
What about your brand makes you better positioned to sell this particular kind of product?
Can you distinctly improve the user experience?
What can you learn from your competitors' product reviews?
Are there aspects of your competitors' products that you can't beat (e.g., brand recognition, labor-intensive features, etc.)? Is there a cost-efficient way to close that gap?
Create a full picture of your opportunities and threats compared to your direct competitors.
Your customer research is invaluable here. Talk to your customers to understand their problems, then prioritize the features and experiences they care about most.
Feature or plan upgrades, as well as entirely new products, should hit on the customer pain points identified during your research phase.
Ask yourself:
Why should customers buy your latest release?
Why can't they get the same features from product A?
Why is it worth jumping to product B?
What have you addressed in product A to come up with product B?
New customers might come from your existing customer pool if you have an established product line.
Determine your messaging for both new and existing audiences. Their pain points may not overlap.
Be transparent when communicating value with your customers. You've already identified your ideal customer's pain points, so speak to that directly in your messaging.
CRM monday.com calls out its competitor, Asana, on a landing page.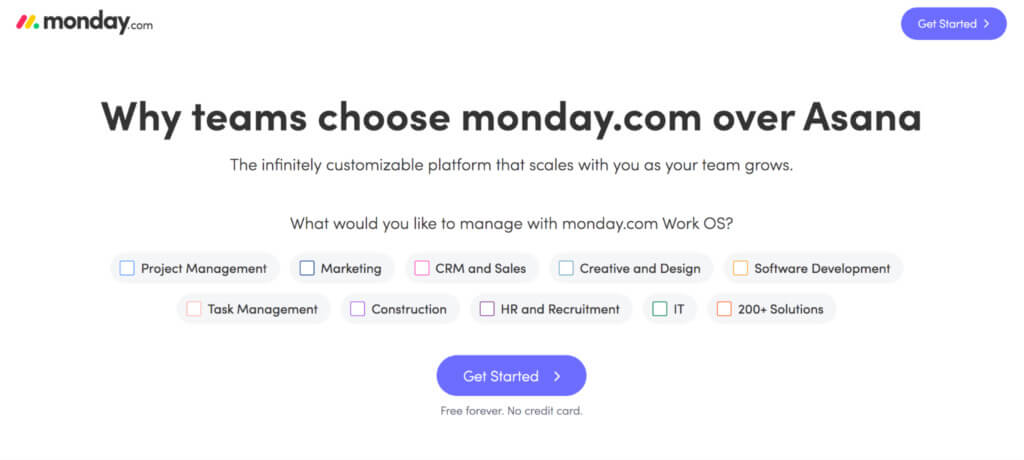 monday.com also understands that empty words don't mean much to consumers. They want to know where the true value-add lies.
Further down on the site, there's a way for buyers to compare the two products directly.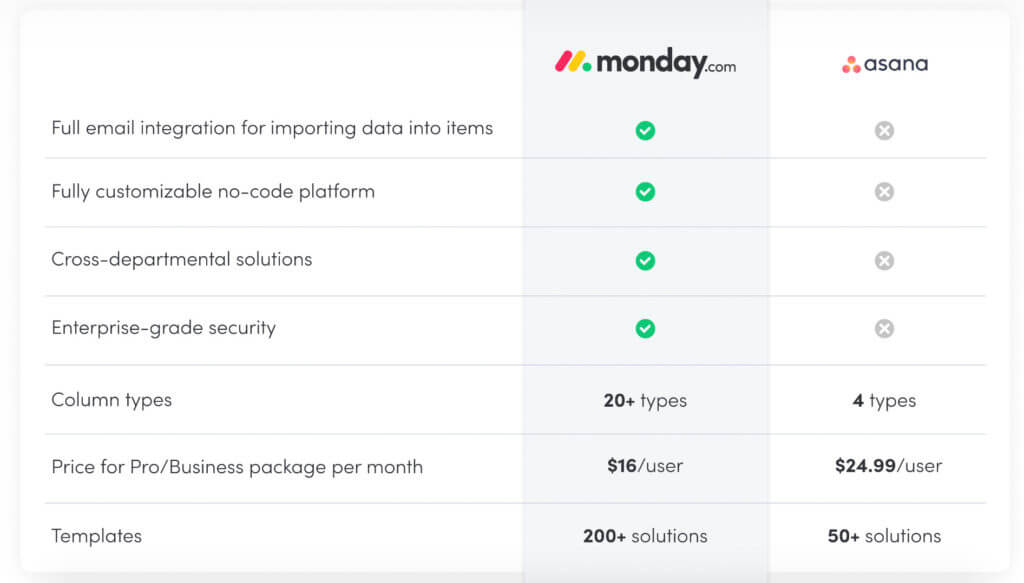 In a table, monday.com compares their platform to their biggest threat, highlighting where they excel (tied to customer pain points).
Asana's landing page, by contrast, focuses more broadly on the value they bring their clients, including stats like: "Teams report they're up to 45% more efficient with Asana."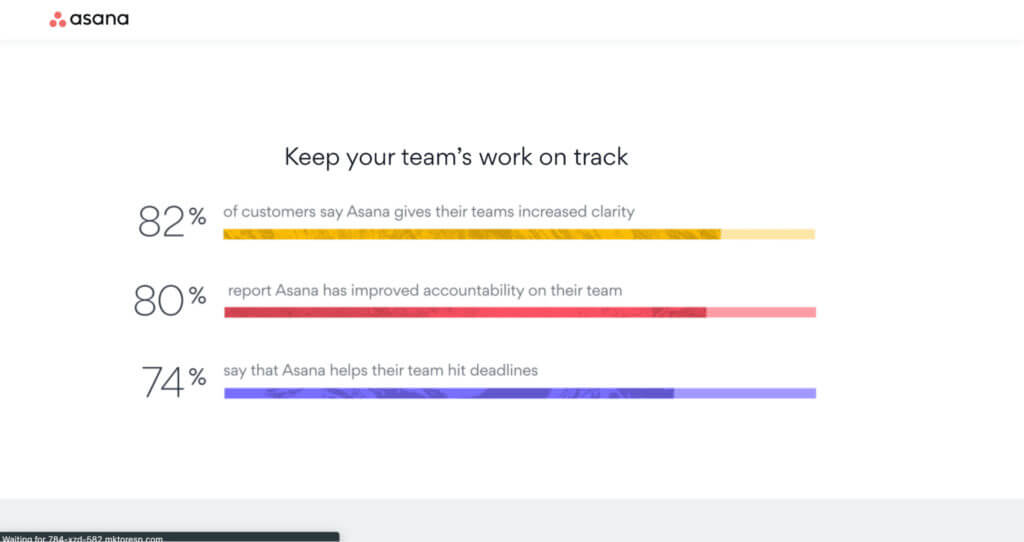 Stand out from the competition and highlight new products for existing customers by clearly communicating your USP. Tie this directly to customer pain points to help them understand its value.
Build a winning product marketing and go-to-market plan
Where your product team focuses on creating a successful product, product marketing acts as the customer's advocate throughout the entire new product development process.
According to Epsilon research, 80% of today's consumers expect a personalized experience from brands.
And a positive customer experience is tied firmly to a company's success—yielding 20% higher customer-satisfaction rates and a 10% to 15% boost in sales conversion rates.
Talking to your customers directly also deepens your relationship with them and makes them feel heard.
Customers that see their concerns addressed through your new product or product features will strengthen their affinity and loyalty toward your brand.
This comes across in your bottom line—a PwC report shows that customers will pay up to 16% price premiums when they feel appreciated.
As your product nears market readiness, create a product marketing and go-to-market plan that highlights how you'll elevate the customer experience.
Building a customer-centric product marketing plan
A product marketing plan outlines the positioning, messaging, and value proposition for a new product.
This strategy is what your teams will use to communicate the value of your new product and secure the best path toward a successful launch.
We've already covered some of the work that goes into this plan, like creating buyer personas. Those personas are a key first step to building your product marketing plan.
The research you conducted to create those personas gives you a complete understanding of your customers' pain points, needs, challenges, habits, and motivations. You'll use all of that information to build out the product marketing plan.
Next, you'll leverage your competitive research to conduct a SWOT analysis. A SWOT analysis considers your product's strengths, weaknesses, opportunities, and threats.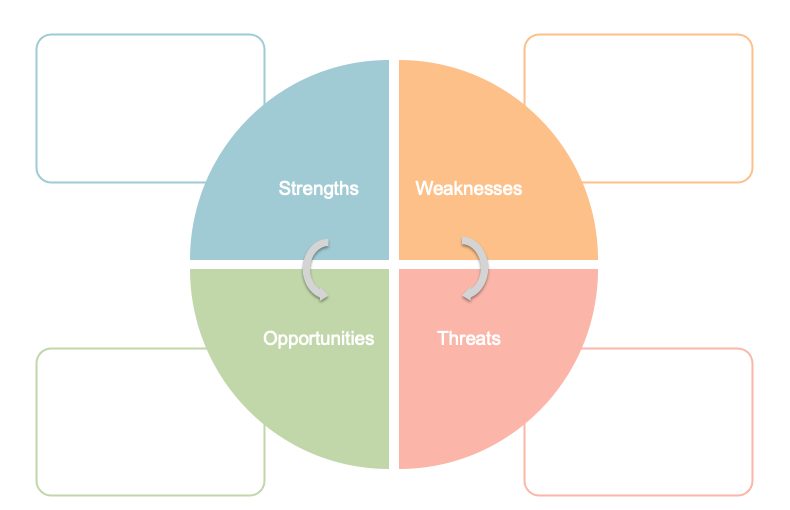 You've already done similar work during the product development process to understand how to differentiate your product.
Now, assess how much of that intended differentiation comes through with the final product.
After conducting the SWOT analysis, use your product's strengths to create your product positioning and messaging.
Positioning refers to your brand or product's ability to influence buyer perception relative to your competitors. Your positioning should tell the story of your product—what makes it different, why you created it, what need or problem it aims to solve.
Keep your customers at the heart of this positioning work. The story you tell through positioning should combine all the strategy work you've done so far to incorporate your ideal customers' needs.
Let's look at Privy. It's positioned as "the ecommerce marketing platform for online brands that need to grow sales."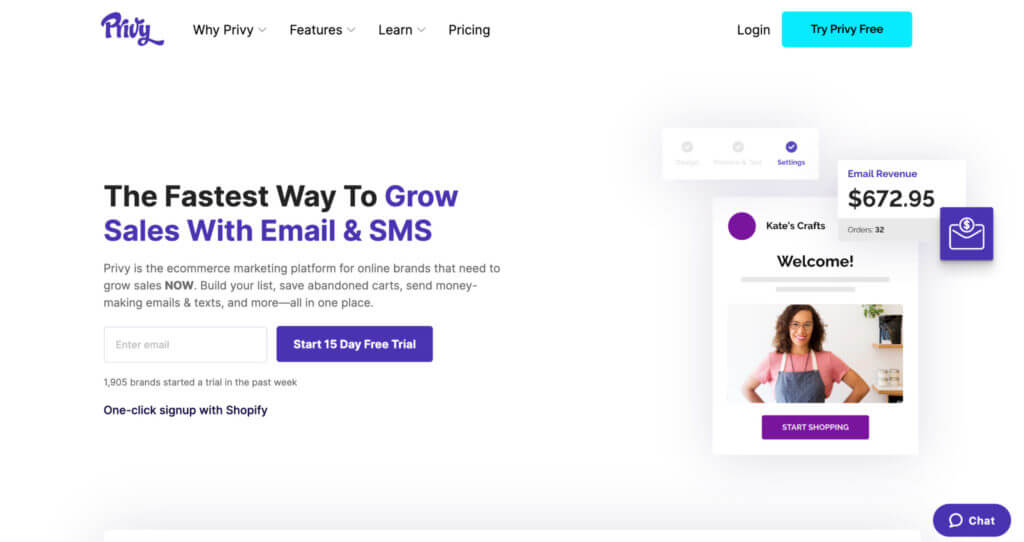 It directly calls out Shopify sellers to let them know they're in the right place: "One-click signup with Shopify."
Messaging is a subset of your positioning. It outlines what and how you'll communicate with your audience about the new product.
Privy's messaging communicates speed by saying it's the "fastest way to grow sales with email and SMS."
It tells visitors exactly what they can expect: "build your list, save abandoned carts, send money." And it tells them they can do this "all in one place."
When it comes to messaging, consistency is key. Share the messaging and positioning with sales and product to make sure everyone is on the same page about how to talk about the product.
Create an elevator pitch for your product that succinctly outlines the products' benefits and value. Align on the tone and style for your messaging, leveraging your buyer persona to determine how to speak to your customers at their level.
This pitch will keep the whole company on the same page when it comes to interacting with your customers.
Finally, your value proposition is the clear articulation of why customers should consider your product above all other potential options. Getting your value proposition right is crucial for conversion.
Your value proposition should make three things immediately clear to your customers.
Why your product is relevant: How does it solve a problem for your customers?
What the products' benefits are: Be specific about the quantified value of your product.
How your product is different: Tell your customers why they should buy your product over your competitors' products.
Privy's relevance (email marketing for online brands), benefits (build your list, save abandoned carts, etc., all in one place), and differentiating statement (the fastest way to grow sales) are all included in their value proposition.
Positioning, messaging, and value proposition are three important strategic pillars of how you're perceived in the market.
Hashing out these three elements ensures your entire company is aligned on the distinct value of the new product, how to talk about it, and what sets your product apart from the rest.
Creating a go-to-market plan
A go-to-market strategy is a guiding framework for who you'll target, how you'll sell your product, how you'll win against the competition and a high-level launch timeline. Each element of this strategy is influenced by research insights.
While a product marketing plan can evolve as your product and the market shift post-launch, the go-to-market strategy is more fixed on the new product launch itself.
Zero in on your competitors and differentiate
Differentiation is a major consideration here. Start by understanding who the key players are, which you can do by using Gartner Magic Quadrants.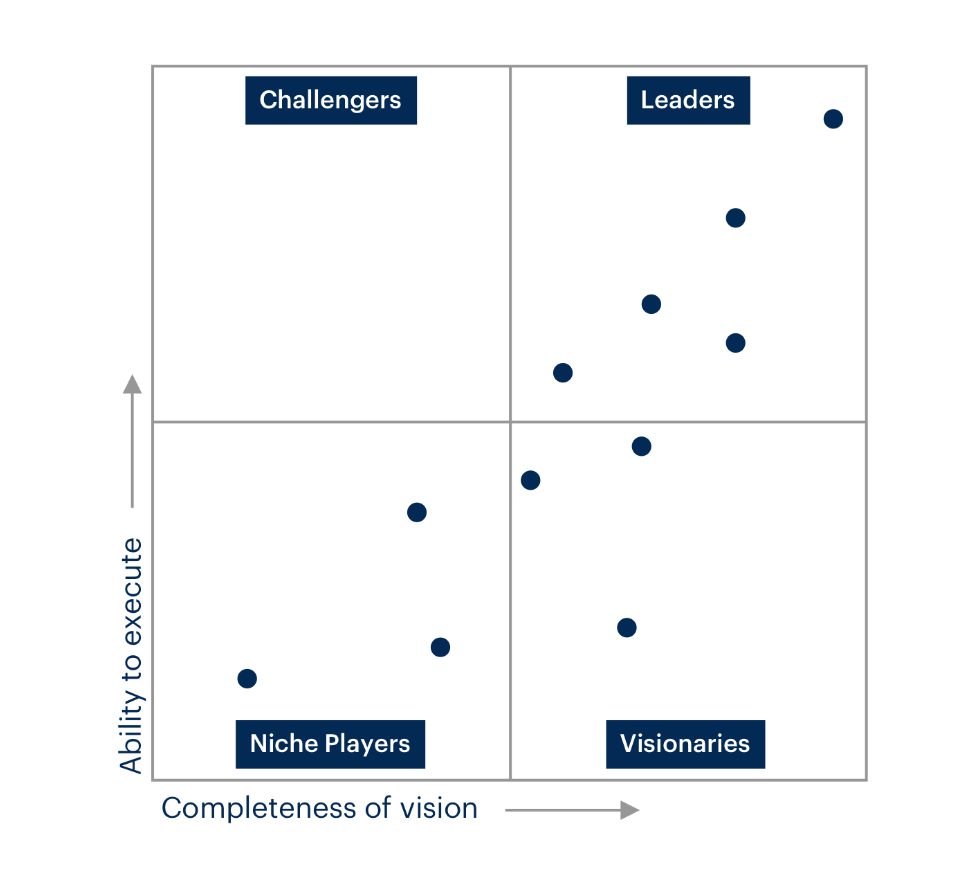 You can also narrow in on your competitors by conducting SEO research. This helps you see who is paying for ads against certain keywords and how they're framing their product messaging.
Like these results for the term "email marketing":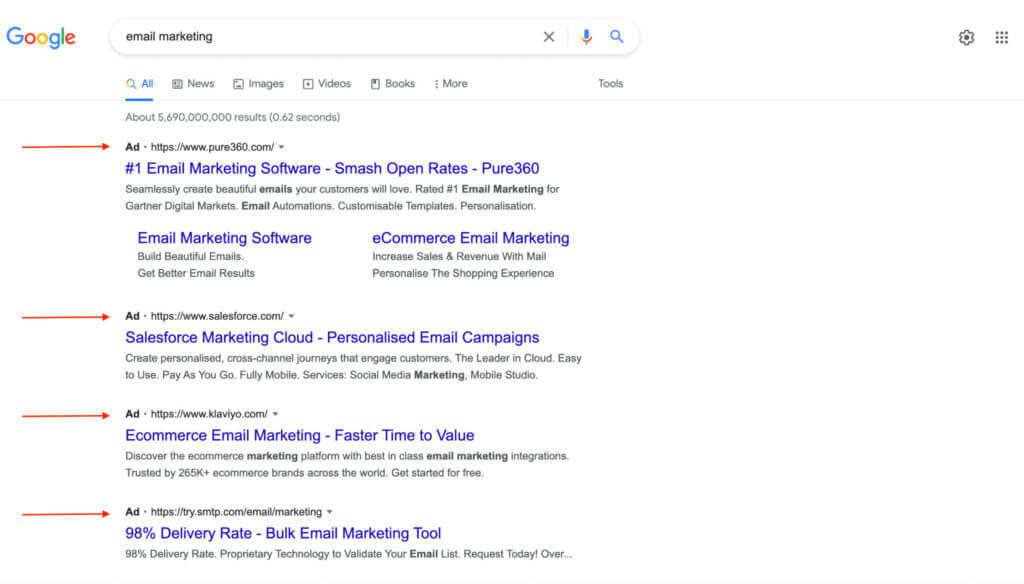 After you've identified your competition, do deeper research on your three to five biggest threats. This should be a realistic view of your direct competitors.
Audit the positioning, messaging, and value proposition work you've done and figure out what your top differentiators are.
Identify your launch audience
Build on your existing persona research to identify your launch audience. Select the segments you're going to target and get even more specific.
For B2B products, develop a company profile. Narrow in on the industry, company size, and internal accounts that fit your product best.
For both B2B and B2C brands, build out a customer profile, including their department, title, level, and demographics (gender, age, income, location, etc.).
Beyond personal details, work out their challenges and pain points, specific to the product you're selling. You'll eventually tie these points to the features of your product and how you solve their challenges.
Finally, list the marketing channels where you can reach your ideal customer:
What publications do they read?
What related interests can you tap into (e.g., apps or other companies)?
What social media or communications platforms do they use?
Leverage this customer research to identify where, when, and how you'll need to communicate with them about your new product.
For example, an email marketing company like Klaviyo might target marketing and sales executives at B2B companies with 50+ employees.
To reach this audience, they might distribute content through marketing blogs or trade publications.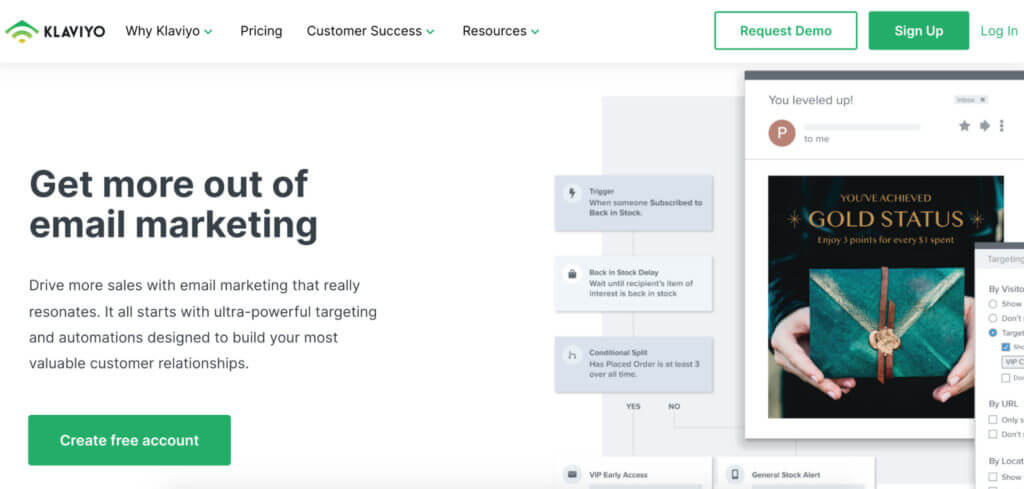 With a full picture of your customer, define the product you're taking to market. You first iteration may not match what you take to market—the same product can launch under a different name, brand, or messaging.
To learn this, ask questions like:
Do multiple personas need your product?
Are there multiple use cases?
How might you need to adjust messaging across different use cases?
Many B2B products and software solutions can be used differently across different industries.
Even if you don't end up launching one product as multiple products, you can identify opportunities to update your messaging based on the persona you're targeting.
Naming
Naming your product is perhaps the most intimidating step. In their Product Marketing course, CXL outlines five essential steps to name a product: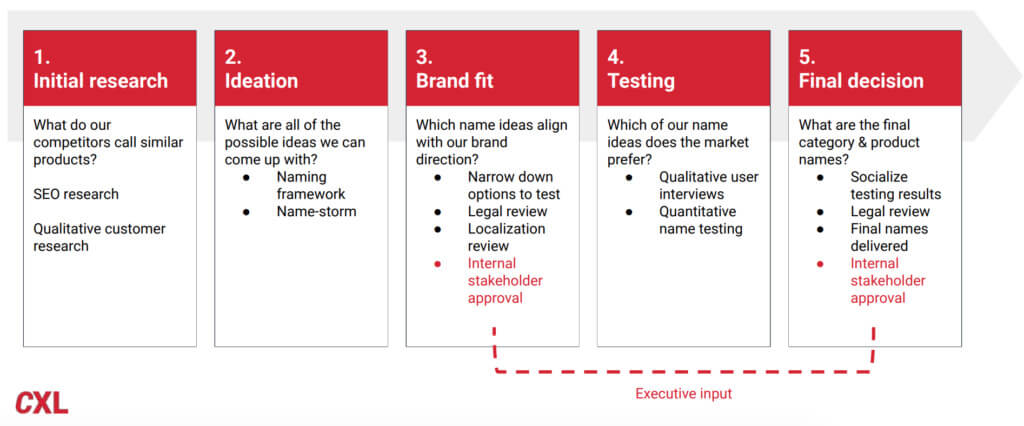 Customer research is invaluable here. A name that doesn't resonate with the customer can cripple a product's success.
Survey your customers to understand their associations with your kind of product, such as:
How do you refer to the process you do when you're using [competitor's] product?
What words come to mind to describe this process or the problem the product solves?
How does using this product make you feel?
Names can be descriptive (literally describing what the product is or does) or branded (loosely related or unrelated to the product). Testing, voting, stakeholder interviews, and legal review will all help you determine the name that is the best fit.
Create your launch messaging and pricing strategy
Once you've determined a name, create product messaging that ladders back to the challenges your ideal customers are facing.
Launch messaging should include short descriptions, use cases, key value propositions, differentiation, and supporting proof points. This messaging will inform your launch campaign creative, sales outreach, and product pages.
Develop a pricing strategy that takes into account the value you're offering to your ideal customer. Pricing should pass the following tests:
Can you explain the price to your customer without being embarrassed? If the value does not align with the price, you risk letting your customers down post-sale or failing to get to a conversion in the first place.
Is your pricing easy to understand? Avoid "black box" pricing models, which set the price of a product based on complicated algorithms and sets of conditions. If you can't explain the pricing easily, your sales team won't be able to either, and you'll leave customers confused and frustrated.
Can you leverage existing packages or offerings? Your existing products can help you gauge the appropriate price for a new product based on comparable value. You can also consider how your products might price out when combined in a single sale.
Consider acquisition
Use your customer persona(s) to determine how you're going to acquire customers. Two common methods are self-service and sales-assisted.
Self-service relies on inbound customer activity. This method can leverage:
Ecommerce platforms and app stores, where customers find and purchase your product;
Free trials, which hook customers by allowing them to test out your product;
Upgrade triggers that move customers from free to paid products;
Conversion funnel optimization, bringing people through awareness, consideration, conversion, and, eventually, loyalty and advocacy.
Sales-assisted service is driven by inbound and outbound demand generation. Leverage your inbound marketing funnel to ensure a steady flow of leads for your sales reps' outbound and cold prospecting efforts (as well as any account-based marketing strategies).
Build your timeline
Finally, determine a launch timeline. This outlines specific dates, such as:
When to have your GTM strategy completed;
When your GTM execution plan must be ready (and budget acquired);
The deadline for recruitment and onboarding of beta customers;
Training and sales development, and;
Launch day.
When determining launch day, consider what works best for your product and your customers.
External factors to consider include major holidays that could drown out your launch, competitor releases, and industry events.
Internal factors include product readiness, other company launches, and where you are in the sales quarter.
Optimize for repeat buyers
If your existing or new products don't require repeat purchases, additional new product development can act as a retention strategy.
Consider what add-ons you can offer your customers to increase purchase frequency. These can be products or services.
Can you offer a more personalized package for select customer personas (e.g., service upgrades like one-to-one consulting with your team, tailored reports, or performance data)?
Take Pipedrive, for example. Its core product is CRM software that helps sales professionals manage their customer pipeline.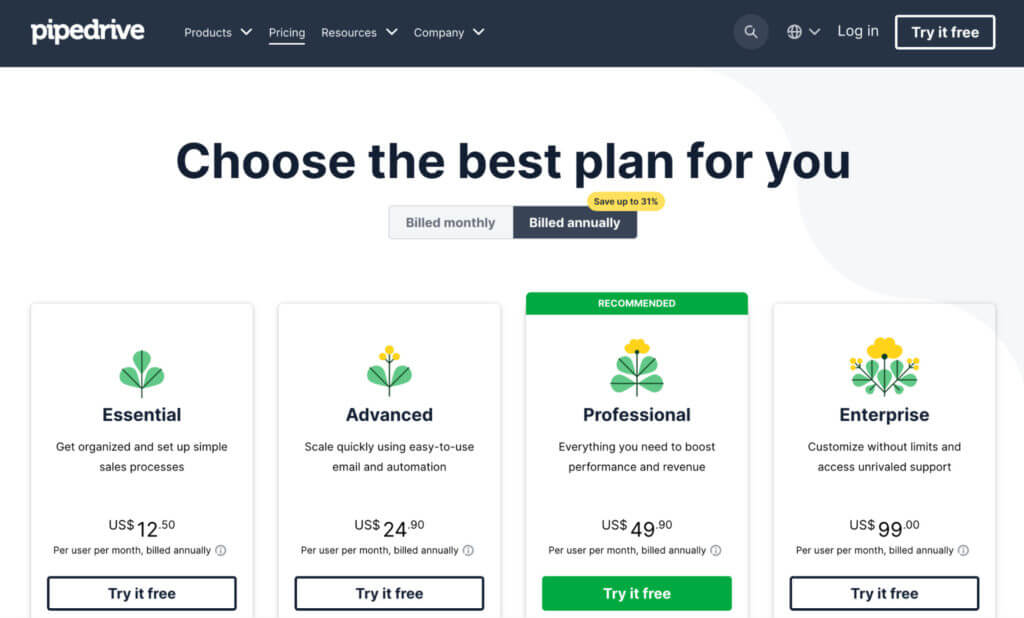 In addition to multiple pricing tiers that help customers customize their purchases, Pipedrive has add-ons to further support different customer personas.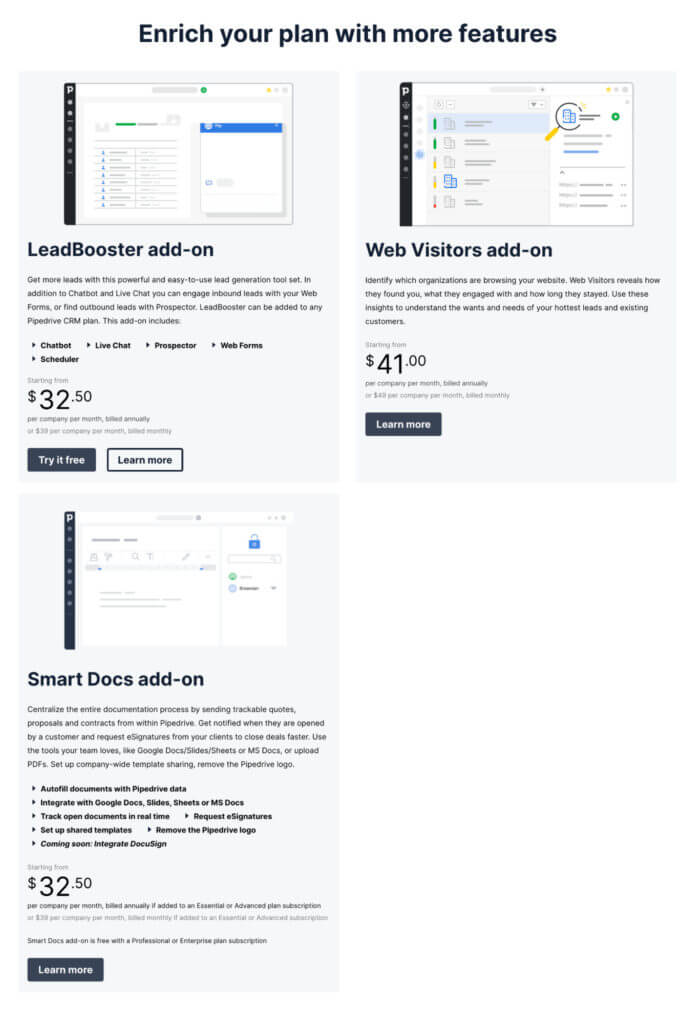 A LeadBooster add-on might be valuable for a startup sales team looking to add leads to their funnel for outreach. Another team may opt for the Web Visitors add-on to better understand online behavior.
By offering features that go beyond the standard, bundled product, Pipedrive creates more opportunities for additional revenue and shows its customers that it understands their needs.
For B2C brands, what related products can you sell to diversify your revenue streams?
For example, a bike manufacturer may only sell someone a bike once every five years. But offering a cleaning subscription box or bike trail app could encourage customers to spend more.
Conclusion
When done well, launching a new product can help with two things:
Increasing usage or revenue of existing customers;
Penetrating new markets or target segments.
Differentiation is key in a crowded landscape where many products fail. Product marketing strategy work helps your new product stand out.
Center the customer at every step of the new product development process. Ensure you're delivering on their needs and solving their real problems, rather than creating new products for the sake of new products.
Learn and master the skills you need to successfully launch a new product in our Product Marketing Minidegree.