Compared to social media and content marketing, email is a mature channel for engaging online consumers. Its longevity is a testament to its ability to increase sales, converting leads into buyers and buyers into repeat customers.
In fact, according to a Forrester report put out on September 24, 2012 email continues to be the top factor in influencing repeat purchases: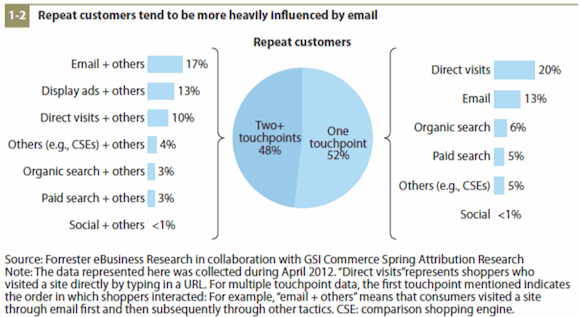 Regardless of whether your business is in the B2B or B2C space, your email marketing effectiveness can be optimized.
Because you read this blog, you already know you should be conducting a/b testing on your landing pages and website to increase conversions, but did you know the same principles apply to your emails?
Conduct A/B Testing on Your Emails
When it comes to email campaign optimization you can test and optimize many of the same components you do on a landing page. For example, it is a good idea to test the call-to-action, offer and layout of the email. However, there are some components unique to email marketing that you should also test . These include:
Subject line
Sender name
Day of the week to send
Time of the day to send
Subject Line:
According to research by Dan Zerella of HubSpot and MailChimp's Email Genome Project, there are specific words that tend to increase open rates. You should consider these keywords when putting together subject lines to test: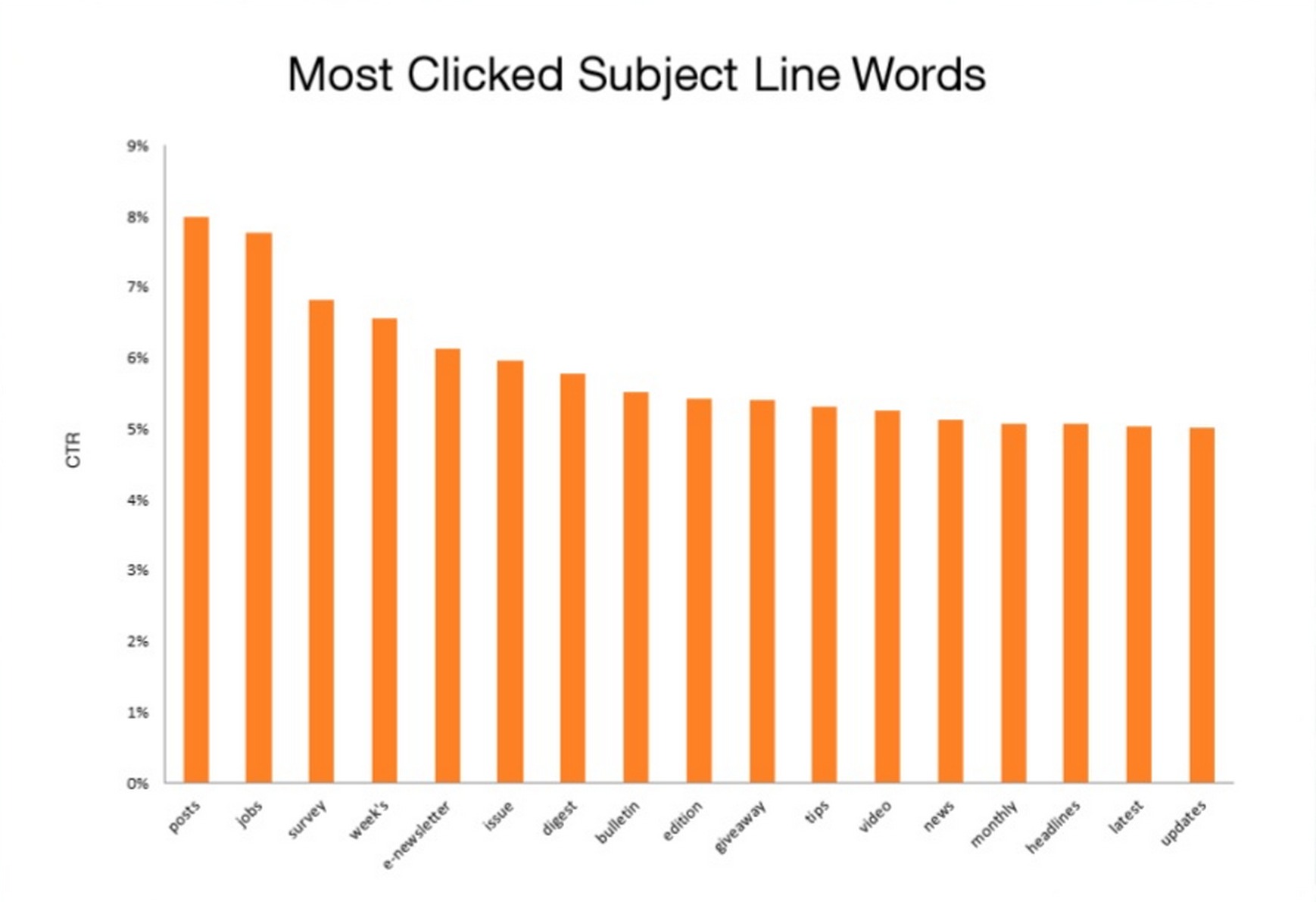 The graph from Zarella's presentation on the Science of Email Marketing is a little small, so here are the top 5 words that affect open rates in a positive manner: posts, jobs, survey, week's and e-newsletter.
According to the same report, the keywords that will get you reported as spam include: confirm, features, upgrade, magic and raffle. You can certainly test using these keywords in your subject line, but the research suggests its best to leave them out unless you have built up a list that really trusts you and your brand.
Sender Name:
Another important aspect to test in your email campaigns is the sender name. The most common sender names include the actual name of a person within your company or the name of the company itself. Test both to see if one increases your open rate.
Day of the Week:
Next you'll want to a/b test the best day of the week to send your emails. According to MailChimp's Email Genome Project more emails are sent on Tuesday and Thursday than any other day of the week.
You should test sending emails on one of the other days to see if less competition for inbox space increases your open and click through rates. Research by Zarella at HubSpot suggests that doing so can impact your results pretty drastically: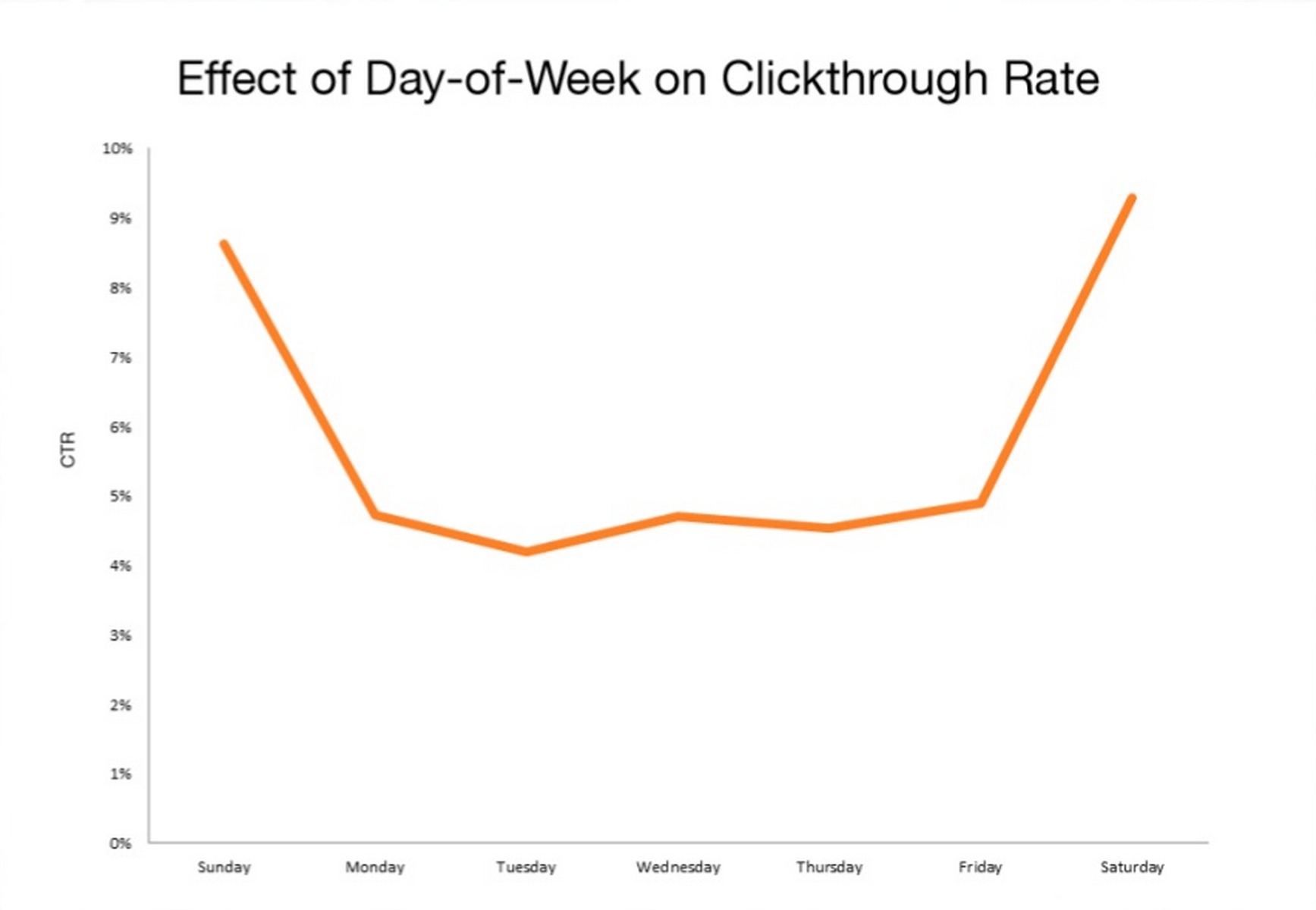 The team at What Counts decided to test what the best day of the week to send their e-newsletter was. Traditionally they would send it on Thursdays; however, they wondered if sending on Tuesdays would be more impactful.
When the team ran their test they learned that sending on Tuesdays increased their open rates; however, sending on Thursdays resulted in higher clickthrough and conversion rates. If they had simply started sending the e-newsletter on Tuesdays without A/B testing the send day they would have missed out on conversions.
Time of Day:
The final key aspect for testing and optimizing your email campaigns are send times. According to the Email Genome Project, subscribers are most likely to open email between the hours of 2pm and 5pm. I asked the MailChimp team is these hours are time zone specific and was told they are not; the times represent the best times to send in whatever your local area is.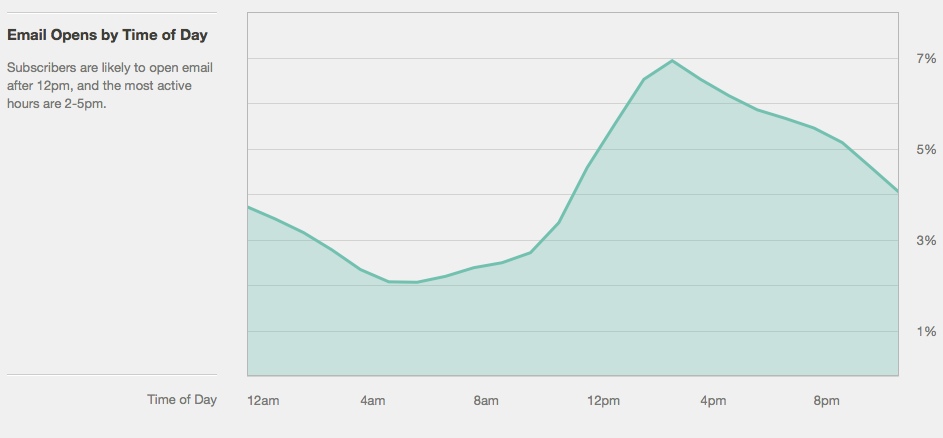 That being said, Zarella's research suggests that while open rates may be highest in the afternoon, click-through rates are highest in the early morning, peaking around the 5 to 7am marker.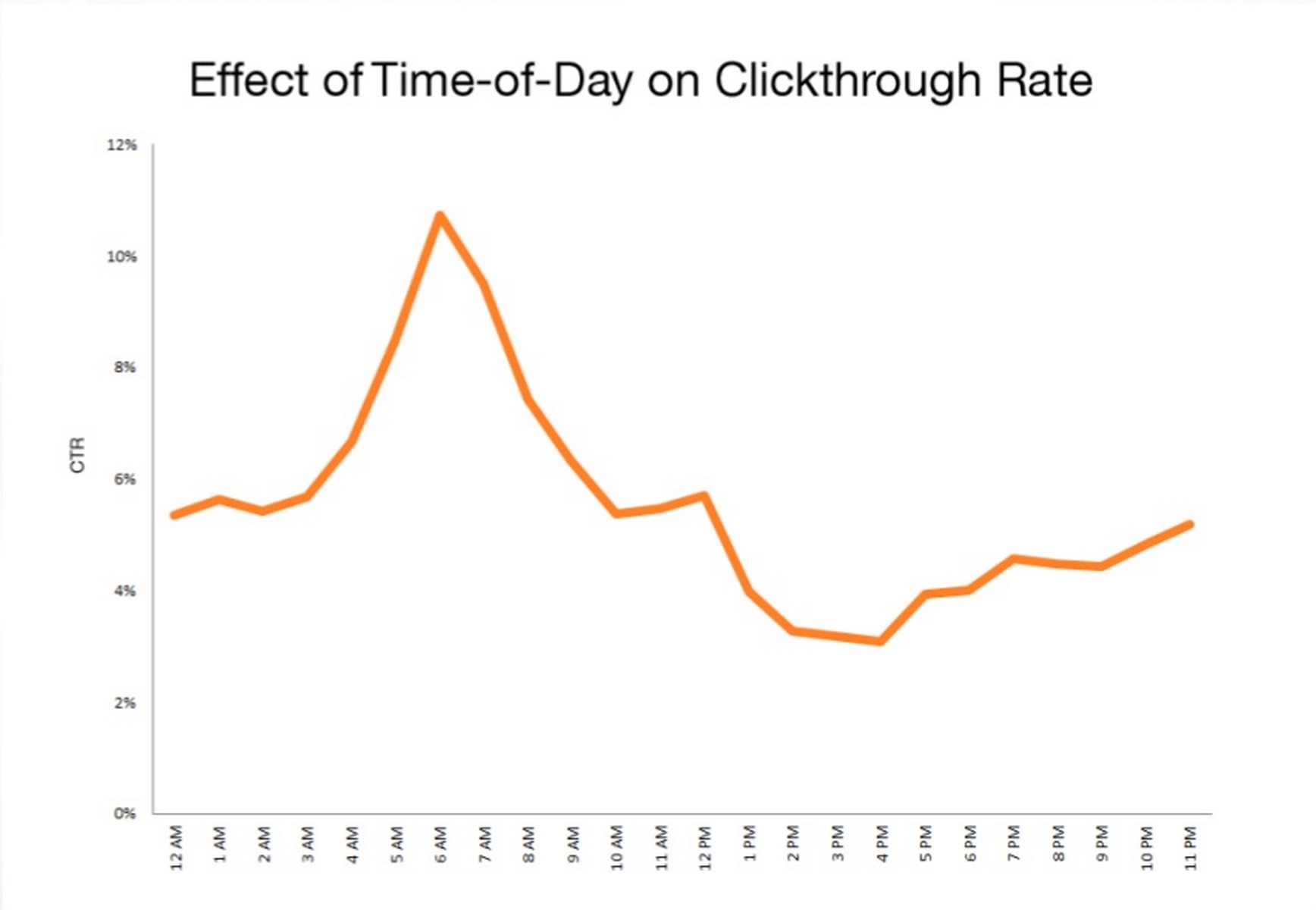 To find the best send times for your emails the best thing to do is to run a/b tests. You'll want to track the email and click-through rates of course, but even more important the conversion rate on those emails.
Your email marketing software should come equipped with a/b testing capabilities. If it does not I recommend switching to a platform like GetResponse, MailChimp, Aweber or Campaign Monitor.
To take your campaigns even a step further you could tailor your send times to each individual recipient based on their history as Mint.com did. Mint's senior director of marketing worked with her email provider to analyze recipient behavior on a rolling basis and predict the best delivery time for each address on the mailing list.
According to MarketingSherpa which put together a case study around Mint's behavioral targeting:
– If recipient A displayed a tendency to open emails at 5 p.m., Mint.com's campaigns, alerts, and triggered messages would be sent at that time.
– If a recipient B often opened emails at 3 a.m., all messages would be sent at that time.
– If recipients started opening the emails at different times of the day, the system adapted and began sending according to this newly exhibited behavior.
This approach leads to a 7% increase in open rates and a 13% increase in click-through rates.
Another company called eBags also took this approach and they saw a 20% increase in click-through rates, 65% increase in conversion rates and 45% increase in average order value.
Create a Dedicated Landing Page for Each Email Campaign
A/B testing your email marketing campaigns on the email side is really important in your effort to increase revenue. However, it's also important to think beyond the email to the landing page – the place you link to from the email.
There are three typical places you might choose to send your email traffic:
Your website homepage
A deep link in your website such as a product or features page
A dedicated landing page
The best option and the one that will convert the highest is the dedicated landing page.
MarketingSherpa's 2011 Landing Page Optimization Benchmark Report showed that dedicated landing pages are highly effective when it comes to email marketing:

Why are dedicated landing pages so effective? The answer has everything to do with visitor expectations, increased relevance and reduced "leakiness" of a page.
This means the messaging on the landing page should reflect the messaging in the email, the offer should be specific and relevant to the same offer mentioned in the email and the page should have limited or no navigation so that the visitor cannot click-away get lost in a different part of your site.
When you send email traffic to your homepage or a deep link in your site you miss out on the opportunity to tailor your message and offer. Additionally, when sending visitors to the homepage you put the burden on the consumer to find the right page on your site to take action on. Doing any of these things will result in reduced conversion rates.
The VP of marketing at Tafford Uniforms knew that 1:1 message match between the email offer and the landing page would increase conversions but he didn't have the resources to create a dedicated landing page.
As a quick fix, he started creating a banner to add to the top of each product page that reflected the offer mentioned in his email campaign.
According to a case study completed by Marketing Experiments this lead to a 10%+ increase in Tafford's email conversion rates. If the VP of marketing had the resources to create a dedicated landing page with controlled or completely removed navigation his conversion rates would be able to soar even higher.
Encourage Social Sharing in Your Email Campaigns
Optimizing your emails and their landing pages is important to convert the subscribers you already have – but don't forget about their friends. Very often the company your customers keep would also make great customers for you.
In a study by GetResponse as reported by eConsultancy, email messages that include at least three social share buttons generated 55% higher clickthrough rates than messages with no social share buttons.
Additionally research conducted by Brightedge Technologies, shows sites with Twitter buttons drive "7 times more link mentions on average than sites that did not have a button."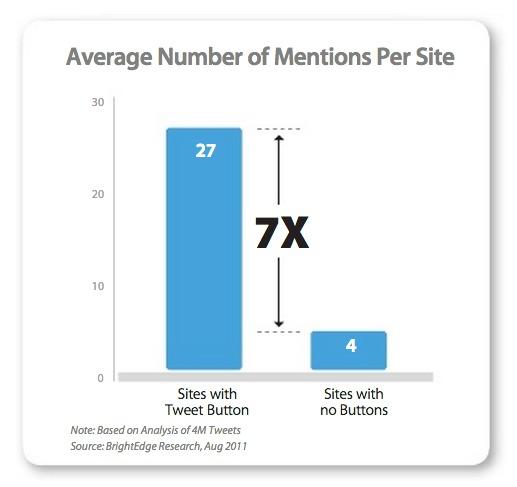 While you should not use social share buttons on your actual landing page because it introduces a competing call to action, the thank you page presents a great opportunity to increase awareness through social sharing.
Conduct A/B Testing on Your Offers – Often
In order to continuously push the envelope by learning more about your audience's desires while simultaneously increasing revenue, you need an on-going a/b testing cycle.
It's not enough to conduct one a/b test showcasing two different offers (e.g. free shipping vs. $5 off) in your email campaign and think you're done. Your first test is only the beginning! You should test different offers and different ways to present those offers over the course of time to truly optimize for maximum conversions!
Here are just a few a/b testing ideas for your special offers:
Pricing ($30 vs. $29)
Placement of the offer on the landing page
Free shipping vs. percent off
Here's an example of an a/b test inbound marketing software company, HubSpot, ran in an effort to increase the number of people who sign up for their free trial:
Version A: Try HubSpot free for 7 days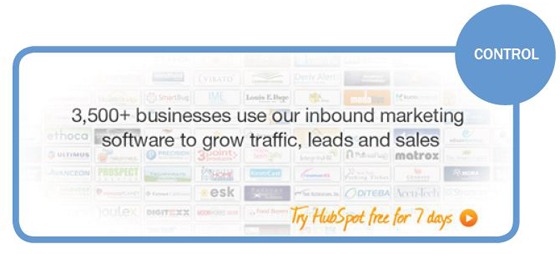 Version B: Try HubSpot free for 30 days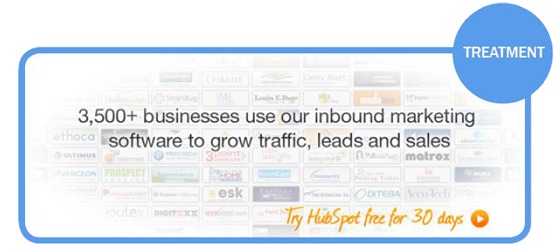 The treatment, or version B, in this test increased conversions by 110% simply by extending the length of time for the free trial! Would you have guessed that the treatment would have performed so much better? That's the beauty of testing – you don't have to guess, you can experiment and know for sure!
The really important thing to remember is that your email offer must match the offer on the landing page. So, for example, people who received an email about a free 7-day trial should be sent to the landing page for the 7-day free trial.
When there isn't clear message match between the email (or ad) and the landing page you lose trust with your visitor and introduce the opportunity for confusion. Cohesiveness in your email campaigns is really, really important.
Use Landing Page Segmentation to Qualify Your Email Leads
You probably already know that email list segmentation can lead to better results, but did you know that segmentation on the landing page can help you further qualify your leads while increasing email conversions? It's true.
Jessica Collier, Director of Optimization at ion interactive, states there are 4 key ways to segment visitors on the landing page:
Segmentation by Audience
Segmentation by Place in Buying Cycle
Segmentation by Need
Segmentation by Business Size
Here we see a B2C example of segmentation by need: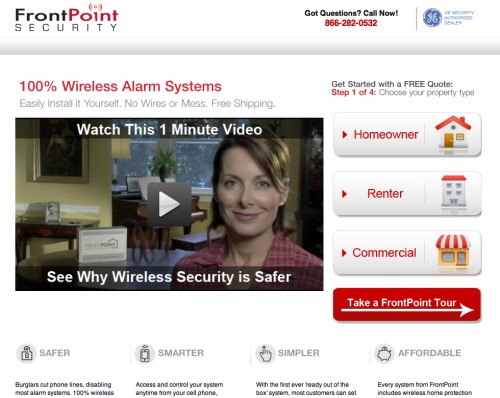 The visitor can select whether he or she is an owner, renter or commercial business and receive highly targeted information based on that simple click.
And here is a B2B example of segmentation by business size: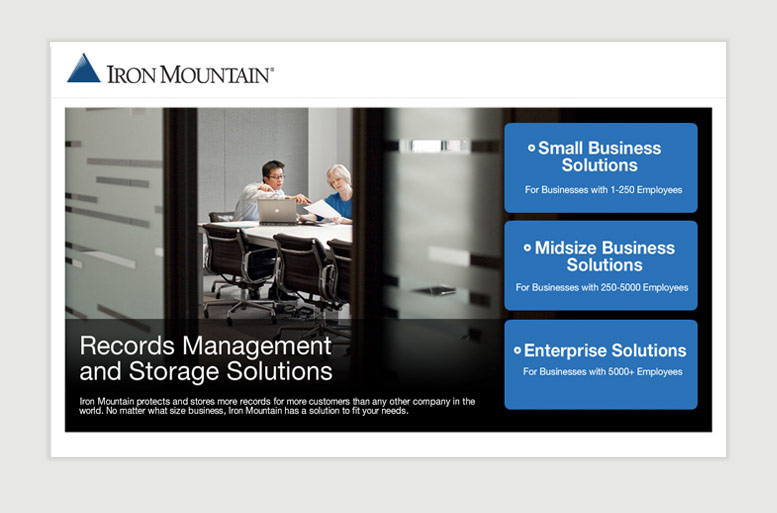 Segmentation on the landing page not only helps you provide specific information to visitors based on their self-identification but also allows you to further qualify them.
For example, if your business only provides services for small and mid-sized businesses but not enterprise level ones, you can provide targeted information for the audience whose needs you do meet, while politely directly all others out the door. There's very little value in spending time and money marketing to people who are out of your zone. Instead, focus your time on high-quality leads.
Sharepoint Solutions allows visitors to segment by their experience with Sharepoint (Just Starting, Immediate or Advanced):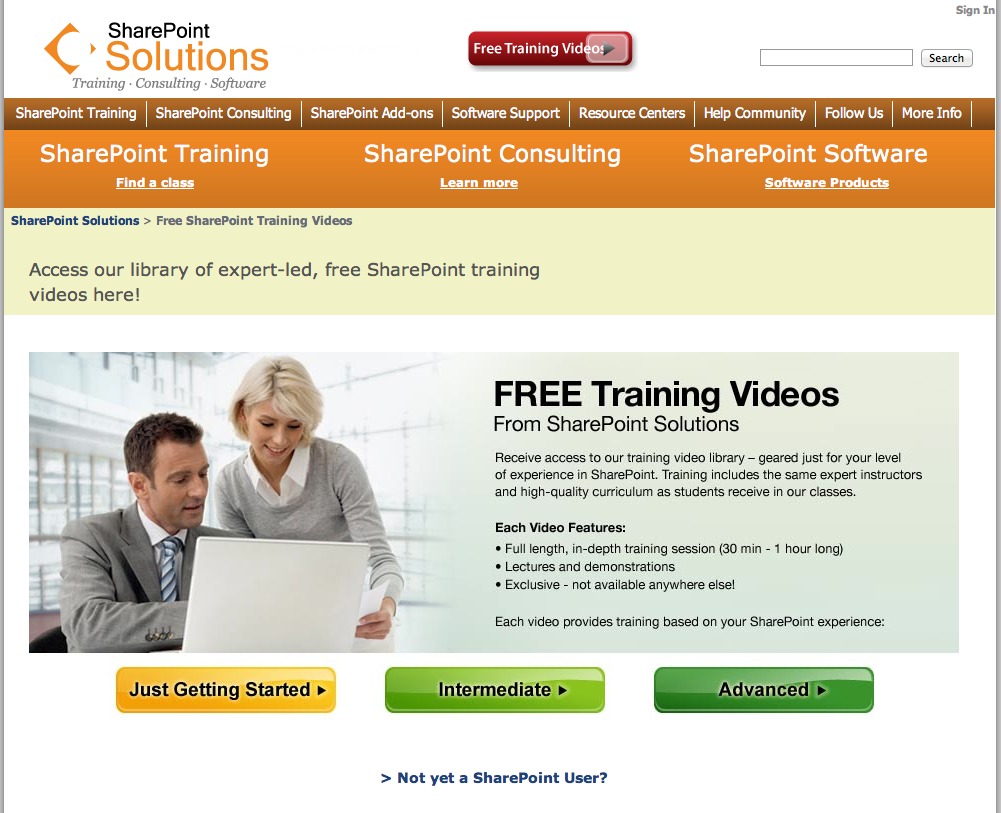 According to their case study, this segmented landing page converts at 25% – well above the PPC conversion rate average of just 3.5%.
The best way to create these segmented landing pages is to come up with a template. The immediate landing page will have one look and feel but each of the pages that the visitor clicks through to should have the same basic layout – only the copy and images will need to change.
Here's an example from the New England Journal of Medicine: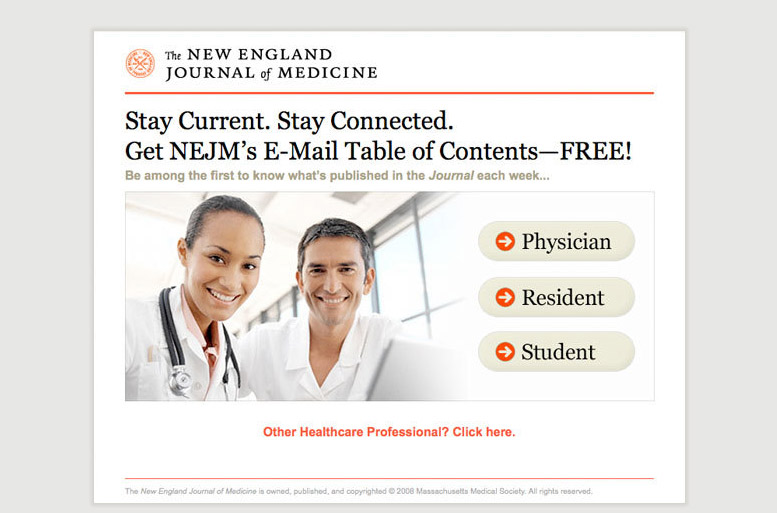 The visitor lands and self-segments him or herself and the lands on a second page tailored to his or her needs: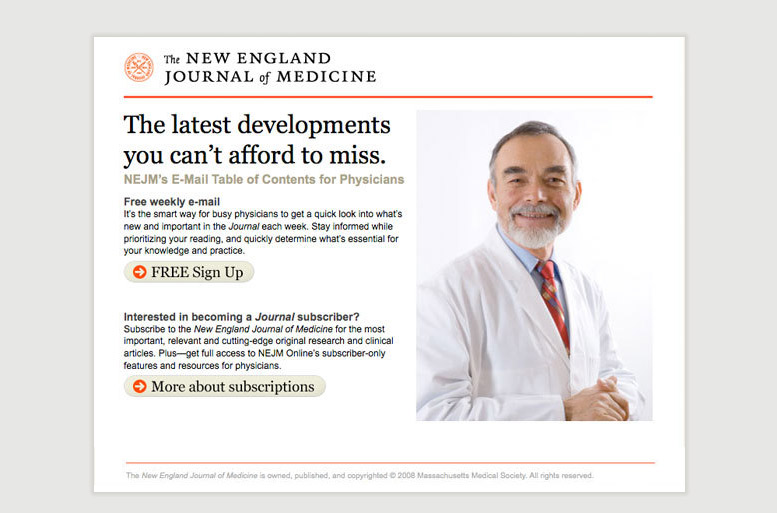 You can work from a landing page template purchased on a site like ThemeForest.net and then use a/b testing software like Visual Website Optimizer that allows you to run tests on your own website, or you can use a/b testing software that works off of a templated landing page software system like Lander and Unbounce (small business friendly) or LiveBall (enterprise-level).
I recommend Unbounce and Lander because they come pre-populated with templates that you can edit through a WYSIWYG/HTML editor. This means non-technical people can get their landing pages set up without hiring a web developer.

Not only does it allow you to start with a conversion-focused template, but they integrate with other software like GetResponse, MailChimp, AWeber, iContact, Salesforce and more.
This is perfect for making sure your email software can talk to your landing page software, so no leads fall through the cracks.
Final Thoughts on A/B Testing for Email Campaigns
Because email marketing is still such an effective channel for reaching first-time and repeat customers it is really important that your campaigns are optimized. Without conducting a/b testing on both the email and landing page side of the campaign you are leaving leads (and revenue) on the table!
I challenge you to start optimizing your email campaigns this week using the a/b testing methods highlighted in this article. If you have any questions leave them in the comments section and let's start a discussion.