Consumer shopping behaviors have changed dramatically since the onset of the coronavirus pandemic, with ecommerce retailers seeing unprecedented growth in traffic and sales.
While retail stores are slowly beginning to reopen, many consumers have made online shopping their new default. Some 71% of U.S. adults plan to do more than half of their holiday shopping digitally this year.
In addition to increased online shopping, 46% of U.S. consumers have also tried new brands and retailers in search of better value, greater availability, and more convenience given the circumstances.
With more consumers going online to shop—and trying out new brands and sites for the first time—building trust has become more critical. A lack of trust, in contrast, is a major source of friction.
In our TrustedSite survey of over 600 U.S. consumers, 92% voiced concerns about shopping at websites they haven't shopped at in the past. Many said they abandoned a purchase because of concerns about things like business legitimacy, the security of their credit card, or order fulfillment.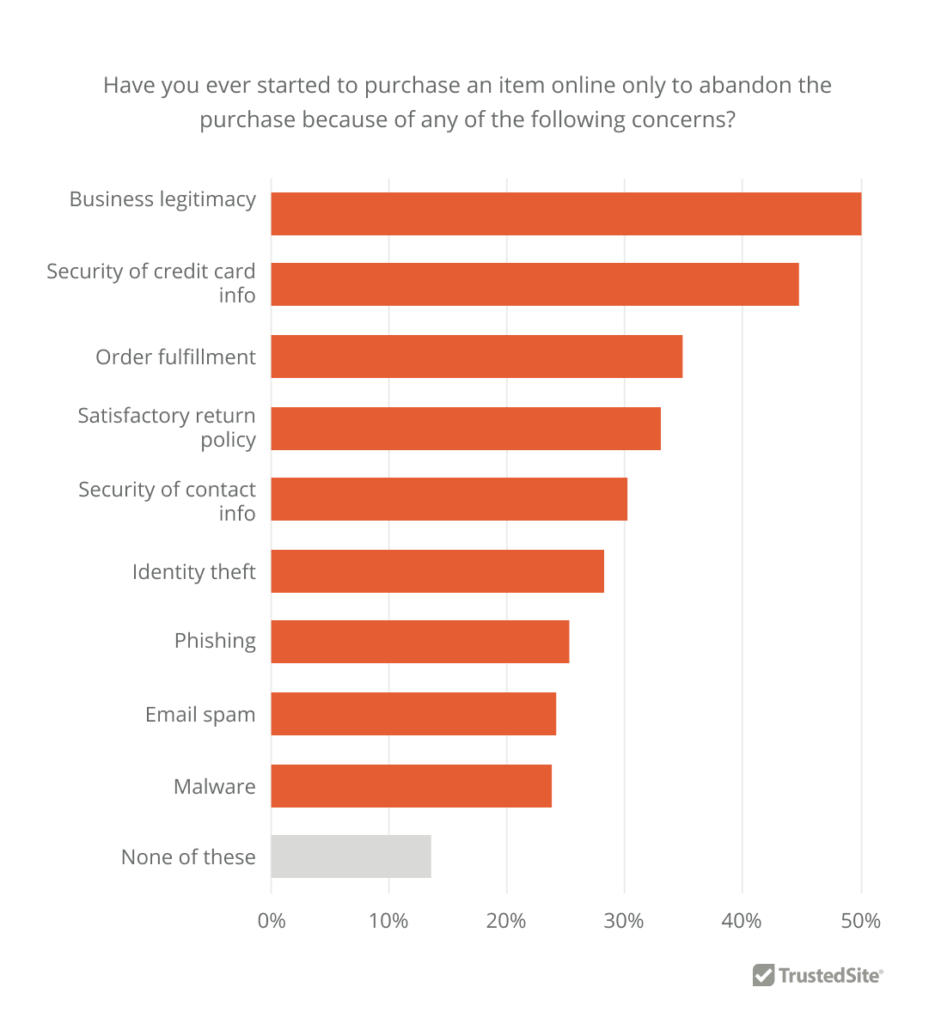 We've spent years researching the best ways for ecommerce sites to show that they're trustworthy and, in the process, increase conversions.

Here are three trust-building strategies for this unique holiday season, as well as some additional ways to boost year-round trust.
3 trust-building strategies for the holidays
The holiday season presents a unique set of challenges for both consumers and retailers. Consumers need to purchase gifts and supplies for gatherings by a set deadline, and retailers have to keep up with increased demand.
Here are three ways to ease anxieties and build credibility.
1. Be transparent about logistics.
Now that we're months into the pandemic, most customers are understanding and aware of delays and items running out of stock, but that understanding will be put to the test for the holiday season.
Being transparent and open about your stock and delivery times is more important than ever.
Last year, Target included a banner at the top of their homepage with a countdown to Christmas and an order deadline to get guaranteed delivery by Christmas Eve.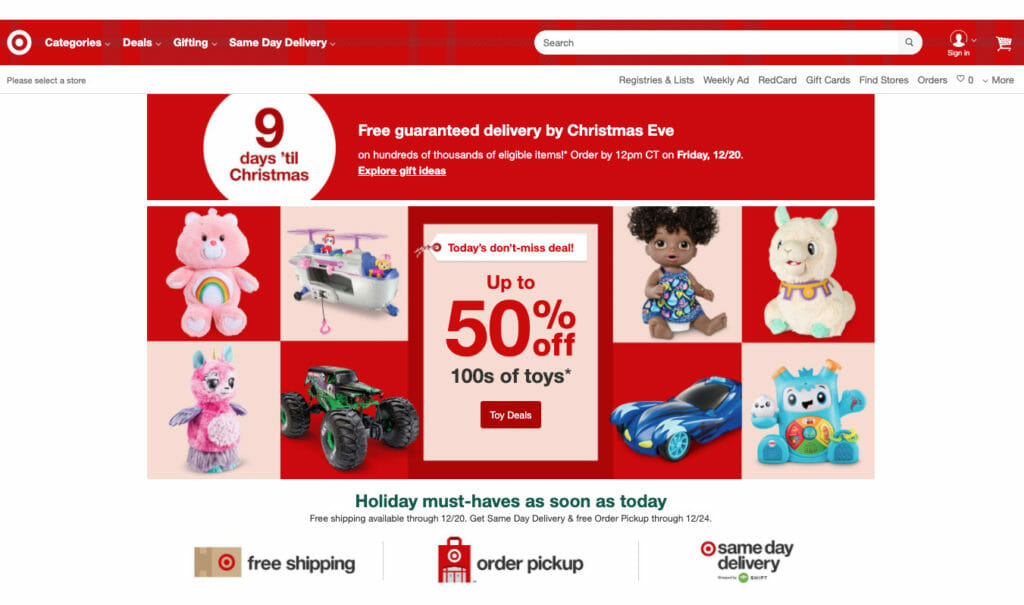 Services like JustUno give ecommerce sites an easy way to implement similar banners and message bars.
For updates that require more information than can fit in a banner, create a dedicated section of your site to cover common questions in more detail. This can be a standalone page or you can include it in your existing help center or FAQ page, so long as customers can easily find the information.
For example, at the onset of COVID, Camelbak used a "Shipments may be delayed" banner at the top of their site, which linked to an FAQ page that included information about order processing, resources for checking your order status, and a letter from the CEO about the company's response to the pandemic.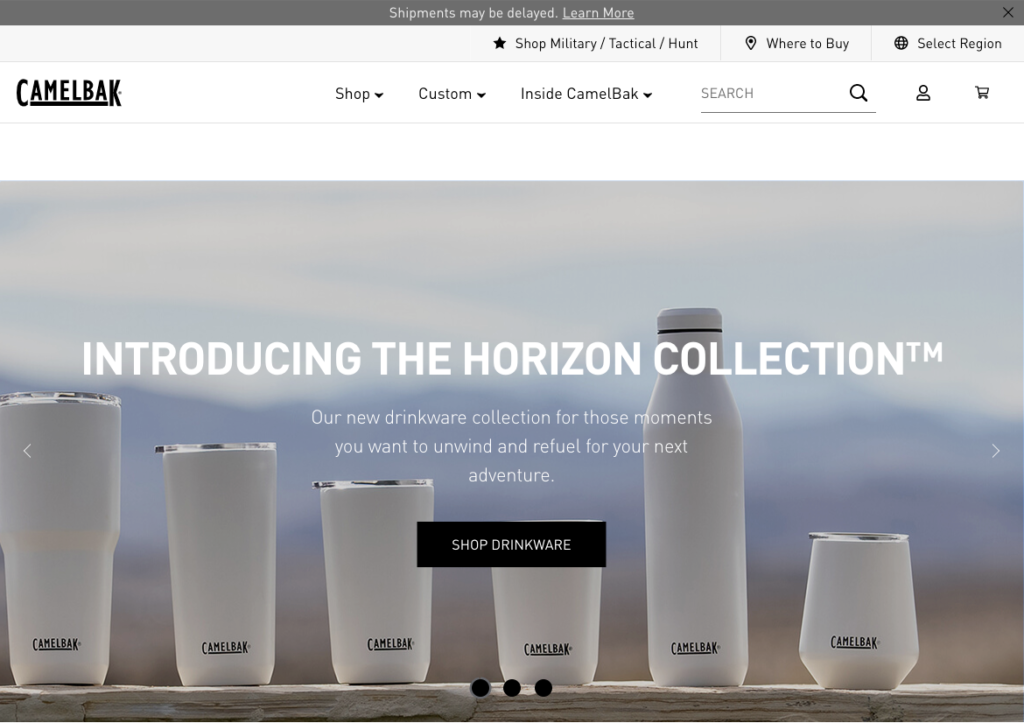 Transparency should extend beyond your homepage and into all the different ways you communicate with customers.
Last holiday season, Shutterfly included a message at the top of their marketing emails to let customers know the deadline for Christmas delivery with expedited shipping: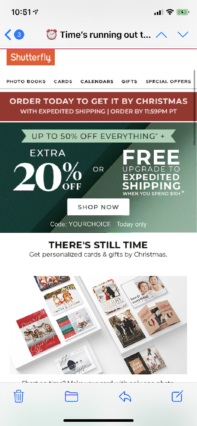 You can also use social media to keep customers up to date. MeUndies has had multiple shipment delays recently and took to Twitter to share how they're working to make things right: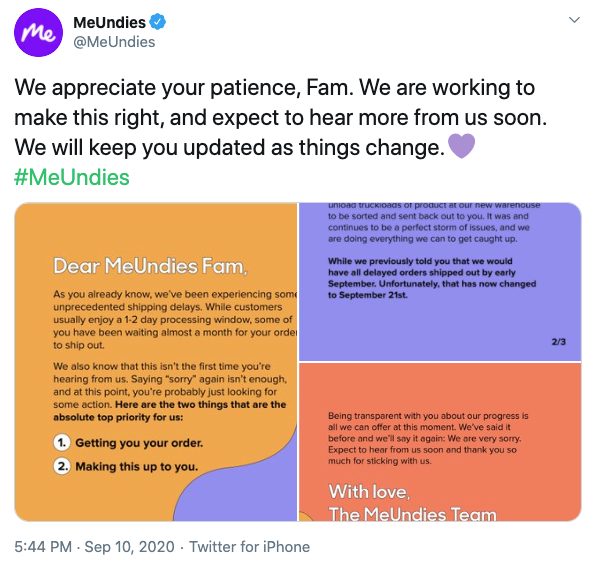 With shipping delays almost inevitable this holiday season, create an action plan for how you'll keep customers informed across all your communication channels.
2. Give guidance on gift-giving.
This holiday season, choosing the right gifts for family, friends, and loved ones may prove especially challenging. You can help customers feel more confident that what they're getting is the right product with gift-giving guides.
In the past, Best Buy included six standard gift categories on their homepage, like Gifts for Teens, Stocking Stuffers, and Gifts $50–$100.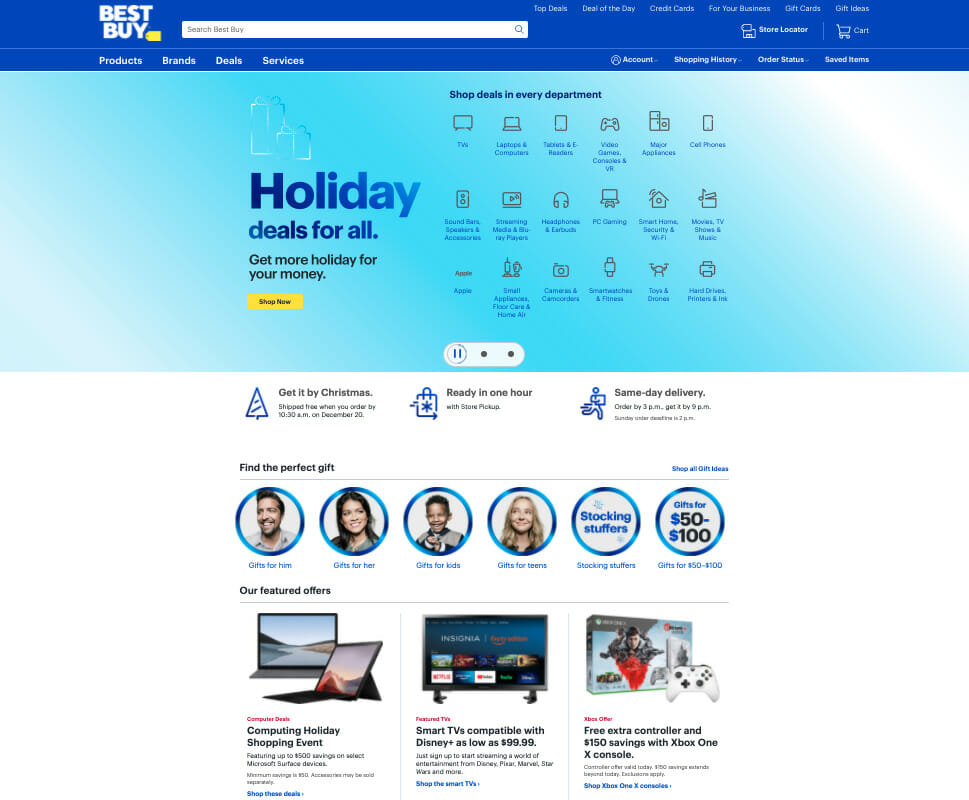 Target got creative and took gift inspiration a step further. They had suggestions for at-home gourmets, green thumbs, and even unicorn believers.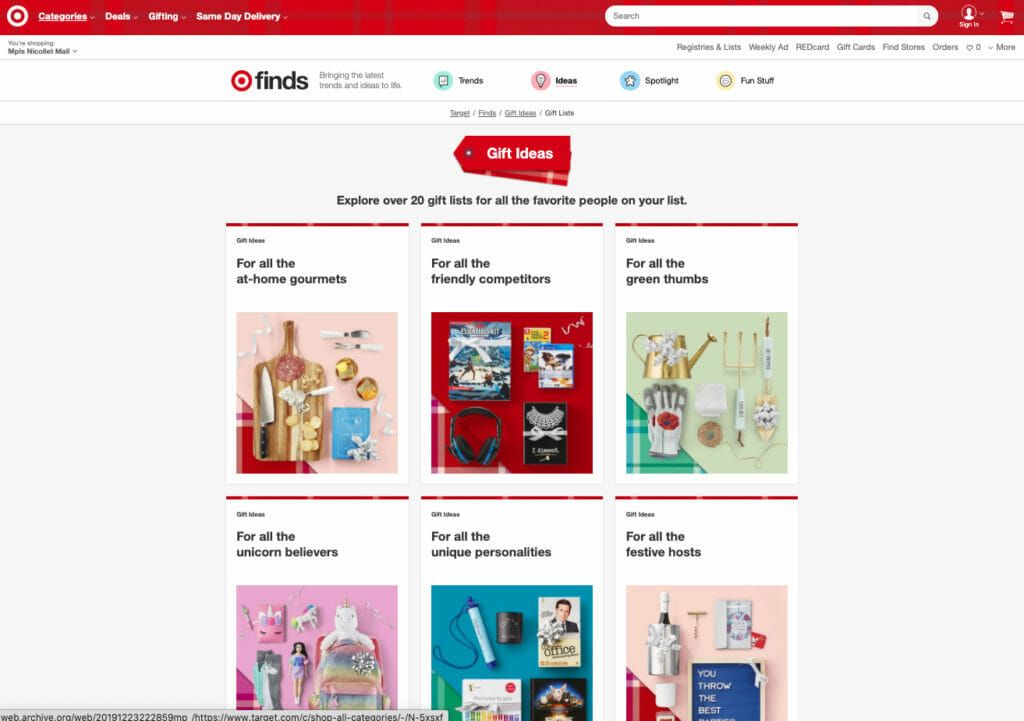 Services like LimeSpot are the engines that power product recommendations for ecommerce sites. Jewelry and accessories retailer Olive + Pepper tested LimeSpot during peak seasons, such as Black Friday and Christmas, and saw a 35% conversion increase.
Product recommendations are essential in help customers find the right items. But they're especially helpful for out-of-stock items due to increased demand.
Lulus does a nice job of giving alternatives to out-of-stock sizes and colors by recommending similar looks. (For customers who would rather purchase the original item when it comes back in stock, there is a link to sign up for the waitlist.)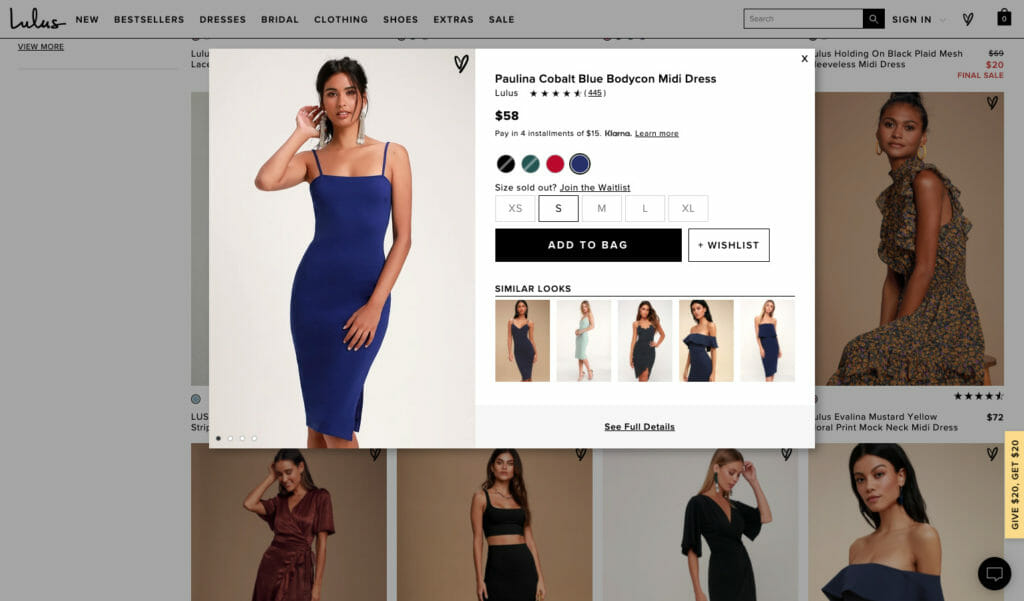 You can see that the above dress is sold out in multiple sizes, but there are recommended products that are similar in color, length, and cut, allowing customers to purchase something as close as possible to the original item.
"Is this really the gift I should get?" "What should I get instead?" Proactive answers reduce consumer doubts.
3. Engage socially conscious shoppers.
Many shoppers have become more socially conscious with their purchasing decisions, especially this year. In the United States, 15% of consumers are buying more from companies based on their purpose and values, and 26% are buying more from companies that take care of their employees.
Showcasing your charitable and ethical efforts can help build trust with shoppers who care about helping others.
Last year, Lush participated in Giving Tuesday and created a page to showcase the organizations they planned to raise funds for by matching the sales of a promotional body lotion.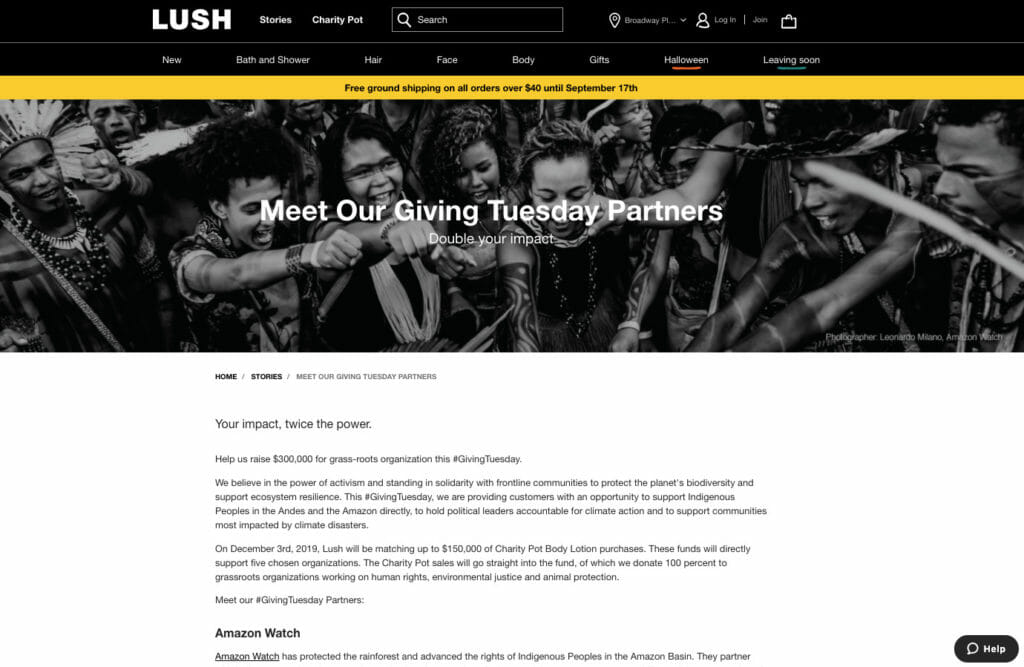 As an alternative to a donation or sales-matching fundraiser, try giving customers the option to donate an extra amount on top of their purchase.
Recently, 7 in 10 shoppers said they planned to engage in a charitable activity, so it's likely that many shoppers will want to do so again this year.
When choosing which causes to support and how to support them, think about your mission as a company. What do your customers care about?
The above holiday strategies work well alongside four always-helpful methods of trust-building.
4 trust-building strategies that work in every season
While developing trust with your customers is crucial during the holiday season, your job doesn't end then. Here are a few additional trust-building strategies that you can implement on your site any time of year.
1. Make it easy for potential buyers to get in touch (with a human).
Make your contact information readily available. When visitors can see that there are real people to answer their questions, they have less reason to doubt your site's legitimacy. In fact, 51% of consumers trust companies who make it easy for visitors to get in touch.
Keep your contact information visible across every page by including it in your site's header and footer. Swanson Vitamins has a simple Help/Support button in their header that, when hovered over, displays phone numbers that visitors can call or text.
Hours of operation are also included to let visitors know when support agents are available.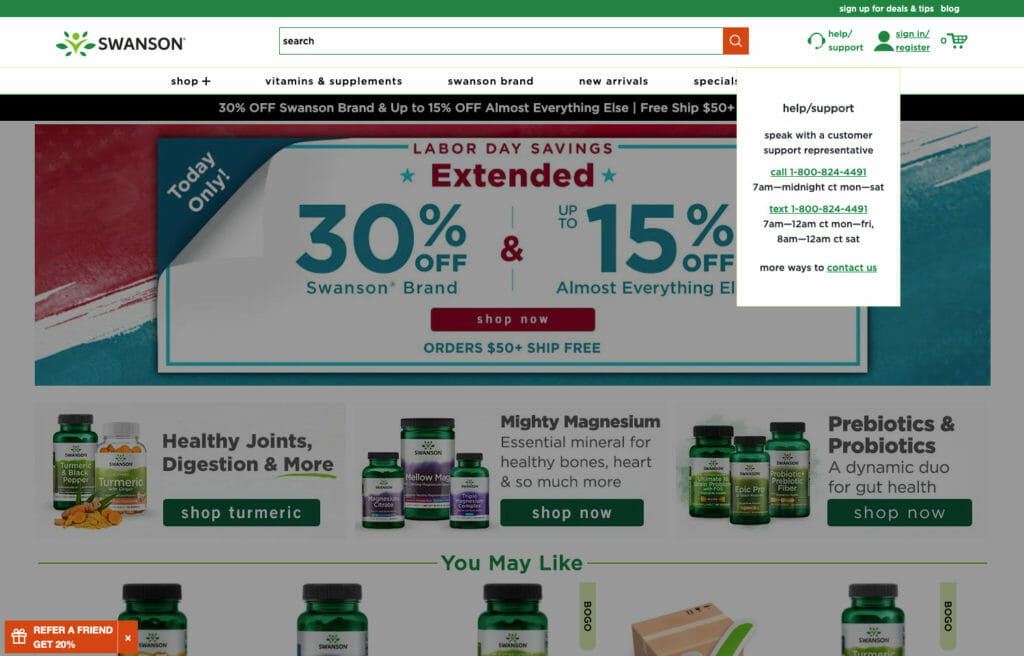 Consider mobile communication, too.
Mobile commerce has steadily grown in recent years, and it's expected to surpass 50% of the total ecommerce market share in less than two years. Make sure visitors can easily contact you no matter what device they're on.
When mobile shoppers visit Swanson, for example, their contact information displays in the main menu when expanded. And because the phone numbers are linked, visitors can conveniently tap to call or tap to text.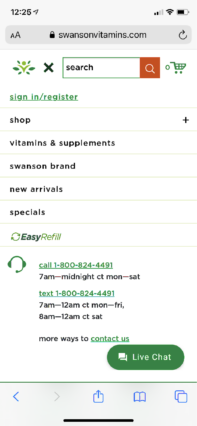 Swanson also includes a live chat at the bottom of the page, so visitors have the option to get in touch instantly (during available hours).
Use live chat strategically.
If you're rolling out live chat for the first time, be selective about which pages you enable the live chat on, your hours of operation, and the agents who operate the chat.
Start by enabling the chat only on pages that customers commonly visit when they run into trouble or have doubts, such as the returns page or a shipping FAQ page. Limit who runs the chat to the people on your team with the most knowledge about your products and policies, so they're able to answer any questions thrown their way.
Services like LiveChat often give your team additional information about customers, such as the origin of their visit, the page they're actively looking at, and how much time they've spent on the page. This extra context can give your support team a better understanding of how to assist the customer, helping them build more rapport, too.
For instance, if a customer viewed 20 pages in 2 minutes, they may be having a hard time finding what they're looking for. Your customer service agent can take this opportunity to offer help in finding a product or even make a recommendation.
Put a face to your name with video chat.
As a result of COVID-19 store closures, live video chat has also gained popularity, especially to approximate the face-to-face, personalized support they normally get in-store.
Lululemon launched a free video chat program where customers can get product recommendations, fit and size help, and holiday gift ideas. Customers can book a 15- or 30-minute appointment over FaceTime or Zoom and even read the bios of personal shoppers who assist them during their appointment.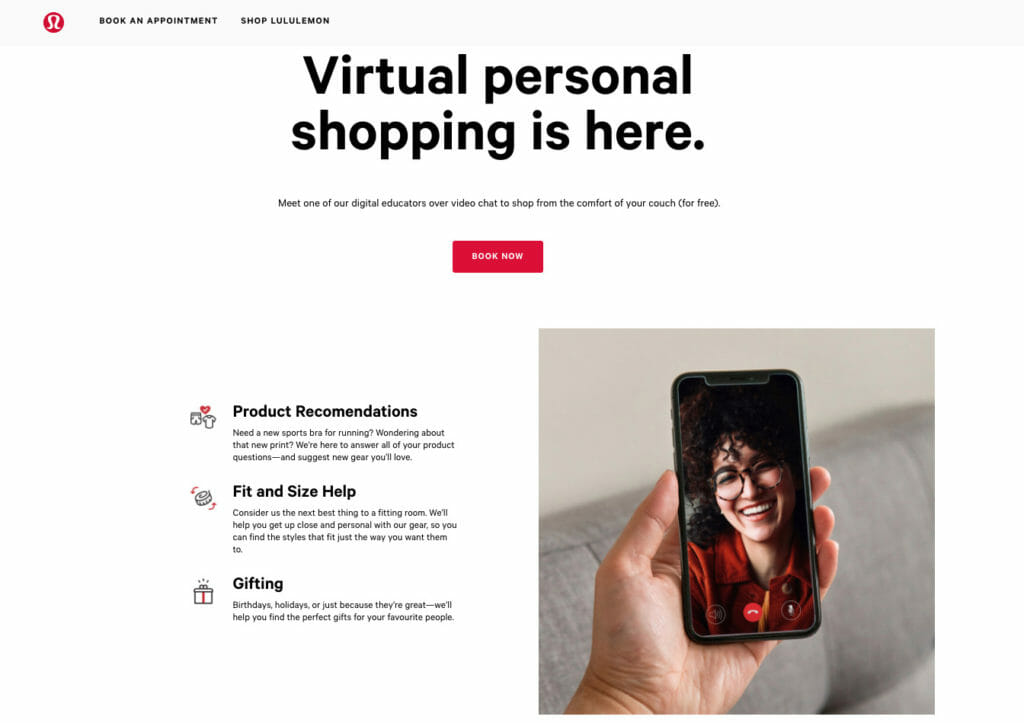 Support and engage on social media.
From asking about sizes to delivery dates, consumers increasingly expect to get an answer on social.
Crate and Barrel does a nice job of offering an apology to customers who've reported issues, and explains how to get further assistance.
Signing the tweet off with the name of the person who wrote it helps build trust by showing that a real person is reaching out.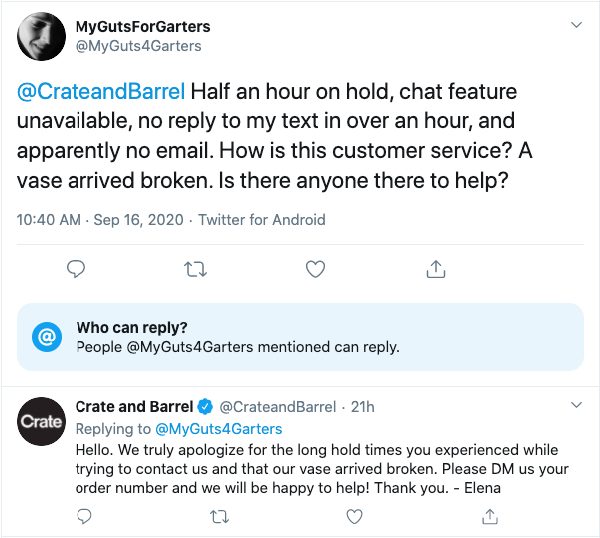 Social media isn't limited to resolving issues and concerns. You can also engage with customers in a fun and positive way. Nordstrom chats with customers about recent purchases:
This brief back and forth creates a more personal experience and allows other customers to see that the brand really does care about them.
2. Show that your site is secure.
Google has marked all sites using HTTP as "Not Secure" for over two years now, and yet countless brands and sites haven't updated their site. There's even a site dedicated to showing some of the world's largest websites and brands who don't use HTTPS.
When consumers run into this warning, nearly three-fourths react negatively. Half say they abandon the site immediately, and nearly a quarter say they wouldn't input any personal information on the site.
You can't expect shoppers to trust you when their browser says you're a risk.
Keep visitors on your site by showing them that their data is safely encrypted with an SSL certificate. You can easily purchase one from vendors like The SSL Store.
SSL is one way to keep your data secure, but there are many more ways to protect your site from online threats. If you're using a platform like WordPress or Magento, make sure your software is up to date. (Outdated software is more susceptible to hacks.)
A recent attack compromised 2,000 ecommerce sites that are still running an outdated version of Magento. If your site is completely custom, it's worth investing in a vulnerability scanning service to identify technical weaknesses in your code.
3. Display visual trust indicators.
Another way to show your site is secure is by using visual trust indicators such as badges, seals, certifications or logos from a third-party organization. When third-party trust indicators are not present, nearly half of consumers fear the site could be a fraudulent business.
Our company, TrustedSite, has a suite of certifications that address a range of visitor concerns, from business legitimacy to data protection to identity theft. Holabird Sports tested some last holiday season and saw strong results–a 16% overall conversion increase, 22% conversion increase with new visitors, and 21.3% revenue increase.
Use discretion when choosing which trust badges to display and the locations you place them. In the example below, the site crams 11 badges and logos in the checkout, which can have the opposite effect—appearing almost spammy.
We recommend limiting the number of trust badges in the checkout to no more than three, and to place a security badge as close as possible to the credit card fields. (Nearly three-fourths of consumers have security concerns when asked for their payment information.)
MyBinding.com does this nicely on their checkout page, placing a Secure Checkout trustmark in the payment method section and an Identity Protection trustmark underneath the "Place order" button.
Use trust badges that are SVG images so that they're resized when viewed on different devices, and ensure they link back to the provider's site to show that you've obtained a legitimate certification.
4. Show that customers love your business.
Before making a purchase from an unfamiliar site, 93% of consumers read customer reviews to see what others have to say about the business and their products.
When businesses have excellent reviews, consumers are likely to spend 31% more, so on top of increased traffic and transactions this holiday season, you could also see an increased average order value by focusing on reviews.
Start collecting reviews by emailing customers after they've made a purchase and had time to evaluate the product. However, don't wait so long that the product is no longer top of mind. It may take some guess work to initially find the optimal number of days to wait before soliciting a review, but with some trial and error you should be able to find that sweet spot.
American Eagle has a reviews program that gives shoppers detailed product insights. When collecting reviews, they ask customers to rate the item overall, describe the fit, share the size of the item they ordered, and list their height and weight. This allows new customers to better gauge the fit of the item by seeing what customers of a similar body type said.
For those not selling apparel or shoes, try prompting customers with other questions to extract additional details. Even a question as simple as Target's "What did you like or dislike?" can inspire customers to start writing.
There are tons of options for ecommerce review services. Baazarvoice is one that can help you get the nitty-gritty details like those American Eagle collects. Yotpo is another service that also has a product recommendation engine to showcase top-rated items.
Services like ResellerRatings also build your star ratings into Google search results, helping you bring in more traffic that already understands you've earned the trust of previous customers.
Your efforts will sometimes collect negative feedback. While it can seem tempting to hide negative reviews, it's not only an untrustworthy practice, but customers may actually believe your site is fake if you display only positive reviews. A small number of negative reviews add credibility to the positive ones.
You can also turn negative reviews into an opportunity to showcase your excellent customer service. When new customers see that you've addressed past issues, it can alleviate pre-purchase anxiety.
Thrift Books turned an unhappy customer into a happy customer by quickly responding to and resolving this complaint:
Conclusion
There are many roads that can lead to a more trustworthy site. When working to earn the trust of new customers this holiday season (and beyond):
Make communication with your brand easy and straightforward.
Be transparent about logistical issues as well as expected shipping times.
Use mobile and video to engage with your customers on a more personal level.
Highlight customer reviews.
Support a relevant cause your customers care about.
Recommend relevant items for your shoppers to make gift-buying easy.
Keep your site secure and display trust indicators.