A product demo is a critical tool in the sales process. It exists in the all-important consideration space between lead qualification and conversion, giving you the opportunity to show how your solution solves problems and makes prospects' lives easier.

Done right, it's a deal maker. Done badly, you risk losing sales.

In this article, you'll learn what makes a compelling demo. We'll look at the important principles and break down how successful companies use demos to engage prospects.
What makes a compelling product demo?
A good product demonstration should do three things:
1. Introduce your product
2. Educate a prospect
3. Convince the prospect to act
All three of these things, however, can be boiled down to one: solving a problem.
If you can demonstrate how your product makes a user's life easier, everything else will fall into place.
This goes for whatever type of demo you're using: live demo, pre-recorded demo, or real-use demo. Although, the type will dictate how you go about it.
With a live demo, for example, you engage a prospective customer (or customers) in real-time. This gives you the advantage of answering specific questions while showing how your product answers them.
In a pre-recorded demo, the questions being answered will need to be determined beforehand. This isn't a bad thing, as it means you're able to focus on the overarching problems of your target market. You're also able to set it and leave it, instead of needing a sales team to deliver real-time demos around prospects' schedules.
With a real-use demo, a prospect can get hands-on with your product to see how it works for them. On the one hand, this means losing out on personal interactions and showing users exactly how things work. But, on the other hand, it gives them the chance to educate themselves in their own time.
The principles of a great product demo
Let's look at some of the common traits of compelling product demos.
1. Pre-qualified leads
The best demos know they're talking to the right audience. They achieve this by pre-qualifying leads.
Pre-qualifying a lead is important for any kind of demo. It helps establish:
If the prospect fits your ideal buyer profile
If your product can solve their problems
If it's worth following up with the prospect
One simple way to qualify leads is in the sign-up process. Slite does this by asking questions related to the prospect's company: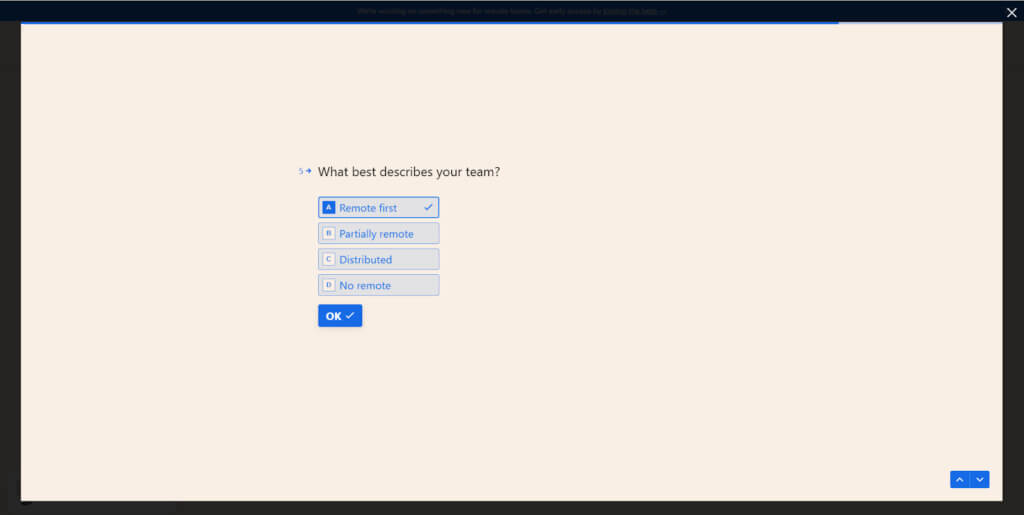 This allows salespeople to tailor conversations and demos to their needs.
Ameyo takes a more subtle approach, adding "Business Email" to its sign-up form.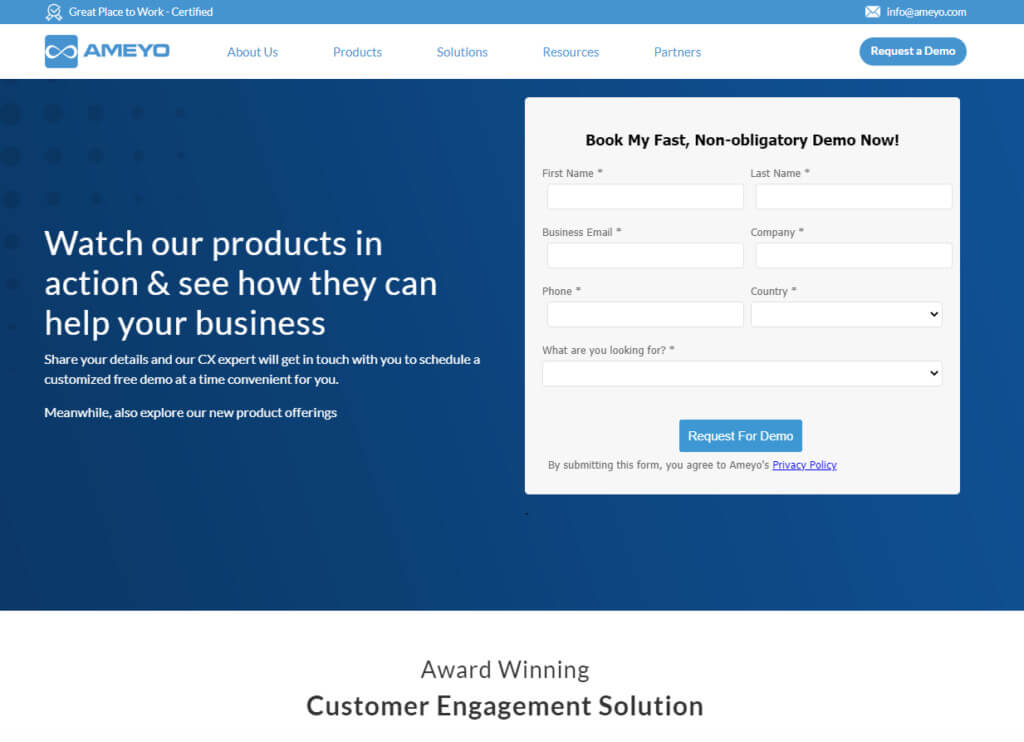 In his research of 78 SaaS demos, Jake Hatfield found this to be a common trait.
"Based on the data, the consensus is that name, phone, and email are required together—83% of forms required all three. A good note here is that most forms also had "Business email" or "Work email" as the placeholder for the input, seemingly to qualify more serious leads and reduce spam submissions."
Prospects can also be qualified during an initial call or at the start of a demo by asking questions such as:
What problems do you hope our product can solve?
What are you looking for in a product?
What other products do you currently use?
How long have you been looking for a solution?
If you're unable to ask these questions directly (e.g., you don't have an opt-in), use them in the discovery stage to establish key areas to focus on in your demo.
2. A defined beginning, middle, and end
Like every good story, a product demo should take the prospect on a journey.
To adhere to the tried-and-trusted storytelling format, Adobe's Alexandra Nation sticks to the following steps:
"1. Tell them what you're going to tell them. Use this opportunity to direct the conversation. Tell them what you want to say and what they need to hear. This will make your audience comfortable since they'll have clear expectations of where you're headed.

2. Tell them. This is when you build your business case for why your solution meets their needs. Don't just rattle off different features. Speak to how you can help—how can your product or service can help them overcome their challenges?

3. Tell them what you told them. Repeat your takeaways to drive the point home before you end your presentation."
These steps can be used even if you're not delivering demos in the spoken word.
Take Usetiful. Its demo tour takes prospects through the different solutions its product offers with pop-ups on the home page.
The pop-ups start with an intro.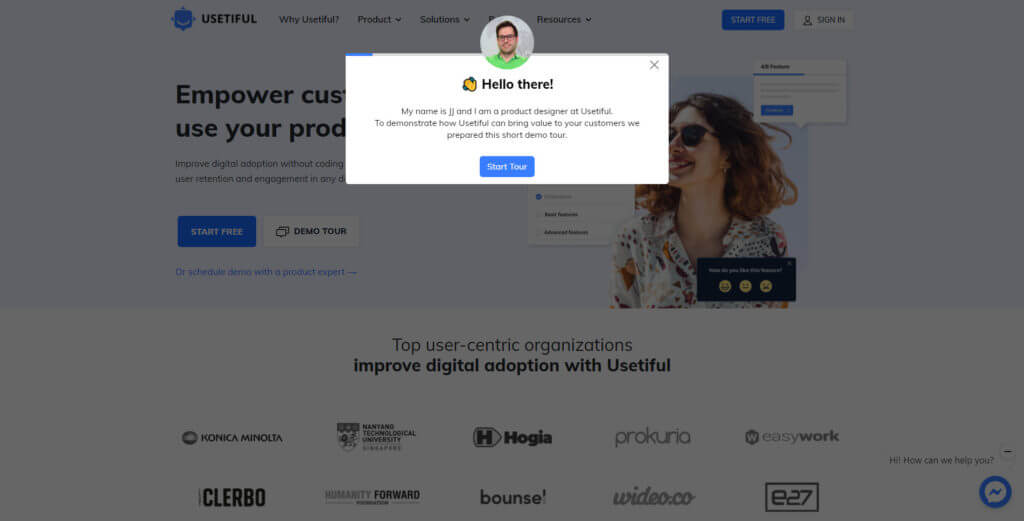 Then cycle through different real-use benefits.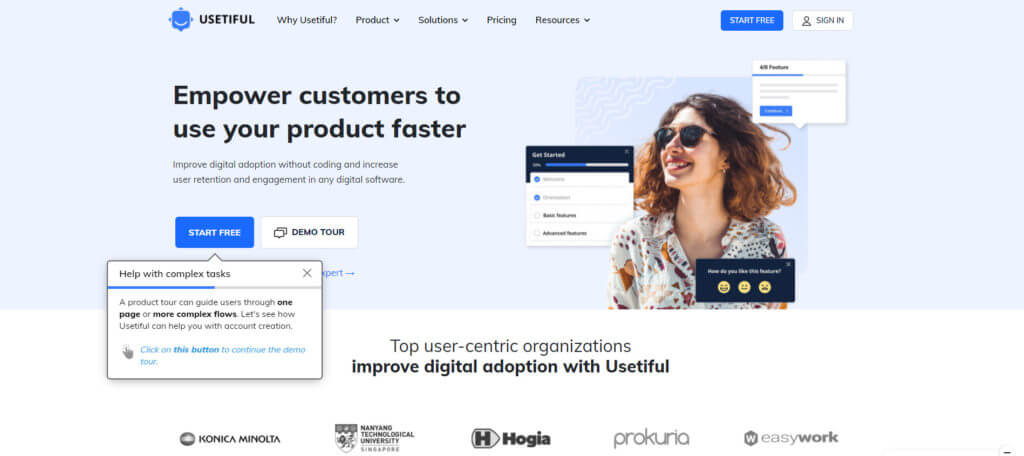 Before ending with a call-to-action.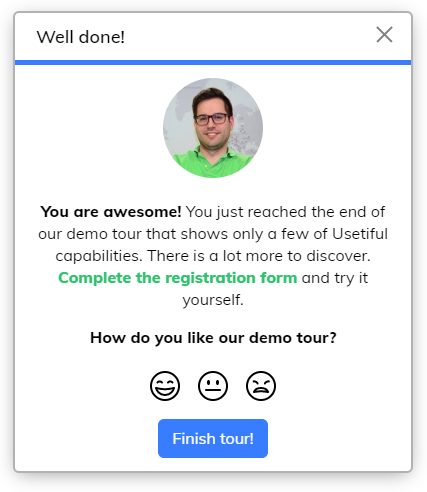 We'll look at how Slack has also done this with fewer words in its real-use demo later on in this article.
3. Always solutions over features
The best demos are all about selling the sizzle, not the steak. In other words, to repeat what we've said already: they focus on how the product works to solve a prospect's problems.
If your product solves multiple problems, create multiple demos.
For example, Salesforce has separate demos for each tool in its Marketing Cloud. Each one is focused on how that specific feature can benefit the user.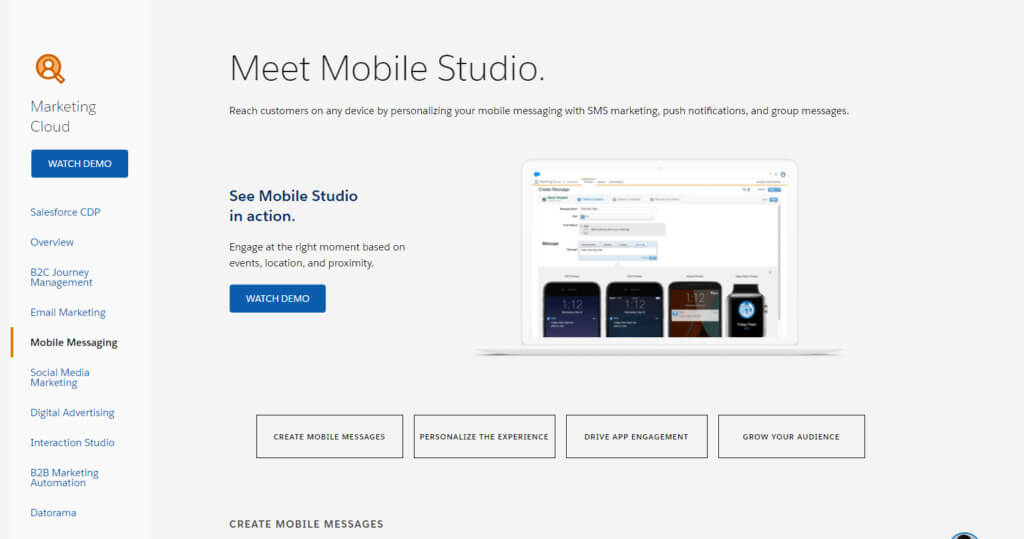 We'll look at two other examples of how companies use multiple demos soon.
To keep demos on task and centered on the prospect's needs, follow Demodesk's rule of three.
"For every pain point, use the rule of three. Focus on the three most essential features to demonstrate a solution to your prospect's problem."
4. Deliver a call-to-action
According to Gong, successful reps spend four minutes longer scheduling the next steps than their unsuccessful peers. Its research also shows that if you neglect to chat about what happens next, close rates can plummet by 71%.
Engaging a prospect in the next steps is easy if you have them live on a call, but what about pre-recorded and real-use demos?
In these cases, a call-to-action at the end, or on-screen during the demo, is essential to nudging prospects in the right direction.
At the end of his pre-recorded dashboard demo, Zane from Flywheel does this by prompting people to get in touch and try out the product.
"From the Flywheel dashboard, you can quickly find any site you're looking for. Even across both plans and a single site. And of course, if you have any questions during any of this, our team of Happiness Engineers are always here to help.

Believe it or not, Flywheel is as simple as that. Try it out for yourself."
Squarespace does it by leaving a "Start with this design" button in the top right corner of its template demos.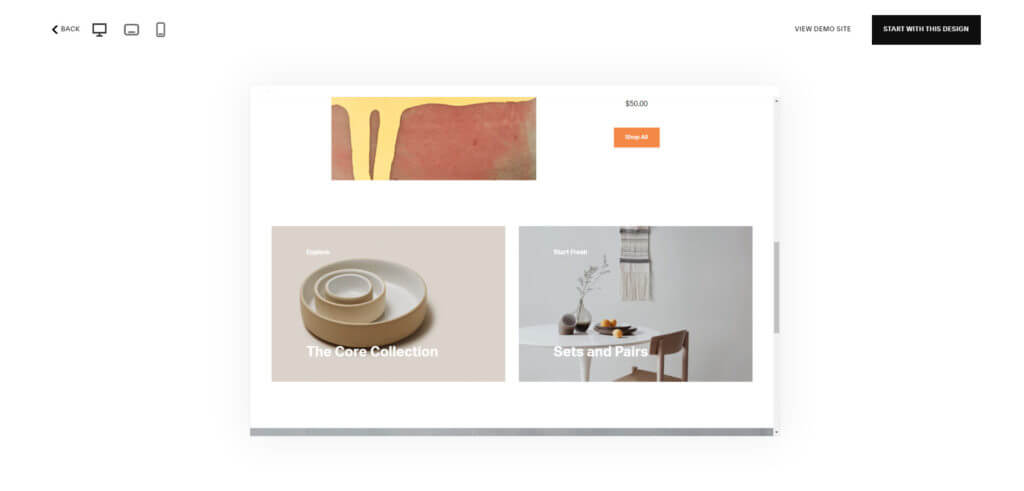 5. Preparation
A good demo can't happen without preparation. As well as qualifying leads and having a planned structure, you should rehearse. Business author Geoffery James recommends doing this more than once.
"Demos are much more difficult than presentations–because, in a demo, you must simultaneously focus on the customer, the effect the demonstration is having on the customer, and the mechanics of the demonstration. So it's utter madness to try to give a demonstration without rehearsing it at least three times.

You'd be amazed how many sales reps think they can wing it when it comes to demonstrations. The result is always a disaster."
You should also test that everything works before going live. This includes your computer, mic, and camera. But also the product. The last thing you want is for a bug or kink to derail the entire thing.
What are good examples of great product demos?
With the key principles of what makes a good demo in mind, let's look at brands that do them well. In some examples, we'll look at the demo itself. In others, we'll focus on how brands get people to sign up.
After all, without people tuning in, a demo stands little chance of selling your product.
1. Kajabi
From the moment you land on the homepage, you can see that Kajabi places huge importance on its demo, making it the primary visual above the fold, with two CTA buttons.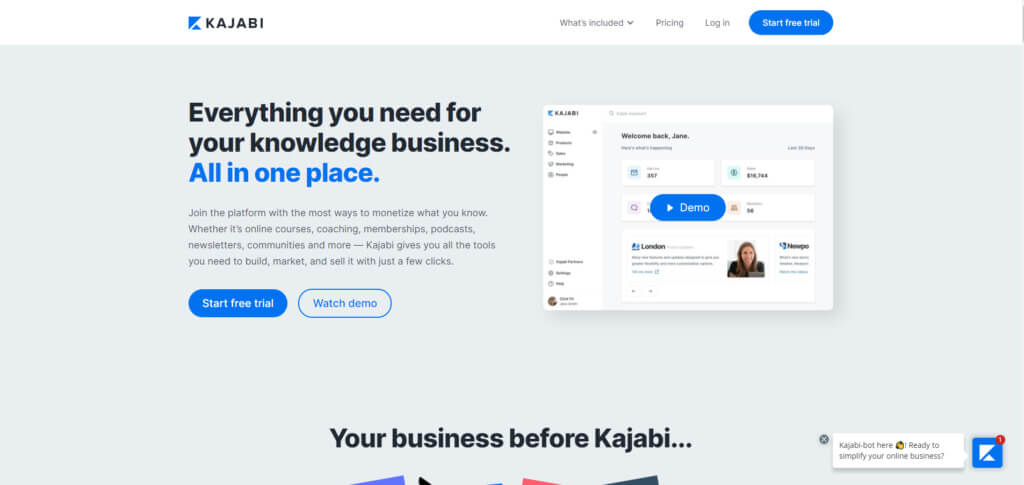 Crucially, both of these sit next to the introductory headline and copy. This works to tell prospective customers about the product and what it can do for them, making them want to learn more.
Clicking on either button brings up a form. Kajabi's demo is pre-recorded, so there's no need to ask specific questions (à la Slite) to tailor demos. This allows them to keep the form simple.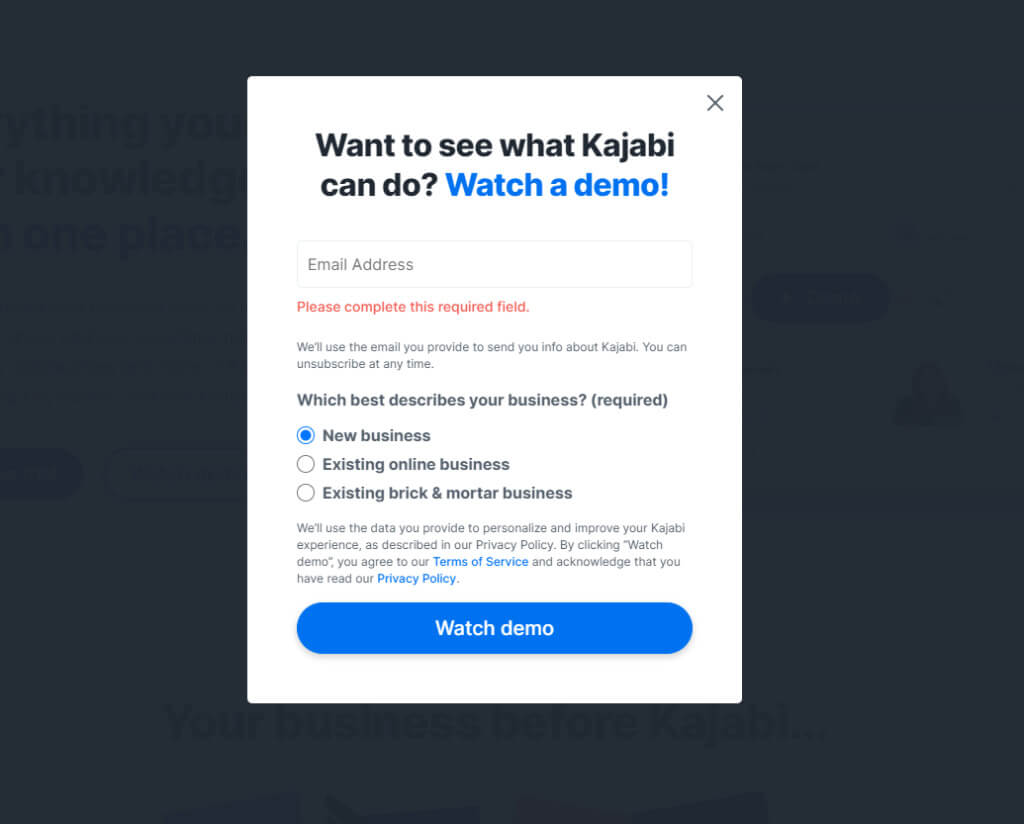 Clicking on the button takes you directly to the demo. It also sends it to your inbox.
This is useful for people who are unable (or don't want) to watch the demo immediately. Having it there in their inbox means they can get to it in their own time.
It also gives Kajabi the chance to sell the product in more detail. They do this well, backing up features and benefits with social proof.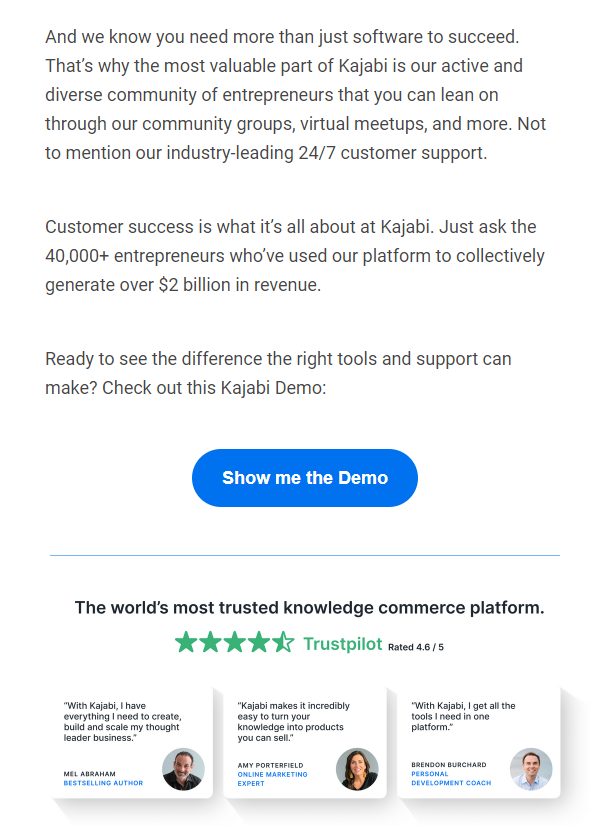 "Customer success is what it's all about at Kajabi. Just ask the 40,000+ entrepreneurs who've used our platform to collectively generate over $2 billion in revenue."
With this, Kajabi plants a seed that its platform is what the prospect needs. The demo then works as much to confirm this as it does to explain the product.
As for the demo video, it's delivered by Kajabi's VP of Engineering, Jeremy Saenz. This instantly helps build trust. It also puts users at ease. Jeremy is a guy who knows the product inside and out, but he's not a salesman.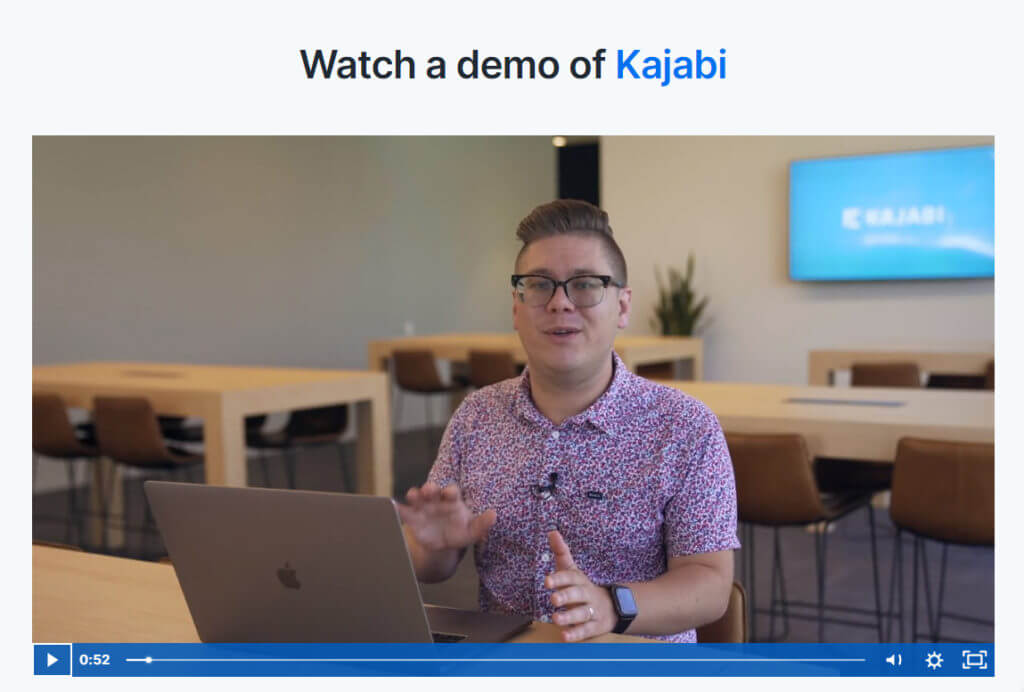 His pitch is delivered as such, focusing on how Kajabi helps, with no hard-selling.
Finally, a small but beneficial addition to Kajabi's demo video is that it remembers where you were up to. It clocks in at 30 minutes, which is on the long side for a demo. So, being able to pick up where you left off is a nice touch.
If you're collecting email addresses, waste no time in putting them to good use. Explain the benefits of your product and increase demo engagement for your list subscribers.
2. Headspace
Animated videos work well to help you explain the benefits of your product quickly and concisely by using visuals to do a lot of the heavy lifting. Nowhere is this better demonstrated than Headspace's product demo video.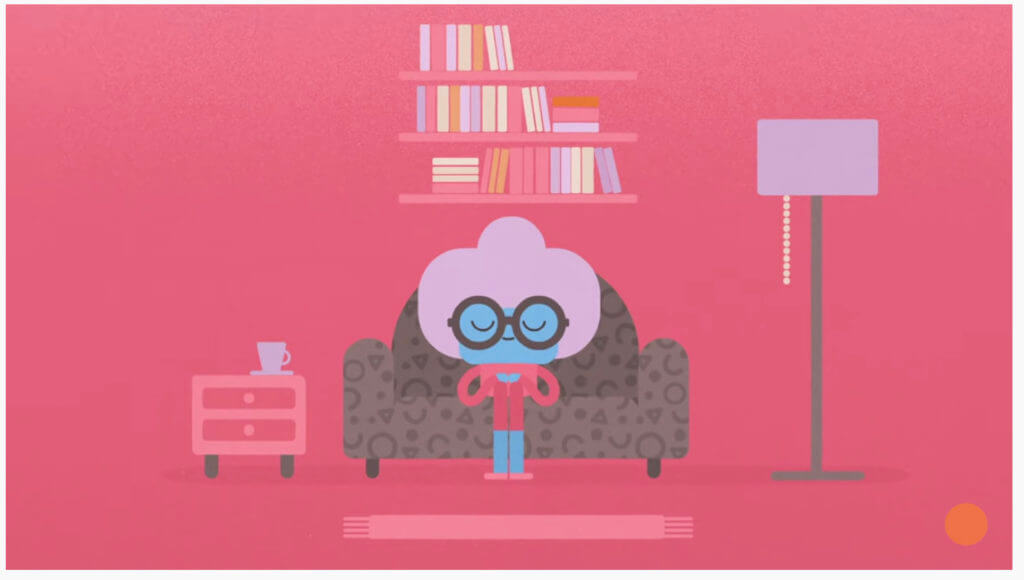 In under one and half minutes, the demo explains how Headspace can help you live a happy, healthier life. It also shows you how to sign up and get started with meditation.
The demo uses the same characters as the Headspace mobile app and website and is narrated by founder Andy who delivers its meditation classes. This keeps branding consistent, creating familiarity—which is important.
Why?
Because 82% of searchers choose a familiar brand for the first click.
By ensuring your brand continuity across platforms, someone who has experienced it in passing and now wants to learn more is more likely to watch your product demo over the competition. Meaning you're one step closer to a new customer than they are.
3. Snowflake
Snowflake is a global data cloud platform offering numerous products to various industries and departments. For them, one demo isn't going to cut it.
Global demand and different time zones also mean that one-on-one demos will be resource-heavy and tough to pull off logistically.
So what's the solution?
Weekly demos.
Each week, Snowflake hosts a live demo on a different topic. These work on rotation, held at different times and in various locations so that prospects can register for a demo that suits them.
In this sense, they're more like webinars than demos. But the content is very much geared towards solving problems.
On the live demo page, prospects can filter results by region, workload, and industry to find the right demo. By choosing a specific time, prospects are more likely to block out time in their diary, meaning Snowflake is less likely to have people dipping in and out.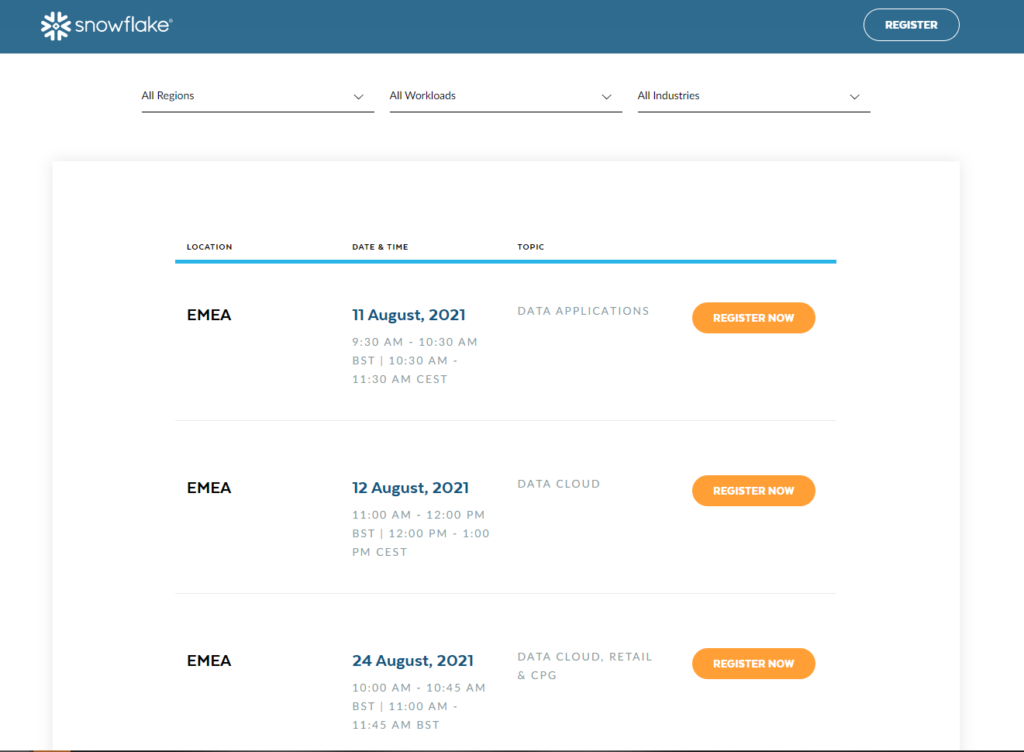 Prospects are then taken to a sign-up page. Here Snowflake lays out exactly what a user can expect to learn from the demo. This gives them more reason to sign up. Crucially, it also helps to filter out anyone that isn't suitable.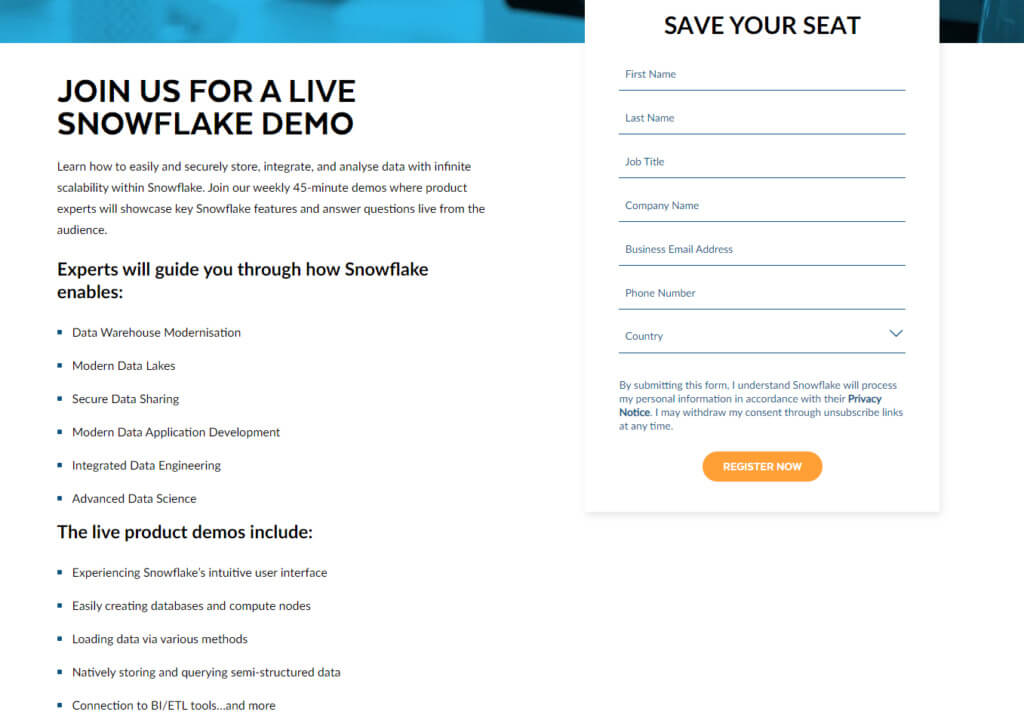 If your brand operates in different markets or your product has many strings to its bow, creating a demo calendar is an effective way to reach more users.
4. Atlassian
Like Snowflake, software developer Atlassian is a big company that solves different problems for different customers. It uses demos in a similar way.
Its sign-up pages let prospects choose a suitable time and date.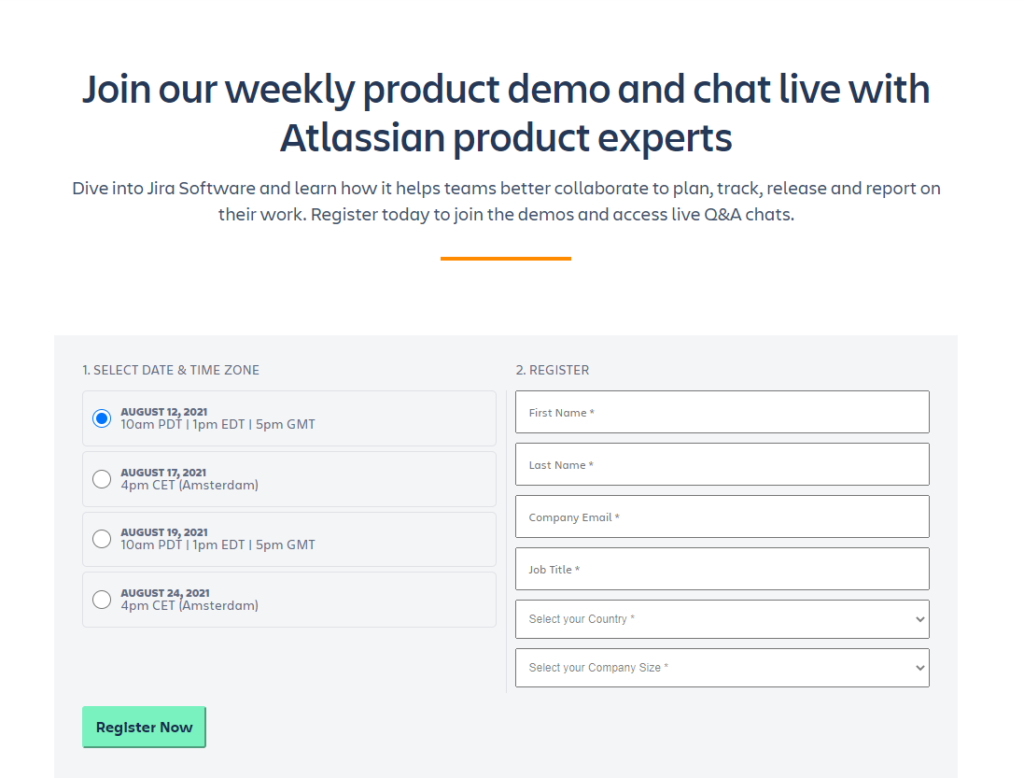 Each demo offers live chat functionality so that attendees can have questions answered by experts in real-time.
Adding this to your demos lets you engage prospects one-to-one, even when there are others in attendance. However, you may want to dedicate time at the end to a Q&A so as not to sacrifice the customer experience or throw you off the script.
What Atlassian does differently from Snowflake is revealed in a sentence at the bottom of its registration form:

By including a library of on-demand content alongside live demos, Atlassian can cast its net wider, capturing more leads in the process.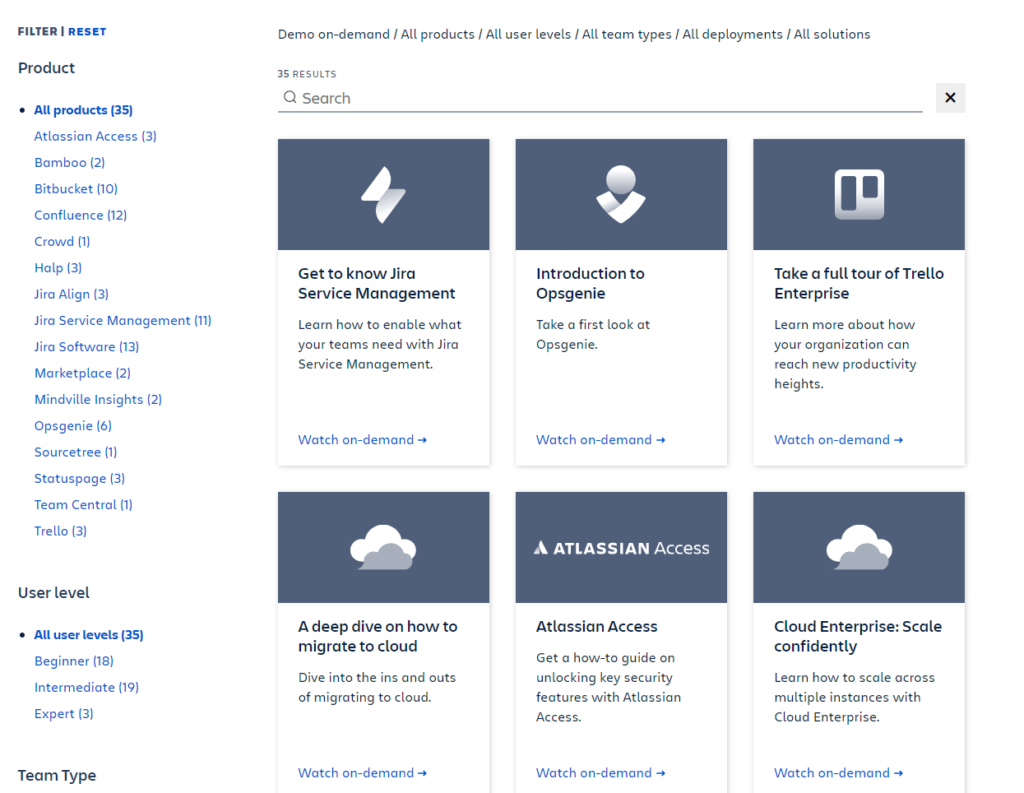 By recording live demos (where suitable), you can make content work harder, repurposing it to build a database that reaches more users.
5. Square
In Jake Hatfield's research, real-use demos were by far the least common, making up only 3% of the total.
Not every company has a product that's geared for real-use demos. Our two previous examples, Atlassian and Snowflake, for instance, are too wide-ranging and complex. Prospects benefit from the help of sales reps to walk through solutions and answer questions.
They can also be hard to pull off. As Jake points out:
"If there's a learning curve to using your product, people might not know where to ask for help or may give up completely. It's also possible that these demos might have an up-front cost to design, code, and deploy."
Payments platform Square has managed to do it, helped by the simplicity of its product and some creative demo design.
Rather than give people access to a limited version of the product, Square gives users common point-of-sale (POS) tasks to complete.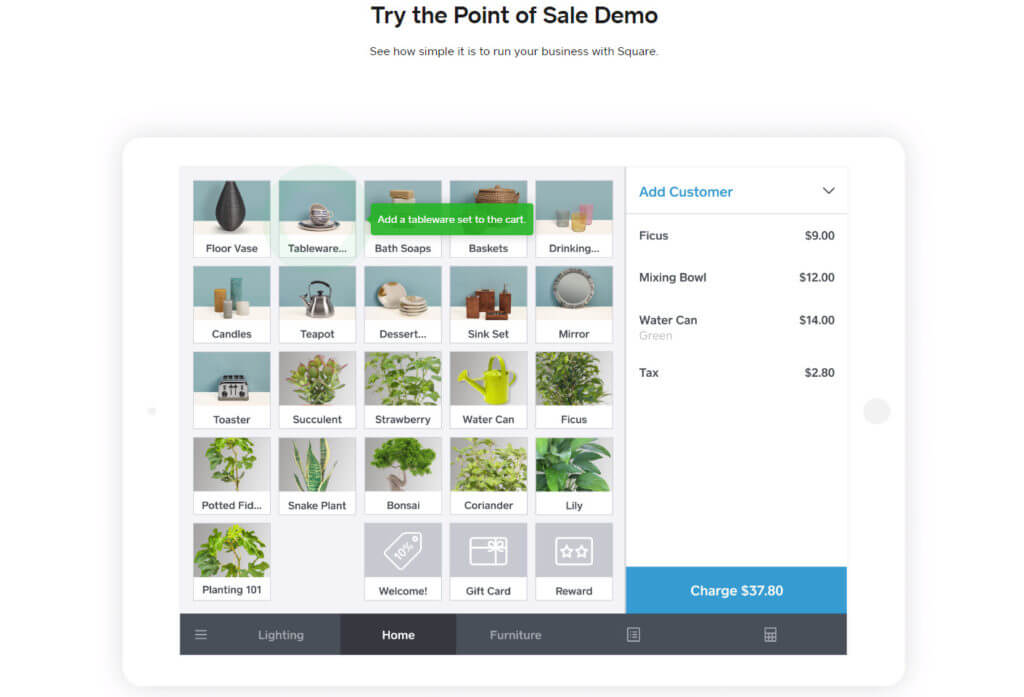 Users are taken through scenarios step-by-step, with a summary at the end to recap the process and remind users how easy it was.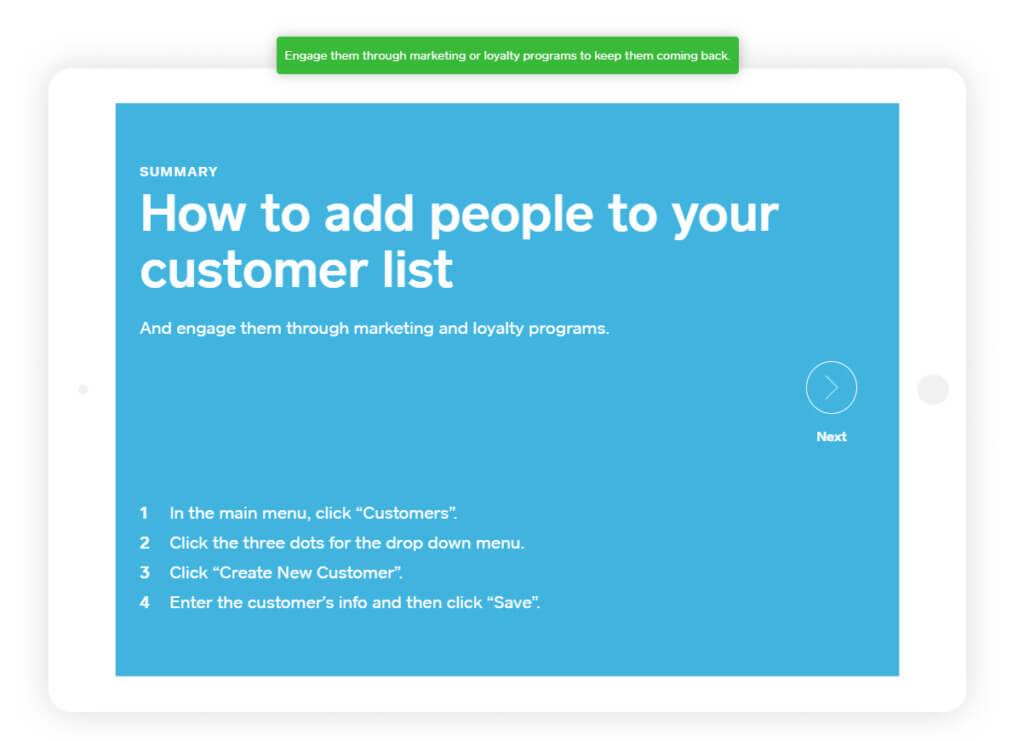 There's no barrier to entry here. Potential customers aren't required to register or download software. Square instead relies on the ease of its product and the strength of its demo to convince users.
It then backs this up with a simple form for users to complete to get started for free.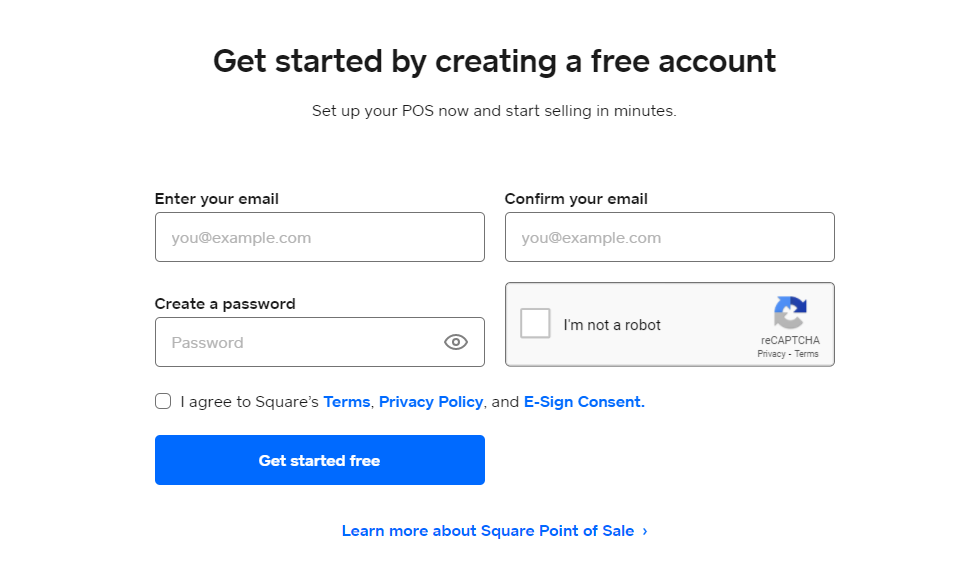 Unlike Kajabi's demo CTA which sits front and center on its homepage, Square's is located three-quarters of the way down the POS landing page, alongside app download and sign-up CTAs.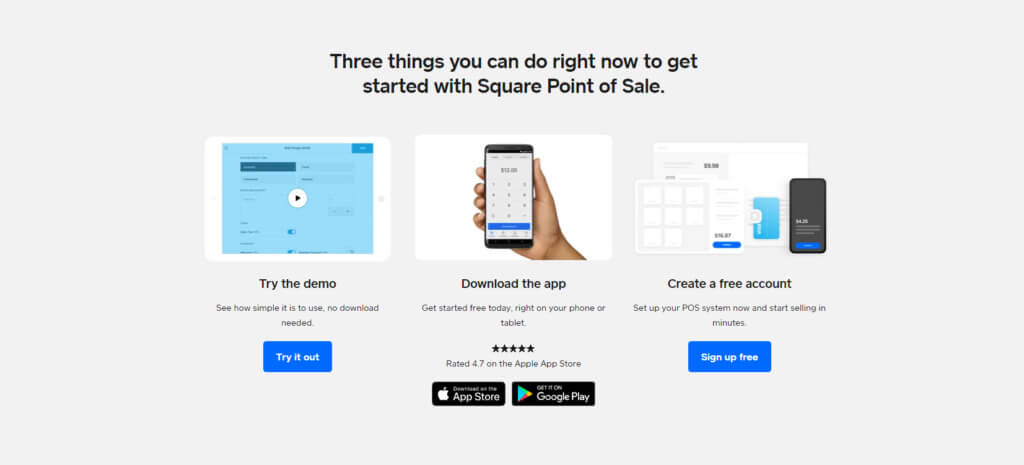 This makes sense as it's not used for lead generation, but rather as one more way to win over potential customers still on the fence.
If a key USP of your product is simplicity, building a demo that complements your website and marketing copy by demonstrating this can be an effective sales tool to add to your arsenal.
6. Slack
Slack's demo falls somewhere between product video and real-use demo. Like Square, it uses its interface to demonstrate what it can do.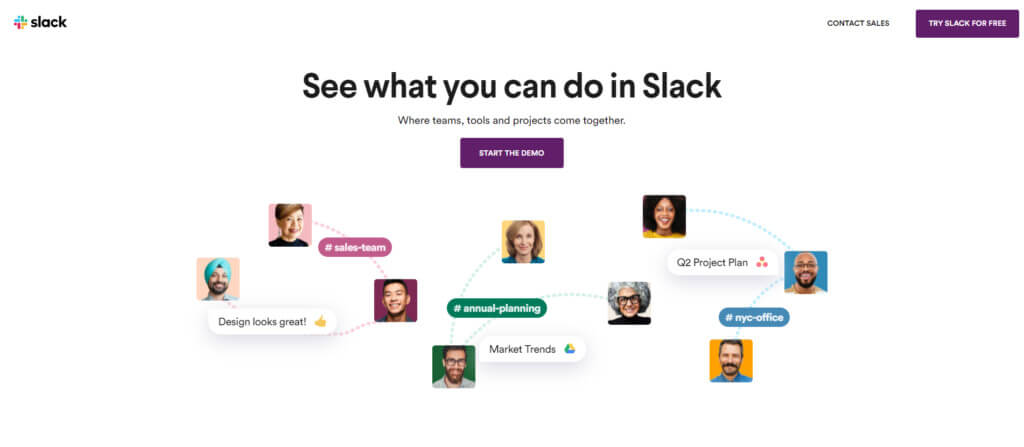 Hitting the "Start the demo" button takes users on a product journey that details key benefits, including starting channels, integrating tools, and collaborating. It also shows prospects how to complete tasks.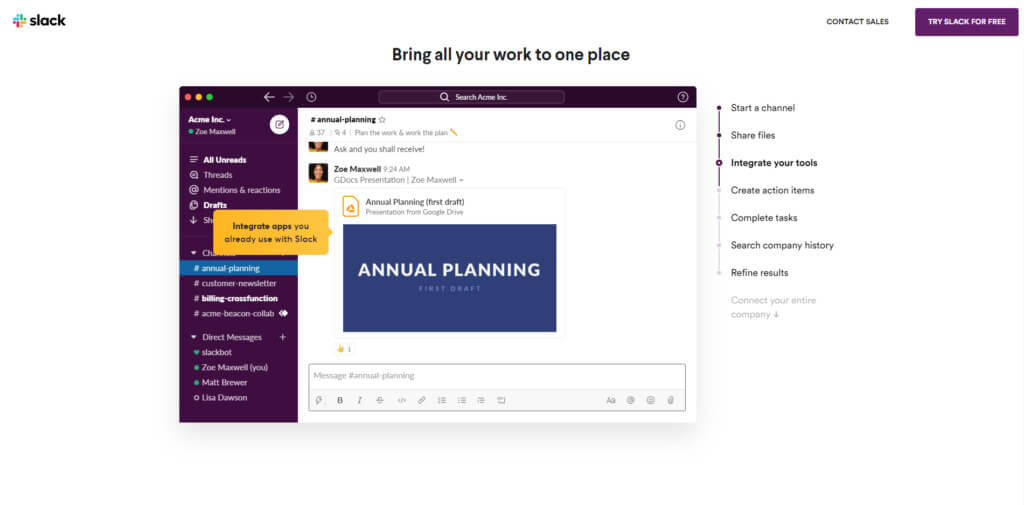 What's clever about this demo is how Slack steers the conversation. Despite the absence of a sales rep, the demo guides prospects through each section, ending with a call-to-action.

It's a great example of how to creatively sell the value of your product and deliver a clear beginning, middle, and end without a voiceover.
7. Fathom
Right from the start, analytics platform Fathom tells you what it offers and why.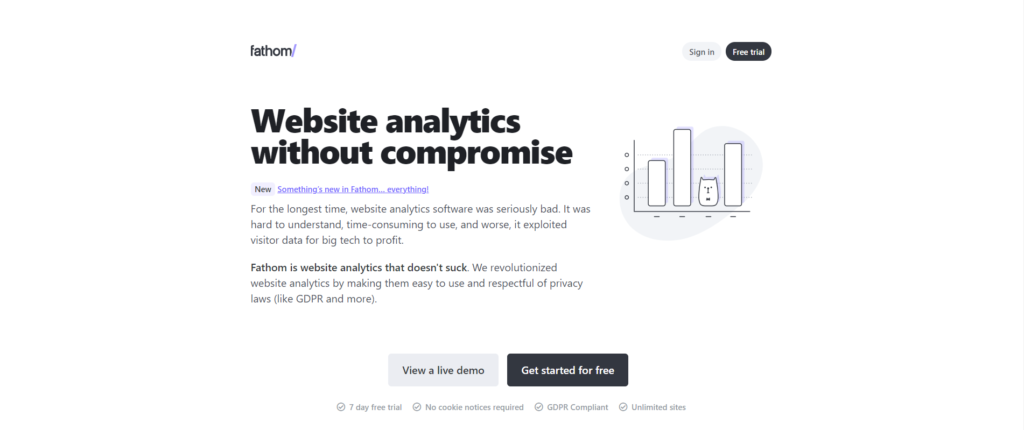 "For the longest time, website analytics software was seriously bad. It was hard to understand, time-consuming to use, and worse, it exploited visitor data for big tech to profit.

Fathom is website analytics that doesn't suck. We revolutionized website analytics by making them easy to use and respectful of privacy laws (like GDPR and more)."
This copy doesn't just work to sell the product. It's a compelling invitation to check out the software demo.
Clicking the CTA takes you to a real-use version of Fathom's platform. Here you can explore a fictional account to get a feel for the product and understand how it works. And there are no restrictions. Every button is clickable, and every hover-over delivers real-time data.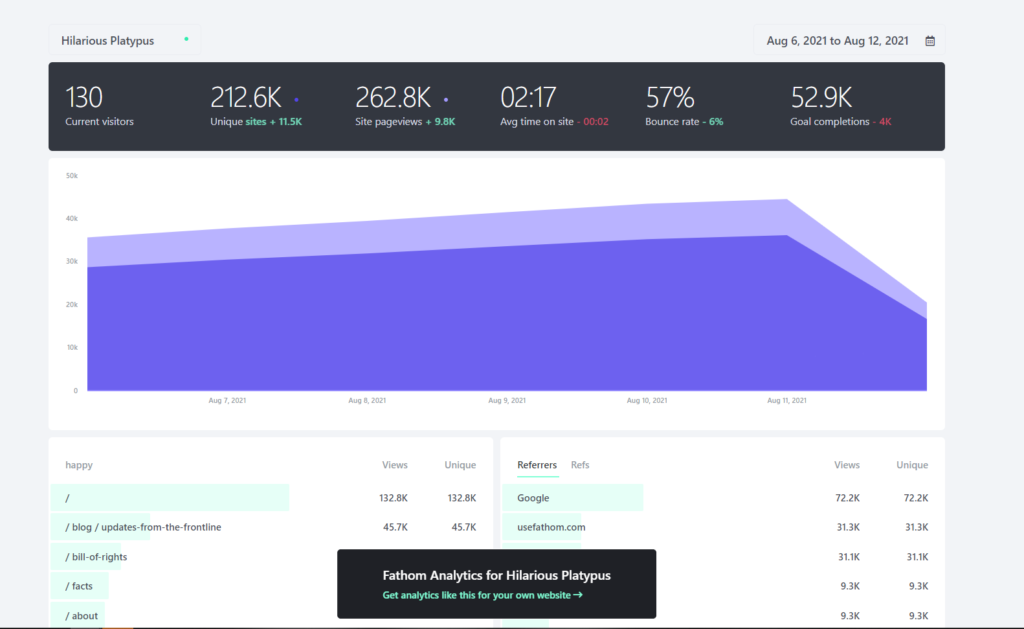 This demo works because it knows its audience. People who come to Fathom will most likely have experienced Google Analytics or Bing Webmaster Tools. This means they can let the product do the heavy lifting.
Having played around the platform, a prospect will have a good idea of whether it's right for them. Clicking the sticky CTA at the bottom of the page takes them to a sign-up that helps to further convince them of its benefits.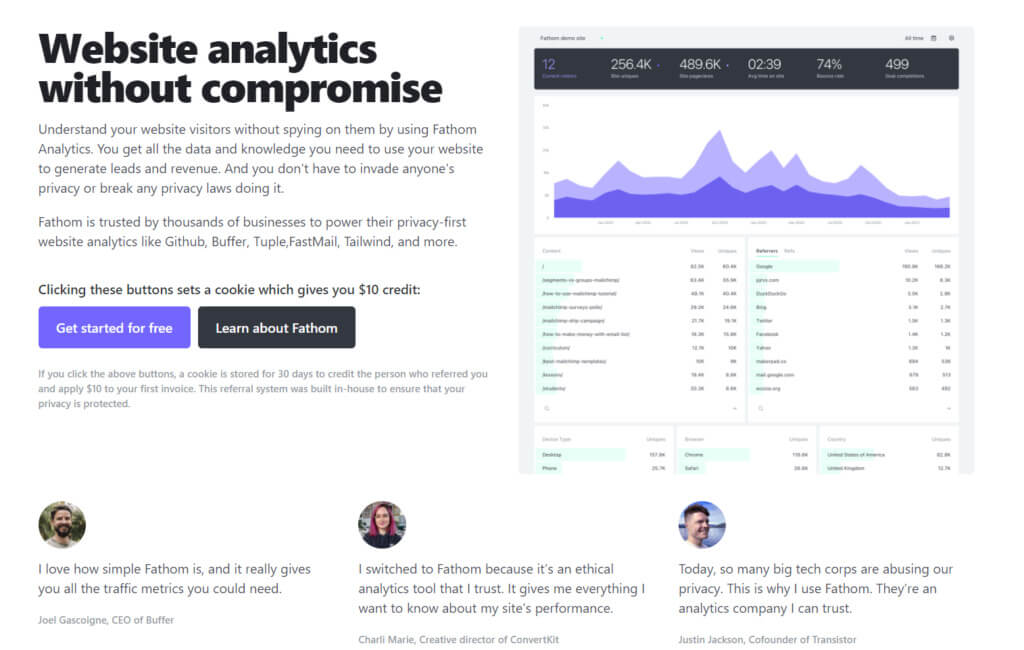 This is backed by social proof and a financial onboarding incentive.

It's a clever way to convince users to act on the good feeling the demo generates.
The main takeaway from this demo, however, is that if you have a product that's genuinely disruptive in a market that's already well established, you can let that product do the talking.
8. Duolingo
If you're up against strong competition, social proof is one of the best ways to stand out. Testimonials can be particularly effective.
"A type of social proof that works over and over again is testimonials. Whether it's in video or written form, they've helped increase the conversion rate of my clients' landing pages in every case.

When building a landing page, you can say all you want about your offer, but how can you prove what you're saying is true? Authentic testimonials, preferably with a picture of the person, will take care of that for you. Test it, and I'm sure you won't regret it."
Raphael Paulin-Daigle, SplitBase.io
Rather than saving them until the end of the demo as one final way to convince prospects, Duolingo leads with them.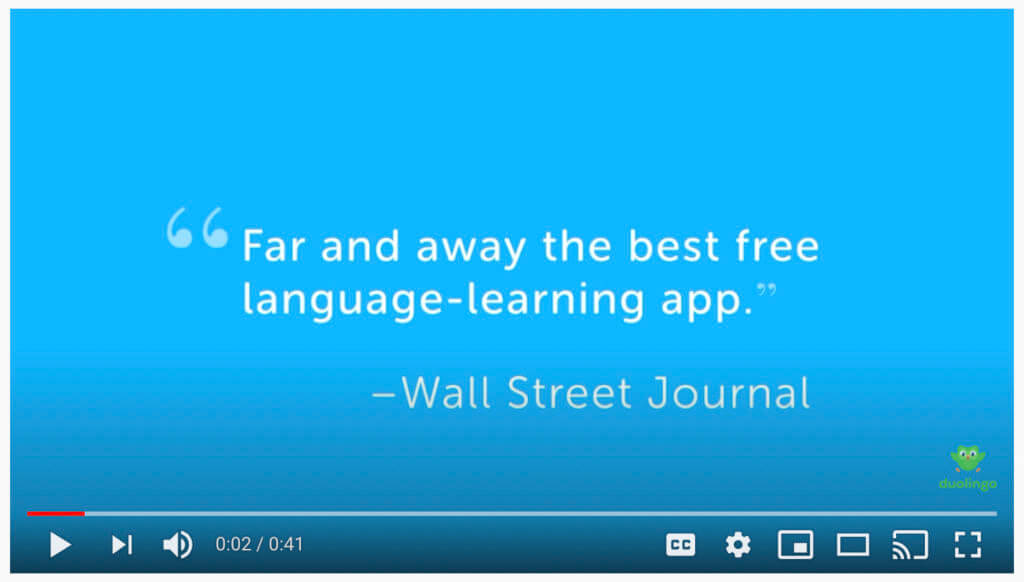 These set the stage for users to want to learn more.
From there, Duolingo uses animation, rather than screenshots, to show how the platform works, featuring statistics to demonstrate its effectiveness. Like Headspace, this helps emphasize what's important simply and concisely.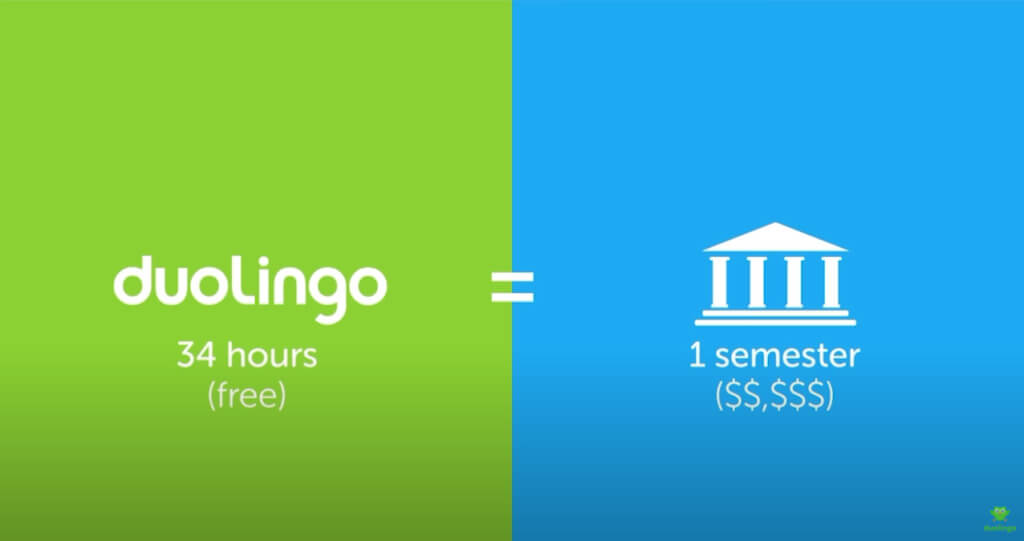 The demo video lasts just 0:41. Yet you're left feeling confident that this is the right app to help you learn a language.
If you're working on limited time or budget, pull in testimonials and research to strengthen your product's claims.
9. Apple
In the examples we've looked at thus far, product demos have worked in a conventional way. While creatively different, they all focus on a problem and how they solve it.
Apple's product demos are much more subtle. They rely on their ability to wow users as much as educate them.
Its "Shot on iPhone" campaign uses storytelling to engage viewers while showcasing the best features of the iPhone camera. This makes it as much an ad or short film as it does a demo.
"What makes it brilliant is that, at its core, it's one of the best, most elaborate, and stylish product demo campaigns ever. It's focused on pointing out product features cleverly, and in a most entertaining way, basically by weaving them strategically into the storyline. And, the narrative of the ads shows how the product features enable and enhance creativity."

Avi Dan, Avidan Strategies
It's the perfect example of "Show. Don't tell."
It's also proof that the principles of a good product demo aren't rules. Apple's live-action demo couldn't be any different from Kajabi's demo, which itself is very different from Square's demo. Yet, all three deliver value: "here's how our product solves your problem."
Don't be afraid to think outside the box.
Conclusion
A great product demo helps you qualify leads and turn prospects into customers. What none of the examples we've used in this article do, however, is go for the hard sell. Instead, they focus on how the product solves problems. It's this quality that lets you build relationships and move leads towards a close.
Use their qualities as inspiration for your own demos. Look closely at what your product offers, who you want to target, and what concerns your customers have. This will give you an idea of what type of demo best fits their needs.
If your product is feature-heavy or has a steep learning curve, a live demo or pre-recorded demo led by a member of your team might be most beneficial. If it's easy to use, developing short video animation or real-use demo might be better suited to convince prospects.
However it's presented, follow the important principles. Qualify leads, prepare well, and take prospects on a journey from intro to solutions to next steps.
Working on something related to this? Post a comment in the CXL community!