You have an opt-in form on your site and somebody filled it in. Hooray! You just gained another subscriber on their way to read your content and buy your stuff. Or did you…
A large part of your visitors that complete signup forms WILL NOT actively consume your offer. They might download the pdf document, video or audio file you provide – but often they won't actually go through it. You get their email, but not necessarily their loyalty.
Why?
Web surfers are fickle. Customers will often register on a site simply to view specific content or to use a particular service, and unless the content or service is truly revolutionary, they may not come back a second time.
The same applies to newsletter subscriptions. A customer can be sold on subscribing to your newsletter, but due to time constraints may hold off on reading it, preferring to save it for later. Well, later rarely comes.
Getting a customer to subscribe to your offer is NOT enough. After a customer subscribes, you must sell her on actually consuming your content.
Increase the odds of consumption at signup
The trick lies in your confirmation page and your welcome message.
Customers really pay attention to the signup confirmation page. Those that end up there are often qualified leads who are poised to receive your next message.
There are two ways to sell customers on consuming your content. Both techniques should be used together for maximum impact.
Have a well designed signup confirmation page
Create an effective welcome message.
Here's how to convert more subscribers into buyers.
1.The signup confirmation page
Once customers sign up for your offer, you still need to guide them to actually use what they signed up for. This is where the design of your signup confirmation page comes into play.
What is the signup confirmation page?
The signup confirmation page, also called a Thank You Page, is the page customers see after subscribing to a newsletter or registering on a site. The most generic confirmation page will have a simple message such as
Thanks for Signing Up. Please check your email for [Name of Newsletter] and click the confirmation link.
A confirmation page is just a page that confirms an action was successfully carried out. It's a way to communicate to your customers that you have acknowledged their interest in your offer as well as give them a reason or incentive to consume it.
The goal of the confirmation page
The confirmation page has 2 important goals:
To confirm to customers that their registration or subscription was successful.
To get customers EXCITED and HOOKED on reading your email, or browsing your site.
Sadly, many sites forget goal #2. The confirmation page is an important part of the relationship building process. All too often marketers are so consumed with making a perfect landing page and getting the signup that they forget about the importance of the confirmation page.
A successful landing page will get customers to sign up to receive your offer. A successful confirmation page will get them to actually use your offer. After all, if your customers are not actively reading your newsletter or consuming your free online lessons – how can you expect them to get interested in taking the next step and buying your product?
This is how profit.ly does it: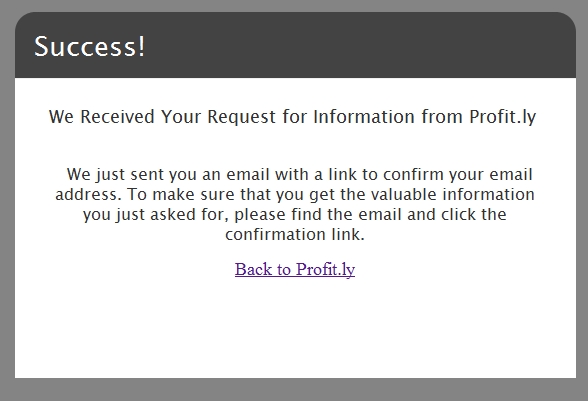 While I like their "Success!" and "We have received…" part, my eyes don't really want to read the rest of it. The most important part – click on the confirmation link – should be in bold or bigger font or emphasized in some way.
The call to action here is "Back to …", but I think something along the lines of "Check your inbox right now" would ensure that more people do it and click the link.
Designing a killer confirmation page – 5 steps
Your confirmation page should be well laid out and allow customers to get a clear sense of what's going on. Just like your landing page, the confirmation page should be targeted. This means that it should reference the action that triggered it (e.g. subscribing to a newsletter or placing an order).
The first goal of the confirmation page is to simply let the customer know that the subscription or registration process was successful. Aim to keep everything above the fold so the customer does not need to scroll down. You don't need a lot of copy or extraneous links or images. You can accomplish the first goal by displaying a simple message to your customers such as:
Success! Thank you for subscribing to [Name of Free Course].

Please check your email to read your first lesson on [topic].
Now you're ready to focus on the second goal – getting the customer excited about consuming your offer. Follow this checklist to transform your confirmation page:
1. Show appreciation
Thank customers for signing up and let them know you appreciate their interest. Use words to convey their registration or subscription went through, such as Success!, Congratulations!, Hooray!, or You're All Set!
Here's how FinerMinds does it (single opt-in):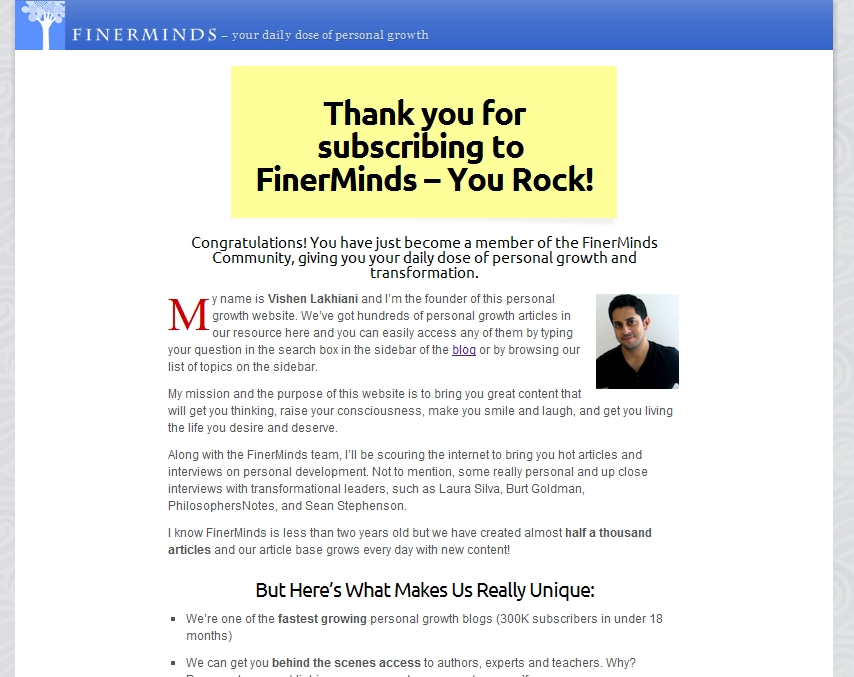 .. and the email that arrived in my inbox:

A bad example is surprisingly from Hubspot. When you opt in to this form on their blog: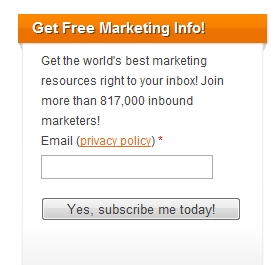 … nothing happens! You're just taken to the home page of their blog. No confirmation message. The form stays the same. You almost start to wonder whether it actually worked. Then you get this email:

The sender is 'marketing'? Really? Guys and gals, don't do that. (And no double opt-in? I'm surprised!).
Kind of ironic when they write a blog post about great thank you pages, but don't follow their own advice.
They do have some great examples in their 'thank you' page case study library.
2. Tell Customers What To Do Next
What should customers do or expect after they have signed up? This is especially important if you are using a double opt-in strategy. Your confirmation page should tell customers to check their inbox and click on the link to activate their subscription.
If you don't tell them, they might assume they are already subscribed and not open your email thinking it's just a welcome letter.
Aweber's default confirmation page does it pretty well: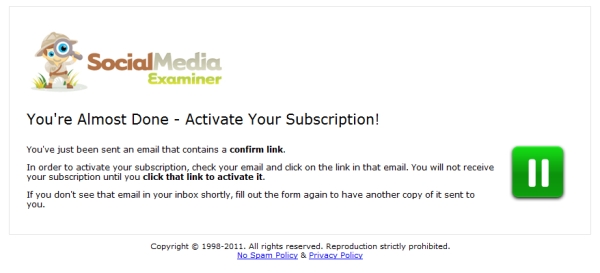 This how ThinkTraffic does it: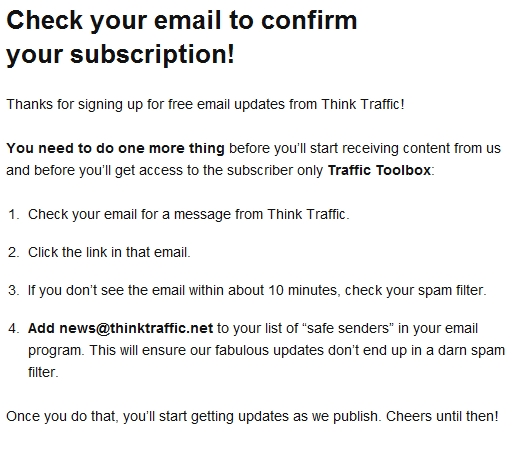 The Marketing Show by Clay Collins: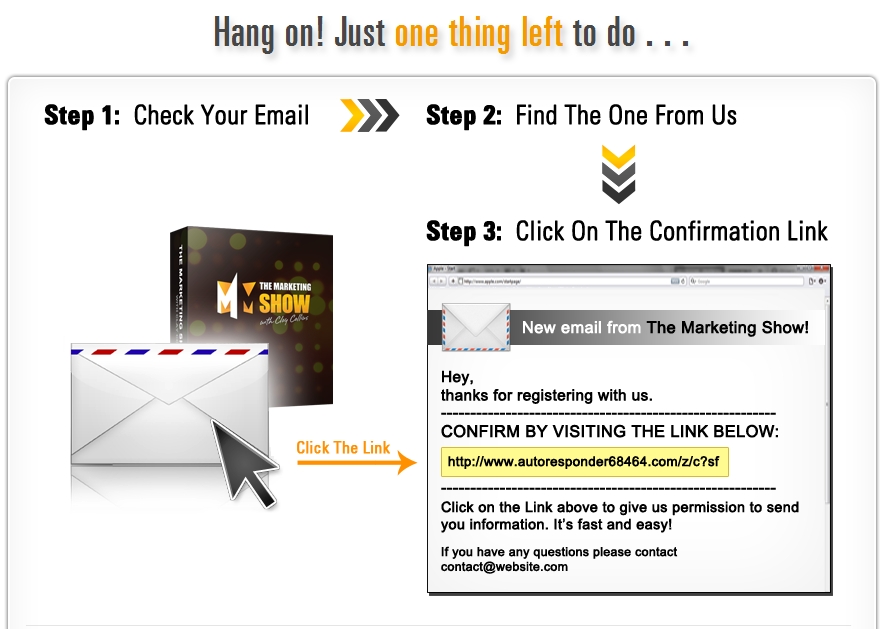 This looks nice, right? Yet, when you confirm, you only get this:

That's it, the rest of the page is blank. Not really a warm welcome, is it? First impressions matter.
3. Make it personal
Use photo of you / somebody in your company, video of you talking or signature if possible. This adds a personal touch and makes you appear more trustworthy. Customers are more likely to purchase from someone who they feel they know and trust. A human identity helps do this.
FinerMinds has this: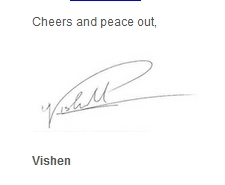 When you opt in on this site here (yes, the one you're reading), you can see my pretty face on the confirmation page.
4. Keep it Simple.
Above all, make your message clear and simple. Don't confuse customers with too many links or calls to action. Your goal is to confirm the signup to your customers, and to entice them into consuming your offer.
5. Ask customers to share it or follow your other channels
Once they have successfully confirmed their subscription or purchase, ask them to pass it on. Create a simple form that enables them to send it to friends via email, or tweet it out (have a pre-written template ready that can be used in 1 click) or 'like' it on Facebook.
FinerMinds again:

2. A Good First Impression Equals Stronger Opt-In Relationship
Congratulations! You've initiated an opt-in – hopefully even double opt-in – process for your list. That's great, and you should feel good because you have done the right thing both for your brand as well as for your subscribers and those that you didn't indiscriminately subscribe to your list. What now?
Now that you've these new subscribers on board, your first task is to begin to engage them – and quick! By bringing them into the fold, letting them know you appreciate their interest, you're demonstrating that you value them and want to respect their needs and they desire to hear from you.
This is how SocialFresh thanks their subscribers: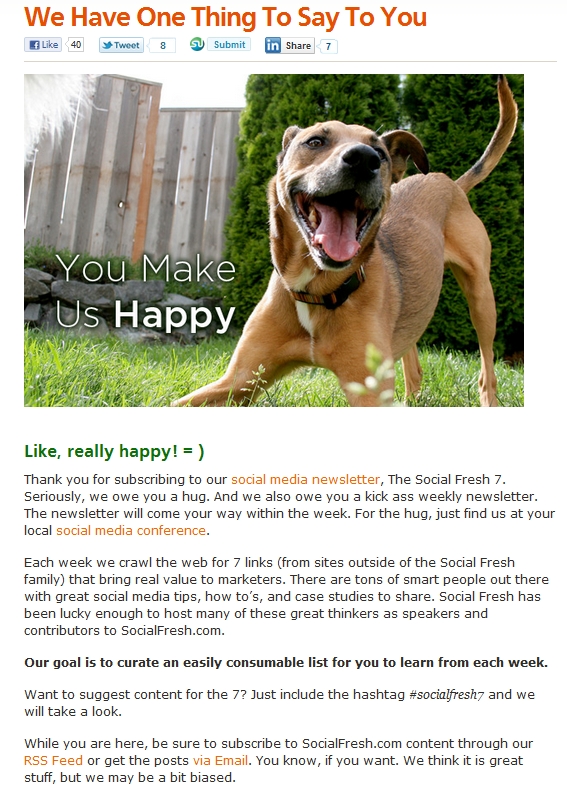 Cute and different. I'm not sure I'd use the picture of a dog (perhaps something more along the lines of the brand), but it does catch your attention.
As with old-line direct marketing, the best addresses on your mailing list are the newest ones, the owners of which are more likely to open and respond to your email messages than even those who have been on your list for just three months.
Why then does it take some marketers days, weeks, sometimes forever to send even a basic welcome message?
This problem is bad enough when opt-in is done solely online. It gets worse when your program also collects email addresses at point-of-purchase outlets in a store, at an event, on the phone, or in customer-service contacts. Engaging new subscribers is an issue marketers deal with all the time.
First impressions count when building a relationship with new opt-ins. That can reduce future spam complaints due to lack of brand recognition.
What to do with new signups?
1. Send an instant welcome e-mail
This goes out as soon as possible after the opt-in. Your list management software should be configured to send a welcome message as soon as an opt-in is confirmed. Your welcome message not only confirms the opt-in but also starts the loyalty and brand-building process. It should include:
A thank-you for signing up, along with a reminder about where and when the sign-up occurred, if your list software provides that much detail
A request to be added to the recipient's address book or personal whitelist to ensure future delivery
Customer service contact information
An unsubscribe link (required by CAN-SPAM and other government email regulations)
If you promised to send a free report or provide any kind of information, now is the time. If they signed up for a e-course via e-mail, send them the first lesson right away.
And perhaps a special offer available only via email exclusively for new subscribers
2. Fire up the welcome wagon
Prepare a special mailing, sent a day or two after the welcome message, designed to be your subscriber's guide to your company, brand, or Web site. This should provide value to newcomers while also keeping your name top of mind. Include these elements:
An exclusive email offer for new subscribers.
Links to services or remote, but useful areas of your site – subscribers might not find on their own.
A link to your most recent newsletter or offers they may have missed.
Links to archived news stories or special-interest articles. This not only increases your utility to subscribers but also provides more exposure for material you've already produced.
Bottom line: make your subscribers happy by providing them great value! Make them feel happy about joining.
3. Request Opinions
After your subscribers have been around for a couple of weeks or so, send a survey or invitation to fill out a more detailed preference form. Again, this mailing serves two purposes:
You get more detailed information about your subscribers, which will allow you to better target your future mailings
You will find out what they want, and thus you can give it to them
You give your subscribers a value-oriented reason to interact with you, which should further cement your relationship with them and provide less reason to hit the "report spam" button
As usual, provide an unsubscribe link, but be sure it links to a page where they can tell you why they're leaving
Don't do any of this manually, but schedule your autoresponder to do all of this automatically.
Email marketing software you can use
There's a ton out there, here are some that I can vouch for:
The worst one I've ever used was ConstantContact. I was shocked that a tool can be so bad. If you use it and haven't used any other, please sign up with any of them – you have no idea what you've been missing (unless they have dramatically changed in the last 12 months).
Keep on emailing them
You need to keep yourself on the radar and remind people that you exist WHILE adding value. A huge mistake I see people doing all the time is collecting emails, but then ignoring them.
Just having emails in your database is pretty much useless. The power lies in the relationship with your list. And the relationship can only improve with contact.
It's much like with people in real life. People you see and talk to more often will have a better relationship with you. Relationships with people you hardly see tend to get weaker over time.
Check in after a week or so
Once you get them in and give them a warm welcome, don't stop there. People will forget about you fast if you don't talk to them. Brian Massey brings this example, an email sent 6 days after he signed up with a CRM software Pipedrive:
Subject: Can we help?

Hi,

Everytime someone signs up to Pipedrive and doesn't immediately fall in love with it, our technical lead Martin gets a little anxious. He refreshes the dashboard of our analytics widget every fifteen minutes and wants to give this user a call to ask whether everything is ok.

It's been 6 days since you signed up to try Pipedrive (thank you once again!) and Martin's analytics widget tells him you haven't used the software too much. Did we not live up to your expectations? Any technical issues? Would you like help with getting started? Please reply to this email with any questions, comments or concerns.

We recommend to add a couple of deals and try moving them forward along the sales pipeline to get a sense of how Pipedrive works. And how it could help you grow your sales, not just manage contacts.

Go to Pipedrive

We hope to hear from you soon!

The people at Pipedrive

PS. Martin says hi.
In one of the email lists I have, I send out a 'how is everything going' email to people who sign up for my free training 3 days after they sign up. I often get a response 'thanks for checking in – makes me feel warm that you care'.
Even if they don't respond (overwhelming majority won't), they see the email and get a warm feeling. Or get reminded to actually check out my stuff!
How often should you email?
You should have communication with your list at least once every 2 weeks, preferably once a week. Yes, some people will unsubscribe, but that's part of the game. You cannot please everybody.
Provided that you send good and valuable emails, you actually might want to get rid of the "dead weight", people who aren't gonna buy your stuff anyway. Just make sure the unsubscribe link is easy to find and they click there instead of "report spam".
Posts about building a relationship with your list and eventually getting them to buy your stuff coming in the near future.
Have you seen any great confirmation and thank you pages?