No-code and low-code tools are on the rise, with thousands of businesses and makers turning to a faster and cheaper way to test, validate, and build out their ideas. Leading the way, you have companies such as Zapier, Webflow, and Airtable transforming the way we work.
As the reliance on these tools continue to grow, so too does the opportunity for technical and non-technical marketers alike to gain an edge and advance their marketing skill set. Marketers and businesses who take advantage of no-code and low-code now will be in position to reap the rewards. Those who ignore the shift will be passed by.
So, as a marketer, what skills should you learn now to set yourself up for future success? For businesses, what's the most effective way to approach building applications and software using no-code? We'll take a look in this article.
No-code vs low-code and why the distinction matters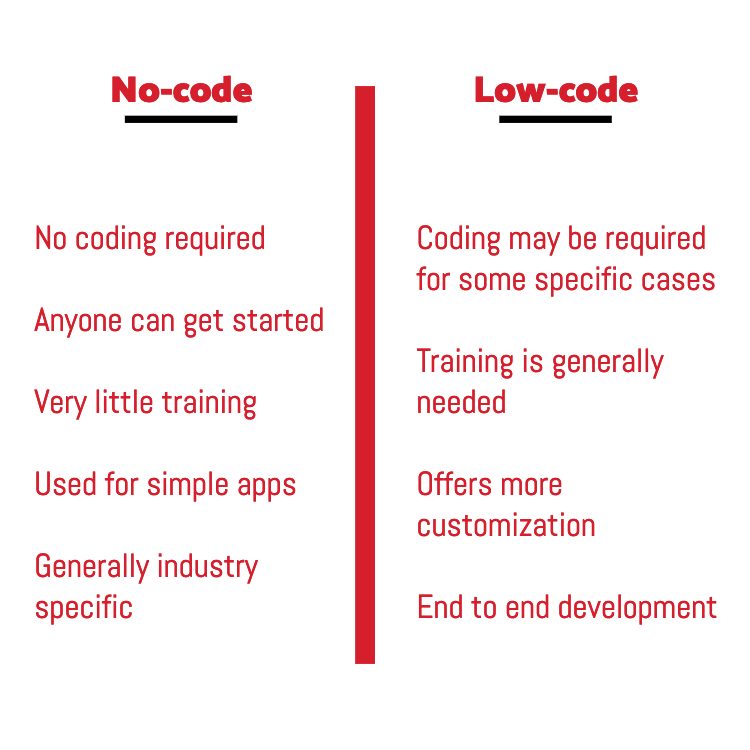 In theory, no-code tools are just that—tools that require zero coding. But many no-code tools require some knowledge of coding to get the most out of the software or app. Low-code tools on the other hand, are by their very nature technical and do require some coding ability.

Let's take a look at a few examples.
No-code: Zapier allows you to quickly build custom automations without writing a single line of code.
Low-code: While the payment processor Stripe, has integrations with other no-code tools, the reality is, you can't get far with their functionality unless you know how to code. Mastering Excel or Airtable also requires you know formulas as well.
Hybrid: The popular CMS Webflow has done an excellent job branding themselves as no-code, but without some technical knowledge of HTML and CSS, for example, you're limited to what you can build.
If you only know the basics of no-code, you're at the mercy of the rest of your team. Instead of bugging your devs to help with basic tasks in Webflow because you haven't learned HTML, why not spend a few hours teaching yourself what you need to make the changes yourself?
No… No-code won't make developers obsolete
With no-code becoming commonplace, there's a lot of discussion around how much no-code will impact developers. While that's outside the scope of this article, no-code in many cases is beneficial for developers.
First, no-code tools have to be written by those who know code, so as long as no-code tools remain popular, developers will always have an opportunity for work.
Second, as more marketers begin to embrace no-code to mockup and produce MVPs, developers can spend less time working on projects that don't move the needle.

For the developers, I think [no-code] is a great thing for them. They won't be wasting their time on projects that don't work. People should have more conviction around the thing they're trying to build before they speak to the developer.

Ben Tossel founder of Makerpad told The Future is No Code.
In a similar light, there's often talk that AI is going to replace copywriters and content marketers. While that may be the case in the future, good marketers find a way to deliver value regardless of the changes in tools.
"I don't think coding will become less important in the future than it is today […] and this is the more important part—coding is for building custom things," reflects Tomi Mester of Data36.com
The pros and cons of no-code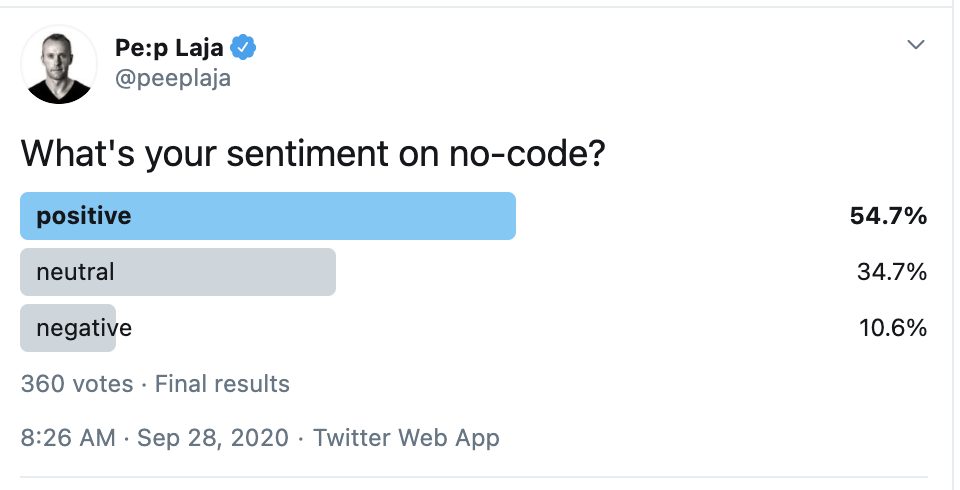 As with any trend in marketing and business, no-code shouldn't be viewed as a magic bullet. Just as having a chatbot or launching a podcast isn't going to triple your sales, no-code tools aren't going to transform the way you do business overnight. Despite the many benefits, no-code does have limitations.
Predictably, many criticize and judge those that use "no code" tools. While they come with tradeoffs, it's inevitable that more products will be built — or at least MVP'd — without writing code, including by programmers that can code.

Ryan Hoover founder of ProductHunt.
Let's take a look:
Pros
Easy to learn
"For non technical folks like me, it's a way to create and also a way to get some independence so we don't have to ask devs for everything," says Corey Haines, creator of Swipe Files, which he launched using no-code tools.
It's easy to become 'good enough' quickly—no coding required. Compared to investing 3-6 months of extensive study to learn a new programming language, you can get familiar and proficient with no-code tools in just a few hours.

Want to build a landing page that then deploys a 5-day email sequence for pre-selling an upcoming product? You can use Carrd and ConvertKit. Need to mockup a sales page for your copy? You can use Webflow to see how your copy looks on the page.
What you see is what you get
If you've used WordPress or Medium, you're familiar with the term WYSIWYG. No-code tools give you the ability to see and create your work visually—what you see is what you get.

For testing and validating ideas, there's no need to know how the tool works, you can just drag, drop, and tweak until you've reached your desired outcome. Will it be perfect? Unlikely. But at least you have a foundation to share with your design or development team.
Building with no-code gives you the opportunity to see first hand how a finished product will look, rather than guessing, or going back and forth updating your code.
UX designers have the biggest opportunity, because they are able to bridge this gap of: I designed it, but now you have to go send someone else to build it or send this design to someone else to build it.

Tara Reed founder of Apps Without Code told The Future is No-Code,
Using no-code tools such as Figma, marketers can design and prototype their ideas. A mockup in Figma is far more valuable than a "hey I have an idea" message on Slack.
More forgiving of mistakes
In addition to allowing you to create easily, no-code tools also have the added benefit of being more forgiving of mistakes.
Making a mistake while editing a PHP template in WordPress can crash your site. With a no-code landing page builder such as Unbounce or Leadpages, there's very little risk in trying different approaches to your design and build.
Quick prototyping—instead of weeks of development investment—also makes it cognitively easier to abandon bad ideas: "If you build something in a couple of hours, the emotional attachment might not be as strong, so it's easier to let go," says Emil Lorento, Head of Growth at Voiceflow.
No-code tools create a testing mindset given how little time and low stakes required to bring your ideas to life.
Cons
As with any part of your tech stack, there are tradeoffs. No-code is no exception.
Reliance on no-code tools
Using no-code tools means you're relying on someone else's vision. If they make changes to their product, you're stuck with them. If you need additional customization, too bad. Those limitations also limit the available solutions—and your professional growth.
I believe that understanding code has other, significant benefits, that give "coding marketers" advantages which they might not achieve by mastering no-code tools. Learning a programming language teaches marketers problem solving, abstract thinking, and, last but not least – the underlying mechanism of the tools and product that power their day-to-day…Maybe, at some point, marketers will be able to get the same level of freedom with no-code tools, but for now, I believe that as long as you're limited by your tools, you're not really free.

Dan Carmel of Tshaped.io
A significant amount of no-code software relies on integrations with other tech tools to work as intended. A change in terms of service, price, or even a tool going out of business could affect your workflow.

"As soon as you encounter that inevitable edge case required by your app, all of a sudden you don't have the building blocks out-of-the-box to implement that specific piece of business logic required," says Declan Healey on Codebots.
Just as it's recommended to build your audience using platforms you control, such as having your own email list, as opposed to social media only, there is risk of relying too much on any one tool to run or market your business. Having some knowledge of code allows you more flexibility in case a tool no longer works or functions as intended.
Limited in functionality
No-code tools have limited functionality.

Eventually, you'll likely need to work with your development team to build a more sophisticated solution for scale. While no-code can in some cases get you all the way, it should be viewed as just part of the process for most.

If you're using no-code tools primarily to validate and test your ideas, this isn't a major concern—they are great at increasing the rate of experimentation. But as you continue developing your project (or product) using no-code tools, know it comes with greater risks and restrictions.
Sure, you can build your website with WordPress and Elementor. You can analyze your website with Google Analytics. You can run your marketing automations with Zapier. Point-and-click tools are great and work well in most cases — because in most cases you'll have to solve standard problems.

Tomi Mester of Data36
With no-code tools there is some risk of falling into the sea of sameness. The same issue can occur when using a template for your website theme. Because no-code tools are accessible to everyone, it can be a struggle to differentiate what you build.
Mester continues:
My website needs more or less the same back-end and front-end solutions as 99% of other websites out there… So, indeed, it makes no sense to start from scratch and build the very same HTML + CSS + JS + PHP solution that many people have built many times already. But if you want to create something unique, something non-standard, something truly innovative: you'll have to code.

Tomi Mester of Data36
Working to improve your technical knowledge such as learning Python and Javascript can help you get more out of no-code tools and give you the ability to get the most out of whatever tools you use.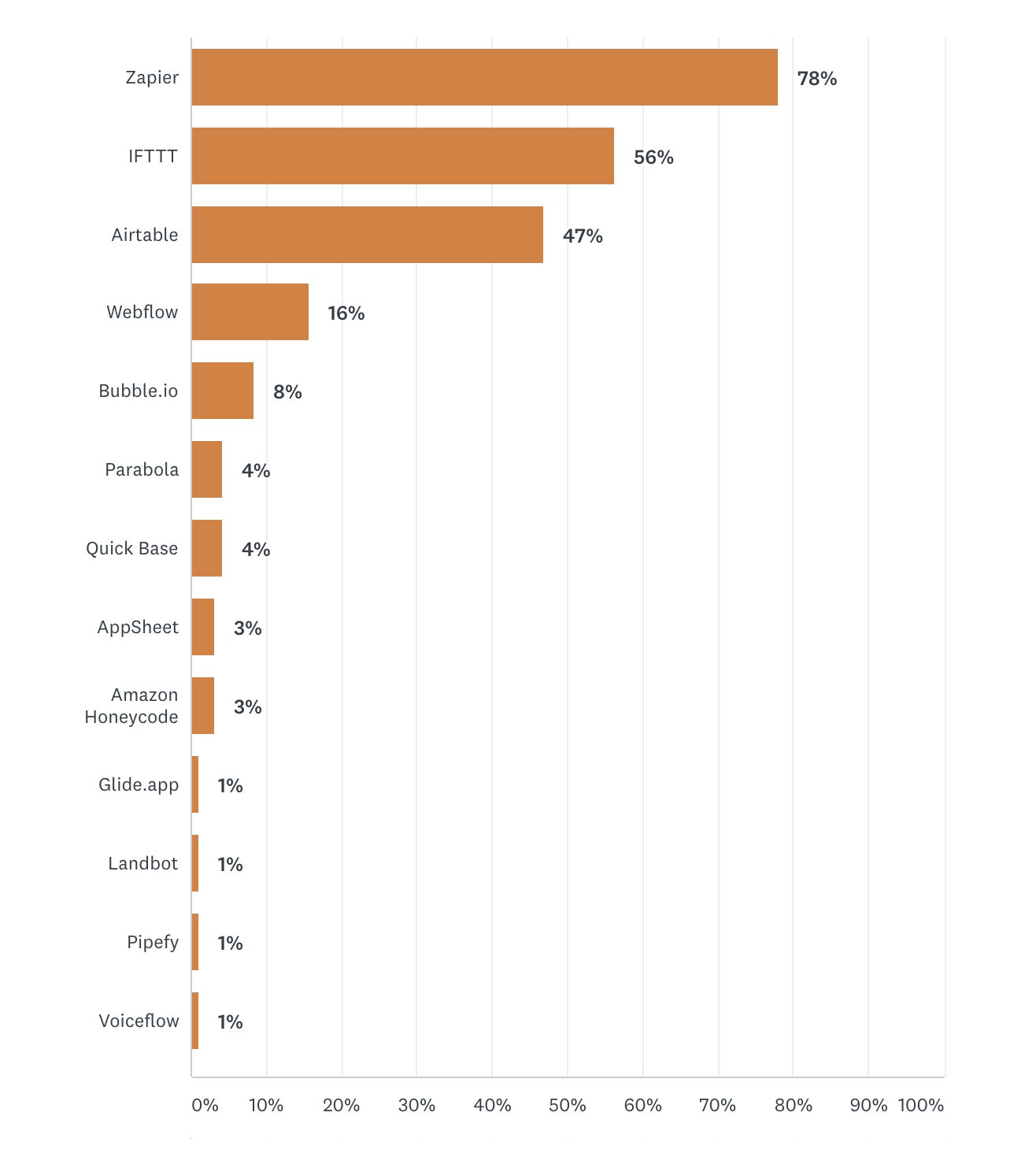 How to get the most from no-code based on your skillset
Right now you may consider yourself a non-technical marketer, or you may be somewhere between a full stack technical marketer. No matter where you're currently at, here's what to do next.
No-code for the non-technical marketer
If you consider yourself a non-technical marketer, you have work to do.
To succeed today, marketers and general practitioners should get acclimated with the landscape of tools to know which tools are best for different tasks. The tools I'd recommend starting with are Carrd, Webflow, Glide, Zapier, and Bubble – these will provide a toolkit to build a variety of different types of apps and websites for different use-cases.

Seth Kramer creator of the No-code MBA
Not knowing how to code is no longer an excuse as to why you can't build, test, and ship landing pages or UI markups. If you're still turning to your dev or design team to transform every single idea into something more than text, you have to improve.
Start with tools such as Zapier and IFFT and experiment with various automations to improve your workflow and productivity. If you're feeling ambitious, mock-up some marketing designs in Figma. While Figma in itself won't make you a world-class designer, it will help you better communicate how you envision the final product.
If you're a content manager, you could set up a basic automation to have your blog posts auto post in Slack to let your team know every time a piece of content goes live.
We post copies of our social media posts into a dedicated Slack channel… Each post notifies the whole company. That way, the whole company sees our social posts in real time, and is encouraged to like/comment/share—IMMEDIATELY after the posts are published.

TJ Kelly of FansRaise shared with Databox
If you're a copywriter, instead of just sharing your copy in a Google doc for review, build a landing page with a tool like Carrd and show your team how the copy looks in a live environment.

Maybe you're a marketer looking to apply to apply for a new job. Instead of sending in your resume and hoping for the best, build out a landing page and host your resume there. Showing you have some technical knowledge is infinitely more impressive than listing you're "proficient in excel."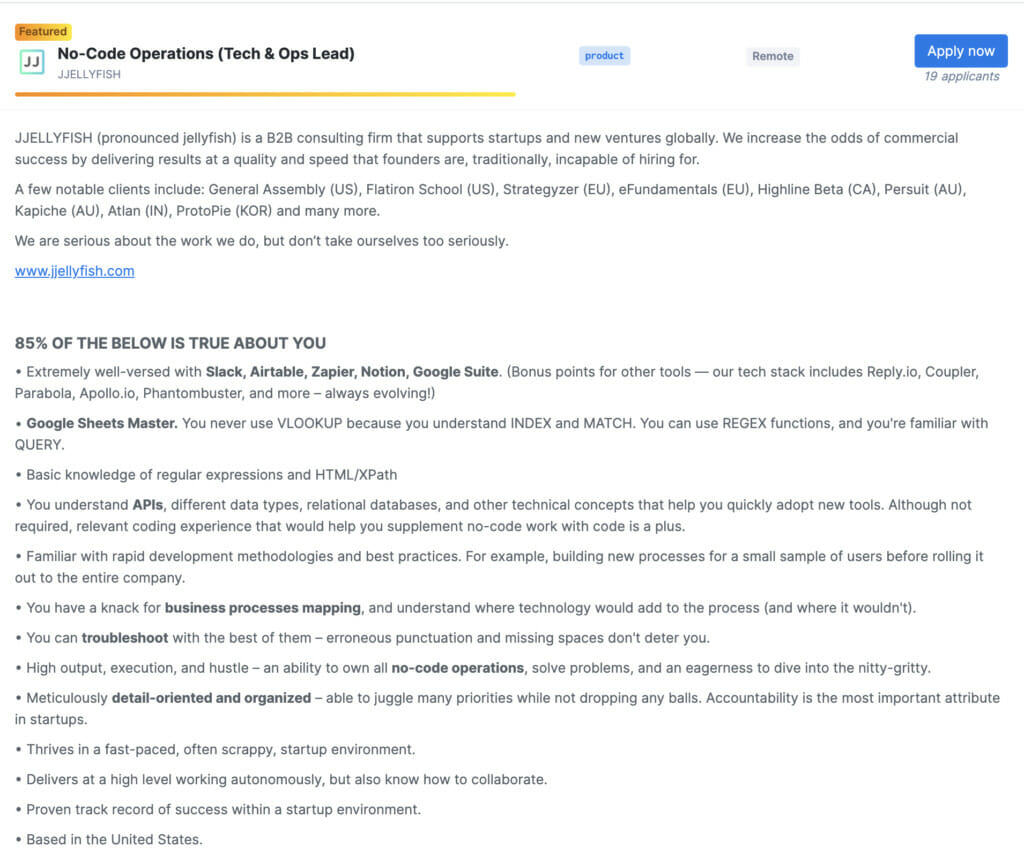 "I tell every marketer they should use Webflow, simply for the fact that it'll allow for more creativity, experimentation, speed, and independence," says Haines.
If you're a semi-technical marketer
If you've ever created automations in Google Tag manager or have some coding experience, you fall under the semi-technical marketer category. As you progress in your no-code knowledge, there will be times that require for you to learn more "technical" skills' such as database structures.
The most helpful technical skill to come in with when starting no-code is database design. If you're building an app, you'll want to make sure you structure your database in a way that makes sense. This can definitely be learned as you go, but is helpful to know beforehand.

Seth Kramer creator of the No-code MBA
While no-code tools are often used to create apps, websites, and landing pages, there's opportunity to enhance how you view and understand your analytics as well.
As shared on the Krit blog, Steve Shulman used no-code to develop an analytics product, known as B3i, using two Excel workbooks for top-tier universities.
One of the workbooks actually takes in data about the current economic and political climates and runs different scenarios on how those factors may affect your bottom line. The other workbook is slightly less complex and is focused solely on university data. Eventually, Steve had enough sample data to build out a comprehensive spreadsheet that he started showing to his clients and getting feedback on whether they'd be interested in using a similar product.
Using tools such as Airtable for example, you can also turn raw data into actionable insights.

Conclusion
As no-code continues to gain momentum, it's growing increasingly clear that having some technical knowledge can help you use no-code tools to get a raise, establish the value of your current role, or even improve the way you collect and analyze your analytics.
While not knowing how to code or relying on your team used to be acceptable in the past, the lower barrier to use these tools no longer leaves you an excuse. What used to require months of learning now requires just a small step.
While you'll still have to delegate and rely on your dev and design colleagues, the best marketers today will continue raising their standard. As Webflow, elegantly stated, "the no code movement rests upon the fundamental belief that technology should enable and facilitate creation, not be a barrier to entry."
Wise marketers will take note.