The initial phase of establishing an optimization practice at any organization is an exciting time. Big wins often accompany putting companies and careers on an upward trajectory.
But it can also be a real challenge knowing where to start and how to lay a solid foundation with the potential to transform the business. How you structure your team might be the most important part of this.
Conversion optimization teams, unlike more established marketing practices like SEO and PPC, don't fit naturally within traditional organizations (not unlike growth teams, actually). And of course, there's a degree of subjectivity and preference to building and structuring teams. It has a lot to do with the characteristics of your organization.
There are, however, commonalities and frameworks that tend to work better than others. This post will outline some common approaches to building conversion optimization teams and how they can be incorporated into the broader organization.
Different Conversion Optimization Team Structures
There are two general structures for the CRO function commonly found in large organizations:
Centralized
Decentralized
This is parallel to the two common forms in which growth teams appear in organizations: functional vs. independent-led. Both types of teams can work in an organization, but as you'll see, there's a difference in power-structures depending on which one you choose.
1. Centralized Conversion Optimization Teams
A centralized team often operates under a service model with a certain number of shared resources on the team. Think of it as an internal digital agency working for stakeholders across the business.
This is the most common model that I've witnessed.
2. Decentralized Conversion Optimization Teams
A decentralized model has different business teams staffing and managing the CRO function individually. The different teams often share technology platforms which can be managed by a central team, but the usage of technology and the practice of CRO is distributed.
You often see this model at SaaS companies where teams are willing to invest more individually in CRO, want to move at their own pace, and operate outside of the marketing function.
Decentralized models can be chaotic, though, especially if different teams are empowered to execute projects on the same targets independently (collision alert!). Plus, whatever is learned from testing and analysis is not often shared with other CROs, not to mention the fact that the best CRO talent doesn't get a chance to share and cross pollinate with the rest.
In addition, centralized teams tend to have a better documented approach for conversion optimization, which has two benefits when it comes to performance. First, it solidifies the CRO approach across the organization. Because of that, you won't have rogue practitioners running bad tests, you'll share results better across the organization, and you'll be able to optimize your approach with greater ease.
Second, your organization will tend to place greater importance on the practice of conversion optimization. Because you have a team dedicated to the craft, you'll have organizational firepower that is tougher to roundup when everything is function-led and dispersed. In this type of organization, it's usually easier whip up resources for conversion optimization related projects.
Final point on organizations: some companies have what is known as a growth-mindset. They believe in the power of experimentation and invest in innovation and risk mitigation (a euphemism for user research and A/B testing).
If you're in an organization that doesn't respect conversion optimization, it's much harder to change their minds than it is to find a company that reflects your values. Remember that when joining a company in a CRO role.
What Roles to Hire for a CRO Team
So that's it for the structure in the organization. Now for that hard fun part: building a great team.
One of the challenges for organizations undertaking a new CRO practice is staffing for the panoply of skills required to be effective. As you know, conversion optimization is multi-disciplinary and cross-functional.
CRO work requires technical resources like:
A (javascript) developer
An analyst
A usability and/or behavioral science researcher.
It also requires creative (and often technical) resources like a graphic and/or UX designer.
And it requires good strategic resources, someone who understands the business, the customer and the brand.
On top of that, and depending on scale, CRO requires resources to keep things organized, prioritized, and operationalized–in other words, good project management.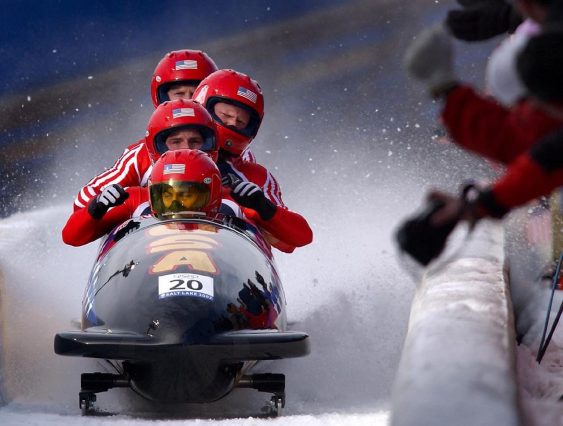 CXL put out a blog post that quantified the desired traits for someone doing conversion optimization. This includes both hard skills like javascript/jQuery as well as softer traits like curiosity and the desire for continuous improvement. Here's the data: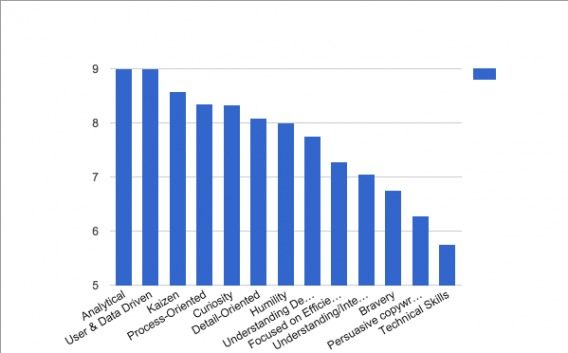 It's nearly impossible to find all this in one person.
In fact, it's pretty difficult to find even 2 of these skill sets in a single person. When the resources are shared, CRO often gets relegated to the bottom of the pile due to the fact that it can be difficult to compete with the urgency of run-the-business projects.
Therefore, if you're serious about building a functional conversion optimization team in your organization, it's crucial to create a cross-functional team. You'll have an easier time hiring, no one will be overwhelmed by task-switching and a lack of resources, and you'll have specialists who are the best at their craft.
When to Hire Each Role
Organizations have to begin somewhere. To start, here's what I recommend: On a scale of five bars, hire someone who has five bars for strategy and maybe two to three bars for technical chops–specifically familiarity with html, css, and javascript are valuable at the start.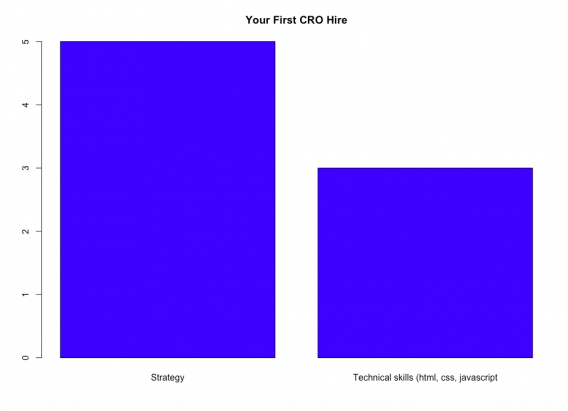 It's worth taking the time to hire someone with 3-5 years of CRO experience to be a founding member of the team, although it could take the better part of a year to find such a person.
Alternatively, organizations could start with an agency, putting someone more green in charge of the engagement to learn from the pros. Either way, this individual needs to establish some healthy, sustainable practices, get some early wins, and demonstrate the high ROI of the function. He or she should be able to partner up with other internal resources such as designers, developers, and analysts when necessary.
From there, the biggest bottleneck on doing more, faster will typically be developer time.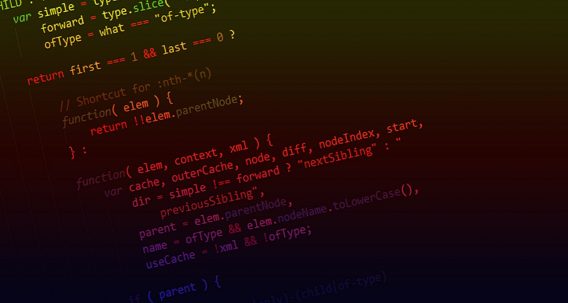 Hiring a developer with experience in CRO versus one without can make a huge difference. Test development will often require a developer to flex different muscles and it can be difficult to get someone stuck in their ways to think about things differently–like potentially prioritizing speed to execution over bomb-proof quality (just exclude Internet Explorer and hit go!).
With a full time developer and one person steering the ship. the next hire will be an analyst or researcher followed closely by a dedicated designer.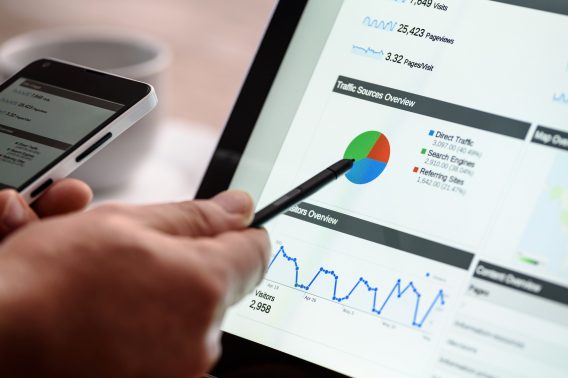 Before long, you'll need a project manager to keep everyone aligned and for documentation. As you scale from there, your team may benefit from more specialized hires such as a behavioral scientist or a data scientist.
The core pieces of a conversion optimization team tend to be pretty universal – CRO strategists, developers, analysts, designers. After that, it's situational. Your company may greatly benefit from having an internal copywriter. Maybe you want a UX researcher to dive more deeply into consumer behavior. It all depends on how you want to scale your team and how that vision aligns with your broader organizational goals.
How to Promote and Develop Talent
CRO is one of those functions where people typically get plenty of opportunities to expand their skills and be continuously challenged. But it can still be difficult to retain talent, especially since the job market is fat with opportunities for experienced candidates. The market also seems to offer a wide range of salaries from $50k for junior folks up to $150k or even higher for senior individual contributors. These threats alone may make it easier to get hands on a steady stream of budget for raises and promotions.
People in the CRO space also need opportunities to learn from others in their industry.
While the business function is still in its youth, there are a now a host of different conferences and learning events across the US and Europe that offer individuals great opportunities to learn and network with peers. Because the function of CRO is so niche, providing workers with a venue to meet others with similar challenges and common language can be as therapeutic as it is educational.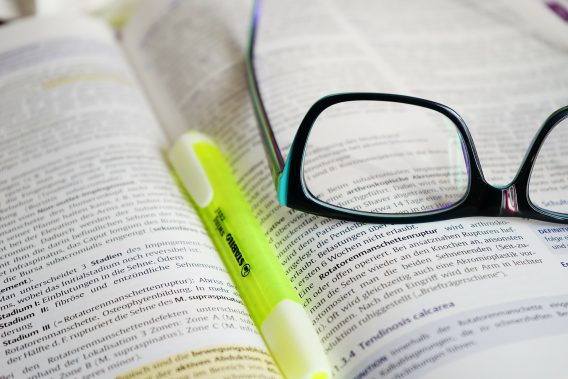 This space moves rapidly, with new technologies and techniques cropping up every day. Therefore, investing in employee training and education is important. Invest in training and development, and you won't regret it. As the famous quote goes:
CFO: What happens if we train them and they leave?

CEO: What happens if we don't and they stay?
Conclusion
Ultimately, optimization looks and works a little differently at every organization. When you look to build your team, consider a few different moving pieces:
How will it fit into the organization? Centralized or decentralized?
Who will your first hire be? Second hire? Third?
What will your team look like as you scale? What are the bottlenecks holding back the team?
How will you promote and hire once you're up and running? Internally or externally?
When in doubt, treat the organization itself as one more target for experimentation and optimization. Only a fool claims to know for sure what the winning combination will be. In addition, optimization is never finished, and likewise, conversion optimization teams have moving pieces. Always be tweaking and experimenting to reach optimal efficiency.