If you only read the books that everyone else is reading, you can only think what everyone else is thinking. – Haruki Murakami
Becoming the best at what you do is a never-ending process. The best of the best have an insatiable hunger for knowledge—for new and better ways to get things done.
Knowing where to turn for inspiration and guidance can be the difference between spinning your wheels and becoming an "overnight" success. The right book, read and implemented, can transform your life, business, and career.
That all assumes you can find the right book. We can help. We put together a (non-comprehensive) list of some of the best marketing books, both new and old, to help you become a better marketer—and a better person.
Some were suggested by our readers; others were recommended by the CXL team. Let's dive in!
On mastering psychology and behavior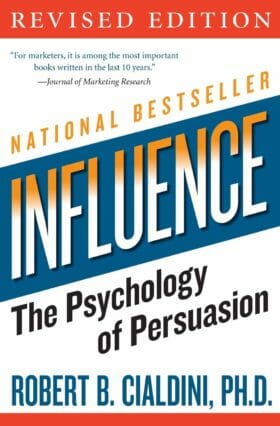 Often we don't realize that our attitude toward something has been influenced by the number of times we have been exposed to it in the past. – Robert B. Cialdini
Influence is often regarded as the go-to book for all things persuasion and is filled with dozens of real-world examples on how to persuade and change behavior.
Cialdini breaks down the six universal principles of influence: reciprocation, commitment and consistency, social proof, liking, authority, and scarcity and shows exactly how each of the principles can be used to improve every area of your life. Cialdini also wrote an additional book exploring the 7th principle of persuasion.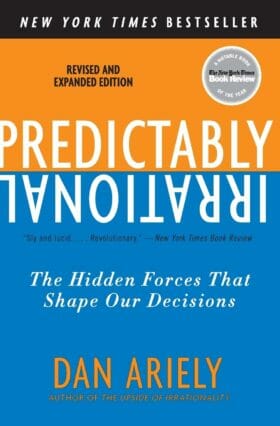 Individuals are honest only to the extent that suits them, including their desire to please others. – Dan Ariely
We like to think we're rational, but hundreds of the decisions we make each day are far from it. Behavioral economist Dan Ariely breaks down the hidden forces that shape our decisions and affect everything from what we buy to what makes us tick. It's full of counterintuitive insights.
After reading, you'll be well equipped to better both your customers and yourself.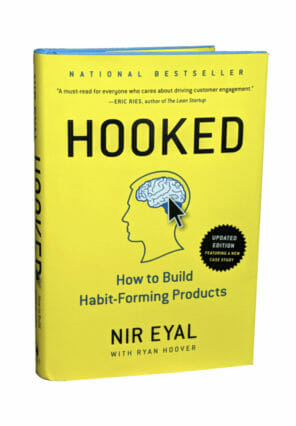 Products that require a high degree of behavior change are doomed to fail. – Nir Eyal
What does it take to build products your customers love to use? What separates a wildly successful product from one that fails to gain traction? In Hooked, Eyal explores the "Hook Model" framework, a four-step process used by some of the most well-known companies and products today.
Based on years of behavioral science research, Hooked reveals exactly what it takes to engage and retain users now and in the future.
On branding and positioning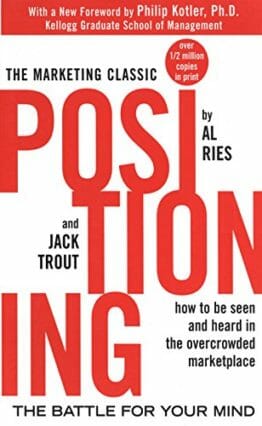 The mind, as a defense against the volume of today's communications, screens and rejects much of the information offered. In general, the mind accepts only that which matches prior knowledge or experience. – Al Ries
Published in early 2001, Positioning remains as relevant and actionable now as it was then. One of the first books to explore the challenges of an increasingly fast-paced media and marketing landscape, you'll learn how to position yourself to remain top of mind.
From naming your product to using your strengths to your advantage, this short read gives you plenty to implement in your own marketing and branding efforts.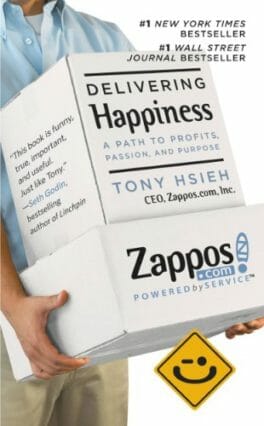 What's the best way to build a brand for the long term? In a word: culture. – Tony Hsieh
How did the shoe company Zappos become one of the most respected brands in the world? In Delivering Happiness, the late Tony Hsieh details how he built an incredible company culture and went to extremes to make customers and employees happy.
Written in narrative form, Hsieh shares why the trifecta of profits, passion, and purpose is key to success.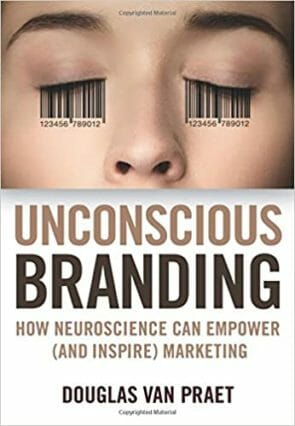 The future of marketing and branding depends on our capability to shift from this competitive mindset to a creative mindset. We need to live in the conscious presence of the frontal lobe, the part of the mind that doesn't fear that the other guy will steal our slice of the market share pie, but envisions ways to bake a bigger pie. – Douglas Van Praet
Many of our assumptions about our customers are flat-out wrong, especially when it comes to understanding user behavior. Unconscious Branding reveals why marketers are often asking the wrong questions and shares the steps needed to market to a world that is run largely by unconscious behavior.
You'll get an inside look into some of the most successful marketing campaigns of all time.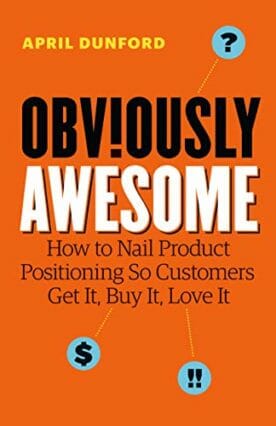 Positioning is the act of deliberately defining how you are the best at something that a defined market cares a lot about. – April Dunford
Why do so many companies fail to differentiate? What's the key to standing out from the noise? In Obviously Awesome, April Dunford walks you through what so many companies get wrong with positioning and provides the step-by-step process to effectively position your brand, startup, or service.
On business building and strategy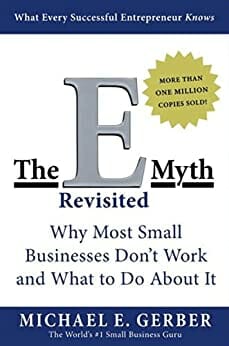 Contrary to popular belief, my experience has shown me that the people who are exceptionally good in business aren't so because of what they know but because of their insatiable need to know more. – Michael E. Gerber
The harsh reality of entrepreneurship is that no team, person, or idea is immune to the risk of defeat. Most startups and businesses fail.
In The E-Myth Revisited, Michael Gerber looks at why so many companies fail and how to avoid the common pitfalls that prevent success. Based on the idea that we all have an entrepreneur, manager, and technician inside of us, the book equips you to make the most of each skill set.
Covering everything from strategy to productivity, it's a must-read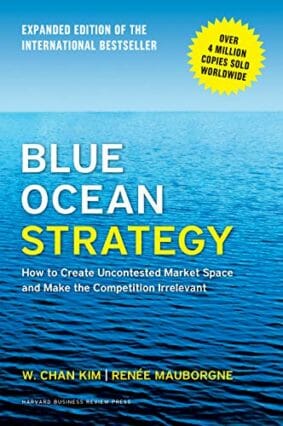 While good strategy content is based on a compelling value proposition for buyers with a robust profit proposition for the organization, sustainable strategy execution is based largely on a motivating-people proposition. – Blue Ocean Strategy
While competition is often viewed as a good thing, Blue Ocean Strategy argues that too much competition can lead to a "sea of red," causing your company to get lost in the noise. Instead of going head-to-head with your competition, you can find a new corner of the market to dominate (which of course, is easier said than done).
With an in-depth look at 150 strategic moves of dozens of companies, Blue Ocean Strategy shows you the path not only to stand out from your competition but to make them irrelevant.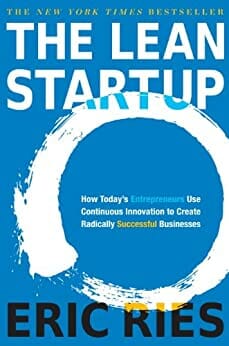 We must learn what customers really want, not what they say they want or what we think they should want. – Eric Ries
Why do so many startups fail? Is it a lack of talent? Product-market fit? Many promising startups and companies struggle because they fail to focus on the right things.
The Lean Startup explores the scientific process of creating products and services your customers love—without spending months or years walking toward a dead end.
Whether you're just getting your company off the ground or want to take your organization to the next level, the lean startup methodology will help you focus on what matters.
On personal effectiveness and leadership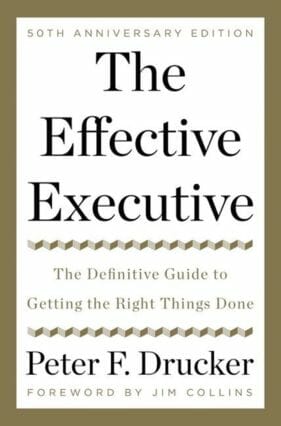 Knowledge has to be improved, challenged and increased constantly, or it vanishes. – Peter F. Drucker
Peter Drucker, as influential a management thinker as any other, reveals what it takes to be a top performer in business and life.
From managing your time more effectively to making better decisions, The Effective Executive gives you the blueprint for doing the things that matter most. Any marketer or leader will come away with dozens of ideas.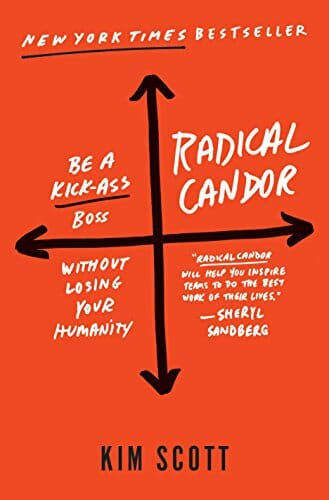 Make sure that you are seeing each person on your team with fresh eyes every day. People evolve, and so your relationships must evolve with them. Care personally; don't put people in boxes and leave them there. – Kim Scott
Getting the most from your team requires the ability to navigate many challenging situations. How do you give candid feedback to an underperforming employee? How do you make those in your organization feel safe and respected? Radical Candor shares the keys to creating a culture that values feedback and aligns a team with your goals and vision.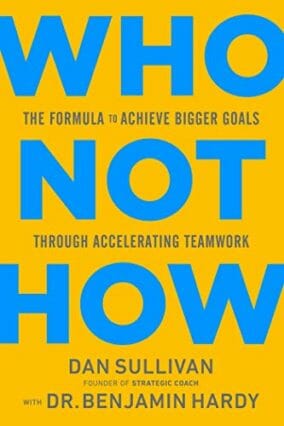 One of the biggest challenges of being an entrepreneur? Falling into the trap that you have to do everything yourself.
In Who Not How, authors Dan Sullivan and Dr. Benjamin Hardy argue that the idea of a lone genius is a myth and highlight the negative consequences that arise from believing you need to be involved in every aspect of your business.
Instead of asking, "How can I do this?", we're better off asking, "Who can do this for me?" If you're looking to advance your career or grow your business without burning out along the way, Who Not How gives you the mindset to do more with less.
On marketing and advertising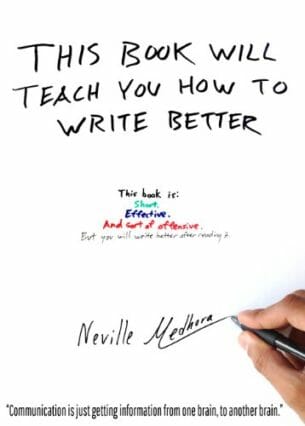 "Be interesting! Even if you have something interesting to say, your delivery can make people read, or run." – Neville Medhora
In this incredibly refreshing (and brief) read, Neville Medhora reveals the timeless principles of effective and persuasive writing. Whether you're looking to reword a call to action or write sales copy, this book teaches the art of putting words on a page.
By using simple and straightforward language and copywriting frameworks, you can dramatically improve your writing and communication.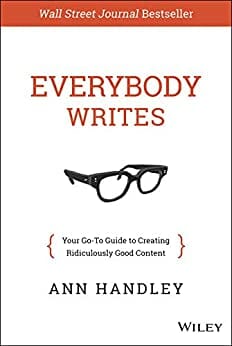 As content strategist Jonathon Colman, who works for Facebook, told me: "Start with empathy. Continue with utility. Improve with analysis. Optimize with love. – Ann Handley
Writing well is an underrated and often overlooked skill for marketers and entrepreneurs. From the copy on your website to the emails you send to customers, knowing how to communicate effectively is critical for staying relevant and top of mind.
Contrary to popular belief, you don't need perfect grammar to create content that converts. Covering everything from social media to content marketing, Everybody Writes will help you create content that your customers and community will love.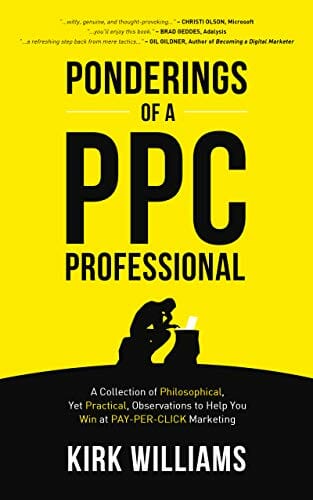 More than a book of PPC tactics, Kirk Williams explores the thinking and strategy behind essential digital components that affect every facet of your work.
From attribution to pricing to what works in PPC today, Ponderings of A PPC Professional is an excellent read for those new to PPC and seasoned professionals. Covering both the "what" and "why" of PPC, you're left with plenty of actionable insights.
Looking for even more must-read books for marketers?
Conclusion
Even the most comprehensive list will leave out "obvious" choices. This list is no different. While it's a great list to get you started—and to keep you from getting overwhelmed—we know it's incomplete. We'll continue adding more books over time.
In the meantime, grab one or two you like, dig in, and put what you learn into practice.
Have a book you think we should add to the list? Let us know in the comments.