After writing and editing nearly 100 blog posts for CXL, this week is my last week as content lead. The previous year has been one of the most rewarding and challenging periods of my career, and I've learned so much along the way.
Here are five lessons I learned from running the CXL blog that not only apply to becoming a better marketer, but also a top-performer in all areas of your life.
1. Yes and yes
Early on in my content marketing journey, I studied the success of entrepreneur and finance 'guru' Ramit Sethi. He was creating great content long before "content marketing" became a thing.
In his material covering how to land your dream job and build a successful business, he shares the powerful concept of "Yes and yes."
With most marketers looking for the 'quick hack,' going just one step further can help you truly become one of the best of the best.
Should you write content that is SEO optimized and consumable by actual humans? Yes, and yes.
Should you write in-depth and actionable content with an ambitious posting cadence? Yes, and yes.
Should you focus producing new content and updating old content? Yes, and yes.
While there are limitations for how much anyone or team can do, we shy away from doing the hard work more often than not. To become one of the best in your field, you have to be willing to do what others will not.
2. Trust the process
One of the reasons we've built such a recognized and trusted brand is through our high-quality content. That didn't happen by accident. Each week we aimed to publish two long-form articles come rain or shine.
Some weeks were more stressful than others. But in the end, we did everything we could to stick to the plan.
And the results speak for themselves.

For nearly a decade, what has worked for CXL has been producing long-long form, actionable content without the fluff. While at times it was tempting to 'reinvent the wheel,' our current process ultimately produced consistent results.
That certainly doesn't mean you shouldn't try new things and experiment, and of course, there's a point where you can become too comfortable.
But we 'won, by consistently publishing long-form articles tailored to intermediate to advanced marketers looking to continue to improve their careers.
For example, early on we decided we wanted to ramp up our social media presence. Truthfully, it's been a weakness of CXL for quite some time.
While I personally enjoy social media and think there is a long-term business benefit, the reality is, most of CXL's success comes directly from search. While it would have been nice to increase our engagement on Twitter, for example, writing another article or updating a few top-performing posts would 99.9% have the better ROI.
If you find something that works, continue to double down on those efforts. Often the effort you put in now isn't realized until many months down the road. Stay the course.
3. Updating content continues to have a massive ROI
At CXL, we've long been proponents of updating old content.
As we wrote several years ago:
We're often told to make Twinkie content—stuff with a near-infinite shelf life. No expiration means no maintenance. But it also means that fewer people are publishing high-maintenance content (e.g., an article comparing prices and features of SaaS products).

Selected carefully, non-evergreen content is an opportunity to stand out. You invest time and energy to keep a handful of high-maintenance posts up to date—those for which you want to be the authority or those that bring in the most bottom-of-funnel visitors.

It's something to keep in mind when you start updating your old content.
Yet, for most content marketers, updating content falls last on the list of their priorities. In addition to keeping our regular posting cadence, we knew we wanted to improve our old content as well.
We hired the help of SEO consultant Dan Shure to help us prioritize which blog posts would benefit most from refreshing, and some some pretty incredible results. We definitely had to rearrange resources to make this happen, we we're glad we did.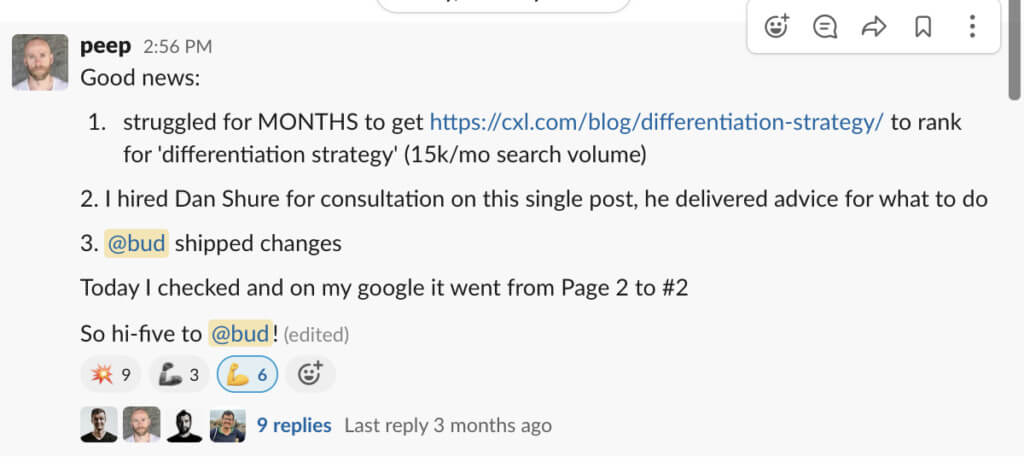 Depending on your team size and resources, you may not be able to update every piece of content. That's okay. Set aside time each week to go through even just one or two older posts that could benefit from updating. It really can make all the difference.
4. Great content marketers curate
As a generalist content marketer, there were times when the topics we needed to write about were a bit out of my wheelhouse.
Most content marketers in this situation would simply research as much as they could on Google and then pull some of the 'best nuggets' from the top results. Because of CXL's strong domain ranking, doing that would likely rank fairly well for us for relatively low effort.
But doing that doesn't produce great content. It makes bland me-too fluff. As a content marketer, your job is to create the best content possible, even if that means relying on others to do so. The vast majority of our content is filled with personally sourced expert quotes and opinions, which our readers can't find anywhere else.
For example, I have an intermediate knowledge of Google Analytics and needed to write a piece on GA4. So what did I do? I reached out to as many experts as I could for their knowledge and expertise.
The result?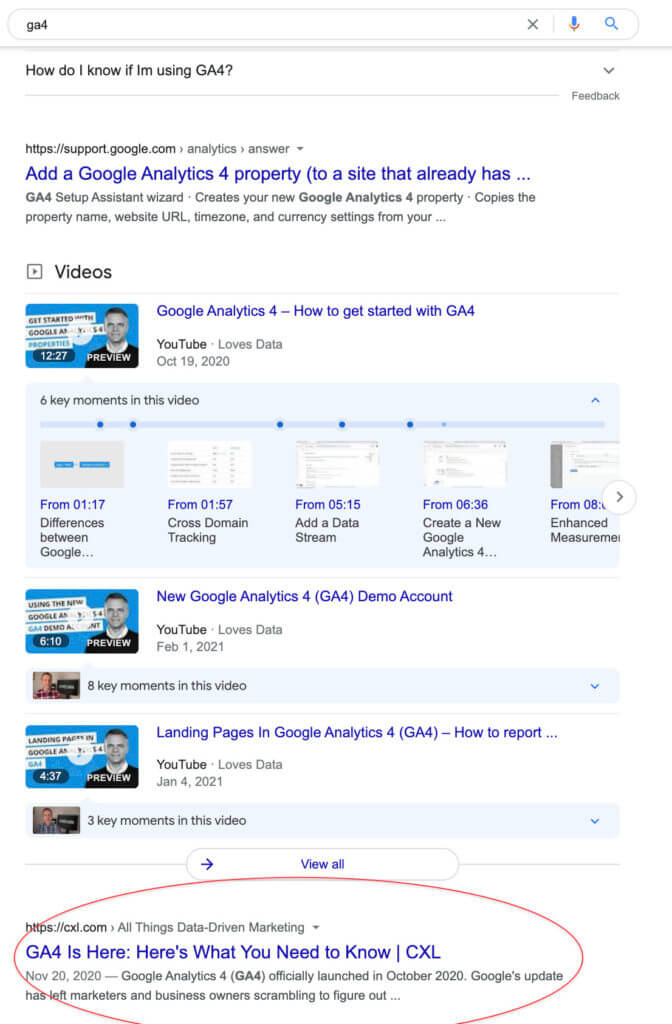 We currently rank right behind Google themselves, and at one point we were the 1st result.
Of course, many content marketers already reach out for expert quotes. One way to take this process a step further is something I learned from my former colleague Derek.
When asking for quotes from experts, grab a great soundbite from one expert and use that in your additional outreach. This process often enhances the quality of responses you'll get with little extra effort. In many cases, experts will disagree or have an entirely different point of view! That's great!

While it can be tempting to put as much of your spin into everything you write, sometimes the best thing is to get out of the way and let the experts talk.
Of course, there will be those topics you can really go in-depth on and write about for days, but in most cases, it's your job to source the expertise from others who are focused on the topic matter.
Quality content isn't about the person writing it. It's about providing as much value and actionable insight as you can.
5. Make time for learning and to recharge
Each week, producing two 1,500 word articles is challenging, even when editing some of our amazing guest contributors' work. Sometimes it can be hard to take a step back to sharpen the saw.
During my time here, we had 2 hours each dedicated to 'learning hours,' something I came to really enjoy each week. Some weeks I'd go through our catalog of courses, others I'd spend time watching Youtube videos or even reading a random non-fiction book.
There's a limit to how much creativity we have, and making time to rest and recharge is critical.
You can still publish high-quality work at a high cadence, but without taking a step back from time to time, it will be very difficult to remain at your best.
Even if you love the topics you're writing about, it's important to take a step back, recharge, and think about the big picture.
Conclusion
It's been a great privilege to play a role in the growth of CXL over the last year, and I couldn't be more grateful and proud of what we've accomplished.
Creating great content isn't easy, but the rewards and satisfaction are well worth the rollercoaster of wins and losses.