Earlier this year, at CXL Live, you asked us about voice search (a lot). More specifically, you asked the hard questions, like:
How can ecommerce companies compete with Alexa?
How will voice search work given the human urge to shop around?
Are there use cases for voice search in B2B?
This post has answers. They range from straightforward technical optimizations to complex, long-term efforts to differentiate through a superior consumer experience.
Not everyone will benefit from the disruption caused by voice search. Voice search will make some companies less competitive, like non-Amazon sellers of commodity goods. But there are opportunities, too—especially for those who start solving these challenges soon.
Are you sure voice search isn't just a fad?
Yes, we're sure. If you need a few statistics to demonstrate its ever-growing relevance:
"Voice searches are replacing traditional searches," explained Brian Dean of Backlinko, who has researched thousands of voice search queries. "And if you're not optimizing for them, you're going to miss out on a lot of Google traffic."
Notably, Dean continued, "the growth in voice isn't coming 100% from smart speakers like Google Home, which aren't super relevant for B2B companies anyway. Instead, a good chunk of all searches are becoming voice searches on mobile phones and—important for B2B—desktops."
Still, the queries that continue to shift from text to voice are not distributed evenly across all topics. Some queries ("What's the weather going to be like tomorrow?") translate more efficiently for current voice technology than others ("What's a good MBA program on the West Coast that offers evening classes and generous scholarships?")
Regardless of query or site type, basic optimization can improve performance in voice search now and, as its share of search continues to grow, in the future.
Technical optimization: A baseline for voice search strategy
The origin of voice search answers
Most answers from voice assistants—Amazon's Echo (controlled by Alexa), Google Home, Google Assistant, Cortana, and Siri—are extracted from search engines. Alexa and Cortana use Bing, while Google products and Siri rely on Google search.
(Simple answers—like presidential dates of birth or, in the case of Amazon, product information—come from proprietary databases or informational sites like Wikipedia and Yelp.)
In search results, earning the answer for a voice query depends largely on the implementation of SEO best practices. Voice search is not fundamentally new but an extension of search: Just as search adjusted to accommodate mobile devices, it's also adjusting for voice queries.
The biggest change is that, more often than not, voice search is a winner-take-all scenario: Voice assistants respond to queries with a snippet that mirrors the "featured snippet" on desktop and mobile results 41% of the time. Some 75% of the time, the same research concludes, the voice search response comes from the top three search results.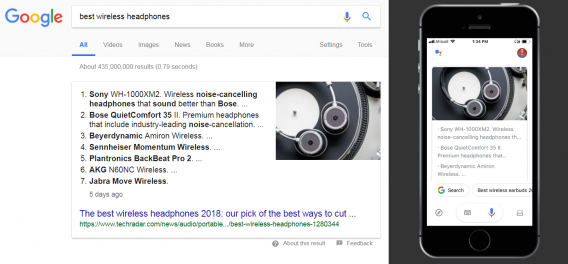 Voice search's emphasis on featured snippets suggests a narrowing of opportunity: Only the top result reaches consumers for two of every five queries, and few outside the top five ever earn airtime.
But, as later sections detail, the tooth-and-nail competitiveness of voice search may be short-lived. For those who want to take advantage of current opportunities, there are a few places to start.
Optimizing for voice search
For the first time, Google has published voice search guidelines. The recommendations are useful but general—answer questions fully, include the right amount of detail, etc.
Dean's research suggests that many factors for performance in text and voice search are consistent—strong domains, fast sites, and long-form content.
Other learnings offer greater specificity or diverge slightly from SEO best practices:
Keep answers under 30 words. The snippet that voice assistants read back to users is usually just under 30 words. Since most answers are nested within longer content, separating the direct answer in its own paragraph or via formatting (e.g. bold text) may help.
Target who, what, when, where, why, and how queries for your product or service. Common product and service questions can be answered effectively via an FAQ page. Answer the Public can help visualize popular questions: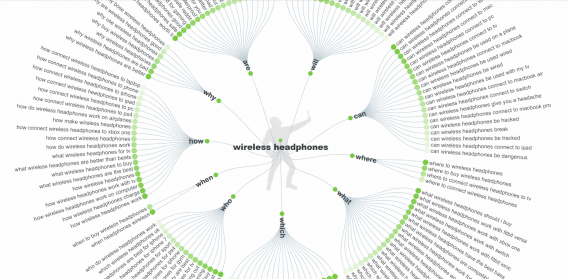 Use natural language. Voice queries are typically longer than text queries. Longer phrases that align with natural language patterns (i.e. start including, rather than excluding, prepositions) may create a tighter match between the content of the voice query and the content of your page.
For many ecommerce companies, however, competing in voice search on Google is secondary to competing with Amazon Alexa.
How can ecommerce companies compete with Alexa?
Stuart Shaw, Head of Search and Strategy at Zazzle Media, relayed the outcome of a recent market analysis for one of his clients: Amazon enjoyed twice the market share compared to any other competitor.
For ecommerce companies, Alexa only heightens the threat—inside and outside the Amazon ecosystem.
Competing within the Amazon ecosystem
For companies that sell on Amazon, getting Alexa to choose your products requires optimizing for Amazon Choice. As the company noted on its seller forum:
Amazon's Choice recommendations are selected by taking a variety of factors into account including popularity, rating and reviews, availability, shipping speed, amongst other factors.
Those broad guidelines—the most detailed explanation of the Amazon Choice algorithm yet released—supplement existing recommendations for optimization of product listings. (There are innumerable guides on the topic, like this one.)
If your Amazon product page ranks highly for a product term in search engines, Shaw recommends that you treat it "as an extension of your own website." Answer product-related questions that you uncover in keyword research—the effort may satisfy Amazon and boost visibility across other channels.
Ultimately, however, Amazon rewards sellers who optimize for a single metric: sales. If changes to product listings fail to increase them, Amazon's algorithms are unlikely to boost your visibility.
Even if you don't sell directly on Amazon, you can still gain access to its customers by creating a Skill for Alexa.
Creating a Skill for Alexa
Skills are voice-based apps that work with Alexa on the Amazon Echo. (Google offers developers a similar option called Actions.)
Many household brands have hastily rolled out Alexa Skills with little forethought. Third-party developers are equally guilty, having tried to deliver integrations for popular platforms like Slack. The results have been consistently poor:

Even the success stories have modest ambition and limited engagement:
The Ask Purina Skill allows users to find the ideal dog breed through a guided conversation (4.5 stars, 9 reviews).
The Tide Stain Remover Skill provides step-by-step instructions to remove different types of stains (4 stars, 40 reviews).
Johnnie Walker leads whiskey drinkers through a guided tasting (5 stars, 11 reviews).
Zyrtec offers advice to mitigate the impact of seasonal allergies (4 stars, 104 reviews).

The long play: informational intent to fuel commercial intent
These forays suggest limited potential for direct competition with Amazon. "You may not be able to be there for commercial intent," acknowledges Shaw, "but you may be able to be there for the point at which they're researching the product."
As Richie Lauridsen, the Director of Digital Strategy at Ignite Visibility, argues, that benefit is part of a longer play:
While some users may get the answer to their question from voice search and move on, the experience will help grow brand recognition and can play a big role in the funnel for users who now see the site as a trustworthy and authoritative source.
John Campbell, the managing director of the voice search company Rabbit & Pork, contends that Amazon Alexa's hoarding of commercial queries has motivated many retailers to develop Actions for Google first: "On the Google Assistant platform, there is no default shopping route."
Still, Campbell notes, Skills and Actions both have potential:
The assistants explain to the user that they can't answer the question directly but the answer to the question is contained within a Skill or Action [. . .] It gives brands the chance to provide the answer where there is only one answer suggested and drive users into their Skill or Action.
There is further potential to compete with Amazon on the open web.
Competing with Amazon across the web
The challenge for ecommerce companies to compete with Amazon in search results is daunting: Amazon pages often crowd desktop and mobile results for bottom-of-funnel product queries. Voice search is an opportunity to recover some of that traffic.
Note: Here you'll find our ecommerce guidelines & testing ideas in this comprehensive ecommerce guidelines report (247 guidelines specifically for ecommerce).
Voice, video, and an Amazon-free result
Voice search results for product queries often return video results—and exclude Amazon. While trying to own a search space for product queries (e.g. "best coolers") is often competitive, there's one subset of queries that's easier to own, especially for smaller companies—those that include your brand.
Take, for example, a combined brand-product query: "which yeti cooler to buy." In desktop searches, those queries are vulnerable to Amazon: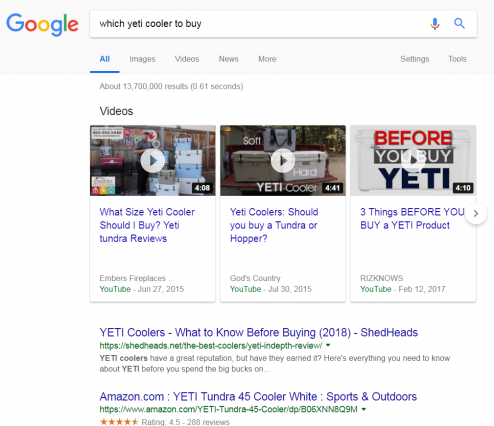 However, that same query in voice search delivers a listing of YouTube videos only: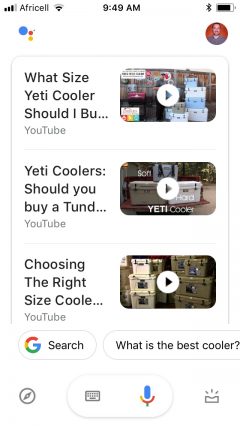 In the above example, independent YouTubers dominate—a missed opportunity for Yeti, which could easily rank for a query that includes its brand name. At the same time, a missed opportunity by a manufacturer is an opportunity for non-Amazon retailers who sell Yeti products to fill the informational vacuum.
The primacy of video in voice search gives ecommerce retailers a protected space in which to deliver persuasive product videos to purchase-ready consumers.
To identify opportunities:
Catalog brand-product queries (e.g. "yeti coolers"), whether you're the manufacturer or the retailer.
Identify brand-product voice queries (e.g. "which yeti cooler to buy") for which you don't rank first, or for which the manufacturer doesn't already own the space.
Narrow the list to those that return a carousel of YouTube videos.
Publish YouTube videos that answer those questions directly.
Out-optimizing Amazon
There are opportunities to improve performance for non-brand queries, too. Shaw highlighted limitations of Amazon's performance in search engines:
Because they often have dozens or hundreds of product pages for similar products, Amazon is vulnerable to "keyword cannibalization"—Amazon product pages compete against each other for visibility.
Search engines rarely serve Amazon product page content in featured snippets, the primary source of information for voice searches.
Amazon struggles with structured data for reviews and star ratings, limiting the appearance of rich snippets in search results, which affect click-through rates.
Stand-alone ecommerce companies can outperform Amazon on all three fronts. Shaw noted other, less-technical opportunities:
The volume of Amazon sellers lessens the control that Amazon has over the consumer experience. Delivering a better customer experience, especially for high-end goods or infrequent purchases, can be persuasive.
Touting local production, sustainable manufacturing, or other company values may earn more clicks or sales.
For brick-and-mortar businesses, there's another opportunity: local search.
Local search: a protected space
Brick-and-mortar businesses enjoy a reprieve from the incursions of voice commerce. "Near me" and other location-based questions typically deliver a read-out of local business listings: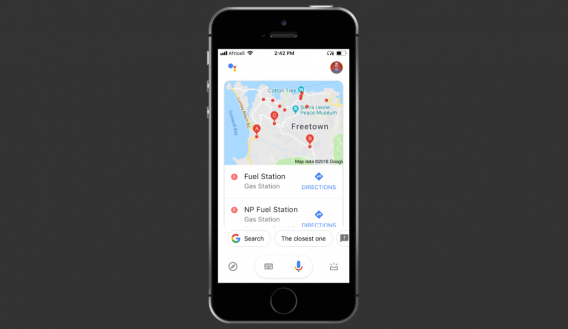 A voice search for "gas station near me" returns a map and three place listings.
While those listings remain highly competitive—usually including only three businesses—the voice search shift doesn't add any challenges.
As Campbell explains:
For Amazon, these results are provided by Yext while, for Google, data comes from Google My Business. But at least the call to action here is to call the local business or directions to their location.

For smaller businesses with physical locations, spending time on optimization of local listings will help traditional local search but also have a knock-on effect for local voice search.
At the very least, businesses can maintain control over the information that consumers see or hear via voice assistants, even if those queries focus on basic information, like services offered and business hours.
What happens when the voice queries—and consumer research—becomes more complex?
How will voice search work given the human urge to shop around?
At the moment, voice assistants like Alexa are most popular for buying commodity products: The primary benefit is the convenience of ordering; consumers don't need to spend time researching brands or product features.
But voice search will change, and so, too, will its relevance for consumer purchases that require research.
Consumer segmentation for tailored product recommendations
"In the future," Shaw says, "It's not going to be what we asked it in the moment but our behavior two weeks ago, or what we asked it two months ago."
In other words, rather than a one-off interaction, voice assistants like Alexa will mine years of purchasing data—of the asker and those with similar customer profiles—to make proactive recommendations rather than offering the same Amazon Choice–identified product to every consumer.
A combination of predictive analytics and an intelligent back-and-forth by voice assistants demands a far more comprehensive approach to "voice search optimization," one that extends to all aspects of the customer experience.
As Shaw explained:
A voice strategy isn't an analyst sitting in front of a computer and dictating the content that should be made. The key starting point should be with the customer service team and the questions that they're asked on a daily basis.

Digital marketers are far too keen to just turn off the world and focus on a specific tool when there's so much that individuals and humans can still provide.

What questions are soon going to be asked instead of asked now?
Interoperability among devices will also make it easier for buyers to "shop around" via voice search.
Multi-device shopping guided by voice assistants
"Many experts in the field see the current selection of smart speakers as the first wave of voice-enabled devices," Campbell notes. "What we'll end up with is a multi-modal experience."
For users, asking Siri a question about chefs' knives on your iPhone may pull up a series of YouTube reviews on your smart TV (via an Apple TV).
This multi-device shopping is already occurring with Google Home Hub and Amazon Echo Show—both combine voice search with display screens, allowing users to consume far more information than what gets passed in a spoken response.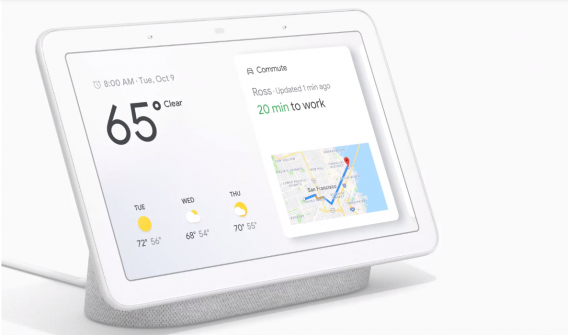 Multi-modal shopping is not without its pitfalls. As Ryan Clutter of Horizon Media notes, an ongoing dispute between Google and Amazon has already led to blackouts of YouTube videos on the Echo Show and threats to pull Google's Nest products from Amazon.
As voice search drives the development of multi-device experiences, partnerships—or feuds—among device makers will impact the rate of consumer adoption and, as a result, affect business decisions to optimize content for specific devices and channels.
Are there use cases for voice search in B2B?
Among everyone I spoke with, there was agreement: The impact of voice search for B2B companies trails the B2C market.
What limits opportunities for B2B commerce in voice search? According to Zazzle's Shaw:
Per-device prices are still too high for integration throughout the workplace.
Device efficiency trails human efficiency for many B2B needs.
Most queries for B2B are long-tail, informational queries (e.g. "best free version of photoshop") with limited potential for monetization.
However, as Campbell explains, there are opportunities for B2B businesses to integrate voice assistants into processes for internal teams and for current clients:
An Alexa Skill could provide on-demand reports of inventory levels or manage meeting rooms with Alexa for Business.
IT teams could allow clients to report problems or self-service issues via custom Skills.
Cortana may be particularly useful for businesses that already use Microsoft products.
Those who identify opportunities first—or even those willing to test internal integration—may be best positioned to take advantages of more lucrative opportunities in the future.
Conclusion
For many, voice search is more risk than reward: It portends diminishing visibility for those who don't own the top search result and strengthens Amazon's grip on retail.
Successful voice search strategies include a solid foundation of SEO and a willingness to expand and experiment—product-feature and review videos; informational Skills and Actions to build brand affinity; and a holistic consideration of the customer experience.
New devices that combine voice and video offer a more accurate portrait of voice search—not an additive, audio-only tangent but another layer of convenient, always-on communication with the world's largest databases of information and products.