Designing your website requires a studied understanding of human behavior if you want to increase your conversions. Using psychological tactics in your design to appeal to potential customers can help do this, but you must first know how users' decisions are made.
Daniel Kahneman presents two thought systems that can give marketers a framework for how to target their ideal clients through site design and get a major uplift in conversions.
What are Kahneman's two systems of thought?
Economics Nobel laureate Daniel Kahneman wrote Thinking, Fast and Slow, in which he discusses two ways our brain operates – known as System 1 and System 2.
System 1 and System 2 encompass two different thought processes that people go through when making decisions, a theory known as "dual processing."
The distinction: System 1 is a person's emotional, automatic reaction to information, and System 2 is a more tempered, controlled thought process that's based on evaluation.
System 1
System 1 functions on mental shortcuts, which are also known as heuristics. These are formulaic response patterns the brain has developed previously, and this system of thinking is responsible for immediate problem-solving, snap decisions, subconscious reactions, etc.
Or, as Jim Holt writes for The New York Times:
"System 1 uses association and metaphor to produce a quick and dirty draft of reality, which System 2 draws on to arrive at explicit beliefs and reasoned choices. System 1 proposes, System 2 disposes."
Kahneman himself offers some examples:
System 2
System 2 is a far slower process that engages conscious reflection and can evaluate System 1 conclusions for error. System 2 is used for more complicated and focused tasks.
So, when do you use system 2 to make decisions? Kahneman provides more examples.
These two systems interconnect. For example, economist and Nobel laureate Professor Richard Thaler tested how each system operates by asking people to save money in the future as opposed to in the present moment.
When asked to save money in the future, people made more reasoned economic decisions because System 2 thinking regulates future planning, as opposed to System 1 thinking, which operates mostly within the present.
How do we use system 1 and system 2 in web design?
Talia Wolf offers some insight on getting into a client's head and directing their emotional path through a website.
Psychologist Bart Schutz agrees that designing for users without taking into account these two systems is like "shooting blind and trying to hit a target," as experiments show people in a system 1 states of mind respond the opposite way from people in the system 2 state of mind.
Roger Dooley cautions against introducing too much System 2 thinking:
How do you know which customers are operating in which system?
At first, you don't. That's why you need to track your customer data and identify leading metric indicators for each thought system to segment your audience, as explained below by Schutz.
The trick is to identify leading indicators for System 1 users and System 2 users, then design your site appealing to each thought process.
System 1 and System 2 Website Design Examples
What are some websites that have used Kahneman's two systems to design the sites and market their products? Dooley compares and contrasts several websites on their usage of Kahneman's two-system principle.
"Compare these web pages from security system resellers.
Why do people shop for home security? They want peace of mind. They want family, pets, [and] possessions to be safe and secure.
The ADT reseller's page (protectyourhome.com) is very feature-oriented. There are text blocks everywhere, and the illustration of the control unit looks complicated.
Nowhere does it address the emotions that the shopper is likely experiencing. The is primarily a System 2 appeal that might work with a highly analytical comparison shopper.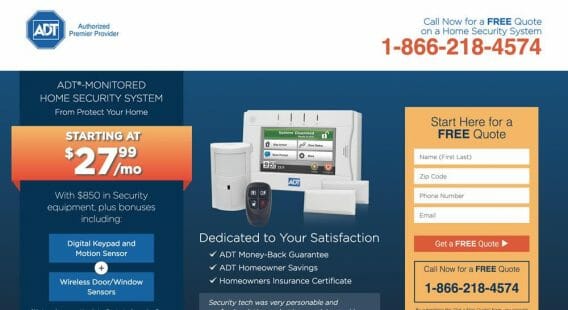 The Reliant (securitybyreliant.com) page, on the other hand, doesn't show the equipment at all.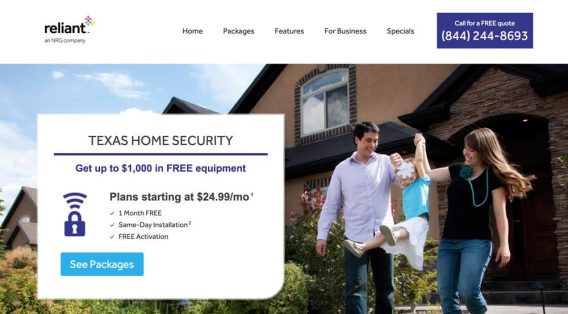 Instead, the main photo is of a carefree, happy family in front of their home. There's very little text, and the text that is there is smart. It uses "FREE" multiple times (known to be a powerful non-conscious motivator, and it offers "same-day installation" – comforting if you've had a break-in attempt or there was an incident nearby.
This ad appeals to System 1 with the happy family photo but gives enough System 2 information to encourage a phone call.
The Vivint (vivint.com) page is even simpler.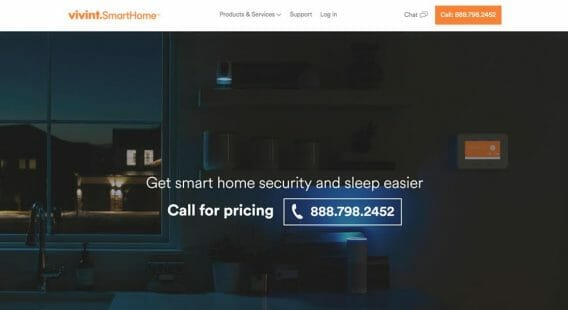 The viewer is in a dark room looking out at a night street scene, and the text promises "smart" security that lets you "sleep easier." This ad is primarily a System 1 appeal […]
None of these ads is necessarily the best it could be. For example, instead of the kitchen sink view in the Vivint ad I'd test a more emotionally evocative image, like a parent peeking in on a sleeping child.
The Reliant ad has conflicting calls to action – "call for quote" and, in another place, "see packages." But, I think the Reliant ad is a good example of appealing to both System 1 and 2.
Many websites finesse the System 1 vs. [System] 2 problem by hiding most of the facts/features info behind a separate tab or by using a "more info" link. Those people who really want the details can get them, but others aren't subjected to information overload.
Of course, testing is the best way to optimize page content and design."
Is it possible to make a client's thoughts switch between systems?
In essence, yes. Schutz says the goal is typically to keep a user within their mental system, but if you need them to switch thinking patterns, there are tactics to do so.
Kahneman's systems and cognitive biases
Designing for these mental systems is helpful, but it's important to remember neither system of thinking is always logical or error-proof.
Our brains can become lazy or too dependent on heuristics, and end up actually acting against their own best interests by developing a "cognitive bias."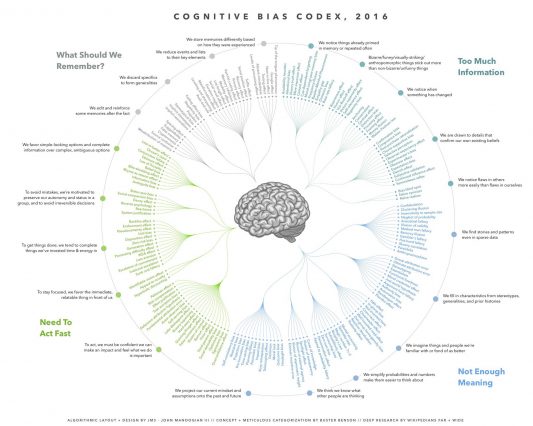 Courtesy of BetterHumans.com
As The Harvard Business Review puts it:
"System 1 is critical to survival. It's what makes you swerve to avoid a car accident. But as the psychologist Daniel Kahneman has shown, it's also a common source of bias that can result in poor decision making, because our intuitions frequently lead us astray.
Other sources of bias involve flawed System 2 thinking—essentially, deliberate reasoning gone awry.
Cognitive limitations or laziness, for example, might cause people to focus intently on the wrong things or fail to seek out relevant information."
This is because intuitive processing can actually be both logical and useful, though it's often considered irrational, and the opposite is true of System 2. Though it is consistently the more thoughtful of the two modes, it, too, can sometimes deliver irrational results.
Kahneman argues, and he illustrates the contrarian nature of the human brain using the analogy of a piece of cake:
Let's say you've resolved to lose weight, and most nights you eat well, work out, and go to sleep early. However, if you've had a stressful day at work and you arrive home late, that's when you're most likely to not work out and eat the chocolate cake due to your cognitive bias.
Cognitive biases often cause us to act against our own self-interests, and they can trip up how you design for system 1 and system 2 if you don't account for them.
Should Kahneman's principles always inform how we design web pages?
Ultimately, these principles are good guidelines, but not hard-and-fast rules, argues Brian Cugelman.
Nir Eyal actually finds keeping cognitive biases in mind is more useful for design the System 1 and System 2 principles alone:
Ultimately, the extent to which your company utilizes these principles in your site design is up to you, but understanding human psychology is crucial to increasing your conversions.
Conclusion
Daniel Kahneman's two-system principle is an important marketing and design guidepost and can help you get major lift for your website.
You can incorporate these principles in your web page design by:
Identifying leading indicators for customers each system.
Segmenting users into either system 1 or system 2 thinking.
Targeting you website design and marketing campaigns for thinkers in each system.
Pro tip: For System 1 thinkers, use large images, testimonials, and other details to boost conversions. For System 2 thinkers, use fewer images and information that distracts system 2 thinkers. Don't forget to make allowances for common cognitive biases (like loss aversion, anchoring, etc.) with your web interface.