Agencies looking to grow have traditionally relied on fostering strategic relationships to land deals and increase sales. Cold email and referrals have often been quite effective.
But through my work with dozens of agencies, it's clear outbound alone is no longer enough. The most successful agencies are beginning to invest more time and money in content marketing to establish expertise in their industry and, more importantly, generate inbound appointments.
In this article, I'll outline how to create an agency content strategy that fuels your business development efforts and generates the optimal kind of organic traffic.
Mining your clients for pain-points, success, and topic ideas
When starting out, many agencies blog about topics directly related to their offering. This is great if you're creating success stories, but less so if you're writing about high-level, tactical fluff. It's unlikely your ideal client is interested in a generic "5 ways to produce better ads."
Many agencies invest as little time and energy as possible into their content efforts.

But the problem is, creating a content strategy that attracts your ideal client means understanding what matters to them. It involves putting in the work.
I've found that interviewing your existing clients is one of the best ways to create valuable content for your ideal audience.
Customer interviews allow you to uncover:
Why they decided to do business with you;
Why they love working with you;
What other challenges they have in their business;
Where they go for new information.
While keyword research matters, your clients are a rich source of insight for your optimal content strategy. Your customers can provide you with pain-points to write about, as well as success stories to attract new clients.
The same goes for your sales conversations; why did new leads seek you out, and what objections do you hear during the sales process?
Digging deep into your client's responses is the bedrock for an effective content strategy. At Grizzle, we couple these qualitative insights with data-driven research—here's our 3 step process.
1. Collect data sources for quantitative insights
Data sources include the publications, competitors, influencers, podcasts, and communities that your audience engages with the most. Uncovering popular articles and conversations will show you what people are most interested in, which is useful for "seeding" your content research.
Using a tool like SparkToro, you can uncover the channels and influencers that your audience is most engaged with. For example, let's say you offer digital transformation services, and your ideal client is looking to modernize their digital experience: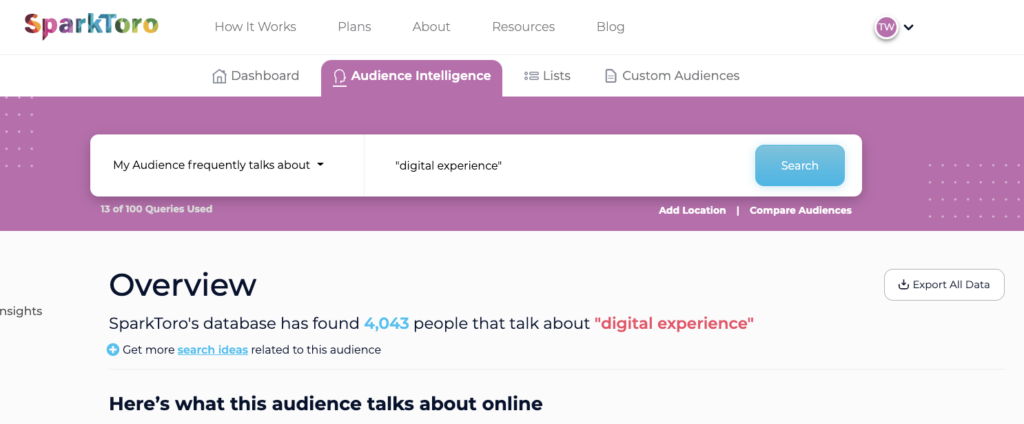 Here are some initial sources uncovered by this search:
Websites like Econsultancy and McKinsey that publish content on digital transformation
Niche influencers and social profiles like Adaptive Path (using the "hidden gems" filter in SparkToro)
Podcasts by brands like CMOTalk and the Cognizant Podcast.
You can use these sources to identify patterns of the content they're publishing consistently. For example, certain publications are talking about modernizing legacy systems, a topic well worth pursuing for any agency that offers digital transformation services.
With industry trends identified, your next step is to identify relevant communities and conversations.
For example, searching Facebook for "SaaS marketers" yields the following Groups: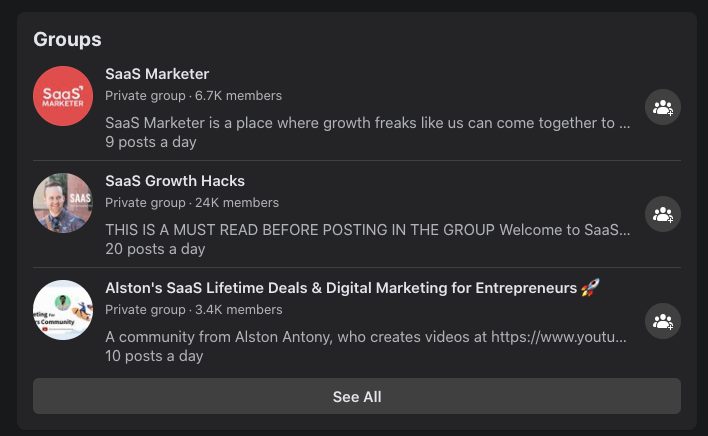 You can also search Reddit to find relevant subreddits:

Your clients may hang out in different communities than the examples above, but this is the time to put your detective hat on and look for popular conversations happening within each community.

Reddit makes this easy, as you can sort by popularity and filter by date (e.g. "this month"), and Facebook automatically prioritizes conversations with recent comments.
For example, we recently worked with an app development agency and, after analyzing community conversations, we found a popular discussion around the difficulty of starting and growing consumer apps:

This conversation alone provided us with a tremendous amount of insight into the challenges B2C startup founders face, which was invaluable in both strategy and creating future content. The discussion also allowed us to see the most upvoted comments from members giving advice advocated by the broader community.
2. Conduct content-driven client interviews
Your existing clients are your most significant source of insights. Interviewing them will provide you with their wants and needs from a messaging perspective and uncover topic ideas and distribution channels.
But how you schedule and conduct these interviews with your clients matter. When reaching out let your clients know what you're hoping to achieve. In general, your clients want to see you succeed, and you'd be surprised how many are willing to assist in any way they can.
Go into each conversation with a broad set of questions. We usually limit the number of high-level questions to 5 or 6, which allows us to focus on digging deeper into our client's responses. Here are some example questions we recently used during a client campaign:
Why did you decide to work with [AGENCY]?
What's the biggest challenge you currently face in your role?
What are your goals for the next 3-6 months?

Follow-up question: What are the biggest obstacles to achieving those goals?

Where do you go for advice or content around [TOPIC]?

Follow-up question: Do you read any blogs in this space?
Follow-up question: Are you active in any LinkedIn groups, Facebook groups or other online communities?
These questions get the conversation and help move things in the right direction. But the initial questions are just the start. Expanding on their responses and going deeper is where the real value lies. The more detailed you get, the more insight you have into how to craft your content strategy.
For example, when building the first version of their product, the app development agency's clients would download popular (and similar) apps to garner inspiration for their product roadmap. Digging deeper, we found they would take screenshots, map out the user journey, and look for ways to build something better.
So, we've dedicated an entire portion of their content strategy to breaking down popular apps in the space. Each section is dedicated to a feature or stage of the customer journey (while remaining relevant to audience goals and pain-points.) Now that's some great content!
3. Synthesize your insights in an audience analysis report
At this point, you should have collected trending topics, popular conversations, and conducted client interviews. Now it's time to organize these insights into a helpful format for everyone involved in your agency's growth.
Creating an audience analysis report allows you to pull-out and elevate client pain-points, goals, and desires. It can also be used to highlight why clients love working with you in the first place. Having a bunch of unorganized data isn't useful for anyone.
Writing this report in an editorial-style provides a reference about your audience that's easy to digest. It acts as a narrative that allows pain-points to stand out, providing detailed information on why they're relevant to your strategy.
For example, here's a section about a particular priority shared by several of the app development agency's clients: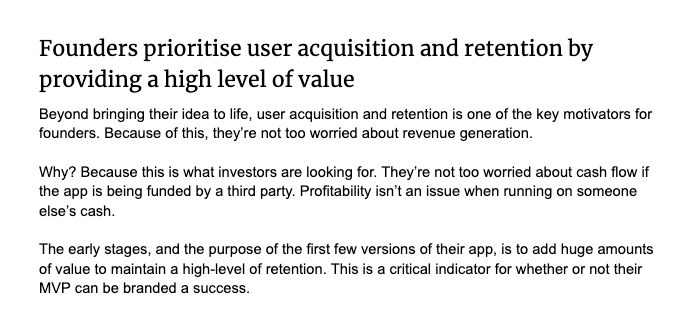 This is closely related to an additional goal we uncovered on revenue generation, which leads us to the following section: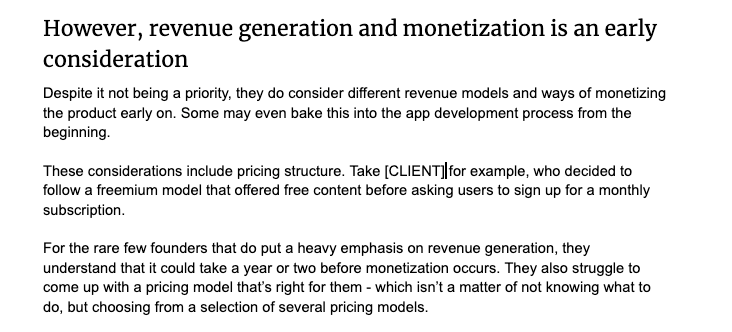 This report not only gives you crystal clear insights on shared client traits, but becomes the fuel for the next stage of the process: developing a clear content strategy. Having all this insight in one place can also help keep your teams aligned and on the same page.
Developing a clear content strategy
Creating a well-document content roadmap is critical for producing blog posts and articles that generate new business. Much like your audience analysis report, it will ensure everyone involved in the planning, production, and distribution process is aligned.
Here are the critical components of a successful content strategy you'll want to include in your research and analysis.
Well-defined goals and objectives
What are the primary and secondary goals you're aiming to achieve? What drove you to seek out content marketing as a growth solution?
Start with high-level bullet-points before getting more detailed:
Lead Generation: attracting founders of well-funded startups who are ready to build exceptional products
Organic Traffic: drive search traffic by producing content around buyer-specific keywords
Thought Leadership: position our agency as a trusted brand in the app development space
Market Expansion: target other locations outside of our location (London, U.S., etc.)
Follow this list with a handful of paragraphs that declare how you'll achieve these goals. For example, if organic traffic is a priority for you, include a statement like this:
From an SEO perspective, our primary goal in the early stages of this content strategy is to focus on low-volume, high-buyer intent keywords and queries related to specific pain points.
This sets the intention for your early-stage priorities. Painting a clear picture of what you aim to achieve in the short- and long-term makes a strong case for the decisions you'll make throughout the rest of your content strategy. It may sound high-level on the surface, but you'd be surprised at how many companies skip this step and end up struggling later on in the process.
Information about your audience
Dedicate a section to high-level audience information (as uncovered during the research phase). Include a brief description of each of your audience segments, product-driven pain-points, and the challenges they face in their day-to-day role.
For example, here's how we'd describe a segment of the app development agency's audience:
Existing Startup Founder: Sometimes, founders will already have an MVP or prototype. This prototype may simply include the technology or infrastructure at the core of their product, so they need help developing an app that provides an experience on top of that technology.
This helps us visualize the audience segment and fully understand their priorities, accompanied by relevant pain-points:
App startup founders are very budget-conscious in the early stages. Cash flow is a matter of life or death when bootstrapped and pre-funding.
As well as challenges and goals they're looking to achieve outside of the scope of your services:
For content-driven apps, the question is, "how do we become part of our user's daily lives?"
It may seem repetitive, but by having high-level audience information in the same place as your strategy, you can communicate how they feed into the rest of your strategy.
The topics and content formats you'll create for them
Here, you'll want to include information on content themes and the content formats you'll be utilizing. These themes can be used as blog categories to organize your content for your audience.
For example, earlier in the process, our app development agency discovered how their clients analyze other successful apps to inform their product roadmap. We can help them with this process by creating app breakdowns of popular products in the app space, offering expert commentary, takeaways, and ideas on what they could do better.
When presenting different formats in your content strategy document, try and include an example of what that format looks like, for example:
Thought Leadership: Strategic in nature, thought leadership aims to challenge existing beliefs or present a new way of thinking. For example, debunking the myths of React Native or Firebase as the cheapest/most expensive solutions.
The formats you create should be focused on providing your audience value first and foremost. By selecting three or four content formats, you can build constructive constraints that force you to stay focused and create the most value content for your target audience.
Select your content distribution channels
How will you attract new visitors and readers? This is where client interviews will become invaluable, as they'll tell you exactly how they discover and vet new information.
For example, you might find that your ideal client is active on LinkedIn. Maybe you also discover, that most of your ideal clients never use Twitter. That's incredibly valuable insight.

In this case, it would be best for you to repurpose your content into several LinkedIn posts, getting industry influencers involved in the process to amplify your reach.
Here are some of the most effective content distribution channels we've used for our agency clients:
Guest blogging: Identify three to five publications that your clients regularly read with the aim of becoming a contributor. This allows you to get your content in front of an existing audience and get backlinks simultaneously.
Influencers: Who are the movers-and-shakers in your industry? Go back to your data-driven research and look for experts you can collaborate with. Getting them involved in the content creation process not only gives you an existing audience to tap into, but makes your content more unique.
Direct channels: If you're looking to attract a tactical audience, it's well worth sharing content to directories and communities that allow it. Examples of these channels include GrowthHackers and Hacker News.
Vendors and partners: Look to existing partners that have access to your audience. This includes other non-competing agencies, as well as software and technology vendors.
Social content: Which platforms are your clients most active? If it's LinkedIn, find someone from within your agency to become the face of the brand. If you're reading this, that person is probably you.
Organic traffic: Don't forget about SEO. Be sure to identify keywords that align with your client's pain-points, making your content relevant for those terms.
The best content distribution approach is to reverse-engineer your client's consumption habits. If you're targeting a more senior audience, that source is often their peers and counterparts at other organizations. However, don't neglect the executives that report to them. Individual contributors still have a say in the strategic conversation, and it's well worth publishing content that caters to them.
Lastly, you'll want to decide how you'll measure success. For example, if SEO is a priority, some metrics you'd want to focus on may include;
Organic search traffic;
Impressions on the SERPs;
SERP click-through-rate;
Avg. position (across all target keywords);
Position (for specific content);
Previous position (from previous period.)
More importantly, don't forget to measure the number of qualified leads and new business generated from your content efforts. After all, that's why you started this content marketing journey in the first place.
How content fits into outreach and business development
Cold outreach is often treated as a transactional affair. Agency founders and marketers race for sales appointments before establishing a relationship.
Before disregarding outreach entirely, consider using it as a content distribution channel. If you're writing for a specific type of client, send your content directly to that segment.
Let's say you provide creative services to paid media specialists. A common pain-point you hear on sales calls might be, "we need help scaling our ad creative."
Here's a framework you can use to craft your email messaging:
Forget contrived personalization; get right to the point: Use the first line of your email to present what your content is about. If it's a topic that's truly a priority for your ideal buyer, it'll get their attention.
But do personalize why it matters to them: Once you've presented the topic, tell them why you're sharing it. For example, after looking at their Facebook Ad Library, you might see that they're using the same imagery. Therefore, they may be looking for ways to test new ad creative at scale.
Provide the link to your content (and a call-to-action): What do you want them to do after reading your article? This could be as simple as asking them to share any feedback they have.
Use follow-up messaging to establish a sales conversation: It's best to use your initial email to share content without expectation. However, you can use follow-up messaging to ask if they'd like to learn more about your agency's approach to creative asset production.
Here's an example that brings these elements together:
Hi [NAME],

We just published an article on how to scale ad creative without lengthy turnaround times.

As you guys at [COMPANY] are creating lots of ads with similar imagery, I thought you might be interested in learning how to run experiments and automate new ad combinations without the hefty design fees.

You can read the article here: [LINK]

I would love to hear your thoughts and feedback if you have any.

Cheers,

[SIGNATURE]
Instead of asking for a sales appointment, this approach starts the relationship based on value. You've crafted content specifically for them, and aren't just spamming their inbox.
Content collaboration to develop relationships
To take your content efforts even further, you can use your content as a collaboration tool to start new relationships. Get your ideal client (or those with access to them) involved in your content creation process. Here are two ways we do this at Grizzle:
1. Collaborate on an in-depth guide
There are plenty of non-competing brands with the same audience as you—partner with them to collaborate on a high quality piece of content together.
Start by identifying who these brands are. For example, if you're offering paid media services to performance marketing teams at mid-level market organizations, consider partnering with SaaS brands that provide them with the tools to do their job (such as Kenshoo, Acquisio, and WordStream).
Before reaching out to potential partners, build an offer they can't refuse. Two ways to sweeten the deal include:
Taking care of the heavy lifting: Write design, and help your partners repurpose content for their social platforms.
Repurpose for publications: Take sections and themes covered in the main content and turn them into standalone guest posts. Help your partners get in front of a wider audience (and get high-quality backlinks in the process).
For example, in 2019, Buffer partnered with social media agency The Social Chain to produce a "State of Social" report. Clocking in at 1,500 words, this report is chock full of data and visual content, appealing to other content creators and journalists alike: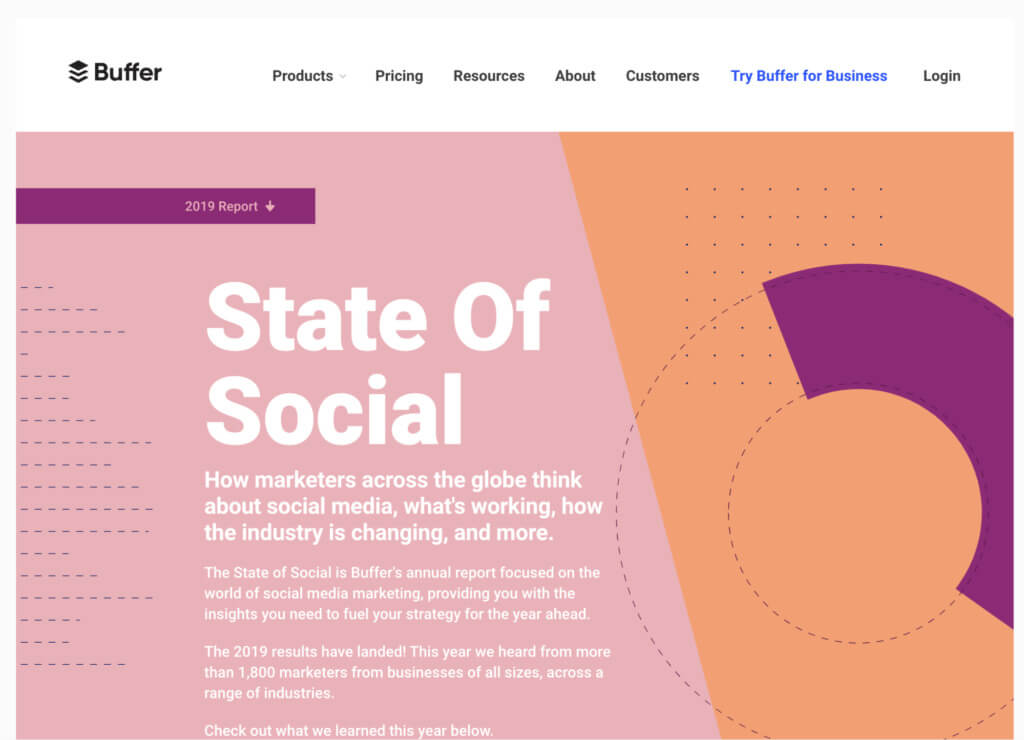 Another approach is to create a microsite dedicated to your co-marketing efforts. Mention's Influencer Marketing Stack is a prime example of this, partnering with several software brands and agencies to provide a one-stop-shop for influencer marketing vendors: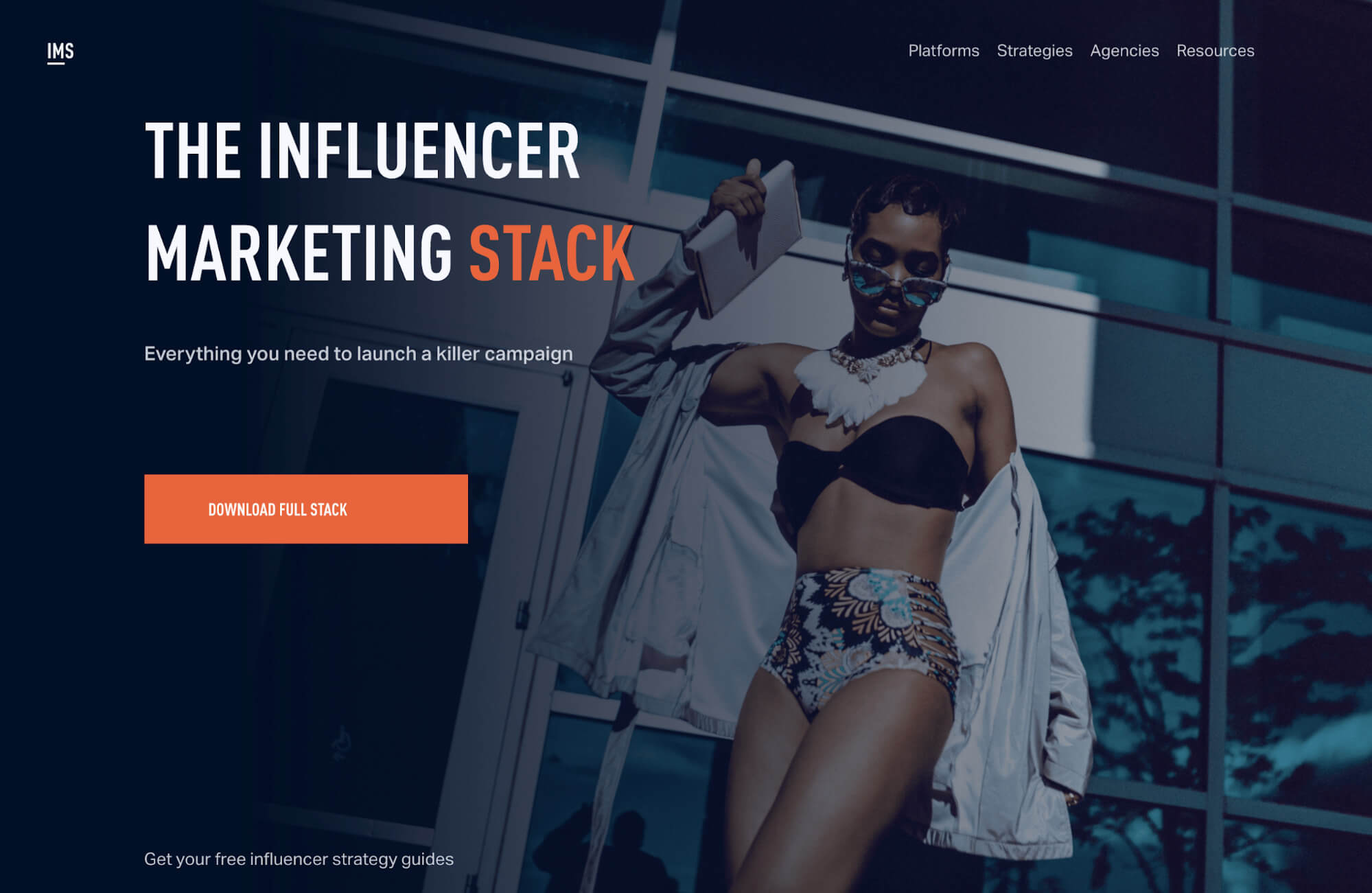 This simple microsite generated over 1,900 upvotes on Product Hunt. It also allowed Mention to drive awareness through the audiences of HubSpot, BuzzStream, Later, and many more.
More importantly, it's become an acquisition channel for the agencies they partnered with, allowing them to stand on the shoulders of a well-known brand.
2. Build personal connections with podcasting
In my experience, podcasting presents a paradox for the amount of effort needed to get involved. Providing written insights in an email might take around 5 to 10 minutes, yet many busy professionals prefer to jump on a 30-minute interview.
Psychological reasons behind this phenomenon aside, podcasting is the perfect platform for building deeper relationships with target accounts and industry influencers.
For example, since launching my podcast, Maker Mixtapes, in January 2021, I've had the pleasure of connecting with marketers from brands like Shopify, as well as industry leaders like Rand Fishkin.
And while my primary motive is to expand my network and share great stories, the podcast has been responsible for several new leads and two new clients (both directly and indirectly)—not bad for only three months in the game.
If you're looking to build deeper relationships with influential people in your space, I highly recommend starting a podcast. Here's a simple process you can follow:
Start with a premise: In a recent conversation with Kristen LaFrance, host of Shopify's Resilient Retail, I learned all about the importance of having a purpose for your podcast. What's the big problem you're looking to solve, and why does your podcast exist in the world?

Create a delightful guest experience: Make it easy for guests to get involved. Provide them with high-level themes you'd like to cover before the interview so they can prepare themselves. Corey Haines has a great article on how to do just this.

Do your research and look beyond surface-level questions: If your guest has been on podcasts in the past, they're likely asked the same questions. Go beyond the surface and get more specific. Aim to understand their true feelings or motivations behind a particular topic.

Use the Netflix effect: When launching your podcast, have a bank of episodes ready to go. For Maker Mixtapes, we launched with six episodes. This helped me make plenty of noise on the backend of my guest's audiences on launch day.

Make it easy for guests to share: Turn your interview into a tweetstorm and LinkedIn post that adds plenty of value to your audience. Once an episode goes live and you post your content, provide your guests with clear instructions on sharing these posts to spread the word.

Repurpose your podcast content: Since launching, we've created a dedicated section on our website as a home for in-depth articles produced around our content. This allows us to add more value to our audience, elevate our guest's stories, and fuel other content efforts.
For example, in a recent interview with Nitsan Peled, Director of Content at Optimove, we talked about the benefits of appealing to target accounts by writing about their brand:
We used this story as an example when writing about content-driven customer expansion:
As you interview more guests, you'll notice patterns in their approach to a particular craft. For example, we've been talking to content marketers who are seeing great success with gated content. This is the antithesis of popular discussion on social media, where many content marketers condemn the practice. Therefore, we have a (potentially polarizing) topic we can write about in the future, using our guest's success to back up any claims we make.
If you plan on creating content yourself, focus on formats that play to your strengths. If you're a great writer, start with blog articles and guest posts. If you're a natural conversationalist, jump on the podcast bandwagon.
Conclusion
A strong content strategy begins with a detailed roadmap on how you plan to secure new business. Organic traffic will help you generate predictable traffic over time, but it's nothing without qualified agency leads.
If traditional outbound marketing is no longer as effective as it once was, consider leveling up your content marketing game.
Interview your customers to help gain insight into creating content your target audience will love.
Spend time in communities where your audience hangs out.
Experiment with content partnerships with other players in your space that aren't directly competing.
Improve your outbound efforts by sharing helpful content before asking for anything in return.
Consider launching a podcast if that medium fits your style.