We all know that you have to work your butt off to get anywhere. Same with conversion optimization. In order to get results you could be proud of, you need to put in the effort and hours. But how are you spending that effort?
Let's say tomorrow you'll get fired from your job.

But – good news – you've just been given a new job as a conversion optimization specialist at an ecommerce company. Your job is to increase the conversion rate and revenue per visitor of your employer's website by 30%.
How would you do it?
How would you achieve the goal?
Seriously – take 20 seconds to imagine how would you go about optimizing a website you've never worked on before.
Now tell me how would you do it.
Your answer will tell me *everything* about your optimization know-how.
If you start by mentioning tactics – "I'd make XYZ bigger" and "I'd change this and that" – I will instantly know that you're an amateur. Because amateurs focus on tactics while the pros follow processes.
Maybe you have a list of 100 "proven" tactics. So where would you start? Implement all at once? Then your website would look like a Christmas tree. Some tactics might work, some will not – and they either cancel each other out, or make things worse. You won't know what had an impact – and whether it was positive or negative.
Test the tactics one by one? An average A/B test takes like 4 weeks to run, so it would take you 7.5 years to test them all one by one. Nobody has that kind of time to make an impact.
If you don't know what matters, you have no way of prioritizing these tactics. The discovery of what matters is the key to successful optimization.
If you'd have a good process to follow, you'd KNOW which of the 100 tactics to try, and which to ignore. You'd KNOW where the problems are, what the problems are and what's completely missing on your site.
Conversion optimization – when done right – is a systematic, repeatable, teachable process.
Ronny Coleman, who won Mr. Olympia bodybuilding title 8 years in a row, has this famous quote: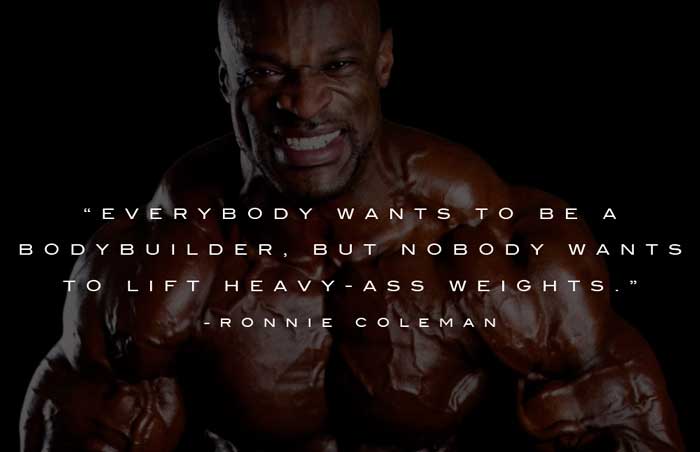 The same goes for conversion optimization: everybody wants wins, but nobody wants to do the heavy-ass work of doing proper conversion research, actually figuring out what matters and developing a systematic approach.
Conclusion
Before you put in the massive effort and hours, actually figure out what you're doing. If you can't describe what you're doing as a process, you don't know what you're doing. Stop looking for quick hacks, stop thinking of CRO as a list of tactics.