We often talk about online conversion optimization without mentioning that many businesses, especially B2B, rely on offline sales to produce revenue.
The two aren't disconnected, though. There's a lot we can do online to help increase sales. It starts with sales enablement.
What Is Sales Enablement and Why Should You Care?
Technology is changing the way sales is conducted.
The biggest new trends, according to a 2015 Gartner study, are cloud, mobility and the use of data and AI in decision-making.
Sales enablement is the act of enabling salespeople to help them close more deals/bring in more revenue/hit their quota. And sales enablement software helps arm sales teams with the information they need to close sales.
Since many companies, notably B2B SaaS companies, rely on closing enterprise deals to pay the bills, optimizing your sales enablement strategy can be a high impact opportunity for growth, in addition to your current online optimization efforts.
And as I mentioned, technology is making sales generally more sophisticated. A quick check on "sales enablement" worldwide Google search trends shows that it is still a steadily rising trend:

With the popularity come a proliferation of different tools.
Types of sales enablement tools
There are broadly 5 types of sales enablement tools in the market today:
1. Content management, sharing and tracking:
Allow teams to manage, share and track engagement on their content (documents, videos, webpages, images etc.) all from one place ensuring consistent messaging across organization and clients. Teams can customize follow-ups based on the engagement level and potentially close faster.
Examples: Clearslide, Salespatron (I'm a co-founder) and Brainshark.
2. Lead/Meeting intelligence:
Allow teams to mine important information about a lead from the very basic (email ID, phone numbers) to complex information (common professional connections, news mentions, job changes etc).
Examples:
3. Email/Calling productivity:
Help improve first contact efficiency typically while prospecting. Email-open tracking, automated mail merges, IVR, automated follow-ups, predictive dialing etc are some standard features.
Examples: Yesware, ToutApp, Sidekick, Close.io
4. Business Intelligence/Analytics:
Help generate critical and actionable insights from raw data combined from myriad sources. Say, which industries generate the maximum LTV to cost of sales, what is the typical time to close a deal in a specific market or what messaging performs the best with a certain user profile, can be well understood.
5. Gamification:
Help motivate various members of the sales teams in order for them to perform better, ultimately resulting in better numbers for themselves and the organization. People learn from eachother's mistakes and grow collectively.
Examples: Ambition, Badgeville
Why Is This Useful To Marketers?
Look at some typical B2B marketing KPIs:
Number of leads generated
Cost per lead
ROI
Conversion rate
Site traffic
Lead quality (Marketing Qualified Lead, Sales qualified lead)
LTV from various sources
Engagement-to-visitor ratio
To simplify things, marketers are always trying to attract the right people and move them through the funnel faster and more cheaply. Sales enablement tools help marketers better engage with the right prospects to convert people faster.
As the survey below shows, sales enablement solutions' key benefit is effectiveness in accessing key account decision makers a.k.a. finding the right people, also a top priority for marketers)
Which Step of the Funnel to Use Sales Enablement?
Marketers can use sales enablement tools at all steps of the funnel:
Stage in the funnel

Goal

Traditional process

Relevant sales enablement solutions

Inbound marketing

Attract relevant people

Blogs, SEO, Ads

BI: To analyze data on website traffic, finding trends for best converting traffic




CMS: Create more engaging content by combining various types of media like documents, webpages and videos into one link

Outbound prospecting

Attract relevant people

Email campaigns, Cold calling

Lead intelligence: Find out names and email IDs of target prospects




Email/Call solution: Cold emailing, follow-up and calling of prospects easily




CMS: Find out which prospects are opening and reading through your emailed content

Lead generation

Create interest about your product/service

Landing page optimization, Lead nurturing

CMS: Use attached form and live chat to engage with and convert readers right from marketing collaterals




Email/Call: Nurture leads to keep them warm




Lead intelligence: Find out which leads are worth chasing

Lead qualification

Help them decide if your product is right for them at this stage

Doing product demos, sharing whitepapers, case studies

CMS: Find out which leads are engaging more with your content indicating their interest and need




Lead intelligence: Use them to setup, prioritize and manage meetings

Lead conversion to customers

Close the deal and get the money

Doing product demos, sharing whitepapers, case studies

Gamification: Motivate sales reps to perform better by promoting healthy competition and learning from each other




CMS: Find out if the sent quote or agreement has been read by the client and is awaiting action or if the client needs to be reminded
How We Can Optimize The Funnel With Sales Enablement
Here are three ways that sales enablement solutions can help marketers achieve better results:
1. Produce more engaging content
A 2015 global study of 2000 B2B buyers and sellers by Accenture shows that B2B buyers have high expectations for engagement.
For marketers, current process looks like:
Marketers create an e-book or a whitepaper
Share with their subscribers either through an email blast, or
Get visitors to enter their email address on a landing page
And typical success metrics for them would look like:
email open rate
number of downloads
visits
conversion rate
cost per download
However, these metrics provide an incomplete story about how users actually perceive the content. Marketers hardly get to know the story beyond the downloads (e.g. if the e-book was actually read and if so, how far and how intently).
When you use certain sales enablement tools you can see:
which readers opened the e-books
read through which pages
average time spent reading per page
These insights can help you see:
your most engaged and loyal readers and most likely candidates for becoming future customers
the dropoff point can guide you on the length and structure of the e-book. For example, if most people dropoff at page 15
of a 50-page e-book, then write a smaller e-book or at least put the interesting/important stuff in the early pages.
Another thing you can do is A/B test your lead generation content. This ability is wholly underexplored in marketing.
Two or more different versions of the same content can be produced with different design, structure or layout and can be tested for engagement, leads and time spent.
You can run A/B tests to find out which variation of an e-book works better and optimize for better engagement or conversions just like you could on a regular website. You can test the headlines, paragraph lengths, images, and other small but important parts of downloadable content.
Generate more leads
Some readers could have a question while reading your e-book and want to talk to someone from your company.
Without sales enablement tools, the only option would be for the reader to find the support email and write to the company or go to the website and see if they have live chat setup. This requires extra effort.
Sales enablement software, instead, lets you do two things:
1. Add contact forms right inside your documents:
Contact forms work like regular signup forms (like on a website) and can be made to auto-popup on any slide/page (typically after last page) to prompt readers to take an action.
Another way to use contact forms in documents is by offering just a teaser of the overall content to the readers, say, by sharing only the first 5 pages of the e-book and asking readers to signup, if they want the full version.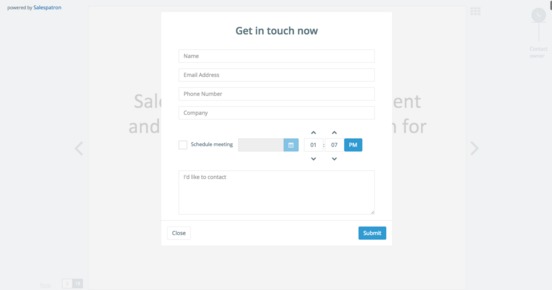 2. Initiate a live chat from right inside the document:
This works exactly like live chat on a landing page. Actually, you can use the same live chat client you're already using on your site just by embedding some javascript.
Either a reader can initiate a live chat (reactive chat) to ask a question or the marketer can initiate the chat (proactive chat) if the reader spends over a certain amount of time reading the document.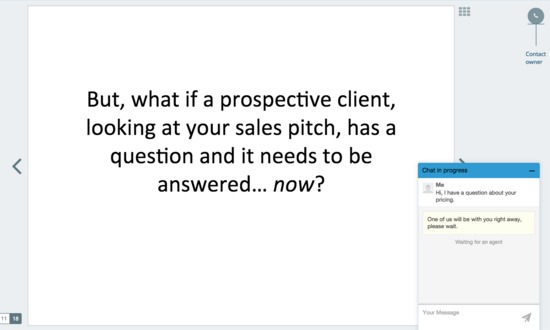 Build and share dynamic documents
A 2015 survey showed that most types of content shared by marketers (and consumed by B2B tech buyers) involves documents, webpages or videos.
Currently, if you need to share a combination of various media, you're forced to hyperlink various pages or share multiple links in an email, both of which lead to a broken experience while trying to tell a coherent story.
Sales enablement tools offer a way to share various kinds of media in an integrated fashion with just one link through HTML embedding right inside the document slides/pages.
Here's an example of how an embedded video looks like within an online document: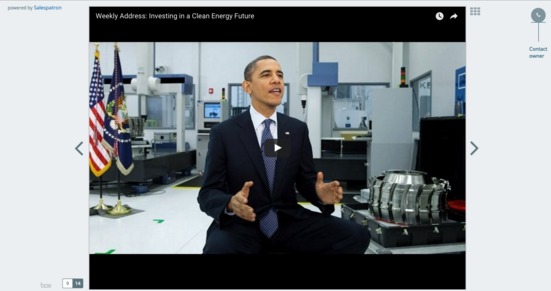 And an example of a functional landing page right inside a slide so readers need not search for it: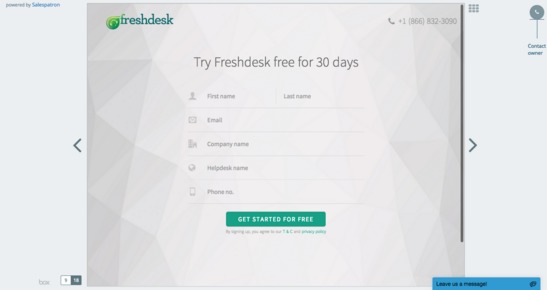 This scenario reduces friction by eliminating the extra steps of requiring the user find a landing page. Instead, it's right there in the document.
Case Study: How Sales Enablement Works In Action
Here's an example of how we used sales enablement strategies successfully.
Recently, we shared our pitch deck with a section of our subscribers. Here are some of the numbers:
Case 1 (with the original deck):
Total subscribers pitch was sent to: 1587
No. of visits: 683
No. of unique visits: 617
No. of conversions/leads received: 34
Conversion rate: 5% (approx)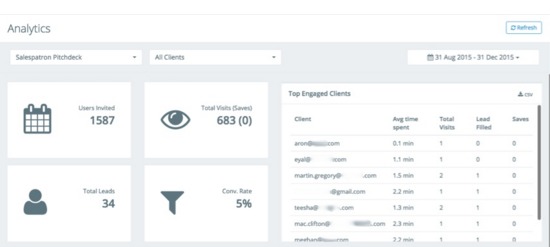 Average time spent on the entire deck: 1.7 min
Major issues:
Slides 10 to 13 were very low engagement slides causing a majority of the dropoff.
However, people who did read beyond these slides spent on an average more time than average time on first few slides.
Insights:
Need to restructure the deck to remove uninteresting slides
Push some of the more interesting slides up front to maximize engagement

Case 2 (with the restructured deck):
Total subscribers pitch was sent to: 1105
No. of visits: 430
No. of unique visits: 343
No. of conversions/leads received: 30
Conversion rate: 7% (approx)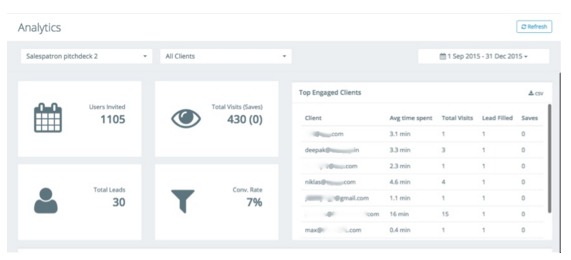 Average time spent on the entire deck: 2.1 min
Insights:
A more even distribution of time spent due to better structured deck
Dropoff reduced drastically due to no dead centres of uninteresting slides
More people reading till the end meaning more engaged users and thus a higher conversion rate

Results:
Leads conversion rate improved from 5% to 7% (+40%)
Average time spent on the deck improved by 0.4 min (+23.5%)
Major lessons learned:
Important to experiment with the structure of your content to find the one that works the best for a certain audience
Structure of your content is as important as the content itself
Conclusion
Traditionally marketers have been busy with metrics based on actions like clicks, views, downloads or signups of a group of people (e.g. 500 people landed on the site and 50 signed up – a cool 10% conversion rate.)
This may work in B2C scenarios where the transaction volumes are large and ARPUs are relatively small. But for B2B companies that rely on large deals with many touch points, it's important to focus on individualized metrics to customize messaging and follow-ups. As per the example above, it's important to proactively engage the remaining 450 visitors and either manually move them to the next stage or find a reason for their non-conversion – and this is where sales enablement comes in handy.