Become great at content marketing
Get advanced level skills to generate traffic, leads, and sales with your content.
This program is for people serious about building skills, and are ready to put in the effort it takes to complete a Minidegree.
Identify the topics that you're best positioned to cover.
Create a coherent strategy that drives traffic and leads.
Get max value from existing content and scale your program.
See plans and pricing or Request demo (for teams 5+)
Some of the companies that train their teams at CXL Institute:










Create a scalable content program that grows your business.
It's all too easy to waste thousands on content that generates little—if any—qualified traffic.
Discover how to choose the right topics, organize them into a strategy, and promote that content on the most powerful distribution channels.
Break free from haphazard, one-off content projects and start executing and scaling a strategy that brings in high-value traffic and leads.
In this extensive certification program by CXL Institute, you will learn how to create and implement a content strategy that works.
At the end of the program, you'll be able to identify topic areas your business should own, plan and produce content on those topics, and win traffic, shares, links, and leads with that content.
Master content marketing at every stage—not just production
Great content marketing starts with a solid foundation of research. You'll no longer wonder if a topic is relevant or waste time creating content based on what you could rank for. You'll focus on what you should rank for—high-value, brand-building content.
You'll be able to create content that brings in a steady stream of organic visitors by developing an SEO-focused editorial calendar. You'll also learn how to manage the behind-the-scenes technical SEO that's essential to help content succeed in search.
When you want to branch out to other channels, you'll know how to win over influencers for more social shares, craft effective pitches to earn more links for your greatest stuff, repurpose existing content for other channels, and scale your program as your company grows.
What you'll learn and how
Learn a step-by-step process to identify the content topics that work best for your brand and audience.
Develop an editorial calendar that brings in tons of qualified organic traffic to your site—users who actually turn into leads (and sales).
Optimize your site for behind-the-scenes, technical SEO aspects to get more of your content onto Page 1 of search results.
Plan content distribution in advance so that you know a piece will succeed before you invest in content production.
Build relationships with site editors and social media influencers to earn links and shares consistently.
Ideal for marketers who want to drive bottom-line results with their content
This is not for content marketers looking for cheap hacks or for those chasing vanity metrics. Real content marketing transforms informational and educational content into qualified traffic, hot leads, and closed sales.
Know in advance that the content strategy you develop will work—no more guessing about whether a project has potential.
Learn a start-to-finish approach to content marketing that emphasizes deep research and thorough distribution planning—not spaghetti-on-the-wall content production.
Acquire the skills to get a content program off the ground or turn an existing program into a first-class content operation.

Anyone would benefit from CXL Institute, and that goes from interns up to CEOs. That's really been the case in our company. After their training sessions you're fully equipped… you can go off and implement your learnings straight away.
29h 15min of videos & study material.
This content marketing training program is designed to give you advanced level skills in content marketing. You get 29h 15min of video courses.
All of our instructors are hand-picked, and carefully vetted. Our approach is straightforward – every instructor needs to be the absolute best in the world at what they do.
Show off your hard-earned skills and strengthen your profile
LinkedIn is easily the largest professional network in the world with more than 600 million users.
But it's not enough to just have a LinkedIn page, you need a great one—especially if you're looking for new opportunities.
A 2018 CareerBuilder survey found that 70 percent of employers use social media to screen candidates. Over half of those employers are searching for your profile to see if you have the skills needed for the job.
What's more? LinkedIn found that people who add credentials to their profile receive 6x more profile views than those who don't.
This means that you can add your certificates to your profile, share your accomplishments in your feed, and join our alumni network!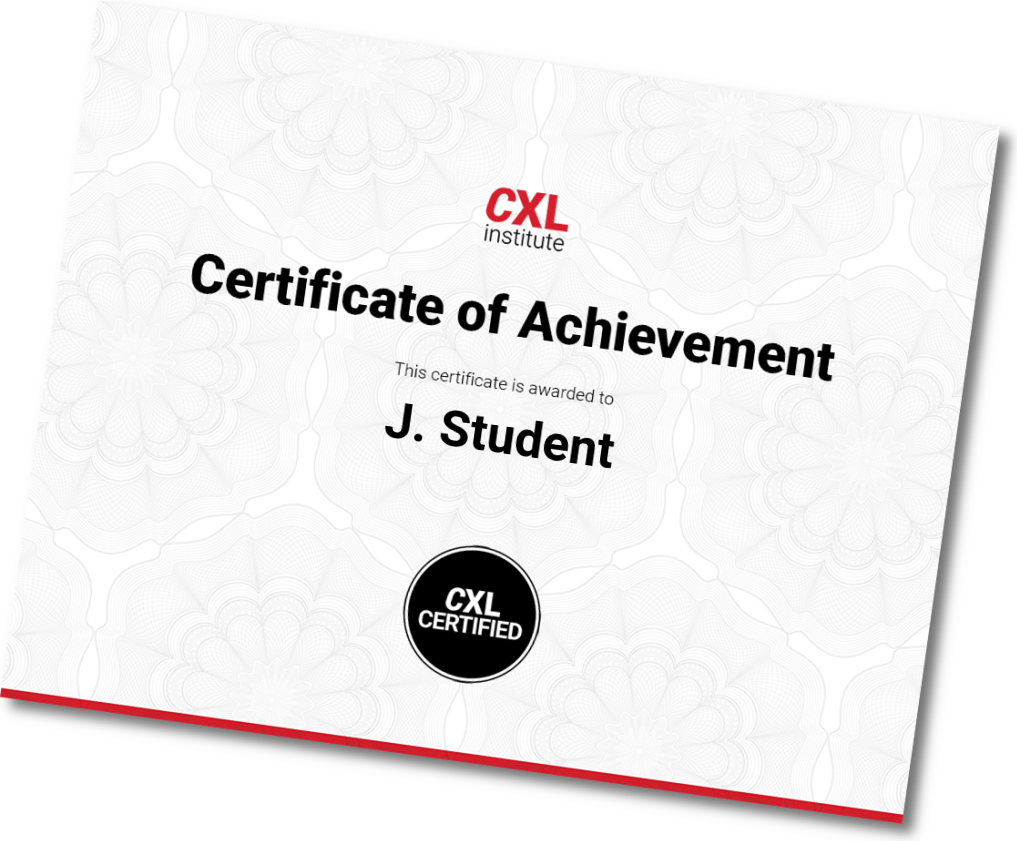 Sign up for CXL Institute and get access to
50+ courses (full list here) on all aspects of data-driven marketing (new courses added every month)
5 Minidegrees that give you advanced level skills
Talk recordings by world class practitioners at CXL Live and Elite Camp
The CXL Institute guarantee:
Guaranteed return on time spent or your money back.
You can immediately apply learnings and improve your results.
Need help convincing your boss?
See plans and pricing or Request demo (for teams 5+)