Double your ecommerce revenue in less than a year
Online course:
Ecommerce growth. See how the $100M CMOs do it.
By Drew Sanocki,
CEO @ AutoAnything
Course length: 11h 30min
This course is archived
The quality of the course no longer meets our production standards. The course is in the archive – for all-access members.
Please see our course catalog for new and certifiable courses.
Some of the companies that train their teams at CXL:










Take your 6-7 figure online store to 8-figure level
Online training that gives you the exact ecommerce growth framework that has worked to scale countless sites to ecommerce empires.
Introduction video
Enroll in this training program to learn
Create repeat buyers through an email-based reorder campaign.

Increase your average order value (AOV) through pricing and quantity control, free shipping, bundling, and advanced tactics.

Cross-sell and upsell like Amazon, which attributes 35% of revenue to those efforts.

Build your conversion mousetraps using on-site messaging, email and Facebook campaigns.

Master the two acquisition channels that drive the growth of all of Shopify's biggest stores: Facebook and Instagram.
This course is right for you if…
You run a 6-7 figure ecommerce business.
You have tapped out your customer acquisition channels and you're looking to restart growth.
You have not fully exploited upselling, cross-selling and email-based lifecycle marketing.
You want to double your revenue in one year and learn the tested, strategic framework for doing so.
You'd like to automate your revenue generation so you can focus on the more strategic aspects of your business.
You want to know the type of advanced-level online marketing that the big guys use, not useless hacks and tricks.
This course is not for you if…
You haven't started a business and are looking to learn the basics of niche selection or how to hack Amazon. This course isn't for newbies.
You're 100% on Amazon and want to stay there. This course is about growing a direct-to-consumer brand (think Bonobos or Warby).
You're looking for a silver bullet. Sorry, they don't exist in ecommerce. This course is about implementing a proven, reliable system that will grow revenue over time.
You have already mastered cross-selling, upselling, customer retention, lifecycle emails, personalization and segmentation.

CXL introduced me to the worlds of Customer Value Optimization and RFM Analysis; two approaches that I see influencing my career for the next 10 years and beyond.
If you're considering CXL, my recommendation is to treat yourself not cheat yourself.
How a struggling online retailer went from bankruptcy to profitability to acquisition in 10 months (you'll learn how you can grow this fast, too)
In 2015, an investment firm acquired Karmaloop.com out of bankruptcy. Drew Sanocki – the instructor for this course – came on board as the CMO to find that not much was working.
Karmaloop had alienated most of its vendors, core merchandise had been lost, loyal customers were walking away without products they had paid for pre-bankruptcy… it was bad.
Drew knew that he had to focus on three factors: acquisition, average order value (AOV), and repeat buyers.
Acquiring the highest value customers
Karmaloop's most valuable customers were gone and, as a result of the heavy investment in promotion pre-bankruptcy, only bargain shoppers were left.
You know, customers who only buy on promo. Drew's biggest task was acquiring more high-value customers through strategic Facebook and Instagram funnels.
Boosting average order value (AOV)
Not surprisingly, bargain buyers don't have a high average order value.
To boost AOV, Drew introduced a few key email campaigns: onboarding, abandoned cart, a custom campaign for those with a high AOV, and post-purchase cross-selling and upselling.
Creating more and more repeat buyers
Karmaloop bargain buyers were only purchasing when something was on sale. Drew needed to change that.
If someone hadn't purchased in 30, 60, 90 days, Drew's win back email campaign would kick in with an ascending offer to keep customers coming back.
Less than a year later, everything had turned around.
They were acquiring high-value customers again, repeat orders were steadily going up and customer lifetime values were steadily increasing. Drew took Karmaloop from bankruptcy to profitability to acquisition in under a year.
The process for doubling your ecommerce revenue
Now Drew is ready to let a few marketers look behind the curtain. He's ready to show you, step-by-step how he achieved unprecedented growth for Karmaloop (and many other ecommerce sites since then).
Follow along as Drew shares his screen and gives you access to actual Google Analytics, Facebook, and ESP accounts.
This course is about boosting meaningful acquisition, AOV and retention to skyrocket growth. It's about doubling your ecommerce revenue in less than a year.

After taking the Ecommerce Growth class, we implemented an upsell system to increase our customers Average Order Value and it has given us a steady background lift across the board.
Join this ecommerce masterclass
CXL brings you an intensive online training course led by world renowned ecommerce growth expert, Drew Sanocki.
After just 8 classes, you'll be able to
Easily implement this 3-lever framework for doubling your revenue in one year.
Confidently craft high-converting funnels for Instagram and Facebook, the two acquisition channels that have driven the growth of all of Shopify's biggest stores.
Develop cross-selling and upselling campaigns that would make even an ecommerce giant like Amazon jealous. (Note: Amazon attributes a third of its revenue to these types of campaigns.)
Maximize customer lifetime value by implementing the most profitable lifecycle marketing campaigns. (These are used by only the top 1% of all ecommerce retailers.)
At the end of the day, this course is going to make you a lot of money.
About
Drew Sanocki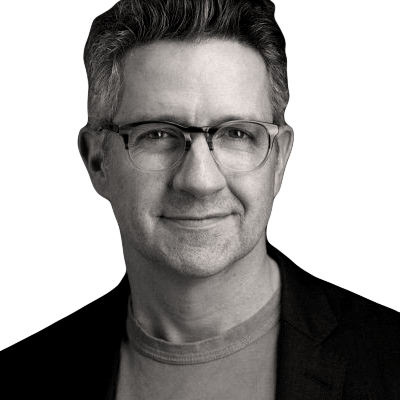 Drew Sanocki founded his first company, Design Public, soon after receiving his M.B.A. from Stanford and quickly grew it into one of the premier online design retailers. He sold the company to private investors in 2011 after operating it for eight profitable years.
In 2015, he ran marketing at 8-figure Karmaloop.com. His programs helped to take them from bankruptcy to profitability in under 10 months. Today he builds growth systems for 8- and 9-figure ecommerce retailers. He received a bachelor's degree from Harvard University and he's even served as an intelligence officer in the U.S. Navy.
Your full course curriculum:
Ecommerce Growth Masterclass
There are only 3 ways to grow an ecommerce company: (1) increase the number of customers, (2) increase the average order value (AOV), or (3) increase the average number of purchases per customer.
The beauty of these is that they multiply. A mere 30% increase in each of the three levers, more than possible in a year, doubles the company. 1.3 x 1.3 x 1.3 = 220%.
Topics covered:
Case study: Karmaloop
How to find your F, AOV, and C
The math for your retailer
The idea of a customer lifecycle
Overview of the rest of the course
Bill Bain said "your best new customers are your current customers". Here's why the best way to grow in 2017 is to spend more on retention . . . and how.
Topics covered:
Why retention
The customer lifecycle: common retention tactics
Biggest opportunity: converting 1 time buyers to 2 time buyers
Deep dive: email-based re-order campaign
Vista Capital buys companies and executes a set menu to increase their AOV. Let's steal it. You'll learn about free shipping, bundling and more.
Topics covered:
Increasing prices: why and how
 Increasing quantities: why and how
Using free shipping as a lever
Bundling
Advanced tactics
Amazon attributes 35% of its revenue to cross-selling and upselling. Here's when, where and how they do it so successfully.
Topics covered:
Cross-selling - when/where/how
Upselling - when/where/how
Deep dive: increasing same-day AOV with an email bounce-back campaign
What works in ecommerce isn't traditional conversion rate optimization... it's stacking campaigns to create a better mousetrap. You'll start this 2-part lesson by learning the foundational concepts.
Topics covered:
Database marketing 101: discount ladders and tripwires
The Conversion Mousetrap (on-site, email)
Take an even deeper dive into ecommerce conversion rate optimization concepts, including more on: discount ladders, tripwires, on-site messaging, Facebook campaigns and more.
Topics covered:
Database marketing 101: discount ladders and tripwires
The Conversion Mousetrap (on-site messaging, FB campaigns)
This weeks focus is a theoretical focus on Acquisition strategies, before delving into channels in the final class
Master the two main channels that drive all of Shopify's biggest stores. This week's focus is on Facebook and instagram funnels. How to use and systematize it, example ads and funnels, etc.
Topics covered:
How to use (and systematize) your Facebook and insta campaigns
Example ads and funnels
Case study: Boom (with Ezra)
Show off your hard-earned skills and strengthen your profile.
LinkedIn found that people who add credentials to their profile receive 6x more profile views than those who don't.
Add your certificates to your profile, share your accomplishments with the world, and join our alumni network.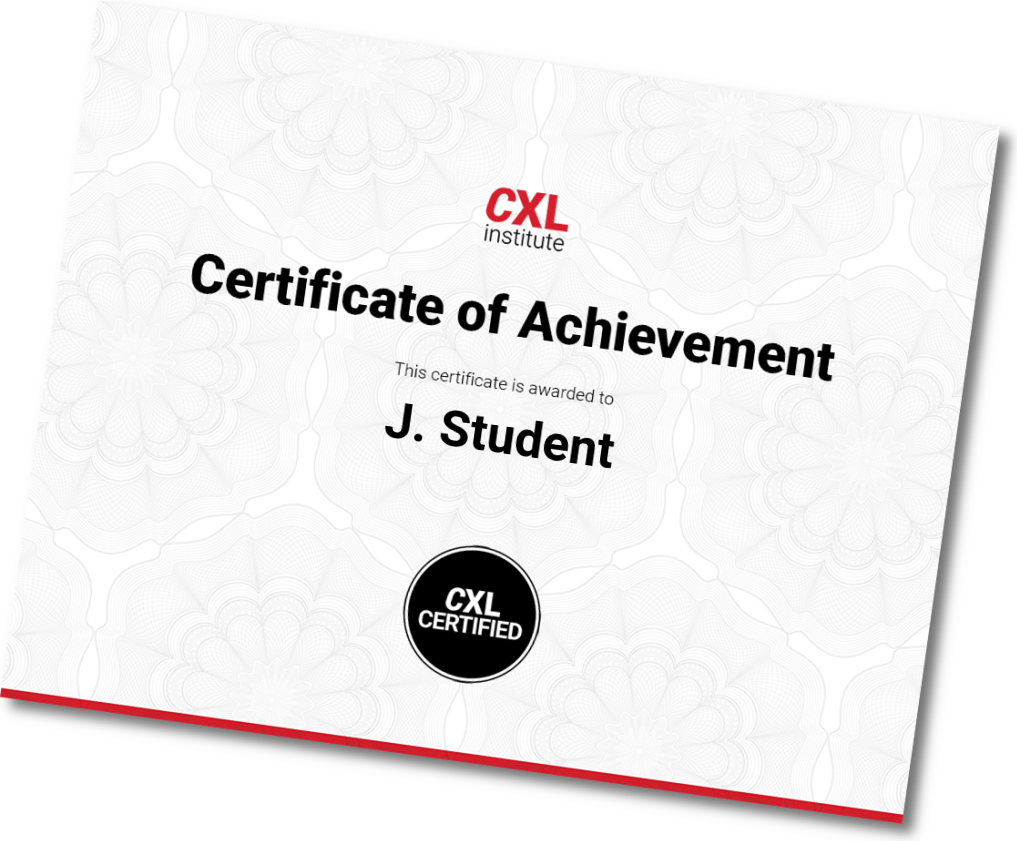 Learn marketing on the job.
Get better results with networking.
Playbook community gives you peer support for every marketing task you face. 90% of marketing tasks are not unique. Someone has already figured it out. Achieve more with less hassle.
Access our library of thousands of marketing playbooks, each showing you how to do a specific marketing task in 10 steps or less, with real-time peer support.
Join our community of marketing experts, ready to support you in getting that promotion or master new strategies, skills, and channels.
Network with some of the world's best marketers and companies and get noticed, hired, or endorsed.
Subscribe to CXL and get access
90+ courses (full list here) on all aspects of data-driven marketing (new courses added every month)
9 minidegrees that give you advanced level skills
Playbook community with 2500+ instructions and peer-support
Got a team, multiple users? Get our Teams All-Access plan instead.
The CXL guarantee
7-day no questions asked money back period
You can immediately apply learnings and improve your results.
Need help convincing your boss?
Click here for a pitch deck, swipe files and tips.
Subscribe to CXL
All plans come with a 7-day trial for $1.
Get access to this and 90+ other training programs.
See plans and pricing
or
Request demo (for teams 5+)