C
XL Live

2018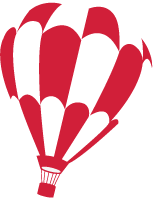 3-Day Growth & Conversion Optimization Event —
March 28-30 in Austin, TX
Come for the content that will make a difference for your business. Stay for the connections and fun.
Must-attend conference
for growth marketing and optimization people.
Be part of the elite behind the scenes growth discussions
Full resort booked for the event, everyone stays together for 3 days
All speakers are true practitioners, carefully selected and vouched for
The very best people attend – folks you can learn a ton from
G
Three things that make CXL Live special: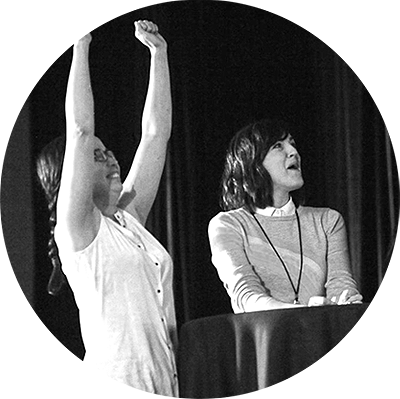 1. Carefully vetted practitioners
teach you their best and
newest stuff
This event will make you money. You can learn from the people who do the absolute best work in their field. All of our speakers are hand-picked. No fluff, no pitches – pure practical content. It's less inspiration and more how-to. Model what the best are doing and boost profits for any business you work on.
Speakers stick around for the full 3 days, so you can pin them down for a 1:1 session.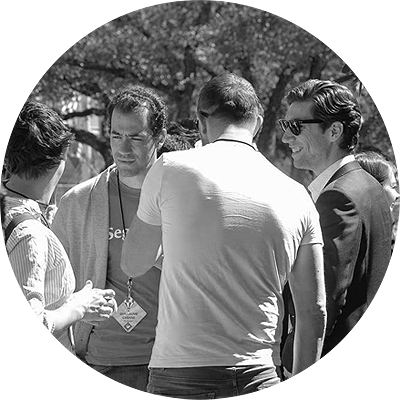 2. We've booked a full resort for
the event. Everyone stays
together for 3 days.
Result – magic.
The event takes place in the outskirts of the city, away from distractions. All attendees and speakers stay in the same place, nobody leaves. All meals (rich buffets) are shared together. The whole group stays as one.
This facilitates quality conversations and helps you form bonds for life with all your peers. By spending 3 days together with everyone, away from distractions, you forge relationships that last.
The outcome is high quality networking, discussions, learning. And great parties. Fun is a serious business at CXL Live.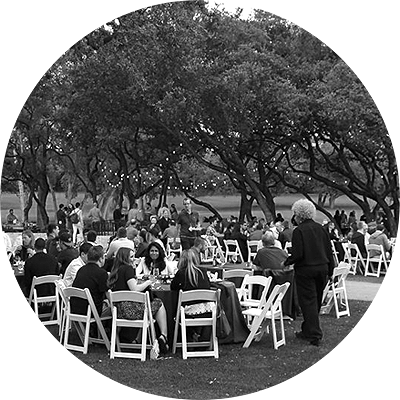 3. Your tickets includes
everything: hotel, meals, extra
fun day.
You just get yourself to Austin – your ticket includes everything else:
2 hotel nights at the luxurious Hyatt resort
Full access to the 3-day event
All meals during the event + all-day coffee & snacks
Pre-party, two great conference parties and a post-event party
Optional fun day kayaking on town lake with your peers after
the conference
G
Pre-Conference Workshop (optional)
We have a pre-conference workshop right before the conference starts (March 28th @ 9am). It's free for all conference attendees. Pre-registration required (we'll send you the form after you get your ticket).
This workshop takes place at the event venue (March 28th)
Duration: 3 hrs (9am to 12pm). It ends 30 minutes before the conference starts.
Maximize your Return on Optimization investments
with Ton Wesseling (Online Dialogue)
This is a workshop that will teach you how to decide where you should start optimizing your (mobile) user experience, and then decide on how many and what kind of optimizations to do.
This would teach you how to take a deep dive in data (how to set-up proper segments that will give insights that tell you what to do), how to gather extra info – what are must haves and nice to haves and then move on to creating proper hypothesis and optimizations.
Ton has 20 years of experience in Digital Optimization and with his team he helps and trains companies throughout the world to be really effective at data informed growth. Besides being a consultant and a entrepreneur he is also recognized worldwide as a influential thinker, writer and public speaker on conversion optimization and A/B-testing.
G
World Class Practitioners Speak at CXL Live
Expert practitioners only. We don't have sponsored speakers nor people without regular hands-on experience.
Peep Laja
Founder of CXL Institute.

Chad Sanderson
Experimentation Platform Program Manager at Microsoft

Ton Wesseling
Founder of Online Dialogue

Els Aerts
Managing Partner at AGConsult

Michael Aagaard
Senior Conversion Optimizer. MC for CXL Live
Hana Abaza
Head of Marketing at Shopify Plus

Bangaly Kaba
Growth Lead at Instagram

Ed Fry
Growth at Hull.io

Vab Dwivedi
Director of UX Optimization & Research at Dell

Yu Guo
Data Science Manager at Airbnb

Mats Einarsen
Senior Director of Product Management at Kayak

Rachel Sweeney
Product Marketing Manager at Google

Gary Angel
CEO at Digital Mortar

Moe Kiss
Analytics Manager at The Iconic

Matt Roach
Director of Growth, Data Science & Analytics at Sanoma

Alexa Hubley
Marketing Manager @ CXL Institute. MC for CXL Live
Guy Yalif
CEO of Intellimize

Merritt Aho
Marketing Director, Testing & Optimization at Dun & Bradstreet

Renee Thompson
Senior Director, Conversion Optimization at TechTarget

Benjamin Liu
Dropbox

Bryan Eisenberg
NY Times Best Selling Author. CRO legend.

Candace Ohm
Senior Product Scientist

Colin Mcfarland
Skyscanner

Ezra Firestone
CEO at Smart Marketer

Tara Robertson
Business Development Lead at Sprout Social

G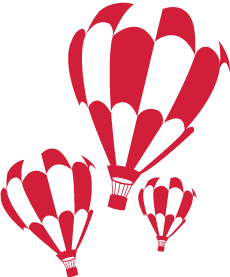 Comments By Last
Year's Attendees
We measure our success by attendee experience.
CXL Live goes out of its way to put on a good
show – world class talks, rich buffets for all meals,
all day coffee & soft drinks, great parties.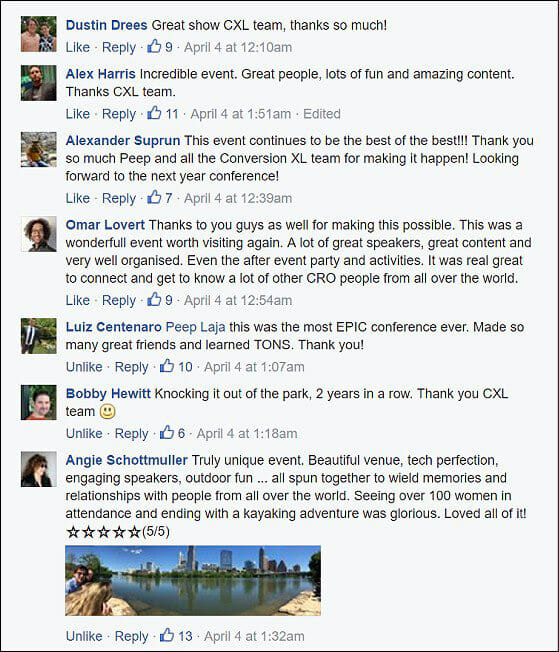 G
Agenda
This is a single track conference. You get to see everyone.
Show compact agenda
Day 1 Wed, March 28
Growth Day
---
Registration open. Welcome coffee and tacos.
---
---
Bryan Eisenberg – Saying Goodbye to the Buy Button
Marketers always adapt. Television forced adjustments from sound alone to moving images on a screen. Personal computing birthed an adaptation of an interactive screen. Mobile computing coerced cramming that interaction onto a smaller screen while on the go.
Now, we are about to move from any screen to none. How do we adapt? Siri, Google Home, Amazon's Alexa and IBM's Watson are in the early days of conversational UX . AI assistants and robots are also beginning to play a meaningful role in our lives.
Will AR and gestures change the way we shop? What happens as more and more of these interactions influence our buying behavior? How do we develop a plan to keep up with these rapid changes?
---
Hana Abaza – Thriving on Change, Driving Growth and Lessons Learned at Shopify

Identifying (and prioritizing) opportunities for growth and optimization in an increasingly complex environment is hard. Competing priorities, warp speed changes in a noisy landscape and a fast-growing organization could spell a recipe for disaster. Unless you know how to thrive on change and leverage the chaos to your advantage. This session will cover learnings, strategies and tactics to drive growth at scale.
---
Ed Fry – Customer Data Operations: Unleashing your hidden growth engine
Siloed tools = Siloed data = Siloed teams.
Every email. Every ad. Every website visit. Every brand interaction ever. How do you unify, enrich, segment, and sync all this customer data across your sprawl of sales and marketing tools and databases? And profit?
In this session, Ed will show you the best practices (and horror stories) from SaaS scale-ups to orchestrate all your tools, teams, and data, to create 1:1 personalized experiences at scale, and to drive outsized results across your teams.
---
---
Ezra Firestone – What Works in Email Marketing Right Now
Email marketing (yes, STILL) rocks the highest return on investment of any medium, garnering on average $28 for every $1 you invest. That is, if you do it right. Ezra will show real life data and campaigns and share results.
---
Alexa Hubley – Master Customer Marketing by Watching Romantic Comedies

Romantic Comedies provide real lessons in building empathy and trust, like why using hyper-personalized marketing inspires customers to fall (truly, madly, deeply!) in love with your product. And the results back it up. In a recent campaign targeted at moving monthly customers to annual plans, we earned Unbounce $700k in annual recurring revenue and saw 4x increase in annual subscriptions…in just 6 months.
During this session you'll get:
-A framework for romancing customers through hyper-personalized marketing-Lessons from a real customer marketing case study you can apply right away-A how-to guide on creating intimate relationships with customers, even at scale
---
---
Tara Robertson – How to 10x Growth by Optimizing Customer Marketing & Retention
Are you spending all of your time and budget optimizing for new customers, and not enough on your retention growth strategy? According to Harvard Business School, a 5% increase to your customer retention could increase profits by upwards of 25-95%. Based on this, it's no surprise that the post-sale conversion funnel is one of the more important optimization practices, but for some reason it's also one of the most over-looked. In this session, we'll explore how Sprout Social focused on understanding customer insights and translated that data into tangible retention based results. By spending time understanding the voice of the customer, Sprout was able to build a program that drove a significant decrease in customer churn, a higher customer NPS, and an astounding increase to top line revenue. Discover the retention strategies used along with how you can also optimize for a stronger customer experience with profitable growth.
---
Bangaly Kaba – The Path to 1 Billion: Lessons learned from Growing Instagram
Bangaly Kaba manages the Growth Team at Instagram and will share principles, best practices, and insights that his teams use to to grow Instagram around the world. This talk will cover topics such as using data to inform execution and experiment design, leveraging planning and communication to create step changes in impact, and how design can improve product adoption.
---
---
Dinner and chill outside
Our famous outdoor dinner with live music, followed by drinks and games.
---
Day 2 Thu, March 29
Optimization & Testing Day
---
---
Candance Ohm – a Mathematician's Guide to Growth Optimization

We all want hockey stick growth and we know that conversion rate optimization is the way to get it, but how do you decide which metric is best to focus on?  In this talk we take a deep dive into funnel analytics and discuss how they impact your growth curve.  We'll define product-market fit based on the slope of the growth curve and show how pm-fit can be achieved.  In addition you'll learn:
– The metrics you should be tracking and why
– How to calculate your growth curve using funnel analytics
– Which metrics lead to exponential (hockey stick) growth
---
Guy Yalif – Demystifying AI for Marketers
Most of us have read about artificial intelligence changing growth marketing. How do we separate the hype from the practical reality?
We'll cover how to put AI to work for your optimization efforts, which are the typical forms of AI in use and how to think about each, and where to probe to help ensure you're getting real value from your investment of time and money.
You'll leave this session with practical examples, questions to ask, and insights on putting AI to work in the right way for your optimization efforts within the smallest to the largest of organizations.
---
---
Chad Sanderson – The Statistical Pitfalls of A/B Testing
Most optimizers have heard of Type I and Type II errors, Sample Size, and Statistical Power (if not, a brief primer covers that!) but those statistical errors are just the beginning in a long list of potentially poisonous mathematical problems CRO's must face. Not only does this talk provide an overview of those issues, it also addresses how to structure your optimization program in a way that relies more on common sense, visualizations, and replication.
---
Els Aerts – Without Research There is Nothing
In this talk, Els will not only tell you why user research matters but also how to master various user research methods like a pro.
Even when you're on a shoestring budget. This session is packed with case studies and examples.
---
Lunch
13.30 Lunch & Learn session: Conversion Hacking with Consumer Insights (Zac O'Neil from Usabilla)
The ultimate CRO hack lies within Consumer Insights.
With Consumer Insights you have real, actionable consumer feedback that tells you exactly what you need to do – so you can hack your CRO strategy.
In this session we will discuss how marketers who leverage Consumer Insights in their CRO strategy are experiencing maximized returns.
---
Matt Roach – How to Optimise Big Corporates (with a Lot of Legacy)
Politics, bureaucracy, resistance to change, siloed organisations, fixed development roadmaps: big organisations, especially legacy ones (not born in this century), offer significant obstacles to the aspiring CRO seeking impact. Here are some learnings and tips to overcoming them – from the optimisation program of a $ Billion Media Conglomerate.
---
Mats Einarsen – Lessons Learnt from Creating a Large Scale Experimentation Culture
With 10 years of experience in AB-testing from Booking.com, OpenTable and KAYAK, Mats Stafseng Einarsen is sharing some of the lessons he learnt from creating high volume conversion optimisation teams. Particularly drawing from his experience at OpenTable, where he scaled experimentation from 25 to up to 200 experiments per month, substantially driving conversion and growth. This talk will contain small and big tricks that might help get traction for AB-testing in your own organization.
---
Yu Guo – Scaling experimentation at Airbnb: Platform, Process, and People
AB-testing/experimentation has been established as the golden rule for optimizing conversion. Airbnb has been successfully leveraging experimentation for growth. Today we will share our experience in building out the platform and process in scaling experimentation and building a data-driven culture at Airbnb, which includes a centralized experiment assignment and analysis framework with built-in best practices; a council to advise fellow team members on tricky experimental design and deep dives; multi-leveled education courses to educate and increase awareness during engineering and data science onboarding, and internal Data University to truly democratize data to everyone in the company.
---
---
Renee Thompson – How to Win at B2B Optimization
While many optimization concepts and best practices hold true for all organizations, B2B companies have a unique set of priorities and challenges. In this session we'll discuss the metrics that matter, and how to take advantage of website optimization, personalization and content optimization to move the needle on those metrics.
---
Vab Dwivedi – E-Commerce and Customer Experience Optimization Practices from Dell.com
As a leader in site optimization and digital analytics for nearly a decade, Dell has a robust approach to e-commerce optimization. In this session, Vab Dwivedi will discuss how Dell drives a world class user experience for its Consumer, Business and Support visitors through robust research practices. Learn how they leverage both A/B, multivariate testing & qualitative research for a user experience that is constantly being optimized for conversion and revenue.
---
Merritt Aho – May the Best Ideas Win (They Usually Do)

Research and good prioritization alone will not get the best tests on your roadmap. If ideation isn't a core competency in your growth program, you're behind in your game. Walk away from this presentation with the right mindset and a toolbox of ideation methods to make your optimization better. Do it right and you'll not only win more, you'll have more people in your organization engaged in and excited about optimization.
---
Chill
Networking and drinks while playing outdoor games.
---
Dinner and Chill Outside
Our famous outdoor dinner with live music, followed by drinks and games.
---
Day 3 Fri, March 30
Analytics Day
---
---
Gary Angel – Extending User Experience Analytics into the Real (non-digital) World
We've all gotten quite sophisticated at measuring Websites, mobile apps and social chatter. And along the way, we've learned a lot about how to build better experiences and personalize them to make them more interesting, more useful and more profitable. But in a supposedly omni-channel world, where does the store fit in?
Most stores still use basic design principles augmented with limited VoC to measure the real-world experience. And other complex facilities – from airports to arenas to banks to resorts – are even less measured. That's no way to optimize the experience. In this presentation, you'll learn about a set of capture technologies that anonymously measure real shopper journeys. Cheaply. Accurately. And across every shopper. You'll learn about the data these system spin-off – it's challenges and its potential. And you'll get a solid introduction into the ways you can leverage that data to drive improvement in the real-world user experience. Applications like improved queue management, better labor-force allocation and distribution, improved measurement of Associate interactions, feedback into training and hiring processes, better store design, and the introduction of A/B testing programs into store promotion and layout processes. It's a whole new (real) world of UX to explore with these fascinating technologies.
---
Moe Kiss – The Pursuit of Customer Happiness: Why Customer Experience Across Devices Matters
In the world we live today, is there still anyone out there who uses only a single device? How important is it to analyze cross-device behavior to understand customer experience? To optimize customer lifetime value over a single transaction and acquire brand advocates over customers, this understanding has become crucial. As lead analyst for customer experience at THE ICONIC, Moe shares how the company shifted its mindset in using typical conversion funnels and broke the norm with how it measured customers' journeys. Learn with practical examples from the journey Australia and New Zealand's fastest growing online retailer has taken, to become truly customer-centric in its product management decisions.
---
---
Rachel Sweeney – Building an Optimization Framework driven by the Cloud and AI
The capability of tools we use for optimisation and A/B testing has evolved substantially over the past few years. AI has become a core part of this evolution and is reinventing existing products and powering new experiences. Cloud services have also been evolving, providing new ways to connect and interact with customer data.
As optimization practitioners, the opportunities for us are almost endless, and at times, overwhelming. In this talk, Rachel will run through what is required to successfully integrate this new landscape into every day testing.
---
---
Goodbye! Last lunch and chats with friends.
Day 4 Sat, March 31
Optional Fun Day
---
Kayaking on Austin town lake, followed by drinks!
G
Location & Venue
CXL Live 2018 takes place in the outskirts of Austin, TX. It's held at Hyatt Regency Lost Pines Resort and Spa, a luxury resort set amid Texas wilderness with multiple restaurants, a water park, a spa, and a golf course.
We have the WHOLE RESORT booked for the event. Every single person at the venue will be either an attendee, speaker or organizer. This creates a unique atmosphere – perfect for building relationships.
Also – it's late March in Texas – expect the best possible weather.
G
Tickets & Registration
CXL Live is a true "all inclusive" conference.
Your ticket includes:
Full access to the 3-day event
2 hotel nights in the luxurious Hyatt resort
All meals during the event + all-day coffee & snacks
Pre-party, two great conference parties, post-conference party
Optional fun day after the conference
So just get your conference ticket, get yourself to Austin, and we'll take care of everything else.
 
Do you need help convincing people to send you or your team here?


Download this pre-written pitch PDF
We stop selling tickets on March 22nd. Hurry!
Our cancellation policy is following: full refund if cancelled before 30 days of the event. If canceled 15 to 30 days before the event, there's 50% refund and no refund if you cancel less than 2 weeks before.
G