Understanding your users increases marketing effectiveness

Online course:
UX for Marketers

By Anna Dahlström,
Founder @ UX Fika
Course length: 8h 00min
This course is archived
The quality of the course no longer meets our production standards. The course is in the archive – for all-access members.
Please see our course catalog for new and certifiable courses.
Some of the companies that train their teams at CXL:










It's increasingly blurry to separate out what we do online from what we do in the physical world

Therefore, User Experience is transcending more roles and aspects of a business than ever before. Yet somehow, UX and marketing efforts still often occur in silos.
While UX benefits from being owned by a specific team, it is an area that all parts of the business benefits from learning more about and which can help marketers and CROs in their day to day roles.
In this course you'll get a foundation of what UX is, the key tools that UX designers work with, and how they can be used by and benefit marketers. At the end of the course you'll have worked through a high-level UX process from start to finish, covering research to testing and the key parts in between. You'll also learn how to articulate the value of UX and how to get buy-in for UX at an organizational level.

Already, this course has given me perspective on the value of the various UX exercises. It has shown me more ways to prove the ROI of UX initiatives to our organization's leaders – in marketing and across our organization.
This course is right for you if…
You believe a deeper understanding of UX would benefit your day-to-day work.
You want to further develop your UX skills and get practical experience with key UX deliverables and best practices.
You want to learn how to tie user and business needs together.
You want to develop your strategic thinking and skills.
You want to learn how to get buy-in for UX and help break down the silos in your organization.
This course is probably not for you if…
You already have a good understanding of UX and the types of deliverables a UXer works with.
You regularly create and work with UX deliverables like wireframes, user journeys and customer experience maps in your day-to-day role.
You are looking for deep-dives into some of the software UX designers use, like Sketch.
You are looking to learn about UI and visual design.
Skills you should have before taking this course
No particular skills are needed before taking this course.
However, a basic understanding of digital and how websites work will be beneficial.
Anna Dahlström
Founder @ UX Fika
Anna is a Swedish UX designer, coach, speaker and the founder of Glimt.it and UX Fika. Over the last 15 years, she's worked as an Experience Lead and freelance UX designer across a variety of brands, companies, and projects.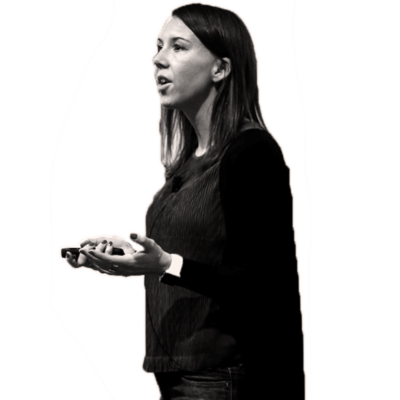 Anna is a Swedish UX designer, coach, speaker and the founder of Glimt.it and UX Fika. Over the last 15 years, she's worked as an Experience Lead and freelance UX designer across a variety of brands, companies, and projects.
In just 8 sessions, you'll be able to…
Have a strong foundation of UX, and understand where it sits in an organisation and process.
Demonstrate the value of UX and know how best to get buy-in for UX.
Know what UX tool to apply when and how to adapt it to your project in question.
With hands-on exercises alongside expert instruction and guidance, you'll be well-equipped to put your learnings to practice immediately.
Your full course curriculum
UX for Marketers
The second lecture will take a closer look at user research, what it is, how and when to conduct it, what to consider as well as provide an overview of some of the best research techniques for marketers and optimizers.
The fourth lecture will take a closer look at different types of user journeys, how marketers and CROs can use them to both define future, asses and optimize the experience of existing and new products and services. After taking a look at a few examples this lecture will walk through step by step how to create them as well as provide you with a basic template that you can use as a starting point.
This lecture will provide an introduction to Information Architecture and Content Strategy and walk you through what to consider as well as how you can utilize other UX tools like personas, user journeys and experience maps for defining what content should go where and when.
The sixth lecture will focus on wireframing and cover low to high fidelity wireframes, the connection to prototyping as well as tips and best practices for creating your own by walking through some basic wireframe templates that are focused on key pages for marketers and CROs.
The second to last lecture focuses on user testing, the different methods and when to do what including how to test when the number of users is low. It'll also cover the importance of combining qualitative and quantitative data as well as how to utilize the results of user testing including how to prioritize what to do when it comes to improving the UX.
Show off your hard-earned skills and strengthen your profile.
LinkedIn found that people who add credentials to their profile receive 6x more profile views than those who don't.
Add your certificates to your profile, share your accomplishments with the world, and join our alumni network.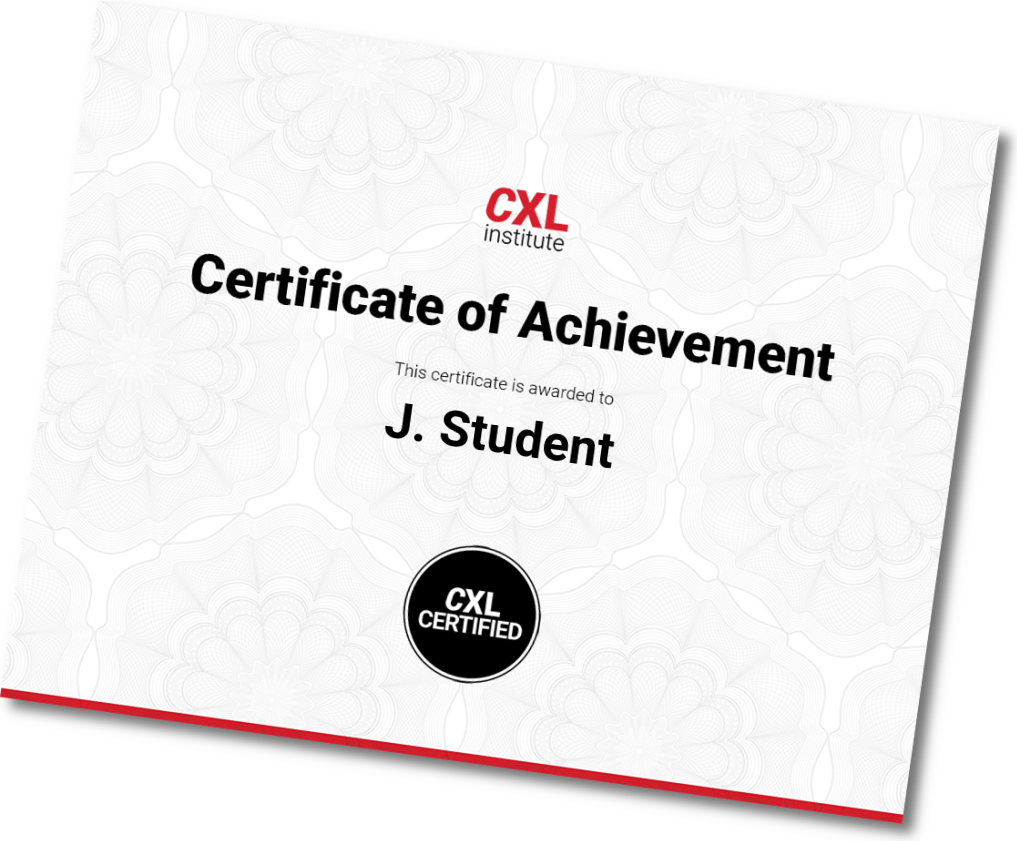 Learn marketing on the job.
Get better results with networking.
Playbook community gives you peer support for every marketing task you face. 90% of marketing tasks are not unique. Someone has already figured it out. Achieve more with less hassle.
Access our library of thousands of marketing playbooks, each showing you how to do a specific marketing task in 10 steps or less, with real-time peer support.
Join our community of marketing experts, ready to support you in getting that promotion or master new strategies, skills, and channels.
Network with some of the world's best marketers and companies and get noticed, hired, or endorsed.
Note: This course has been removed due to production quality and/or out-of-date content. Check out one of our other courses.