Become great at statistics for A/B testing
Avoid costly testing mistakes stemming from misuse and misunderstanding of statistic
If you're not fluent in A/B testing statistics, you won't be able to tell whether your tests suck.
Online course

By Georgi Georgiev,
Owner @ Web Focus
Course length: 3h 30min
Start 7-day trial for $1
Some of the companies that train their teams at CXL:










A lot of your "winning" tests are probably not winners at all. Learn to call bullshit when needed, and be the person who advocates proper scientific approach in your team.
In 10 sessions, you'll learn
How to run A/B tests with a sound statistical design in a variety of scenarios – multiple test variants, multiple outcomes, non-binomial data, and others.
How to align the statistical design with the questions at hand to get business insights while avoiding common mistakes.
The logic behind statistical hypothesis testing and concepts like statistical significance, confidence intervals, statistical power, and others.
Get a lesson preview
Understand the complexities involved in planning and evaluating A/B tests
Avoid costly testing mistakes stemming from misuse and misunderstanding of statistics, and improve the ROI of all your A/B testing efforts, with Georgi Georgiev's guidance.

Anyone interested in genuinely understanding the math behind CRO and A/B testing absolutely has to use CXL. My whole team has a great time discussing the material and aligning our views on processes we use, and to come up with ideas to implement in the future.
This course is right for you if…
You can't define statistical significance correctly without looking it up on Google.
Your A/B tests produce a lot of "winners," but your clients aren't seeing improvements.
You're planning and analyzing A/B tests, but you don't understand the statistical underpinnings of the testing process.
You're not confident in the outcomes of your tests and are unsure how much trust to put in them
You have an in-house statistical tool you want to improve, or you use a third-party A/B testing software you want to understand better
This course is probably not for you if…
You are just starting with CRO and have little to no practical experience with A/B testing.
You don't employ A/B tests as a primary method to evaluate CRO work.
You are a professional statistician or experimental design specialist.
Skills you should have before taking this course:
Some experience in conversion rate optimization.
Basic understanding of how A/B testing works.
Some experience with an A/B testing software.
Georgi Georgiev
Owner @ Web Focus
Georgi is an expert internet marketer and statistician working passionately in the areas of SEO, SEM and Web Analytics since 2004. He is the founder of Analytics-Toolkit.com and owner of an online marketing agency & consulting company: Web Focus LL …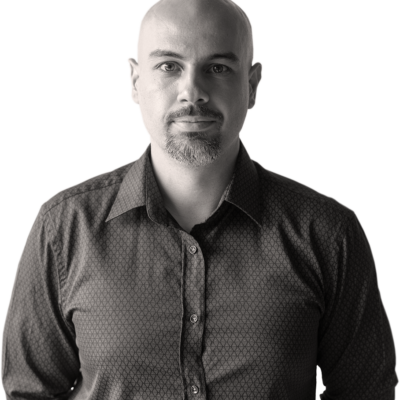 Georgi is an expert internet marketer and statistician working passionately in the areas of SEO, SEM and Web Analytics since 2004. He is the founder of Analytics-Toolkit.com and owner of an online marketing agency & consulting company: Web Focus LLC and also a Google Certified Trainer in AdWords & Analytics.
His special interest lies in data-driven approaches to testing and optimization in e-commerce and internet advertising and Georgi is also the author of three papers, multiple articles on A/B testing for conversion rate optimization, as well as the book "Statistical Methods in Online A/B Testing".
In just 10 sessions, you'll be able to
Plan A/B tests by taking into account relevant error probabilities
Correctly interpret A/B testing statistics like p-values and confidence intervals.
Navigate the complexities of MVT, segmentation, multiple KPIs, and concurrent tests.
Efficiently communicate A/B test statistics.
Course overview
Your full course curriculum
Statistics for A/B testing
1
Basics of Causal Inference
Lesson Objectives:
Understand the difficulties involved in making sense of data in a noisy world
Learn how experiments help us deal with some of those difficulties
Establish the role of statistics in making business decisions
Translate business questions into statistical hypotheses
2
Statistical Significance & Other Estimates
Lesson Objectives:
Understand the need for the p-value and what it means
Learn how to calculate the p-value for absolute difference in proportions
Introduce confidence intervals as an alternative presentation of the discrepancy between observations and a model
3
Statistical Power & Sample Size Calculations
Lesson Objectives:
Understand type II errors, the concept of statistical power of a test, and how to account for them in planning an A/B test
Learn how to determine the required sample size for a simple A/B test
Understand the relationship between power, significance threshold, minimum effect of interest, and sample size
Be able to plan a fixed-sample A/B test so it achieves a target power at a specified minimum effect of interest
Lesson Objectives:
Understand what challenges are posed by A/B/n designs & the different tools for addressing them
Understand the implications of increasing the number of variants tested
Explore the trade-off between testing many variants and testing quickly
5
Running Concurrent A/B Tests
Lesson Objectives:
Explore the complications introduced by running concurrent tests
Understand why commonly-proposed approaches do not get the job done
Learn how and if to engage in concurrent testing
6
Tests With Multiple Outcomes
Lesson Objectives:
Understand the difference between primary and secondary outcomes
Learn how to recognize situations which require FWER control and which do not
Design tests with multiple primary and secondary outcomes
Lesson Objectives:
Understand the three types of metrics in A/B testing
Cut through common misconceptions about statistics based on non-binomial data
Calculate statistical estimates for non-binomial data
8
Statistics for Percentage Change
Lesson Objectives:
Explore the difference between absolute and relative or percentage difference
Define a proper statistical model for percent change
Calculate statistical estimates for working with percent change outcomes
9
Asking the Right Questions
Lesson Objectives:
Recognize when a one-sided test is appropriate
Understand the need for correspondence between substantive(business) and statistical hypothesis
Learn how to translate different business questions to appropriate statistical hypotheses
10
Communicating Statistical Results
Lesson Objectives:
Learn how to prepare stakeholders for using statistical insights
Explore best practices for presenting statistical insights through graphs, stories, tables, etc.
Show off your hard-earned skills and strengthen your profile.
LinkedIn found that people who add credentials to their profile receive 6x more profile views than those who don't.
Add your certificates to your profile, share your accomplishments with the world, and join our alumni network.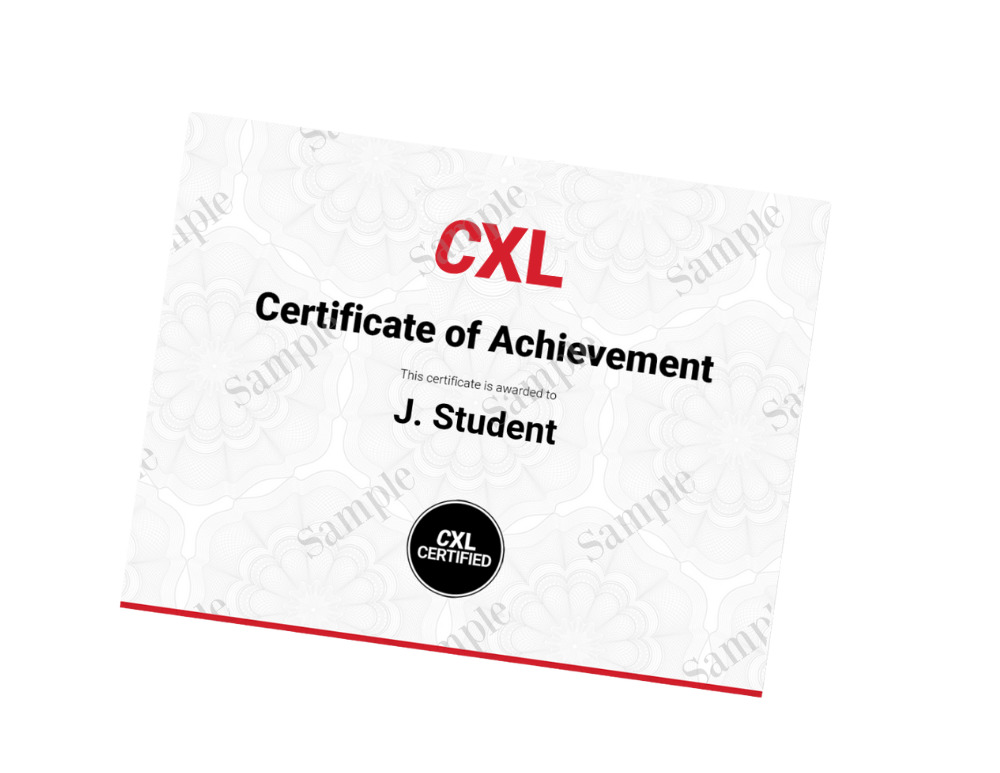 Learn marketing on the job.
Get better results with networking.
Our Marketing playbooks community gives you peer support for every marketing task you face.  90% of marketing tasks are not unique. Someone has already figured it out. Achieve more with less hassle.
Access our library of thousands of marketing playbooks, each showing you how to do a specific marketing task in 10 steps or less, with real-time peer support.
Join our community of marketing experts, ready to support you in getting that promotion or master new strategies, skills, and channels.
Network with some of the world's best marketers and companies and get noticed, hired, or endorsed.
Subscribe to CXL and get access
90+ courses (full list here) on all aspects of data-driven marketing (new courses added every month)
10 minidegrees that give you advanced level skills
Playbook community with 2500+ instructions and peer-support
Got a team, multiple users? Get our Teams All-Access plan instead.
The CXL guarantee
7-day no questions asked money back period
You can immediately apply learnings and improve your results.
Need help convincing your boss?
Click here for a pitch deck, swipe files and tips.
Subscribe to CXL
All plans come with a 7-day trial for $1.
Get access to this and 90+ other training programs.
See plans and pricing
or
Request demo (for teams 5+)