Become great at maximizing audiences for PPC campaigns
Go beyond keywords & reap higher returns on your PPC ad spend
Online course
By Joe Martinez & Michelle Morgan
Course length: 6h 00min
This course is archived
The quality of the course no longer meets our production standards. The course is in the archive – for all-access members.
Please see our course catalog for new and certifiable courses.
Some of the companies that train their teams at CXL:










Learn advanced techniques to create, refine, & convert laser-targeted PPC audiences
Yes, keywords matter. But at the end of the day, keywords don't buy. People do.
In this 6-class course, Joe Martinez and Michelle Morgan will teach you everything you need to know to build higher-converting PPC audiences for Search, Display, and Paid Social.
Get a lesson preview
Advanced search marketers:
it's time to gain the audience advantage
Feel like you're focusing too much on keywords and missing the PPC forest for the trees?
You might well be.
Many PPC marketers spend a ton of time on keywords — and while choosing the right keywords is important, that's just one piece of the puzzle. To be a truly effective PPC marketer, you have to know how to connect with people, not keywords.
This advanced course on audiences will improve your PPC returns. You'll learn how to:
Find & refine your target audience(s) — so you never spend a dime of your ad budget on the wrong people
Structure your campaigns and ad groups to maximize audience performance — not to mention you'll make it much easier to navigate your ads accounts
Layer & shape your campaigns to avoid audience overlap — while ensuring you still reach the
Use your audiences to prove success in other channels — thus squeezing every ounce of value out of your ad spend
And a whole lot more.
You'll walk away knowing exactly what to implement in your campaigns — from identifying exactly where in your funnel your audience exists, to guiding them right through the final conversion.
Plus, Joe and Michelle will show you new ways to create ads that your competitors can't replicate.
After taking this course, you'll:
Earn better ROAs: Define your target audiences & market more effectively with your existing PPC budget
Multiply your impact across channels: Use your newly super-powered audiences for retargeting
Get negative: Discover advanced strategies for negative audience creation & audience shaping
Write more specific ads: Learn how Joe and Michelle write better ads from their PPC audiences

Elveena Yessoo
The course was clear and concise. It's practical-focused rather than theoretical, so it was relatively easy to apply the different tactics to our clients' accounts.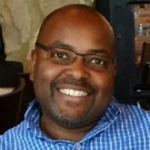 Will Gray
The Maximizing Audiences for PPC was f*cking excellent!!! I watched the videos many times and recently used some of their tactics and it's working! CXL ain't nuttin' but the truth.
Ideal for marketers who…
Can easily navigate Google Ads, Google Analytics, and Google Tag Manager
Are already using audiences in your PPC campaigns, but who don't feel confident about your targeting
Need to know where to go to find your target audience
Feel starved for new ad copy ideas in your search and display campaigns
This course is probably not for you if…
You have zero experience creating PPC campaigns for the Search and Display Networks
You're unfamiliar with audiences in paid search
You only focus on the Search Network, OR you only believe in keyword or placement targeting in the Display Network
Meet your award-winning instructors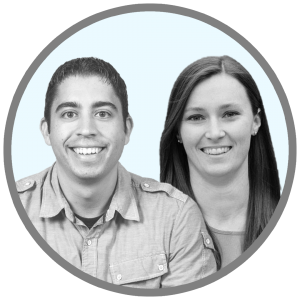 Joe Martinez – Top 25 Influential PPC Expert (PPC Hero)
Joe Martinez is the Director of Paid Media and Community for Granular in Milwaukee, Wisconsin. He is also the current and founding President of MKEsearch. While he is hands-on in all aspects of PPC, his true passions lie in Display, Remarketing, and YouTube.
He is a regular contributor for Search Engine Land and has written for PPC Hero, SEMrush, Leadpages, Optmyzr, Unbounce and AdStage. He has hosted webinars for SEMrush, Unbounce, and Bing Ads. He has also spoken at industry-leading conferences such as SMX Advanced, SMX West, SMX East, HeroConf, Confluence Conference, Digital Olympus and more. In 2017 and 2018, he was named a Top 25 Influential PPC Expert by PPC Hero.
Michelle Morgan – SEM Speaker of the Year (Search Engine Land Awards)
Michelle Morgan is the Director Client Services at Clix Marketing. She got her start right out of college as an in-house PPC pro in 2010. After developing the fundamental skills for PPC, she wanted to take things to next level. She made the jump to the agency world at Clix in 2012. Since then, she's expanded her knowledge in all fields needed for PPC: Search, Social, Display, Remarketing, and Analytics.
She manages accounts in many different industries and markets, but will always have a soft spot for lead gen. In 2018, Michelle won "SEM Speaker of the Year" at the Search Engine Land Awards.
Course overview
Your full course curriculum:
Maximizing audiences for your PPC campaigns
1
Finding your target audiences in existing tools
Persona research can be extremely helpful when you're trying to figure out who your ideal customers are. But not everyone has the budget or time to conduct a big study.
Luckily, Google Analytics and social insight tools put tons of data at your fingertips. In this first class, learn how to create better PPC audiences from the free data you already have access to.
2
Creating good retargeting audiences for targeting, exclusion and then lookalike modeling
It's important to be build audiences that serve your marketing goals beyond simple targeting. Don't think solely about who you want to target — think about you who want to exclude. Plus, your audiences form the foundation for two powerful advanced approaches: lookalike audiences and similar audience modeling. In this class, we'll cover strategies to build laser-targeted audiences (and talk about who to leave out).
3
Intent-based audiences for remarketing
Who's more likely to convert — the person who merely visits a page on your website or the person who starts to fill out a form? We all know it's Person #2. So let's focus on them.
In this class, you'll see how to create audiences based on user actions and initial visit intent. You'll be able to identify users at every step of your funnel and give them the info they need to move closer to the final conversion.
4
Utilizing Audiences in the Search Network
Don't forget that remarketing exists in Search, too! We'll go over all the options you have with Remarketing Lists for Search Ads (RLSA), and how you can create better ads using the audiences you just built.
5
Building a funnel with audiences
Only a very small portion of your target audience will be willing to convert on your ultimate (read: revenue-generating) call to action the first time they're introduced to your offer. This leaves a large group of known users untapped for revenue.
In the second-to-last class, we'll walk through how to set up an audience targeting funnel to bring users through each stage of the buyer funnel, from a soft call to action all the way to your final, revenue-producing conversion action.
6
Leveraging your audience across channels
Each channel has its own strengths and weaknesses, but who's to say we can't leverage them across channels? This lesson will discuss ways to bring the strengths of search, social, and display together to reach the right audience at the right time.
Show off your hard-earned skills and strengthen your profile.
LinkedIn found that people who add credentials to their profile receive 6x more profile views than those who don't.
Add your certificates to your profile, share your accomplishments with the world, and join our alumni network.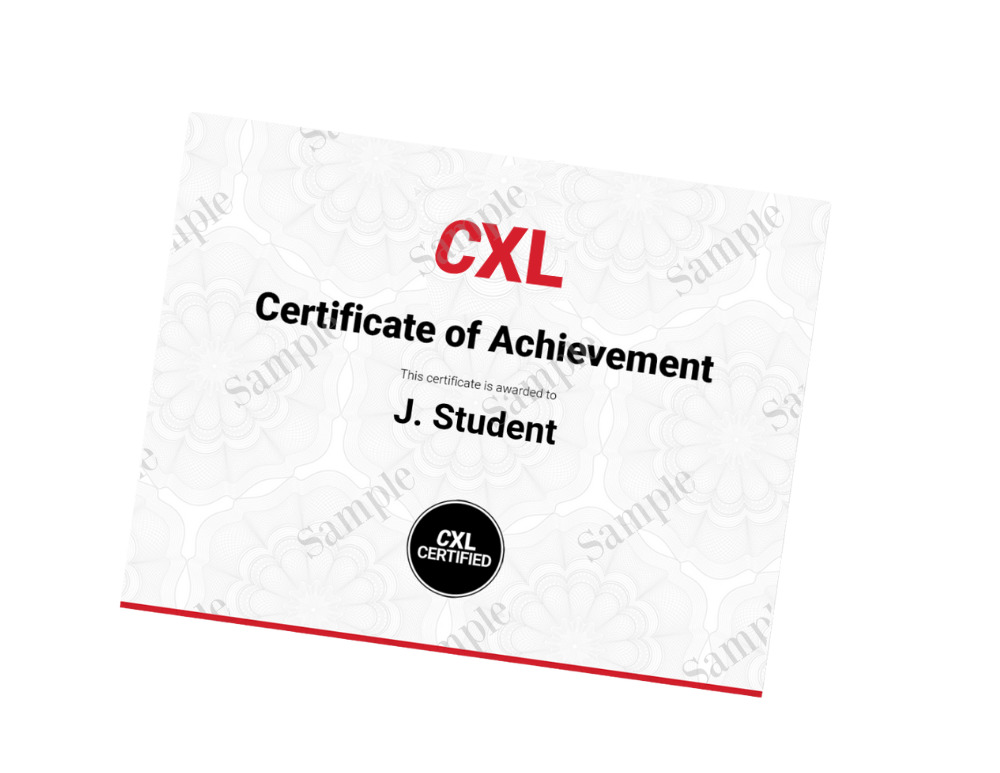 Learn marketing on the job.
Get better results with networking.
Our Marketing playbooks community gives you peer support for every marketing task you face.  90% of marketing tasks are not unique. Someone has already figured it out. Achieve more with less hassle.
Access our library of thousands of marketing playbooks, each showing you how to do a specific marketing task in 10 steps or less, with real-time peer support.
Join our community of marketing experts, ready to support you in getting that promotion or master new strategies, skills, and channels.
Network with some of the world's best marketers and companies and get noticed, hired, or endorsed.
Subscribe to CXL and get access
90+ courses (full list here) on all aspects of data-driven marketing (new courses added every month)
10 minidegrees that give you advanced level skills
Playbook community with 2500+ instructions and peer-support
Got a team, multiple users? Get our Teams All-Access plan instead.
The CXL guarantee
7-day no questions asked money back period
You can immediately apply learnings and improve your results.
Need help convincing your boss?
Click here for a pitch deck, swipe files and tips.
Subscribe to CXL
All plans come with a 7-day trial for $1.
Get access to this and 90+ other training programs.
See plans and pricing
or
Request demo (for teams 5+)